A 2-day desert tour from Marrakech to Zagora will introduce you to the Berber way of life. Spend the night in a traditional Sahara desert camp, ride a camel to watch the sunrise and sunset, and marvel at the legendary Kasbahs and oases.
We have everything you need to book an excellent two-day desert tour from Marrakech to Zagora. The Moroccan desert is one of the most enticing places on the planet, but knowing where to go and how to get there can be difficult.
You will discover all the remarkable sites, such as a UNESCO World Heritage Kasbah, while enjoying camel rides on the sand dunes and a night camping under the stars, during this in-depth multi-day group or 2-day private tour. The shared costs make it a cost-effective option with a convenient route.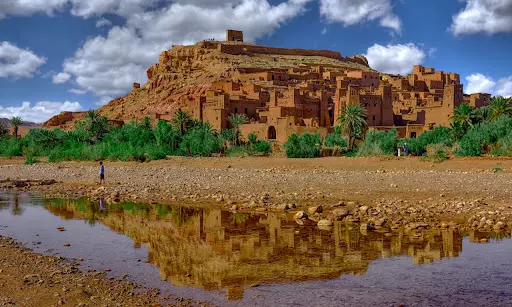 Tour Map
further discounts are aavailable according to the GROUPE SIZE

Private modern transportation with A/C

Car Fuel

Pick-up and drop-off at/from your lodging

English-speaking driver/guide with prior experienc

Accommodation in a Mountain Hut ( winter) or camping if preferred on summer months.

A night at private tent in the desert camp ( Dinner & Breakfast )

Camel riding in the Sahara desert
Travel insurance.

Soft/alcoholic drinks

Tips and personal expanses.

Airport Transfers
Day 1 : Marrakech » Atlas Mountains » Kasbah Ait Ben Haddou » Draa Valley » Zagora [355.5 km]
Departure from Marrakech at 8 a.m. for the Zagora dunes via the High Atlas mountains, Ait Ben Haddou, Ouarzazate, the Draa valley, and Berber villages. We'll make a detour to see the Ait Ben Haddou Kasbah. We'll arrive in the desert in the afternoon, then ride camels and sleep in a tent for the night.
Day 2 : Zagora Desert » Ouarzazate » Marrakech [377.3 km]
After watching the sunrise and breakfast at the camp, we'll ride camels back to the village and then back to Marrakech the same way we did the first day, without stopping at Ait Ben Haddou. In the afternoon, we will arrive in Marrakech.
After booking with MT Toubkal Trek, we will promptly reach out to you to confirm your reservation and address any questions you may have about the tour.
Payment is in cash upon your arrival in Morocco.
This is a private tour, and we'll customize it to your group's size. If you're a solo traveler looking to join a group, please contact us.
1
promotion
Minimum booking:
1 tickets
Maximum booking:
30 tickets
General price:
Adult (18+ years)
€

80 / ticket
|
Youth (13-17 years)
€

80 / ticket
|
Children (0-12 years)
€

80 / ticket
Options
guests = 1

Price

Adult (18+ years)

€

300 / ticket |

Youth (13-17 years)

€

300 / ticket

guests <= 2

Price

Adult (18+ years)

€

190 / ticket |

Youth (13-17 years)

€

190 / ticket |

Children (0-12 years)

€

190 / ticket

guests = 3

Price

Adult (18+ years)

€

150 / ticket |

Youth (13-17 years)

€

150 / ticket |

Children (0-12 years)

€

150 / ticket

guests >= 4

Price

Adult (18+ years)

€

100 / ticket |

Youth (13-17 years)

€

100 / ticket |

Children (0-12 years)

€

100 / ticket
2
promotion
Minimum booking:
1 tickets
Maximum booking:
30 tickets
General price:
Adult (18+ years)
€

80 / ticket
|
Youth (13-17 years)
€

80 / ticket
|
Children (0-12 years)
€

80 / ticket
Options
guests = 1

Price

Adult (18+ years)

€

300 / ticket |

Youth (13-17 years)

€

300 / ticket

guests <= 2

Price

Adult (18+ years)

€

190 / ticket |

Youth (13-17 years)

€

190 / ticket |

Children (0-12 years)

€

190 / ticket

guests = 3

Price

Adult (18+ years)

€

150 / ticket |

Youth (13-17 years)

€

150 / ticket |

Children (0-12 years)

€

150 / ticket

guests >= 4

Price

Adult (18+ years)

€

100 / ticket |

Youth (13-17 years)

€

100 / ticket |

Children (0-12 years)

€

100 / ticket