Life in the countryside and among the Atlas Mountains is one of the most beautiful things in Morocco, a mixture of simplicity, beauty, and love between the inhabitants. We drive from Marrakech to Imlil, which has many wonderful villages, and then trek through the villages of Imlil and M'zzik. Overlooking ancient irrigated terraced fruit and vegetable fields. Cross the Tiz M'zzik Mountain pass (2450m) and descend through the juniper trees to Tizi Oussem villagea for the night. The following day, you travel down to the Assif Azzaden Valley (Assif Azzaden), passing through several Berber hamlets before ascending to the Tizi Oudite pass and descending to the village of Aguersiouâl.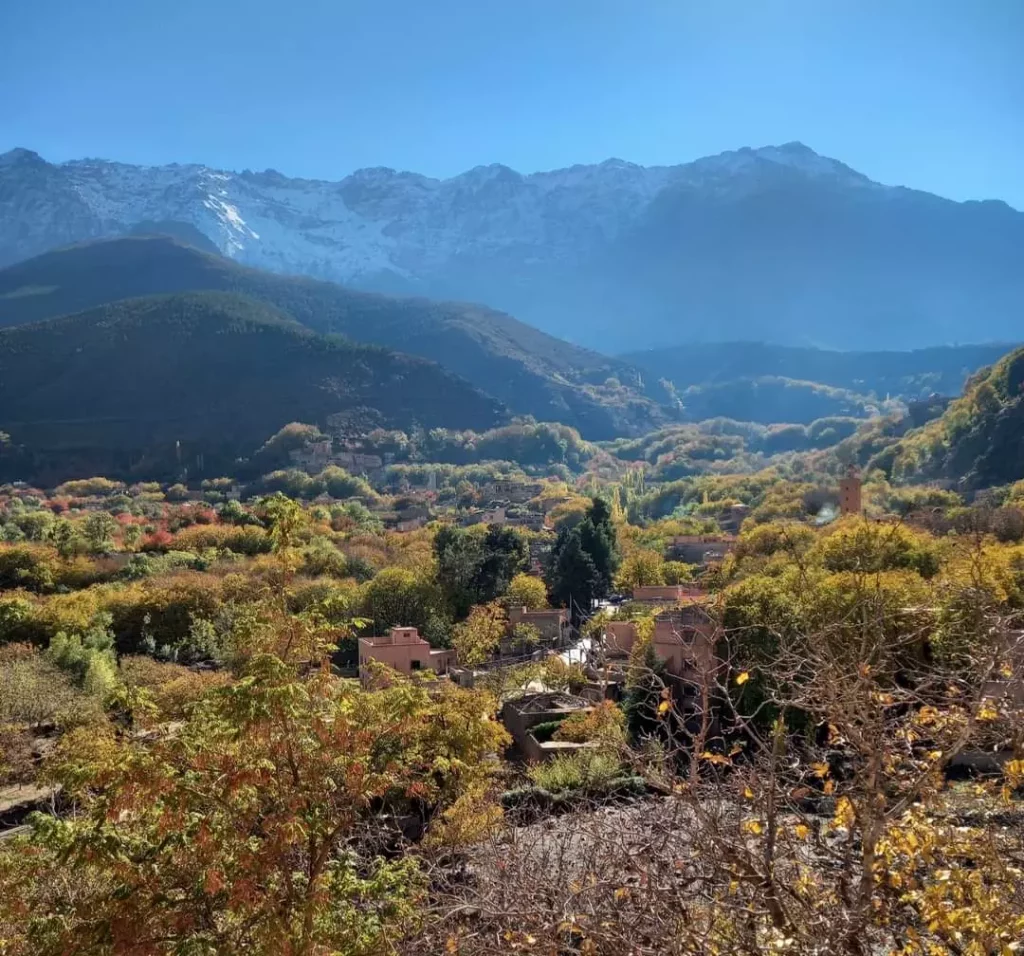 Enjoy your lunch by the river before you set for another hour up the Imlil valley prior to get back to the village of imlil and transfer back to Marrakech .
Tour Map
further discounts are aavailable according to the GROUPE SIZE

Mules and muleteers to carry your luggage.

Porters for luggage from snowline to the mountain huts ( Winter months)

Berber Cook

All meals on the hike

Round-trip Transportation between the trek and your accommodation in Marrakesh .

Camping Materiel ( Tents & Mattress) for summer treks.

Expert- Berber, English, Spanish - speaking mountain guides
Travel insurance.

Soft/alcoholic drinks

Tips and personal expanses.
Day 1 : Marrakech – Imlil/ High Atlas Mountains (1740m)– Tizi Mzik (2684m)-Tamsoulte waterfalls (2300m) Tizi Oussem village (1850m).
After breakfast in Marrakech, pick up and drive to the high Atlas Mountains via Tahnnaout, Oued Ghighaya, and Asni, taking in the breathtaking scenery of the villages along the way. Arrival in Imlil (65 kilometers from Marrakech), meet the guide and multeer, and then begin the trek & climb Tizi Mzik pass (2684m), spectacular view over Imlil valley & Toubkal Summit, continue to Tamsoulte to visit the highest waterfalls in the Atlas Mountains (100 meters in height), down the Azzaden valley through juniper forest to Tizi Oussem village. Overnight at the village guest house. Walking for 6 hours.
Day 2 : Tizi Oussem (1850m) – Id Issa village (1800m) – Tizi Oudid (2000m) – Mattat – Agersioual – Marrakech :
After breakfast, leave Tizi Oussem and continue down to Id Issa village before heading up to Tizi Oudid mountain pass (2000m), cross Matat village after a wild thurifer juniper forest, get lunch under walnut groves, and relax near the river. Afternoon transfer back to Marrakech (arrive around 17h) 5 hours
After booking with MT Toubkal Trek, we will promptly reach out to you to confirm your reservation and address any questions you may have about the tour.
Payment is in cash upon your arrival in Morocco.
This is a private tour, and we'll customize it to your group's size. If you're a solo traveler looking to join a group, please contact us.