The best three-day Mount Toubkal trip to reach Morocco's and North Africa's highest peak. Toubkal is, of course, the highest and thus most people's primary goal.
This trip is intended for people who want to spend more time between the Atlas mountains and avoid rushing up the summit. They will have enough time to rest in Tounkal Refuge (3200m) from the trip down from a summit and spend the rest of the day in this area to explore and enjoy with other tourists who have climbed the summit or plan to do so the next day.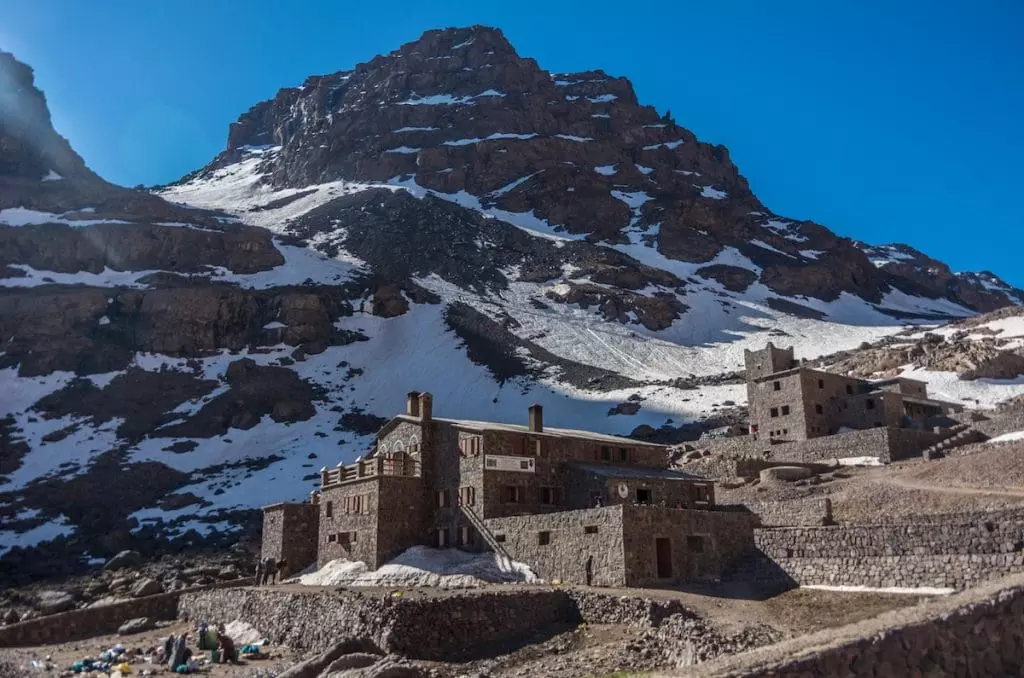 further discounts are aavailable according to the GROUPE SIZE

Mules and muleteers to carry your luggage.

Porters for luggage from snowline to the mountain huts ( Winter months)

Berber Cook

All meals on the hike

Expert- Berber, English, Spanish - speaking mountain guides

Round-trip Transportation between the trek and your accommodation in Marrakesh .

Camping Materiel ( Tents & Mattress) for summer treks.
Travel insurance.

Soft/alcoholic drinks

Tips and personal expanses.
Day 1 : Marrakech – Imlil Village ( 1740m ) – Toubkal Refuge ( 3200m )
We drive from Marrakech to Imlil, the trek's starting point. Trek through the Ait Mizane Valley to the Sidi Chamharouch shrine, a popular pilgrimage destination for Moroccans. From there, the trail climbs steeply towards the refuge (6 hour trek). We spend the night at the Toukal Refuge or in a nearby camp.
Day 2 : Refuge – Toubkal summit (4167m)
We set out early for Toubkal's summit. After reaching the peak, we take some time to rest and enjoy the stunning views of the Atlas Mountains and the plains beyond before descending back to the Refuge (6 hours ). Overnight in the Neltner refuge or while camping.
Day 3 : Toubkal Refuge – (4083m) – Imlil | Village – Marrakech |
The trip would begin in the morning. We return to Imlil (5 hours) via the Sidi Chamharouch shrine and mountain trails. Return to Marrakech by taxi.
After booking with MT Toubkal Trek, we will promptly reach out to you to confirm your reservation and address any questions you may have about the tour.
Payment is in cash upon your arrival in Morocco.
This is a private tour, and we'll customize it to your group's size. If you're a solo traveler looking to join a group, please contact us.
1
promotion
Minimum booking:
1 tickets
Maximum booking:
30 tickets
General price:
Adult (18+ years)
€

120 / ticket
|
Youth (13-17 years)
€

120 / ticket
|
Children (0-12 years)
€

120 / ticket
Options
guests = 1

Price

Adult (18+ years)

€

400 / ticket |

Youth (13-17 years)

€

400 / ticket |

Children (0-12 years)

€

400 / ticket

guests = 2

Price

Adult (18+ years)

€

200 / ticket |

Youth (13-17 years)

€

200 / ticket |

Children (0-12 years)

€

200 / ticket

guests = 3

Price

Adult (18+ years)

€

150 / ticket |

Youth (13-17 years)

€

150 / ticket |

Children (0-12 years)

€

150 / ticket

guests >= 4

Price

Adult (18+ years)

€

120 / ticket |

Youth (13-17 years)

€

120 / ticket |

Children (0-12 years)

€

120 / ticket
2
promotion
Minimum booking:
1 tickets
Maximum booking:
30 tickets
General price:
Adult (18+ years)
€

120 / ticket
|
Youth (13-17 years)
€

120 / ticket
|
Children (0-12 years)
€

120 / ticket
Options
guests = 1

Price

Adult (18+ years)

€

400 / ticket |

Youth (13-17 years)

€

400 / ticket |

Children (0-12 years)

€

400 / ticket

guests = 2

Price

Adult (18+ years)

€

200 / ticket |

Youth (13-17 years)

€

200 / ticket |

Children (0-12 years)

€

200 / ticket

guests = 3

Price

Adult (18+ years)

€

150 / ticket |

Youth (13-17 years)

€

150 / ticket |

Children (0-12 years)

€

150 / ticket

guests >= 4

Price

Adult (18+ years)

€

120 / ticket |

Youth (13-17 years)

€

120 / ticket |

Children (0-12 years)

€

120 / ticket
4
promotion
Minimum booking:
1 tickets
Maximum booking:
30 tickets
General price:
Adult (18+ years)
€

120 / ticket
|
Youth (13-17 years)
€

120 / ticket
|
Children (0-12 years)
€

120 / ticket
Options
guests = 1

Price

Adult (18+ years)

€

400 / ticket |

Youth (13-17 years)

€

400 / ticket |

Children (0-12 years)

€

400 / ticket

guests = 2

Price

Adult (18+ years)

€

200 / ticket |

Youth (13-17 years)

€

200 / ticket |

Children (0-12 years)

€

200 / ticket

guests = 3

Price

Adult (18+ years)

€

150 / ticket |

Youth (13-17 years)

€

150 / ticket |

Children (0-12 years)

€

150 / ticket

guests >= 4

Price

Adult (18+ years)

€

120 / ticket |

Youth (13-17 years)

€

120 / ticket |

Children (0-12 years)

€

120 / ticket
5
promotion
Minimum booking:
1 tickets
Maximum booking:
30 tickets
General price:
Adult (18+ years)
€

120 / ticket
|
Youth (13-17 years)
€

120 / ticket
|
Children (0-12 years)
€

120 / ticket
Options
guests = 1

Price

Adult (18+ years)

€

400 / ticket |

Youth (13-17 years)

€

400 / ticket |

Children (0-12 years)

€

400 / ticket

guests = 2

Price

Adult (18+ years)

€

200 / ticket |

Youth (13-17 years)

€

200 / ticket |

Children (0-12 years)

€

200 / ticket

guests = 3

Price

Adult (18+ years)

€

150 / ticket |

Youth (13-17 years)

€

150 / ticket |

Children (0-12 years)

€

150 / ticket

guests >= 4

Price

Adult (18+ years)

€

120 / ticket |

Youth (13-17 years)

€

120 / ticket |

Children (0-12 years)

€

120 / ticket
6
promotion
Minimum booking:
1 tickets
Maximum booking:
30 tickets
General price:
Adult (18+ years)
€

120 / ticket
|
Youth (13-17 years)
€

120 / ticket
|
Children (0-12 years)
€

120 / ticket
Options
guests = 1

Price

Adult (18+ years)

€

400 / ticket |

Youth (13-17 years)

€

400 / ticket |

Children (0-12 years)

€

400 / ticket

guests = 2

Price

Adult (18+ years)

€

200 / ticket |

Youth (13-17 years)

€

200 / ticket |

Children (0-12 years)

€

200 / ticket

guests = 3

Price

Adult (18+ years)

€

150 / ticket |

Youth (13-17 years)

€

150 / ticket |

Children (0-12 years)

€

150 / ticket

guests >= 4

Price

Adult (18+ years)

€

120 / ticket |

Youth (13-17 years)

€

120 / ticket |

Children (0-12 years)

€

120 / ticket
7
promotion
Minimum booking:
1 tickets
Maximum booking:
30 tickets
General price:
Adult (18+ years)
€

120 / ticket
|
Youth (13-17 years)
€

120 / ticket
|
Children (0-12 years)
€

120 / ticket
Options
guests = 1

Price

Adult (18+ years)

€

400 / ticket |

Youth (13-17 years)

€

400 / ticket |

Children (0-12 years)

€

400 / ticket

guests = 2

Price

Adult (18+ years)

€

200 / ticket |

Youth (13-17 years)

€

200 / ticket |

Children (0-12 years)

€

200 / ticket

guests = 3

Price

Adult (18+ years)

€

150 / ticket |

Youth (13-17 years)

€

150 / ticket |

Children (0-12 years)

€

150 / ticket

guests >= 4

Price

Adult (18+ years)

€

120 / ticket |

Youth (13-17 years)

€

120 / ticket |

Children (0-12 years)

€

120 / ticket
8
promotion
Minimum booking:
1 tickets
Maximum booking:
30 tickets
General price:
Adult (18+ years)
€

120 / ticket
|
Youth (13-17 years)
€

120 / ticket
|
Children (0-12 years)
€

120 / ticket
Options
guests = 1

Price

Adult (18+ years)

€

400 / ticket |

Youth (13-17 years)

€

400 / ticket |

Children (0-12 years)

€

400 / ticket

guests = 2

Price

Adult (18+ years)

€

200 / ticket |

Youth (13-17 years)

€

200 / ticket |

Children (0-12 years)

€

200 / ticket

guests = 3

Price

Adult (18+ years)

€

150 / ticket |

Youth (13-17 years)

€

150 / ticket |

Children (0-12 years)

€

150 / ticket

guests >= 4

Price

Adult (18+ years)

€

120 / ticket |

Youth (13-17 years)

€

120 / ticket |

Children (0-12 years)

€

120 / ticket
9
promotion
Minimum booking:
1 tickets
Maximum booking:
30 tickets
General price:
Adult (18+ years)
€

120 / ticket
|
Youth (13-17 years)
€

120 / ticket
|
Children (0-12 years)
€

120 / ticket
Options
guests = 1

Price

Adult (18+ years)

€

400 / ticket |

Youth (13-17 years)

€

400 / ticket |

Children (0-12 years)

€

400 / ticket

guests = 2

Price

Adult (18+ years)

€

200 / ticket |

Youth (13-17 years)

€

200 / ticket |

Children (0-12 years)

€

200 / ticket

guests = 3

Price

Adult (18+ years)

€

150 / ticket |

Youth (13-17 years)

€

150 / ticket |

Children (0-12 years)

€

150 / ticket

guests >= 4

Price

Adult (18+ years)

€

120 / ticket |

Youth (13-17 years)

€

120 / ticket |

Children (0-12 years)

€

120 / ticket
11
promotion
Minimum booking:
1 tickets
Maximum booking:
30 tickets
General price:
Adult (18+ years)
€

120 / ticket
|
Youth (13-17 years)
€

120 / ticket
|
Children (0-12 years)
€

120 / ticket
Options
guests = 1

Price

Adult (18+ years)

€

400 / ticket |

Youth (13-17 years)

€

400 / ticket |

Children (0-12 years)

€

400 / ticket

guests = 2

Price

Adult (18+ years)

€

200 / ticket |

Youth (13-17 years)

€

200 / ticket |

Children (0-12 years)

€

200 / ticket

guests = 3

Price

Adult (18+ years)

€

150 / ticket |

Youth (13-17 years)

€

150 / ticket |

Children (0-12 years)

€

150 / ticket

guests >= 4

Price

Adult (18+ years)

€

120 / ticket |

Youth (13-17 years)

€

120 / ticket |

Children (0-12 years)

€

120 / ticket
12
promotion
Minimum booking:
1 tickets
Maximum booking:
30 tickets
General price:
Adult (18+ years)
€

120 / ticket
|
Youth (13-17 years)
€

120 / ticket
|
Children (0-12 years)
€

120 / ticket
Options
guests = 1

Price

Adult (18+ years)

€

400 / ticket |

Youth (13-17 years)

€

400 / ticket |

Children (0-12 years)

€

400 / ticket

guests = 2

Price

Adult (18+ years)

€

200 / ticket |

Youth (13-17 years)

€

200 / ticket |

Children (0-12 years)

€

200 / ticket

guests = 3

Price

Adult (18+ years)

€

150 / ticket |

Youth (13-17 years)

€

150 / ticket |

Children (0-12 years)

€

150 / ticket

guests >= 4

Price

Adult (18+ years)

€

120 / ticket |

Youth (13-17 years)

€

120 / ticket |

Children (0-12 years)

€

120 / ticket
13
promotion
Minimum booking:
1 tickets
Maximum booking:
30 tickets
General price:
Adult (18+ years)
€

120 / ticket
|
Youth (13-17 years)
€

120 / ticket
|
Children (0-12 years)
€

120 / ticket
Options
guests = 1

Price

Adult (18+ years)

€

400 / ticket |

Youth (13-17 years)

€

400 / ticket |

Children (0-12 years)

€

400 / ticket

guests = 2

Price

Adult (18+ years)

€

200 / ticket |

Youth (13-17 years)

€

200 / ticket |

Children (0-12 years)

€

200 / ticket

guests = 3

Price

Adult (18+ years)

€

150 / ticket |

Youth (13-17 years)

€

150 / ticket |

Children (0-12 years)

€

150 / ticket

guests >= 4

Price

Adult (18+ years)

€

120 / ticket |

Youth (13-17 years)

€

120 / ticket |

Children (0-12 years)

€

120 / ticket
14
promotion
Minimum booking:
1 tickets
Maximum booking:
30 tickets
General price:
Adult (18+ years)
€

120 / ticket
|
Youth (13-17 years)
€

120 / ticket
|
Children (0-12 years)
€

120 / ticket
Options
guests = 1

Price

Adult (18+ years)

€

400 / ticket |

Youth (13-17 years)

€

400 / ticket |

Children (0-12 years)

€

400 / ticket

guests = 2

Price

Adult (18+ years)

€

200 / ticket |

Youth (13-17 years)

€

200 / ticket |

Children (0-12 years)

€

200 / ticket

guests = 3

Price

Adult (18+ years)

€

150 / ticket |

Youth (13-17 years)

€

150 / ticket |

Children (0-12 years)

€

150 / ticket

guests >= 4

Price

Adult (18+ years)

€

120 / ticket |

Youth (13-17 years)

€

120 / ticket |

Children (0-12 years)

€

120 / ticket
15
promotion
Minimum booking:
1 tickets
Maximum booking:
30 tickets
General price:
Adult (18+ years)
€

120 / ticket
|
Youth (13-17 years)
€

120 / ticket
|
Children (0-12 years)
€

120 / ticket
Options
guests = 1

Price

Adult (18+ years)

€

400 / ticket |

Youth (13-17 years)

€

400 / ticket |

Children (0-12 years)

€

400 / ticket

guests = 2

Price

Adult (18+ years)

€

200 / ticket |

Youth (13-17 years)

€

200 / ticket |

Children (0-12 years)

€

200 / ticket

guests = 3

Price

Adult (18+ years)

€

150 / ticket |

Youth (13-17 years)

€

150 / ticket |

Children (0-12 years)

€

150 / ticket

guests >= 4

Price

Adult (18+ years)

€

120 / ticket |

Youth (13-17 years)

€

120 / ticket |

Children (0-12 years)

€

120 / ticket
16
promotion
Minimum booking:
1 tickets
Maximum booking:
30 tickets
General price:
Adult (18+ years)
€

120 / ticket
|
Youth (13-17 years)
€

120 / ticket
|
Children (0-12 years)
€

120 / ticket
Options
guests = 1

Price

Adult (18+ years)

€

400 / ticket |

Youth (13-17 years)

€

400 / ticket |

Children (0-12 years)

€

400 / ticket

guests = 2

Price

Adult (18+ years)

€

200 / ticket |

Youth (13-17 years)

€

200 / ticket |

Children (0-12 years)

€

200 / ticket

guests = 3

Price

Adult (18+ years)

€

150 / ticket |

Youth (13-17 years)

€

150 / ticket |

Children (0-12 years)

€

150 / ticket

guests >= 4

Price

Adult (18+ years)

€

120 / ticket |

Youth (13-17 years)

€

120 / ticket |

Children (0-12 years)

€

120 / ticket
18
promotion
Minimum booking:
1 tickets
Maximum booking:
30 tickets
General price:
Adult (18+ years)
€

120 / ticket
|
Youth (13-17 years)
€

120 / ticket
|
Children (0-12 years)
€

120 / ticket
Options
guests = 1

Price

Adult (18+ years)

€

400 / ticket |

Youth (13-17 years)

€

400 / ticket |

Children (0-12 years)

€

400 / ticket

guests = 2

Price

Adult (18+ years)

€

200 / ticket |

Youth (13-17 years)

€

200 / ticket |

Children (0-12 years)

€

200 / ticket

guests = 3

Price

Adult (18+ years)

€

150 / ticket |

Youth (13-17 years)

€

150 / ticket |

Children (0-12 years)

€

150 / ticket

guests >= 4

Price

Adult (18+ years)

€

120 / ticket |

Youth (13-17 years)

€

120 / ticket |

Children (0-12 years)

€

120 / ticket
19
promotion
Minimum booking:
1 tickets
Maximum booking:
30 tickets
General price:
Adult (18+ years)
€

120 / ticket
|
Youth (13-17 years)
€

120 / ticket
|
Children (0-12 years)
€

120 / ticket
Options
guests = 1

Price

Adult (18+ years)

€

400 / ticket |

Youth (13-17 years)

€

400 / ticket |

Children (0-12 years)

€

400 / ticket

guests = 2

Price

Adult (18+ years)

€

200 / ticket |

Youth (13-17 years)

€

200 / ticket |

Children (0-12 years)

€

200 / ticket

guests = 3

Price

Adult (18+ years)

€

150 / ticket |

Youth (13-17 years)

€

150 / ticket |

Children (0-12 years)

€

150 / ticket

guests >= 4

Price

Adult (18+ years)

€

120 / ticket |

Youth (13-17 years)

€

120 / ticket |

Children (0-12 years)

€

120 / ticket
20
promotion
Minimum booking:
1 tickets
Maximum booking:
30 tickets
General price:
Adult (18+ years)
€

120 / ticket
|
Youth (13-17 years)
€

120 / ticket
|
Children (0-12 years)
€

120 / ticket
Options
guests = 1

Price

Adult (18+ years)

€

400 / ticket |

Youth (13-17 years)

€

400 / ticket |

Children (0-12 years)

€

400 / ticket

guests = 2

Price

Adult (18+ years)

€

200 / ticket |

Youth (13-17 years)

€

200 / ticket |

Children (0-12 years)

€

200 / ticket

guests = 3

Price

Adult (18+ years)

€

150 / ticket |

Youth (13-17 years)

€

150 / ticket |

Children (0-12 years)

€

150 / ticket

guests >= 4

Price

Adult (18+ years)

€

120 / ticket |

Youth (13-17 years)

€

120 / ticket |

Children (0-12 years)

€

120 / ticket
21
promotion
Minimum booking:
1 tickets
Maximum booking:
30 tickets
General price:
Adult (18+ years)
€

120 / ticket
|
Youth (13-17 years)
€

120 / ticket
|
Children (0-12 years)
€

120 / ticket
Options
guests = 1

Price

Adult (18+ years)

€

400 / ticket |

Youth (13-17 years)

€

400 / ticket |

Children (0-12 years)

€

400 / ticket

guests = 2

Price

Adult (18+ years)

€

200 / ticket |

Youth (13-17 years)

€

200 / ticket |

Children (0-12 years)

€

200 / ticket

guests = 3

Price

Adult (18+ years)

€

150 / ticket |

Youth (13-17 years)

€

150 / ticket |

Children (0-12 years)

€

150 / ticket

guests >= 4

Price

Adult (18+ years)

€

120 / ticket |

Youth (13-17 years)

€

120 / ticket |

Children (0-12 years)

€

120 / ticket
22
promotion
Minimum booking:
1 tickets
Maximum booking:
30 tickets
General price:
Adult (18+ years)
€

120 / ticket
|
Youth (13-17 years)
€

120 / ticket
|
Children (0-12 years)
€

120 / ticket
Options
guests = 1

Price

Adult (18+ years)

€

400 / ticket |

Youth (13-17 years)

€

400 / ticket |

Children (0-12 years)

€

400 / ticket

guests = 2

Price

Adult (18+ years)

€

200 / ticket |

Youth (13-17 years)

€

200 / ticket |

Children (0-12 years)

€

200 / ticket

guests = 3

Price

Adult (18+ years)

€

150 / ticket |

Youth (13-17 years)

€

150 / ticket |

Children (0-12 years)

€

150 / ticket

guests >= 4

Price

Adult (18+ years)

€

120 / ticket |

Youth (13-17 years)

€

120 / ticket |

Children (0-12 years)

€

120 / ticket
23
promotion
Minimum booking:
1 tickets
Maximum booking:
30 tickets
General price:
Adult (18+ years)
€

120 / ticket
|
Youth (13-17 years)
€

120 / ticket
|
Children (0-12 years)
€

120 / ticket
Options
guests = 1

Price

Adult (18+ years)

€

400 / ticket |

Youth (13-17 years)

€

400 / ticket |

Children (0-12 years)

€

400 / ticket

guests = 2

Price

Adult (18+ years)

€

200 / ticket |

Youth (13-17 years)

€

200 / ticket |

Children (0-12 years)

€

200 / ticket

guests = 3

Price

Adult (18+ years)

€

150 / ticket |

Youth (13-17 years)

€

150 / ticket |

Children (0-12 years)

€

150 / ticket

guests >= 4

Price

Adult (18+ years)

€

120 / ticket |

Youth (13-17 years)

€

120 / ticket |

Children (0-12 years)

€

120 / ticket
25
promotion
Minimum booking:
1 tickets
Maximum booking:
30 tickets
General price:
Adult (18+ years)
€

120 / ticket
|
Youth (13-17 years)
€

120 / ticket
|
Children (0-12 years)
€

120 / ticket
Options
guests = 1

Price

Adult (18+ years)

€

400 / ticket |

Youth (13-17 years)

€

400 / ticket |

Children (0-12 years)

€

400 / ticket

guests = 2

Price

Adult (18+ years)

€

200 / ticket |

Youth (13-17 years)

€

200 / ticket |

Children (0-12 years)

€

200 / ticket

guests = 3

Price

Adult (18+ years)

€

150 / ticket |

Youth (13-17 years)

€

150 / ticket |

Children (0-12 years)

€

150 / ticket

guests >= 4

Price

Adult (18+ years)

€

120 / ticket |

Youth (13-17 years)

€

120 / ticket |

Children (0-12 years)

€

120 / ticket
26
promotion
Minimum booking:
1 tickets
Maximum booking:
30 tickets
General price:
Adult (18+ years)
€

120 / ticket
|
Youth (13-17 years)
€

120 / ticket
|
Children (0-12 years)
€

120 / ticket
Options
guests = 1

Price

Adult (18+ years)

€

400 / ticket |

Youth (13-17 years)

€

400 / ticket |

Children (0-12 years)

€

400 / ticket

guests = 2

Price

Adult (18+ years)

€

200 / ticket |

Youth (13-17 years)

€

200 / ticket |

Children (0-12 years)

€

200 / ticket

guests = 3

Price

Adult (18+ years)

€

150 / ticket |

Youth (13-17 years)

€

150 / ticket |

Children (0-12 years)

€

150 / ticket

guests >= 4

Price

Adult (18+ years)

€

120 / ticket |

Youth (13-17 years)

€

120 / ticket |

Children (0-12 years)

€

120 / ticket
27
promotion
Minimum booking:
1 tickets
Maximum booking:
30 tickets
General price:
Adult (18+ years)
€

120 / ticket
|
Youth (13-17 years)
€

120 / ticket
|
Children (0-12 years)
€

120 / ticket
Options
guests = 1

Price

Adult (18+ years)

€

400 / ticket |

Youth (13-17 years)

€

400 / ticket |

Children (0-12 years)

€

400 / ticket

guests = 2

Price

Adult (18+ years)

€

200 / ticket |

Youth (13-17 years)

€

200 / ticket |

Children (0-12 years)

€

200 / ticket

guests = 3

Price

Adult (18+ years)

€

150 / ticket |

Youth (13-17 years)

€

150 / ticket |

Children (0-12 years)

€

150 / ticket

guests >= 4

Price

Adult (18+ years)

€

120 / ticket |

Youth (13-17 years)

€

120 / ticket |

Children (0-12 years)

€

120 / ticket
28
promotion
Minimum booking:
1 tickets
Maximum booking:
30 tickets
General price:
Adult (18+ years)
€

120 / ticket
|
Youth (13-17 years)
€

120 / ticket
|
Children (0-12 years)
€

120 / ticket
Options
guests = 1

Price

Adult (18+ years)

€

400 / ticket |

Youth (13-17 years)

€

400 / ticket |

Children (0-12 years)

€

400 / ticket

guests = 2

Price

Adult (18+ years)

€

200 / ticket |

Youth (13-17 years)

€

200 / ticket |

Children (0-12 years)

€

200 / ticket

guests = 3

Price

Adult (18+ years)

€

150 / ticket |

Youth (13-17 years)

€

150 / ticket |

Children (0-12 years)

€

150 / ticket

guests >= 4

Price

Adult (18+ years)

€

120 / ticket |

Youth (13-17 years)

€

120 / ticket |

Children (0-12 years)

€

120 / ticket
29
promotion
Minimum booking:
1 tickets
Maximum booking:
30 tickets
General price:
Adult (18+ years)
€

120 / ticket
|
Youth (13-17 years)
€

120 / ticket
|
Children (0-12 years)
€

120 / ticket
Options
guests = 1

Price

Adult (18+ years)

€

400 / ticket |

Youth (13-17 years)

€

400 / ticket |

Children (0-12 years)

€

400 / ticket

guests = 2

Price

Adult (18+ years)

€

200 / ticket |

Youth (13-17 years)

€

200 / ticket |

Children (0-12 years)

€

200 / ticket

guests = 3

Price

Adult (18+ years)

€

150 / ticket |

Youth (13-17 years)

€

150 / ticket |

Children (0-12 years)

€

150 / ticket

guests >= 4

Price

Adult (18+ years)

€

120 / ticket |

Youth (13-17 years)

€

120 / ticket |

Children (0-12 years)

€

120 / ticket
30
promotion
Minimum booking:
1 tickets
Maximum booking:
30 tickets
General price:
Adult (18+ years)
€

120 / ticket
|
Youth (13-17 years)
€

120 / ticket
|
Children (0-12 years)
€

120 / ticket
Options
guests = 1

Price

Adult (18+ years)

€

400 / ticket |

Youth (13-17 years)

€

400 / ticket |

Children (0-12 years)

€

400 / ticket

guests = 2

Price

Adult (18+ years)

€

200 / ticket |

Youth (13-17 years)

€

200 / ticket |

Children (0-12 years)

€

200 / ticket

guests = 3

Price

Adult (18+ years)

€

150 / ticket |

Youth (13-17 years)

€

150 / ticket |

Children (0-12 years)

€

150 / ticket

guests >= 4

Price

Adult (18+ years)

€

120 / ticket |

Youth (13-17 years)

€

120 / ticket |

Children (0-12 years)

€

120 / ticket
1
promotion
Minimum booking:
1 tickets
Maximum booking:
30 tickets
General price:
Adult (18+ years)
€

120 / ticket
|
Youth (13-17 years)
€

120 / ticket
|
Children (0-12 years)
€

120 / ticket
Options
guests = 1

Price

Adult (18+ years)

€

400 / ticket |

Youth (13-17 years)

€

400 / ticket |

Children (0-12 years)

€

400 / ticket

guests = 2

Price

Adult (18+ years)

€

200 / ticket |

Youth (13-17 years)

€

200 / ticket |

Children (0-12 years)

€

200 / ticket

guests = 3

Price

Adult (18+ years)

€

150 / ticket |

Youth (13-17 years)

€

150 / ticket |

Children (0-12 years)

€

150 / ticket

guests >= 4

Price

Adult (18+ years)

€

120 / ticket |

Youth (13-17 years)

€

120 / ticket |

Children (0-12 years)

€

120 / ticket
2
promotion
Minimum booking:
1 tickets
Maximum booking:
30 tickets
General price:
Adult (18+ years)
€

120 / ticket
|
Youth (13-17 years)
€

120 / ticket
|
Children (0-12 years)
€

120 / ticket
Options
guests = 1

Price

Adult (18+ years)

€

400 / ticket |

Youth (13-17 years)

€

400 / ticket |

Children (0-12 years)

€

400 / ticket

guests = 2

Price

Adult (18+ years)

€

200 / ticket |

Youth (13-17 years)

€

200 / ticket |

Children (0-12 years)

€

200 / ticket

guests = 3

Price

Adult (18+ years)

€

150 / ticket |

Youth (13-17 years)

€

150 / ticket |

Children (0-12 years)

€

150 / ticket

guests >= 4

Price

Adult (18+ years)

€

120 / ticket |

Youth (13-17 years)

€

120 / ticket |

Children (0-12 years)

€

120 / ticket
3
promotion
Minimum booking:
1 tickets
Maximum booking:
30 tickets
General price:
Adult (18+ years)
€

120 / ticket
|
Youth (13-17 years)
€

120 / ticket
|
Children (0-12 years)
€

120 / ticket
Options
guests = 1

Price

Adult (18+ years)

€

400 / ticket |

Youth (13-17 years)

€

400 / ticket |

Children (0-12 years)

€

400 / ticket

guests = 2

Price

Adult (18+ years)

€

200 / ticket |

Youth (13-17 years)

€

200 / ticket |

Children (0-12 years)

€

200 / ticket

guests = 3

Price

Adult (18+ years)

€

150 / ticket |

Youth (13-17 years)

€

150 / ticket |

Children (0-12 years)

€

150 / ticket

guests >= 4

Price

Adult (18+ years)

€

120 / ticket |

Youth (13-17 years)

€

120 / ticket |

Children (0-12 years)

€

120 / ticket
4
promotion
Minimum booking:
1 tickets
Maximum booking:
30 tickets
General price:
Adult (18+ years)
€

120 / ticket
|
Youth (13-17 years)
€

120 / ticket
|
Children (0-12 years)
€

120 / ticket
Options
guests = 1

Price

Adult (18+ years)

€

400 / ticket |

Youth (13-17 years)

€

400 / ticket |

Children (0-12 years)

€

400 / ticket

guests = 2

Price

Adult (18+ years)

€

200 / ticket |

Youth (13-17 years)

€

200 / ticket |

Children (0-12 years)

€

200 / ticket

guests = 3

Price

Adult (18+ years)

€

150 / ticket |

Youth (13-17 years)

€

150 / ticket |

Children (0-12 years)

€

150 / ticket

guests >= 4

Price

Adult (18+ years)

€

120 / ticket |

Youth (13-17 years)

€

120 / ticket |

Children (0-12 years)

€

120 / ticket
5
promotion
Minimum booking:
1 tickets
Maximum booking:
30 tickets
General price:
Adult (18+ years)
€

120 / ticket
|
Youth (13-17 years)
€

120 / ticket
|
Children (0-12 years)
€

120 / ticket
Options
guests = 1

Price

Adult (18+ years)

€

400 / ticket |

Youth (13-17 years)

€

400 / ticket |

Children (0-12 years)

€

400 / ticket

guests = 2

Price

Adult (18+ years)

€

200 / ticket |

Youth (13-17 years)

€

200 / ticket |

Children (0-12 years)

€

200 / ticket

guests = 3

Price

Adult (18+ years)

€

150 / ticket |

Youth (13-17 years)

€

150 / ticket |

Children (0-12 years)

€

150 / ticket

guests >= 4

Price

Adult (18+ years)

€

120 / ticket |

Youth (13-17 years)

€

120 / ticket |

Children (0-12 years)

€

120 / ticket
6
promotion
Minimum booking:
1 tickets
Maximum booking:
30 tickets
General price:
Adult (18+ years)
€

120 / ticket
|
Youth (13-17 years)
€

120 / ticket
|
Children (0-12 years)
€

120 / ticket
Options
guests = 1

Price

Adult (18+ years)

€

400 / ticket |

Youth (13-17 years)

€

400 / ticket |

Children (0-12 years)

€

400 / ticket

guests = 2

Price

Adult (18+ years)

€

200 / ticket |

Youth (13-17 years)

€

200 / ticket |

Children (0-12 years)

€

200 / ticket

guests = 3

Price

Adult (18+ years)

€

150 / ticket |

Youth (13-17 years)

€

150 / ticket |

Children (0-12 years)

€

150 / ticket

guests >= 4

Price

Adult (18+ years)

€

120 / ticket |

Youth (13-17 years)

€

120 / ticket |

Children (0-12 years)

€

120 / ticket
8
promotion
Minimum booking:
1 tickets
Maximum booking:
30 tickets
General price:
Adult (18+ years)
€

120 / ticket
|
Youth (13-17 years)
€

120 / ticket
|
Children (0-12 years)
€

120 / ticket
Options
guests = 1

Price

Adult (18+ years)

€

400 / ticket |

Youth (13-17 years)

€

400 / ticket |

Children (0-12 years)

€

400 / ticket

guests = 2

Price

Adult (18+ years)

€

200 / ticket |

Youth (13-17 years)

€

200 / ticket |

Children (0-12 years)

€

200 / ticket

guests = 3

Price

Adult (18+ years)

€

150 / ticket |

Youth (13-17 years)

€

150 / ticket |

Children (0-12 years)

€

150 / ticket

guests >= 4

Price

Adult (18+ years)

€

120 / ticket |

Youth (13-17 years)

€

120 / ticket |

Children (0-12 years)

€

120 / ticket
9
promotion
Minimum booking:
1 tickets
Maximum booking:
30 tickets
General price:
Adult (18+ years)
€

120 / ticket
|
Youth (13-17 years)
€

120 / ticket
|
Children (0-12 years)
€

120 / ticket
Options
guests = 1

Price

Adult (18+ years)

€

400 / ticket |

Youth (13-17 years)

€

400 / ticket |

Children (0-12 years)

€

400 / ticket

guests = 2

Price

Adult (18+ years)

€

200 / ticket |

Youth (13-17 years)

€

200 / ticket |

Children (0-12 years)

€

200 / ticket

guests = 3

Price

Adult (18+ years)

€

150 / ticket |

Youth (13-17 years)

€

150 / ticket |

Children (0-12 years)

€

150 / ticket

guests >= 4

Price

Adult (18+ years)

€

120 / ticket |

Youth (13-17 years)

€

120 / ticket |

Children (0-12 years)

€

120 / ticket
10
promotion
Minimum booking:
1 tickets
Maximum booking:
30 tickets
General price:
Adult (18+ years)
€

120 / ticket
|
Youth (13-17 years)
€

120 / ticket
|
Children (0-12 years)
€

120 / ticket
Options
guests = 1

Price

Adult (18+ years)

€

400 / ticket |

Youth (13-17 years)

€

400 / ticket |

Children (0-12 years)

€

400 / ticket

guests = 2

Price

Adult (18+ years)

€

200 / ticket |

Youth (13-17 years)

€

200 / ticket |

Children (0-12 years)

€

200 / ticket

guests = 3

Price

Adult (18+ years)

€

150 / ticket |

Youth (13-17 years)

€

150 / ticket |

Children (0-12 years)

€

150 / ticket

guests >= 4

Price

Adult (18+ years)

€

120 / ticket |

Youth (13-17 years)

€

120 / ticket |

Children (0-12 years)

€

120 / ticket
11
promotion
Minimum booking:
1 tickets
Maximum booking:
30 tickets
General price:
Adult (18+ years)
€

120 / ticket
|
Youth (13-17 years)
€

120 / ticket
|
Children (0-12 years)
€

120 / ticket
Options
guests = 1

Price

Adult (18+ years)

€

400 / ticket |

Youth (13-17 years)

€

400 / ticket |

Children (0-12 years)

€

400 / ticket

guests = 2

Price

Adult (18+ years)

€

200 / ticket |

Youth (13-17 years)

€

200 / ticket |

Children (0-12 years)

€

200 / ticket

guests = 3

Price

Adult (18+ years)

€

150 / ticket |

Youth (13-17 years)

€

150 / ticket |

Children (0-12 years)

€

150 / ticket

guests >= 4

Price

Adult (18+ years)

€

120 / ticket |

Youth (13-17 years)

€

120 / ticket |

Children (0-12 years)

€

120 / ticket
12
promotion
Minimum booking:
1 tickets
Maximum booking:
30 tickets
General price:
Adult (18+ years)
€

120 / ticket
|
Youth (13-17 years)
€

120 / ticket
|
Children (0-12 years)
€

120 / ticket
Options
guests = 1

Price

Adult (18+ years)

€

400 / ticket |

Youth (13-17 years)

€

400 / ticket |

Children (0-12 years)

€

400 / ticket

guests = 2

Price

Adult (18+ years)

€

200 / ticket |

Youth (13-17 years)

€

200 / ticket |

Children (0-12 years)

€

200 / ticket

guests = 3

Price

Adult (18+ years)

€

150 / ticket |

Youth (13-17 years)

€

150 / ticket |

Children (0-12 years)

€

150 / ticket

guests >= 4

Price

Adult (18+ years)

€

120 / ticket |

Youth (13-17 years)

€

120 / ticket |

Children (0-12 years)

€

120 / ticket
13
promotion
Minimum booking:
1 tickets
Maximum booking:
30 tickets
General price:
Adult (18+ years)
€

120 / ticket
|
Youth (13-17 years)
€

120 / ticket
|
Children (0-12 years)
€

120 / ticket
Options
guests = 1

Price

Adult (18+ years)

€

400 / ticket |

Youth (13-17 years)

€

400 / ticket |

Children (0-12 years)

€

400 / ticket

guests = 2

Price

Adult (18+ years)

€

200 / ticket |

Youth (13-17 years)

€

200 / ticket |

Children (0-12 years)

€

200 / ticket

guests = 3

Price

Adult (18+ years)

€

150 / ticket |

Youth (13-17 years)

€

150 / ticket |

Children (0-12 years)

€

150 / ticket

guests >= 4

Price

Adult (18+ years)

€

120 / ticket |

Youth (13-17 years)

€

120 / ticket |

Children (0-12 years)

€

120 / ticket
15
promotion
Minimum booking:
1 tickets
Maximum booking:
30 tickets
General price:
Adult (18+ years)
€

120 / ticket
|
Youth (13-17 years)
€

120 / ticket
|
Children (0-12 years)
€

120 / ticket
Options
guests = 1

Price

Adult (18+ years)

€

400 / ticket |

Youth (13-17 years)

€

400 / ticket |

Children (0-12 years)

€

400 / ticket

guests = 2

Price

Adult (18+ years)

€

200 / ticket |

Youth (13-17 years)

€

200 / ticket |

Children (0-12 years)

€

200 / ticket

guests = 3

Price

Adult (18+ years)

€

150 / ticket |

Youth (13-17 years)

€

150 / ticket |

Children (0-12 years)

€

150 / ticket

guests >= 4

Price

Adult (18+ years)

€

120 / ticket |

Youth (13-17 years)

€

120 / ticket |

Children (0-12 years)

€

120 / ticket
16
promotion
Minimum booking:
1 tickets
Maximum booking:
30 tickets
General price:
Adult (18+ years)
€

120 / ticket
|
Youth (13-17 years)
€

120 / ticket
|
Children (0-12 years)
€

120 / ticket
Options
guests = 1

Price

Adult (18+ years)

€

400 / ticket |

Youth (13-17 years)

€

400 / ticket |

Children (0-12 years)

€

400 / ticket

guests = 2

Price

Adult (18+ years)

€

200 / ticket |

Youth (13-17 years)

€

200 / ticket |

Children (0-12 years)

€

200 / ticket

guests = 3

Price

Adult (18+ years)

€

150 / ticket |

Youth (13-17 years)

€

150 / ticket |

Children (0-12 years)

€

150 / ticket

guests >= 4

Price

Adult (18+ years)

€

120 / ticket |

Youth (13-17 years)

€

120 / ticket |

Children (0-12 years)

€

120 / ticket
17
promotion
Minimum booking:
1 tickets
Maximum booking:
30 tickets
General price:
Adult (18+ years)
€

120 / ticket
|
Youth (13-17 years)
€

120 / ticket
|
Children (0-12 years)
€

120 / ticket
Options
guests = 1

Price

Adult (18+ years)

€

400 / ticket |

Youth (13-17 years)

€

400 / ticket |

Children (0-12 years)

€

400 / ticket

guests = 2

Price

Adult (18+ years)

€

200 / ticket |

Youth (13-17 years)

€

200 / ticket |

Children (0-12 years)

€

200 / ticket

guests = 3

Price

Adult (18+ years)

€

150 / ticket |

Youth (13-17 years)

€

150 / ticket |

Children (0-12 years)

€

150 / ticket

guests >= 4

Price

Adult (18+ years)

€

120 / ticket |

Youth (13-17 years)

€

120 / ticket |

Children (0-12 years)

€

120 / ticket
18
promotion
Minimum booking:
1 tickets
Maximum booking:
30 tickets
General price:
Adult (18+ years)
€

120 / ticket
|
Youth (13-17 years)
€

120 / ticket
|
Children (0-12 years)
€

120 / ticket
Options
guests = 1

Price

Adult (18+ years)

€

400 / ticket |

Youth (13-17 years)

€

400 / ticket |

Children (0-12 years)

€

400 / ticket

guests = 2

Price

Adult (18+ years)

€

200 / ticket |

Youth (13-17 years)

€

200 / ticket |

Children (0-12 years)

€

200 / ticket

guests = 3

Price

Adult (18+ years)

€

150 / ticket |

Youth (13-17 years)

€

150 / ticket |

Children (0-12 years)

€

150 / ticket

guests >= 4

Price

Adult (18+ years)

€

120 / ticket |

Youth (13-17 years)

€

120 / ticket |

Children (0-12 years)

€

120 / ticket
19
promotion
Minimum booking:
1 tickets
Maximum booking:
30 tickets
General price:
Adult (18+ years)
€

120 / ticket
|
Youth (13-17 years)
€

120 / ticket
|
Children (0-12 years)
€

120 / ticket
Options
guests = 1

Price

Adult (18+ years)

€

400 / ticket |

Youth (13-17 years)

€

400 / ticket |

Children (0-12 years)

€

400 / ticket

guests = 2

Price

Adult (18+ years)

€

200 / ticket |

Youth (13-17 years)

€

200 / ticket |

Children (0-12 years)

€

200 / ticket

guests = 3

Price

Adult (18+ years)

€

150 / ticket |

Youth (13-17 years)

€

150 / ticket |

Children (0-12 years)

€

150 / ticket

guests >= 4

Price

Adult (18+ years)

€

120 / ticket |

Youth (13-17 years)

€

120 / ticket |

Children (0-12 years)

€

120 / ticket
20
promotion
Minimum booking:
1 tickets
Maximum booking:
30 tickets
General price:
Adult (18+ years)
€

120 / ticket
|
Youth (13-17 years)
€

120 / ticket
|
Children (0-12 years)
€

120 / ticket
Options
guests = 1

Price

Adult (18+ years)

€

400 / ticket |

Youth (13-17 years)

€

400 / ticket |

Children (0-12 years)

€

400 / ticket

guests = 2

Price

Adult (18+ years)

€

200 / ticket |

Youth (13-17 years)

€

200 / ticket |

Children (0-12 years)

€

200 / ticket

guests = 3

Price

Adult (18+ years)

€

150 / ticket |

Youth (13-17 years)

€

150 / ticket |

Children (0-12 years)

€

150 / ticket

guests >= 4

Price

Adult (18+ years)

€

120 / ticket |

Youth (13-17 years)

€

120 / ticket |

Children (0-12 years)

€

120 / ticket
22
promotion
Minimum booking:
1 tickets
Maximum booking:
30 tickets
General price:
Adult (18+ years)
€

120 / ticket
|
Youth (13-17 years)
€

120 / ticket
|
Children (0-12 years)
€

120 / ticket
Options
guests = 1

Price

Adult (18+ years)

€

400 / ticket |

Youth (13-17 years)

€

400 / ticket |

Children (0-12 years)

€

400 / ticket

guests = 2

Price

Adult (18+ years)

€

200 / ticket |

Youth (13-17 years)

€

200 / ticket |

Children (0-12 years)

€

200 / ticket

guests = 3

Price

Adult (18+ years)

€

150 / ticket |

Youth (13-17 years)

€

150 / ticket |

Children (0-12 years)

€

150 / ticket

guests >= 4

Price

Adult (18+ years)

€

120 / ticket |

Youth (13-17 years)

€

120 / ticket |

Children (0-12 years)

€

120 / ticket
23
promotion
Minimum booking:
1 tickets
Maximum booking:
30 tickets
General price:
Adult (18+ years)
€

120 / ticket
|
Youth (13-17 years)
€

120 / ticket
|
Children (0-12 years)
€

120 / ticket
Options
guests = 1

Price

Adult (18+ years)

€

400 / ticket |

Youth (13-17 years)

€

400 / ticket |

Children (0-12 years)

€

400 / ticket

guests = 2

Price

Adult (18+ years)

€

200 / ticket |

Youth (13-17 years)

€

200 / ticket |

Children (0-12 years)

€

200 / ticket

guests = 3

Price

Adult (18+ years)

€

150 / ticket |

Youth (13-17 years)

€

150 / ticket |

Children (0-12 years)

€

150 / ticket

guests >= 4

Price

Adult (18+ years)

€

120 / ticket |

Youth (13-17 years)

€

120 / ticket |

Children (0-12 years)

€

120 / ticket
24
promotion
Minimum booking:
1 tickets
Maximum booking:
30 tickets
General price:
Adult (18+ years)
€

120 / ticket
|
Youth (13-17 years)
€

120 / ticket
|
Children (0-12 years)
€

120 / ticket
Options
guests = 1

Price

Adult (18+ years)

€

400 / ticket |

Youth (13-17 years)

€

400 / ticket |

Children (0-12 years)

€

400 / ticket

guests = 2

Price

Adult (18+ years)

€

200 / ticket |

Youth (13-17 years)

€

200 / ticket |

Children (0-12 years)

€

200 / ticket

guests = 3

Price

Adult (18+ years)

€

150 / ticket |

Youth (13-17 years)

€

150 / ticket |

Children (0-12 years)

€

150 / ticket

guests >= 4

Price

Adult (18+ years)

€

120 / ticket |

Youth (13-17 years)

€

120 / ticket |

Children (0-12 years)

€

120 / ticket
25
promotion
Minimum booking:
1 tickets
Maximum booking:
30 tickets
General price:
Adult (18+ years)
€

120 / ticket
|
Youth (13-17 years)
€

120 / ticket
|
Children (0-12 years)
€

120 / ticket
Options
guests = 1

Price

Adult (18+ years)

€

400 / ticket |

Youth (13-17 years)

€

400 / ticket |

Children (0-12 years)

€

400 / ticket

guests = 2

Price

Adult (18+ years)

€

200 / ticket |

Youth (13-17 years)

€

200 / ticket |

Children (0-12 years)

€

200 / ticket

guests = 3

Price

Adult (18+ years)

€

150 / ticket |

Youth (13-17 years)

€

150 / ticket |

Children (0-12 years)

€

150 / ticket

guests >= 4

Price

Adult (18+ years)

€

120 / ticket |

Youth (13-17 years)

€

120 / ticket |

Children (0-12 years)

€

120 / ticket
26
promotion
Minimum booking:
1 tickets
Maximum booking:
30 tickets
General price:
Adult (18+ years)
€

120 / ticket
|
Youth (13-17 years)
€

120 / ticket
|
Children (0-12 years)
€

120 / ticket
Options
guests = 1

Price

Adult (18+ years)

€

400 / ticket |

Youth (13-17 years)

€

400 / ticket |

Children (0-12 years)

€

400 / ticket

guests = 2

Price

Adult (18+ years)

€

200 / ticket |

Youth (13-17 years)

€

200 / ticket |

Children (0-12 years)

€

200 / ticket

guests = 3

Price

Adult (18+ years)

€

150 / ticket |

Youth (13-17 years)

€

150 / ticket |

Children (0-12 years)

€

150 / ticket

guests >= 4

Price

Adult (18+ years)

€

120 / ticket |

Youth (13-17 years)

€

120 / ticket |

Children (0-12 years)

€

120 / ticket
27
promotion
Minimum booking:
1 tickets
Maximum booking:
30 tickets
General price:
Adult (18+ years)
€

120 / ticket
|
Youth (13-17 years)
€

120 / ticket
|
Children (0-12 years)
€

120 / ticket
Options
guests = 1

Price

Adult (18+ years)

€

400 / ticket |

Youth (13-17 years)

€

400 / ticket |

Children (0-12 years)

€

400 / ticket

guests = 2

Price

Adult (18+ years)

€

200 / ticket |

Youth (13-17 years)

€

200 / ticket |

Children (0-12 years)

€

200 / ticket

guests = 3

Price

Adult (18+ years)

€

150 / ticket |

Youth (13-17 years)

€

150 / ticket |

Children (0-12 years)

€

150 / ticket

guests >= 4

Price

Adult (18+ years)

€

120 / ticket |

Youth (13-17 years)

€

120 / ticket |

Children (0-12 years)

€

120 / ticket
29
promotion
Minimum booking:
1 tickets
Maximum booking:
30 tickets
General price:
Adult (18+ years)
€

120 / ticket
|
Youth (13-17 years)
€

120 / ticket
|
Children (0-12 years)
€

120 / ticket
Options
guests = 1

Price

Adult (18+ years)

€

400 / ticket |

Youth (13-17 years)

€

400 / ticket |

Children (0-12 years)

€

400 / ticket

guests = 2

Price

Adult (18+ years)

€

200 / ticket |

Youth (13-17 years)

€

200 / ticket |

Children (0-12 years)

€

200 / ticket

guests = 3

Price

Adult (18+ years)

€

150 / ticket |

Youth (13-17 years)

€

150 / ticket |

Children (0-12 years)

€

150 / ticket

guests >= 4

Price

Adult (18+ years)

€

120 / ticket |

Youth (13-17 years)

€

120 / ticket |

Children (0-12 years)

€

120 / ticket
30
promotion
Minimum booking:
1 tickets
Maximum booking:
30 tickets
General price:
Adult (18+ years)
€

120 / ticket
|
Youth (13-17 years)
€

120 / ticket
|
Children (0-12 years)
€

120 / ticket
Options
guests = 1

Price

Adult (18+ years)

€

400 / ticket |

Youth (13-17 years)

€

400 / ticket |

Children (0-12 years)

€

400 / ticket

guests = 2

Price

Adult (18+ years)

€

200 / ticket |

Youth (13-17 years)

€

200 / ticket |

Children (0-12 years)

€

200 / ticket

guests = 3

Price

Adult (18+ years)

€

150 / ticket |

Youth (13-17 years)

€

150 / ticket |

Children (0-12 years)

€

150 / ticket

guests >= 4

Price

Adult (18+ years)

€

120 / ticket |

Youth (13-17 years)

€

120 / ticket |

Children (0-12 years)

€

120 / ticket
31
promotion
Minimum booking:
1 tickets
Maximum booking:
30 tickets
General price:
Adult (18+ years)
€

120 / ticket
|
Youth (13-17 years)
€

120 / ticket
|
Children (0-12 years)
€

120 / ticket
Options
guests = 1

Price

Adult (18+ years)

€

400 / ticket |

Youth (13-17 years)

€

400 / ticket |

Children (0-12 years)

€

400 / ticket

guests = 2

Price

Adult (18+ years)

€

200 / ticket |

Youth (13-17 years)

€

200 / ticket |

Children (0-12 years)

€

200 / ticket

guests = 3

Price

Adult (18+ years)

€

150 / ticket |

Youth (13-17 years)

€

150 / ticket |

Children (0-12 years)

€

150 / ticket

guests >= 4

Price

Adult (18+ years)

€

120 / ticket |

Youth (13-17 years)

€

120 / ticket |

Children (0-12 years)

€

120 / ticket
1
promotion
Minimum booking:
1 tickets
Maximum booking:
30 tickets
General price:
Adult (18+ years)
€

120 / ticket
|
Youth (13-17 years)
€

120 / ticket
|
Children (0-12 years)
€

120 / ticket
Options
guests = 1

Price

Adult (18+ years)

€

400 / ticket |

Youth (13-17 years)

€

400 / ticket |

Children (0-12 years)

€

400 / ticket

guests = 2

Price

Adult (18+ years)

€

200 / ticket |

Youth (13-17 years)

€

200 / ticket |

Children (0-12 years)

€

200 / ticket

guests = 3

Price

Adult (18+ years)

€

150 / ticket |

Youth (13-17 years)

€

150 / ticket |

Children (0-12 years)

€

150 / ticket

guests >= 4

Price

Adult (18+ years)

€

120 / ticket |

Youth (13-17 years)

€

120 / ticket |

Children (0-12 years)

€

120 / ticket
2
promotion
Minimum booking:
1 tickets
Maximum booking:
30 tickets
General price:
Adult (18+ years)
€

120 / ticket
|
Youth (13-17 years)
€

120 / ticket
|
Children (0-12 years)
€

120 / ticket
Options
guests = 1

Price

Adult (18+ years)

€

400 / ticket |

Youth (13-17 years)

€

400 / ticket |

Children (0-12 years)

€

400 / ticket

guests = 2

Price

Adult (18+ years)

€

200 / ticket |

Youth (13-17 years)

€

200 / ticket |

Children (0-12 years)

€

200 / ticket

guests = 3

Price

Adult (18+ years)

€

150 / ticket |

Youth (13-17 years)

€

150 / ticket |

Children (0-12 years)

€

150 / ticket

guests >= 4

Price

Adult (18+ years)

€

120 / ticket |

Youth (13-17 years)

€

120 / ticket |

Children (0-12 years)

€

120 / ticket
3
promotion
Minimum booking:
1 tickets
Maximum booking:
30 tickets
General price:
Adult (18+ years)
€

120 / ticket
|
Youth (13-17 years)
€

120 / ticket
|
Children (0-12 years)
€

120 / ticket
Options
guests = 1

Price

Adult (18+ years)

€

400 / ticket |

Youth (13-17 years)

€

400 / ticket |

Children (0-12 years)

€

400 / ticket

guests = 2

Price

Adult (18+ years)

€

200 / ticket |

Youth (13-17 years)

€

200 / ticket |

Children (0-12 years)

€

200 / ticket

guests = 3

Price

Adult (18+ years)

€

150 / ticket |

Youth (13-17 years)

€

150 / ticket |

Children (0-12 years)

€

150 / ticket

guests >= 4

Price

Adult (18+ years)

€

120 / ticket |

Youth (13-17 years)

€

120 / ticket |

Children (0-12 years)

€

120 / ticket
29
promotion
Minimum booking:
1 tickets
Maximum booking:
30 tickets
General price:
Adult (18+ years)
€

120 / ticket
|
Youth (13-17 years)
€

120 / ticket
|
Children (0-12 years)
€

120 / ticket
Options
guests = 1

Price

Adult (18+ years)

€

400 / ticket |

Youth (13-17 years)

€

400 / ticket |

Children (0-12 years)

€

400 / ticket

guests = 2

Price

Adult (18+ years)

€

200 / ticket |

Youth (13-17 years)

€

200 / ticket |

Children (0-12 years)

€

200 / ticket

guests = 3

Price

Adult (18+ years)

€

150 / ticket |

Youth (13-17 years)

€

150 / ticket |

Children (0-12 years)

€

150 / ticket

guests >= 4

Price

Adult (18+ years)

€

120 / ticket |

Youth (13-17 years)

€

120 / ticket |

Children (0-12 years)

€

120 / ticket
30
promotion
Minimum booking:
1 tickets
Maximum booking:
30 tickets
General price:
Adult (18+ years)
€

120 / ticket
|
Youth (13-17 years)
€

120 / ticket
|
Children (0-12 years)
€

120 / ticket
Options
guests = 1

Price

Adult (18+ years)

€

400 / ticket |

Youth (13-17 years)

€

400 / ticket |

Children (0-12 years)

€

400 / ticket

guests = 2

Price

Adult (18+ years)

€

200 / ticket |

Youth (13-17 years)

€

200 / ticket |

Children (0-12 years)

€

200 / ticket

guests = 3

Price

Adult (18+ years)

€

150 / ticket |

Youth (13-17 years)

€

150 / ticket |

Children (0-12 years)

€

150 / ticket

guests >= 4

Price

Adult (18+ years)

€

120 / ticket |

Youth (13-17 years)

€

120 / ticket |

Children (0-12 years)

€

120 / ticket
31
promotion
Minimum booking:
1 tickets
Maximum booking:
30 tickets
General price:
Adult (18+ years)
€

120 / ticket
|
Youth (13-17 years)
€

120 / ticket
|
Children (0-12 years)
€

120 / ticket
Options
guests = 1

Price

Adult (18+ years)

€

400 / ticket |

Youth (13-17 years)

€

400 / ticket |

Children (0-12 years)

€

400 / ticket

guests = 2

Price

Adult (18+ years)

€

200 / ticket |

Youth (13-17 years)

€

200 / ticket |

Children (0-12 years)

€

200 / ticket

guests = 3

Price

Adult (18+ years)

€

150 / ticket |

Youth (13-17 years)

€

150 / ticket |

Children (0-12 years)

€

150 / ticket

guests >= 4

Price

Adult (18+ years)

€

120 / ticket |

Youth (13-17 years)

€

120 / ticket |

Children (0-12 years)

€

120 / ticket
1
promotion
Minimum booking:
1 tickets
Maximum booking:
30 tickets
General price:
Adult (18+ years)
€

120 / ticket
|
Youth (13-17 years)
€

120 / ticket
|
Children (0-12 years)
€

120 / ticket
Options
guests = 1

Price

Adult (18+ years)

€

400 / ticket |

Youth (13-17 years)

€

400 / ticket |

Children (0-12 years)

€

400 / ticket

guests = 2

Price

Adult (18+ years)

€

200 / ticket |

Youth (13-17 years)

€

200 / ticket |

Children (0-12 years)

€

200 / ticket

guests = 3

Price

Adult (18+ years)

€

150 / ticket |

Youth (13-17 years)

€

150 / ticket |

Children (0-12 years)

€

150 / ticket

guests >= 4

Price

Adult (18+ years)

€

120 / ticket |

Youth (13-17 years)

€

120 / ticket |

Children (0-12 years)

€

120 / ticket
2
promotion
Minimum booking:
1 tickets
Maximum booking:
30 tickets
General price:
Adult (18+ years)
€

120 / ticket
|
Youth (13-17 years)
€

120 / ticket
|
Children (0-12 years)
€

120 / ticket
Options
guests = 1

Price

Adult (18+ years)

€

400 / ticket |

Youth (13-17 years)

€

400 / ticket |

Children (0-12 years)

€

400 / ticket

guests = 2

Price

Adult (18+ years)

€

200 / ticket |

Youth (13-17 years)

€

200 / ticket |

Children (0-12 years)

€

200 / ticket

guests = 3

Price

Adult (18+ years)

€

150 / ticket |

Youth (13-17 years)

€

150 / ticket |

Children (0-12 years)

€

150 / ticket

guests >= 4

Price

Adult (18+ years)

€

120 / ticket |

Youth (13-17 years)

€

120 / ticket |

Children (0-12 years)

€

120 / ticket
3
promotion
Minimum booking:
1 tickets
Maximum booking:
30 tickets
General price:
Adult (18+ years)
€

120 / ticket
|
Youth (13-17 years)
€

120 / ticket
|
Children (0-12 years)
€

120 / ticket
Options
guests = 1

Price

Adult (18+ years)

€

400 / ticket |

Youth (13-17 years)

€

400 / ticket |

Children (0-12 years)

€

400 / ticket

guests = 2

Price

Adult (18+ years)

€

200 / ticket |

Youth (13-17 years)

€

200 / ticket |

Children (0-12 years)

€

200 / ticket

guests = 3

Price

Adult (18+ years)

€

150 / ticket |

Youth (13-17 years)

€

150 / ticket |

Children (0-12 years)

€

150 / ticket

guests >= 4

Price

Adult (18+ years)

€

120 / ticket |

Youth (13-17 years)

€

120 / ticket |

Children (0-12 years)

€

120 / ticket
5
promotion
Minimum booking:
1 tickets
Maximum booking:
30 tickets
General price:
Adult (18+ years)
€

120 / ticket
|
Youth (13-17 years)
€

120 / ticket
|
Children (0-12 years)
€

120 / ticket
Options
guests = 1

Price

Adult (18+ years)

€

400 / ticket |

Youth (13-17 years)

€

400 / ticket |

Children (0-12 years)

€

400 / ticket

guests = 2

Price

Adult (18+ years)

€

200 / ticket |

Youth (13-17 years)

€

200 / ticket |

Children (0-12 years)

€

200 / ticket

guests = 3

Price

Adult (18+ years)

€

150 / ticket |

Youth (13-17 years)

€

150 / ticket |

Children (0-12 years)

€

150 / ticket

guests >= 4

Price

Adult (18+ years)

€

120 / ticket |

Youth (13-17 years)

€

120 / ticket |

Children (0-12 years)

€

120 / ticket
6
promotion
Minimum booking:
1 tickets
Maximum booking:
30 tickets
General price:
Adult (18+ years)
€

120 / ticket
|
Youth (13-17 years)
€

120 / ticket
|
Children (0-12 years)
€

120 / ticket
Options
guests = 1

Price

Adult (18+ years)

€

400 / ticket |

Youth (13-17 years)

€

400 / ticket |

Children (0-12 years)

€

400 / ticket

guests = 2

Price

Adult (18+ years)

€

200 / ticket |

Youth (13-17 years)

€

200 / ticket |

Children (0-12 years)

€

200 / ticket

guests = 3

Price

Adult (18+ years)

€

150 / ticket |

Youth (13-17 years)

€

150 / ticket |

Children (0-12 years)

€

150 / ticket

guests >= 4

Price

Adult (18+ years)

€

120 / ticket |

Youth (13-17 years)

€

120 / ticket |

Children (0-12 years)

€

120 / ticket
7
promotion
Minimum booking:
1 tickets
Maximum booking:
30 tickets
General price:
Adult (18+ years)
€

120 / ticket
|
Youth (13-17 years)
€

120 / ticket
|
Children (0-12 years)
€

120 / ticket
Options
guests = 1

Price

Adult (18+ years)

€

400 / ticket |

Youth (13-17 years)

€

400 / ticket |

Children (0-12 years)

€

400 / ticket

guests = 2

Price

Adult (18+ years)

€

200 / ticket |

Youth (13-17 years)

€

200 / ticket |

Children (0-12 years)

€

200 / ticket

guests = 3

Price

Adult (18+ years)

€

150 / ticket |

Youth (13-17 years)

€

150 / ticket |

Children (0-12 years)

€

150 / ticket

guests >= 4

Price

Adult (18+ years)

€

120 / ticket |

Youth (13-17 years)

€

120 / ticket |

Children (0-12 years)

€

120 / ticket
8
promotion
Minimum booking:
1 tickets
Maximum booking:
30 tickets
General price:
Adult (18+ years)
€

120 / ticket
|
Youth (13-17 years)
€

120 / ticket
|
Children (0-12 years)
€

120 / ticket
Options
guests = 1

Price

Adult (18+ years)

€

400 / ticket |

Youth (13-17 years)

€

400 / ticket |

Children (0-12 years)

€

400 / ticket

guests = 2

Price

Adult (18+ years)

€

200 / ticket |

Youth (13-17 years)

€

200 / ticket |

Children (0-12 years)

€

200 / ticket

guests = 3

Price

Adult (18+ years)

€

150 / ticket |

Youth (13-17 years)

€

150 / ticket |

Children (0-12 years)

€

150 / ticket

guests >= 4

Price

Adult (18+ years)

€

120 / ticket |

Youth (13-17 years)

€

120 / ticket |

Children (0-12 years)

€

120 / ticket
9
promotion
Minimum booking:
1 tickets
Maximum booking:
30 tickets
General price:
Adult (18+ years)
€

120 / ticket
|
Youth (13-17 years)
€

120 / ticket
|
Children (0-12 years)
€

120 / ticket
Options
guests = 1

Price

Adult (18+ years)

€

400 / ticket |

Youth (13-17 years)

€

400 / ticket |

Children (0-12 years)

€

400 / ticket

guests = 2

Price

Adult (18+ years)

€

200 / ticket |

Youth (13-17 years)

€

200 / ticket |

Children (0-12 years)

€

200 / ticket

guests = 3

Price

Adult (18+ years)

€

150 / ticket |

Youth (13-17 years)

€

150 / ticket |

Children (0-12 years)

€

150 / ticket

guests >= 4

Price

Adult (18+ years)

€

120 / ticket |

Youth (13-17 years)

€

120 / ticket |

Children (0-12 years)

€

120 / ticket
10
promotion
Minimum booking:
1 tickets
Maximum booking:
30 tickets
General price:
Adult (18+ years)
€

120 / ticket
|
Youth (13-17 years)
€

120 / ticket
|
Children (0-12 years)
€

120 / ticket
Options
guests = 1

Price

Adult (18+ years)

€

400 / ticket |

Youth (13-17 years)

€

400 / ticket |

Children (0-12 years)

€

400 / ticket

guests = 2

Price

Adult (18+ years)

€

200 / ticket |

Youth (13-17 years)

€

200 / ticket |

Children (0-12 years)

€

200 / ticket

guests = 3

Price

Adult (18+ years)

€

150 / ticket |

Youth (13-17 years)

€

150 / ticket |

Children (0-12 years)

€

150 / ticket

guests >= 4

Price

Adult (18+ years)

€

120 / ticket |

Youth (13-17 years)

€

120 / ticket |

Children (0-12 years)

€

120 / ticket
12
promotion
Minimum booking:
1 tickets
Maximum booking:
30 tickets
General price:
Adult (18+ years)
€

120 / ticket
|
Youth (13-17 years)
€

120 / ticket
|
Children (0-12 years)
€

120 / ticket
Options
guests = 1

Price

Adult (18+ years)

€

400 / ticket |

Youth (13-17 years)

€

400 / ticket |

Children (0-12 years)

€

400 / ticket

guests = 2

Price

Adult (18+ years)

€

200 / ticket |

Youth (13-17 years)

€

200 / ticket |

Children (0-12 years)

€

200 / ticket

guests = 3

Price

Adult (18+ years)

€

150 / ticket |

Youth (13-17 years)

€

150 / ticket |

Children (0-12 years)

€

150 / ticket

guests >= 4

Price

Adult (18+ years)

€

120 / ticket |

Youth (13-17 years)

€

120 / ticket |

Children (0-12 years)

€

120 / ticket
13
promotion
Minimum booking:
1 tickets
Maximum booking:
30 tickets
General price:
Adult (18+ years)
€

120 / ticket
|
Youth (13-17 years)
€

120 / ticket
|
Children (0-12 years)
€

120 / ticket
Options
guests = 1

Price

Adult (18+ years)

€

400 / ticket |

Youth (13-17 years)

€

400 / ticket |

Children (0-12 years)

€

400 / ticket

guests = 2

Price

Adult (18+ years)

€

200 / ticket |

Youth (13-17 years)

€

200 / ticket |

Children (0-12 years)

€

200 / ticket

guests = 3

Price

Adult (18+ years)

€

150 / ticket |

Youth (13-17 years)

€

150 / ticket |

Children (0-12 years)

€

150 / ticket

guests >= 4

Price

Adult (18+ years)

€

120 / ticket |

Youth (13-17 years)

€

120 / ticket |

Children (0-12 years)

€

120 / ticket
14
promotion
Minimum booking:
1 tickets
Maximum booking:
30 tickets
General price:
Adult (18+ years)
€

120 / ticket
|
Youth (13-17 years)
€

120 / ticket
|
Children (0-12 years)
€

120 / ticket
Options
guests = 1

Price

Adult (18+ years)

€

400 / ticket |

Youth (13-17 years)

€

400 / ticket |

Children (0-12 years)

€

400 / ticket

guests = 2

Price

Adult (18+ years)

€

200 / ticket |

Youth (13-17 years)

€

200 / ticket |

Children (0-12 years)

€

200 / ticket

guests = 3

Price

Adult (18+ years)

€

150 / ticket |

Youth (13-17 years)

€

150 / ticket |

Children (0-12 years)

€

150 / ticket

guests >= 4

Price

Adult (18+ years)

€

120 / ticket |

Youth (13-17 years)

€

120 / ticket |

Children (0-12 years)

€

120 / ticket
15
promotion
Minimum booking:
1 tickets
Maximum booking:
30 tickets
General price:
Adult (18+ years)
€

120 / ticket
|
Youth (13-17 years)
€

120 / ticket
|
Children (0-12 years)
€

120 / ticket
Options
guests = 1

Price

Adult (18+ years)

€

400 / ticket |

Youth (13-17 years)

€

400 / ticket |

Children (0-12 years)

€

400 / ticket

guests = 2

Price

Adult (18+ years)

€

200 / ticket |

Youth (13-17 years)

€

200 / ticket |

Children (0-12 years)

€

200 / ticket

guests = 3

Price

Adult (18+ years)

€

150 / ticket |

Youth (13-17 years)

€

150 / ticket |

Children (0-12 years)

€

150 / ticket

guests >= 4

Price

Adult (18+ years)

€

120 / ticket |

Youth (13-17 years)

€

120 / ticket |

Children (0-12 years)

€

120 / ticket
16
promotion
Minimum booking:
1 tickets
Maximum booking:
30 tickets
General price:
Adult (18+ years)
€

120 / ticket
|
Youth (13-17 years)
€

120 / ticket
|
Children (0-12 years)
€

120 / ticket
Options
guests = 1

Price

Adult (18+ years)

€

400 / ticket |

Youth (13-17 years)

€

400 / ticket |

Children (0-12 years)

€

400 / ticket

guests = 2

Price

Adult (18+ years)

€

200 / ticket |

Youth (13-17 years)

€

200 / ticket |

Children (0-12 years)

€

200 / ticket

guests = 3

Price

Adult (18+ years)

€

150 / ticket |

Youth (13-17 years)

€

150 / ticket |

Children (0-12 years)

€

150 / ticket

guests >= 4

Price

Adult (18+ years)

€

120 / ticket |

Youth (13-17 years)

€

120 / ticket |

Children (0-12 years)

€

120 / ticket
17
promotion
Minimum booking:
1 tickets
Maximum booking:
30 tickets
General price:
Adult (18+ years)
€

120 / ticket
|
Youth (13-17 years)
€

120 / ticket
|
Children (0-12 years)
€

120 / ticket
Options
guests = 1

Price

Adult (18+ years)

€

400 / ticket |

Youth (13-17 years)

€

400 / ticket |

Children (0-12 years)

€

400 / ticket

guests = 2

Price

Adult (18+ years)

€

200 / ticket |

Youth (13-17 years)

€

200 / ticket |

Children (0-12 years)

€

200 / ticket

guests = 3

Price

Adult (18+ years)

€

150 / ticket |

Youth (13-17 years)

€

150 / ticket |

Children (0-12 years)

€

150 / ticket

guests >= 4

Price

Adult (18+ years)

€

120 / ticket |

Youth (13-17 years)

€

120 / ticket |

Children (0-12 years)

€

120 / ticket
19
promotion
Minimum booking:
1 tickets
Maximum booking:
30 tickets
General price:
Adult (18+ years)
€

120 / ticket
|
Youth (13-17 years)
€

120 / ticket
|
Children (0-12 years)
€

120 / ticket
Options
guests = 1

Price

Adult (18+ years)

€

400 / ticket |

Youth (13-17 years)

€

400 / ticket |

Children (0-12 years)

€

400 / ticket

guests = 2

Price

Adult (18+ years)

€

200 / ticket |

Youth (13-17 years)

€

200 / ticket |

Children (0-12 years)

€

200 / ticket

guests = 3

Price

Adult (18+ years)

€

150 / ticket |

Youth (13-17 years)

€

150 / ticket |

Children (0-12 years)

€

150 / ticket

guests >= 4

Price

Adult (18+ years)

€

120 / ticket |

Youth (13-17 years)

€

120 / ticket |

Children (0-12 years)

€

120 / ticket
20
promotion
Minimum booking:
1 tickets
Maximum booking:
30 tickets
General price:
Adult (18+ years)
€

120 / ticket
|
Youth (13-17 years)
€

120 / ticket
|
Children (0-12 years)
€

120 / ticket
Options
guests = 1

Price

Adult (18+ years)

€

400 / ticket |

Youth (13-17 years)

€

400 / ticket |

Children (0-12 years)

€

400 / ticket

guests = 2

Price

Adult (18+ years)

€

200 / ticket |

Youth (13-17 years)

€

200 / ticket |

Children (0-12 years)

€

200 / ticket

guests = 3

Price

Adult (18+ years)

€

150 / ticket |

Youth (13-17 years)

€

150 / ticket |

Children (0-12 years)

€

150 / ticket

guests >= 4

Price

Adult (18+ years)

€

120 / ticket |

Youth (13-17 years)

€

120 / ticket |

Children (0-12 years)

€

120 / ticket
21
promotion
Minimum booking:
1 tickets
Maximum booking:
30 tickets
General price:
Adult (18+ years)
€

120 / ticket
|
Youth (13-17 years)
€

120 / ticket
|
Children (0-12 years)
€

120 / ticket
Options
guests = 1

Price

Adult (18+ years)

€

400 / ticket |

Youth (13-17 years)

€

400 / ticket |

Children (0-12 years)

€

400 / ticket

guests = 2

Price

Adult (18+ years)

€

200 / ticket |

Youth (13-17 years)

€

200 / ticket |

Children (0-12 years)

€

200 / ticket

guests = 3

Price

Adult (18+ years)

€

150 / ticket |

Youth (13-17 years)

€

150 / ticket |

Children (0-12 years)

€

150 / ticket

guests >= 4

Price

Adult (18+ years)

€

120 / ticket |

Youth (13-17 years)

€

120 / ticket |

Children (0-12 years)

€

120 / ticket
22
promotion
Minimum booking:
1 tickets
Maximum booking:
30 tickets
General price:
Adult (18+ years)
€

120 / ticket
|
Youth (13-17 years)
€

120 / ticket
|
Children (0-12 years)
€

120 / ticket
Options
guests = 1

Price

Adult (18+ years)

€

400 / ticket |

Youth (13-17 years)

€

400 / ticket |

Children (0-12 years)

€

400 / ticket

guests = 2

Price

Adult (18+ years)

€

200 / ticket |

Youth (13-17 years)

€

200 / ticket |

Children (0-12 years)

€

200 / ticket

guests = 3

Price

Adult (18+ years)

€

150 / ticket |

Youth (13-17 years)

€

150 / ticket |

Children (0-12 years)

€

150 / ticket

guests >= 4

Price

Adult (18+ years)

€

120 / ticket |

Youth (13-17 years)

€

120 / ticket |

Children (0-12 years)

€

120 / ticket
23
promotion
Minimum booking:
1 tickets
Maximum booking:
30 tickets
General price:
Adult (18+ years)
€

120 / ticket
|
Youth (13-17 years)
€

120 / ticket
|
Children (0-12 years)
€

120 / ticket
Options
guests = 1

Price

Adult (18+ years)

€

400 / ticket |

Youth (13-17 years)

€

400 / ticket |

Children (0-12 years)

€

400 / ticket

guests = 2

Price

Adult (18+ years)

€

200 / ticket |

Youth (13-17 years)

€

200 / ticket |

Children (0-12 years)

€

200 / ticket

guests = 3

Price

Adult (18+ years)

€

150 / ticket |

Youth (13-17 years)

€

150 / ticket |

Children (0-12 years)

€

150 / ticket

guests >= 4

Price

Adult (18+ years)

€

120 / ticket |

Youth (13-17 years)

€

120 / ticket |

Children (0-12 years)

€

120 / ticket
24
promotion
Minimum booking:
1 tickets
Maximum booking:
30 tickets
General price:
Adult (18+ years)
€

120 / ticket
|
Youth (13-17 years)
€

120 / ticket
|
Children (0-12 years)
€

120 / ticket
Options
guests = 1

Price

Adult (18+ years)

€

400 / ticket |

Youth (13-17 years)

€

400 / ticket |

Children (0-12 years)

€

400 / ticket

guests = 2

Price

Adult (18+ years)

€

200 / ticket |

Youth (13-17 years)

€

200 / ticket |

Children (0-12 years)

€

200 / ticket

guests = 3

Price

Adult (18+ years)

€

150 / ticket |

Youth (13-17 years)

€

150 / ticket |

Children (0-12 years)

€

150 / ticket

guests >= 4

Price

Adult (18+ years)

€

120 / ticket |

Youth (13-17 years)

€

120 / ticket |

Children (0-12 years)

€

120 / ticket
26
promotion
Minimum booking:
1 tickets
Maximum booking:
30 tickets
General price:
Adult (18+ years)
€

120 / ticket
|
Youth (13-17 years)
€

120 / ticket
|
Children (0-12 years)
€

120 / ticket
Options
guests = 1

Price

Adult (18+ years)

€

400 / ticket |

Youth (13-17 years)

€

400 / ticket |

Children (0-12 years)

€

400 / ticket

guests = 2

Price

Adult (18+ years)

€

200 / ticket |

Youth (13-17 years)

€

200 / ticket |

Children (0-12 years)

€

200 / ticket

guests = 3

Price

Adult (18+ years)

€

150 / ticket |

Youth (13-17 years)

€

150 / ticket |

Children (0-12 years)

€

150 / ticket

guests >= 4

Price

Adult (18+ years)

€

120 / ticket |

Youth (13-17 years)

€

120 / ticket |

Children (0-12 years)

€

120 / ticket
27
promotion
Minimum booking:
1 tickets
Maximum booking:
30 tickets
General price:
Adult (18+ years)
€

120 / ticket
|
Youth (13-17 years)
€

120 / ticket
|
Children (0-12 years)
€

120 / ticket
Options
guests = 1

Price

Adult (18+ years)

€

400 / ticket |

Youth (13-17 years)

€

400 / ticket |

Children (0-12 years)

€

400 / ticket

guests = 2

Price

Adult (18+ years)

€

200 / ticket |

Youth (13-17 years)

€

200 / ticket |

Children (0-12 years)

€

200 / ticket

guests = 3

Price

Adult (18+ years)

€

150 / ticket |

Youth (13-17 years)

€

150 / ticket |

Children (0-12 years)

€

150 / ticket

guests >= 4

Price

Adult (18+ years)

€

120 / ticket |

Youth (13-17 years)

€

120 / ticket |

Children (0-12 years)

€

120 / ticket
28
promotion
Minimum booking:
1 tickets
Maximum booking:
30 tickets
General price:
Adult (18+ years)
€

120 / ticket
|
Youth (13-17 years)
€

120 / ticket
|
Children (0-12 years)
€

120 / ticket
Options
guests = 1

Price

Adult (18+ years)

€

400 / ticket |

Youth (13-17 years)

€

400 / ticket |

Children (0-12 years)

€

400 / ticket

guests = 2

Price

Adult (18+ years)

€

200 / ticket |

Youth (13-17 years)

€

200 / ticket |

Children (0-12 years)

€

200 / ticket

guests = 3

Price

Adult (18+ years)

€

150 / ticket |

Youth (13-17 years)

€

150 / ticket |

Children (0-12 years)

€

150 / ticket

guests >= 4

Price

Adult (18+ years)

€

120 / ticket |

Youth (13-17 years)

€

120 / ticket |

Children (0-12 years)

€

120 / ticket
29
promotion
Minimum booking:
1 tickets
Maximum booking:
30 tickets
General price:
Adult (18+ years)
€

120 / ticket
|
Youth (13-17 years)
€

120 / ticket
|
Children (0-12 years)
€

120 / ticket
Options
guests = 1

Price

Adult (18+ years)

€

400 / ticket |

Youth (13-17 years)

€

400 / ticket |

Children (0-12 years)

€

400 / ticket

guests = 2

Price

Adult (18+ years)

€

200 / ticket |

Youth (13-17 years)

€

200 / ticket |

Children (0-12 years)

€

200 / ticket

guests = 3

Price

Adult (18+ years)

€

150 / ticket |

Youth (13-17 years)

€

150 / ticket |

Children (0-12 years)

€

150 / ticket

guests >= 4

Price

Adult (18+ years)

€

120 / ticket |

Youth (13-17 years)

€

120 / ticket |

Children (0-12 years)

€

120 / ticket
1
promotion
Minimum booking:
1 tickets
Maximum booking:
30 tickets
General price:
Adult (18+ years)
€

120 / ticket
|
Youth (13-17 years)
€

120 / ticket
|
Children (0-12 years)
€

120 / ticket
Options
guests = 1

Price

Adult (18+ years)

€

400 / ticket |

Youth (13-17 years)

€

400 / ticket |

Children (0-12 years)

€

400 / ticket

guests = 2

Price

Adult (18+ years)

€

200 / ticket |

Youth (13-17 years)

€

200 / ticket |

Children (0-12 years)

€

200 / ticket

guests = 3

Price

Adult (18+ years)

€

150 / ticket |

Youth (13-17 years)

€

150 / ticket |

Children (0-12 years)

€

150 / ticket

guests >= 4

Price

Adult (18+ years)

€

120 / ticket |

Youth (13-17 years)

€

120 / ticket |

Children (0-12 years)

€

120 / ticket
2
promotion
Minimum booking:
1 tickets
Maximum booking:
30 tickets
General price:
Adult (18+ years)
€

120 / ticket
|
Youth (13-17 years)
€

120 / ticket
|
Children (0-12 years)
€

120 / ticket
Options
guests = 1

Price

Adult (18+ years)

€

400 / ticket |

Youth (13-17 years)

€

400 / ticket |

Children (0-12 years)

€

400 / ticket

guests = 2

Price

Adult (18+ years)

€

200 / ticket |

Youth (13-17 years)

€

200 / ticket |

Children (0-12 years)

€

200 / ticket

guests = 3

Price

Adult (18+ years)

€

150 / ticket |

Youth (13-17 years)

€

150 / ticket |

Children (0-12 years)

€

150 / ticket

guests >= 4

Price

Adult (18+ years)

€

120 / ticket |

Youth (13-17 years)

€

120 / ticket |

Children (0-12 years)

€

120 / ticket
26
promotion
Minimum booking:
1 tickets
Maximum booking:
30 tickets
General price:
Adult (18+ years)
€

120 / ticket
|
Youth (13-17 years)
€

120 / ticket
|
Children (0-12 years)
€

120 / ticket
Options
guests = 1

Price

Adult (18+ years)

€

400 / ticket |

Youth (13-17 years)

€

400 / ticket |

Children (0-12 years)

€

400 / ticket

guests = 2

Price

Adult (18+ years)

€

200 / ticket |

Youth (13-17 years)

€

200 / ticket |

Children (0-12 years)

€

200 / ticket

guests = 3

Price

Adult (18+ years)

€

150 / ticket |

Youth (13-17 years)

€

150 / ticket |

Children (0-12 years)

€

150 / ticket

guests >= 4

Price

Adult (18+ years)

€

120 / ticket |

Youth (13-17 years)

€

120 / ticket |

Children (0-12 years)

€

120 / ticket
27
promotion
Minimum booking:
1 tickets
Maximum booking:
30 tickets
General price:
Adult (18+ years)
€

120 / ticket
|
Youth (13-17 years)
€

120 / ticket
|
Children (0-12 years)
€

120 / ticket
Options
guests = 1

Price

Adult (18+ years)

€

400 / ticket |

Youth (13-17 years)

€

400 / ticket |

Children (0-12 years)

€

400 / ticket

guests = 2

Price

Adult (18+ years)

€

200 / ticket |

Youth (13-17 years)

€

200 / ticket |

Children (0-12 years)

€

200 / ticket

guests = 3

Price

Adult (18+ years)

€

150 / ticket |

Youth (13-17 years)

€

150 / ticket |

Children (0-12 years)

€

150 / ticket

guests >= 4

Price

Adult (18+ years)

€

120 / ticket |

Youth (13-17 years)

€

120 / ticket |

Children (0-12 years)

€

120 / ticket
28
promotion
Minimum booking:
1 tickets
Maximum booking:
30 tickets
General price:
Adult (18+ years)
€

120 / ticket
|
Youth (13-17 years)
€

120 / ticket
|
Children (0-12 years)
€

120 / ticket
Options
guests = 1

Price

Adult (18+ years)

€

400 / ticket |

Youth (13-17 years)

€

400 / ticket |

Children (0-12 years)

€

400 / ticket

guests = 2

Price

Adult (18+ years)

€

200 / ticket |

Youth (13-17 years)

€

200 / ticket |

Children (0-12 years)

€

200 / ticket

guests = 3

Price

Adult (18+ years)

€

150 / ticket |

Youth (13-17 years)

€

150 / ticket |

Children (0-12 years)

€

150 / ticket

guests >= 4

Price

Adult (18+ years)

€

120 / ticket |

Youth (13-17 years)

€

120 / ticket |

Children (0-12 years)

€

120 / ticket
29
promotion
Minimum booking:
1 tickets
Maximum booking:
30 tickets
General price:
Adult (18+ years)
€

120 / ticket
|
Youth (13-17 years)
€

120 / ticket
|
Children (0-12 years)
€

120 / ticket
Options
guests = 1

Price

Adult (18+ years)

€

400 / ticket |

Youth (13-17 years)

€

400 / ticket |

Children (0-12 years)

€

400 / ticket

guests = 2

Price

Adult (18+ years)

€

200 / ticket |

Youth (13-17 years)

€

200 / ticket |

Children (0-12 years)

€

200 / ticket

guests = 3

Price

Adult (18+ years)

€

150 / ticket |

Youth (13-17 years)

€

150 / ticket |

Children (0-12 years)

€

150 / ticket

guests >= 4

Price

Adult (18+ years)

€

120 / ticket |

Youth (13-17 years)

€

120 / ticket |

Children (0-12 years)

€

120 / ticket
1
promotion
Minimum booking:
1 tickets
Maximum booking:
30 tickets
General price:
Adult (18+ years)
€

120 / ticket
|
Youth (13-17 years)
€

120 / ticket
|
Children (0-12 years)
€

120 / ticket
Options
guests = 1

Price

Adult (18+ years)

€

400 / ticket |

Youth (13-17 years)

€

400 / ticket |

Children (0-12 years)

€

400 / ticket

guests = 2

Price

Adult (18+ years)

€

200 / ticket |

Youth (13-17 years)

€

200 / ticket |

Children (0-12 years)

€

200 / ticket

guests = 3

Price

Adult (18+ years)

€

150 / ticket |

Youth (13-17 years)

€

150 / ticket |

Children (0-12 years)

€

150 / ticket

guests >= 4

Price

Adult (18+ years)

€

120 / ticket |

Youth (13-17 years)

€

120 / ticket |

Children (0-12 years)

€

120 / ticket
2
promotion
Minimum booking:
1 tickets
Maximum booking:
30 tickets
General price:
Adult (18+ years)
€

120 / ticket
|
Youth (13-17 years)
€

120 / ticket
|
Children (0-12 years)
€

120 / ticket
Options
guests = 1

Price

Adult (18+ years)

€

400 / ticket |

Youth (13-17 years)

€

400 / ticket |

Children (0-12 years)

€

400 / ticket

guests = 2

Price

Adult (18+ years)

€

200 / ticket |

Youth (13-17 years)

€

200 / ticket |

Children (0-12 years)

€

200 / ticket

guests = 3

Price

Adult (18+ years)

€

150 / ticket |

Youth (13-17 years)

€

150 / ticket |

Children (0-12 years)

€

150 / ticket

guests >= 4

Price

Adult (18+ years)

€

120 / ticket |

Youth (13-17 years)

€

120 / ticket |

Children (0-12 years)

€

120 / ticket
4
promotion
Minimum booking:
1 tickets
Maximum booking:
30 tickets
General price:
Adult (18+ years)
€

120 / ticket
|
Youth (13-17 years)
€

120 / ticket
|
Children (0-12 years)
€

120 / ticket
Options
guests = 1

Price

Adult (18+ years)

€

400 / ticket |

Youth (13-17 years)

€

400 / ticket |

Children (0-12 years)

€

400 / ticket

guests = 2

Price

Adult (18+ years)

€

200 / ticket |

Youth (13-17 years)

€

200 / ticket |

Children (0-12 years)

€

200 / ticket

guests = 3

Price

Adult (18+ years)

€

150 / ticket |

Youth (13-17 years)

€

150 / ticket |

Children (0-12 years)

€

150 / ticket

guests >= 4

Price

Adult (18+ years)

€

120 / ticket |

Youth (13-17 years)

€

120 / ticket |

Children (0-12 years)

€

120 / ticket
5
promotion
Minimum booking:
1 tickets
Maximum booking:
30 tickets
General price:
Adult (18+ years)
€

120 / ticket
|
Youth (13-17 years)
€

120 / ticket
|
Children (0-12 years)
€

120 / ticket
Options
guests = 1

Price

Adult (18+ years)

€

400 / ticket |

Youth (13-17 years)

€

400 / ticket |

Children (0-12 years)

€

400 / ticket

guests = 2

Price

Adult (18+ years)

€

200 / ticket |

Youth (13-17 years)

€

200 / ticket |

Children (0-12 years)

€

200 / ticket

guests = 3

Price

Adult (18+ years)

€

150 / ticket |

Youth (13-17 years)

€

150 / ticket |

Children (0-12 years)

€

150 / ticket

guests >= 4

Price

Adult (18+ years)

€

120 / ticket |

Youth (13-17 years)

€

120 / ticket |

Children (0-12 years)

€

120 / ticket
6
promotion
Minimum booking:
1 tickets
Maximum booking:
30 tickets
General price:
Adult (18+ years)
€

120 / ticket
|
Youth (13-17 years)
€

120 / ticket
|
Children (0-12 years)
€

120 / ticket
Options
guests = 1

Price

Adult (18+ years)

€

400 / ticket |

Youth (13-17 years)

€

400 / ticket |

Children (0-12 years)

€

400 / ticket

guests = 2

Price

Adult (18+ years)

€

200 / ticket |

Youth (13-17 years)

€

200 / ticket |

Children (0-12 years)

€

200 / ticket

guests = 3

Price

Adult (18+ years)

€

150 / ticket |

Youth (13-17 years)

€

150 / ticket |

Children (0-12 years)

€

150 / ticket

guests >= 4

Price

Adult (18+ years)

€

120 / ticket |

Youth (13-17 years)

€

120 / ticket |

Children (0-12 years)

€

120 / ticket
7
promotion
Minimum booking:
1 tickets
Maximum booking:
30 tickets
General price:
Adult (18+ years)
€

120 / ticket
|
Youth (13-17 years)
€

120 / ticket
|
Children (0-12 years)
€

120 / ticket
Options
guests = 1

Price

Adult (18+ years)

€

400 / ticket |

Youth (13-17 years)

€

400 / ticket |

Children (0-12 years)

€

400 / ticket

guests = 2

Price

Adult (18+ years)

€

200 / ticket |

Youth (13-17 years)

€

200 / ticket |

Children (0-12 years)

€

200 / ticket

guests = 3

Price

Adult (18+ years)

€

150 / ticket |

Youth (13-17 years)

€

150 / ticket |

Children (0-12 years)

€

150 / ticket

guests >= 4

Price

Adult (18+ years)

€

120 / ticket |

Youth (13-17 years)

€

120 / ticket |

Children (0-12 years)

€

120 / ticket
8
promotion
Minimum booking:
1 tickets
Maximum booking:
30 tickets
General price:
Adult (18+ years)
€

120 / ticket
|
Youth (13-17 years)
€

120 / ticket
|
Children (0-12 years)
€

120 / ticket
Options
guests = 1

Price

Adult (18+ years)

€

400 / ticket |

Youth (13-17 years)

€

400 / ticket |

Children (0-12 years)

€

400 / ticket

guests = 2

Price

Adult (18+ years)

€

200 / ticket |

Youth (13-17 years)

€

200 / ticket |

Children (0-12 years)

€

200 / ticket

guests = 3

Price

Adult (18+ years)

€

150 / ticket |

Youth (13-17 years)

€

150 / ticket |

Children (0-12 years)

€

150 / ticket

guests >= 4

Price

Adult (18+ years)

€

120 / ticket |

Youth (13-17 years)

€

120 / ticket |

Children (0-12 years)

€

120 / ticket
9
promotion
Minimum booking:
1 tickets
Maximum booking:
30 tickets
General price:
Adult (18+ years)
€

120 / ticket
|
Youth (13-17 years)
€

120 / ticket
|
Children (0-12 years)
€

120 / ticket
Options
guests = 1

Price

Adult (18+ years)

€

400 / ticket |

Youth (13-17 years)

€

400 / ticket |

Children (0-12 years)

€

400 / ticket

guests = 2

Price

Adult (18+ years)

€

200 / ticket |

Youth (13-17 years)

€

200 / ticket |

Children (0-12 years)

€

200 / ticket

guests = 3

Price

Adult (18+ years)

€

150 / ticket |

Youth (13-17 years)

€

150 / ticket |

Children (0-12 years)

€

150 / ticket

guests >= 4

Price

Adult (18+ years)

€

120 / ticket |

Youth (13-17 years)

€

120 / ticket |

Children (0-12 years)

€

120 / ticket
11
promotion
Minimum booking:
1 tickets
Maximum booking:
30 tickets
General price:
Adult (18+ years)
€

120 / ticket
|
Youth (13-17 years)
€

120 / ticket
|
Children (0-12 years)
€

120 / ticket
Options
guests = 1

Price

Adult (18+ years)

€

400 / ticket |

Youth (13-17 years)

€

400 / ticket |

Children (0-12 years)

€

400 / ticket

guests = 2

Price

Adult (18+ years)

€

200 / ticket |

Youth (13-17 years)

€

200 / ticket |

Children (0-12 years)

€

200 / ticket

guests = 3

Price

Adult (18+ years)

€

150 / ticket |

Youth (13-17 years)

€

150 / ticket |

Children (0-12 years)

€

150 / ticket

guests >= 4

Price

Adult (18+ years)

€

120 / ticket |

Youth (13-17 years)

€

120 / ticket |

Children (0-12 years)

€

120 / ticket
12
promotion
Minimum booking:
1 tickets
Maximum booking:
30 tickets
General price:
Adult (18+ years)
€

120 / ticket
|
Youth (13-17 years)
€

120 / ticket
|
Children (0-12 years)
€

120 / ticket
Options
guests = 1

Price

Adult (18+ years)

€

400 / ticket |

Youth (13-17 years)

€

400 / ticket |

Children (0-12 years)

€

400 / ticket

guests = 2

Price

Adult (18+ years)

€

200 / ticket |

Youth (13-17 years)

€

200 / ticket |

Children (0-12 years)

€

200 / ticket

guests = 3

Price

Adult (18+ years)

€

150 / ticket |

Youth (13-17 years)

€

150 / ticket |

Children (0-12 years)

€

150 / ticket

guests >= 4

Price

Adult (18+ years)

€

120 / ticket |

Youth (13-17 years)

€

120 / ticket |

Children (0-12 years)

€

120 / ticket
13
promotion
Minimum booking:
1 tickets
Maximum booking:
30 tickets
General price:
Adult (18+ years)
€

120 / ticket
|
Youth (13-17 years)
€

120 / ticket
|
Children (0-12 years)
€

120 / ticket
Options
guests = 1

Price

Adult (18+ years)

€

400 / ticket |

Youth (13-17 years)

€

400 / ticket |

Children (0-12 years)

€

400 / ticket

guests = 2

Price

Adult (18+ years)

€

200 / ticket |

Youth (13-17 years)

€

200 / ticket |

Children (0-12 years)

€

200 / ticket

guests = 3

Price

Adult (18+ years)

€

150 / ticket |

Youth (13-17 years)

€

150 / ticket |

Children (0-12 years)

€

150 / ticket

guests >= 4

Price

Adult (18+ years)

€

120 / ticket |

Youth (13-17 years)

€

120 / ticket |

Children (0-12 years)

€

120 / ticket
14
promotion
Minimum booking:
1 tickets
Maximum booking:
30 tickets
General price:
Adult (18+ years)
€

120 / ticket
|
Youth (13-17 years)
€

120 / ticket
|
Children (0-12 years)
€

120 / ticket
Options
guests = 1

Price

Adult (18+ years)

€

400 / ticket |

Youth (13-17 years)

€

400 / ticket |

Children (0-12 years)

€

400 / ticket

guests = 2

Price

Adult (18+ years)

€

200 / ticket |

Youth (13-17 years)

€

200 / ticket |

Children (0-12 years)

€

200 / ticket

guests = 3

Price

Adult (18+ years)

€

150 / ticket |

Youth (13-17 years)

€

150 / ticket |

Children (0-12 years)

€

150 / ticket

guests >= 4

Price

Adult (18+ years)

€

120 / ticket |

Youth (13-17 years)

€

120 / ticket |

Children (0-12 years)

€

120 / ticket
15
promotion
Minimum booking:
1 tickets
Maximum booking:
30 tickets
General price:
Adult (18+ years)
€

120 / ticket
|
Youth (13-17 years)
€

120 / ticket
|
Children (0-12 years)
€

120 / ticket
Options
guests = 1

Price

Adult (18+ years)

€

400 / ticket |

Youth (13-17 years)

€

400 / ticket |

Children (0-12 years)

€

400 / ticket

guests = 2

Price

Adult (18+ years)

€

200 / ticket |

Youth (13-17 years)

€

200 / ticket |

Children (0-12 years)

€

200 / ticket

guests = 3

Price

Adult (18+ years)

€

150 / ticket |

Youth (13-17 years)

€

150 / ticket |

Children (0-12 years)

€

150 / ticket

guests >= 4

Price

Adult (18+ years)

€

120 / ticket |

Youth (13-17 years)

€

120 / ticket |

Children (0-12 years)

€

120 / ticket
16
promotion
Minimum booking:
1 tickets
Maximum booking:
30 tickets
General price:
Adult (18+ years)
€

120 / ticket
|
Youth (13-17 years)
€

120 / ticket
|
Children (0-12 years)
€

120 / ticket
Options
guests = 1

Price

Adult (18+ years)

€

400 / ticket |

Youth (13-17 years)

€

400 / ticket |

Children (0-12 years)

€

400 / ticket

guests = 2

Price

Adult (18+ years)

€

200 / ticket |

Youth (13-17 years)

€

200 / ticket |

Children (0-12 years)

€

200 / ticket

guests = 3

Price

Adult (18+ years)

€

150 / ticket |

Youth (13-17 years)

€

150 / ticket |

Children (0-12 years)

€

150 / ticket

guests >= 4

Price

Adult (18+ years)

€

120 / ticket |

Youth (13-17 years)

€

120 / ticket |

Children (0-12 years)

€

120 / ticket
18
promotion
Minimum booking:
1 tickets
Maximum booking:
30 tickets
General price:
Adult (18+ years)
€

120 / ticket
|
Youth (13-17 years)
€

120 / ticket
|
Children (0-12 years)
€

120 / ticket
Options
guests = 1

Price

Adult (18+ years)

€

400 / ticket |

Youth (13-17 years)

€

400 / ticket |

Children (0-12 years)

€

400 / ticket

guests = 2

Price

Adult (18+ years)

€

200 / ticket |

Youth (13-17 years)

€

200 / ticket |

Children (0-12 years)

€

200 / ticket

guests = 3

Price

Adult (18+ years)

€

150 / ticket |

Youth (13-17 years)

€

150 / ticket |

Children (0-12 years)

€

150 / ticket

guests >= 4

Price

Adult (18+ years)

€

120 / ticket |

Youth (13-17 years)

€

120 / ticket |

Children (0-12 years)

€

120 / ticket
19
promotion
Minimum booking:
1 tickets
Maximum booking:
30 tickets
General price:
Adult (18+ years)
€

120 / ticket
|
Youth (13-17 years)
€

120 / ticket
|
Children (0-12 years)
€

120 / ticket
Options
guests = 1

Price

Adult (18+ years)

€

400 / ticket |

Youth (13-17 years)

€

400 / ticket |

Children (0-12 years)

€

400 / ticket

guests = 2

Price

Adult (18+ years)

€

200 / ticket |

Youth (13-17 years)

€

200 / ticket |

Children (0-12 years)

€

200 / ticket

guests = 3

Price

Adult (18+ years)

€

150 / ticket |

Youth (13-17 years)

€

150 / ticket |

Children (0-12 years)

€

150 / ticket

guests >= 4

Price

Adult (18+ years)

€

120 / ticket |

Youth (13-17 years)

€

120 / ticket |

Children (0-12 years)

€

120 / ticket
20
promotion
Minimum booking:
1 tickets
Maximum booking:
30 tickets
General price:
Adult (18+ years)
€

120 / ticket
|
Youth (13-17 years)
€

120 / ticket
|
Children (0-12 years)
€

120 / ticket
Options
guests = 1

Price

Adult (18+ years)

€

400 / ticket |

Youth (13-17 years)

€

400 / ticket |

Children (0-12 years)

€

400 / ticket

guests = 2

Price

Adult (18+ years)

€

200 / ticket |

Youth (13-17 years)

€

200 / ticket |

Children (0-12 years)

€

200 / ticket

guests = 3

Price

Adult (18+ years)

€

150 / ticket |

Youth (13-17 years)

€

150 / ticket |

Children (0-12 years)

€

150 / ticket

guests >= 4

Price

Adult (18+ years)

€

120 / ticket |

Youth (13-17 years)

€

120 / ticket |

Children (0-12 years)

€

120 / ticket
21
promotion
Minimum booking:
1 tickets
Maximum booking:
30 tickets
General price:
Adult (18+ years)
€

120 / ticket
|
Youth (13-17 years)
€

120 / ticket
|
Children (0-12 years)
€

120 / ticket
Options
guests = 1

Price

Adult (18+ years)

€

400 / ticket |

Youth (13-17 years)

€

400 / ticket |

Children (0-12 years)

€

400 / ticket

guests = 2

Price

Adult (18+ years)

€

200 / ticket |

Youth (13-17 years)

€

200 / ticket |

Children (0-12 years)

€

200 / ticket

guests = 3

Price

Adult (18+ years)

€

150 / ticket |

Youth (13-17 years)

€

150 / ticket |

Children (0-12 years)

€

150 / ticket

guests >= 4

Price

Adult (18+ years)

€

120 / ticket |

Youth (13-17 years)

€

120 / ticket |

Children (0-12 years)

€

120 / ticket
22
promotion
Minimum booking:
1 tickets
Maximum booking:
30 tickets
General price:
Adult (18+ years)
€

120 / ticket
|
Youth (13-17 years)
€

120 / ticket
|
Children (0-12 years)
€

120 / ticket
Options
guests = 1

Price

Adult (18+ years)

€

400 / ticket |

Youth (13-17 years)

€

400 / ticket |

Children (0-12 years)

€

400 / ticket

guests = 2

Price

Adult (18+ years)

€

200 / ticket |

Youth (13-17 years)

€

200 / ticket |

Children (0-12 years)

€

200 / ticket

guests = 3

Price

Adult (18+ years)

€

150 / ticket |

Youth (13-17 years)

€

150 / ticket |

Children (0-12 years)

€

150 / ticket

guests >= 4

Price

Adult (18+ years)

€

120 / ticket |

Youth (13-17 years)

€

120 / ticket |

Children (0-12 years)

€

120 / ticket
23
promotion
Minimum booking:
1 tickets
Maximum booking:
30 tickets
General price:
Adult (18+ years)
€

120 / ticket
|
Youth (13-17 years)
€

120 / ticket
|
Children (0-12 years)
€

120 / ticket
Options
guests = 1

Price

Adult (18+ years)

€

400 / ticket |

Youth (13-17 years)

€

400 / ticket |

Children (0-12 years)

€

400 / ticket

guests = 2

Price

Adult (18+ years)

€

200 / ticket |

Youth (13-17 years)

€

200 / ticket |

Children (0-12 years)

€

200 / ticket

guests = 3

Price

Adult (18+ years)

€

150 / ticket |

Youth (13-17 years)

€

150 / ticket |

Children (0-12 years)

€

150 / ticket

guests >= 4

Price

Adult (18+ years)

€

120 / ticket |

Youth (13-17 years)

€

120 / ticket |

Children (0-12 years)

€

120 / ticket
25
promotion
Minimum booking:
1 tickets
Maximum booking:
30 tickets
General price:
Adult (18+ years)
€

120 / ticket
|
Youth (13-17 years)
€

120 / ticket
|
Children (0-12 years)
€

120 / ticket
Options
guests = 1

Price

Adult (18+ years)

€

400 / ticket |

Youth (13-17 years)

€

400 / ticket |

Children (0-12 years)

€

400 / ticket

guests = 2

Price

Adult (18+ years)

€

200 / ticket |

Youth (13-17 years)

€

200 / ticket |

Children (0-12 years)

€

200 / ticket

guests = 3

Price

Adult (18+ years)

€

150 / ticket |

Youth (13-17 years)

€

150 / ticket |

Children (0-12 years)

€

150 / ticket

guests >= 4

Price

Adult (18+ years)

€

120 / ticket |

Youth (13-17 years)

€

120 / ticket |

Children (0-12 years)

€

120 / ticket
26
promotion
Minimum booking:
1 tickets
Maximum booking:
30 tickets
General price:
Adult (18+ years)
€

120 / ticket
|
Youth (13-17 years)
€

120 / ticket
|
Children (0-12 years)
€

120 / ticket
Options
guests = 1

Price

Adult (18+ years)

€

400 / ticket |

Youth (13-17 years)

€

400 / ticket |

Children (0-12 years)

€

400 / ticket

guests = 2

Price

Adult (18+ years)

€

200 / ticket |

Youth (13-17 years)

€

200 / ticket |

Children (0-12 years)

€

200 / ticket

guests = 3

Price

Adult (18+ years)

€

150 / ticket |

Youth (13-17 years)

€

150 / ticket |

Children (0-12 years)

€

150 / ticket

guests >= 4

Price

Adult (18+ years)

€

120 / ticket |

Youth (13-17 years)

€

120 / ticket |

Children (0-12 years)

€

120 / ticket
27
promotion
Minimum booking:
1 tickets
Maximum booking:
30 tickets
General price:
Adult (18+ years)
€

120 / ticket
|
Youth (13-17 years)
€

120 / ticket
|
Children (0-12 years)
€

120 / ticket
Options
guests = 1

Price

Adult (18+ years)

€

400 / ticket |

Youth (13-17 years)

€

400 / ticket |

Children (0-12 years)

€

400 / ticket

guests = 2

Price

Adult (18+ years)

€

200 / ticket |

Youth (13-17 years)

€

200 / ticket |

Children (0-12 years)

€

200 / ticket

guests = 3

Price

Adult (18+ years)

€

150 / ticket |

Youth (13-17 years)

€

150 / ticket |

Children (0-12 years)

€

150 / ticket

guests >= 4

Price

Adult (18+ years)

€

120 / ticket |

Youth (13-17 years)

€

120 / ticket |

Children (0-12 years)

€

120 / ticket
28
promotion
Minimum booking:
1 tickets
Maximum booking:
30 tickets
General price:
Adult (18+ years)
€

120 / ticket
|
Youth (13-17 years)
€

120 / ticket
|
Children (0-12 years)
€

120 / ticket
Options
guests = 1

Price

Adult (18+ years)

€

400 / ticket |

Youth (13-17 years)

€

400 / ticket |

Children (0-12 years)

€

400 / ticket

guests = 2

Price

Adult (18+ years)

€

200 / ticket |

Youth (13-17 years)

€

200 / ticket |

Children (0-12 years)

€

200 / ticket

guests = 3

Price

Adult (18+ years)

€

150 / ticket |

Youth (13-17 years)

€

150 / ticket |

Children (0-12 years)

€

150 / ticket

guests >= 4

Price

Adult (18+ years)

€

120 / ticket |

Youth (13-17 years)

€

120 / ticket |

Children (0-12 years)

€

120 / ticket
29
promotion
Minimum booking:
1 tickets
Maximum booking:
30 tickets
General price:
Adult (18+ years)
€

120 / ticket
|
Youth (13-17 years)
€

120 / ticket
|
Children (0-12 years)
€

120 / ticket
Options
guests = 1

Price

Adult (18+ years)

€

400 / ticket |

Youth (13-17 years)

€

400 / ticket |

Children (0-12 years)

€

400 / ticket

guests = 2

Price

Adult (18+ years)

€

200 / ticket |

Youth (13-17 years)

€

200 / ticket |

Children (0-12 years)

€

200 / ticket

guests = 3

Price

Adult (18+ years)

€

150 / ticket |

Youth (13-17 years)

€

150 / ticket |

Children (0-12 years)

€

150 / ticket

guests >= 4

Price

Adult (18+ years)

€

120 / ticket |

Youth (13-17 years)

€

120 / ticket |

Children (0-12 years)

€

120 / ticket
30
promotion
Minimum booking:
1 tickets
Maximum booking:
30 tickets
General price:
Adult (18+ years)
€

120 / ticket
|
Youth (13-17 years)
€

120 / ticket
|
Children (0-12 years)
€

120 / ticket
Options
guests = 1

Price

Adult (18+ years)

€

400 / ticket |

Youth (13-17 years)

€

400 / ticket |

Children (0-12 years)

€

400 / ticket

guests = 2

Price

Adult (18+ years)

€

200 / ticket |

Youth (13-17 years)

€

200 / ticket |

Children (0-12 years)

€

200 / ticket

guests = 3

Price

Adult (18+ years)

€

150 / ticket |

Youth (13-17 years)

€

150 / ticket |

Children (0-12 years)

€

150 / ticket

guests >= 4

Price

Adult (18+ years)

€

120 / ticket |

Youth (13-17 years)

€

120 / ticket |

Children (0-12 years)

€

120 / ticket
1
promotion
Minimum booking:
1 tickets
Maximum booking:
30 tickets
General price:
Adult (18+ years)
€

120 / ticket
|
Youth (13-17 years)
€

120 / ticket
|
Children (0-12 years)
€

120 / ticket
Options
guests = 1

Price

Adult (18+ years)

€

400 / ticket |

Youth (13-17 years)

€

400 / ticket |

Children (0-12 years)

€

400 / ticket

guests = 2

Price

Adult (18+ years)

€

200 / ticket |

Youth (13-17 years)

€

200 / ticket |

Children (0-12 years)

€

200 / ticket

guests = 3

Price

Adult (18+ years)

€

150 / ticket |

Youth (13-17 years)

€

150 / ticket |

Children (0-12 years)

€

150 / ticket

guests >= 4

Price

Adult (18+ years)

€

120 / ticket |

Youth (13-17 years)

€

120 / ticket |

Children (0-12 years)

€

120 / ticket
2
promotion
Minimum booking:
1 tickets
Maximum booking:
30 tickets
General price:
Adult (18+ years)
€

120 / ticket
|
Youth (13-17 years)
€

120 / ticket
|
Children (0-12 years)
€

120 / ticket
Options
guests = 1

Price

Adult (18+ years)

€

400 / ticket |

Youth (13-17 years)

€

400 / ticket |

Children (0-12 years)

€

400 / ticket

guests = 2

Price

Adult (18+ years)

€

200 / ticket |

Youth (13-17 years)

€

200 / ticket |

Children (0-12 years)

€

200 / ticket

guests = 3

Price

Adult (18+ years)

€

150 / ticket |

Youth (13-17 years)

€

150 / ticket |

Children (0-12 years)

€

150 / ticket

guests >= 4

Price

Adult (18+ years)

€

120 / ticket |

Youth (13-17 years)

€

120 / ticket |

Children (0-12 years)

€

120 / ticket
3
promotion
Minimum booking:
1 tickets
Maximum booking:
30 tickets
General price:
Adult (18+ years)
€

120 / ticket
|
Youth (13-17 years)
€

120 / ticket
|
Children (0-12 years)
€

120 / ticket
Options
guests = 1

Price

Adult (18+ years)

€

400 / ticket |

Youth (13-17 years)

€

400 / ticket |

Children (0-12 years)

€

400 / ticket

guests = 2

Price

Adult (18+ years)

€

200 / ticket |

Youth (13-17 years)

€

200 / ticket |

Children (0-12 years)

€

200 / ticket

guests = 3

Price

Adult (18+ years)

€

150 / ticket |

Youth (13-17 years)

€

150 / ticket |

Children (0-12 years)

€

150 / ticket

guests >= 4

Price

Adult (18+ years)

€

120 / ticket |

Youth (13-17 years)

€

120 / ticket |

Children (0-12 years)

€

120 / ticket
4
promotion
Minimum booking:
1 tickets
Maximum booking:
30 tickets
General price:
Adult (18+ years)
€

120 / ticket
|
Youth (13-17 years)
€

120 / ticket
|
Children (0-12 years)
€

120 / ticket
Options
guests = 1

Price

Adult (18+ years)

€

400 / ticket |

Youth (13-17 years)

€

400 / ticket |

Children (0-12 years)

€

400 / ticket

guests = 2

Price

Adult (18+ years)

€

200 / ticket |

Youth (13-17 years)

€

200 / ticket |

Children (0-12 years)

€

200 / ticket

guests = 3

Price

Adult (18+ years)

€

150 / ticket |

Youth (13-17 years)

€

150 / ticket |

Children (0-12 years)

€

150 / ticket

guests >= 4

Price

Adult (18+ years)

€

120 / ticket |

Youth (13-17 years)

€

120 / ticket |

Children (0-12 years)

€

120 / ticket
5
promotion
Minimum booking:
1 tickets
Maximum booking:
30 tickets
General price:
Adult (18+ years)
€

120 / ticket
|
Youth (13-17 years)
€

120 / ticket
|
Children (0-12 years)
€

120 / ticket
Options
guests = 1

Price

Adult (18+ years)

€

400 / ticket |

Youth (13-17 years)

€

400 / ticket |

Children (0-12 years)

€

400 / ticket

guests = 2

Price

Adult (18+ years)

€

200 / ticket |

Youth (13-17 years)

€

200 / ticket |

Children (0-12 years)

€

200 / ticket

guests = 3

Price

Adult (18+ years)

€

150 / ticket |

Youth (13-17 years)

€

150 / ticket |

Children (0-12 years)

€

150 / ticket

guests >= 4

Price

Adult (18+ years)

€

120 / ticket |

Youth (13-17 years)

€

120 / ticket |

Children (0-12 years)

€

120 / ticket
6
promotion
Minimum booking:
1 tickets
Maximum booking:
30 tickets
General price:
Adult (18+ years)
€

120 / ticket
|
Youth (13-17 years)
€

120 / ticket
|
Children (0-12 years)
€

120 / ticket
Options
guests = 1

Price

Adult (18+ years)

€

400 / ticket |

Youth (13-17 years)

€

400 / ticket |

Children (0-12 years)

€

400 / ticket

guests = 2

Price

Adult (18+ years)

€

200 / ticket |

Youth (13-17 years)

€

200 / ticket |

Children (0-12 years)

€

200 / ticket

guests = 3

Price

Adult (18+ years)

€

150 / ticket |

Youth (13-17 years)

€

150 / ticket |

Children (0-12 years)

€

150 / ticket

guests >= 4

Price

Adult (18+ years)

€

120 / ticket |

Youth (13-17 years)

€

120 / ticket |

Children (0-12 years)

€

120 / ticket
8
promotion
Minimum booking:
1 tickets
Maximum booking:
30 tickets
General price:
Adult (18+ years)
€

120 / ticket
|
Youth (13-17 years)
€

120 / ticket
|
Children (0-12 years)
€

120 / ticket
Options
guests = 1

Price

Adult (18+ years)

€

400 / ticket |

Youth (13-17 years)

€

400 / ticket |

Children (0-12 years)

€

400 / ticket

guests = 2

Price

Adult (18+ years)

€

200 / ticket |

Youth (13-17 years)

€

200 / ticket |

Children (0-12 years)

€

200 / ticket

guests = 3

Price

Adult (18+ years)

€

150 / ticket |

Youth (13-17 years)

€

150 / ticket |

Children (0-12 years)

€

150 / ticket

guests >= 4

Price

Adult (18+ years)

€

120 / ticket |

Youth (13-17 years)

€

120 / ticket |

Children (0-12 years)

€

120 / ticket
9
promotion
Minimum booking:
1 tickets
Maximum booking:
30 tickets
General price:
Adult (18+ years)
€

120 / ticket
|
Youth (13-17 years)
€

120 / ticket
|
Children (0-12 years)
€

120 / ticket
Options
guests = 1

Price

Adult (18+ years)

€

400 / ticket |

Youth (13-17 years)

€

400 / ticket |

Children (0-12 years)

€

400 / ticket

guests = 2

Price

Adult (18+ years)

€

200 / ticket |

Youth (13-17 years)

€

200 / ticket |

Children (0-12 years)

€

200 / ticket

guests = 3

Price

Adult (18+ years)

€

150 / ticket |

Youth (13-17 years)

€

150 / ticket |

Children (0-12 years)

€

150 / ticket

guests >= 4

Price

Adult (18+ years)

€

120 / ticket |

Youth (13-17 years)

€

120 / ticket |

Children (0-12 years)

€

120 / ticket
10
promotion
Minimum booking:
1 tickets
Maximum booking:
30 tickets
General price:
Adult (18+ years)
€

120 / ticket
|
Youth (13-17 years)
€

120 / ticket
|
Children (0-12 years)
€

120 / ticket
Options
guests = 1

Price

Adult (18+ years)

€

400 / ticket |

Youth (13-17 years)

€

400 / ticket |

Children (0-12 years)

€

400 / ticket

guests = 2

Price

Adult (18+ years)

€

200 / ticket |

Youth (13-17 years)

€

200 / ticket |

Children (0-12 years)

€

200 / ticket

guests = 3

Price

Adult (18+ years)

€

150 / ticket |

Youth (13-17 years)

€

150 / ticket |

Children (0-12 years)

€

150 / ticket

guests >= 4

Price

Adult (18+ years)

€

120 / ticket |

Youth (13-17 years)

€

120 / ticket |

Children (0-12 years)

€

120 / ticket
11
promotion
Minimum booking:
1 tickets
Maximum booking:
30 tickets
General price:
Adult (18+ years)
€

120 / ticket
|
Youth (13-17 years)
€

120 / ticket
|
Children (0-12 years)
€

120 / ticket
Options
guests = 1

Price

Adult (18+ years)

€

400 / ticket |

Youth (13-17 years)

€

400 / ticket |

Children (0-12 years)

€

400 / ticket

guests = 2

Price

Adult (18+ years)

€

200 / ticket |

Youth (13-17 years)

€

200 / ticket |

Children (0-12 years)

€

200 / ticket

guests = 3

Price

Adult (18+ years)

€

150 / ticket |

Youth (13-17 years)

€

150 / ticket |

Children (0-12 years)

€

150 / ticket

guests >= 4

Price

Adult (18+ years)

€

120 / ticket |

Youth (13-17 years)

€

120 / ticket |

Children (0-12 years)

€

120 / ticket
12
promotion
Minimum booking:
1 tickets
Maximum booking:
30 tickets
General price:
Adult (18+ years)
€

120 / ticket
|
Youth (13-17 years)
€

120 / ticket
|
Children (0-12 years)
€

120 / ticket
Options
guests = 1

Price

Adult (18+ years)

€

400 / ticket |

Youth (13-17 years)

€

400 / ticket |

Children (0-12 years)

€

400 / ticket

guests = 2

Price

Adult (18+ years)

€

200 / ticket |

Youth (13-17 years)

€

200 / ticket |

Children (0-12 years)

€

200 / ticket

guests = 3

Price

Adult (18+ years)

€

150 / ticket |

Youth (13-17 years)

€

150 / ticket |

Children (0-12 years)

€

150 / ticket

guests >= 4

Price

Adult (18+ years)

€

120 / ticket |

Youth (13-17 years)

€

120 / ticket |

Children (0-12 years)

€

120 / ticket
13
promotion
Minimum booking:
1 tickets
Maximum booking:
30 tickets
General price:
Adult (18+ years)
€

120 / ticket
|
Youth (13-17 years)
€

120 / ticket
|
Children (0-12 years)
€

120 / ticket
Options
guests = 1

Price

Adult (18+ years)

€

400 / ticket |

Youth (13-17 years)

€

400 / ticket |

Children (0-12 years)

€

400 / ticket

guests = 2

Price

Adult (18+ years)

€

200 / ticket |

Youth (13-17 years)

€

200 / ticket |

Children (0-12 years)

€

200 / ticket

guests = 3

Price

Adult (18+ years)

€

150 / ticket |

Youth (13-17 years)

€

150 / ticket |

Children (0-12 years)

€

150 / ticket

guests >= 4

Price

Adult (18+ years)

€

120 / ticket |

Youth (13-17 years)

€

120 / ticket |

Children (0-12 years)

€

120 / ticket
15
promotion
Minimum booking:
1 tickets
Maximum booking:
30 tickets
General price:
Adult (18+ years)
€

120 / ticket
|
Youth (13-17 years)
€

120 / ticket
|
Children (0-12 years)
€

120 / ticket
Options
guests = 1

Price

Adult (18+ years)

€

400 / ticket |

Youth (13-17 years)

€

400 / ticket |

Children (0-12 years)

€

400 / ticket

guests = 2

Price

Adult (18+ years)

€

200 / ticket |

Youth (13-17 years)

€

200 / ticket |

Children (0-12 years)

€

200 / ticket

guests = 3

Price

Adult (18+ years)

€

150 / ticket |

Youth (13-17 years)

€

150 / ticket |

Children (0-12 years)

€

150 / ticket

guests >= 4

Price

Adult (18+ years)

€

120 / ticket |

Youth (13-17 years)

€

120 / ticket |

Children (0-12 years)

€

120 / ticket
16
promotion
Minimum booking:
1 tickets
Maximum booking:
30 tickets
General price:
Adult (18+ years)
€

120 / ticket
|
Youth (13-17 years)
€

120 / ticket
|
Children (0-12 years)
€

120 / ticket
Options
guests = 1

Price

Adult (18+ years)

€

400 / ticket |

Youth (13-17 years)

€

400 / ticket |

Children (0-12 years)

€

400 / ticket

guests = 2

Price

Adult (18+ years)

€

200 / ticket |

Youth (13-17 years)

€

200 / ticket |

Children (0-12 years)

€

200 / ticket

guests = 3

Price

Adult (18+ years)

€

150 / ticket |

Youth (13-17 years)

€

150 / ticket |

Children (0-12 years)

€

150 / ticket

guests >= 4

Price

Adult (18+ years)

€

120 / ticket |

Youth (13-17 years)

€

120 / ticket |

Children (0-12 years)

€

120 / ticket
17
promotion
Minimum booking:
1 tickets
Maximum booking:
30 tickets
General price:
Adult (18+ years)
€

120 / ticket
|
Youth (13-17 years)
€

120 / ticket
|
Children (0-12 years)
€

120 / ticket
Options
guests = 1

Price

Adult (18+ years)

€

400 / ticket |

Youth (13-17 years)

€

400 / ticket |

Children (0-12 years)

€

400 / ticket

guests = 2

Price

Adult (18+ years)

€

200 / ticket |

Youth (13-17 years)

€

200 / ticket |

Children (0-12 years)

€

200 / ticket

guests = 3

Price

Adult (18+ years)

€

150 / ticket |

Youth (13-17 years)

€

150 / ticket |

Children (0-12 years)

€

150 / ticket

guests >= 4

Price

Adult (18+ years)

€

120 / ticket |

Youth (13-17 years)

€

120 / ticket |

Children (0-12 years)

€

120 / ticket
18
promotion
Minimum booking:
1 tickets
Maximum booking:
30 tickets
General price:
Adult (18+ years)
€

120 / ticket
|
Youth (13-17 years)
€

120 / ticket
|
Children (0-12 years)
€

120 / ticket
Options
guests = 1

Price

Adult (18+ years)

€

400 / ticket |

Youth (13-17 years)

€

400 / ticket |

Children (0-12 years)

€

400 / ticket

guests = 2

Price

Adult (18+ years)

€

200 / ticket |

Youth (13-17 years)

€

200 / ticket |

Children (0-12 years)

€

200 / ticket

guests = 3

Price

Adult (18+ years)

€

150 / ticket |

Youth (13-17 years)

€

150 / ticket |

Children (0-12 years)

€

150 / ticket

guests >= 4

Price

Adult (18+ years)

€

120 / ticket |

Youth (13-17 years)

€

120 / ticket |

Children (0-12 years)

€

120 / ticket
19
promotion
Minimum booking:
1 tickets
Maximum booking:
30 tickets
General price:
Adult (18+ years)
€

120 / ticket
|
Youth (13-17 years)
€

120 / ticket
|
Children (0-12 years)
€

120 / ticket
Options
guests = 1

Price

Adult (18+ years)

€

400 / ticket |

Youth (13-17 years)

€

400 / ticket |

Children (0-12 years)

€

400 / ticket

guests = 2

Price

Adult (18+ years)

€

200 / ticket |

Youth (13-17 years)

€

200 / ticket |

Children (0-12 years)

€

200 / ticket

guests = 3

Price

Adult (18+ years)

€

150 / ticket |

Youth (13-17 years)

€

150 / ticket |

Children (0-12 years)

€

150 / ticket

guests >= 4

Price

Adult (18+ years)

€

120 / ticket |

Youth (13-17 years)

€

120 / ticket |

Children (0-12 years)

€

120 / ticket
20
promotion
Minimum booking:
1 tickets
Maximum booking:
30 tickets
General price:
Adult (18+ years)
€

120 / ticket
|
Youth (13-17 years)
€

120 / ticket
|
Children (0-12 years)
€

120 / ticket
Options
guests = 1

Price

Adult (18+ years)

€

400 / ticket |

Youth (13-17 years)

€

400 / ticket |

Children (0-12 years)

€

400 / ticket

guests = 2

Price

Adult (18+ years)

€

200 / ticket |

Youth (13-17 years)

€

200 / ticket |

Children (0-12 years)

€

200 / ticket

guests = 3

Price

Adult (18+ years)

€

150 / ticket |

Youth (13-17 years)

€

150 / ticket |

Children (0-12 years)

€

150 / ticket

guests >= 4

Price

Adult (18+ years)

€

120 / ticket |

Youth (13-17 years)

€

120 / ticket |

Children (0-12 years)

€

120 / ticket
22
promotion
Minimum booking:
1 tickets
Maximum booking:
30 tickets
General price:
Adult (18+ years)
€

120 / ticket
|
Youth (13-17 years)
€

120 / ticket
|
Children (0-12 years)
€

120 / ticket
Options
guests = 1

Price

Adult (18+ years)

€

400 / ticket |

Youth (13-17 years)

€

400 / ticket |

Children (0-12 years)

€

400 / ticket

guests = 2

Price

Adult (18+ years)

€

200 / ticket |

Youth (13-17 years)

€

200 / ticket |

Children (0-12 years)

€

200 / ticket

guests = 3

Price

Adult (18+ years)

€

150 / ticket |

Youth (13-17 years)

€

150 / ticket |

Children (0-12 years)

€

150 / ticket

guests >= 4

Price

Adult (18+ years)

€

120 / ticket |

Youth (13-17 years)

€

120 / ticket |

Children (0-12 years)

€

120 / ticket
23
promotion
Minimum booking:
1 tickets
Maximum booking:
30 tickets
General price:
Adult (18+ years)
€

120 / ticket
|
Youth (13-17 years)
€

120 / ticket
|
Children (0-12 years)
€

120 / ticket
Options
guests = 1

Price

Adult (18+ years)

€

400 / ticket |

Youth (13-17 years)

€

400 / ticket |

Children (0-12 years)

€

400 / ticket

guests = 2

Price

Adult (18+ years)

€

200 / ticket |

Youth (13-17 years)

€

200 / ticket |

Children (0-12 years)

€

200 / ticket

guests = 3

Price

Adult (18+ years)

€

150 / ticket |

Youth (13-17 years)

€

150 / ticket |

Children (0-12 years)

€

150 / ticket

guests >= 4

Price

Adult (18+ years)

€

120 / ticket |

Youth (13-17 years)

€

120 / ticket |

Children (0-12 years)

€

120 / ticket
24
promotion
Minimum booking:
1 tickets
Maximum booking:
30 tickets
General price:
Adult (18+ years)
€

120 / ticket
|
Youth (13-17 years)
€

120 / ticket
|
Children (0-12 years)
€

120 / ticket
Options
guests = 1

Price

Adult (18+ years)

€

400 / ticket |

Youth (13-17 years)

€

400 / ticket |

Children (0-12 years)

€

400 / ticket

guests = 2

Price

Adult (18+ years)

€

200 / ticket |

Youth (13-17 years)

€

200 / ticket |

Children (0-12 years)

€

200 / ticket

guests = 3

Price

Adult (18+ years)

€

150 / ticket |

Youth (13-17 years)

€

150 / ticket |

Children (0-12 years)

€

150 / ticket

guests >= 4

Price

Adult (18+ years)

€

120 / ticket |

Youth (13-17 years)

€

120 / ticket |

Children (0-12 years)

€

120 / ticket
25
promotion
Minimum booking:
1 tickets
Maximum booking:
30 tickets
General price:
Adult (18+ years)
€

120 / ticket
|
Youth (13-17 years)
€

120 / ticket
|
Children (0-12 years)
€

120 / ticket
Options
guests = 1

Price

Adult (18+ years)

€

400 / ticket |

Youth (13-17 years)

€

400 / ticket |

Children (0-12 years)

€

400 / ticket

guests = 2

Price

Adult (18+ years)

€

200 / ticket |

Youth (13-17 years)

€

200 / ticket |

Children (0-12 years)

€

200 / ticket

guests = 3

Price

Adult (18+ years)

€

150 / ticket |

Youth (13-17 years)

€

150 / ticket |

Children (0-12 years)

€

150 / ticket

guests >= 4

Price

Adult (18+ years)

€

120 / ticket |

Youth (13-17 years)

€

120 / ticket |

Children (0-12 years)

€

120 / ticket
26
promotion
Minimum booking:
1 tickets
Maximum booking:
30 tickets
General price:
Adult (18+ years)
€

120 / ticket
|
Youth (13-17 years)
€

120 / ticket
|
Children (0-12 years)
€

120 / ticket
Options
guests = 1

Price

Adult (18+ years)

€

400 / ticket |

Youth (13-17 years)

€

400 / ticket |

Children (0-12 years)

€

400 / ticket

guests = 2

Price

Adult (18+ years)

€

200 / ticket |

Youth (13-17 years)

€

200 / ticket |

Children (0-12 years)

€

200 / ticket

guests = 3

Price

Adult (18+ years)

€

150 / ticket |

Youth (13-17 years)

€

150 / ticket |

Children (0-12 years)

€

150 / ticket

guests >= 4

Price

Adult (18+ years)

€

120 / ticket |

Youth (13-17 years)

€

120 / ticket |

Children (0-12 years)

€

120 / ticket
27
promotion
Minimum booking:
1 tickets
Maximum booking:
30 tickets
General price:
Adult (18+ years)
€

120 / ticket
|
Youth (13-17 years)
€

120 / ticket
|
Children (0-12 years)
€

120 / ticket
Options
guests = 1

Price

Adult (18+ years)

€

400 / ticket |

Youth (13-17 years)

€

400 / ticket |

Children (0-12 years)

€

400 / ticket

guests = 2

Price

Adult (18+ years)

€

200 / ticket |

Youth (13-17 years)

€

200 / ticket |

Children (0-12 years)

€

200 / ticket

guests = 3

Price

Adult (18+ years)

€

150 / ticket |

Youth (13-17 years)

€

150 / ticket |

Children (0-12 years)

€

150 / ticket

guests >= 4

Price

Adult (18+ years)

€

120 / ticket |

Youth (13-17 years)

€

120 / ticket |

Children (0-12 years)

€

120 / ticket
29
promotion
Minimum booking:
1 tickets
Maximum booking:
30 tickets
General price:
Adult (18+ years)
€

120 / ticket
|
Youth (13-17 years)
€

120 / ticket
|
Children (0-12 years)
€

120 / ticket
Options
guests = 1

Price

Adult (18+ years)

€

400 / ticket |

Youth (13-17 years)

€

400 / ticket |

Children (0-12 years)

€

400 / ticket

guests = 2

Price

Adult (18+ years)

€

200 / ticket |

Youth (13-17 years)

€

200 / ticket |

Children (0-12 years)

€

200 / ticket

guests = 3

Price

Adult (18+ years)

€

150 / ticket |

Youth (13-17 years)

€

150 / ticket |

Children (0-12 years)

€

150 / ticket

guests >= 4

Price

Adult (18+ years)

€

120 / ticket |

Youth (13-17 years)

€

120 / ticket |

Children (0-12 years)

€

120 / ticket
30
promotion
Minimum booking:
1 tickets
Maximum booking:
30 tickets
General price:
Adult (18+ years)
€

120 / ticket
|
Youth (13-17 years)
€

120 / ticket
|
Children (0-12 years)
€

120 / ticket
Options
guests = 1

Price

Adult (18+ years)

€

400 / ticket |

Youth (13-17 years)

€

400 / ticket |

Children (0-12 years)

€

400 / ticket

guests = 2

Price

Adult (18+ years)

€

200 / ticket |

Youth (13-17 years)

€

200 / ticket |

Children (0-12 years)

€

200 / ticket

guests = 3

Price

Adult (18+ years)

€

150 / ticket |

Youth (13-17 years)

€

150 / ticket |

Children (0-12 years)

€

150 / ticket

guests >= 4

Price

Adult (18+ years)

€

120 / ticket |

Youth (13-17 years)

€

120 / ticket |

Children (0-12 years)

€

120 / ticket
1
promotion
Minimum booking:
1 tickets
Maximum booking:
30 tickets
General price:
Adult (18+ years)
€

120 / ticket
|
Youth (13-17 years)
€

120 / ticket
|
Children (0-12 years)
€

120 / ticket
Options
guests = 1

Price

Adult (18+ years)

€

400 / ticket |

Youth (13-17 years)

€

400 / ticket |

Children (0-12 years)

€

400 / ticket

guests = 2

Price

Adult (18+ years)

€

200 / ticket |

Youth (13-17 years)

€

200 / ticket |

Children (0-12 years)

€

200 / ticket

guests = 3

Price

Adult (18+ years)

€

150 / ticket |

Youth (13-17 years)

€

150 / ticket |

Children (0-12 years)

€

150 / ticket

guests >= 4

Price

Adult (18+ years)

€

120 / ticket |

Youth (13-17 years)

€

120 / ticket |

Children (0-12 years)

€

120 / ticket
2
promotion
Minimum booking:
1 tickets
Maximum booking:
30 tickets
General price:
Adult (18+ years)
€

120 / ticket
|
Youth (13-17 years)
€

120 / ticket
|
Children (0-12 years)
€

120 / ticket
Options
guests = 1

Price

Adult (18+ years)

€

400 / ticket |

Youth (13-17 years)

€

400 / ticket |

Children (0-12 years)

€

400 / ticket

guests = 2

Price

Adult (18+ years)

€

200 / ticket |

Youth (13-17 years)

€

200 / ticket |

Children (0-12 years)

€

200 / ticket

guests = 3

Price

Adult (18+ years)

€

150 / ticket |

Youth (13-17 years)

€

150 / ticket |

Children (0-12 years)

€

150 / ticket

guests >= 4

Price

Adult (18+ years)

€

120 / ticket |

Youth (13-17 years)

€

120 / ticket |

Children (0-12 years)

€

120 / ticket
3
promotion
Minimum booking:
1 tickets
Maximum booking:
30 tickets
General price:
Adult (18+ years)
€

120 / ticket
|
Youth (13-17 years)
€

120 / ticket
|
Children (0-12 years)
€

120 / ticket
Options
guests = 1

Price

Adult (18+ years)

€

400 / ticket |

Youth (13-17 years)

€

400 / ticket |

Children (0-12 years)

€

400 / ticket

guests = 2

Price

Adult (18+ years)

€

200 / ticket |

Youth (13-17 years)

€

200 / ticket |

Children (0-12 years)

€

200 / ticket

guests = 3

Price

Adult (18+ years)

€

150 / ticket |

Youth (13-17 years)

€

150 / ticket |

Children (0-12 years)

€

150 / ticket

guests >= 4

Price

Adult (18+ years)

€

120 / ticket |

Youth (13-17 years)

€

120 / ticket |

Children (0-12 years)

€

120 / ticket
4
promotion
Minimum booking:
1 tickets
Maximum booking:
30 tickets
General price:
Adult (18+ years)
€

120 / ticket
|
Youth (13-17 years)
€

120 / ticket
|
Children (0-12 years)
€

120 / ticket
Options
guests = 1

Price

Adult (18+ years)

€

400 / ticket |

Youth (13-17 years)

€

400 / ticket |

Children (0-12 years)

€

400 / ticket

guests = 2

Price

Adult (18+ years)

€

200 / ticket |

Youth (13-17 years)

€

200 / ticket |

Children (0-12 years)

€

200 / ticket

guests = 3

Price

Adult (18+ years)

€

150 / ticket |

Youth (13-17 years)

€

150 / ticket |

Children (0-12 years)

€

150 / ticket

guests >= 4

Price

Adult (18+ years)

€

120 / ticket |

Youth (13-17 years)

€

120 / ticket |

Children (0-12 years)

€

120 / ticket
29
promotion
Minimum booking:
1 tickets
Maximum booking:
30 tickets
General price:
Adult (18+ years)
€

120 / ticket
|
Youth (13-17 years)
€

120 / ticket
|
Children (0-12 years)
€

120 / ticket
Options
guests = 1

Price

Adult (18+ years)

€

400 / ticket |

Youth (13-17 years)

€

400 / ticket |

Children (0-12 years)

€

400 / ticket

guests = 2

Price

Adult (18+ years)

€

200 / ticket |

Youth (13-17 years)

€

200 / ticket |

Children (0-12 years)

€

200 / ticket

guests = 3

Price

Adult (18+ years)

€

150 / ticket |

Youth (13-17 years)

€

150 / ticket |

Children (0-12 years)

€

150 / ticket

guests >= 4

Price

Adult (18+ years)

€

120 / ticket |

Youth (13-17 years)

€

120 / ticket |

Children (0-12 years)

€

120 / ticket
30
promotion
Minimum booking:
1 tickets
Maximum booking:
30 tickets
General price:
Adult (18+ years)
€

120 / ticket
|
Youth (13-17 years)
€

120 / ticket
|
Children (0-12 years)
€

120 / ticket
Options
guests = 1

Price

Adult (18+ years)

€

400 / ticket |

Youth (13-17 years)

€

400 / ticket |

Children (0-12 years)

€

400 / ticket

guests = 2

Price

Adult (18+ years)

€

200 / ticket |

Youth (13-17 years)

€

200 / ticket |

Children (0-12 years)

€

200 / ticket

guests = 3

Price

Adult (18+ years)

€

150 / ticket |

Youth (13-17 years)

€

150 / ticket |

Children (0-12 years)

€

150 / ticket

guests >= 4

Price

Adult (18+ years)

€

120 / ticket |

Youth (13-17 years)

€

120 / ticket |

Children (0-12 years)

€

120 / ticket
1
promotion
Minimum booking:
1 tickets
Maximum booking:
30 tickets
General price:
Adult (18+ years)
€

120 / ticket
|
Youth (13-17 years)
€

120 / ticket
|
Children (0-12 years)
€

120 / ticket
Options
guests = 1

Price

Adult (18+ years)

€

400 / ticket |

Youth (13-17 years)

€

400 / ticket |

Children (0-12 years)

€

400 / ticket

guests = 2

Price

Adult (18+ years)

€

200 / ticket |

Youth (13-17 years)

€

200 / ticket |

Children (0-12 years)

€

200 / ticket

guests = 3

Price

Adult (18+ years)

€

150 / ticket |

Youth (13-17 years)

€

150 / ticket |

Children (0-12 years)

€

150 / ticket

guests >= 4

Price

Adult (18+ years)

€

120 / ticket |

Youth (13-17 years)

€

120 / ticket |

Children (0-12 years)

€

120 / ticket
2
promotion
Minimum booking:
1 tickets
Maximum booking:
30 tickets
General price:
Adult (18+ years)
€

120 / ticket
|
Youth (13-17 years)
€

120 / ticket
|
Children (0-12 years)
€

120 / ticket
Options
guests = 1

Price

Adult (18+ years)

€

400 / ticket |

Youth (13-17 years)

€

400 / ticket |

Children (0-12 years)

€

400 / ticket

guests = 2

Price

Adult (18+ years)

€

200 / ticket |

Youth (13-17 years)

€

200 / ticket |

Children (0-12 years)

€

200 / ticket

guests = 3

Price

Adult (18+ years)

€

150 / ticket |

Youth (13-17 years)

€

150 / ticket |

Children (0-12 years)

€

150 / ticket

guests >= 4

Price

Adult (18+ years)

€

120 / ticket |

Youth (13-17 years)

€

120 / ticket |

Children (0-12 years)

€

120 / ticket
3
promotion
Minimum booking:
1 tickets
Maximum booking:
30 tickets
General price:
Adult (18+ years)
€

120 / ticket
|
Youth (13-17 years)
€

120 / ticket
|
Children (0-12 years)
€

120 / ticket
Options
guests = 1

Price

Adult (18+ years)

€

400 / ticket |

Youth (13-17 years)

€

400 / ticket |

Children (0-12 years)

€

400 / ticket

guests = 2

Price

Adult (18+ years)

€

200 / ticket |

Youth (13-17 years)

€

200 / ticket |

Children (0-12 years)

€

200 / ticket

guests = 3

Price

Adult (18+ years)

€

150 / ticket |

Youth (13-17 years)

€

150 / ticket |

Children (0-12 years)

€

150 / ticket

guests >= 4

Price

Adult (18+ years)

€

120 / ticket |

Youth (13-17 years)

€

120 / ticket |

Children (0-12 years)

€

120 / ticket
4
promotion
Minimum booking:
1 tickets
Maximum booking:
30 tickets
General price:
Adult (18+ years)
€

120 / ticket
|
Youth (13-17 years)
€

120 / ticket
|
Children (0-12 years)
€

120 / ticket
Options
guests = 1

Price

Adult (18+ years)

€

400 / ticket |

Youth (13-17 years)

€

400 / ticket |

Children (0-12 years)

€

400 / ticket

guests = 2

Price

Adult (18+ years)

€

200 / ticket |

Youth (13-17 years)

€

200 / ticket |

Children (0-12 years)

€

200 / ticket

guests = 3

Price

Adult (18+ years)

€

150 / ticket |

Youth (13-17 years)

€

150 / ticket |

Children (0-12 years)

€

150 / ticket

guests >= 4

Price

Adult (18+ years)

€

120 / ticket |

Youth (13-17 years)

€

120 / ticket |

Children (0-12 years)

€

120 / ticket
6
promotion
Minimum booking:
1 tickets
Maximum booking:
30 tickets
General price:
Adult (18+ years)
€

120 / ticket
|
Youth (13-17 years)
€

120 / ticket
|
Children (0-12 years)
€

120 / ticket
Options
guests = 1

Price

Adult (18+ years)

€

400 / ticket |

Youth (13-17 years)

€

400 / ticket |

Children (0-12 years)

€

400 / ticket

guests = 2

Price

Adult (18+ years)

€

200 / ticket |

Youth (13-17 years)

€

200 / ticket |

Children (0-12 years)

€

200 / ticket

guests = 3

Price

Adult (18+ years)

€

150 / ticket |

Youth (13-17 years)

€

150 / ticket |

Children (0-12 years)

€

150 / ticket

guests >= 4

Price

Adult (18+ years)

€

120 / ticket |

Youth (13-17 years)

€

120 / ticket |

Children (0-12 years)

€

120 / ticket
7
promotion
Minimum booking:
1 tickets
Maximum booking:
30 tickets
General price:
Adult (18+ years)
€

120 / ticket
|
Youth (13-17 years)
€

120 / ticket
|
Children (0-12 years)
€

120 / ticket
Options
guests = 1

Price

Adult (18+ years)

€

400 / ticket |

Youth (13-17 years)

€

400 / ticket |

Children (0-12 years)

€

400 / ticket

guests = 2

Price

Adult (18+ years)

€

200 / ticket |

Youth (13-17 years)

€

200 / ticket |

Children (0-12 years)

€

200 / ticket

guests = 3

Price

Adult (18+ years)

€

150 / ticket |

Youth (13-17 years)

€

150 / ticket |

Children (0-12 years)

€

150 / ticket

guests >= 4

Price

Adult (18+ years)

€

120 / ticket |

Youth (13-17 years)

€

120 / ticket |

Children (0-12 years)

€

120 / ticket
8
promotion
Minimum booking:
1 tickets
Maximum booking:
30 tickets
General price:
Adult (18+ years)
€

120 / ticket
|
Youth (13-17 years)
€

120 / ticket
|
Children (0-12 years)
€

120 / ticket
Options
guests = 1

Price

Adult (18+ years)

€

400 / ticket |

Youth (13-17 years)

€

400 / ticket |

Children (0-12 years)

€

400 / ticket

guests = 2

Price

Adult (18+ years)

€

200 / ticket |

Youth (13-17 years)

€

200 / ticket |

Children (0-12 years)

€

200 / ticket

guests = 3

Price

Adult (18+ years)

€

150 / ticket |

Youth (13-17 years)

€

150 / ticket |

Children (0-12 years)

€

150 / ticket

guests >= 4

Price

Adult (18+ years)

€

120 / ticket |

Youth (13-17 years)

€

120 / ticket |

Children (0-12 years)

€

120 / ticket
9
promotion
Minimum booking:
1 tickets
Maximum booking:
30 tickets
General price:
Adult (18+ years)
€

120 / ticket
|
Youth (13-17 years)
€

120 / ticket
|
Children (0-12 years)
€

120 / ticket
Options
guests = 1

Price

Adult (18+ years)

€

400 / ticket |

Youth (13-17 years)

€

400 / ticket |

Children (0-12 years)

€

400 / ticket

guests = 2

Price

Adult (18+ years)

€

200 / ticket |

Youth (13-17 years)

€

200 / ticket |

Children (0-12 years)

€

200 / ticket

guests = 3

Price

Adult (18+ years)

€

150 / ticket |

Youth (13-17 years)

€

150 / ticket |

Children (0-12 years)

€

150 / ticket

guests >= 4

Price

Adult (18+ years)

€

120 / ticket |

Youth (13-17 years)

€

120 / ticket |

Children (0-12 years)

€

120 / ticket
10
promotion
Minimum booking:
1 tickets
Maximum booking:
30 tickets
General price:
Adult (18+ years)
€

120 / ticket
|
Youth (13-17 years)
€

120 / ticket
|
Children (0-12 years)
€

120 / ticket
Options
guests = 1

Price

Adult (18+ years)

€

400 / ticket |

Youth (13-17 years)

€

400 / ticket |

Children (0-12 years)

€

400 / ticket

guests = 2

Price

Adult (18+ years)

€

200 / ticket |

Youth (13-17 years)

€

200 / ticket |

Children (0-12 years)

€

200 / ticket

guests = 3

Price

Adult (18+ years)

€

150 / ticket |

Youth (13-17 years)

€

150 / ticket |

Children (0-12 years)

€

150 / ticket

guests >= 4

Price

Adult (18+ years)

€

120 / ticket |

Youth (13-17 years)

€

120 / ticket |

Children (0-12 years)

€

120 / ticket
11
promotion
Minimum booking:
1 tickets
Maximum booking:
30 tickets
General price:
Adult (18+ years)
€

120 / ticket
|
Youth (13-17 years)
€

120 / ticket
|
Children (0-12 years)
€

120 / ticket
Options
guests = 1

Price

Adult (18+ years)

€

400 / ticket |

Youth (13-17 years)

€

400 / ticket |

Children (0-12 years)

€

400 / ticket

guests = 2

Price

Adult (18+ years)

€

200 / ticket |

Youth (13-17 years)

€

200 / ticket |

Children (0-12 years)

€

200 / ticket

guests = 3

Price

Adult (18+ years)

€

150 / ticket |

Youth (13-17 years)

€

150 / ticket |

Children (0-12 years)

€

150 / ticket

guests >= 4

Price

Adult (18+ years)

€

120 / ticket |

Youth (13-17 years)

€

120 / ticket |

Children (0-12 years)

€

120 / ticket
13
promotion
Minimum booking:
1 tickets
Maximum booking:
30 tickets
General price:
Adult (18+ years)
€

120 / ticket
|
Youth (13-17 years)
€

120 / ticket
|
Children (0-12 years)
€

120 / ticket
Options
guests = 1

Price

Adult (18+ years)

€

400 / ticket |

Youth (13-17 years)

€

400 / ticket |

Children (0-12 years)

€

400 / ticket

guests = 2

Price

Adult (18+ years)

€

200 / ticket |

Youth (13-17 years)

€

200 / ticket |

Children (0-12 years)

€

200 / ticket

guests = 3

Price

Adult (18+ years)

€

150 / ticket |

Youth (13-17 years)

€

150 / ticket |

Children (0-12 years)

€

150 / ticket

guests >= 4

Price

Adult (18+ years)

€

120 / ticket |

Youth (13-17 years)

€

120 / ticket |

Children (0-12 years)

€

120 / ticket
14
promotion
Minimum booking:
1 tickets
Maximum booking:
30 tickets
General price:
Adult (18+ years)
€

120 / ticket
|
Youth (13-17 years)
€

120 / ticket
|
Children (0-12 years)
€

120 / ticket
Options
guests = 1

Price

Adult (18+ years)

€

400 / ticket |

Youth (13-17 years)

€

400 / ticket |

Children (0-12 years)

€

400 / ticket

guests = 2

Price

Adult (18+ years)

€

200 / ticket |

Youth (13-17 years)

€

200 / ticket |

Children (0-12 years)

€

200 / ticket

guests = 3

Price

Adult (18+ years)

€

150 / ticket |

Youth (13-17 years)

€

150 / ticket |

Children (0-12 years)

€

150 / ticket

guests >= 4

Price

Adult (18+ years)

€

120 / ticket |

Youth (13-17 years)

€

120 / ticket |

Children (0-12 years)

€

120 / ticket
15
promotion
Minimum booking:
1 tickets
Maximum booking:
30 tickets
General price:
Adult (18+ years)
€

120 / ticket
|
Youth (13-17 years)
€

120 / ticket
|
Children (0-12 years)
€

120 / ticket
Options
guests = 1

Price

Adult (18+ years)

€

400 / ticket |

Youth (13-17 years)

€

400 / ticket |

Children (0-12 years)

€

400 / ticket

guests = 2

Price

Adult (18+ years)

€

200 / ticket |

Youth (13-17 years)

€

200 / ticket |

Children (0-12 years)

€

200 / ticket

guests = 3

Price

Adult (18+ years)

€

150 / ticket |

Youth (13-17 years)

€

150 / ticket |

Children (0-12 years)

€

150 / ticket

guests >= 4

Price

Adult (18+ years)

€

120 / ticket |

Youth (13-17 years)

€

120 / ticket |

Children (0-12 years)

€

120 / ticket
16
promotion
Minimum booking:
1 tickets
Maximum booking:
30 tickets
General price:
Adult (18+ years)
€

120 / ticket
|
Youth (13-17 years)
€

120 / ticket
|
Children (0-12 years)
€

120 / ticket
Options
guests = 1

Price

Adult (18+ years)

€

400 / ticket |

Youth (13-17 years)

€

400 / ticket |

Children (0-12 years)

€

400 / ticket

guests = 2

Price

Adult (18+ years)

€

200 / ticket |

Youth (13-17 years)

€

200 / ticket |

Children (0-12 years)

€

200 / ticket

guests = 3

Price

Adult (18+ years)

€

150 / ticket |

Youth (13-17 years)

€

150 / ticket |

Children (0-12 years)

€

150 / ticket

guests >= 4

Price

Adult (18+ years)

€

120 / ticket |

Youth (13-17 years)

€

120 / ticket |

Children (0-12 years)

€

120 / ticket
17
promotion
Minimum booking:
1 tickets
Maximum booking:
30 tickets
General price:
Adult (18+ years)
€

120 / ticket
|
Youth (13-17 years)
€

120 / ticket
|
Children (0-12 years)
€

120 / ticket
Options
guests = 1

Price

Adult (18+ years)

€

400 / ticket |

Youth (13-17 years)

€

400 / ticket |

Children (0-12 years)

€

400 / ticket

guests = 2

Price

Adult (18+ years)

€

200 / ticket |

Youth (13-17 years)

€

200 / ticket |

Children (0-12 years)

€

200 / ticket

guests = 3

Price

Adult (18+ years)

€

150 / ticket |

Youth (13-17 years)

€

150 / ticket |

Children (0-12 years)

€

150 / ticket

guests >= 4

Price

Adult (18+ years)

€

120 / ticket |

Youth (13-17 years)

€

120 / ticket |

Children (0-12 years)

€

120 / ticket
18
promotion
Minimum booking:
1 tickets
Maximum booking:
30 tickets
General price:
Adult (18+ years)
€

120 / ticket
|
Youth (13-17 years)
€

120 / ticket
|
Children (0-12 years)
€

120 / ticket
Options
guests = 1

Price

Adult (18+ years)

€

400 / ticket |

Youth (13-17 years)

€

400 / ticket |

Children (0-12 years)

€

400 / ticket

guests = 2

Price

Adult (18+ years)

€

200 / ticket |

Youth (13-17 years)

€

200 / ticket |

Children (0-12 years)

€

200 / ticket

guests = 3

Price

Adult (18+ years)

€

150 / ticket |

Youth (13-17 years)

€

150 / ticket |

Children (0-12 years)

€

150 / ticket

guests >= 4

Price

Adult (18+ years)

€

120 / ticket |

Youth (13-17 years)

€

120 / ticket |

Children (0-12 years)

€

120 / ticket
20
promotion
Minimum booking:
1 tickets
Maximum booking:
30 tickets
General price:
Adult (18+ years)
€

120 / ticket
|
Youth (13-17 years)
€

120 / ticket
|
Children (0-12 years)
€

120 / ticket
Options
guests = 1

Price

Adult (18+ years)

€

400 / ticket |

Youth (13-17 years)

€

400 / ticket |

Children (0-12 years)

€

400 / ticket

guests = 2

Price

Adult (18+ years)

€

200 / ticket |

Youth (13-17 years)

€

200 / ticket |

Children (0-12 years)

€

200 / ticket

guests = 3

Price

Adult (18+ years)

€

150 / ticket |

Youth (13-17 years)

€

150 / ticket |

Children (0-12 years)

€

150 / ticket

guests >= 4

Price

Adult (18+ years)

€

120 / ticket |

Youth (13-17 years)

€

120 / ticket |

Children (0-12 years)

€

120 / ticket
21
promotion
Minimum booking:
1 tickets
Maximum booking:
30 tickets
General price:
Adult (18+ years)
€

120 / ticket
|
Youth (13-17 years)
€

120 / ticket
|
Children (0-12 years)
€

120 / ticket
Options
guests = 1

Price

Adult (18+ years)

€

400 / ticket |

Youth (13-17 years)

€

400 / ticket |

Children (0-12 years)

€

400 / ticket

guests = 2

Price

Adult (18+ years)

€

200 / ticket |

Youth (13-17 years)

€

200 / ticket |

Children (0-12 years)

€

200 / ticket

guests = 3

Price

Adult (18+ years)

€

150 / ticket |

Youth (13-17 years)

€

150 / ticket |

Children (0-12 years)

€

150 / ticket

guests >= 4

Price

Adult (18+ years)

€

120 / ticket |

Youth (13-17 years)

€

120 / ticket |

Children (0-12 years)

€

120 / ticket
22
promotion
Minimum booking:
1 tickets
Maximum booking:
30 tickets
General price:
Adult (18+ years)
€

120 / ticket
|
Youth (13-17 years)
€

120 / ticket
|
Children (0-12 years)
€

120 / ticket
Options
guests = 1

Price

Adult (18+ years)

€

400 / ticket |

Youth (13-17 years)

€

400 / ticket |

Children (0-12 years)

€

400 / ticket

guests = 2

Price

Adult (18+ years)

€

200 / ticket |

Youth (13-17 years)

€

200 / ticket |

Children (0-12 years)

€

200 / ticket

guests = 3

Price

Adult (18+ years)

€

150 / ticket |

Youth (13-17 years)

€

150 / ticket |

Children (0-12 years)

€

150 / ticket

guests >= 4

Price

Adult (18+ years)

€

120 / ticket |

Youth (13-17 years)

€

120 / ticket |

Children (0-12 years)

€

120 / ticket
23
promotion
Minimum booking:
1 tickets
Maximum booking:
30 tickets
General price:
Adult (18+ years)
€

120 / ticket
|
Youth (13-17 years)
€

120 / ticket
|
Children (0-12 years)
€

120 / ticket
Options
guests = 1

Price

Adult (18+ years)

€

400 / ticket |

Youth (13-17 years)

€

400 / ticket |

Children (0-12 years)

€

400 / ticket

guests = 2

Price

Adult (18+ years)

€

200 / ticket |

Youth (13-17 years)

€

200 / ticket |

Children (0-12 years)

€

200 / ticket

guests = 3

Price

Adult (18+ years)

€

150 / ticket |

Youth (13-17 years)

€

150 / ticket |

Children (0-12 years)

€

150 / ticket

guests >= 4

Price

Adult (18+ years)

€

120 / ticket |

Youth (13-17 years)

€

120 / ticket |

Children (0-12 years)

€

120 / ticket