Marrakech desert trip: A private 3 days tour from Marrakech to Merzouga to explore the magic of Morocco's Sahara desert and its sandy dunes. During this trip, you will visit the Ait Benhaddou Kasbahs, go camel trekking, and spend the night in Erg Chebbi, Morocco's excellent Sahara desert.
Desert excursion Discover the fascinating Ait-Ben-Haddou Kasbahs, which were designated a UNESCO World Heritage Site in Morocco in 1987. - Go to Atlas Film Studio in Ouarzazate to learn more about films and how they are made. Visit the former Glaoui residence, Taourirt Kasbah. - Travel along the 1000 Kasbahs Road. - Explore the breathtaking Dades and Todra Gorges. - Discover the ancient irrigation system (khottarat), a centuries-old water transportation system that uses underground canals to irrigate fields in Moroccan oases. - At 3 days tour from Marrakech to Merzouga, ride camels into the Erg Chebbi dunes for an unforgettable experience. - After a camel trek, spend the night in a traditional Berber camp.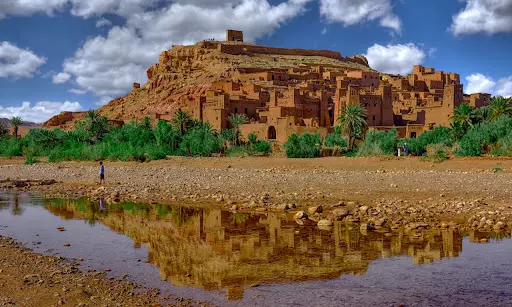 Tour Map

further discounts are aavailable according to the GROUPE SIZE

Transport (Minbus or 4*4)

Meals (breakfast and dinner)

camels ride

free time to explor the sites sush as Kasbahs... walks .. Breaks for photos

English speaking Guide&driver
Travel insurance.

Soft/alcoholic drinks

Tips and personal expanses.

Airport Transfers

lunches

Entrance to Kasbahs ans Cinema Studio ..
Day 1: Marrakech - Tichka pass 2200 m - Ait Benhaddou - Dades Gorges
In the morning, you will leave Marrakech and drive to Ait Benhaddou via the Tichka pass. We stop in Ait Ben Haddou to visit the Kasbahs before continuing on to Ouarzazate, Morocco's film capital. We will also visit Taourirt Kasbah before continuing on to Skoura oasis, Kalaat M'gouna, and Dades Valley via the Road of Thousand Kasbahs. Spend the night in a nice hotel near the Gorges.
Day 2: Dades Valley - Tenghir - Todra Gorges - Tinjdad - Erfoud - Erg Chebbi dunes
We drive from Dades Gorges to Merzouga after breakfast. We visit the Todra gorges before moving on to Rissani, the Erfoud Tifilalte oasis, and Merzouga. Following a brief rest in the hotel, you will ride camels across the Erg Chebbi dunes. The best time to photograph dunes is while riding camels. We arrive at the camp, watch the sunset, eat a delicious meal, and listen to Berber drum music around a fire. Spend the night in a nomadic-style camp.
Day 3: Erg Chebbi Merzouga - Tichka pass - Marrakech
We get up early to watch the sunrise before riding camels back to the hotel. After a buffet breakfast and a shower, we return to Marrakech via a different route via Alnif, Tazarine, and N'kob until we reach Ouarzazate for lunch. Overnight in a hotel in Marrakech.
After booking with MT Toubkal Trek, we will promptly reach out to you to confirm your reservation and address any questions you may have about the tour.
Payment is in cash upon your arrival in Morocco.
This is a private tour, and we'll customize it to your group's size. If you're a solo traveler looking to join a group, please contact us.
5
promotion
Minimum booking:
1 tickets
Maximum booking:
30 tickets
General price:
Adult (18+ years)
€

200 / ticket
|
Youth (13-17 years)
€

200 / ticket
|
Children (0-12 years)
€

200 / ticket
Options
guests = 1

Price

Adult (18+ years)

€

300 / ticket |

Youth (13-17 years)

€

300 / ticket

guests = 2

Price

Adult (18+ years)

€

280 / ticket |

Youth (13-17 years)

€

280 / ticket |

Children (0-12 years)

€

280 / ticket

guests = 3

Price

Adult (18+ years)

€

220 / ticket |

Youth (13-17 years)

€

220 / ticket |

Children (0-12 years)

€

220 / ticket

guests >= 4

Price

Adult (18+ years)

€

200 / ticket |

Youth (13-17 years)

€

200 / ticket |

Children (0-12 years)

€

200 / ticket
6
promotion
Minimum booking:
1 tickets
Maximum booking:
30 tickets
General price:
Adult (18+ years)
€

200 / ticket
|
Youth (13-17 years)
€

200 / ticket
|
Children (0-12 years)
€

200 / ticket
Options
guests = 1

Price

Adult (18+ years)

€

300 / ticket |

Youth (13-17 years)

€

300 / ticket

guests = 2

Price

Adult (18+ years)

€

280 / ticket |

Youth (13-17 years)

€

280 / ticket |

Children (0-12 years)

€

280 / ticket

guests = 3

Price

Adult (18+ years)

€

220 / ticket |

Youth (13-17 years)

€

220 / ticket |

Children (0-12 years)

€

220 / ticket

guests >= 4

Price

Adult (18+ years)

€

200 / ticket |

Youth (13-17 years)

€

200 / ticket |

Children (0-12 years)

€

200 / ticket
7
promotion
Minimum booking:
1 tickets
Maximum booking:
30 tickets
General price:
Adult (18+ years)
€

200 / ticket
|
Youth (13-17 years)
€

200 / ticket
|
Children (0-12 years)
€

200 / ticket
Options
guests = 1

Price

Adult (18+ years)

€

300 / ticket |

Youth (13-17 years)

€

300 / ticket

guests = 2

Price

Adult (18+ years)

€

280 / ticket |

Youth (13-17 years)

€

280 / ticket |

Children (0-12 years)

€

280 / ticket

guests = 3

Price

Adult (18+ years)

€

220 / ticket |

Youth (13-17 years)

€

220 / ticket |

Children (0-12 years)

€

220 / ticket

guests >= 4

Price

Adult (18+ years)

€

200 / ticket |

Youth (13-17 years)

€

200 / ticket |

Children (0-12 years)

€

200 / ticket
8
promotion
Minimum booking:
1 tickets
Maximum booking:
30 tickets
General price:
Adult (18+ years)
€

200 / ticket
|
Youth (13-17 years)
€

200 / ticket
|
Children (0-12 years)
€

200 / ticket
Options
guests = 1

Price

Adult (18+ years)

€

300 / ticket |

Youth (13-17 years)

€

300 / ticket

guests = 2

Price

Adult (18+ years)

€

280 / ticket |

Youth (13-17 years)

€

280 / ticket |

Children (0-12 years)

€

280 / ticket

guests = 3

Price

Adult (18+ years)

€

220 / ticket |

Youth (13-17 years)

€

220 / ticket |

Children (0-12 years)

€

220 / ticket

guests >= 4

Price

Adult (18+ years)

€

200 / ticket |

Youth (13-17 years)

€

200 / ticket |

Children (0-12 years)

€

200 / ticket
9
promotion
Minimum booking:
1 tickets
Maximum booking:
30 tickets
General price:
Adult (18+ years)
€

200 / ticket
|
Youth (13-17 years)
€

200 / ticket
|
Children (0-12 years)
€

200 / ticket
Options
guests = 1

Price

Adult (18+ years)

€

300 / ticket |

Youth (13-17 years)

€

300 / ticket

guests = 2

Price

Adult (18+ years)

€

280 / ticket |

Youth (13-17 years)

€

280 / ticket |

Children (0-12 years)

€

280 / ticket

guests = 3

Price

Adult (18+ years)

€

220 / ticket |

Youth (13-17 years)

€

220 / ticket |

Children (0-12 years)

€

220 / ticket

guests >= 4

Price

Adult (18+ years)

€

200 / ticket |

Youth (13-17 years)

€

200 / ticket |

Children (0-12 years)

€

200 / ticket
10
promotion
Minimum booking:
1 tickets
Maximum booking:
30 tickets
General price:
Adult (18+ years)
€

200 / ticket
|
Youth (13-17 years)
€

200 / ticket
|
Children (0-12 years)
€

200 / ticket
Options
guests = 1

Price

Adult (18+ years)

€

300 / ticket |

Youth (13-17 years)

€

300 / ticket

guests = 2

Price

Adult (18+ years)

€

280 / ticket |

Youth (13-17 years)

€

280 / ticket |

Children (0-12 years)

€

280 / ticket

guests = 3

Price

Adult (18+ years)

€

220 / ticket |

Youth (13-17 years)

€

220 / ticket |

Children (0-12 years)

€

220 / ticket

guests >= 4

Price

Adult (18+ years)

€

200 / ticket |

Youth (13-17 years)

€

200 / ticket |

Children (0-12 years)

€

200 / ticket
11
promotion
Minimum booking:
1 tickets
Maximum booking:
30 tickets
General price:
Adult (18+ years)
€

200 / ticket
|
Youth (13-17 years)
€

200 / ticket
|
Children (0-12 years)
€

200 / ticket
Options
guests = 1

Price

Adult (18+ years)

€

300 / ticket |

Youth (13-17 years)

€

300 / ticket

guests = 2

Price

Adult (18+ years)

€

280 / ticket |

Youth (13-17 years)

€

280 / ticket |

Children (0-12 years)

€

280 / ticket

guests = 3

Price

Adult (18+ years)

€

220 / ticket |

Youth (13-17 years)

€

220 / ticket |

Children (0-12 years)

€

220 / ticket

guests >= 4

Price

Adult (18+ years)

€

200 / ticket |

Youth (13-17 years)

€

200 / ticket |

Children (0-12 years)

€

200 / ticket
12
promotion
Minimum booking:
1 tickets
Maximum booking:
30 tickets
General price:
Adult (18+ years)
€

200 / ticket
|
Youth (13-17 years)
€

200 / ticket
|
Children (0-12 years)
€

200 / ticket
Options
guests = 1

Price

Adult (18+ years)

€

300 / ticket |

Youth (13-17 years)

€

300 / ticket

guests = 2

Price

Adult (18+ years)

€

280 / ticket |

Youth (13-17 years)

€

280 / ticket |

Children (0-12 years)

€

280 / ticket

guests = 3

Price

Adult (18+ years)

€

220 / ticket |

Youth (13-17 years)

€

220 / ticket |

Children (0-12 years)

€

220 / ticket

guests >= 4

Price

Adult (18+ years)

€

200 / ticket |

Youth (13-17 years)

€

200 / ticket |

Children (0-12 years)

€

200 / ticket
13
promotion
Minimum booking:
1 tickets
Maximum booking:
30 tickets
General price:
Adult (18+ years)
€

200 / ticket
|
Youth (13-17 years)
€

200 / ticket
|
Children (0-12 years)
€

200 / ticket
Options
guests = 1

Price

Adult (18+ years)

€

300 / ticket |

Youth (13-17 years)

€

300 / ticket

guests = 2

Price

Adult (18+ years)

€

280 / ticket |

Youth (13-17 years)

€

280 / ticket |

Children (0-12 years)

€

280 / ticket

guests = 3

Price

Adult (18+ years)

€

220 / ticket |

Youth (13-17 years)

€

220 / ticket |

Children (0-12 years)

€

220 / ticket

guests >= 4

Price

Adult (18+ years)

€

200 / ticket |

Youth (13-17 years)

€

200 / ticket |

Children (0-12 years)

€

200 / ticket
14
promotion
Minimum booking:
1 tickets
Maximum booking:
30 tickets
General price:
Adult (18+ years)
€

200 / ticket
|
Youth (13-17 years)
€

200 / ticket
|
Children (0-12 years)
€

200 / ticket
Options
guests = 1

Price

Adult (18+ years)

€

300 / ticket |

Youth (13-17 years)

€

300 / ticket

guests = 2

Price

Adult (18+ years)

€

280 / ticket |

Youth (13-17 years)

€

280 / ticket |

Children (0-12 years)

€

280 / ticket

guests = 3

Price

Adult (18+ years)

€

220 / ticket |

Youth (13-17 years)

€

220 / ticket |

Children (0-12 years)

€

220 / ticket

guests >= 4

Price

Adult (18+ years)

€

200 / ticket |

Youth (13-17 years)

€

200 / ticket |

Children (0-12 years)

€

200 / ticket
15
promotion
Minimum booking:
1 tickets
Maximum booking:
30 tickets
General price:
Adult (18+ years)
€

200 / ticket
|
Youth (13-17 years)
€

200 / ticket
|
Children (0-12 years)
€

200 / ticket
Options
guests = 1

Price

Adult (18+ years)

€

300 / ticket |

Youth (13-17 years)

€

300 / ticket

guests = 2

Price

Adult (18+ years)

€

280 / ticket |

Youth (13-17 years)

€

280 / ticket |

Children (0-12 years)

€

280 / ticket

guests = 3

Price

Adult (18+ years)

€

220 / ticket |

Youth (13-17 years)

€

220 / ticket |

Children (0-12 years)

€

220 / ticket

guests >= 4

Price

Adult (18+ years)

€

200 / ticket |

Youth (13-17 years)

€

200 / ticket |

Children (0-12 years)

€

200 / ticket
16
promotion
Minimum booking:
1 tickets
Maximum booking:
30 tickets
General price:
Adult (18+ years)
€

200 / ticket
|
Youth (13-17 years)
€

200 / ticket
|
Children (0-12 years)
€

200 / ticket
Options
guests = 1

Price

Adult (18+ years)

€

300 / ticket |

Youth (13-17 years)

€

300 / ticket

guests = 2

Price

Adult (18+ years)

€

280 / ticket |

Youth (13-17 years)

€

280 / ticket |

Children (0-12 years)

€

280 / ticket

guests = 3

Price

Adult (18+ years)

€

220 / ticket |

Youth (13-17 years)

€

220 / ticket |

Children (0-12 years)

€

220 / ticket

guests >= 4

Price

Adult (18+ years)

€

200 / ticket |

Youth (13-17 years)

€

200 / ticket |

Children (0-12 years)

€

200 / ticket
17
promotion
Minimum booking:
1 tickets
Maximum booking:
30 tickets
General price:
Adult (18+ years)
€

200 / ticket
|
Youth (13-17 years)
€

200 / ticket
|
Children (0-12 years)
€

200 / ticket
Options
guests = 1

Price

Adult (18+ years)

€

300 / ticket |

Youth (13-17 years)

€

300 / ticket

guests = 2

Price

Adult (18+ years)

€

280 / ticket |

Youth (13-17 years)

€

280 / ticket |

Children (0-12 years)

€

280 / ticket

guests = 3

Price

Adult (18+ years)

€

220 / ticket |

Youth (13-17 years)

€

220 / ticket |

Children (0-12 years)

€

220 / ticket

guests >= 4

Price

Adult (18+ years)

€

200 / ticket |

Youth (13-17 years)

€

200 / ticket |

Children (0-12 years)

€

200 / ticket
18
promotion
Minimum booking:
1 tickets
Maximum booking:
30 tickets
General price:
Adult (18+ years)
€

200 / ticket
|
Youth (13-17 years)
€

200 / ticket
|
Children (0-12 years)
€

200 / ticket
Options
guests = 1

Price

Adult (18+ years)

€

300 / ticket |

Youth (13-17 years)

€

300 / ticket

guests = 2

Price

Adult (18+ years)

€

280 / ticket |

Youth (13-17 years)

€

280 / ticket |

Children (0-12 years)

€

280 / ticket

guests = 3

Price

Adult (18+ years)

€

220 / ticket |

Youth (13-17 years)

€

220 / ticket |

Children (0-12 years)

€

220 / ticket

guests >= 4

Price

Adult (18+ years)

€

200 / ticket |

Youth (13-17 years)

€

200 / ticket |

Children (0-12 years)

€

200 / ticket
19
promotion
Minimum booking:
1 tickets
Maximum booking:
30 tickets
General price:
Adult (18+ years)
€

200 / ticket
|
Youth (13-17 years)
€

200 / ticket
|
Children (0-12 years)
€

200 / ticket
Options
guests = 1

Price

Adult (18+ years)

€

300 / ticket |

Youth (13-17 years)

€

300 / ticket

guests = 2

Price

Adult (18+ years)

€

280 / ticket |

Youth (13-17 years)

€

280 / ticket |

Children (0-12 years)

€

280 / ticket

guests = 3

Price

Adult (18+ years)

€

220 / ticket |

Youth (13-17 years)

€

220 / ticket |

Children (0-12 years)

€

220 / ticket

guests >= 4

Price

Adult (18+ years)

€

200 / ticket |

Youth (13-17 years)

€

200 / ticket |

Children (0-12 years)

€

200 / ticket
20
promotion
Minimum booking:
1 tickets
Maximum booking:
30 tickets
General price:
Adult (18+ years)
€

200 / ticket
|
Youth (13-17 years)
€

200 / ticket
|
Children (0-12 years)
€

200 / ticket
Options
guests = 1

Price

Adult (18+ years)

€

300 / ticket |

Youth (13-17 years)

€

300 / ticket

guests = 2

Price

Adult (18+ years)

€

280 / ticket |

Youth (13-17 years)

€

280 / ticket |

Children (0-12 years)

€

280 / ticket

guests = 3

Price

Adult (18+ years)

€

220 / ticket |

Youth (13-17 years)

€

220 / ticket |

Children (0-12 years)

€

220 / ticket

guests >= 4

Price

Adult (18+ years)

€

200 / ticket |

Youth (13-17 years)

€

200 / ticket |

Children (0-12 years)

€

200 / ticket
21
promotion
Minimum booking:
1 tickets
Maximum booking:
30 tickets
General price:
Adult (18+ years)
€

200 / ticket
|
Youth (13-17 years)
€

200 / ticket
|
Children (0-12 years)
€

200 / ticket
Options
guests = 1

Price

Adult (18+ years)

€

300 / ticket |

Youth (13-17 years)

€

300 / ticket

guests = 2

Price

Adult (18+ years)

€

280 / ticket |

Youth (13-17 years)

€

280 / ticket |

Children (0-12 years)

€

280 / ticket

guests = 3

Price

Adult (18+ years)

€

220 / ticket |

Youth (13-17 years)

€

220 / ticket |

Children (0-12 years)

€

220 / ticket

guests >= 4

Price

Adult (18+ years)

€

200 / ticket |

Youth (13-17 years)

€

200 / ticket |

Children (0-12 years)

€

200 / ticket
22
promotion
Minimum booking:
1 tickets
Maximum booking:
30 tickets
General price:
Adult (18+ years)
€

200 / ticket
|
Youth (13-17 years)
€

200 / ticket
|
Children (0-12 years)
€

200 / ticket
Options
guests = 1

Price

Adult (18+ years)

€

300 / ticket |

Youth (13-17 years)

€

300 / ticket

guests = 2

Price

Adult (18+ years)

€

280 / ticket |

Youth (13-17 years)

€

280 / ticket |

Children (0-12 years)

€

280 / ticket

guests = 3

Price

Adult (18+ years)

€

220 / ticket |

Youth (13-17 years)

€

220 / ticket |

Children (0-12 years)

€

220 / ticket

guests >= 4

Price

Adult (18+ years)

€

200 / ticket |

Youth (13-17 years)

€

200 / ticket |

Children (0-12 years)

€

200 / ticket
23
promotion
Minimum booking:
1 tickets
Maximum booking:
30 tickets
General price:
Adult (18+ years)
€

200 / ticket
|
Youth (13-17 years)
€

200 / ticket
|
Children (0-12 years)
€

200 / ticket
Options
guests = 1

Price

Adult (18+ years)

€

300 / ticket |

Youth (13-17 years)

€

300 / ticket

guests = 2

Price

Adult (18+ years)

€

280 / ticket |

Youth (13-17 years)

€

280 / ticket |

Children (0-12 years)

€

280 / ticket

guests = 3

Price

Adult (18+ years)

€

220 / ticket |

Youth (13-17 years)

€

220 / ticket |

Children (0-12 years)

€

220 / ticket

guests >= 4

Price

Adult (18+ years)

€

200 / ticket |

Youth (13-17 years)

€

200 / ticket |

Children (0-12 years)

€

200 / ticket
24
promotion
Minimum booking:
1 tickets
Maximum booking:
30 tickets
General price:
Adult (18+ years)
€

200 / ticket
|
Youth (13-17 years)
€

200 / ticket
|
Children (0-12 years)
€

200 / ticket
Options
guests = 1

Price

Adult (18+ years)

€

300 / ticket |

Youth (13-17 years)

€

300 / ticket

guests = 2

Price

Adult (18+ years)

€

280 / ticket |

Youth (13-17 years)

€

280 / ticket |

Children (0-12 years)

€

280 / ticket

guests = 3

Price

Adult (18+ years)

€

220 / ticket |

Youth (13-17 years)

€

220 / ticket |

Children (0-12 years)

€

220 / ticket

guests >= 4

Price

Adult (18+ years)

€

200 / ticket |

Youth (13-17 years)

€

200 / ticket |

Children (0-12 years)

€

200 / ticket
25
promotion
Minimum booking:
1 tickets
Maximum booking:
30 tickets
General price:
Adult (18+ years)
€

200 / ticket
|
Youth (13-17 years)
€

200 / ticket
|
Children (0-12 years)
€

200 / ticket
Options
guests = 1

Price

Adult (18+ years)

€

300 / ticket |

Youth (13-17 years)

€

300 / ticket

guests = 2

Price

Adult (18+ years)

€

280 / ticket |

Youth (13-17 years)

€

280 / ticket |

Children (0-12 years)

€

280 / ticket

guests = 3

Price

Adult (18+ years)

€

220 / ticket |

Youth (13-17 years)

€

220 / ticket |

Children (0-12 years)

€

220 / ticket

guests >= 4

Price

Adult (18+ years)

€

200 / ticket |

Youth (13-17 years)

€

200 / ticket |

Children (0-12 years)

€

200 / ticket
26
promotion
Minimum booking:
1 tickets
Maximum booking:
30 tickets
General price:
Adult (18+ years)
€

200 / ticket
|
Youth (13-17 years)
€

200 / ticket
|
Children (0-12 years)
€

200 / ticket
Options
guests = 1

Price

Adult (18+ years)

€

300 / ticket |

Youth (13-17 years)

€

300 / ticket

guests = 2

Price

Adult (18+ years)

€

280 / ticket |

Youth (13-17 years)

€

280 / ticket |

Children (0-12 years)

€

280 / ticket

guests = 3

Price

Adult (18+ years)

€

220 / ticket |

Youth (13-17 years)

€

220 / ticket |

Children (0-12 years)

€

220 / ticket

guests >= 4

Price

Adult (18+ years)

€

200 / ticket |

Youth (13-17 years)

€

200 / ticket |

Children (0-12 years)

€

200 / ticket
27
promotion
Minimum booking:
1 tickets
Maximum booking:
30 tickets
General price:
Adult (18+ years)
€

200 / ticket
|
Youth (13-17 years)
€

200 / ticket
|
Children (0-12 years)
€

200 / ticket
Options
guests = 1

Price

Adult (18+ years)

€

300 / ticket |

Youth (13-17 years)

€

300 / ticket

guests = 2

Price

Adult (18+ years)

€

280 / ticket |

Youth (13-17 years)

€

280 / ticket |

Children (0-12 years)

€

280 / ticket

guests = 3

Price

Adult (18+ years)

€

220 / ticket |

Youth (13-17 years)

€

220 / ticket |

Children (0-12 years)

€

220 / ticket

guests >= 4

Price

Adult (18+ years)

€

200 / ticket |

Youth (13-17 years)

€

200 / ticket |

Children (0-12 years)

€

200 / ticket
28
promotion
Minimum booking:
1 tickets
Maximum booking:
30 tickets
General price:
Adult (18+ years)
€

200 / ticket
|
Youth (13-17 years)
€

200 / ticket
|
Children (0-12 years)
€

200 / ticket
Options
guests = 1

Price

Adult (18+ years)

€

300 / ticket |

Youth (13-17 years)

€

300 / ticket

guests = 2

Price

Adult (18+ years)

€

280 / ticket |

Youth (13-17 years)

€

280 / ticket |

Children (0-12 years)

€

280 / ticket

guests = 3

Price

Adult (18+ years)

€

220 / ticket |

Youth (13-17 years)

€

220 / ticket |

Children (0-12 years)

€

220 / ticket

guests >= 4

Price

Adult (18+ years)

€

200 / ticket |

Youth (13-17 years)

€

200 / ticket |

Children (0-12 years)

€

200 / ticket
29
promotion
Minimum booking:
1 tickets
Maximum booking:
30 tickets
General price:
Adult (18+ years)
€

200 / ticket
|
Youth (13-17 years)
€

200 / ticket
|
Children (0-12 years)
€

200 / ticket
Options
guests = 1

Price

Adult (18+ years)

€

300 / ticket |

Youth (13-17 years)

€

300 / ticket

guests = 2

Price

Adult (18+ years)

€

280 / ticket |

Youth (13-17 years)

€

280 / ticket |

Children (0-12 years)

€

280 / ticket

guests = 3

Price

Adult (18+ years)

€

220 / ticket |

Youth (13-17 years)

€

220 / ticket |

Children (0-12 years)

€

220 / ticket

guests >= 4

Price

Adult (18+ years)

€

200 / ticket |

Youth (13-17 years)

€

200 / ticket |

Children (0-12 years)

€

200 / ticket
30
promotion
Minimum booking:
1 tickets
Maximum booking:
30 tickets
General price:
Adult (18+ years)
€

200 / ticket
|
Youth (13-17 years)
€

200 / ticket
|
Children (0-12 years)
€

200 / ticket
Options
guests = 1

Price

Adult (18+ years)

€

300 / ticket |

Youth (13-17 years)

€

300 / ticket

guests = 2

Price

Adult (18+ years)

€

280 / ticket |

Youth (13-17 years)

€

280 / ticket |

Children (0-12 years)

€

280 / ticket

guests = 3

Price

Adult (18+ years)

€

220 / ticket |

Youth (13-17 years)

€

220 / ticket |

Children (0-12 years)

€

220 / ticket

guests >= 4

Price

Adult (18+ years)

€

200 / ticket |

Youth (13-17 years)

€

200 / ticket |

Children (0-12 years)

€

200 / ticket
31
promotion
Minimum booking:
1 tickets
Maximum booking:
30 tickets
General price:
Adult (18+ years)
€

200 / ticket
|
Youth (13-17 years)
€

200 / ticket
|
Children (0-12 years)
€

200 / ticket
Options
guests = 1

Price

Adult (18+ years)

€

300 / ticket |

Youth (13-17 years)

€

300 / ticket

guests = 2

Price

Adult (18+ years)

€

280 / ticket |

Youth (13-17 years)

€

280 / ticket |

Children (0-12 years)

€

280 / ticket

guests = 3

Price

Adult (18+ years)

€

220 / ticket |

Youth (13-17 years)

€

220 / ticket |

Children (0-12 years)

€

220 / ticket

guests >= 4

Price

Adult (18+ years)

€

200 / ticket |

Youth (13-17 years)

€

200 / ticket |

Children (0-12 years)

€

200 / ticket
1
promotion
Minimum booking:
1 tickets
Maximum booking:
30 tickets
General price:
Adult (18+ years)
€

200 / ticket
|
Youth (13-17 years)
€

200 / ticket
|
Children (0-12 years)
€

200 / ticket
Options
guests = 1

Price

Adult (18+ years)

€

300 / ticket |

Youth (13-17 years)

€

300 / ticket

guests = 2

Price

Adult (18+ years)

€

280 / ticket |

Youth (13-17 years)

€

280 / ticket |

Children (0-12 years)

€

280 / ticket

guests = 3

Price

Adult (18+ years)

€

220 / ticket |

Youth (13-17 years)

€

220 / ticket |

Children (0-12 years)

€

220 / ticket

guests >= 4

Price

Adult (18+ years)

€

200 / ticket |

Youth (13-17 years)

€

200 / ticket |

Children (0-12 years)

€

200 / ticket
2
promotion
Minimum booking:
1 tickets
Maximum booking:
30 tickets
General price:
Adult (18+ years)
€

200 / ticket
|
Youth (13-17 years)
€

200 / ticket
|
Children (0-12 years)
€

200 / ticket
Options
guests = 1

Price

Adult (18+ years)

€

300 / ticket |

Youth (13-17 years)

€

300 / ticket

guests = 2

Price

Adult (18+ years)

€

280 / ticket |

Youth (13-17 years)

€

280 / ticket |

Children (0-12 years)

€

280 / ticket

guests = 3

Price

Adult (18+ years)

€

220 / ticket |

Youth (13-17 years)

€

220 / ticket |

Children (0-12 years)

€

220 / ticket

guests >= 4

Price

Adult (18+ years)

€

200 / ticket |

Youth (13-17 years)

€

200 / ticket |

Children (0-12 years)

€

200 / ticket
3
promotion
Minimum booking:
1 tickets
Maximum booking:
30 tickets
General price:
Adult (18+ years)
€

200 / ticket
|
Youth (13-17 years)
€

200 / ticket
|
Children (0-12 years)
€

200 / ticket
Options
guests = 1

Price

Adult (18+ years)

€

300 / ticket |

Youth (13-17 years)

€

300 / ticket

guests = 2

Price

Adult (18+ years)

€

280 / ticket |

Youth (13-17 years)

€

280 / ticket |

Children (0-12 years)

€

280 / ticket

guests = 3

Price

Adult (18+ years)

€

220 / ticket |

Youth (13-17 years)

€

220 / ticket |

Children (0-12 years)

€

220 / ticket

guests >= 4

Price

Adult (18+ years)

€

200 / ticket |

Youth (13-17 years)

€

200 / ticket |

Children (0-12 years)

€

200 / ticket
4
promotion
Minimum booking:
1 tickets
Maximum booking:
30 tickets
General price:
Adult (18+ years)
€

200 / ticket
|
Youth (13-17 years)
€

200 / ticket
|
Children (0-12 years)
€

200 / ticket
Options
guests = 1

Price

Adult (18+ years)

€

300 / ticket |

Youth (13-17 years)

€

300 / ticket

guests = 2

Price

Adult (18+ years)

€

280 / ticket |

Youth (13-17 years)

€

280 / ticket |

Children (0-12 years)

€

280 / ticket

guests = 3

Price

Adult (18+ years)

€

220 / ticket |

Youth (13-17 years)

€

220 / ticket |

Children (0-12 years)

€

220 / ticket

guests >= 4

Price

Adult (18+ years)

€

200 / ticket |

Youth (13-17 years)

€

200 / ticket |

Children (0-12 years)

€

200 / ticket
5
promotion
Minimum booking:
1 tickets
Maximum booking:
30 tickets
General price:
Adult (18+ years)
€

200 / ticket
|
Youth (13-17 years)
€

200 / ticket
|
Children (0-12 years)
€

200 / ticket
Options
guests = 1

Price

Adult (18+ years)

€

300 / ticket |

Youth (13-17 years)

€

300 / ticket

guests = 2

Price

Adult (18+ years)

€

280 / ticket |

Youth (13-17 years)

€

280 / ticket |

Children (0-12 years)

€

280 / ticket

guests = 3

Price

Adult (18+ years)

€

220 / ticket |

Youth (13-17 years)

€

220 / ticket |

Children (0-12 years)

€

220 / ticket

guests >= 4

Price

Adult (18+ years)

€

200 / ticket |

Youth (13-17 years)

€

200 / ticket |

Children (0-12 years)

€

200 / ticket
6
promotion
Minimum booking:
1 tickets
Maximum booking:
30 tickets
General price:
Adult (18+ years)
€

200 / ticket
|
Youth (13-17 years)
€

200 / ticket
|
Children (0-12 years)
€

200 / ticket
Options
guests = 1

Price

Adult (18+ years)

€

300 / ticket |

Youth (13-17 years)

€

300 / ticket

guests = 2

Price

Adult (18+ years)

€

280 / ticket |

Youth (13-17 years)

€

280 / ticket |

Children (0-12 years)

€

280 / ticket

guests = 3

Price

Adult (18+ years)

€

220 / ticket |

Youth (13-17 years)

€

220 / ticket |

Children (0-12 years)

€

220 / ticket

guests >= 4

Price

Adult (18+ years)

€

200 / ticket |

Youth (13-17 years)

€

200 / ticket |

Children (0-12 years)

€

200 / ticket
7
promotion
Minimum booking:
1 tickets
Maximum booking:
30 tickets
General price:
Adult (18+ years)
€

200 / ticket
|
Youth (13-17 years)
€

200 / ticket
|
Children (0-12 years)
€

200 / ticket
Options
guests = 1

Price

Adult (18+ years)

€

300 / ticket |

Youth (13-17 years)

€

300 / ticket

guests = 2

Price

Adult (18+ years)

€

280 / ticket |

Youth (13-17 years)

€

280 / ticket |

Children (0-12 years)

€

280 / ticket

guests = 3

Price

Adult (18+ years)

€

220 / ticket |

Youth (13-17 years)

€

220 / ticket |

Children (0-12 years)

€

220 / ticket

guests >= 4

Price

Adult (18+ years)

€

200 / ticket |

Youth (13-17 years)

€

200 / ticket |

Children (0-12 years)

€

200 / ticket
8
promotion
Minimum booking:
1 tickets
Maximum booking:
30 tickets
General price:
Adult (18+ years)
€

200 / ticket
|
Youth (13-17 years)
€

200 / ticket
|
Children (0-12 years)
€

200 / ticket
Options
guests = 1

Price

Adult (18+ years)

€

300 / ticket |

Youth (13-17 years)

€

300 / ticket

guests = 2

Price

Adult (18+ years)

€

280 / ticket |

Youth (13-17 years)

€

280 / ticket |

Children (0-12 years)

€

280 / ticket

guests = 3

Price

Adult (18+ years)

€

220 / ticket |

Youth (13-17 years)

€

220 / ticket |

Children (0-12 years)

€

220 / ticket

guests >= 4

Price

Adult (18+ years)

€

200 / ticket |

Youth (13-17 years)

€

200 / ticket |

Children (0-12 years)

€

200 / ticket
9
promotion
Minimum booking:
1 tickets
Maximum booking:
30 tickets
General price:
Adult (18+ years)
€

200 / ticket
|
Youth (13-17 years)
€

200 / ticket
|
Children (0-12 years)
€

200 / ticket
Options
guests = 1

Price

Adult (18+ years)

€

300 / ticket |

Youth (13-17 years)

€

300 / ticket

guests = 2

Price

Adult (18+ years)

€

280 / ticket |

Youth (13-17 years)

€

280 / ticket |

Children (0-12 years)

€

280 / ticket

guests = 3

Price

Adult (18+ years)

€

220 / ticket |

Youth (13-17 years)

€

220 / ticket |

Children (0-12 years)

€

220 / ticket

guests >= 4

Price

Adult (18+ years)

€

200 / ticket |

Youth (13-17 years)

€

200 / ticket |

Children (0-12 years)

€

200 / ticket
10
promotion
Minimum booking:
1 tickets
Maximum booking:
30 tickets
General price:
Adult (18+ years)
€

200 / ticket
|
Youth (13-17 years)
€

200 / ticket
|
Children (0-12 years)
€

200 / ticket
Options
guests = 1

Price

Adult (18+ years)

€

300 / ticket |

Youth (13-17 years)

€

300 / ticket

guests = 2

Price

Adult (18+ years)

€

280 / ticket |

Youth (13-17 years)

€

280 / ticket |

Children (0-12 years)

€

280 / ticket

guests = 3

Price

Adult (18+ years)

€

220 / ticket |

Youth (13-17 years)

€

220 / ticket |

Children (0-12 years)

€

220 / ticket

guests >= 4

Price

Adult (18+ years)

€

200 / ticket |

Youth (13-17 years)

€

200 / ticket |

Children (0-12 years)

€

200 / ticket
11
promotion
Minimum booking:
1 tickets
Maximum booking:
30 tickets
General price:
Adult (18+ years)
€

200 / ticket
|
Youth (13-17 years)
€

200 / ticket
|
Children (0-12 years)
€

200 / ticket
Options
guests = 1

Price

Adult (18+ years)

€

300 / ticket |

Youth (13-17 years)

€

300 / ticket

guests = 2

Price

Adult (18+ years)

€

280 / ticket |

Youth (13-17 years)

€

280 / ticket |

Children (0-12 years)

€

280 / ticket

guests = 3

Price

Adult (18+ years)

€

220 / ticket |

Youth (13-17 years)

€

220 / ticket |

Children (0-12 years)

€

220 / ticket

guests >= 4

Price

Adult (18+ years)

€

200 / ticket |

Youth (13-17 years)

€

200 / ticket |

Children (0-12 years)

€

200 / ticket
12
promotion
Minimum booking:
1 tickets
Maximum booking:
30 tickets
General price:
Adult (18+ years)
€

200 / ticket
|
Youth (13-17 years)
€

200 / ticket
|
Children (0-12 years)
€

200 / ticket
Options
guests = 1

Price

Adult (18+ years)

€

300 / ticket |

Youth (13-17 years)

€

300 / ticket

guests = 2

Price

Adult (18+ years)

€

280 / ticket |

Youth (13-17 years)

€

280 / ticket |

Children (0-12 years)

€

280 / ticket

guests = 3

Price

Adult (18+ years)

€

220 / ticket |

Youth (13-17 years)

€

220 / ticket |

Children (0-12 years)

€

220 / ticket

guests >= 4

Price

Adult (18+ years)

€

200 / ticket |

Youth (13-17 years)

€

200 / ticket |

Children (0-12 years)

€

200 / ticket
13
promotion
Minimum booking:
1 tickets
Maximum booking:
30 tickets
General price:
Adult (18+ years)
€

200 / ticket
|
Youth (13-17 years)
€

200 / ticket
|
Children (0-12 years)
€

200 / ticket
Options
guests = 1

Price

Adult (18+ years)

€

300 / ticket |

Youth (13-17 years)

€

300 / ticket

guests = 2

Price

Adult (18+ years)

€

280 / ticket |

Youth (13-17 years)

€

280 / ticket |

Children (0-12 years)

€

280 / ticket

guests = 3

Price

Adult (18+ years)

€

220 / ticket |

Youth (13-17 years)

€

220 / ticket |

Children (0-12 years)

€

220 / ticket

guests >= 4

Price

Adult (18+ years)

€

200 / ticket |

Youth (13-17 years)

€

200 / ticket |

Children (0-12 years)

€

200 / ticket
14
promotion
Minimum booking:
1 tickets
Maximum booking:
30 tickets
General price:
Adult (18+ years)
€

200 / ticket
|
Youth (13-17 years)
€

200 / ticket
|
Children (0-12 years)
€

200 / ticket
Options
guests = 1

Price

Adult (18+ years)

€

300 / ticket |

Youth (13-17 years)

€

300 / ticket

guests = 2

Price

Adult (18+ years)

€

280 / ticket |

Youth (13-17 years)

€

280 / ticket |

Children (0-12 years)

€

280 / ticket

guests = 3

Price

Adult (18+ years)

€

220 / ticket |

Youth (13-17 years)

€

220 / ticket |

Children (0-12 years)

€

220 / ticket

guests >= 4

Price

Adult (18+ years)

€

200 / ticket |

Youth (13-17 years)

€

200 / ticket |

Children (0-12 years)

€

200 / ticket
15
promotion
Minimum booking:
1 tickets
Maximum booking:
30 tickets
General price:
Adult (18+ years)
€

200 / ticket
|
Youth (13-17 years)
€

200 / ticket
|
Children (0-12 years)
€

200 / ticket
Options
guests = 1

Price

Adult (18+ years)

€

300 / ticket |

Youth (13-17 years)

€

300 / ticket

guests = 2

Price

Adult (18+ years)

€

280 / ticket |

Youth (13-17 years)

€

280 / ticket |

Children (0-12 years)

€

280 / ticket

guests = 3

Price

Adult (18+ years)

€

220 / ticket |

Youth (13-17 years)

€

220 / ticket |

Children (0-12 years)

€

220 / ticket

guests >= 4

Price

Adult (18+ years)

€

200 / ticket |

Youth (13-17 years)

€

200 / ticket |

Children (0-12 years)

€

200 / ticket
16
promotion
Minimum booking:
1 tickets
Maximum booking:
30 tickets
General price:
Adult (18+ years)
€

200 / ticket
|
Youth (13-17 years)
€

200 / ticket
|
Children (0-12 years)
€

200 / ticket
Options
guests = 1

Price

Adult (18+ years)

€

300 / ticket |

Youth (13-17 years)

€

300 / ticket

guests = 2

Price

Adult (18+ years)

€

280 / ticket |

Youth (13-17 years)

€

280 / ticket |

Children (0-12 years)

€

280 / ticket

guests = 3

Price

Adult (18+ years)

€

220 / ticket |

Youth (13-17 years)

€

220 / ticket |

Children (0-12 years)

€

220 / ticket

guests >= 4

Price

Adult (18+ years)

€

200 / ticket |

Youth (13-17 years)

€

200 / ticket |

Children (0-12 years)

€

200 / ticket
17
promotion
Minimum booking:
1 tickets
Maximum booking:
30 tickets
General price:
Adult (18+ years)
€

200 / ticket
|
Youth (13-17 years)
€

200 / ticket
|
Children (0-12 years)
€

200 / ticket
Options
guests = 1

Price

Adult (18+ years)

€

300 / ticket |

Youth (13-17 years)

€

300 / ticket

guests = 2

Price

Adult (18+ years)

€

280 / ticket |

Youth (13-17 years)

€

280 / ticket |

Children (0-12 years)

€

280 / ticket

guests = 3

Price

Adult (18+ years)

€

220 / ticket |

Youth (13-17 years)

€

220 / ticket |

Children (0-12 years)

€

220 / ticket

guests >= 4

Price

Adult (18+ years)

€

200 / ticket |

Youth (13-17 years)

€

200 / ticket |

Children (0-12 years)

€

200 / ticket
18
promotion
Minimum booking:
1 tickets
Maximum booking:
30 tickets
General price:
Adult (18+ years)
€

200 / ticket
|
Youth (13-17 years)
€

200 / ticket
|
Children (0-12 years)
€

200 / ticket
Options
guests = 1

Price

Adult (18+ years)

€

300 / ticket |

Youth (13-17 years)

€

300 / ticket

guests = 2

Price

Adult (18+ years)

€

280 / ticket |

Youth (13-17 years)

€

280 / ticket |

Children (0-12 years)

€

280 / ticket

guests = 3

Price

Adult (18+ years)

€

220 / ticket |

Youth (13-17 years)

€

220 / ticket |

Children (0-12 years)

€

220 / ticket

guests >= 4

Price

Adult (18+ years)

€

200 / ticket |

Youth (13-17 years)

€

200 / ticket |

Children (0-12 years)

€

200 / ticket
19
promotion
Minimum booking:
1 tickets
Maximum booking:
30 tickets
General price:
Adult (18+ years)
€

200 / ticket
|
Youth (13-17 years)
€

200 / ticket
|
Children (0-12 years)
€

200 / ticket
Options
guests = 1

Price

Adult (18+ years)

€

300 / ticket |

Youth (13-17 years)

€

300 / ticket

guests = 2

Price

Adult (18+ years)

€

280 / ticket |

Youth (13-17 years)

€

280 / ticket |

Children (0-12 years)

€

280 / ticket

guests = 3

Price

Adult (18+ years)

€

220 / ticket |

Youth (13-17 years)

€

220 / ticket |

Children (0-12 years)

€

220 / ticket

guests >= 4

Price

Adult (18+ years)

€

200 / ticket |

Youth (13-17 years)

€

200 / ticket |

Children (0-12 years)

€

200 / ticket
20
promotion
Minimum booking:
1 tickets
Maximum booking:
30 tickets
General price:
Adult (18+ years)
€

200 / ticket
|
Youth (13-17 years)
€

200 / ticket
|
Children (0-12 years)
€

200 / ticket
Options
guests = 1

Price

Adult (18+ years)

€

300 / ticket |

Youth (13-17 years)

€

300 / ticket

guests = 2

Price

Adult (18+ years)

€

280 / ticket |

Youth (13-17 years)

€

280 / ticket |

Children (0-12 years)

€

280 / ticket

guests = 3

Price

Adult (18+ years)

€

220 / ticket |

Youth (13-17 years)

€

220 / ticket |

Children (0-12 years)

€

220 / ticket

guests >= 4

Price

Adult (18+ years)

€

200 / ticket |

Youth (13-17 years)

€

200 / ticket |

Children (0-12 years)

€

200 / ticket
21
promotion
Minimum booking:
1 tickets
Maximum booking:
30 tickets
General price:
Adult (18+ years)
€

200 / ticket
|
Youth (13-17 years)
€

200 / ticket
|
Children (0-12 years)
€

200 / ticket
Options
guests = 1

Price

Adult (18+ years)

€

300 / ticket |

Youth (13-17 years)

€

300 / ticket

guests = 2

Price

Adult (18+ years)

€

280 / ticket |

Youth (13-17 years)

€

280 / ticket |

Children (0-12 years)

€

280 / ticket

guests = 3

Price

Adult (18+ years)

€

220 / ticket |

Youth (13-17 years)

€

220 / ticket |

Children (0-12 years)

€

220 / ticket

guests >= 4

Price

Adult (18+ years)

€

200 / ticket |

Youth (13-17 years)

€

200 / ticket |

Children (0-12 years)

€

200 / ticket
22
promotion
Minimum booking:
1 tickets
Maximum booking:
30 tickets
General price:
Adult (18+ years)
€

200 / ticket
|
Youth (13-17 years)
€

200 / ticket
|
Children (0-12 years)
€

200 / ticket
Options
guests = 1

Price

Adult (18+ years)

€

300 / ticket |

Youth (13-17 years)

€

300 / ticket

guests = 2

Price

Adult (18+ years)

€

280 / ticket |

Youth (13-17 years)

€

280 / ticket |

Children (0-12 years)

€

280 / ticket

guests = 3

Price

Adult (18+ years)

€

220 / ticket |

Youth (13-17 years)

€

220 / ticket |

Children (0-12 years)

€

220 / ticket

guests >= 4

Price

Adult (18+ years)

€

200 / ticket |

Youth (13-17 years)

€

200 / ticket |

Children (0-12 years)

€

200 / ticket
23
promotion
Minimum booking:
1 tickets
Maximum booking:
30 tickets
General price:
Adult (18+ years)
€

200 / ticket
|
Youth (13-17 years)
€

200 / ticket
|
Children (0-12 years)
€

200 / ticket
Options
guests = 1

Price

Adult (18+ years)

€

300 / ticket |

Youth (13-17 years)

€

300 / ticket

guests = 2

Price

Adult (18+ years)

€

280 / ticket |

Youth (13-17 years)

€

280 / ticket |

Children (0-12 years)

€

280 / ticket

guests = 3

Price

Adult (18+ years)

€

220 / ticket |

Youth (13-17 years)

€

220 / ticket |

Children (0-12 years)

€

220 / ticket

guests >= 4

Price

Adult (18+ years)

€

200 / ticket |

Youth (13-17 years)

€

200 / ticket |

Children (0-12 years)

€

200 / ticket
24
promotion
Minimum booking:
1 tickets
Maximum booking:
30 tickets
General price:
Adult (18+ years)
€

200 / ticket
|
Youth (13-17 years)
€

200 / ticket
|
Children (0-12 years)
€

200 / ticket
Options
guests = 1

Price

Adult (18+ years)

€

300 / ticket |

Youth (13-17 years)

€

300 / ticket

guests = 2

Price

Adult (18+ years)

€

280 / ticket |

Youth (13-17 years)

€

280 / ticket |

Children (0-12 years)

€

280 / ticket

guests = 3

Price

Adult (18+ years)

€

220 / ticket |

Youth (13-17 years)

€

220 / ticket |

Children (0-12 years)

€

220 / ticket

guests >= 4

Price

Adult (18+ years)

€

200 / ticket |

Youth (13-17 years)

€

200 / ticket |

Children (0-12 years)

€

200 / ticket
25
promotion
Minimum booking:
1 tickets
Maximum booking:
30 tickets
General price:
Adult (18+ years)
€

200 / ticket
|
Youth (13-17 years)
€

200 / ticket
|
Children (0-12 years)
€

200 / ticket
Options
guests = 1

Price

Adult (18+ years)

€

300 / ticket |

Youth (13-17 years)

€

300 / ticket

guests = 2

Price

Adult (18+ years)

€

280 / ticket |

Youth (13-17 years)

€

280 / ticket |

Children (0-12 years)

€

280 / ticket

guests = 3

Price

Adult (18+ years)

€

220 / ticket |

Youth (13-17 years)

€

220 / ticket |

Children (0-12 years)

€

220 / ticket

guests >= 4

Price

Adult (18+ years)

€

200 / ticket |

Youth (13-17 years)

€

200 / ticket |

Children (0-12 years)

€

200 / ticket
26
promotion
Minimum booking:
1 tickets
Maximum booking:
30 tickets
General price:
Adult (18+ years)
€

200 / ticket
|
Youth (13-17 years)
€

200 / ticket
|
Children (0-12 years)
€

200 / ticket
Options
guests = 1

Price

Adult (18+ years)

€

300 / ticket |

Youth (13-17 years)

€

300 / ticket

guests = 2

Price

Adult (18+ years)

€

280 / ticket |

Youth (13-17 years)

€

280 / ticket |

Children (0-12 years)

€

280 / ticket

guests = 3

Price

Adult (18+ years)

€

220 / ticket |

Youth (13-17 years)

€

220 / ticket |

Children (0-12 years)

€

220 / ticket

guests >= 4

Price

Adult (18+ years)

€

200 / ticket |

Youth (13-17 years)

€

200 / ticket |

Children (0-12 years)

€

200 / ticket
27
promotion
Minimum booking:
1 tickets
Maximum booking:
30 tickets
General price:
Adult (18+ years)
€

200 / ticket
|
Youth (13-17 years)
€

200 / ticket
|
Children (0-12 years)
€

200 / ticket
Options
guests = 1

Price

Adult (18+ years)

€

300 / ticket |

Youth (13-17 years)

€

300 / ticket

guests = 2

Price

Adult (18+ years)

€

280 / ticket |

Youth (13-17 years)

€

280 / ticket |

Children (0-12 years)

€

280 / ticket

guests = 3

Price

Adult (18+ years)

€

220 / ticket |

Youth (13-17 years)

€

220 / ticket |

Children (0-12 years)

€

220 / ticket

guests >= 4

Price

Adult (18+ years)

€

200 / ticket |

Youth (13-17 years)

€

200 / ticket |

Children (0-12 years)

€

200 / ticket
28
promotion
Minimum booking:
1 tickets
Maximum booking:
30 tickets
General price:
Adult (18+ years)
€

200 / ticket
|
Youth (13-17 years)
€

200 / ticket
|
Children (0-12 years)
€

200 / ticket
Options
guests = 1

Price

Adult (18+ years)

€

300 / ticket |

Youth (13-17 years)

€

300 / ticket

guests = 2

Price

Adult (18+ years)

€

280 / ticket |

Youth (13-17 years)

€

280 / ticket |

Children (0-12 years)

€

280 / ticket

guests = 3

Price

Adult (18+ years)

€

220 / ticket |

Youth (13-17 years)

€

220 / ticket |

Children (0-12 years)

€

220 / ticket

guests >= 4

Price

Adult (18+ years)

€

200 / ticket |

Youth (13-17 years)

€

200 / ticket |

Children (0-12 years)

€

200 / ticket
29
promotion
Minimum booking:
1 tickets
Maximum booking:
30 tickets
General price:
Adult (18+ years)
€

200 / ticket
|
Youth (13-17 years)
€

200 / ticket
|
Children (0-12 years)
€

200 / ticket
Options
guests = 1

Price

Adult (18+ years)

€

300 / ticket |

Youth (13-17 years)

€

300 / ticket

guests = 2

Price

Adult (18+ years)

€

280 / ticket |

Youth (13-17 years)

€

280 / ticket |

Children (0-12 years)

€

280 / ticket

guests = 3

Price

Adult (18+ years)

€

220 / ticket |

Youth (13-17 years)

€

220 / ticket |

Children (0-12 years)

€

220 / ticket

guests >= 4

Price

Adult (18+ years)

€

200 / ticket |

Youth (13-17 years)

€

200 / ticket |

Children (0-12 years)

€

200 / ticket
30
promotion
Minimum booking:
1 tickets
Maximum booking:
30 tickets
General price:
Adult (18+ years)
€

200 / ticket
|
Youth (13-17 years)
€

200 / ticket
|
Children (0-12 years)
€

200 / ticket
Options
guests = 1

Price

Adult (18+ years)

€

300 / ticket |

Youth (13-17 years)

€

300 / ticket

guests = 2

Price

Adult (18+ years)

€

280 / ticket |

Youth (13-17 years)

€

280 / ticket |

Children (0-12 years)

€

280 / ticket

guests = 3

Price

Adult (18+ years)

€

220 / ticket |

Youth (13-17 years)

€

220 / ticket |

Children (0-12 years)

€

220 / ticket

guests >= 4

Price

Adult (18+ years)

€

200 / ticket |

Youth (13-17 years)

€

200 / ticket |

Children (0-12 years)

€

200 / ticket
31
promotion
Minimum booking:
1 tickets
Maximum booking:
30 tickets
General price:
Adult (18+ years)
€

200 / ticket
|
Youth (13-17 years)
€

200 / ticket
|
Children (0-12 years)
€

200 / ticket
Options
guests = 1

Price

Adult (18+ years)

€

300 / ticket |

Youth (13-17 years)

€

300 / ticket

guests = 2

Price

Adult (18+ years)

€

280 / ticket |

Youth (13-17 years)

€

280 / ticket |

Children (0-12 years)

€

280 / ticket

guests = 3

Price

Adult (18+ years)

€

220 / ticket |

Youth (13-17 years)

€

220 / ticket |

Children (0-12 years)

€

220 / ticket

guests >= 4

Price

Adult (18+ years)

€

200 / ticket |

Youth (13-17 years)

€

200 / ticket |

Children (0-12 years)

€

200 / ticket
1
promotion
Minimum booking:
1 tickets
Maximum booking:
30 tickets
General price:
Adult (18+ years)
€

200 / ticket
|
Youth (13-17 years)
€

200 / ticket
|
Children (0-12 years)
€

200 / ticket
Options
guests = 1

Price

Adult (18+ years)

€

300 / ticket |

Youth (13-17 years)

€

300 / ticket

guests = 2

Price

Adult (18+ years)

€

280 / ticket |

Youth (13-17 years)

€

280 / ticket |

Children (0-12 years)

€

280 / ticket

guests = 3

Price

Adult (18+ years)

€

220 / ticket |

Youth (13-17 years)

€

220 / ticket |

Children (0-12 years)

€

220 / ticket

guests >= 4

Price

Adult (18+ years)

€

200 / ticket |

Youth (13-17 years)

€

200 / ticket |

Children (0-12 years)

€

200 / ticket
2
promotion
Minimum booking:
1 tickets
Maximum booking:
30 tickets
General price:
Adult (18+ years)
€

200 / ticket
|
Youth (13-17 years)
€

200 / ticket
|
Children (0-12 years)
€

200 / ticket
Options
guests = 1

Price

Adult (18+ years)

€

300 / ticket |

Youth (13-17 years)

€

300 / ticket

guests = 2

Price

Adult (18+ years)

€

280 / ticket |

Youth (13-17 years)

€

280 / ticket |

Children (0-12 years)

€

280 / ticket

guests = 3

Price

Adult (18+ years)

€

220 / ticket |

Youth (13-17 years)

€

220 / ticket |

Children (0-12 years)

€

220 / ticket

guests >= 4

Price

Adult (18+ years)

€

200 / ticket |

Youth (13-17 years)

€

200 / ticket |

Children (0-12 years)

€

200 / ticket
3
promotion
Minimum booking:
1 tickets
Maximum booking:
30 tickets
General price:
Adult (18+ years)
€

200 / ticket
|
Youth (13-17 years)
€

200 / ticket
|
Children (0-12 years)
€

200 / ticket
Options
guests = 1

Price

Adult (18+ years)

€

300 / ticket |

Youth (13-17 years)

€

300 / ticket

guests = 2

Price

Adult (18+ years)

€

280 / ticket |

Youth (13-17 years)

€

280 / ticket |

Children (0-12 years)

€

280 / ticket

guests = 3

Price

Adult (18+ years)

€

220 / ticket |

Youth (13-17 years)

€

220 / ticket |

Children (0-12 years)

€

220 / ticket

guests >= 4

Price

Adult (18+ years)

€

200 / ticket |

Youth (13-17 years)

€

200 / ticket |

Children (0-12 years)

€

200 / ticket
4
promotion
Minimum booking:
1 tickets
Maximum booking:
30 tickets
General price:
Adult (18+ years)
€

200 / ticket
|
Youth (13-17 years)
€

200 / ticket
|
Children (0-12 years)
€

200 / ticket
Options
guests = 1

Price

Adult (18+ years)

€

300 / ticket |

Youth (13-17 years)

€

300 / ticket

guests = 2

Price

Adult (18+ years)

€

280 / ticket |

Youth (13-17 years)

€

280 / ticket |

Children (0-12 years)

€

280 / ticket

guests = 3

Price

Adult (18+ years)

€

220 / ticket |

Youth (13-17 years)

€

220 / ticket |

Children (0-12 years)

€

220 / ticket

guests >= 4

Price

Adult (18+ years)

€

200 / ticket |

Youth (13-17 years)

€

200 / ticket |

Children (0-12 years)

€

200 / ticket
29
promotion
Minimum booking:
1 tickets
Maximum booking:
30 tickets
General price:
Adult (18+ years)
€

200 / ticket
|
Youth (13-17 years)
€

200 / ticket
|
Children (0-12 years)
€

200 / ticket
Options
guests = 1

Price

Adult (18+ years)

€

300 / ticket |

Youth (13-17 years)

€

300 / ticket

guests = 2

Price

Adult (18+ years)

€

280 / ticket |

Youth (13-17 years)

€

280 / ticket |

Children (0-12 years)

€

280 / ticket

guests = 3

Price

Adult (18+ years)

€

220 / ticket |

Youth (13-17 years)

€

220 / ticket |

Children (0-12 years)

€

220 / ticket

guests >= 4

Price

Adult (18+ years)

€

200 / ticket |

Youth (13-17 years)

€

200 / ticket |

Children (0-12 years)

€

200 / ticket
30
promotion
Minimum booking:
1 tickets
Maximum booking:
30 tickets
General price:
Adult (18+ years)
€

200 / ticket
|
Youth (13-17 years)
€

200 / ticket
|
Children (0-12 years)
€

200 / ticket
Options
guests = 1

Price

Adult (18+ years)

€

300 / ticket |

Youth (13-17 years)

€

300 / ticket

guests = 2

Price

Adult (18+ years)

€

280 / ticket |

Youth (13-17 years)

€

280 / ticket |

Children (0-12 years)

€

280 / ticket

guests = 3

Price

Adult (18+ years)

€

220 / ticket |

Youth (13-17 years)

€

220 / ticket |

Children (0-12 years)

€

220 / ticket

guests >= 4

Price

Adult (18+ years)

€

200 / ticket |

Youth (13-17 years)

€

200 / ticket |

Children (0-12 years)

€

200 / ticket
31
promotion
Minimum booking:
1 tickets
Maximum booking:
30 tickets
General price:
Adult (18+ years)
€

200 / ticket
|
Youth (13-17 years)
€

200 / ticket
|
Children (0-12 years)
€

200 / ticket
Options
guests = 1

Price

Adult (18+ years)

€

300 / ticket |

Youth (13-17 years)

€

300 / ticket

guests = 2

Price

Adult (18+ years)

€

280 / ticket |

Youth (13-17 years)

€

280 / ticket |

Children (0-12 years)

€

280 / ticket

guests = 3

Price

Adult (18+ years)

€

220 / ticket |

Youth (13-17 years)

€

220 / ticket |

Children (0-12 years)

€

220 / ticket

guests >= 4

Price

Adult (18+ years)

€

200 / ticket |

Youth (13-17 years)

€

200 / ticket |

Children (0-12 years)

€

200 / ticket
1
promotion
Minimum booking:
1 tickets
Maximum booking:
30 tickets
General price:
Adult (18+ years)
€

200 / ticket
|
Youth (13-17 years)
€

200 / ticket
|
Children (0-12 years)
€

200 / ticket
Options
guests = 1

Price

Adult (18+ years)

€

300 / ticket |

Youth (13-17 years)

€

300 / ticket

guests = 2

Price

Adult (18+ years)

€

280 / ticket |

Youth (13-17 years)

€

280 / ticket |

Children (0-12 years)

€

280 / ticket

guests = 3

Price

Adult (18+ years)

€

220 / ticket |

Youth (13-17 years)

€

220 / ticket |

Children (0-12 years)

€

220 / ticket

guests >= 4

Price

Adult (18+ years)

€

200 / ticket |

Youth (13-17 years)

€

200 / ticket |

Children (0-12 years)

€

200 / ticket
2
promotion
Minimum booking:
1 tickets
Maximum booking:
30 tickets
General price:
Adult (18+ years)
€

200 / ticket
|
Youth (13-17 years)
€

200 / ticket
|
Children (0-12 years)
€

200 / ticket
Options
guests = 1

Price

Adult (18+ years)

€

300 / ticket |

Youth (13-17 years)

€

300 / ticket

guests = 2

Price

Adult (18+ years)

€

280 / ticket |

Youth (13-17 years)

€

280 / ticket |

Children (0-12 years)

€

280 / ticket

guests = 3

Price

Adult (18+ years)

€

220 / ticket |

Youth (13-17 years)

€

220 / ticket |

Children (0-12 years)

€

220 / ticket

guests >= 4

Price

Adult (18+ years)

€

200 / ticket |

Youth (13-17 years)

€

200 / ticket |

Children (0-12 years)

€

200 / ticket
3
promotion
Minimum booking:
1 tickets
Maximum booking:
30 tickets
General price:
Adult (18+ years)
€

200 / ticket
|
Youth (13-17 years)
€

200 / ticket
|
Children (0-12 years)
€

200 / ticket
Options
guests = 1

Price

Adult (18+ years)

€

300 / ticket |

Youth (13-17 years)

€

300 / ticket

guests = 2

Price

Adult (18+ years)

€

280 / ticket |

Youth (13-17 years)

€

280 / ticket |

Children (0-12 years)

€

280 / ticket

guests = 3

Price

Adult (18+ years)

€

220 / ticket |

Youth (13-17 years)

€

220 / ticket |

Children (0-12 years)

€

220 / ticket

guests >= 4

Price

Adult (18+ years)

€

200 / ticket |

Youth (13-17 years)

€

200 / ticket |

Children (0-12 years)

€

200 / ticket
4
promotion
Minimum booking:
1 tickets
Maximum booking:
30 tickets
General price:
Adult (18+ years)
€

200 / ticket
|
Youth (13-17 years)
€

200 / ticket
|
Children (0-12 years)
€

200 / ticket
Options
guests = 1

Price

Adult (18+ years)

€

300 / ticket |

Youth (13-17 years)

€

300 / ticket

guests = 2

Price

Adult (18+ years)

€

280 / ticket |

Youth (13-17 years)

€

280 / ticket |

Children (0-12 years)

€

280 / ticket

guests = 3

Price

Adult (18+ years)

€

220 / ticket |

Youth (13-17 years)

€

220 / ticket |

Children (0-12 years)

€

220 / ticket

guests >= 4

Price

Adult (18+ years)

€

200 / ticket |

Youth (13-17 years)

€

200 / ticket |

Children (0-12 years)

€

200 / ticket
5
promotion
Minimum booking:
1 tickets
Maximum booking:
30 tickets
General price:
Adult (18+ years)
€

200 / ticket
|
Youth (13-17 years)
€

200 / ticket
|
Children (0-12 years)
€

200 / ticket
Options
guests = 1

Price

Adult (18+ years)

€

300 / ticket |

Youth (13-17 years)

€

300 / ticket

guests = 2

Price

Adult (18+ years)

€

280 / ticket |

Youth (13-17 years)

€

280 / ticket |

Children (0-12 years)

€

280 / ticket

guests = 3

Price

Adult (18+ years)

€

220 / ticket |

Youth (13-17 years)

€

220 / ticket |

Children (0-12 years)

€

220 / ticket

guests >= 4

Price

Adult (18+ years)

€

200 / ticket |

Youth (13-17 years)

€

200 / ticket |

Children (0-12 years)

€

200 / ticket
6
promotion
Minimum booking:
1 tickets
Maximum booking:
30 tickets
General price:
Adult (18+ years)
€

200 / ticket
|
Youth (13-17 years)
€

200 / ticket
|
Children (0-12 years)
€

200 / ticket
Options
guests = 1

Price

Adult (18+ years)

€

300 / ticket |

Youth (13-17 years)

€

300 / ticket

guests = 2

Price

Adult (18+ years)

€

280 / ticket |

Youth (13-17 years)

€

280 / ticket |

Children (0-12 years)

€

280 / ticket

guests = 3

Price

Adult (18+ years)

€

220 / ticket |

Youth (13-17 years)

€

220 / ticket |

Children (0-12 years)

€

220 / ticket

guests >= 4

Price

Adult (18+ years)

€

200 / ticket |

Youth (13-17 years)

€

200 / ticket |

Children (0-12 years)

€

200 / ticket
7
promotion
Minimum booking:
1 tickets
Maximum booking:
30 tickets
General price:
Adult (18+ years)
€

200 / ticket
|
Youth (13-17 years)
€

200 / ticket
|
Children (0-12 years)
€

200 / ticket
Options
guests = 1

Price

Adult (18+ years)

€

300 / ticket |

Youth (13-17 years)

€

300 / ticket

guests = 2

Price

Adult (18+ years)

€

280 / ticket |

Youth (13-17 years)

€

280 / ticket |

Children (0-12 years)

€

280 / ticket

guests = 3

Price

Adult (18+ years)

€

220 / ticket |

Youth (13-17 years)

€

220 / ticket |

Children (0-12 years)

€

220 / ticket

guests >= 4

Price

Adult (18+ years)

€

200 / ticket |

Youth (13-17 years)

€

200 / ticket |

Children (0-12 years)

€

200 / ticket
8
promotion
Minimum booking:
1 tickets
Maximum booking:
30 tickets
General price:
Adult (18+ years)
€

200 / ticket
|
Youth (13-17 years)
€

200 / ticket
|
Children (0-12 years)
€

200 / ticket
Options
guests = 1

Price

Adult (18+ years)

€

300 / ticket |

Youth (13-17 years)

€

300 / ticket

guests = 2

Price

Adult (18+ years)

€

280 / ticket |

Youth (13-17 years)

€

280 / ticket |

Children (0-12 years)

€

280 / ticket

guests = 3

Price

Adult (18+ years)

€

220 / ticket |

Youth (13-17 years)

€

220 / ticket |

Children (0-12 years)

€

220 / ticket

guests >= 4

Price

Adult (18+ years)

€

200 / ticket |

Youth (13-17 years)

€

200 / ticket |

Children (0-12 years)

€

200 / ticket
9
promotion
Minimum booking:
1 tickets
Maximum booking:
30 tickets
General price:
Adult (18+ years)
€

200 / ticket
|
Youth (13-17 years)
€

200 / ticket
|
Children (0-12 years)
€

200 / ticket
Options
guests = 1

Price

Adult (18+ years)

€

300 / ticket |

Youth (13-17 years)

€

300 / ticket

guests = 2

Price

Adult (18+ years)

€

280 / ticket |

Youth (13-17 years)

€

280 / ticket |

Children (0-12 years)

€

280 / ticket

guests = 3

Price

Adult (18+ years)

€

220 / ticket |

Youth (13-17 years)

€

220 / ticket |

Children (0-12 years)

€

220 / ticket

guests >= 4

Price

Adult (18+ years)

€

200 / ticket |

Youth (13-17 years)

€

200 / ticket |

Children (0-12 years)

€

200 / ticket
10
promotion
Minimum booking:
1 tickets
Maximum booking:
30 tickets
General price:
Adult (18+ years)
€

200 / ticket
|
Youth (13-17 years)
€

200 / ticket
|
Children (0-12 years)
€

200 / ticket
Options
guests = 1

Price

Adult (18+ years)

€

300 / ticket |

Youth (13-17 years)

€

300 / ticket

guests = 2

Price

Adult (18+ years)

€

280 / ticket |

Youth (13-17 years)

€

280 / ticket |

Children (0-12 years)

€

280 / ticket

guests = 3

Price

Adult (18+ years)

€

220 / ticket |

Youth (13-17 years)

€

220 / ticket |

Children (0-12 years)

€

220 / ticket

guests >= 4

Price

Adult (18+ years)

€

200 / ticket |

Youth (13-17 years)

€

200 / ticket |

Children (0-12 years)

€

200 / ticket
11
promotion
Minimum booking:
1 tickets
Maximum booking:
30 tickets
General price:
Adult (18+ years)
€

200 / ticket
|
Youth (13-17 years)
€

200 / ticket
|
Children (0-12 years)
€

200 / ticket
Options
guests = 1

Price

Adult (18+ years)

€

300 / ticket |

Youth (13-17 years)

€

300 / ticket

guests = 2

Price

Adult (18+ years)

€

280 / ticket |

Youth (13-17 years)

€

280 / ticket |

Children (0-12 years)

€

280 / ticket

guests = 3

Price

Adult (18+ years)

€

220 / ticket |

Youth (13-17 years)

€

220 / ticket |

Children (0-12 years)

€

220 / ticket

guests >= 4

Price

Adult (18+ years)

€

200 / ticket |

Youth (13-17 years)

€

200 / ticket |

Children (0-12 years)

€

200 / ticket
12
promotion
Minimum booking:
1 tickets
Maximum booking:
30 tickets
General price:
Adult (18+ years)
€

200 / ticket
|
Youth (13-17 years)
€

200 / ticket
|
Children (0-12 years)
€

200 / ticket
Options
guests = 1

Price

Adult (18+ years)

€

300 / ticket |

Youth (13-17 years)

€

300 / ticket

guests = 2

Price

Adult (18+ years)

€

280 / ticket |

Youth (13-17 years)

€

280 / ticket |

Children (0-12 years)

€

280 / ticket

guests = 3

Price

Adult (18+ years)

€

220 / ticket |

Youth (13-17 years)

€

220 / ticket |

Children (0-12 years)

€

220 / ticket

guests >= 4

Price

Adult (18+ years)

€

200 / ticket |

Youth (13-17 years)

€

200 / ticket |

Children (0-12 years)

€

200 / ticket
13
promotion
Minimum booking:
1 tickets
Maximum booking:
30 tickets
General price:
Adult (18+ years)
€

200 / ticket
|
Youth (13-17 years)
€

200 / ticket
|
Children (0-12 years)
€

200 / ticket
Options
guests = 1

Price

Adult (18+ years)

€

300 / ticket |

Youth (13-17 years)

€

300 / ticket

guests = 2

Price

Adult (18+ years)

€

280 / ticket |

Youth (13-17 years)

€

280 / ticket |

Children (0-12 years)

€

280 / ticket

guests = 3

Price

Adult (18+ years)

€

220 / ticket |

Youth (13-17 years)

€

220 / ticket |

Children (0-12 years)

€

220 / ticket

guests >= 4

Price

Adult (18+ years)

€

200 / ticket |

Youth (13-17 years)

€

200 / ticket |

Children (0-12 years)

€

200 / ticket
14
promotion
Minimum booking:
1 tickets
Maximum booking:
30 tickets
General price:
Adult (18+ years)
€

200 / ticket
|
Youth (13-17 years)
€

200 / ticket
|
Children (0-12 years)
€

200 / ticket
Options
guests = 1

Price

Adult (18+ years)

€

300 / ticket |

Youth (13-17 years)

€

300 / ticket

guests = 2

Price

Adult (18+ years)

€

280 / ticket |

Youth (13-17 years)

€

280 / ticket |

Children (0-12 years)

€

280 / ticket

guests = 3

Price

Adult (18+ years)

€

220 / ticket |

Youth (13-17 years)

€

220 / ticket |

Children (0-12 years)

€

220 / ticket

guests >= 4

Price

Adult (18+ years)

€

200 / ticket |

Youth (13-17 years)

€

200 / ticket |

Children (0-12 years)

€

200 / ticket
15
promotion
Minimum booking:
1 tickets
Maximum booking:
30 tickets
General price:
Adult (18+ years)
€

200 / ticket
|
Youth (13-17 years)
€

200 / ticket
|
Children (0-12 years)
€

200 / ticket
Options
guests = 1

Price

Adult (18+ years)

€

300 / ticket |

Youth (13-17 years)

€

300 / ticket

guests = 2

Price

Adult (18+ years)

€

280 / ticket |

Youth (13-17 years)

€

280 / ticket |

Children (0-12 years)

€

280 / ticket

guests = 3

Price

Adult (18+ years)

€

220 / ticket |

Youth (13-17 years)

€

220 / ticket |

Children (0-12 years)

€

220 / ticket

guests >= 4

Price

Adult (18+ years)

€

200 / ticket |

Youth (13-17 years)

€

200 / ticket |

Children (0-12 years)

€

200 / ticket
16
promotion
Minimum booking:
1 tickets
Maximum booking:
30 tickets
General price:
Adult (18+ years)
€

200 / ticket
|
Youth (13-17 years)
€

200 / ticket
|
Children (0-12 years)
€

200 / ticket
Options
guests = 1

Price

Adult (18+ years)

€

300 / ticket |

Youth (13-17 years)

€

300 / ticket

guests = 2

Price

Adult (18+ years)

€

280 / ticket |

Youth (13-17 years)

€

280 / ticket |

Children (0-12 years)

€

280 / ticket

guests = 3

Price

Adult (18+ years)

€

220 / ticket |

Youth (13-17 years)

€

220 / ticket |

Children (0-12 years)

€

220 / ticket

guests >= 4

Price

Adult (18+ years)

€

200 / ticket |

Youth (13-17 years)

€

200 / ticket |

Children (0-12 years)

€

200 / ticket
17
promotion
Minimum booking:
1 tickets
Maximum booking:
30 tickets
General price:
Adult (18+ years)
€

200 / ticket
|
Youth (13-17 years)
€

200 / ticket
|
Children (0-12 years)
€

200 / ticket
Options
guests = 1

Price

Adult (18+ years)

€

300 / ticket |

Youth (13-17 years)

€

300 / ticket

guests = 2

Price

Adult (18+ years)

€

280 / ticket |

Youth (13-17 years)

€

280 / ticket |

Children (0-12 years)

€

280 / ticket

guests = 3

Price

Adult (18+ years)

€

220 / ticket |

Youth (13-17 years)

€

220 / ticket |

Children (0-12 years)

€

220 / ticket

guests >= 4

Price

Adult (18+ years)

€

200 / ticket |

Youth (13-17 years)

€

200 / ticket |

Children (0-12 years)

€

200 / ticket
18
promotion
Minimum booking:
1 tickets
Maximum booking:
30 tickets
General price:
Adult (18+ years)
€

200 / ticket
|
Youth (13-17 years)
€

200 / ticket
|
Children (0-12 years)
€

200 / ticket
Options
guests = 1

Price

Adult (18+ years)

€

300 / ticket |

Youth (13-17 years)

€

300 / ticket

guests = 2

Price

Adult (18+ years)

€

280 / ticket |

Youth (13-17 years)

€

280 / ticket |

Children (0-12 years)

€

280 / ticket

guests = 3

Price

Adult (18+ years)

€

220 / ticket |

Youth (13-17 years)

€

220 / ticket |

Children (0-12 years)

€

220 / ticket

guests >= 4

Price

Adult (18+ years)

€

200 / ticket |

Youth (13-17 years)

€

200 / ticket |

Children (0-12 years)

€

200 / ticket
19
promotion
Minimum booking:
1 tickets
Maximum booking:
30 tickets
General price:
Adult (18+ years)
€

200 / ticket
|
Youth (13-17 years)
€

200 / ticket
|
Children (0-12 years)
€

200 / ticket
Options
guests = 1

Price

Adult (18+ years)

€

300 / ticket |

Youth (13-17 years)

€

300 / ticket

guests = 2

Price

Adult (18+ years)

€

280 / ticket |

Youth (13-17 years)

€

280 / ticket |

Children (0-12 years)

€

280 / ticket

guests = 3

Price

Adult (18+ years)

€

220 / ticket |

Youth (13-17 years)

€

220 / ticket |

Children (0-12 years)

€

220 / ticket

guests >= 4

Price

Adult (18+ years)

€

200 / ticket |

Youth (13-17 years)

€

200 / ticket |

Children (0-12 years)

€

200 / ticket
20
promotion
Minimum booking:
1 tickets
Maximum booking:
30 tickets
General price:
Adult (18+ years)
€

200 / ticket
|
Youth (13-17 years)
€

200 / ticket
|
Children (0-12 years)
€

200 / ticket
Options
guests = 1

Price

Adult (18+ years)

€

300 / ticket |

Youth (13-17 years)

€

300 / ticket

guests = 2

Price

Adult (18+ years)

€

280 / ticket |

Youth (13-17 years)

€

280 / ticket |

Children (0-12 years)

€

280 / ticket

guests = 3

Price

Adult (18+ years)

€

220 / ticket |

Youth (13-17 years)

€

220 / ticket |

Children (0-12 years)

€

220 / ticket

guests >= 4

Price

Adult (18+ years)

€

200 / ticket |

Youth (13-17 years)

€

200 / ticket |

Children (0-12 years)

€

200 / ticket
21
promotion
Minimum booking:
1 tickets
Maximum booking:
30 tickets
General price:
Adult (18+ years)
€

200 / ticket
|
Youth (13-17 years)
€

200 / ticket
|
Children (0-12 years)
€

200 / ticket
Options
guests = 1

Price

Adult (18+ years)

€

300 / ticket |

Youth (13-17 years)

€

300 / ticket

guests = 2

Price

Adult (18+ years)

€

280 / ticket |

Youth (13-17 years)

€

280 / ticket |

Children (0-12 years)

€

280 / ticket

guests = 3

Price

Adult (18+ years)

€

220 / ticket |

Youth (13-17 years)

€

220 / ticket |

Children (0-12 years)

€

220 / ticket

guests >= 4

Price

Adult (18+ years)

€

200 / ticket |

Youth (13-17 years)

€

200 / ticket |

Children (0-12 years)

€

200 / ticket
22
promotion
Minimum booking:
1 tickets
Maximum booking:
30 tickets
General price:
Adult (18+ years)
€

200 / ticket
|
Youth (13-17 years)
€

200 / ticket
|
Children (0-12 years)
€

200 / ticket
Options
guests = 1

Price

Adult (18+ years)

€

300 / ticket |

Youth (13-17 years)

€

300 / ticket

guests = 2

Price

Adult (18+ years)

€

280 / ticket |

Youth (13-17 years)

€

280 / ticket |

Children (0-12 years)

€

280 / ticket

guests = 3

Price

Adult (18+ years)

€

220 / ticket |

Youth (13-17 years)

€

220 / ticket |

Children (0-12 years)

€

220 / ticket

guests >= 4

Price

Adult (18+ years)

€

200 / ticket |

Youth (13-17 years)

€

200 / ticket |

Children (0-12 years)

€

200 / ticket
23
promotion
Minimum booking:
1 tickets
Maximum booking:
30 tickets
General price:
Adult (18+ years)
€

200 / ticket
|
Youth (13-17 years)
€

200 / ticket
|
Children (0-12 years)
€

200 / ticket
Options
guests = 1

Price

Adult (18+ years)

€

300 / ticket |

Youth (13-17 years)

€

300 / ticket

guests = 2

Price

Adult (18+ years)

€

280 / ticket |

Youth (13-17 years)

€

280 / ticket |

Children (0-12 years)

€

280 / ticket

guests = 3

Price

Adult (18+ years)

€

220 / ticket |

Youth (13-17 years)

€

220 / ticket |

Children (0-12 years)

€

220 / ticket

guests >= 4

Price

Adult (18+ years)

€

200 / ticket |

Youth (13-17 years)

€

200 / ticket |

Children (0-12 years)

€

200 / ticket
24
promotion
Minimum booking:
1 tickets
Maximum booking:
30 tickets
General price:
Adult (18+ years)
€

200 / ticket
|
Youth (13-17 years)
€

200 / ticket
|
Children (0-12 years)
€

200 / ticket
Options
guests = 1

Price

Adult (18+ years)

€

300 / ticket |

Youth (13-17 years)

€

300 / ticket

guests = 2

Price

Adult (18+ years)

€

280 / ticket |

Youth (13-17 years)

€

280 / ticket |

Children (0-12 years)

€

280 / ticket

guests = 3

Price

Adult (18+ years)

€

220 / ticket |

Youth (13-17 years)

€

220 / ticket |

Children (0-12 years)

€

220 / ticket

guests >= 4

Price

Adult (18+ years)

€

200 / ticket |

Youth (13-17 years)

€

200 / ticket |

Children (0-12 years)

€

200 / ticket
25
promotion
Minimum booking:
1 tickets
Maximum booking:
30 tickets
General price:
Adult (18+ years)
€

200 / ticket
|
Youth (13-17 years)
€

200 / ticket
|
Children (0-12 years)
€

200 / ticket
Options
guests = 1

Price

Adult (18+ years)

€

300 / ticket |

Youth (13-17 years)

€

300 / ticket

guests = 2

Price

Adult (18+ years)

€

280 / ticket |

Youth (13-17 years)

€

280 / ticket |

Children (0-12 years)

€

280 / ticket

guests = 3

Price

Adult (18+ years)

€

220 / ticket |

Youth (13-17 years)

€

220 / ticket |

Children (0-12 years)

€

220 / ticket

guests >= 4

Price

Adult (18+ years)

€

200 / ticket |

Youth (13-17 years)

€

200 / ticket |

Children (0-12 years)

€

200 / ticket
26
promotion
Minimum booking:
1 tickets
Maximum booking:
30 tickets
General price:
Adult (18+ years)
€

200 / ticket
|
Youth (13-17 years)
€

200 / ticket
|
Children (0-12 years)
€

200 / ticket
Options
guests = 1

Price

Adult (18+ years)

€

300 / ticket |

Youth (13-17 years)

€

300 / ticket

guests = 2

Price

Adult (18+ years)

€

280 / ticket |

Youth (13-17 years)

€

280 / ticket |

Children (0-12 years)

€

280 / ticket

guests = 3

Price

Adult (18+ years)

€

220 / ticket |

Youth (13-17 years)

€

220 / ticket |

Children (0-12 years)

€

220 / ticket

guests >= 4

Price

Adult (18+ years)

€

200 / ticket |

Youth (13-17 years)

€

200 / ticket |

Children (0-12 years)

€

200 / ticket
27
promotion
Minimum booking:
1 tickets
Maximum booking:
30 tickets
General price:
Adult (18+ years)
€

200 / ticket
|
Youth (13-17 years)
€

200 / ticket
|
Children (0-12 years)
€

200 / ticket
Options
guests = 1

Price

Adult (18+ years)

€

300 / ticket |

Youth (13-17 years)

€

300 / ticket

guests = 2

Price

Adult (18+ years)

€

280 / ticket |

Youth (13-17 years)

€

280 / ticket |

Children (0-12 years)

€

280 / ticket

guests = 3

Price

Adult (18+ years)

€

220 / ticket |

Youth (13-17 years)

€

220 / ticket |

Children (0-12 years)

€

220 / ticket

guests >= 4

Price

Adult (18+ years)

€

200 / ticket |

Youth (13-17 years)

€

200 / ticket |

Children (0-12 years)

€

200 / ticket
28
promotion
Minimum booking:
1 tickets
Maximum booking:
30 tickets
General price:
Adult (18+ years)
€

200 / ticket
|
Youth (13-17 years)
€

200 / ticket
|
Children (0-12 years)
€

200 / ticket
Options
guests = 1

Price

Adult (18+ years)

€

300 / ticket |

Youth (13-17 years)

€

300 / ticket

guests = 2

Price

Adult (18+ years)

€

280 / ticket |

Youth (13-17 years)

€

280 / ticket |

Children (0-12 years)

€

280 / ticket

guests = 3

Price

Adult (18+ years)

€

220 / ticket |

Youth (13-17 years)

€

220 / ticket |

Children (0-12 years)

€

220 / ticket

guests >= 4

Price

Adult (18+ years)

€

200 / ticket |

Youth (13-17 years)

€

200 / ticket |

Children (0-12 years)

€

200 / ticket
29
promotion
Minimum booking:
1 tickets
Maximum booking:
30 tickets
General price:
Adult (18+ years)
€

200 / ticket
|
Youth (13-17 years)
€

200 / ticket
|
Children (0-12 years)
€

200 / ticket
Options
guests = 1

Price

Adult (18+ years)

€

300 / ticket |

Youth (13-17 years)

€

300 / ticket

guests = 2

Price

Adult (18+ years)

€

280 / ticket |

Youth (13-17 years)

€

280 / ticket |

Children (0-12 years)

€

280 / ticket

guests = 3

Price

Adult (18+ years)

€

220 / ticket |

Youth (13-17 years)

€

220 / ticket |

Children (0-12 years)

€

220 / ticket

guests >= 4

Price

Adult (18+ years)

€

200 / ticket |

Youth (13-17 years)

€

200 / ticket |

Children (0-12 years)

€

200 / ticket
1
promotion
Minimum booking:
1 tickets
Maximum booking:
30 tickets
General price:
Adult (18+ years)
€

200 / ticket
|
Youth (13-17 years)
€

200 / ticket
|
Children (0-12 years)
€

200 / ticket
Options
guests = 1

Price

Adult (18+ years)

€

300 / ticket |

Youth (13-17 years)

€

300 / ticket

guests = 2

Price

Adult (18+ years)

€

280 / ticket |

Youth (13-17 years)

€

280 / ticket |

Children (0-12 years)

€

280 / ticket

guests = 3

Price

Adult (18+ years)

€

220 / ticket |

Youth (13-17 years)

€

220 / ticket |

Children (0-12 years)

€

220 / ticket

guests >= 4

Price

Adult (18+ years)

€

200 / ticket |

Youth (13-17 years)

€

200 / ticket |

Children (0-12 years)

€

200 / ticket
2
promotion
Minimum booking:
1 tickets
Maximum booking:
30 tickets
General price:
Adult (18+ years)
€

200 / ticket
|
Youth (13-17 years)
€

200 / ticket
|
Children (0-12 years)
€

200 / ticket
Options
guests = 1

Price

Adult (18+ years)

€

300 / ticket |

Youth (13-17 years)

€

300 / ticket

guests = 2

Price

Adult (18+ years)

€

280 / ticket |

Youth (13-17 years)

€

280 / ticket |

Children (0-12 years)

€

280 / ticket

guests = 3

Price

Adult (18+ years)

€

220 / ticket |

Youth (13-17 years)

€

220 / ticket |

Children (0-12 years)

€

220 / ticket

guests >= 4

Price

Adult (18+ years)

€

200 / ticket |

Youth (13-17 years)

€

200 / ticket |

Children (0-12 years)

€

200 / ticket
3
promotion
Minimum booking:
1 tickets
Maximum booking:
30 tickets
General price:
Adult (18+ years)
€

200 / ticket
|
Youth (13-17 years)
€

200 / ticket
|
Children (0-12 years)
€

200 / ticket
Options
guests = 1

Price

Adult (18+ years)

€

300 / ticket |

Youth (13-17 years)

€

300 / ticket

guests = 2

Price

Adult (18+ years)

€

280 / ticket |

Youth (13-17 years)

€

280 / ticket |

Children (0-12 years)

€

280 / ticket

guests = 3

Price

Adult (18+ years)

€

220 / ticket |

Youth (13-17 years)

€

220 / ticket |

Children (0-12 years)

€

220 / ticket

guests >= 4

Price

Adult (18+ years)

€

200 / ticket |

Youth (13-17 years)

€

200 / ticket |

Children (0-12 years)

€

200 / ticket
26
promotion
Minimum booking:
1 tickets
Maximum booking:
30 tickets
General price:
Adult (18+ years)
€

200 / ticket
|
Youth (13-17 years)
€

200 / ticket
|
Children (0-12 years)
€

200 / ticket
Options
guests = 1

Price

Adult (18+ years)

€

300 / ticket |

Youth (13-17 years)

€

300 / ticket

guests = 2

Price

Adult (18+ years)

€

280 / ticket |

Youth (13-17 years)

€

280 / ticket |

Children (0-12 years)

€

280 / ticket

guests = 3

Price

Adult (18+ years)

€

220 / ticket |

Youth (13-17 years)

€

220 / ticket |

Children (0-12 years)

€

220 / ticket

guests >= 4

Price

Adult (18+ years)

€

200 / ticket |

Youth (13-17 years)

€

200 / ticket |

Children (0-12 years)

€

200 / ticket
27
promotion
Minimum booking:
1 tickets
Maximum booking:
30 tickets
General price:
Adult (18+ years)
€

200 / ticket
|
Youth (13-17 years)
€

200 / ticket
|
Children (0-12 years)
€

200 / ticket
Options
guests = 1

Price

Adult (18+ years)

€

300 / ticket |

Youth (13-17 years)

€

300 / ticket

guests = 2

Price

Adult (18+ years)

€

280 / ticket |

Youth (13-17 years)

€

280 / ticket |

Children (0-12 years)

€

280 / ticket

guests = 3

Price

Adult (18+ years)

€

220 / ticket |

Youth (13-17 years)

€

220 / ticket |

Children (0-12 years)

€

220 / ticket

guests >= 4

Price

Adult (18+ years)

€

200 / ticket |

Youth (13-17 years)

€

200 / ticket |

Children (0-12 years)

€

200 / ticket
28
promotion
Minimum booking:
1 tickets
Maximum booking:
30 tickets
General price:
Adult (18+ years)
€

200 / ticket
|
Youth (13-17 years)
€

200 / ticket
|
Children (0-12 years)
€

200 / ticket
Options
guests = 1

Price

Adult (18+ years)

€

300 / ticket |

Youth (13-17 years)

€

300 / ticket

guests = 2

Price

Adult (18+ years)

€

280 / ticket |

Youth (13-17 years)

€

280 / ticket |

Children (0-12 years)

€

280 / ticket

guests = 3

Price

Adult (18+ years)

€

220 / ticket |

Youth (13-17 years)

€

220 / ticket |

Children (0-12 years)

€

220 / ticket

guests >= 4

Price

Adult (18+ years)

€

200 / ticket |

Youth (13-17 years)

€

200 / ticket |

Children (0-12 years)

€

200 / ticket
29
promotion
Minimum booking:
1 tickets
Maximum booking:
30 tickets
General price:
Adult (18+ years)
€

200 / ticket
|
Youth (13-17 years)
€

200 / ticket
|
Children (0-12 years)
€

200 / ticket
Options
guests = 1

Price

Adult (18+ years)

€

300 / ticket |

Youth (13-17 years)

€

300 / ticket

guests = 2

Price

Adult (18+ years)

€

280 / ticket |

Youth (13-17 years)

€

280 / ticket |

Children (0-12 years)

€

280 / ticket

guests = 3

Price

Adult (18+ years)

€

220 / ticket |

Youth (13-17 years)

€

220 / ticket |

Children (0-12 years)

€

220 / ticket

guests >= 4

Price

Adult (18+ years)

€

200 / ticket |

Youth (13-17 years)

€

200 / ticket |

Children (0-12 years)

€

200 / ticket
1
promotion
Minimum booking:
1 tickets
Maximum booking:
30 tickets
General price:
Adult (18+ years)
€

200 / ticket
|
Youth (13-17 years)
€

200 / ticket
|
Children (0-12 years)
€

200 / ticket
Options
guests = 1

Price

Adult (18+ years)

€

300 / ticket |

Youth (13-17 years)

€

300 / ticket

guests = 2

Price

Adult (18+ years)

€

280 / ticket |

Youth (13-17 years)

€

280 / ticket |

Children (0-12 years)

€

280 / ticket

guests = 3

Price

Adult (18+ years)

€

220 / ticket |

Youth (13-17 years)

€

220 / ticket |

Children (0-12 years)

€

220 / ticket

guests >= 4

Price

Adult (18+ years)

€

200 / ticket |

Youth (13-17 years)

€

200 / ticket |

Children (0-12 years)

€

200 / ticket
2
promotion
Minimum booking:
1 tickets
Maximum booking:
30 tickets
General price:
Adult (18+ years)
€

200 / ticket
|
Youth (13-17 years)
€

200 / ticket
|
Children (0-12 years)
€

200 / ticket
Options
guests = 1

Price

Adult (18+ years)

€

300 / ticket |

Youth (13-17 years)

€

300 / ticket

guests = 2

Price

Adult (18+ years)

€

280 / ticket |

Youth (13-17 years)

€

280 / ticket |

Children (0-12 years)

€

280 / ticket

guests = 3

Price

Adult (18+ years)

€

220 / ticket |

Youth (13-17 years)

€

220 / ticket |

Children (0-12 years)

€

220 / ticket

guests >= 4

Price

Adult (18+ years)

€

200 / ticket |

Youth (13-17 years)

€

200 / ticket |

Children (0-12 years)

€

200 / ticket
3
promotion
Minimum booking:
1 tickets
Maximum booking:
30 tickets
General price:
Adult (18+ years)
€

200 / ticket
|
Youth (13-17 years)
€

200 / ticket
|
Children (0-12 years)
€

200 / ticket
Options
guests = 1

Price

Adult (18+ years)

€

300 / ticket |

Youth (13-17 years)

€

300 / ticket

guests = 2

Price

Adult (18+ years)

€

280 / ticket |

Youth (13-17 years)

€

280 / ticket |

Children (0-12 years)

€

280 / ticket

guests = 3

Price

Adult (18+ years)

€

220 / ticket |

Youth (13-17 years)

€

220 / ticket |

Children (0-12 years)

€

220 / ticket

guests >= 4

Price

Adult (18+ years)

€

200 / ticket |

Youth (13-17 years)

€

200 / ticket |

Children (0-12 years)

€

200 / ticket
4
promotion
Minimum booking:
1 tickets
Maximum booking:
30 tickets
General price:
Adult (18+ years)
€

200 / ticket
|
Youth (13-17 years)
€

200 / ticket
|
Children (0-12 years)
€

200 / ticket
Options
guests = 1

Price

Adult (18+ years)

€

300 / ticket |

Youth (13-17 years)

€

300 / ticket

guests = 2

Price

Adult (18+ years)

€

280 / ticket |

Youth (13-17 years)

€

280 / ticket |

Children (0-12 years)

€

280 / ticket

guests = 3

Price

Adult (18+ years)

€

220 / ticket |

Youth (13-17 years)

€

220 / ticket |

Children (0-12 years)

€

220 / ticket

guests >= 4

Price

Adult (18+ years)

€

200 / ticket |

Youth (13-17 years)

€

200 / ticket |

Children (0-12 years)

€

200 / ticket
5
promotion
Minimum booking:
1 tickets
Maximum booking:
30 tickets
General price:
Adult (18+ years)
€

200 / ticket
|
Youth (13-17 years)
€

200 / ticket
|
Children (0-12 years)
€

200 / ticket
Options
guests = 1

Price

Adult (18+ years)

€

300 / ticket |

Youth (13-17 years)

€

300 / ticket

guests = 2

Price

Adult (18+ years)

€

280 / ticket |

Youth (13-17 years)

€

280 / ticket |

Children (0-12 years)

€

280 / ticket

guests = 3

Price

Adult (18+ years)

€

220 / ticket |

Youth (13-17 years)

€

220 / ticket |

Children (0-12 years)

€

220 / ticket

guests >= 4

Price

Adult (18+ years)

€

200 / ticket |

Youth (13-17 years)

€

200 / ticket |

Children (0-12 years)

€

200 / ticket
6
promotion
Minimum booking:
1 tickets
Maximum booking:
30 tickets
General price:
Adult (18+ years)
€

200 / ticket
|
Youth (13-17 years)
€

200 / ticket
|
Children (0-12 years)
€

200 / ticket
Options
guests = 1

Price

Adult (18+ years)

€

300 / ticket |

Youth (13-17 years)

€

300 / ticket

guests = 2

Price

Adult (18+ years)

€

280 / ticket |

Youth (13-17 years)

€

280 / ticket |

Children (0-12 years)

€

280 / ticket

guests = 3

Price

Adult (18+ years)

€

220 / ticket |

Youth (13-17 years)

€

220 / ticket |

Children (0-12 years)

€

220 / ticket

guests >= 4

Price

Adult (18+ years)

€

200 / ticket |

Youth (13-17 years)

€

200 / ticket |

Children (0-12 years)

€

200 / ticket
7
promotion
Minimum booking:
1 tickets
Maximum booking:
30 tickets
General price:
Adult (18+ years)
€

200 / ticket
|
Youth (13-17 years)
€

200 / ticket
|
Children (0-12 years)
€

200 / ticket
Options
guests = 1

Price

Adult (18+ years)

€

300 / ticket |

Youth (13-17 years)

€

300 / ticket

guests = 2

Price

Adult (18+ years)

€

280 / ticket |

Youth (13-17 years)

€

280 / ticket |

Children (0-12 years)

€

280 / ticket

guests = 3

Price

Adult (18+ years)

€

220 / ticket |

Youth (13-17 years)

€

220 / ticket |

Children (0-12 years)

€

220 / ticket

guests >= 4

Price

Adult (18+ years)

€

200 / ticket |

Youth (13-17 years)

€

200 / ticket |

Children (0-12 years)

€

200 / ticket
8
promotion
Minimum booking:
1 tickets
Maximum booking:
30 tickets
General price:
Adult (18+ years)
€

200 / ticket
|
Youth (13-17 years)
€

200 / ticket
|
Children (0-12 years)
€

200 / ticket
Options
guests = 1

Price

Adult (18+ years)

€

300 / ticket |

Youth (13-17 years)

€

300 / ticket

guests = 2

Price

Adult (18+ years)

€

280 / ticket |

Youth (13-17 years)

€

280 / ticket |

Children (0-12 years)

€

280 / ticket

guests = 3

Price

Adult (18+ years)

€

220 / ticket |

Youth (13-17 years)

€

220 / ticket |

Children (0-12 years)

€

220 / ticket

guests >= 4

Price

Adult (18+ years)

€

200 / ticket |

Youth (13-17 years)

€

200 / ticket |

Children (0-12 years)

€

200 / ticket
9
promotion
Minimum booking:
1 tickets
Maximum booking:
30 tickets
General price:
Adult (18+ years)
€

200 / ticket
|
Youth (13-17 years)
€

200 / ticket
|
Children (0-12 years)
€

200 / ticket
Options
guests = 1

Price

Adult (18+ years)

€

300 / ticket |

Youth (13-17 years)

€

300 / ticket

guests = 2

Price

Adult (18+ years)

€

280 / ticket |

Youth (13-17 years)

€

280 / ticket |

Children (0-12 years)

€

280 / ticket

guests = 3

Price

Adult (18+ years)

€

220 / ticket |

Youth (13-17 years)

€

220 / ticket |

Children (0-12 years)

€

220 / ticket

guests >= 4

Price

Adult (18+ years)

€

200 / ticket |

Youth (13-17 years)

€

200 / ticket |

Children (0-12 years)

€

200 / ticket
10
promotion
Minimum booking:
1 tickets
Maximum booking:
30 tickets
General price:
Adult (18+ years)
€

200 / ticket
|
Youth (13-17 years)
€

200 / ticket
|
Children (0-12 years)
€

200 / ticket
Options
guests = 1

Price

Adult (18+ years)

€

300 / ticket |

Youth (13-17 years)

€

300 / ticket

guests = 2

Price

Adult (18+ years)

€

280 / ticket |

Youth (13-17 years)

€

280 / ticket |

Children (0-12 years)

€

280 / ticket

guests = 3

Price

Adult (18+ years)

€

220 / ticket |

Youth (13-17 years)

€

220 / ticket |

Children (0-12 years)

€

220 / ticket

guests >= 4

Price

Adult (18+ years)

€

200 / ticket |

Youth (13-17 years)

€

200 / ticket |

Children (0-12 years)

€

200 / ticket
11
promotion
Minimum booking:
1 tickets
Maximum booking:
30 tickets
General price:
Adult (18+ years)
€

200 / ticket
|
Youth (13-17 years)
€

200 / ticket
|
Children (0-12 years)
€

200 / ticket
Options
guests = 1

Price

Adult (18+ years)

€

300 / ticket |

Youth (13-17 years)

€

300 / ticket

guests = 2

Price

Adult (18+ years)

€

280 / ticket |

Youth (13-17 years)

€

280 / ticket |

Children (0-12 years)

€

280 / ticket

guests = 3

Price

Adult (18+ years)

€

220 / ticket |

Youth (13-17 years)

€

220 / ticket |

Children (0-12 years)

€

220 / ticket

guests >= 4

Price

Adult (18+ years)

€

200 / ticket |

Youth (13-17 years)

€

200 / ticket |

Children (0-12 years)

€

200 / ticket
12
promotion
Minimum booking:
1 tickets
Maximum booking:
30 tickets
General price:
Adult (18+ years)
€

200 / ticket
|
Youth (13-17 years)
€

200 / ticket
|
Children (0-12 years)
€

200 / ticket
Options
guests = 1

Price

Adult (18+ years)

€

300 / ticket |

Youth (13-17 years)

€

300 / ticket

guests = 2

Price

Adult (18+ years)

€

280 / ticket |

Youth (13-17 years)

€

280 / ticket |

Children (0-12 years)

€

280 / ticket

guests = 3

Price

Adult (18+ years)

€

220 / ticket |

Youth (13-17 years)

€

220 / ticket |

Children (0-12 years)

€

220 / ticket

guests >= 4

Price

Adult (18+ years)

€

200 / ticket |

Youth (13-17 years)

€

200 / ticket |

Children (0-12 years)

€

200 / ticket
13
promotion
Minimum booking:
1 tickets
Maximum booking:
30 tickets
General price:
Adult (18+ years)
€

200 / ticket
|
Youth (13-17 years)
€

200 / ticket
|
Children (0-12 years)
€

200 / ticket
Options
guests = 1

Price

Adult (18+ years)

€

300 / ticket |

Youth (13-17 years)

€

300 / ticket

guests = 2

Price

Adult (18+ years)

€

280 / ticket |

Youth (13-17 years)

€

280 / ticket |

Children (0-12 years)

€

280 / ticket

guests = 3

Price

Adult (18+ years)

€

220 / ticket |

Youth (13-17 years)

€

220 / ticket |

Children (0-12 years)

€

220 / ticket

guests >= 4

Price

Adult (18+ years)

€

200 / ticket |

Youth (13-17 years)

€

200 / ticket |

Children (0-12 years)

€

200 / ticket
14
promotion
Minimum booking:
1 tickets
Maximum booking:
30 tickets
General price:
Adult (18+ years)
€

200 / ticket
|
Youth (13-17 years)
€

200 / ticket
|
Children (0-12 years)
€

200 / ticket
Options
guests = 1

Price

Adult (18+ years)

€

300 / ticket |

Youth (13-17 years)

€

300 / ticket

guests = 2

Price

Adult (18+ years)

€

280 / ticket |

Youth (13-17 years)

€

280 / ticket |

Children (0-12 years)

€

280 / ticket

guests = 3

Price

Adult (18+ years)

€

220 / ticket |

Youth (13-17 years)

€

220 / ticket |

Children (0-12 years)

€

220 / ticket

guests >= 4

Price

Adult (18+ years)

€

200 / ticket |

Youth (13-17 years)

€

200 / ticket |

Children (0-12 years)

€

200 / ticket
15
promotion
Minimum booking:
1 tickets
Maximum booking:
30 tickets
General price:
Adult (18+ years)
€

200 / ticket
|
Youth (13-17 years)
€

200 / ticket
|
Children (0-12 years)
€

200 / ticket
Options
guests = 1

Price

Adult (18+ years)

€

300 / ticket |

Youth (13-17 years)

€

300 / ticket

guests = 2

Price

Adult (18+ years)

€

280 / ticket |

Youth (13-17 years)

€

280 / ticket |

Children (0-12 years)

€

280 / ticket

guests = 3

Price

Adult (18+ years)

€

220 / ticket |

Youth (13-17 years)

€

220 / ticket |

Children (0-12 years)

€

220 / ticket

guests >= 4

Price

Adult (18+ years)

€

200 / ticket |

Youth (13-17 years)

€

200 / ticket |

Children (0-12 years)

€

200 / ticket
16
promotion
Minimum booking:
1 tickets
Maximum booking:
30 tickets
General price:
Adult (18+ years)
€

200 / ticket
|
Youth (13-17 years)
€

200 / ticket
|
Children (0-12 years)
€

200 / ticket
Options
guests = 1

Price

Adult (18+ years)

€

300 / ticket |

Youth (13-17 years)

€

300 / ticket

guests = 2

Price

Adult (18+ years)

€

280 / ticket |

Youth (13-17 years)

€

280 / ticket |

Children (0-12 years)

€

280 / ticket

guests = 3

Price

Adult (18+ years)

€

220 / ticket |

Youth (13-17 years)

€

220 / ticket |

Children (0-12 years)

€

220 / ticket

guests >= 4

Price

Adult (18+ years)

€

200 / ticket |

Youth (13-17 years)

€

200 / ticket |

Children (0-12 years)

€

200 / ticket
17
promotion
Minimum booking:
1 tickets
Maximum booking:
30 tickets
General price:
Adult (18+ years)
€

200 / ticket
|
Youth (13-17 years)
€

200 / ticket
|
Children (0-12 years)
€

200 / ticket
Options
guests = 1

Price

Adult (18+ years)

€

300 / ticket |

Youth (13-17 years)

€

300 / ticket

guests = 2

Price

Adult (18+ years)

€

280 / ticket |

Youth (13-17 years)

€

280 / ticket |

Children (0-12 years)

€

280 / ticket

guests = 3

Price

Adult (18+ years)

€

220 / ticket |

Youth (13-17 years)

€

220 / ticket |

Children (0-12 years)

€

220 / ticket

guests >= 4

Price

Adult (18+ years)

€

200 / ticket |

Youth (13-17 years)

€

200 / ticket |

Children (0-12 years)

€

200 / ticket
18
promotion
Minimum booking:
1 tickets
Maximum booking:
30 tickets
General price:
Adult (18+ years)
€

200 / ticket
|
Youth (13-17 years)
€

200 / ticket
|
Children (0-12 years)
€

200 / ticket
Options
guests = 1

Price

Adult (18+ years)

€

300 / ticket |

Youth (13-17 years)

€

300 / ticket

guests = 2

Price

Adult (18+ years)

€

280 / ticket |

Youth (13-17 years)

€

280 / ticket |

Children (0-12 years)

€

280 / ticket

guests = 3

Price

Adult (18+ years)

€

220 / ticket |

Youth (13-17 years)

€

220 / ticket |

Children (0-12 years)

€

220 / ticket

guests >= 4

Price

Adult (18+ years)

€

200 / ticket |

Youth (13-17 years)

€

200 / ticket |

Children (0-12 years)

€

200 / ticket
19
promotion
Minimum booking:
1 tickets
Maximum booking:
30 tickets
General price:
Adult (18+ years)
€

200 / ticket
|
Youth (13-17 years)
€

200 / ticket
|
Children (0-12 years)
€

200 / ticket
Options
guests = 1

Price

Adult (18+ years)

€

300 / ticket |

Youth (13-17 years)

€

300 / ticket

guests = 2

Price

Adult (18+ years)

€

280 / ticket |

Youth (13-17 years)

€

280 / ticket |

Children (0-12 years)

€

280 / ticket

guests = 3

Price

Adult (18+ years)

€

220 / ticket |

Youth (13-17 years)

€

220 / ticket |

Children (0-12 years)

€

220 / ticket

guests >= 4

Price

Adult (18+ years)

€

200 / ticket |

Youth (13-17 years)

€

200 / ticket |

Children (0-12 years)

€

200 / ticket
20
promotion
Minimum booking:
1 tickets
Maximum booking:
30 tickets
General price:
Adult (18+ years)
€

200 / ticket
|
Youth (13-17 years)
€

200 / ticket
|
Children (0-12 years)
€

200 / ticket
Options
guests = 1

Price

Adult (18+ years)

€

300 / ticket |

Youth (13-17 years)

€

300 / ticket

guests = 2

Price

Adult (18+ years)

€

280 / ticket |

Youth (13-17 years)

€

280 / ticket |

Children (0-12 years)

€

280 / ticket

guests = 3

Price

Adult (18+ years)

€

220 / ticket |

Youth (13-17 years)

€

220 / ticket |

Children (0-12 years)

€

220 / ticket

guests >= 4

Price

Adult (18+ years)

€

200 / ticket |

Youth (13-17 years)

€

200 / ticket |

Children (0-12 years)

€

200 / ticket
21
promotion
Minimum booking:
1 tickets
Maximum booking:
30 tickets
General price:
Adult (18+ years)
€

200 / ticket
|
Youth (13-17 years)
€

200 / ticket
|
Children (0-12 years)
€

200 / ticket
Options
guests = 1

Price

Adult (18+ years)

€

300 / ticket |

Youth (13-17 years)

€

300 / ticket

guests = 2

Price

Adult (18+ years)

€

280 / ticket |

Youth (13-17 years)

€

280 / ticket |

Children (0-12 years)

€

280 / ticket

guests = 3

Price

Adult (18+ years)

€

220 / ticket |

Youth (13-17 years)

€

220 / ticket |

Children (0-12 years)

€

220 / ticket

guests >= 4

Price

Adult (18+ years)

€

200 / ticket |

Youth (13-17 years)

€

200 / ticket |

Children (0-12 years)

€

200 / ticket
22
promotion
Minimum booking:
1 tickets
Maximum booking:
30 tickets
General price:
Adult (18+ years)
€

200 / ticket
|
Youth (13-17 years)
€

200 / ticket
|
Children (0-12 years)
€

200 / ticket
Options
guests = 1

Price

Adult (18+ years)

€

300 / ticket |

Youth (13-17 years)

€

300 / ticket

guests = 2

Price

Adult (18+ years)

€

280 / ticket |

Youth (13-17 years)

€

280 / ticket |

Children (0-12 years)

€

280 / ticket

guests = 3

Price

Adult (18+ years)

€

220 / ticket |

Youth (13-17 years)

€

220 / ticket |

Children (0-12 years)

€

220 / ticket

guests >= 4

Price

Adult (18+ years)

€

200 / ticket |

Youth (13-17 years)

€

200 / ticket |

Children (0-12 years)

€

200 / ticket
23
promotion
Minimum booking:
1 tickets
Maximum booking:
30 tickets
General price:
Adult (18+ years)
€

200 / ticket
|
Youth (13-17 years)
€

200 / ticket
|
Children (0-12 years)
€

200 / ticket
Options
guests = 1

Price

Adult (18+ years)

€

300 / ticket |

Youth (13-17 years)

€

300 / ticket

guests = 2

Price

Adult (18+ years)

€

280 / ticket |

Youth (13-17 years)

€

280 / ticket |

Children (0-12 years)

€

280 / ticket

guests = 3

Price

Adult (18+ years)

€

220 / ticket |

Youth (13-17 years)

€

220 / ticket |

Children (0-12 years)

€

220 / ticket

guests >= 4

Price

Adult (18+ years)

€

200 / ticket |

Youth (13-17 years)

€

200 / ticket |

Children (0-12 years)

€

200 / ticket
24
promotion
Minimum booking:
1 tickets
Maximum booking:
30 tickets
General price:
Adult (18+ years)
€

200 / ticket
|
Youth (13-17 years)
€

200 / ticket
|
Children (0-12 years)
€

200 / ticket
Options
guests = 1

Price

Adult (18+ years)

€

300 / ticket |

Youth (13-17 years)

€

300 / ticket

guests = 2

Price

Adult (18+ years)

€

280 / ticket |

Youth (13-17 years)

€

280 / ticket |

Children (0-12 years)

€

280 / ticket

guests = 3

Price

Adult (18+ years)

€

220 / ticket |

Youth (13-17 years)

€

220 / ticket |

Children (0-12 years)

€

220 / ticket

guests >= 4

Price

Adult (18+ years)

€

200 / ticket |

Youth (13-17 years)

€

200 / ticket |

Children (0-12 years)

€

200 / ticket
25
promotion
Minimum booking:
1 tickets
Maximum booking:
30 tickets
General price:
Adult (18+ years)
€

200 / ticket
|
Youth (13-17 years)
€

200 / ticket
|
Children (0-12 years)
€

200 / ticket
Options
guests = 1

Price

Adult (18+ years)

€

300 / ticket |

Youth (13-17 years)

€

300 / ticket

guests = 2

Price

Adult (18+ years)

€

280 / ticket |

Youth (13-17 years)

€

280 / ticket |

Children (0-12 years)

€

280 / ticket

guests = 3

Price

Adult (18+ years)

€

220 / ticket |

Youth (13-17 years)

€

220 / ticket |

Children (0-12 years)

€

220 / ticket

guests >= 4

Price

Adult (18+ years)

€

200 / ticket |

Youth (13-17 years)

€

200 / ticket |

Children (0-12 years)

€

200 / ticket
26
promotion
Minimum booking:
1 tickets
Maximum booking:
30 tickets
General price:
Adult (18+ years)
€

200 / ticket
|
Youth (13-17 years)
€

200 / ticket
|
Children (0-12 years)
€

200 / ticket
Options
guests = 1

Price

Adult (18+ years)

€

300 / ticket |

Youth (13-17 years)

€

300 / ticket

guests = 2

Price

Adult (18+ years)

€

280 / ticket |

Youth (13-17 years)

€

280 / ticket |

Children (0-12 years)

€

280 / ticket

guests = 3

Price

Adult (18+ years)

€

220 / ticket |

Youth (13-17 years)

€

220 / ticket |

Children (0-12 years)

€

220 / ticket

guests >= 4

Price

Adult (18+ years)

€

200 / ticket |

Youth (13-17 years)

€

200 / ticket |

Children (0-12 years)

€

200 / ticket
27
promotion
Minimum booking:
1 tickets
Maximum booking:
30 tickets
General price:
Adult (18+ years)
€

200 / ticket
|
Youth (13-17 years)
€

200 / ticket
|
Children (0-12 years)
€

200 / ticket
Options
guests = 1

Price

Adult (18+ years)

€

300 / ticket |

Youth (13-17 years)

€

300 / ticket

guests = 2

Price

Adult (18+ years)

€

280 / ticket |

Youth (13-17 years)

€

280 / ticket |

Children (0-12 years)

€

280 / ticket

guests = 3

Price

Adult (18+ years)

€

220 / ticket |

Youth (13-17 years)

€

220 / ticket |

Children (0-12 years)

€

220 / ticket

guests >= 4

Price

Adult (18+ years)

€

200 / ticket |

Youth (13-17 years)

€

200 / ticket |

Children (0-12 years)

€

200 / ticket
28
promotion
Minimum booking:
1 tickets
Maximum booking:
30 tickets
General price:
Adult (18+ years)
€

200 / ticket
|
Youth (13-17 years)
€

200 / ticket
|
Children (0-12 years)
€

200 / ticket
Options
guests = 1

Price

Adult (18+ years)

€

300 / ticket |

Youth (13-17 years)

€

300 / ticket

guests = 2

Price

Adult (18+ years)

€

280 / ticket |

Youth (13-17 years)

€

280 / ticket |

Children (0-12 years)

€

280 / ticket

guests = 3

Price

Adult (18+ years)

€

220 / ticket |

Youth (13-17 years)

€

220 / ticket |

Children (0-12 years)

€

220 / ticket

guests >= 4

Price

Adult (18+ years)

€

200 / ticket |

Youth (13-17 years)

€

200 / ticket |

Children (0-12 years)

€

200 / ticket
29
promotion
Minimum booking:
1 tickets
Maximum booking:
30 tickets
General price:
Adult (18+ years)
€

200 / ticket
|
Youth (13-17 years)
€

200 / ticket
|
Children (0-12 years)
€

200 / ticket
Options
guests = 1

Price

Adult (18+ years)

€

300 / ticket |

Youth (13-17 years)

€

300 / ticket

guests = 2

Price

Adult (18+ years)

€

280 / ticket |

Youth (13-17 years)

€

280 / ticket |

Children (0-12 years)

€

280 / ticket

guests = 3

Price

Adult (18+ years)

€

220 / ticket |

Youth (13-17 years)

€

220 / ticket |

Children (0-12 years)

€

220 / ticket

guests >= 4

Price

Adult (18+ years)

€

200 / ticket |

Youth (13-17 years)

€

200 / ticket |

Children (0-12 years)

€

200 / ticket
30
promotion
Minimum booking:
1 tickets
Maximum booking:
30 tickets
General price:
Adult (18+ years)
€

200 / ticket
|
Youth (13-17 years)
€

200 / ticket
|
Children (0-12 years)
€

200 / ticket
Options
guests = 1

Price

Adult (18+ years)

€

300 / ticket |

Youth (13-17 years)

€

300 / ticket

guests = 2

Price

Adult (18+ years)

€

280 / ticket |

Youth (13-17 years)

€

280 / ticket |

Children (0-12 years)

€

280 / ticket

guests = 3

Price

Adult (18+ years)

€

220 / ticket |

Youth (13-17 years)

€

220 / ticket |

Children (0-12 years)

€

220 / ticket

guests >= 4

Price

Adult (18+ years)

€

200 / ticket |

Youth (13-17 years)

€

200 / ticket |

Children (0-12 years)

€

200 / ticket
31
promotion
Minimum booking:
1 tickets
Maximum booking:
30 tickets
General price:
Adult (18+ years)
€

200 / ticket
|
Youth (13-17 years)
€

200 / ticket
|
Children (0-12 years)
€

200 / ticket
Options
guests = 1

Price

Adult (18+ years)

€

300 / ticket |

Youth (13-17 years)

€

300 / ticket

guests = 2

Price

Adult (18+ years)

€

280 / ticket |

Youth (13-17 years)

€

280 / ticket |

Children (0-12 years)

€

280 / ticket

guests = 3

Price

Adult (18+ years)

€

220 / ticket |

Youth (13-17 years)

€

220 / ticket |

Children (0-12 years)

€

220 / ticket

guests >= 4

Price

Adult (18+ years)

€

200 / ticket |

Youth (13-17 years)

€

200 / ticket |

Children (0-12 years)

€

200 / ticket
1
promotion
Minimum booking:
1 tickets
Maximum booking:
30 tickets
General price:
Adult (18+ years)
€

200 / ticket
|
Youth (13-17 years)
€

200 / ticket
|
Children (0-12 years)
€

200 / ticket
Options
guests = 1

Price

Adult (18+ years)

€

300 / ticket |

Youth (13-17 years)

€

300 / ticket

guests = 2

Price

Adult (18+ years)

€

280 / ticket |

Youth (13-17 years)

€

280 / ticket |

Children (0-12 years)

€

280 / ticket

guests = 3

Price

Adult (18+ years)

€

220 / ticket |

Youth (13-17 years)

€

220 / ticket |

Children (0-12 years)

€

220 / ticket

guests >= 4

Price

Adult (18+ years)

€

200 / ticket |

Youth (13-17 years)

€

200 / ticket |

Children (0-12 years)

€

200 / ticket
2
promotion
Minimum booking:
1 tickets
Maximum booking:
30 tickets
General price:
Adult (18+ years)
€

200 / ticket
|
Youth (13-17 years)
€

200 / ticket
|
Children (0-12 years)
€

200 / ticket
Options
guests = 1

Price

Adult (18+ years)

€

300 / ticket |

Youth (13-17 years)

€

300 / ticket

guests = 2

Price

Adult (18+ years)

€

280 / ticket |

Youth (13-17 years)

€

280 / ticket |

Children (0-12 years)

€

280 / ticket

guests = 3

Price

Adult (18+ years)

€

220 / ticket |

Youth (13-17 years)

€

220 / ticket |

Children (0-12 years)

€

220 / ticket

guests >= 4

Price

Adult (18+ years)

€

200 / ticket |

Youth (13-17 years)

€

200 / ticket |

Children (0-12 years)

€

200 / ticket
3
promotion
Minimum booking:
1 tickets
Maximum booking:
30 tickets
General price:
Adult (18+ years)
€

200 / ticket
|
Youth (13-17 years)
€

200 / ticket
|
Children (0-12 years)
€

200 / ticket
Options
guests = 1

Price

Adult (18+ years)

€

300 / ticket |

Youth (13-17 years)

€

300 / ticket

guests = 2

Price

Adult (18+ years)

€

280 / ticket |

Youth (13-17 years)

€

280 / ticket |

Children (0-12 years)

€

280 / ticket

guests = 3

Price

Adult (18+ years)

€

220 / ticket |

Youth (13-17 years)

€

220 / ticket |

Children (0-12 years)

€

220 / ticket

guests >= 4

Price

Adult (18+ years)

€

200 / ticket |

Youth (13-17 years)

€

200 / ticket |

Children (0-12 years)

€

200 / ticket
4
promotion
Minimum booking:
1 tickets
Maximum booking:
30 tickets
General price:
Adult (18+ years)
€

200 / ticket
|
Youth (13-17 years)
€

200 / ticket
|
Children (0-12 years)
€

200 / ticket
Options
guests = 1

Price

Adult (18+ years)

€

300 / ticket |

Youth (13-17 years)

€

300 / ticket

guests = 2

Price

Adult (18+ years)

€

280 / ticket |

Youth (13-17 years)

€

280 / ticket |

Children (0-12 years)

€

280 / ticket

guests = 3

Price

Adult (18+ years)

€

220 / ticket |

Youth (13-17 years)

€

220 / ticket |

Children (0-12 years)

€

220 / ticket

guests >= 4

Price

Adult (18+ years)

€

200 / ticket |

Youth (13-17 years)

€

200 / ticket |

Children (0-12 years)

€

200 / ticket
5
promotion
Minimum booking:
1 tickets
Maximum booking:
30 tickets
General price:
Adult (18+ years)
€

200 / ticket
|
Youth (13-17 years)
€

200 / ticket
|
Children (0-12 years)
€

200 / ticket
Options
guests = 1

Price

Adult (18+ years)

€

300 / ticket |

Youth (13-17 years)

€

300 / ticket

guests = 2

Price

Adult (18+ years)

€

280 / ticket |

Youth (13-17 years)

€

280 / ticket |

Children (0-12 years)

€

280 / ticket

guests = 3

Price

Adult (18+ years)

€

220 / ticket |

Youth (13-17 years)

€

220 / ticket |

Children (0-12 years)

€

220 / ticket

guests >= 4

Price

Adult (18+ years)

€

200 / ticket |

Youth (13-17 years)

€

200 / ticket |

Children (0-12 years)

€

200 / ticket
6
promotion
Minimum booking:
1 tickets
Maximum booking:
30 tickets
General price:
Adult (18+ years)
€

200 / ticket
|
Youth (13-17 years)
€

200 / ticket
|
Children (0-12 years)
€

200 / ticket
Options
guests = 1

Price

Adult (18+ years)

€

300 / ticket |

Youth (13-17 years)

€

300 / ticket

guests = 2

Price

Adult (18+ years)

€

280 / ticket |

Youth (13-17 years)

€

280 / ticket |

Children (0-12 years)

€

280 / ticket

guests = 3

Price

Adult (18+ years)

€

220 / ticket |

Youth (13-17 years)

€

220 / ticket |

Children (0-12 years)

€

220 / ticket

guests >= 4

Price

Adult (18+ years)

€

200 / ticket |

Youth (13-17 years)

€

200 / ticket |

Children (0-12 years)

€

200 / ticket
7
promotion
Minimum booking:
1 tickets
Maximum booking:
30 tickets
General price:
Adult (18+ years)
€

200 / ticket
|
Youth (13-17 years)
€

200 / ticket
|
Children (0-12 years)
€

200 / ticket
Options
guests = 1

Price

Adult (18+ years)

€

300 / ticket |

Youth (13-17 years)

€

300 / ticket

guests = 2

Price

Adult (18+ years)

€

280 / ticket |

Youth (13-17 years)

€

280 / ticket |

Children (0-12 years)

€

280 / ticket

guests = 3

Price

Adult (18+ years)

€

220 / ticket |

Youth (13-17 years)

€

220 / ticket |

Children (0-12 years)

€

220 / ticket

guests >= 4

Price

Adult (18+ years)

€

200 / ticket |

Youth (13-17 years)

€

200 / ticket |

Children (0-12 years)

€

200 / ticket
8
promotion
Minimum booking:
1 tickets
Maximum booking:
30 tickets
General price:
Adult (18+ years)
€

200 / ticket
|
Youth (13-17 years)
€

200 / ticket
|
Children (0-12 years)
€

200 / ticket
Options
guests = 1

Price

Adult (18+ years)

€

300 / ticket |

Youth (13-17 years)

€

300 / ticket

guests = 2

Price

Adult (18+ years)

€

280 / ticket |

Youth (13-17 years)

€

280 / ticket |

Children (0-12 years)

€

280 / ticket

guests = 3

Price

Adult (18+ years)

€

220 / ticket |

Youth (13-17 years)

€

220 / ticket |

Children (0-12 years)

€

220 / ticket

guests >= 4

Price

Adult (18+ years)

€

200 / ticket |

Youth (13-17 years)

€

200 / ticket |

Children (0-12 years)

€

200 / ticket
9
promotion
Minimum booking:
1 tickets
Maximum booking:
30 tickets
General price:
Adult (18+ years)
€

200 / ticket
|
Youth (13-17 years)
€

200 / ticket
|
Children (0-12 years)
€

200 / ticket
Options
guests = 1

Price

Adult (18+ years)

€

300 / ticket |

Youth (13-17 years)

€

300 / ticket

guests = 2

Price

Adult (18+ years)

€

280 / ticket |

Youth (13-17 years)

€

280 / ticket |

Children (0-12 years)

€

280 / ticket

guests = 3

Price

Adult (18+ years)

€

220 / ticket |

Youth (13-17 years)

€

220 / ticket |

Children (0-12 years)

€

220 / ticket

guests >= 4

Price

Adult (18+ years)

€

200 / ticket |

Youth (13-17 years)

€

200 / ticket |

Children (0-12 years)

€

200 / ticket
10
promotion
Minimum booking:
1 tickets
Maximum booking:
30 tickets
General price:
Adult (18+ years)
€

200 / ticket
|
Youth (13-17 years)
€

200 / ticket
|
Children (0-12 years)
€

200 / ticket
Options
guests = 1

Price

Adult (18+ years)

€

300 / ticket |

Youth (13-17 years)

€

300 / ticket

guests = 2

Price

Adult (18+ years)

€

280 / ticket |

Youth (13-17 years)

€

280 / ticket |

Children (0-12 years)

€

280 / ticket

guests = 3

Price

Adult (18+ years)

€

220 / ticket |

Youth (13-17 years)

€

220 / ticket |

Children (0-12 years)

€

220 / ticket

guests >= 4

Price

Adult (18+ years)

€

200 / ticket |

Youth (13-17 years)

€

200 / ticket |

Children (0-12 years)

€

200 / ticket
11
promotion
Minimum booking:
1 tickets
Maximum booking:
30 tickets
General price:
Adult (18+ years)
€

200 / ticket
|
Youth (13-17 years)
€

200 / ticket
|
Children (0-12 years)
€

200 / ticket
Options
guests = 1

Price

Adult (18+ years)

€

300 / ticket |

Youth (13-17 years)

€

300 / ticket

guests = 2

Price

Adult (18+ years)

€

280 / ticket |

Youth (13-17 years)

€

280 / ticket |

Children (0-12 years)

€

280 / ticket

guests = 3

Price

Adult (18+ years)

€

220 / ticket |

Youth (13-17 years)

€

220 / ticket |

Children (0-12 years)

€

220 / ticket

guests >= 4

Price

Adult (18+ years)

€

200 / ticket |

Youth (13-17 years)

€

200 / ticket |

Children (0-12 years)

€

200 / ticket
12
promotion
Minimum booking:
1 tickets
Maximum booking:
30 tickets
General price:
Adult (18+ years)
€

200 / ticket
|
Youth (13-17 years)
€

200 / ticket
|
Children (0-12 years)
€

200 / ticket
Options
guests = 1

Price

Adult (18+ years)

€

300 / ticket |

Youth (13-17 years)

€

300 / ticket

guests = 2

Price

Adult (18+ years)

€

280 / ticket |

Youth (13-17 years)

€

280 / ticket |

Children (0-12 years)

€

280 / ticket

guests = 3

Price

Adult (18+ years)

€

220 / ticket |

Youth (13-17 years)

€

220 / ticket |

Children (0-12 years)

€

220 / ticket

guests >= 4

Price

Adult (18+ years)

€

200 / ticket |

Youth (13-17 years)

€

200 / ticket |

Children (0-12 years)

€

200 / ticket