A fantastic four-day hiking option to the summit of Mount Toubkal via the Atlas Mountains' higher passes. The Toubkal trek from Oukaimeden will provide you with an impressive view of the high mountains, views of several Berber villages, and the opportunity to meet friendly Berber people.

Duration: 4 days

Period: All your round Trek

Grade: Medium to Hard Maximum

Elevation: 4,167 Meters (Toubkal summit)
MT Toubkal Trek will allow you to enjoy the breathtaking views of the High Atlas and the surrounding plains during this amazing trip - Discover the fascinating prehistoric rock carvings. Climb the highest peak in North Africa, Jebel Toubkal, and visit traditional Berber villages. Toubkal Trek Itinerary Day 1: Arrival in Marrakech, then to Oukaimeden (2600m), Tizi Nadi (2900m), and Tacheddirt Village (2300m)
further discounts are aavailable according to the GROUPE SIZE

Expert, Berber, English-speaking mountain guides

Transfers from and to your hotel

Mules for luggage carrying during the trek

Camping Materiel
Travel insurance.

Soft/alcoholic drinks

Tips and personal expanses.
Day 1: Arrival in Marrakech - Oukaimeden (2600m) – Tizi N'aadi (2900m) – Tacheddirt Village (2300m)
We leave Marrakech and drive to Oukaimeden, where the trek begins and where we will meet our mule team. We visit ancient carvings before walking to Tacheddirt, passing by Tizi Nadi on our way to the valley. Overnight in a local gîte or in a tent. (6-hour journey)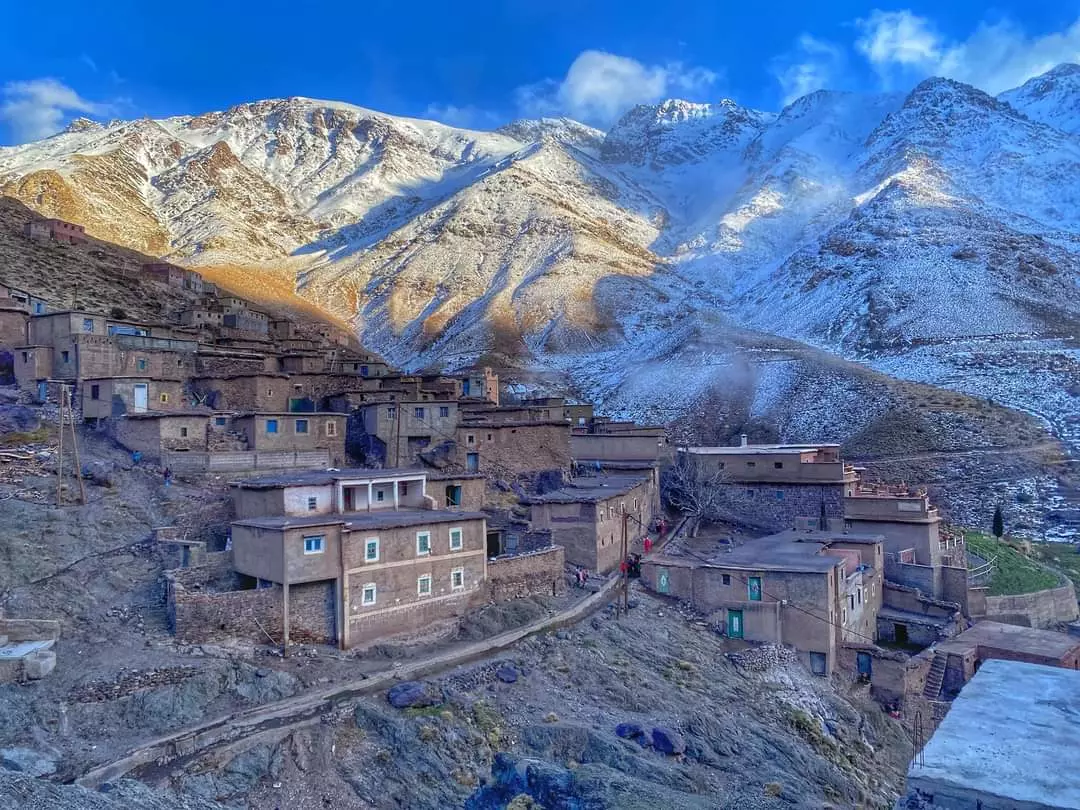 Day 2: Tacheddirt (2300m) - Tamatert Pass (2280m) – Imlil (1740m) - Armed village (1800m)
After breakfast, we depart from Tacheddirt for the Tizi n'Tamatert pass. We will descend to Imlil valley, then to Achayn, where we will spend the night in the Riad Atlas Panorama. (5-hour journey)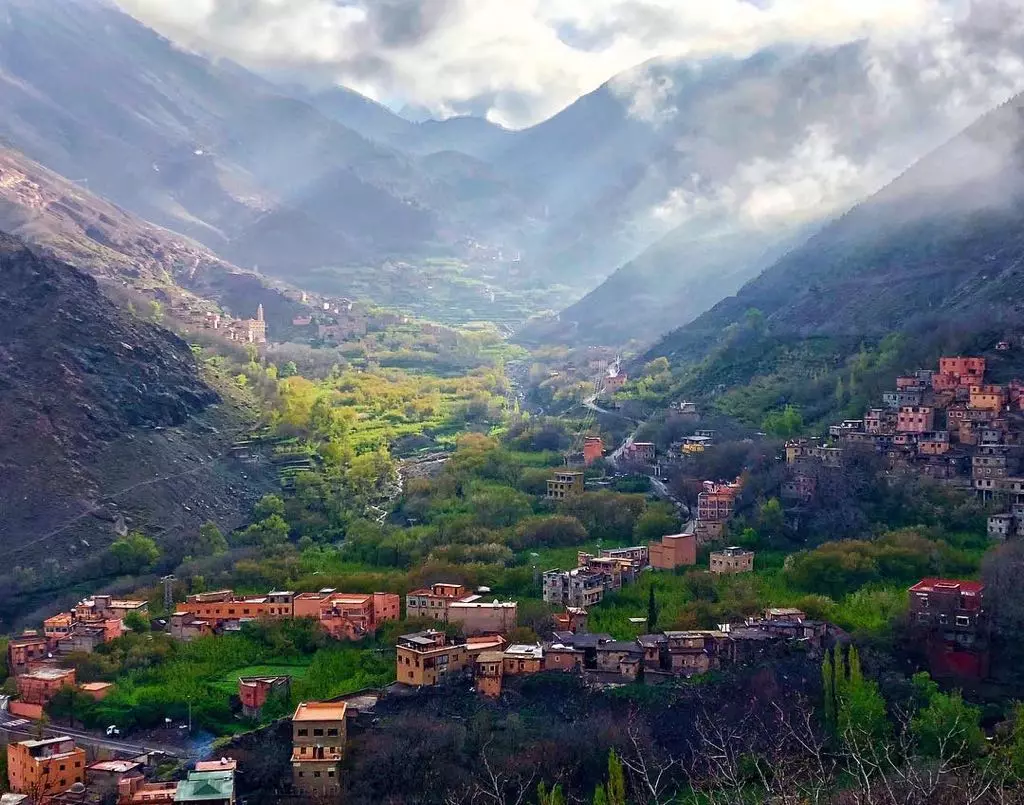 Day 3: Armed (1800m) - Toubkal Refuge (3200m)
After breakfast, we'll begin our hike up to the Sidi Chamharouch Shrine, which attracts tourists and pilgrims. We stop for lunch somewhere along the trail after about 3 hours of trekking. We keep climbing toward the refuge. The night will be spent in a shelter or under canvas. (6-hour journey)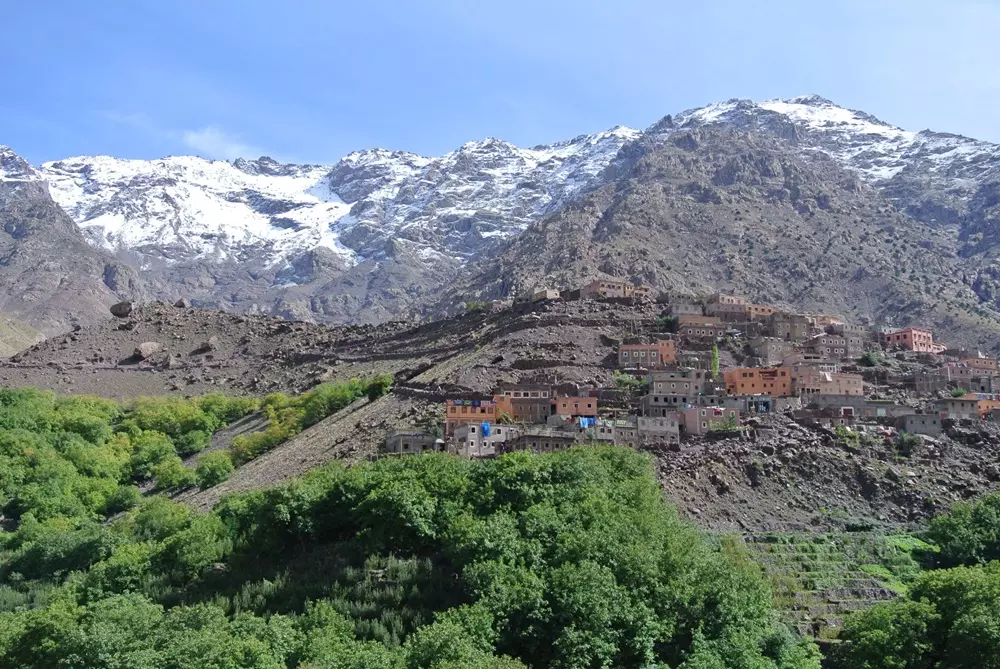 Day 4: Refuge (3200m) - Toubkal summit (4167m) - Imlil – Marrakech
After breakfast, depart for the ascent of Toubkal. We will enjoy the beautiful scenery of the Atlas Mountains, the peaks of the Anti-Atlas, and its highest point, Siroua (3304m), as well as the Haouz plain, from the summit.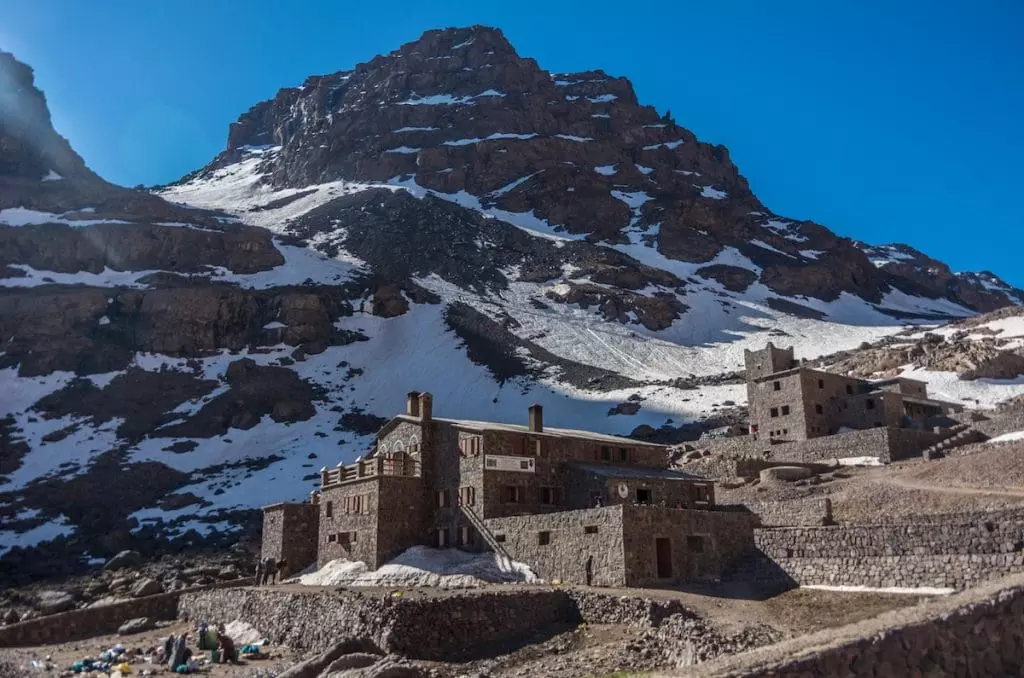 We return to the Refuge for lunch before returning to Imlil for the return trip to Marrakech. (8-hour journey)
After booking with MT Toubkal Trek, we will promptly reach out to you to confirm your reservation and address any questions you may have about the tour.
Payment is in cash upon your arrival in Morocco.
This is a private tour, and we'll customize it to your group's size. If you're a solo traveler looking to join a group, please contact us.
1
promotion
Minimum booking:
1 tickets
Maximum booking:
30 tickets
General price:
Adult (18+ years)
€

240 / ticket
|
Youth (13-17 years)
€

240 / ticket
|
Children (0-12 years)
€

200 / ticket
Options
guests <= 2

Price

Adult (18+ years)

€

240 / ticket |

Youth (13-17 years)

€

240 / ticket |

Children (0-12 years)

€

200 / ticket

guests = 3

Price

Adult (18+ years)

€

220 / ticket |

Youth (13-17 years)

€

220 / ticket |

Children (0-12 years)

€

200 / ticket

guests >= 4

Price

Adult (18+ years)

€

200 / ticket |

Youth (13-17 years)

€

200 / ticket |

Children (0-12 years)

€

200 / ticket
2
promotion
Minimum booking:
1 tickets
Maximum booking:
30 tickets
General price:
Adult (18+ years)
€

240 / ticket
|
Youth (13-17 years)
€

240 / ticket
|
Children (0-12 years)
€

200 / ticket
Options
guests <= 2

Price

Adult (18+ years)

€

240 / ticket |

Youth (13-17 years)

€

240 / ticket |

Children (0-12 years)

€

200 / ticket

guests = 3

Price

Adult (18+ years)

€

220 / ticket |

Youth (13-17 years)

€

220 / ticket |

Children (0-12 years)

€

200 / ticket

guests >= 4

Price

Adult (18+ years)

€

200 / ticket |

Youth (13-17 years)

€

200 / ticket |

Children (0-12 years)

€

200 / ticket
3
promotion
Minimum booking:
1 tickets
Maximum booking:
30 tickets
General price:
Adult (18+ years)
€

240 / ticket
|
Youth (13-17 years)
€

240 / ticket
|
Children (0-12 years)
€

200 / ticket
Options
guests <= 2

Price

Adult (18+ years)

€

240 / ticket |

Youth (13-17 years)

€

240 / ticket |

Children (0-12 years)

€

200 / ticket

guests = 3

Price

Adult (18+ years)

€

220 / ticket |

Youth (13-17 years)

€

220 / ticket |

Children (0-12 years)

€

200 / ticket

guests >= 4

Price

Adult (18+ years)

€

200 / ticket |

Youth (13-17 years)

€

200 / ticket |

Children (0-12 years)

€

200 / ticket
4
promotion
Minimum booking:
1 tickets
Maximum booking:
30 tickets
General price:
Adult (18+ years)
€

240 / ticket
|
Youth (13-17 years)
€

240 / ticket
|
Children (0-12 years)
€

200 / ticket
Options
guests <= 2

Price

Adult (18+ years)

€

240 / ticket |

Youth (13-17 years)

€

240 / ticket |

Children (0-12 years)

€

200 / ticket

guests = 3

Price

Adult (18+ years)

€

220 / ticket |

Youth (13-17 years)

€

220 / ticket |

Children (0-12 years)

€

200 / ticket

guests >= 4

Price

Adult (18+ years)

€

200 / ticket |

Youth (13-17 years)

€

200 / ticket |

Children (0-12 years)

€

200 / ticket
5
promotion
Minimum booking:
1 tickets
Maximum booking:
30 tickets
General price:
Adult (18+ years)
€

240 / ticket
|
Youth (13-17 years)
€

240 / ticket
|
Children (0-12 years)
€

200 / ticket
Options
guests <= 2

Price

Adult (18+ years)

€

240 / ticket |

Youth (13-17 years)

€

240 / ticket |

Children (0-12 years)

€

200 / ticket

guests = 3

Price

Adult (18+ years)

€

220 / ticket |

Youth (13-17 years)

€

220 / ticket |

Children (0-12 years)

€

200 / ticket

guests >= 4

Price

Adult (18+ years)

€

200 / ticket |

Youth (13-17 years)

€

200 / ticket |

Children (0-12 years)

€

200 / ticket
6
promotion
Minimum booking:
1 tickets
Maximum booking:
30 tickets
General price:
Adult (18+ years)
€

240 / ticket
|
Youth (13-17 years)
€

240 / ticket
|
Children (0-12 years)
€

200 / ticket
Options
guests <= 2

Price

Adult (18+ years)

€

240 / ticket |

Youth (13-17 years)

€

240 / ticket |

Children (0-12 years)

€

200 / ticket

guests = 3

Price

Adult (18+ years)

€

220 / ticket |

Youth (13-17 years)

€

220 / ticket |

Children (0-12 years)

€

200 / ticket

guests >= 4

Price

Adult (18+ years)

€

200 / ticket |

Youth (13-17 years)

€

200 / ticket |

Children (0-12 years)

€

200 / ticket
7
promotion
Minimum booking:
1 tickets
Maximum booking:
30 tickets
General price:
Adult (18+ years)
€

240 / ticket
|
Youth (13-17 years)
€

240 / ticket
|
Children (0-12 years)
€

200 / ticket
Options
guests <= 2

Price

Adult (18+ years)

€

240 / ticket |

Youth (13-17 years)

€

240 / ticket |

Children (0-12 years)

€

200 / ticket

guests = 3

Price

Adult (18+ years)

€

220 / ticket |

Youth (13-17 years)

€

220 / ticket |

Children (0-12 years)

€

200 / ticket

guests >= 4

Price

Adult (18+ years)

€

200 / ticket |

Youth (13-17 years)

€

200 / ticket |

Children (0-12 years)

€

200 / ticket
8
promotion
Minimum booking:
1 tickets
Maximum booking:
30 tickets
General price:
Adult (18+ years)
€

240 / ticket
|
Youth (13-17 years)
€

240 / ticket
|
Children (0-12 years)
€

200 / ticket
Options
guests <= 2

Price

Adult (18+ years)

€

240 / ticket |

Youth (13-17 years)

€

240 / ticket |

Children (0-12 years)

€

200 / ticket

guests = 3

Price

Adult (18+ years)

€

220 / ticket |

Youth (13-17 years)

€

220 / ticket |

Children (0-12 years)

€

200 / ticket

guests >= 4

Price

Adult (18+ years)

€

200 / ticket |

Youth (13-17 years)

€

200 / ticket |

Children (0-12 years)

€

200 / ticket
9
promotion
Minimum booking:
1 tickets
Maximum booking:
30 tickets
General price:
Adult (18+ years)
€

240 / ticket
|
Youth (13-17 years)
€

240 / ticket
|
Children (0-12 years)
€

200 / ticket
Options
guests <= 2

Price

Adult (18+ years)

€

240 / ticket |

Youth (13-17 years)

€

240 / ticket |

Children (0-12 years)

€

200 / ticket

guests = 3

Price

Adult (18+ years)

€

220 / ticket |

Youth (13-17 years)

€

220 / ticket |

Children (0-12 years)

€

200 / ticket

guests >= 4

Price

Adult (18+ years)

€

200 / ticket |

Youth (13-17 years)

€

200 / ticket |

Children (0-12 years)

€

200 / ticket
10
promotion
Minimum booking:
1 tickets
Maximum booking:
30 tickets
General price:
Adult (18+ years)
€

240 / ticket
|
Youth (13-17 years)
€

240 / ticket
|
Children (0-12 years)
€

200 / ticket
Options
guests <= 2

Price

Adult (18+ years)

€

240 / ticket |

Youth (13-17 years)

€

240 / ticket |

Children (0-12 years)

€

200 / ticket

guests = 3

Price

Adult (18+ years)

€

220 / ticket |

Youth (13-17 years)

€

220 / ticket |

Children (0-12 years)

€

200 / ticket

guests >= 4

Price

Adult (18+ years)

€

200 / ticket |

Youth (13-17 years)

€

200 / ticket |

Children (0-12 years)

€

200 / ticket
11
promotion
Minimum booking:
1 tickets
Maximum booking:
30 tickets
General price:
Adult (18+ years)
€

240 / ticket
|
Youth (13-17 years)
€

240 / ticket
|
Children (0-12 years)
€

200 / ticket
Options
guests <= 2

Price

Adult (18+ years)

€

240 / ticket |

Youth (13-17 years)

€

240 / ticket |

Children (0-12 years)

€

200 / ticket

guests = 3

Price

Adult (18+ years)

€

220 / ticket |

Youth (13-17 years)

€

220 / ticket |

Children (0-12 years)

€

200 / ticket

guests >= 4

Price

Adult (18+ years)

€

200 / ticket |

Youth (13-17 years)

€

200 / ticket |

Children (0-12 years)

€

200 / ticket
12
promotion
Minimum booking:
1 tickets
Maximum booking:
30 tickets
General price:
Adult (18+ years)
€

240 / ticket
|
Youth (13-17 years)
€

240 / ticket
|
Children (0-12 years)
€

200 / ticket
Options
guests <= 2

Price

Adult (18+ years)

€

240 / ticket |

Youth (13-17 years)

€

240 / ticket |

Children (0-12 years)

€

200 / ticket

guests = 3

Price

Adult (18+ years)

€

220 / ticket |

Youth (13-17 years)

€

220 / ticket |

Children (0-12 years)

€

200 / ticket

guests >= 4

Price

Adult (18+ years)

€

200 / ticket |

Youth (13-17 years)

€

200 / ticket |

Children (0-12 years)

€

200 / ticket
13
promotion
Minimum booking:
1 tickets
Maximum booking:
30 tickets
General price:
Adult (18+ years)
€

240 / ticket
|
Youth (13-17 years)
€

240 / ticket
|
Children (0-12 years)
€

200 / ticket
Options
guests <= 2

Price

Adult (18+ years)

€

240 / ticket |

Youth (13-17 years)

€

240 / ticket |

Children (0-12 years)

€

200 / ticket

guests = 3

Price

Adult (18+ years)

€

220 / ticket |

Youth (13-17 years)

€

220 / ticket |

Children (0-12 years)

€

200 / ticket

guests >= 4

Price

Adult (18+ years)

€

200 / ticket |

Youth (13-17 years)

€

200 / ticket |

Children (0-12 years)

€

200 / ticket
14
promotion
Minimum booking:
1 tickets
Maximum booking:
30 tickets
General price:
Adult (18+ years)
€

240 / ticket
|
Youth (13-17 years)
€

240 / ticket
|
Children (0-12 years)
€

200 / ticket
Options
guests <= 2

Price

Adult (18+ years)

€

240 / ticket |

Youth (13-17 years)

€

240 / ticket |

Children (0-12 years)

€

200 / ticket

guests = 3

Price

Adult (18+ years)

€

220 / ticket |

Youth (13-17 years)

€

220 / ticket |

Children (0-12 years)

€

200 / ticket

guests >= 4

Price

Adult (18+ years)

€

200 / ticket |

Youth (13-17 years)

€

200 / ticket |

Children (0-12 years)

€

200 / ticket
15
promotion
Minimum booking:
1 tickets
Maximum booking:
30 tickets
General price:
Adult (18+ years)
€

240 / ticket
|
Youth (13-17 years)
€

240 / ticket
|
Children (0-12 years)
€

200 / ticket
Options
guests <= 2

Price

Adult (18+ years)

€

240 / ticket |

Youth (13-17 years)

€

240 / ticket |

Children (0-12 years)

€

200 / ticket

guests = 3

Price

Adult (18+ years)

€

220 / ticket |

Youth (13-17 years)

€

220 / ticket |

Children (0-12 years)

€

200 / ticket

guests >= 4

Price

Adult (18+ years)

€

200 / ticket |

Youth (13-17 years)

€

200 / ticket |

Children (0-12 years)

€

200 / ticket
16
promotion
Minimum booking:
1 tickets
Maximum booking:
30 tickets
General price:
Adult (18+ years)
€

240 / ticket
|
Youth (13-17 years)
€

240 / ticket
|
Children (0-12 years)
€

200 / ticket
Options
guests <= 2

Price

Adult (18+ years)

€

240 / ticket |

Youth (13-17 years)

€

240 / ticket |

Children (0-12 years)

€

200 / ticket

guests = 3

Price

Adult (18+ years)

€

220 / ticket |

Youth (13-17 years)

€

220 / ticket |

Children (0-12 years)

€

200 / ticket

guests >= 4

Price

Adult (18+ years)

€

200 / ticket |

Youth (13-17 years)

€

200 / ticket |

Children (0-12 years)

€

200 / ticket
17
promotion
Minimum booking:
1 tickets
Maximum booking:
30 tickets
General price:
Adult (18+ years)
€

240 / ticket
|
Youth (13-17 years)
€

240 / ticket
|
Children (0-12 years)
€

200 / ticket
Options
guests <= 2

Price

Adult (18+ years)

€

240 / ticket |

Youth (13-17 years)

€

240 / ticket |

Children (0-12 years)

€

200 / ticket

guests = 3

Price

Adult (18+ years)

€

220 / ticket |

Youth (13-17 years)

€

220 / ticket |

Children (0-12 years)

€

200 / ticket

guests >= 4

Price

Adult (18+ years)

€

200 / ticket |

Youth (13-17 years)

€

200 / ticket |

Children (0-12 years)

€

200 / ticket
18
promotion
Minimum booking:
1 tickets
Maximum booking:
30 tickets
General price:
Adult (18+ years)
€

240 / ticket
|
Youth (13-17 years)
€

240 / ticket
|
Children (0-12 years)
€

200 / ticket
Options
guests <= 2

Price

Adult (18+ years)

€

240 / ticket |

Youth (13-17 years)

€

240 / ticket |

Children (0-12 years)

€

200 / ticket

guests = 3

Price

Adult (18+ years)

€

220 / ticket |

Youth (13-17 years)

€

220 / ticket |

Children (0-12 years)

€

200 / ticket

guests >= 4

Price

Adult (18+ years)

€

200 / ticket |

Youth (13-17 years)

€

200 / ticket |

Children (0-12 years)

€

200 / ticket
19
promotion
Minimum booking:
1 tickets
Maximum booking:
30 tickets
General price:
Adult (18+ years)
€

240 / ticket
|
Youth (13-17 years)
€

240 / ticket
|
Children (0-12 years)
€

200 / ticket
Options
guests <= 2

Price

Adult (18+ years)

€

240 / ticket |

Youth (13-17 years)

€

240 / ticket |

Children (0-12 years)

€

200 / ticket

guests = 3

Price

Adult (18+ years)

€

220 / ticket |

Youth (13-17 years)

€

220 / ticket |

Children (0-12 years)

€

200 / ticket

guests >= 4

Price

Adult (18+ years)

€

200 / ticket |

Youth (13-17 years)

€

200 / ticket |

Children (0-12 years)

€

200 / ticket
20
promotion
Minimum booking:
1 tickets
Maximum booking:
30 tickets
General price:
Adult (18+ years)
€

240 / ticket
|
Youth (13-17 years)
€

240 / ticket
|
Children (0-12 years)
€

200 / ticket
Options
guests <= 2

Price

Adult (18+ years)

€

240 / ticket |

Youth (13-17 years)

€

240 / ticket |

Children (0-12 years)

€

200 / ticket

guests = 3

Price

Adult (18+ years)

€

220 / ticket |

Youth (13-17 years)

€

220 / ticket |

Children (0-12 years)

€

200 / ticket

guests >= 4

Price

Adult (18+ years)

€

200 / ticket |

Youth (13-17 years)

€

200 / ticket |

Children (0-12 years)

€

200 / ticket
21
promotion
Minimum booking:
1 tickets
Maximum booking:
30 tickets
General price:
Adult (18+ years)
€

240 / ticket
|
Youth (13-17 years)
€

240 / ticket
|
Children (0-12 years)
€

200 / ticket
Options
guests <= 2

Price

Adult (18+ years)

€

240 / ticket |

Youth (13-17 years)

€

240 / ticket |

Children (0-12 years)

€

200 / ticket

guests = 3

Price

Adult (18+ years)

€

220 / ticket |

Youth (13-17 years)

€

220 / ticket |

Children (0-12 years)

€

200 / ticket

guests >= 4

Price

Adult (18+ years)

€

200 / ticket |

Youth (13-17 years)

€

200 / ticket |

Children (0-12 years)

€

200 / ticket
22
promotion
Minimum booking:
1 tickets
Maximum booking:
30 tickets
General price:
Adult (18+ years)
€

240 / ticket
|
Youth (13-17 years)
€

240 / ticket
|
Children (0-12 years)
€

200 / ticket
Options
guests <= 2

Price

Adult (18+ years)

€

240 / ticket |

Youth (13-17 years)

€

240 / ticket |

Children (0-12 years)

€

200 / ticket

guests = 3

Price

Adult (18+ years)

€

220 / ticket |

Youth (13-17 years)

€

220 / ticket |

Children (0-12 years)

€

200 / ticket

guests >= 4

Price

Adult (18+ years)

€

200 / ticket |

Youth (13-17 years)

€

200 / ticket |

Children (0-12 years)

€

200 / ticket
23
promotion
Minimum booking:
1 tickets
Maximum booking:
30 tickets
General price:
Adult (18+ years)
€

240 / ticket
|
Youth (13-17 years)
€

240 / ticket
|
Children (0-12 years)
€

200 / ticket
Options
guests <= 2

Price

Adult (18+ years)

€

240 / ticket |

Youth (13-17 years)

€

240 / ticket |

Children (0-12 years)

€

200 / ticket

guests = 3

Price

Adult (18+ years)

€

220 / ticket |

Youth (13-17 years)

€

220 / ticket |

Children (0-12 years)

€

200 / ticket

guests >= 4

Price

Adult (18+ years)

€

200 / ticket |

Youth (13-17 years)

€

200 / ticket |

Children (0-12 years)

€

200 / ticket
24
promotion
Minimum booking:
1 tickets
Maximum booking:
30 tickets
General price:
Adult (18+ years)
€

240 / ticket
|
Youth (13-17 years)
€

240 / ticket
|
Children (0-12 years)
€

200 / ticket
Options
guests <= 2

Price

Adult (18+ years)

€

240 / ticket |

Youth (13-17 years)

€

240 / ticket |

Children (0-12 years)

€

200 / ticket

guests = 3

Price

Adult (18+ years)

€

220 / ticket |

Youth (13-17 years)

€

220 / ticket |

Children (0-12 years)

€

200 / ticket

guests >= 4

Price

Adult (18+ years)

€

200 / ticket |

Youth (13-17 years)

€

200 / ticket |

Children (0-12 years)

€

200 / ticket
25
promotion
Minimum booking:
1 tickets
Maximum booking:
30 tickets
General price:
Adult (18+ years)
€

240 / ticket
|
Youth (13-17 years)
€

240 / ticket
|
Children (0-12 years)
€

200 / ticket
Options
guests <= 2

Price

Adult (18+ years)

€

240 / ticket |

Youth (13-17 years)

€

240 / ticket |

Children (0-12 years)

€

200 / ticket

guests = 3

Price

Adult (18+ years)

€

220 / ticket |

Youth (13-17 years)

€

220 / ticket |

Children (0-12 years)

€

200 / ticket

guests >= 4

Price

Adult (18+ years)

€

200 / ticket |

Youth (13-17 years)

€

200 / ticket |

Children (0-12 years)

€

200 / ticket
26
promotion
Minimum booking:
1 tickets
Maximum booking:
30 tickets
General price:
Adult (18+ years)
€

240 / ticket
|
Youth (13-17 years)
€

240 / ticket
|
Children (0-12 years)
€

200 / ticket
Options
guests <= 2

Price

Adult (18+ years)

€

240 / ticket |

Youth (13-17 years)

€

240 / ticket |

Children (0-12 years)

€

200 / ticket

guests = 3

Price

Adult (18+ years)

€

220 / ticket |

Youth (13-17 years)

€

220 / ticket |

Children (0-12 years)

€

200 / ticket

guests >= 4

Price

Adult (18+ years)

€

200 / ticket |

Youth (13-17 years)

€

200 / ticket |

Children (0-12 years)

€

200 / ticket
27
promotion
Minimum booking:
1 tickets
Maximum booking:
30 tickets
General price:
Adult (18+ years)
€

240 / ticket
|
Youth (13-17 years)
€

240 / ticket
|
Children (0-12 years)
€

200 / ticket
Options
guests <= 2

Price

Adult (18+ years)

€

240 / ticket |

Youth (13-17 years)

€

240 / ticket |

Children (0-12 years)

€

200 / ticket

guests = 3

Price

Adult (18+ years)

€

220 / ticket |

Youth (13-17 years)

€

220 / ticket |

Children (0-12 years)

€

200 / ticket

guests >= 4

Price

Adult (18+ years)

€

200 / ticket |

Youth (13-17 years)

€

200 / ticket |

Children (0-12 years)

€

200 / ticket
28
promotion
Minimum booking:
1 tickets
Maximum booking:
30 tickets
General price:
Adult (18+ years)
€

240 / ticket
|
Youth (13-17 years)
€

240 / ticket
|
Children (0-12 years)
€

200 / ticket
Options
guests <= 2

Price

Adult (18+ years)

€

240 / ticket |

Youth (13-17 years)

€

240 / ticket |

Children (0-12 years)

€

200 / ticket

guests = 3

Price

Adult (18+ years)

€

220 / ticket |

Youth (13-17 years)

€

220 / ticket |

Children (0-12 years)

€

200 / ticket

guests >= 4

Price

Adult (18+ years)

€

200 / ticket |

Youth (13-17 years)

€

200 / ticket |

Children (0-12 years)

€

200 / ticket
29
promotion
Minimum booking:
1 tickets
Maximum booking:
30 tickets
General price:
Adult (18+ years)
€

240 / ticket
|
Youth (13-17 years)
€

240 / ticket
|
Children (0-12 years)
€

200 / ticket
Options
guests <= 2

Price

Adult (18+ years)

€

240 / ticket |

Youth (13-17 years)

€

240 / ticket |

Children (0-12 years)

€

200 / ticket

guests = 3

Price

Adult (18+ years)

€

220 / ticket |

Youth (13-17 years)

€

220 / ticket |

Children (0-12 years)

€

200 / ticket

guests >= 4

Price

Adult (18+ years)

€

200 / ticket |

Youth (13-17 years)

€

200 / ticket |

Children (0-12 years)

€

200 / ticket
30
promotion
Minimum booking:
1 tickets
Maximum booking:
30 tickets
General price:
Adult (18+ years)
€

240 / ticket
|
Youth (13-17 years)
€

240 / ticket
|
Children (0-12 years)
€

200 / ticket
Options
guests <= 2

Price

Adult (18+ years)

€

240 / ticket |

Youth (13-17 years)

€

240 / ticket |

Children (0-12 years)

€

200 / ticket

guests = 3

Price

Adult (18+ years)

€

220 / ticket |

Youth (13-17 years)

€

220 / ticket |

Children (0-12 years)

€

200 / ticket

guests >= 4

Price

Adult (18+ years)

€

200 / ticket |

Youth (13-17 years)

€

200 / ticket |

Children (0-12 years)

€

200 / ticket
31
promotion
Minimum booking:
1 tickets
Maximum booking:
30 tickets
General price:
Adult (18+ years)
€

240 / ticket
|
Youth (13-17 years)
€

240 / ticket
|
Children (0-12 years)
€

200 / ticket
Options
guests <= 2

Price

Adult (18+ years)

€

240 / ticket |

Youth (13-17 years)

€

240 / ticket |

Children (0-12 years)

€

200 / ticket

guests = 3

Price

Adult (18+ years)

€

220 / ticket |

Youth (13-17 years)

€

220 / ticket |

Children (0-12 years)

€

200 / ticket

guests >= 4

Price

Adult (18+ years)

€

200 / ticket |

Youth (13-17 years)

€

200 / ticket |

Children (0-12 years)

€

200 / ticket
1
promotion
Minimum booking:
1 tickets
Maximum booking:
30 tickets
General price:
Adult (18+ years)
€

240 / ticket
|
Youth (13-17 years)
€

240 / ticket
|
Children (0-12 years)
€

200 / ticket
Options
guests <= 2

Price

Adult (18+ years)

€

240 / ticket |

Youth (13-17 years)

€

240 / ticket |

Children (0-12 years)

€

200 / ticket

guests = 3

Price

Adult (18+ years)

€

220 / ticket |

Youth (13-17 years)

€

220 / ticket |

Children (0-12 years)

€

200 / ticket

guests >= 4

Price

Adult (18+ years)

€

200 / ticket |

Youth (13-17 years)

€

200 / ticket |

Children (0-12 years)

€

200 / ticket
2
promotion
Minimum booking:
1 tickets
Maximum booking:
30 tickets
General price:
Adult (18+ years)
€

240 / ticket
|
Youth (13-17 years)
€

240 / ticket
|
Children (0-12 years)
€

200 / ticket
Options
guests <= 2

Price

Adult (18+ years)

€

240 / ticket |

Youth (13-17 years)

€

240 / ticket |

Children (0-12 years)

€

200 / ticket

guests = 3

Price

Adult (18+ years)

€

220 / ticket |

Youth (13-17 years)

€

220 / ticket |

Children (0-12 years)

€

200 / ticket

guests >= 4

Price

Adult (18+ years)

€

200 / ticket |

Youth (13-17 years)

€

200 / ticket |

Children (0-12 years)

€

200 / ticket
3
promotion
Minimum booking:
1 tickets
Maximum booking:
30 tickets
General price:
Adult (18+ years)
€

240 / ticket
|
Youth (13-17 years)
€

240 / ticket
|
Children (0-12 years)
€

200 / ticket
Options
guests <= 2

Price

Adult (18+ years)

€

240 / ticket |

Youth (13-17 years)

€

240 / ticket |

Children (0-12 years)

€

200 / ticket

guests = 3

Price

Adult (18+ years)

€

220 / ticket |

Youth (13-17 years)

€

220 / ticket |

Children (0-12 years)

€

200 / ticket

guests >= 4

Price

Adult (18+ years)

€

200 / ticket |

Youth (13-17 years)

€

200 / ticket |

Children (0-12 years)

€

200 / ticket
4
promotion
Minimum booking:
1 tickets
Maximum booking:
30 tickets
General price:
Adult (18+ years)
€

240 / ticket
|
Youth (13-17 years)
€

240 / ticket
|
Children (0-12 years)
€

200 / ticket
Options
guests <= 2

Price

Adult (18+ years)

€

240 / ticket |

Youth (13-17 years)

€

240 / ticket |

Children (0-12 years)

€

200 / ticket

guests = 3

Price

Adult (18+ years)

€

220 / ticket |

Youth (13-17 years)

€

220 / ticket |

Children (0-12 years)

€

200 / ticket

guests >= 4

Price

Adult (18+ years)

€

200 / ticket |

Youth (13-17 years)

€

200 / ticket |

Children (0-12 years)

€

200 / ticket
5
promotion
Minimum booking:
1 tickets
Maximum booking:
30 tickets
General price:
Adult (18+ years)
€

240 / ticket
|
Youth (13-17 years)
€

240 / ticket
|
Children (0-12 years)
€

200 / ticket
Options
guests <= 2

Price

Adult (18+ years)

€

240 / ticket |

Youth (13-17 years)

€

240 / ticket |

Children (0-12 years)

€

200 / ticket

guests = 3

Price

Adult (18+ years)

€

220 / ticket |

Youth (13-17 years)

€

220 / ticket |

Children (0-12 years)

€

200 / ticket

guests >= 4

Price

Adult (18+ years)

€

200 / ticket |

Youth (13-17 years)

€

200 / ticket |

Children (0-12 years)

€

200 / ticket
6
promotion
Minimum booking:
1 tickets
Maximum booking:
30 tickets
General price:
Adult (18+ years)
€

240 / ticket
|
Youth (13-17 years)
€

240 / ticket
|
Children (0-12 years)
€

200 / ticket
Options
guests <= 2

Price

Adult (18+ years)

€

240 / ticket |

Youth (13-17 years)

€

240 / ticket |

Children (0-12 years)

€

200 / ticket

guests = 3

Price

Adult (18+ years)

€

220 / ticket |

Youth (13-17 years)

€

220 / ticket |

Children (0-12 years)

€

200 / ticket

guests >= 4

Price

Adult (18+ years)

€

200 / ticket |

Youth (13-17 years)

€

200 / ticket |

Children (0-12 years)

€

200 / ticket
7
promotion
Minimum booking:
1 tickets
Maximum booking:
30 tickets
General price:
Adult (18+ years)
€

240 / ticket
|
Youth (13-17 years)
€

240 / ticket
|
Children (0-12 years)
€

200 / ticket
Options
guests <= 2

Price

Adult (18+ years)

€

240 / ticket |

Youth (13-17 years)

€

240 / ticket |

Children (0-12 years)

€

200 / ticket

guests = 3

Price

Adult (18+ years)

€

220 / ticket |

Youth (13-17 years)

€

220 / ticket |

Children (0-12 years)

€

200 / ticket

guests >= 4

Price

Adult (18+ years)

€

200 / ticket |

Youth (13-17 years)

€

200 / ticket |

Children (0-12 years)

€

200 / ticket
8
promotion
Minimum booking:
1 tickets
Maximum booking:
30 tickets
General price:
Adult (18+ years)
€

240 / ticket
|
Youth (13-17 years)
€

240 / ticket
|
Children (0-12 years)
€

200 / ticket
Options
guests <= 2

Price

Adult (18+ years)

€

240 / ticket |

Youth (13-17 years)

€

240 / ticket |

Children (0-12 years)

€

200 / ticket

guests = 3

Price

Adult (18+ years)

€

220 / ticket |

Youth (13-17 years)

€

220 / ticket |

Children (0-12 years)

€

200 / ticket

guests >= 4

Price

Adult (18+ years)

€

200 / ticket |

Youth (13-17 years)

€

200 / ticket |

Children (0-12 years)

€

200 / ticket
9
promotion
Minimum booking:
1 tickets
Maximum booking:
30 tickets
General price:
Adult (18+ years)
€

240 / ticket
|
Youth (13-17 years)
€

240 / ticket
|
Children (0-12 years)
€

200 / ticket
Options
guests <= 2

Price

Adult (18+ years)

€

240 / ticket |

Youth (13-17 years)

€

240 / ticket |

Children (0-12 years)

€

200 / ticket

guests = 3

Price

Adult (18+ years)

€

220 / ticket |

Youth (13-17 years)

€

220 / ticket |

Children (0-12 years)

€

200 / ticket

guests >= 4

Price

Adult (18+ years)

€

200 / ticket |

Youth (13-17 years)

€

200 / ticket |

Children (0-12 years)

€

200 / ticket
10
promotion
Minimum booking:
1 tickets
Maximum booking:
30 tickets
General price:
Adult (18+ years)
€

240 / ticket
|
Youth (13-17 years)
€

240 / ticket
|
Children (0-12 years)
€

200 / ticket
Options
guests <= 2

Price

Adult (18+ years)

€

240 / ticket |

Youth (13-17 years)

€

240 / ticket |

Children (0-12 years)

€

200 / ticket

guests = 3

Price

Adult (18+ years)

€

220 / ticket |

Youth (13-17 years)

€

220 / ticket |

Children (0-12 years)

€

200 / ticket

guests >= 4

Price

Adult (18+ years)

€

200 / ticket |

Youth (13-17 years)

€

200 / ticket |

Children (0-12 years)

€

200 / ticket
11
promotion
Minimum booking:
1 tickets
Maximum booking:
30 tickets
General price:
Adult (18+ years)
€

240 / ticket
|
Youth (13-17 years)
€

240 / ticket
|
Children (0-12 years)
€

200 / ticket
Options
guests <= 2

Price

Adult (18+ years)

€

240 / ticket |

Youth (13-17 years)

€

240 / ticket |

Children (0-12 years)

€

200 / ticket

guests = 3

Price

Adult (18+ years)

€

220 / ticket |

Youth (13-17 years)

€

220 / ticket |

Children (0-12 years)

€

200 / ticket

guests >= 4

Price

Adult (18+ years)

€

200 / ticket |

Youth (13-17 years)

€

200 / ticket |

Children (0-12 years)

€

200 / ticket
12
promotion
Minimum booking:
1 tickets
Maximum booking:
30 tickets
General price:
Adult (18+ years)
€

240 / ticket
|
Youth (13-17 years)
€

240 / ticket
|
Children (0-12 years)
€

200 / ticket
Options
guests <= 2

Price

Adult (18+ years)

€

240 / ticket |

Youth (13-17 years)

€

240 / ticket |

Children (0-12 years)

€

200 / ticket

guests = 3

Price

Adult (18+ years)

€

220 / ticket |

Youth (13-17 years)

€

220 / ticket |

Children (0-12 years)

€

200 / ticket

guests >= 4

Price

Adult (18+ years)

€

200 / ticket |

Youth (13-17 years)

€

200 / ticket |

Children (0-12 years)

€

200 / ticket
13
promotion
Minimum booking:
1 tickets
Maximum booking:
30 tickets
General price:
Adult (18+ years)
€

240 / ticket
|
Youth (13-17 years)
€

240 / ticket
|
Children (0-12 years)
€

200 / ticket
Options
guests <= 2

Price

Adult (18+ years)

€

240 / ticket |

Youth (13-17 years)

€

240 / ticket |

Children (0-12 years)

€

200 / ticket

guests = 3

Price

Adult (18+ years)

€

220 / ticket |

Youth (13-17 years)

€

220 / ticket |

Children (0-12 years)

€

200 / ticket

guests >= 4

Price

Adult (18+ years)

€

200 / ticket |

Youth (13-17 years)

€

200 / ticket |

Children (0-12 years)

€

200 / ticket
14
promotion
Minimum booking:
1 tickets
Maximum booking:
30 tickets
General price:
Adult (18+ years)
€

240 / ticket
|
Youth (13-17 years)
€

240 / ticket
|
Children (0-12 years)
€

200 / ticket
Options
guests <= 2

Price

Adult (18+ years)

€

240 / ticket |

Youth (13-17 years)

€

240 / ticket |

Children (0-12 years)

€

200 / ticket

guests = 3

Price

Adult (18+ years)

€

220 / ticket |

Youth (13-17 years)

€

220 / ticket |

Children (0-12 years)

€

200 / ticket

guests >= 4

Price

Adult (18+ years)

€

200 / ticket |

Youth (13-17 years)

€

200 / ticket |

Children (0-12 years)

€

200 / ticket
15
promotion
Minimum booking:
1 tickets
Maximum booking:
30 tickets
General price:
Adult (18+ years)
€

240 / ticket
|
Youth (13-17 years)
€

240 / ticket
|
Children (0-12 years)
€

200 / ticket
Options
guests <= 2

Price

Adult (18+ years)

€

240 / ticket |

Youth (13-17 years)

€

240 / ticket |

Children (0-12 years)

€

200 / ticket

guests = 3

Price

Adult (18+ years)

€

220 / ticket |

Youth (13-17 years)

€

220 / ticket |

Children (0-12 years)

€

200 / ticket

guests >= 4

Price

Adult (18+ years)

€

200 / ticket |

Youth (13-17 years)

€

200 / ticket |

Children (0-12 years)

€

200 / ticket
16
promotion
Minimum booking:
1 tickets
Maximum booking:
30 tickets
General price:
Adult (18+ years)
€

240 / ticket
|
Youth (13-17 years)
€

240 / ticket
|
Children (0-12 years)
€

200 / ticket
Options
guests <= 2

Price

Adult (18+ years)

€

240 / ticket |

Youth (13-17 years)

€

240 / ticket |

Children (0-12 years)

€

200 / ticket

guests = 3

Price

Adult (18+ years)

€

220 / ticket |

Youth (13-17 years)

€

220 / ticket |

Children (0-12 years)

€

200 / ticket

guests >= 4

Price

Adult (18+ years)

€

200 / ticket |

Youth (13-17 years)

€

200 / ticket |

Children (0-12 years)

€

200 / ticket
17
promotion
Minimum booking:
1 tickets
Maximum booking:
30 tickets
General price:
Adult (18+ years)
€

240 / ticket
|
Youth (13-17 years)
€

240 / ticket
|
Children (0-12 years)
€

200 / ticket
Options
guests <= 2

Price

Adult (18+ years)

€

240 / ticket |

Youth (13-17 years)

€

240 / ticket |

Children (0-12 years)

€

200 / ticket

guests = 3

Price

Adult (18+ years)

€

220 / ticket |

Youth (13-17 years)

€

220 / ticket |

Children (0-12 years)

€

200 / ticket

guests >= 4

Price

Adult (18+ years)

€

200 / ticket |

Youth (13-17 years)

€

200 / ticket |

Children (0-12 years)

€

200 / ticket
18
promotion
Minimum booking:
1 tickets
Maximum booking:
30 tickets
General price:
Adult (18+ years)
€

240 / ticket
|
Youth (13-17 years)
€

240 / ticket
|
Children (0-12 years)
€

200 / ticket
Options
guests <= 2

Price

Adult (18+ years)

€

240 / ticket |

Youth (13-17 years)

€

240 / ticket |

Children (0-12 years)

€

200 / ticket

guests = 3

Price

Adult (18+ years)

€

220 / ticket |

Youth (13-17 years)

€

220 / ticket |

Children (0-12 years)

€

200 / ticket

guests >= 4

Price

Adult (18+ years)

€

200 / ticket |

Youth (13-17 years)

€

200 / ticket |

Children (0-12 years)

€

200 / ticket
19
promotion
Minimum booking:
1 tickets
Maximum booking:
30 tickets
General price:
Adult (18+ years)
€

240 / ticket
|
Youth (13-17 years)
€

240 / ticket
|
Children (0-12 years)
€

200 / ticket
Options
guests <= 2

Price

Adult (18+ years)

€

240 / ticket |

Youth (13-17 years)

€

240 / ticket |

Children (0-12 years)

€

200 / ticket

guests = 3

Price

Adult (18+ years)

€

220 / ticket |

Youth (13-17 years)

€

220 / ticket |

Children (0-12 years)

€

200 / ticket

guests >= 4

Price

Adult (18+ years)

€

200 / ticket |

Youth (13-17 years)

€

200 / ticket |

Children (0-12 years)

€

200 / ticket
20
promotion
Minimum booking:
1 tickets
Maximum booking:
30 tickets
General price:
Adult (18+ years)
€

240 / ticket
|
Youth (13-17 years)
€

240 / ticket
|
Children (0-12 years)
€

200 / ticket
Options
guests <= 2

Price

Adult (18+ years)

€

240 / ticket |

Youth (13-17 years)

€

240 / ticket |

Children (0-12 years)

€

200 / ticket

guests = 3

Price

Adult (18+ years)

€

220 / ticket |

Youth (13-17 years)

€

220 / ticket |

Children (0-12 years)

€

200 / ticket

guests >= 4

Price

Adult (18+ years)

€

200 / ticket |

Youth (13-17 years)

€

200 / ticket |

Children (0-12 years)

€

200 / ticket
21
promotion
Minimum booking:
1 tickets
Maximum booking:
30 tickets
General price:
Adult (18+ years)
€

240 / ticket
|
Youth (13-17 years)
€

240 / ticket
|
Children (0-12 years)
€

200 / ticket
Options
guests <= 2

Price

Adult (18+ years)

€

240 / ticket |

Youth (13-17 years)

€

240 / ticket |

Children (0-12 years)

€

200 / ticket

guests = 3

Price

Adult (18+ years)

€

220 / ticket |

Youth (13-17 years)

€

220 / ticket |

Children (0-12 years)

€

200 / ticket

guests >= 4

Price

Adult (18+ years)

€

200 / ticket |

Youth (13-17 years)

€

200 / ticket |

Children (0-12 years)

€

200 / ticket
22
promotion
Minimum booking:
1 tickets
Maximum booking:
30 tickets
General price:
Adult (18+ years)
€

240 / ticket
|
Youth (13-17 years)
€

240 / ticket
|
Children (0-12 years)
€

200 / ticket
Options
guests <= 2

Price

Adult (18+ years)

€

240 / ticket |

Youth (13-17 years)

€

240 / ticket |

Children (0-12 years)

€

200 / ticket

guests = 3

Price

Adult (18+ years)

€

220 / ticket |

Youth (13-17 years)

€

220 / ticket |

Children (0-12 years)

€

200 / ticket

guests >= 4

Price

Adult (18+ years)

€

200 / ticket |

Youth (13-17 years)

€

200 / ticket |

Children (0-12 years)

€

200 / ticket
23
promotion
Minimum booking:
1 tickets
Maximum booking:
30 tickets
General price:
Adult (18+ years)
€

240 / ticket
|
Youth (13-17 years)
€

240 / ticket
|
Children (0-12 years)
€

200 / ticket
Options
guests <= 2

Price

Adult (18+ years)

€

240 / ticket |

Youth (13-17 years)

€

240 / ticket |

Children (0-12 years)

€

200 / ticket

guests = 3

Price

Adult (18+ years)

€

220 / ticket |

Youth (13-17 years)

€

220 / ticket |

Children (0-12 years)

€

200 / ticket

guests >= 4

Price

Adult (18+ years)

€

200 / ticket |

Youth (13-17 years)

€

200 / ticket |

Children (0-12 years)

€

200 / ticket
24
promotion
Minimum booking:
1 tickets
Maximum booking:
30 tickets
General price:
Adult (18+ years)
€

240 / ticket
|
Youth (13-17 years)
€

240 / ticket
|
Children (0-12 years)
€

200 / ticket
Options
guests <= 2

Price

Adult (18+ years)

€

240 / ticket |

Youth (13-17 years)

€

240 / ticket |

Children (0-12 years)

€

200 / ticket

guests = 3

Price

Adult (18+ years)

€

220 / ticket |

Youth (13-17 years)

€

220 / ticket |

Children (0-12 years)

€

200 / ticket

guests >= 4

Price

Adult (18+ years)

€

200 / ticket |

Youth (13-17 years)

€

200 / ticket |

Children (0-12 years)

€

200 / ticket
25
promotion
Minimum booking:
1 tickets
Maximum booking:
30 tickets
General price:
Adult (18+ years)
€

240 / ticket
|
Youth (13-17 years)
€

240 / ticket
|
Children (0-12 years)
€

200 / ticket
Options
guests <= 2

Price

Adult (18+ years)

€

240 / ticket |

Youth (13-17 years)

€

240 / ticket |

Children (0-12 years)

€

200 / ticket

guests = 3

Price

Adult (18+ years)

€

220 / ticket |

Youth (13-17 years)

€

220 / ticket |

Children (0-12 years)

€

200 / ticket

guests >= 4

Price

Adult (18+ years)

€

200 / ticket |

Youth (13-17 years)

€

200 / ticket |

Children (0-12 years)

€

200 / ticket
26
promotion
Minimum booking:
1 tickets
Maximum booking:
30 tickets
General price:
Adult (18+ years)
€

240 / ticket
|
Youth (13-17 years)
€

240 / ticket
|
Children (0-12 years)
€

200 / ticket
Options
guests <= 2

Price

Adult (18+ years)

€

240 / ticket |

Youth (13-17 years)

€

240 / ticket |

Children (0-12 years)

€

200 / ticket

guests = 3

Price

Adult (18+ years)

€

220 / ticket |

Youth (13-17 years)

€

220 / ticket |

Children (0-12 years)

€

200 / ticket

guests >= 4

Price

Adult (18+ years)

€

200 / ticket |

Youth (13-17 years)

€

200 / ticket |

Children (0-12 years)

€

200 / ticket
27
promotion
Minimum booking:
1 tickets
Maximum booking:
30 tickets
General price:
Adult (18+ years)
€

240 / ticket
|
Youth (13-17 years)
€

240 / ticket
|
Children (0-12 years)
€

200 / ticket
Options
guests <= 2

Price

Adult (18+ years)

€

240 / ticket |

Youth (13-17 years)

€

240 / ticket |

Children (0-12 years)

€

200 / ticket

guests = 3

Price

Adult (18+ years)

€

220 / ticket |

Youth (13-17 years)

€

220 / ticket |

Children (0-12 years)

€

200 / ticket

guests >= 4

Price

Adult (18+ years)

€

200 / ticket |

Youth (13-17 years)

€

200 / ticket |

Children (0-12 years)

€

200 / ticket
28
promotion
Minimum booking:
1 tickets
Maximum booking:
30 tickets
General price:
Adult (18+ years)
€

240 / ticket
|
Youth (13-17 years)
€

240 / ticket
|
Children (0-12 years)
€

200 / ticket
Options
guests <= 2

Price

Adult (18+ years)

€

240 / ticket |

Youth (13-17 years)

€

240 / ticket |

Children (0-12 years)

€

200 / ticket

guests = 3

Price

Adult (18+ years)

€

220 / ticket |

Youth (13-17 years)

€

220 / ticket |

Children (0-12 years)

€

200 / ticket

guests >= 4

Price

Adult (18+ years)

€

200 / ticket |

Youth (13-17 years)

€

200 / ticket |

Children (0-12 years)

€

200 / ticket
29
promotion
Minimum booking:
1 tickets
Maximum booking:
30 tickets
General price:
Adult (18+ years)
€

240 / ticket
|
Youth (13-17 years)
€

240 / ticket
|
Children (0-12 years)
€

200 / ticket
Options
guests <= 2

Price

Adult (18+ years)

€

240 / ticket |

Youth (13-17 years)

€

240 / ticket |

Children (0-12 years)

€

200 / ticket

guests = 3

Price

Adult (18+ years)

€

220 / ticket |

Youth (13-17 years)

€

220 / ticket |

Children (0-12 years)

€

200 / ticket

guests >= 4

Price

Adult (18+ years)

€

200 / ticket |

Youth (13-17 years)

€

200 / ticket |

Children (0-12 years)

€

200 / ticket
30
promotion
Minimum booking:
1 tickets
Maximum booking:
30 tickets
General price:
Adult (18+ years)
€

240 / ticket
|
Youth (13-17 years)
€

240 / ticket
|
Children (0-12 years)
€

200 / ticket
Options
guests <= 2

Price

Adult (18+ years)

€

240 / ticket |

Youth (13-17 years)

€

240 / ticket |

Children (0-12 years)

€

200 / ticket

guests = 3

Price

Adult (18+ years)

€

220 / ticket |

Youth (13-17 years)

€

220 / ticket |

Children (0-12 years)

€

200 / ticket

guests >= 4

Price

Adult (18+ years)

€

200 / ticket |

Youth (13-17 years)

€

200 / ticket |

Children (0-12 years)

€

200 / ticket
31
promotion
Minimum booking:
1 tickets
Maximum booking:
30 tickets
General price:
Adult (18+ years)
€

240 / ticket
|
Youth (13-17 years)
€

240 / ticket
|
Children (0-12 years)
€

200 / ticket
Options
guests <= 2

Price

Adult (18+ years)

€

240 / ticket |

Youth (13-17 years)

€

240 / ticket |

Children (0-12 years)

€

200 / ticket

guests = 3

Price

Adult (18+ years)

€

220 / ticket |

Youth (13-17 years)

€

220 / ticket |

Children (0-12 years)

€

200 / ticket

guests >= 4

Price

Adult (18+ years)

€

200 / ticket |

Youth (13-17 years)

€

200 / ticket |

Children (0-12 years)

€

200 / ticket
1
promotion
Minimum booking:
1 tickets
Maximum booking:
30 tickets
General price:
Adult (18+ years)
€

240 / ticket
|
Youth (13-17 years)
€

240 / ticket
|
Children (0-12 years)
€

200 / ticket
Options
guests <= 2

Price

Adult (18+ years)

€

240 / ticket |

Youth (13-17 years)

€

240 / ticket |

Children (0-12 years)

€

200 / ticket

guests = 3

Price

Adult (18+ years)

€

220 / ticket |

Youth (13-17 years)

€

220 / ticket |

Children (0-12 years)

€

200 / ticket

guests >= 4

Price

Adult (18+ years)

€

200 / ticket |

Youth (13-17 years)

€

200 / ticket |

Children (0-12 years)

€

200 / ticket
2
promotion
Minimum booking:
1 tickets
Maximum booking:
30 tickets
General price:
Adult (18+ years)
€

240 / ticket
|
Youth (13-17 years)
€

240 / ticket
|
Children (0-12 years)
€

200 / ticket
Options
guests <= 2

Price

Adult (18+ years)

€

240 / ticket |

Youth (13-17 years)

€

240 / ticket |

Children (0-12 years)

€

200 / ticket

guests = 3

Price

Adult (18+ years)

€

220 / ticket |

Youth (13-17 years)

€

220 / ticket |

Children (0-12 years)

€

200 / ticket

guests >= 4

Price

Adult (18+ years)

€

200 / ticket |

Youth (13-17 years)

€

200 / ticket |

Children (0-12 years)

€

200 / ticket
3
promotion
Minimum booking:
1 tickets
Maximum booking:
30 tickets
General price:
Adult (18+ years)
€

240 / ticket
|
Youth (13-17 years)
€

240 / ticket
|
Children (0-12 years)
€

200 / ticket
Options
guests <= 2

Price

Adult (18+ years)

€

240 / ticket |

Youth (13-17 years)

€

240 / ticket |

Children (0-12 years)

€

200 / ticket

guests = 3

Price

Adult (18+ years)

€

220 / ticket |

Youth (13-17 years)

€

220 / ticket |

Children (0-12 years)

€

200 / ticket

guests >= 4

Price

Adult (18+ years)

€

200 / ticket |

Youth (13-17 years)

€

200 / ticket |

Children (0-12 years)

€

200 / ticket
4
promotion
Minimum booking:
1 tickets
Maximum booking:
30 tickets
General price:
Adult (18+ years)
€

240 / ticket
|
Youth (13-17 years)
€

240 / ticket
|
Children (0-12 years)
€

200 / ticket
Options
guests <= 2

Price

Adult (18+ years)

€

240 / ticket |

Youth (13-17 years)

€

240 / ticket |

Children (0-12 years)

€

200 / ticket

guests = 3

Price

Adult (18+ years)

€

220 / ticket |

Youth (13-17 years)

€

220 / ticket |

Children (0-12 years)

€

200 / ticket

guests >= 4

Price

Adult (18+ years)

€

200 / ticket |

Youth (13-17 years)

€

200 / ticket |

Children (0-12 years)

€

200 / ticket
29
promotion
Minimum booking:
1 tickets
Maximum booking:
30 tickets
General price:
Adult (18+ years)
€

240 / ticket
|
Youth (13-17 years)
€

240 / ticket
|
Children (0-12 years)
€

200 / ticket
Options
guests <= 2

Price

Adult (18+ years)

€

240 / ticket |

Youth (13-17 years)

€

240 / ticket |

Children (0-12 years)

€

200 / ticket

guests = 3

Price

Adult (18+ years)

€

220 / ticket |

Youth (13-17 years)

€

220 / ticket |

Children (0-12 years)

€

200 / ticket

guests >= 4

Price

Adult (18+ years)

€

200 / ticket |

Youth (13-17 years)

€

200 / ticket |

Children (0-12 years)

€

200 / ticket
30
promotion
Minimum booking:
1 tickets
Maximum booking:
30 tickets
General price:
Adult (18+ years)
€

240 / ticket
|
Youth (13-17 years)
€

240 / ticket
|
Children (0-12 years)
€

200 / ticket
Options
guests <= 2

Price

Adult (18+ years)

€

240 / ticket |

Youth (13-17 years)

€

240 / ticket |

Children (0-12 years)

€

200 / ticket

guests = 3

Price

Adult (18+ years)

€

220 / ticket |

Youth (13-17 years)

€

220 / ticket |

Children (0-12 years)

€

200 / ticket

guests >= 4

Price

Adult (18+ years)

€

200 / ticket |

Youth (13-17 years)

€

200 / ticket |

Children (0-12 years)

€

200 / ticket
31
promotion
Minimum booking:
1 tickets
Maximum booking:
30 tickets
General price:
Adult (18+ years)
€

240 / ticket
|
Youth (13-17 years)
€

240 / ticket
|
Children (0-12 years)
€

200 / ticket
Options
guests <= 2

Price

Adult (18+ years)

€

240 / ticket |

Youth (13-17 years)

€

240 / ticket |

Children (0-12 years)

€

200 / ticket

guests = 3

Price

Adult (18+ years)

€

220 / ticket |

Youth (13-17 years)

€

220 / ticket |

Children (0-12 years)

€

200 / ticket

guests >= 4

Price

Adult (18+ years)

€

200 / ticket |

Youth (13-17 years)

€

200 / ticket |

Children (0-12 years)

€

200 / ticket
1
promotion
Minimum booking:
1 tickets
Maximum booking:
30 tickets
General price:
Adult (18+ years)
€

240 / ticket
|
Youth (13-17 years)
€

240 / ticket
|
Children (0-12 years)
€

200 / ticket
Options
guests <= 2

Price

Adult (18+ years)

€

240 / ticket |

Youth (13-17 years)

€

240 / ticket |

Children (0-12 years)

€

200 / ticket

guests = 3

Price

Adult (18+ years)

€

220 / ticket |

Youth (13-17 years)

€

220 / ticket |

Children (0-12 years)

€

200 / ticket

guests >= 4

Price

Adult (18+ years)

€

200 / ticket |

Youth (13-17 years)

€

200 / ticket |

Children (0-12 years)

€

200 / ticket
2
promotion
Minimum booking:
1 tickets
Maximum booking:
30 tickets
General price:
Adult (18+ years)
€

240 / ticket
|
Youth (13-17 years)
€

240 / ticket
|
Children (0-12 years)
€

200 / ticket
Options
guests <= 2

Price

Adult (18+ years)

€

240 / ticket |

Youth (13-17 years)

€

240 / ticket |

Children (0-12 years)

€

200 / ticket

guests = 3

Price

Adult (18+ years)

€

220 / ticket |

Youth (13-17 years)

€

220 / ticket |

Children (0-12 years)

€

200 / ticket

guests >= 4

Price

Adult (18+ years)

€

200 / ticket |

Youth (13-17 years)

€

200 / ticket |

Children (0-12 years)

€

200 / ticket
3
promotion
Minimum booking:
1 tickets
Maximum booking:
30 tickets
General price:
Adult (18+ years)
€

240 / ticket
|
Youth (13-17 years)
€

240 / ticket
|
Children (0-12 years)
€

200 / ticket
Options
guests <= 2

Price

Adult (18+ years)

€

240 / ticket |

Youth (13-17 years)

€

240 / ticket |

Children (0-12 years)

€

200 / ticket

guests = 3

Price

Adult (18+ years)

€

220 / ticket |

Youth (13-17 years)

€

220 / ticket |

Children (0-12 years)

€

200 / ticket

guests >= 4

Price

Adult (18+ years)

€

200 / ticket |

Youth (13-17 years)

€

200 / ticket |

Children (0-12 years)

€

200 / ticket
4
promotion
Minimum booking:
1 tickets
Maximum booking:
30 tickets
General price:
Adult (18+ years)
€

240 / ticket
|
Youth (13-17 years)
€

240 / ticket
|
Children (0-12 years)
€

200 / ticket
Options
guests <= 2

Price

Adult (18+ years)

€

240 / ticket |

Youth (13-17 years)

€

240 / ticket |

Children (0-12 years)

€

200 / ticket

guests = 3

Price

Adult (18+ years)

€

220 / ticket |

Youth (13-17 years)

€

220 / ticket |

Children (0-12 years)

€

200 / ticket

guests >= 4

Price

Adult (18+ years)

€

200 / ticket |

Youth (13-17 years)

€

200 / ticket |

Children (0-12 years)

€

200 / ticket
5
promotion
Minimum booking:
1 tickets
Maximum booking:
30 tickets
General price:
Adult (18+ years)
€

240 / ticket
|
Youth (13-17 years)
€

240 / ticket
|
Children (0-12 years)
€

200 / ticket
Options
guests <= 2

Price

Adult (18+ years)

€

240 / ticket |

Youth (13-17 years)

€

240 / ticket |

Children (0-12 years)

€

200 / ticket

guests = 3

Price

Adult (18+ years)

€

220 / ticket |

Youth (13-17 years)

€

220 / ticket |

Children (0-12 years)

€

200 / ticket

guests >= 4

Price

Adult (18+ years)

€

200 / ticket |

Youth (13-17 years)

€

200 / ticket |

Children (0-12 years)

€

200 / ticket
6
promotion
Minimum booking:
1 tickets
Maximum booking:
30 tickets
General price:
Adult (18+ years)
€

240 / ticket
|
Youth (13-17 years)
€

240 / ticket
|
Children (0-12 years)
€

200 / ticket
Options
guests <= 2

Price

Adult (18+ years)

€

240 / ticket |

Youth (13-17 years)

€

240 / ticket |

Children (0-12 years)

€

200 / ticket

guests = 3

Price

Adult (18+ years)

€

220 / ticket |

Youth (13-17 years)

€

220 / ticket |

Children (0-12 years)

€

200 / ticket

guests >= 4

Price

Adult (18+ years)

€

200 / ticket |

Youth (13-17 years)

€

200 / ticket |

Children (0-12 years)

€

200 / ticket
7
promotion
Minimum booking:
1 tickets
Maximum booking:
30 tickets
General price:
Adult (18+ years)
€

240 / ticket
|
Youth (13-17 years)
€

240 / ticket
|
Children (0-12 years)
€

200 / ticket
Options
guests <= 2

Price

Adult (18+ years)

€

240 / ticket |

Youth (13-17 years)

€

240 / ticket |

Children (0-12 years)

€

200 / ticket

guests = 3

Price

Adult (18+ years)

€

220 / ticket |

Youth (13-17 years)

€

220 / ticket |

Children (0-12 years)

€

200 / ticket

guests >= 4

Price

Adult (18+ years)

€

200 / ticket |

Youth (13-17 years)

€

200 / ticket |

Children (0-12 years)

€

200 / ticket
8
promotion
Minimum booking:
1 tickets
Maximum booking:
30 tickets
General price:
Adult (18+ years)
€

240 / ticket
|
Youth (13-17 years)
€

240 / ticket
|
Children (0-12 years)
€

200 / ticket
Options
guests <= 2

Price

Adult (18+ years)

€

240 / ticket |

Youth (13-17 years)

€

240 / ticket |

Children (0-12 years)

€

200 / ticket

guests = 3

Price

Adult (18+ years)

€

220 / ticket |

Youth (13-17 years)

€

220 / ticket |

Children (0-12 years)

€

200 / ticket

guests >= 4

Price

Adult (18+ years)

€

200 / ticket |

Youth (13-17 years)

€

200 / ticket |

Children (0-12 years)

€

200 / ticket
9
promotion
Minimum booking:
1 tickets
Maximum booking:
30 tickets
General price:
Adult (18+ years)
€

240 / ticket
|
Youth (13-17 years)
€

240 / ticket
|
Children (0-12 years)
€

200 / ticket
Options
guests <= 2

Price

Adult (18+ years)

€

240 / ticket |

Youth (13-17 years)

€

240 / ticket |

Children (0-12 years)

€

200 / ticket

guests = 3

Price

Adult (18+ years)

€

220 / ticket |

Youth (13-17 years)

€

220 / ticket |

Children (0-12 years)

€

200 / ticket

guests >= 4

Price

Adult (18+ years)

€

200 / ticket |

Youth (13-17 years)

€

200 / ticket |

Children (0-12 years)

€

200 / ticket
10
promotion
Minimum booking:
1 tickets
Maximum booking:
30 tickets
General price:
Adult (18+ years)
€

240 / ticket
|
Youth (13-17 years)
€

240 / ticket
|
Children (0-12 years)
€

200 / ticket
Options
guests <= 2

Price

Adult (18+ years)

€

240 / ticket |

Youth (13-17 years)

€

240 / ticket |

Children (0-12 years)

€

200 / ticket

guests = 3

Price

Adult (18+ years)

€

220 / ticket |

Youth (13-17 years)

€

220 / ticket |

Children (0-12 years)

€

200 / ticket

guests >= 4

Price

Adult (18+ years)

€

200 / ticket |

Youth (13-17 years)

€

200 / ticket |

Children (0-12 years)

€

200 / ticket
11
promotion
Minimum booking:
1 tickets
Maximum booking:
30 tickets
General price:
Adult (18+ years)
€

240 / ticket
|
Youth (13-17 years)
€

240 / ticket
|
Children (0-12 years)
€

200 / ticket
Options
guests <= 2

Price

Adult (18+ years)

€

240 / ticket |

Youth (13-17 years)

€

240 / ticket |

Children (0-12 years)

€

200 / ticket

guests = 3

Price

Adult (18+ years)

€

220 / ticket |

Youth (13-17 years)

€

220 / ticket |

Children (0-12 years)

€

200 / ticket

guests >= 4

Price

Adult (18+ years)

€

200 / ticket |

Youth (13-17 years)

€

200 / ticket |

Children (0-12 years)

€

200 / ticket
12
promotion
Minimum booking:
1 tickets
Maximum booking:
30 tickets
General price:
Adult (18+ years)
€

240 / ticket
|
Youth (13-17 years)
€

240 / ticket
|
Children (0-12 years)
€

200 / ticket
Options
guests <= 2

Price

Adult (18+ years)

€

240 / ticket |

Youth (13-17 years)

€

240 / ticket |

Children (0-12 years)

€

200 / ticket

guests = 3

Price

Adult (18+ years)

€

220 / ticket |

Youth (13-17 years)

€

220 / ticket |

Children (0-12 years)

€

200 / ticket

guests >= 4

Price

Adult (18+ years)

€

200 / ticket |

Youth (13-17 years)

€

200 / ticket |

Children (0-12 years)

€

200 / ticket
13
promotion
Minimum booking:
1 tickets
Maximum booking:
30 tickets
General price:
Adult (18+ years)
€

240 / ticket
|
Youth (13-17 years)
€

240 / ticket
|
Children (0-12 years)
€

200 / ticket
Options
guests <= 2

Price

Adult (18+ years)

€

240 / ticket |

Youth (13-17 years)

€

240 / ticket |

Children (0-12 years)

€

200 / ticket

guests = 3

Price

Adult (18+ years)

€

220 / ticket |

Youth (13-17 years)

€

220 / ticket |

Children (0-12 years)

€

200 / ticket

guests >= 4

Price

Adult (18+ years)

€

200 / ticket |

Youth (13-17 years)

€

200 / ticket |

Children (0-12 years)

€

200 / ticket
14
promotion
Minimum booking:
1 tickets
Maximum booking:
30 tickets
General price:
Adult (18+ years)
€

240 / ticket
|
Youth (13-17 years)
€

240 / ticket
|
Children (0-12 years)
€

200 / ticket
Options
guests <= 2

Price

Adult (18+ years)

€

240 / ticket |

Youth (13-17 years)

€

240 / ticket |

Children (0-12 years)

€

200 / ticket

guests = 3

Price

Adult (18+ years)

€

220 / ticket |

Youth (13-17 years)

€

220 / ticket |

Children (0-12 years)

€

200 / ticket

guests >= 4

Price

Adult (18+ years)

€

200 / ticket |

Youth (13-17 years)

€

200 / ticket |

Children (0-12 years)

€

200 / ticket
15
promotion
Minimum booking:
1 tickets
Maximum booking:
30 tickets
General price:
Adult (18+ years)
€

240 / ticket
|
Youth (13-17 years)
€

240 / ticket
|
Children (0-12 years)
€

200 / ticket
Options
guests <= 2

Price

Adult (18+ years)

€

240 / ticket |

Youth (13-17 years)

€

240 / ticket |

Children (0-12 years)

€

200 / ticket

guests = 3

Price

Adult (18+ years)

€

220 / ticket |

Youth (13-17 years)

€

220 / ticket |

Children (0-12 years)

€

200 / ticket

guests >= 4

Price

Adult (18+ years)

€

200 / ticket |

Youth (13-17 years)

€

200 / ticket |

Children (0-12 years)

€

200 / ticket
16
promotion
Minimum booking:
1 tickets
Maximum booking:
30 tickets
General price:
Adult (18+ years)
€

240 / ticket
|
Youth (13-17 years)
€

240 / ticket
|
Children (0-12 years)
€

200 / ticket
Options
guests <= 2

Price

Adult (18+ years)

€

240 / ticket |

Youth (13-17 years)

€

240 / ticket |

Children (0-12 years)

€

200 / ticket

guests = 3

Price

Adult (18+ years)

€

220 / ticket |

Youth (13-17 years)

€

220 / ticket |

Children (0-12 years)

€

200 / ticket

guests >= 4

Price

Adult (18+ years)

€

200 / ticket |

Youth (13-17 years)

€

200 / ticket |

Children (0-12 years)

€

200 / ticket
17
promotion
Minimum booking:
1 tickets
Maximum booking:
30 tickets
General price:
Adult (18+ years)
€

240 / ticket
|
Youth (13-17 years)
€

240 / ticket
|
Children (0-12 years)
€

200 / ticket
Options
guests <= 2

Price

Adult (18+ years)

€

240 / ticket |

Youth (13-17 years)

€

240 / ticket |

Children (0-12 years)

€

200 / ticket

guests = 3

Price

Adult (18+ years)

€

220 / ticket |

Youth (13-17 years)

€

220 / ticket |

Children (0-12 years)

€

200 / ticket

guests >= 4

Price

Adult (18+ years)

€

200 / ticket |

Youth (13-17 years)

€

200 / ticket |

Children (0-12 years)

€

200 / ticket
18
promotion
Minimum booking:
1 tickets
Maximum booking:
30 tickets
General price:
Adult (18+ years)
€

240 / ticket
|
Youth (13-17 years)
€

240 / ticket
|
Children (0-12 years)
€

200 / ticket
Options
guests <= 2

Price

Adult (18+ years)

€

240 / ticket |

Youth (13-17 years)

€

240 / ticket |

Children (0-12 years)

€

200 / ticket

guests = 3

Price

Adult (18+ years)

€

220 / ticket |

Youth (13-17 years)

€

220 / ticket |

Children (0-12 years)

€

200 / ticket

guests >= 4

Price

Adult (18+ years)

€

200 / ticket |

Youth (13-17 years)

€

200 / ticket |

Children (0-12 years)

€

200 / ticket
19
promotion
Minimum booking:
1 tickets
Maximum booking:
30 tickets
General price:
Adult (18+ years)
€

240 / ticket
|
Youth (13-17 years)
€

240 / ticket
|
Children (0-12 years)
€

200 / ticket
Options
guests <= 2

Price

Adult (18+ years)

€

240 / ticket |

Youth (13-17 years)

€

240 / ticket |

Children (0-12 years)

€

200 / ticket

guests = 3

Price

Adult (18+ years)

€

220 / ticket |

Youth (13-17 years)

€

220 / ticket |

Children (0-12 years)

€

200 / ticket

guests >= 4

Price

Adult (18+ years)

€

200 / ticket |

Youth (13-17 years)

€

200 / ticket |

Children (0-12 years)

€

200 / ticket
20
promotion
Minimum booking:
1 tickets
Maximum booking:
30 tickets
General price:
Adult (18+ years)
€

240 / ticket
|
Youth (13-17 years)
€

240 / ticket
|
Children (0-12 years)
€

200 / ticket
Options
guests <= 2

Price

Adult (18+ years)

€

240 / ticket |

Youth (13-17 years)

€

240 / ticket |

Children (0-12 years)

€

200 / ticket

guests = 3

Price

Adult (18+ years)

€

220 / ticket |

Youth (13-17 years)

€

220 / ticket |

Children (0-12 years)

€

200 / ticket

guests >= 4

Price

Adult (18+ years)

€

200 / ticket |

Youth (13-17 years)

€

200 / ticket |

Children (0-12 years)

€

200 / ticket
21
promotion
Minimum booking:
1 tickets
Maximum booking:
30 tickets
General price:
Adult (18+ years)
€

240 / ticket
|
Youth (13-17 years)
€

240 / ticket
|
Children (0-12 years)
€

200 / ticket
Options
guests <= 2

Price

Adult (18+ years)

€

240 / ticket |

Youth (13-17 years)

€

240 / ticket |

Children (0-12 years)

€

200 / ticket

guests = 3

Price

Adult (18+ years)

€

220 / ticket |

Youth (13-17 years)

€

220 / ticket |

Children (0-12 years)

€

200 / ticket

guests >= 4

Price

Adult (18+ years)

€

200 / ticket |

Youth (13-17 years)

€

200 / ticket |

Children (0-12 years)

€

200 / ticket
22
promotion
Minimum booking:
1 tickets
Maximum booking:
30 tickets
General price:
Adult (18+ years)
€

240 / ticket
|
Youth (13-17 years)
€

240 / ticket
|
Children (0-12 years)
€

200 / ticket
Options
guests <= 2

Price

Adult (18+ years)

€

240 / ticket |

Youth (13-17 years)

€

240 / ticket |

Children (0-12 years)

€

200 / ticket

guests = 3

Price

Adult (18+ years)

€

220 / ticket |

Youth (13-17 years)

€

220 / ticket |

Children (0-12 years)

€

200 / ticket

guests >= 4

Price

Adult (18+ years)

€

200 / ticket |

Youth (13-17 years)

€

200 / ticket |

Children (0-12 years)

€

200 / ticket
23
promotion
Minimum booking:
1 tickets
Maximum booking:
30 tickets
General price:
Adult (18+ years)
€

240 / ticket
|
Youth (13-17 years)
€

240 / ticket
|
Children (0-12 years)
€

200 / ticket
Options
guests <= 2

Price

Adult (18+ years)

€

240 / ticket |

Youth (13-17 years)

€

240 / ticket |

Children (0-12 years)

€

200 / ticket

guests = 3

Price

Adult (18+ years)

€

220 / ticket |

Youth (13-17 years)

€

220 / ticket |

Children (0-12 years)

€

200 / ticket

guests >= 4

Price

Adult (18+ years)

€

200 / ticket |

Youth (13-17 years)

€

200 / ticket |

Children (0-12 years)

€

200 / ticket
24
promotion
Minimum booking:
1 tickets
Maximum booking:
30 tickets
General price:
Adult (18+ years)
€

240 / ticket
|
Youth (13-17 years)
€

240 / ticket
|
Children (0-12 years)
€

200 / ticket
Options
guests <= 2

Price

Adult (18+ years)

€

240 / ticket |

Youth (13-17 years)

€

240 / ticket |

Children (0-12 years)

€

200 / ticket

guests = 3

Price

Adult (18+ years)

€

220 / ticket |

Youth (13-17 years)

€

220 / ticket |

Children (0-12 years)

€

200 / ticket

guests >= 4

Price

Adult (18+ years)

€

200 / ticket |

Youth (13-17 years)

€

200 / ticket |

Children (0-12 years)

€

200 / ticket
25
promotion
Minimum booking:
1 tickets
Maximum booking:
30 tickets
General price:
Adult (18+ years)
€

240 / ticket
|
Youth (13-17 years)
€

240 / ticket
|
Children (0-12 years)
€

200 / ticket
Options
guests <= 2

Price

Adult (18+ years)

€

240 / ticket |

Youth (13-17 years)

€

240 / ticket |

Children (0-12 years)

€

200 / ticket

guests = 3

Price

Adult (18+ years)

€

220 / ticket |

Youth (13-17 years)

€

220 / ticket |

Children (0-12 years)

€

200 / ticket

guests >= 4

Price

Adult (18+ years)

€

200 / ticket |

Youth (13-17 years)

€

200 / ticket |

Children (0-12 years)

€

200 / ticket
26
promotion
Minimum booking:
1 tickets
Maximum booking:
30 tickets
General price:
Adult (18+ years)
€

240 / ticket
|
Youth (13-17 years)
€

240 / ticket
|
Children (0-12 years)
€

200 / ticket
Options
guests <= 2

Price

Adult (18+ years)

€

240 / ticket |

Youth (13-17 years)

€

240 / ticket |

Children (0-12 years)

€

200 / ticket

guests = 3

Price

Adult (18+ years)

€

220 / ticket |

Youth (13-17 years)

€

220 / ticket |

Children (0-12 years)

€

200 / ticket

guests >= 4

Price

Adult (18+ years)

€

200 / ticket |

Youth (13-17 years)

€

200 / ticket |

Children (0-12 years)

€

200 / ticket
27
promotion
Minimum booking:
1 tickets
Maximum booking:
30 tickets
General price:
Adult (18+ years)
€

240 / ticket
|
Youth (13-17 years)
€

240 / ticket
|
Children (0-12 years)
€

200 / ticket
Options
guests <= 2

Price

Adult (18+ years)

€

240 / ticket |

Youth (13-17 years)

€

240 / ticket |

Children (0-12 years)

€

200 / ticket

guests = 3

Price

Adult (18+ years)

€

220 / ticket |

Youth (13-17 years)

€

220 / ticket |

Children (0-12 years)

€

200 / ticket

guests >= 4

Price

Adult (18+ years)

€

200 / ticket |

Youth (13-17 years)

€

200 / ticket |

Children (0-12 years)

€

200 / ticket
28
promotion
Minimum booking:
1 tickets
Maximum booking:
30 tickets
General price:
Adult (18+ years)
€

240 / ticket
|
Youth (13-17 years)
€

240 / ticket
|
Children (0-12 years)
€

200 / ticket
Options
guests <= 2

Price

Adult (18+ years)

€

240 / ticket |

Youth (13-17 years)

€

240 / ticket |

Children (0-12 years)

€

200 / ticket

guests = 3

Price

Adult (18+ years)

€

220 / ticket |

Youth (13-17 years)

€

220 / ticket |

Children (0-12 years)

€

200 / ticket

guests >= 4

Price

Adult (18+ years)

€

200 / ticket |

Youth (13-17 years)

€

200 / ticket |

Children (0-12 years)

€

200 / ticket
29
promotion
Minimum booking:
1 tickets
Maximum booking:
30 tickets
General price:
Adult (18+ years)
€

240 / ticket
|
Youth (13-17 years)
€

240 / ticket
|
Children (0-12 years)
€

200 / ticket
Options
guests <= 2

Price

Adult (18+ years)

€

240 / ticket |

Youth (13-17 years)

€

240 / ticket |

Children (0-12 years)

€

200 / ticket

guests = 3

Price

Adult (18+ years)

€

220 / ticket |

Youth (13-17 years)

€

220 / ticket |

Children (0-12 years)

€

200 / ticket

guests >= 4

Price

Adult (18+ years)

€

200 / ticket |

Youth (13-17 years)

€

200 / ticket |

Children (0-12 years)

€

200 / ticket
1
promotion
Minimum booking:
1 tickets
Maximum booking:
30 tickets
General price:
Adult (18+ years)
€

240 / ticket
|
Youth (13-17 years)
€

240 / ticket
|
Children (0-12 years)
€

200 / ticket
Options
guests <= 2

Price

Adult (18+ years)

€

240 / ticket |

Youth (13-17 years)

€

240 / ticket |

Children (0-12 years)

€

200 / ticket

guests = 3

Price

Adult (18+ years)

€

220 / ticket |

Youth (13-17 years)

€

220 / ticket |

Children (0-12 years)

€

200 / ticket

guests >= 4

Price

Adult (18+ years)

€

200 / ticket |

Youth (13-17 years)

€

200 / ticket |

Children (0-12 years)

€

200 / ticket
2
promotion
Minimum booking:
1 tickets
Maximum booking:
30 tickets
General price:
Adult (18+ years)
€

240 / ticket
|
Youth (13-17 years)
€

240 / ticket
|
Children (0-12 years)
€

200 / ticket
Options
guests <= 2

Price

Adult (18+ years)

€

240 / ticket |

Youth (13-17 years)

€

240 / ticket |

Children (0-12 years)

€

200 / ticket

guests = 3

Price

Adult (18+ years)

€

220 / ticket |

Youth (13-17 years)

€

220 / ticket |

Children (0-12 years)

€

200 / ticket

guests >= 4

Price

Adult (18+ years)

€

200 / ticket |

Youth (13-17 years)

€

200 / ticket |

Children (0-12 years)

€

200 / ticket
3
promotion
Minimum booking:
1 tickets
Maximum booking:
30 tickets
General price:
Adult (18+ years)
€

240 / ticket
|
Youth (13-17 years)
€

240 / ticket
|
Children (0-12 years)
€

200 / ticket
Options
guests <= 2

Price

Adult (18+ years)

€

240 / ticket |

Youth (13-17 years)

€

240 / ticket |

Children (0-12 years)

€

200 / ticket

guests = 3

Price

Adult (18+ years)

€

220 / ticket |

Youth (13-17 years)

€

220 / ticket |

Children (0-12 years)

€

200 / ticket

guests >= 4

Price

Adult (18+ years)

€

200 / ticket |

Youth (13-17 years)

€

200 / ticket |

Children (0-12 years)

€

200 / ticket
26
promotion
Minimum booking:
1 tickets
Maximum booking:
30 tickets
General price:
Adult (18+ years)
€

240 / ticket
|
Youth (13-17 years)
€

240 / ticket
|
Children (0-12 years)
€

200 / ticket
Options
guests <= 2

Price

Adult (18+ years)

€

240 / ticket |

Youth (13-17 years)

€

240 / ticket |

Children (0-12 years)

€

200 / ticket

guests = 3

Price

Adult (18+ years)

€

220 / ticket |

Youth (13-17 years)

€

220 / ticket |

Children (0-12 years)

€

200 / ticket

guests >= 4

Price

Adult (18+ years)

€

200 / ticket |

Youth (13-17 years)

€

200 / ticket |

Children (0-12 years)

€

200 / ticket
27
promotion
Minimum booking:
1 tickets
Maximum booking:
30 tickets
General price:
Adult (18+ years)
€

240 / ticket
|
Youth (13-17 years)
€

240 / ticket
|
Children (0-12 years)
€

200 / ticket
Options
guests <= 2

Price

Adult (18+ years)

€

240 / ticket |

Youth (13-17 years)

€

240 / ticket |

Children (0-12 years)

€

200 / ticket

guests = 3

Price

Adult (18+ years)

€

220 / ticket |

Youth (13-17 years)

€

220 / ticket |

Children (0-12 years)

€

200 / ticket

guests >= 4

Price

Adult (18+ years)

€

200 / ticket |

Youth (13-17 years)

€

200 / ticket |

Children (0-12 years)

€

200 / ticket
28
promotion
Minimum booking:
1 tickets
Maximum booking:
30 tickets
General price:
Adult (18+ years)
€

240 / ticket
|
Youth (13-17 years)
€

240 / ticket
|
Children (0-12 years)
€

200 / ticket
Options
guests <= 2

Price

Adult (18+ years)

€

240 / ticket |

Youth (13-17 years)

€

240 / ticket |

Children (0-12 years)

€

200 / ticket

guests = 3

Price

Adult (18+ years)

€

220 / ticket |

Youth (13-17 years)

€

220 / ticket |

Children (0-12 years)

€

200 / ticket

guests >= 4

Price

Adult (18+ years)

€

200 / ticket |

Youth (13-17 years)

€

200 / ticket |

Children (0-12 years)

€

200 / ticket
29
promotion
Minimum booking:
1 tickets
Maximum booking:
30 tickets
General price:
Adult (18+ years)
€

240 / ticket
|
Youth (13-17 years)
€

240 / ticket
|
Children (0-12 years)
€

200 / ticket
Options
guests <= 2

Price

Adult (18+ years)

€

240 / ticket |

Youth (13-17 years)

€

240 / ticket |

Children (0-12 years)

€

200 / ticket

guests = 3

Price

Adult (18+ years)

€

220 / ticket |

Youth (13-17 years)

€

220 / ticket |

Children (0-12 years)

€

200 / ticket

guests >= 4

Price

Adult (18+ years)

€

200 / ticket |

Youth (13-17 years)

€

200 / ticket |

Children (0-12 years)

€

200 / ticket
1
promotion
Minimum booking:
1 tickets
Maximum booking:
30 tickets
General price:
Adult (18+ years)
€

240 / ticket
|
Youth (13-17 years)
€

240 / ticket
|
Children (0-12 years)
€

200 / ticket
Options
guests <= 2

Price

Adult (18+ years)

€

240 / ticket |

Youth (13-17 years)

€

240 / ticket |

Children (0-12 years)

€

200 / ticket

guests = 3

Price

Adult (18+ years)

€

220 / ticket |

Youth (13-17 years)

€

220 / ticket |

Children (0-12 years)

€

200 / ticket

guests >= 4

Price

Adult (18+ years)

€

200 / ticket |

Youth (13-17 years)

€

200 / ticket |

Children (0-12 years)

€

200 / ticket
2
promotion
Minimum booking:
1 tickets
Maximum booking:
30 tickets
General price:
Adult (18+ years)
€

240 / ticket
|
Youth (13-17 years)
€

240 / ticket
|
Children (0-12 years)
€

200 / ticket
Options
guests <= 2

Price

Adult (18+ years)

€

240 / ticket |

Youth (13-17 years)

€

240 / ticket |

Children (0-12 years)

€

200 / ticket

guests = 3

Price

Adult (18+ years)

€

220 / ticket |

Youth (13-17 years)

€

220 / ticket |

Children (0-12 years)

€

200 / ticket

guests >= 4

Price

Adult (18+ years)

€

200 / ticket |

Youth (13-17 years)

€

200 / ticket |

Children (0-12 years)

€

200 / ticket
3
promotion
Minimum booking:
1 tickets
Maximum booking:
30 tickets
General price:
Adult (18+ years)
€

240 / ticket
|
Youth (13-17 years)
€

240 / ticket
|
Children (0-12 years)
€

200 / ticket
Options
guests <= 2

Price

Adult (18+ years)

€

240 / ticket |

Youth (13-17 years)

€

240 / ticket |

Children (0-12 years)

€

200 / ticket

guests = 3

Price

Adult (18+ years)

€

220 / ticket |

Youth (13-17 years)

€

220 / ticket |

Children (0-12 years)

€

200 / ticket

guests >= 4

Price

Adult (18+ years)

€

200 / ticket |

Youth (13-17 years)

€

200 / ticket |

Children (0-12 years)

€

200 / ticket
4
promotion
Minimum booking:
1 tickets
Maximum booking:
30 tickets
General price:
Adult (18+ years)
€

240 / ticket
|
Youth (13-17 years)
€

240 / ticket
|
Children (0-12 years)
€

200 / ticket
Options
guests <= 2

Price

Adult (18+ years)

€

240 / ticket |

Youth (13-17 years)

€

240 / ticket |

Children (0-12 years)

€

200 / ticket

guests = 3

Price

Adult (18+ years)

€

220 / ticket |

Youth (13-17 years)

€

220 / ticket |

Children (0-12 years)

€

200 / ticket

guests >= 4

Price

Adult (18+ years)

€

200 / ticket |

Youth (13-17 years)

€

200 / ticket |

Children (0-12 years)

€

200 / ticket
5
promotion
Minimum booking:
1 tickets
Maximum booking:
30 tickets
General price:
Adult (18+ years)
€

240 / ticket
|
Youth (13-17 years)
€

240 / ticket
|
Children (0-12 years)
€

200 / ticket
Options
guests <= 2

Price

Adult (18+ years)

€

240 / ticket |

Youth (13-17 years)

€

240 / ticket |

Children (0-12 years)

€

200 / ticket

guests = 3

Price

Adult (18+ years)

€

220 / ticket |

Youth (13-17 years)

€

220 / ticket |

Children (0-12 years)

€

200 / ticket

guests >= 4

Price

Adult (18+ years)

€

200 / ticket |

Youth (13-17 years)

€

200 / ticket |

Children (0-12 years)

€

200 / ticket
6
promotion
Minimum booking:
1 tickets
Maximum booking:
30 tickets
General price:
Adult (18+ years)
€

240 / ticket
|
Youth (13-17 years)
€

240 / ticket
|
Children (0-12 years)
€

200 / ticket
Options
guests <= 2

Price

Adult (18+ years)

€

240 / ticket |

Youth (13-17 years)

€

240 / ticket |

Children (0-12 years)

€

200 / ticket

guests = 3

Price

Adult (18+ years)

€

220 / ticket |

Youth (13-17 years)

€

220 / ticket |

Children (0-12 years)

€

200 / ticket

guests >= 4

Price

Adult (18+ years)

€

200 / ticket |

Youth (13-17 years)

€

200 / ticket |

Children (0-12 years)

€

200 / ticket
7
promotion
Minimum booking:
1 tickets
Maximum booking:
30 tickets
General price:
Adult (18+ years)
€

240 / ticket
|
Youth (13-17 years)
€

240 / ticket
|
Children (0-12 years)
€

200 / ticket
Options
guests <= 2

Price

Adult (18+ years)

€

240 / ticket |

Youth (13-17 years)

€

240 / ticket |

Children (0-12 years)

€

200 / ticket

guests = 3

Price

Adult (18+ years)

€

220 / ticket |

Youth (13-17 years)

€

220 / ticket |

Children (0-12 years)

€

200 / ticket

guests >= 4

Price

Adult (18+ years)

€

200 / ticket |

Youth (13-17 years)

€

200 / ticket |

Children (0-12 years)

€

200 / ticket
8
promotion
Minimum booking:
1 tickets
Maximum booking:
30 tickets
General price:
Adult (18+ years)
€

240 / ticket
|
Youth (13-17 years)
€

240 / ticket
|
Children (0-12 years)
€

200 / ticket
Options
guests <= 2

Price

Adult (18+ years)

€

240 / ticket |

Youth (13-17 years)

€

240 / ticket |

Children (0-12 years)

€

200 / ticket

guests = 3

Price

Adult (18+ years)

€

220 / ticket |

Youth (13-17 years)

€

220 / ticket |

Children (0-12 years)

€

200 / ticket

guests >= 4

Price

Adult (18+ years)

€

200 / ticket |

Youth (13-17 years)

€

200 / ticket |

Children (0-12 years)

€

200 / ticket
9
promotion
Minimum booking:
1 tickets
Maximum booking:
30 tickets
General price:
Adult (18+ years)
€

240 / ticket
|
Youth (13-17 years)
€

240 / ticket
|
Children (0-12 years)
€

200 / ticket
Options
guests <= 2

Price

Adult (18+ years)

€

240 / ticket |

Youth (13-17 years)

€

240 / ticket |

Children (0-12 years)

€

200 / ticket

guests = 3

Price

Adult (18+ years)

€

220 / ticket |

Youth (13-17 years)

€

220 / ticket |

Children (0-12 years)

€

200 / ticket

guests >= 4

Price

Adult (18+ years)

€

200 / ticket |

Youth (13-17 years)

€

200 / ticket |

Children (0-12 years)

€

200 / ticket
10
promotion
Minimum booking:
1 tickets
Maximum booking:
30 tickets
General price:
Adult (18+ years)
€

240 / ticket
|
Youth (13-17 years)
€

240 / ticket
|
Children (0-12 years)
€

200 / ticket
Options
guests <= 2

Price

Adult (18+ years)

€

240 / ticket |

Youth (13-17 years)

€

240 / ticket |

Children (0-12 years)

€

200 / ticket

guests = 3

Price

Adult (18+ years)

€

220 / ticket |

Youth (13-17 years)

€

220 / ticket |

Children (0-12 years)

€

200 / ticket

guests >= 4

Price

Adult (18+ years)

€

200 / ticket |

Youth (13-17 years)

€

200 / ticket |

Children (0-12 years)

€

200 / ticket
11
promotion
Minimum booking:
1 tickets
Maximum booking:
30 tickets
General price:
Adult (18+ years)
€

240 / ticket
|
Youth (13-17 years)
€

240 / ticket
|
Children (0-12 years)
€

200 / ticket
Options
guests <= 2

Price

Adult (18+ years)

€

240 / ticket |

Youth (13-17 years)

€

240 / ticket |

Children (0-12 years)

€

200 / ticket

guests = 3

Price

Adult (18+ years)

€

220 / ticket |

Youth (13-17 years)

€

220 / ticket |

Children (0-12 years)

€

200 / ticket

guests >= 4

Price

Adult (18+ years)

€

200 / ticket |

Youth (13-17 years)

€

200 / ticket |

Children (0-12 years)

€

200 / ticket
12
promotion
Minimum booking:
1 tickets
Maximum booking:
30 tickets
General price:
Adult (18+ years)
€

240 / ticket
|
Youth (13-17 years)
€

240 / ticket
|
Children (0-12 years)
€

200 / ticket
Options
guests <= 2

Price

Adult (18+ years)

€

240 / ticket |

Youth (13-17 years)

€

240 / ticket |

Children (0-12 years)

€

200 / ticket

guests = 3

Price

Adult (18+ years)

€

220 / ticket |

Youth (13-17 years)

€

220 / ticket |

Children (0-12 years)

€

200 / ticket

guests >= 4

Price

Adult (18+ years)

€

200 / ticket |

Youth (13-17 years)

€

200 / ticket |

Children (0-12 years)

€

200 / ticket
13
promotion
Minimum booking:
1 tickets
Maximum booking:
30 tickets
General price:
Adult (18+ years)
€

240 / ticket
|
Youth (13-17 years)
€

240 / ticket
|
Children (0-12 years)
€

200 / ticket
Options
guests <= 2

Price

Adult (18+ years)

€

240 / ticket |

Youth (13-17 years)

€

240 / ticket |

Children (0-12 years)

€

200 / ticket

guests = 3

Price

Adult (18+ years)

€

220 / ticket |

Youth (13-17 years)

€

220 / ticket |

Children (0-12 years)

€

200 / ticket

guests >= 4

Price

Adult (18+ years)

€

200 / ticket |

Youth (13-17 years)

€

200 / ticket |

Children (0-12 years)

€

200 / ticket
14
promotion
Minimum booking:
1 tickets
Maximum booking:
30 tickets
General price:
Adult (18+ years)
€

240 / ticket
|
Youth (13-17 years)
€

240 / ticket
|
Children (0-12 years)
€

200 / ticket
Options
guests <= 2

Price

Adult (18+ years)

€

240 / ticket |

Youth (13-17 years)

€

240 / ticket |

Children (0-12 years)

€

200 / ticket

guests = 3

Price

Adult (18+ years)

€

220 / ticket |

Youth (13-17 years)

€

220 / ticket |

Children (0-12 years)

€

200 / ticket

guests >= 4

Price

Adult (18+ years)

€

200 / ticket |

Youth (13-17 years)

€

200 / ticket |

Children (0-12 years)

€

200 / ticket
15
promotion
Minimum booking:
1 tickets
Maximum booking:
30 tickets
General price:
Adult (18+ years)
€

240 / ticket
|
Youth (13-17 years)
€

240 / ticket
|
Children (0-12 years)
€

200 / ticket
Options
guests <= 2

Price

Adult (18+ years)

€

240 / ticket |

Youth (13-17 years)

€

240 / ticket |

Children (0-12 years)

€

200 / ticket

guests = 3

Price

Adult (18+ years)

€

220 / ticket |

Youth (13-17 years)

€

220 / ticket |

Children (0-12 years)

€

200 / ticket

guests >= 4

Price

Adult (18+ years)

€

200 / ticket |

Youth (13-17 years)

€

200 / ticket |

Children (0-12 years)

€

200 / ticket
16
promotion
Minimum booking:
1 tickets
Maximum booking:
30 tickets
General price:
Adult (18+ years)
€

240 / ticket
|
Youth (13-17 years)
€

240 / ticket
|
Children (0-12 years)
€

200 / ticket
Options
guests <= 2

Price

Adult (18+ years)

€

240 / ticket |

Youth (13-17 years)

€

240 / ticket |

Children (0-12 years)

€

200 / ticket

guests = 3

Price

Adult (18+ years)

€

220 / ticket |

Youth (13-17 years)

€

220 / ticket |

Children (0-12 years)

€

200 / ticket

guests >= 4

Price

Adult (18+ years)

€

200 / ticket |

Youth (13-17 years)

€

200 / ticket |

Children (0-12 years)

€

200 / ticket
17
promotion
Minimum booking:
1 tickets
Maximum booking:
30 tickets
General price:
Adult (18+ years)
€

240 / ticket
|
Youth (13-17 years)
€

240 / ticket
|
Children (0-12 years)
€

200 / ticket
Options
guests <= 2

Price

Adult (18+ years)

€

240 / ticket |

Youth (13-17 years)

€

240 / ticket |

Children (0-12 years)

€

200 / ticket

guests = 3

Price

Adult (18+ years)

€

220 / ticket |

Youth (13-17 years)

€

220 / ticket |

Children (0-12 years)

€

200 / ticket

guests >= 4

Price

Adult (18+ years)

€

200 / ticket |

Youth (13-17 years)

€

200 / ticket |

Children (0-12 years)

€

200 / ticket
18
promotion
Minimum booking:
1 tickets
Maximum booking:
30 tickets
General price:
Adult (18+ years)
€

240 / ticket
|
Youth (13-17 years)
€

240 / ticket
|
Children (0-12 years)
€

200 / ticket
Options
guests <= 2

Price

Adult (18+ years)

€

240 / ticket |

Youth (13-17 years)

€

240 / ticket |

Children (0-12 years)

€

200 / ticket

guests = 3

Price

Adult (18+ years)

€

220 / ticket |

Youth (13-17 years)

€

220 / ticket |

Children (0-12 years)

€

200 / ticket

guests >= 4

Price

Adult (18+ years)

€

200 / ticket |

Youth (13-17 years)

€

200 / ticket |

Children (0-12 years)

€

200 / ticket
19
promotion
Minimum booking:
1 tickets
Maximum booking:
30 tickets
General price:
Adult (18+ years)
€

240 / ticket
|
Youth (13-17 years)
€

240 / ticket
|
Children (0-12 years)
€

200 / ticket
Options
guests <= 2

Price

Adult (18+ years)

€

240 / ticket |

Youth (13-17 years)

€

240 / ticket |

Children (0-12 years)

€

200 / ticket

guests = 3

Price

Adult (18+ years)

€

220 / ticket |

Youth (13-17 years)

€

220 / ticket |

Children (0-12 years)

€

200 / ticket

guests >= 4

Price

Adult (18+ years)

€

200 / ticket |

Youth (13-17 years)

€

200 / ticket |

Children (0-12 years)

€

200 / ticket
20
promotion
Minimum booking:
1 tickets
Maximum booking:
30 tickets
General price:
Adult (18+ years)
€

240 / ticket
|
Youth (13-17 years)
€

240 / ticket
|
Children (0-12 years)
€

200 / ticket
Options
guests <= 2

Price

Adult (18+ years)

€

240 / ticket |

Youth (13-17 years)

€

240 / ticket |

Children (0-12 years)

€

200 / ticket

guests = 3

Price

Adult (18+ years)

€

220 / ticket |

Youth (13-17 years)

€

220 / ticket |

Children (0-12 years)

€

200 / ticket

guests >= 4

Price

Adult (18+ years)

€

200 / ticket |

Youth (13-17 years)

€

200 / ticket |

Children (0-12 years)

€

200 / ticket
21
promotion
Minimum booking:
1 tickets
Maximum booking:
30 tickets
General price:
Adult (18+ years)
€

240 / ticket
|
Youth (13-17 years)
€

240 / ticket
|
Children (0-12 years)
€

200 / ticket
Options
guests <= 2

Price

Adult (18+ years)

€

240 / ticket |

Youth (13-17 years)

€

240 / ticket |

Children (0-12 years)

€

200 / ticket

guests = 3

Price

Adult (18+ years)

€

220 / ticket |

Youth (13-17 years)

€

220 / ticket |

Children (0-12 years)

€

200 / ticket

guests >= 4

Price

Adult (18+ years)

€

200 / ticket |

Youth (13-17 years)

€

200 / ticket |

Children (0-12 years)

€

200 / ticket
22
promotion
Minimum booking:
1 tickets
Maximum booking:
30 tickets
General price:
Adult (18+ years)
€

240 / ticket
|
Youth (13-17 years)
€

240 / ticket
|
Children (0-12 years)
€

200 / ticket
Options
guests <= 2

Price

Adult (18+ years)

€

240 / ticket |

Youth (13-17 years)

€

240 / ticket |

Children (0-12 years)

€

200 / ticket

guests = 3

Price

Adult (18+ years)

€

220 / ticket |

Youth (13-17 years)

€

220 / ticket |

Children (0-12 years)

€

200 / ticket

guests >= 4

Price

Adult (18+ years)

€

200 / ticket |

Youth (13-17 years)

€

200 / ticket |

Children (0-12 years)

€

200 / ticket
23
promotion
Minimum booking:
1 tickets
Maximum booking:
30 tickets
General price:
Adult (18+ years)
€

240 / ticket
|
Youth (13-17 years)
€

240 / ticket
|
Children (0-12 years)
€

200 / ticket
Options
guests <= 2

Price

Adult (18+ years)

€

240 / ticket |

Youth (13-17 years)

€

240 / ticket |

Children (0-12 years)

€

200 / ticket

guests = 3

Price

Adult (18+ years)

€

220 / ticket |

Youth (13-17 years)

€

220 / ticket |

Children (0-12 years)

€

200 / ticket

guests >= 4

Price

Adult (18+ years)

€

200 / ticket |

Youth (13-17 years)

€

200 / ticket |

Children (0-12 years)

€

200 / ticket
24
promotion
Minimum booking:
1 tickets
Maximum booking:
30 tickets
General price:
Adult (18+ years)
€

240 / ticket
|
Youth (13-17 years)
€

240 / ticket
|
Children (0-12 years)
€

200 / ticket
Options
guests <= 2

Price

Adult (18+ years)

€

240 / ticket |

Youth (13-17 years)

€

240 / ticket |

Children (0-12 years)

€

200 / ticket

guests = 3

Price

Adult (18+ years)

€

220 / ticket |

Youth (13-17 years)

€

220 / ticket |

Children (0-12 years)

€

200 / ticket

guests >= 4

Price

Adult (18+ years)

€

200 / ticket |

Youth (13-17 years)

€

200 / ticket |

Children (0-12 years)

€

200 / ticket
25
promotion
Minimum booking:
1 tickets
Maximum booking:
30 tickets
General price:
Adult (18+ years)
€

240 / ticket
|
Youth (13-17 years)
€

240 / ticket
|
Children (0-12 years)
€

200 / ticket
Options
guests <= 2

Price

Adult (18+ years)

€

240 / ticket |

Youth (13-17 years)

€

240 / ticket |

Children (0-12 years)

€

200 / ticket

guests = 3

Price

Adult (18+ years)

€

220 / ticket |

Youth (13-17 years)

€

220 / ticket |

Children (0-12 years)

€

200 / ticket

guests >= 4

Price

Adult (18+ years)

€

200 / ticket |

Youth (13-17 years)

€

200 / ticket |

Children (0-12 years)

€

200 / ticket
26
promotion
Minimum booking:
1 tickets
Maximum booking:
30 tickets
General price:
Adult (18+ years)
€

240 / ticket
|
Youth (13-17 years)
€

240 / ticket
|
Children (0-12 years)
€

200 / ticket
Options
guests <= 2

Price

Adult (18+ years)

€

240 / ticket |

Youth (13-17 years)

€

240 / ticket |

Children (0-12 years)

€

200 / ticket

guests = 3

Price

Adult (18+ years)

€

220 / ticket |

Youth (13-17 years)

€

220 / ticket |

Children (0-12 years)

€

200 / ticket

guests >= 4

Price

Adult (18+ years)

€

200 / ticket |

Youth (13-17 years)

€

200 / ticket |

Children (0-12 years)

€

200 / ticket
27
promotion
Minimum booking:
1 tickets
Maximum booking:
30 tickets
General price:
Adult (18+ years)
€

240 / ticket
|
Youth (13-17 years)
€

240 / ticket
|
Children (0-12 years)
€

200 / ticket
Options
guests <= 2

Price

Adult (18+ years)

€

240 / ticket |

Youth (13-17 years)

€

240 / ticket |

Children (0-12 years)

€

200 / ticket

guests = 3

Price

Adult (18+ years)

€

220 / ticket |

Youth (13-17 years)

€

220 / ticket |

Children (0-12 years)

€

200 / ticket

guests >= 4

Price

Adult (18+ years)

€

200 / ticket |

Youth (13-17 years)

€

200 / ticket |

Children (0-12 years)

€

200 / ticket
28
promotion
Minimum booking:
1 tickets
Maximum booking:
30 tickets
General price:
Adult (18+ years)
€

240 / ticket
|
Youth (13-17 years)
€

240 / ticket
|
Children (0-12 years)
€

200 / ticket
Options
guests <= 2

Price

Adult (18+ years)

€

240 / ticket |

Youth (13-17 years)

€

240 / ticket |

Children (0-12 years)

€

200 / ticket

guests = 3

Price

Adult (18+ years)

€

220 / ticket |

Youth (13-17 years)

€

220 / ticket |

Children (0-12 years)

€

200 / ticket

guests >= 4

Price

Adult (18+ years)

€

200 / ticket |

Youth (13-17 years)

€

200 / ticket |

Children (0-12 years)

€

200 / ticket
29
promotion
Minimum booking:
1 tickets
Maximum booking:
30 tickets
General price:
Adult (18+ years)
€

240 / ticket
|
Youth (13-17 years)
€

240 / ticket
|
Children (0-12 years)
€

200 / ticket
Options
guests <= 2

Price

Adult (18+ years)

€

240 / ticket |

Youth (13-17 years)

€

240 / ticket |

Children (0-12 years)

€

200 / ticket

guests = 3

Price

Adult (18+ years)

€

220 / ticket |

Youth (13-17 years)

€

220 / ticket |

Children (0-12 years)

€

200 / ticket

guests >= 4

Price

Adult (18+ years)

€

200 / ticket |

Youth (13-17 years)

€

200 / ticket |

Children (0-12 years)

€

200 / ticket
30
promotion
Minimum booking:
1 tickets
Maximum booking:
30 tickets
General price:
Adult (18+ years)
€

240 / ticket
|
Youth (13-17 years)
€

240 / ticket
|
Children (0-12 years)
€

200 / ticket
Options
guests <= 2

Price

Adult (18+ years)

€

240 / ticket |

Youth (13-17 years)

€

240 / ticket |

Children (0-12 years)

€

200 / ticket

guests = 3

Price

Adult (18+ years)

€

220 / ticket |

Youth (13-17 years)

€

220 / ticket |

Children (0-12 years)

€

200 / ticket

guests >= 4

Price

Adult (18+ years)

€

200 / ticket |

Youth (13-17 years)

€

200 / ticket |

Children (0-12 years)

€

200 / ticket
31
promotion
Minimum booking:
1 tickets
Maximum booking:
30 tickets
General price:
Adult (18+ years)
€

240 / ticket
|
Youth (13-17 years)
€

240 / ticket
|
Children (0-12 years)
€

200 / ticket
Options
guests <= 2

Price

Adult (18+ years)

€

240 / ticket |

Youth (13-17 years)

€

240 / ticket |

Children (0-12 years)

€

200 / ticket

guests = 3

Price

Adult (18+ years)

€

220 / ticket |

Youth (13-17 years)

€

220 / ticket |

Children (0-12 years)

€

200 / ticket

guests >= 4

Price

Adult (18+ years)

€

200 / ticket |

Youth (13-17 years)

€

200 / ticket |

Children (0-12 years)

€

200 / ticket
1
promotion
Minimum booking:
1 tickets
Maximum booking:
30 tickets
General price:
Adult (18+ years)
€

240 / ticket
|
Youth (13-17 years)
€

240 / ticket
|
Children (0-12 years)
€

200 / ticket
Options
guests <= 2

Price

Adult (18+ years)

€

240 / ticket |

Youth (13-17 years)

€

240 / ticket |

Children (0-12 years)

€

200 / ticket

guests = 3

Price

Adult (18+ years)

€

220 / ticket |

Youth (13-17 years)

€

220 / ticket |

Children (0-12 years)

€

200 / ticket

guests >= 4

Price

Adult (18+ years)

€

200 / ticket |

Youth (13-17 years)

€

200 / ticket |

Children (0-12 years)

€

200 / ticket
2
promotion
Minimum booking:
1 tickets
Maximum booking:
30 tickets
General price:
Adult (18+ years)
€

240 / ticket
|
Youth (13-17 years)
€

240 / ticket
|
Children (0-12 years)
€

200 / ticket
Options
guests <= 2

Price

Adult (18+ years)

€

240 / ticket |

Youth (13-17 years)

€

240 / ticket |

Children (0-12 years)

€

200 / ticket

guests = 3

Price

Adult (18+ years)

€

220 / ticket |

Youth (13-17 years)

€

220 / ticket |

Children (0-12 years)

€

200 / ticket

guests >= 4

Price

Adult (18+ years)

€

200 / ticket |

Youth (13-17 years)

€

200 / ticket |

Children (0-12 years)

€

200 / ticket
3
promotion
Minimum booking:
1 tickets
Maximum booking:
30 tickets
General price:
Adult (18+ years)
€

240 / ticket
|
Youth (13-17 years)
€

240 / ticket
|
Children (0-12 years)
€

200 / ticket
Options
guests <= 2

Price

Adult (18+ years)

€

240 / ticket |

Youth (13-17 years)

€

240 / ticket |

Children (0-12 years)

€

200 / ticket

guests = 3

Price

Adult (18+ years)

€

220 / ticket |

Youth (13-17 years)

€

220 / ticket |

Children (0-12 years)

€

200 / ticket

guests >= 4

Price

Adult (18+ years)

€

200 / ticket |

Youth (13-17 years)

€

200 / ticket |

Children (0-12 years)

€

200 / ticket
4
promotion
Minimum booking:
1 tickets
Maximum booking:
30 tickets
General price:
Adult (18+ years)
€

240 / ticket
|
Youth (13-17 years)
€

240 / ticket
|
Children (0-12 years)
€

200 / ticket
Options
guests <= 2

Price

Adult (18+ years)

€

240 / ticket |

Youth (13-17 years)

€

240 / ticket |

Children (0-12 years)

€

200 / ticket

guests = 3

Price

Adult (18+ years)

€

220 / ticket |

Youth (13-17 years)

€

220 / ticket |

Children (0-12 years)

€

200 / ticket

guests >= 4

Price

Adult (18+ years)

€

200 / ticket |

Youth (13-17 years)

€

200 / ticket |

Children (0-12 years)

€

200 / ticket
5
promotion
Minimum booking:
1 tickets
Maximum booking:
30 tickets
General price:
Adult (18+ years)
€

240 / ticket
|
Youth (13-17 years)
€

240 / ticket
|
Children (0-12 years)
€

200 / ticket
Options
guests <= 2

Price

Adult (18+ years)

€

240 / ticket |

Youth (13-17 years)

€

240 / ticket |

Children (0-12 years)

€

200 / ticket

guests = 3

Price

Adult (18+ years)

€

220 / ticket |

Youth (13-17 years)

€

220 / ticket |

Children (0-12 years)

€

200 / ticket

guests >= 4

Price

Adult (18+ years)

€

200 / ticket |

Youth (13-17 years)

€

200 / ticket |

Children (0-12 years)

€

200 / ticket
6
promotion
Minimum booking:
1 tickets
Maximum booking:
30 tickets
General price:
Adult (18+ years)
€

240 / ticket
|
Youth (13-17 years)
€

240 / ticket
|
Children (0-12 years)
€

200 / ticket
Options
guests <= 2

Price

Adult (18+ years)

€

240 / ticket |

Youth (13-17 years)

€

240 / ticket |

Children (0-12 years)

€

200 / ticket

guests = 3

Price

Adult (18+ years)

€

220 / ticket |

Youth (13-17 years)

€

220 / ticket |

Children (0-12 years)

€

200 / ticket

guests >= 4

Price

Adult (18+ years)

€

200 / ticket |

Youth (13-17 years)

€

200 / ticket |

Children (0-12 years)

€

200 / ticket
7
promotion
Minimum booking:
1 tickets
Maximum booking:
30 tickets
General price:
Adult (18+ years)
€

240 / ticket
|
Youth (13-17 years)
€

240 / ticket
|
Children (0-12 years)
€

200 / ticket
Options
guests <= 2

Price

Adult (18+ years)

€

240 / ticket |

Youth (13-17 years)

€

240 / ticket |

Children (0-12 years)

€

200 / ticket

guests = 3

Price

Adult (18+ years)

€

220 / ticket |

Youth (13-17 years)

€

220 / ticket |

Children (0-12 years)

€

200 / ticket

guests >= 4

Price

Adult (18+ years)

€

200 / ticket |

Youth (13-17 years)

€

200 / ticket |

Children (0-12 years)

€

200 / ticket
8
promotion
Minimum booking:
1 tickets
Maximum booking:
30 tickets
General price:
Adult (18+ years)
€

240 / ticket
|
Youth (13-17 years)
€

240 / ticket
|
Children (0-12 years)
€

200 / ticket
Options
guests <= 2

Price

Adult (18+ years)

€

240 / ticket |

Youth (13-17 years)

€

240 / ticket |

Children (0-12 years)

€

200 / ticket

guests = 3

Price

Adult (18+ years)

€

220 / ticket |

Youth (13-17 years)

€

220 / ticket |

Children (0-12 years)

€

200 / ticket

guests >= 4

Price

Adult (18+ years)

€

200 / ticket |

Youth (13-17 years)

€

200 / ticket |

Children (0-12 years)

€

200 / ticket
9
promotion
Minimum booking:
1 tickets
Maximum booking:
30 tickets
General price:
Adult (18+ years)
€

240 / ticket
|
Youth (13-17 years)
€

240 / ticket
|
Children (0-12 years)
€

200 / ticket
Options
guests <= 2

Price

Adult (18+ years)

€

240 / ticket |

Youth (13-17 years)

€

240 / ticket |

Children (0-12 years)

€

200 / ticket

guests = 3

Price

Adult (18+ years)

€

220 / ticket |

Youth (13-17 years)

€

220 / ticket |

Children (0-12 years)

€

200 / ticket

guests >= 4

Price

Adult (18+ years)

€

200 / ticket |

Youth (13-17 years)

€

200 / ticket |

Children (0-12 years)

€

200 / ticket
10
promotion
Minimum booking:
1 tickets
Maximum booking:
30 tickets
General price:
Adult (18+ years)
€

240 / ticket
|
Youth (13-17 years)
€

240 / ticket
|
Children (0-12 years)
€

200 / ticket
Options
guests <= 2

Price

Adult (18+ years)

€

240 / ticket |

Youth (13-17 years)

€

240 / ticket |

Children (0-12 years)

€

200 / ticket

guests = 3

Price

Adult (18+ years)

€

220 / ticket |

Youth (13-17 years)

€

220 / ticket |

Children (0-12 years)

€

200 / ticket

guests >= 4

Price

Adult (18+ years)

€

200 / ticket |

Youth (13-17 years)

€

200 / ticket |

Children (0-12 years)

€

200 / ticket
11
promotion
Minimum booking:
1 tickets
Maximum booking:
30 tickets
General price:
Adult (18+ years)
€

240 / ticket
|
Youth (13-17 years)
€

240 / ticket
|
Children (0-12 years)
€

200 / ticket
Options
guests <= 2

Price

Adult (18+ years)

€

240 / ticket |

Youth (13-17 years)

€

240 / ticket |

Children (0-12 years)

€

200 / ticket

guests = 3

Price

Adult (18+ years)

€

220 / ticket |

Youth (13-17 years)

€

220 / ticket |

Children (0-12 years)

€

200 / ticket

guests >= 4

Price

Adult (18+ years)

€

200 / ticket |

Youth (13-17 years)

€

200 / ticket |

Children (0-12 years)

€

200 / ticket
12
promotion
Minimum booking:
1 tickets
Maximum booking:
30 tickets
General price:
Adult (18+ years)
€

240 / ticket
|
Youth (13-17 years)
€

240 / ticket
|
Children (0-12 years)
€

200 / ticket
Options
guests <= 2

Price

Adult (18+ years)

€

240 / ticket |

Youth (13-17 years)

€

240 / ticket |

Children (0-12 years)

€

200 / ticket

guests = 3

Price

Adult (18+ years)

€

220 / ticket |

Youth (13-17 years)

€

220 / ticket |

Children (0-12 years)

€

200 / ticket

guests >= 4

Price

Adult (18+ years)

€

200 / ticket |

Youth (13-17 years)

€

200 / ticket |

Children (0-12 years)

€

200 / ticket
13
promotion
Minimum booking:
1 tickets
Maximum booking:
30 tickets
General price:
Adult (18+ years)
€

240 / ticket
|
Youth (13-17 years)
€

240 / ticket
|
Children (0-12 years)
€

200 / ticket
Options
guests <= 2

Price

Adult (18+ years)

€

240 / ticket |

Youth (13-17 years)

€

240 / ticket |

Children (0-12 years)

€

200 / ticket

guests = 3

Price

Adult (18+ years)

€

220 / ticket |

Youth (13-17 years)

€

220 / ticket |

Children (0-12 years)

€

200 / ticket

guests >= 4

Price

Adult (18+ years)

€

200 / ticket |

Youth (13-17 years)

€

200 / ticket |

Children (0-12 years)

€

200 / ticket
14
promotion
Minimum booking:
1 tickets
Maximum booking:
30 tickets
General price:
Adult (18+ years)
€

240 / ticket
|
Youth (13-17 years)
€

240 / ticket
|
Children (0-12 years)
€

200 / ticket
Options
guests <= 2

Price

Adult (18+ years)

€

240 / ticket |

Youth (13-17 years)

€

240 / ticket |

Children (0-12 years)

€

200 / ticket

guests = 3

Price

Adult (18+ years)

€

220 / ticket |

Youth (13-17 years)

€

220 / ticket |

Children (0-12 years)

€

200 / ticket

guests >= 4

Price

Adult (18+ years)

€

200 / ticket |

Youth (13-17 years)

€

200 / ticket |

Children (0-12 years)

€

200 / ticket
15
promotion
Minimum booking:
1 tickets
Maximum booking:
30 tickets
General price:
Adult (18+ years)
€

240 / ticket
|
Youth (13-17 years)
€

240 / ticket
|
Children (0-12 years)
€

200 / ticket
Options
guests <= 2

Price

Adult (18+ years)

€

240 / ticket |

Youth (13-17 years)

€

240 / ticket |

Children (0-12 years)

€

200 / ticket

guests = 3

Price

Adult (18+ years)

€

220 / ticket |

Youth (13-17 years)

€

220 / ticket |

Children (0-12 years)

€

200 / ticket

guests >= 4

Price

Adult (18+ years)

€

200 / ticket |

Youth (13-17 years)

€

200 / ticket |

Children (0-12 years)

€

200 / ticket
16
promotion
Minimum booking:
1 tickets
Maximum booking:
30 tickets
General price:
Adult (18+ years)
€

240 / ticket
|
Youth (13-17 years)
€

240 / ticket
|
Children (0-12 years)
€

200 / ticket
Options
guests <= 2

Price

Adult (18+ years)

€

240 / ticket |

Youth (13-17 years)

€

240 / ticket |

Children (0-12 years)

€

200 / ticket

guests = 3

Price

Adult (18+ years)

€

220 / ticket |

Youth (13-17 years)

€

220 / ticket |

Children (0-12 years)

€

200 / ticket

guests >= 4

Price

Adult (18+ years)

€

200 / ticket |

Youth (13-17 years)

€

200 / ticket |

Children (0-12 years)

€

200 / ticket
17
promotion
Minimum booking:
1 tickets
Maximum booking:
30 tickets
General price:
Adult (18+ years)
€

240 / ticket
|
Youth (13-17 years)
€

240 / ticket
|
Children (0-12 years)
€

200 / ticket
Options
guests <= 2

Price

Adult (18+ years)

€

240 / ticket |

Youth (13-17 years)

€

240 / ticket |

Children (0-12 years)

€

200 / ticket

guests = 3

Price

Adult (18+ years)

€

220 / ticket |

Youth (13-17 years)

€

220 / ticket |

Children (0-12 years)

€

200 / ticket

guests >= 4

Price

Adult (18+ years)

€

200 / ticket |

Youth (13-17 years)

€

200 / ticket |

Children (0-12 years)

€

200 / ticket
18
promotion
Minimum booking:
1 tickets
Maximum booking:
30 tickets
General price:
Adult (18+ years)
€

240 / ticket
|
Youth (13-17 years)
€

240 / ticket
|
Children (0-12 years)
€

200 / ticket
Options
guests <= 2

Price

Adult (18+ years)

€

240 / ticket |

Youth (13-17 years)

€

240 / ticket |

Children (0-12 years)

€

200 / ticket

guests = 3

Price

Adult (18+ years)

€

220 / ticket |

Youth (13-17 years)

€

220 / ticket |

Children (0-12 years)

€

200 / ticket

guests >= 4

Price

Adult (18+ years)

€

200 / ticket |

Youth (13-17 years)

€

200 / ticket |

Children (0-12 years)

€

200 / ticket
19
promotion
Minimum booking:
1 tickets
Maximum booking:
30 tickets
General price:
Adult (18+ years)
€

240 / ticket
|
Youth (13-17 years)
€

240 / ticket
|
Children (0-12 years)
€

200 / ticket
Options
guests <= 2

Price

Adult (18+ years)

€

240 / ticket |

Youth (13-17 years)

€

240 / ticket |

Children (0-12 years)

€

200 / ticket

guests = 3

Price

Adult (18+ years)

€

220 / ticket |

Youth (13-17 years)

€

220 / ticket |

Children (0-12 years)

€

200 / ticket

guests >= 4

Price

Adult (18+ years)

€

200 / ticket |

Youth (13-17 years)

€

200 / ticket |

Children (0-12 years)

€

200 / ticket
20
promotion
Minimum booking:
1 tickets
Maximum booking:
30 tickets
General price:
Adult (18+ years)
€

240 / ticket
|
Youth (13-17 years)
€

240 / ticket
|
Children (0-12 years)
€

200 / ticket
Options
guests <= 2

Price

Adult (18+ years)

€

240 / ticket |

Youth (13-17 years)

€

240 / ticket |

Children (0-12 years)

€

200 / ticket

guests = 3

Price

Adult (18+ years)

€

220 / ticket |

Youth (13-17 years)

€

220 / ticket |

Children (0-12 years)

€

200 / ticket

guests >= 4

Price

Adult (18+ years)

€

200 / ticket |

Youth (13-17 years)

€

200 / ticket |

Children (0-12 years)

€

200 / ticket
21
promotion
Minimum booking:
1 tickets
Maximum booking:
30 tickets
General price:
Adult (18+ years)
€

240 / ticket
|
Youth (13-17 years)
€

240 / ticket
|
Children (0-12 years)
€

200 / ticket
Options
guests <= 2

Price

Adult (18+ years)

€

240 / ticket |

Youth (13-17 years)

€

240 / ticket |

Children (0-12 years)

€

200 / ticket

guests = 3

Price

Adult (18+ years)

€

220 / ticket |

Youth (13-17 years)

€

220 / ticket |

Children (0-12 years)

€

200 / ticket

guests >= 4

Price

Adult (18+ years)

€

200 / ticket |

Youth (13-17 years)

€

200 / ticket |

Children (0-12 years)

€

200 / ticket
22
promotion
Minimum booking:
1 tickets
Maximum booking:
30 tickets
General price:
Adult (18+ years)
€

240 / ticket
|
Youth (13-17 years)
€

240 / ticket
|
Children (0-12 years)
€

200 / ticket
Options
guests <= 2

Price

Adult (18+ years)

€

240 / ticket |

Youth (13-17 years)

€

240 / ticket |

Children (0-12 years)

€

200 / ticket

guests = 3

Price

Adult (18+ years)

€

220 / ticket |

Youth (13-17 years)

€

220 / ticket |

Children (0-12 years)

€

200 / ticket

guests >= 4

Price

Adult (18+ years)

€

200 / ticket |

Youth (13-17 years)

€

200 / ticket |

Children (0-12 years)

€

200 / ticket
23
promotion
Minimum booking:
1 tickets
Maximum booking:
30 tickets
General price:
Adult (18+ years)
€

240 / ticket
|
Youth (13-17 years)
€

240 / ticket
|
Children (0-12 years)
€

200 / ticket
Options
guests <= 2

Price

Adult (18+ years)

€

240 / ticket |

Youth (13-17 years)

€

240 / ticket |

Children (0-12 years)

€

200 / ticket

guests = 3

Price

Adult (18+ years)

€

220 / ticket |

Youth (13-17 years)

€

220 / ticket |

Children (0-12 years)

€

200 / ticket

guests >= 4

Price

Adult (18+ years)

€

200 / ticket |

Youth (13-17 years)

€

200 / ticket |

Children (0-12 years)

€

200 / ticket
24
promotion
Minimum booking:
1 tickets
Maximum booking:
30 tickets
General price:
Adult (18+ years)
€

240 / ticket
|
Youth (13-17 years)
€

240 / ticket
|
Children (0-12 years)
€

200 / ticket
Options
guests <= 2

Price

Adult (18+ years)

€

240 / ticket |

Youth (13-17 years)

€

240 / ticket |

Children (0-12 years)

€

200 / ticket

guests = 3

Price

Adult (18+ years)

€

220 / ticket |

Youth (13-17 years)

€

220 / ticket |

Children (0-12 years)

€

200 / ticket

guests >= 4

Price

Adult (18+ years)

€

200 / ticket |

Youth (13-17 years)

€

200 / ticket |

Children (0-12 years)

€

200 / ticket
25
promotion
Minimum booking:
1 tickets
Maximum booking:
30 tickets
General price:
Adult (18+ years)
€

240 / ticket
|
Youth (13-17 years)
€

240 / ticket
|
Children (0-12 years)
€

200 / ticket
Options
guests <= 2

Price

Adult (18+ years)

€

240 / ticket |

Youth (13-17 years)

€

240 / ticket |

Children (0-12 years)

€

200 / ticket

guests = 3

Price

Adult (18+ years)

€

220 / ticket |

Youth (13-17 years)

€

220 / ticket |

Children (0-12 years)

€

200 / ticket

guests >= 4

Price

Adult (18+ years)

€

200 / ticket |

Youth (13-17 years)

€

200 / ticket |

Children (0-12 years)

€

200 / ticket
26
promotion
Minimum booking:
1 tickets
Maximum booking:
30 tickets
General price:
Adult (18+ years)
€

240 / ticket
|
Youth (13-17 years)
€

240 / ticket
|
Children (0-12 years)
€

200 / ticket
Options
guests <= 2

Price

Adult (18+ years)

€

240 / ticket |

Youth (13-17 years)

€

240 / ticket |

Children (0-12 years)

€

200 / ticket

guests = 3

Price

Adult (18+ years)

€

220 / ticket |

Youth (13-17 years)

€

220 / ticket |

Children (0-12 years)

€

200 / ticket

guests >= 4

Price

Adult (18+ years)

€

200 / ticket |

Youth (13-17 years)

€

200 / ticket |

Children (0-12 years)

€

200 / ticket
27
promotion
Minimum booking:
1 tickets
Maximum booking:
30 tickets
General price:
Adult (18+ years)
€

240 / ticket
|
Youth (13-17 years)
€

240 / ticket
|
Children (0-12 years)
€

200 / ticket
Options
guests <= 2

Price

Adult (18+ years)

€

240 / ticket |

Youth (13-17 years)

€

240 / ticket |

Children (0-12 years)

€

200 / ticket

guests = 3

Price

Adult (18+ years)

€

220 / ticket |

Youth (13-17 years)

€

220 / ticket |

Children (0-12 years)

€

200 / ticket

guests >= 4

Price

Adult (18+ years)

€

200 / ticket |

Youth (13-17 years)

€

200 / ticket |

Children (0-12 years)

€

200 / ticket
28
promotion
Minimum booking:
1 tickets
Maximum booking:
30 tickets
General price:
Adult (18+ years)
€

240 / ticket
|
Youth (13-17 years)
€

240 / ticket
|
Children (0-12 years)
€

200 / ticket
Options
guests <= 2

Price

Adult (18+ years)

€

240 / ticket |

Youth (13-17 years)

€

240 / ticket |

Children (0-12 years)

€

200 / ticket

guests = 3

Price

Adult (18+ years)

€

220 / ticket |

Youth (13-17 years)

€

220 / ticket |

Children (0-12 years)

€

200 / ticket

guests >= 4

Price

Adult (18+ years)

€

200 / ticket |

Youth (13-17 years)

€

200 / ticket |

Children (0-12 years)

€

200 / ticket
29
promotion
Minimum booking:
1 tickets
Maximum booking:
30 tickets
General price:
Adult (18+ years)
€

240 / ticket
|
Youth (13-17 years)
€

240 / ticket
|
Children (0-12 years)
€

200 / ticket
Options
guests <= 2

Price

Adult (18+ years)

€

240 / ticket |

Youth (13-17 years)

€

240 / ticket |

Children (0-12 years)

€

200 / ticket

guests = 3

Price

Adult (18+ years)

€

220 / ticket |

Youth (13-17 years)

€

220 / ticket |

Children (0-12 years)

€

200 / ticket

guests >= 4

Price

Adult (18+ years)

€

200 / ticket |

Youth (13-17 years)

€

200 / ticket |

Children (0-12 years)

€

200 / ticket
30
promotion
Minimum booking:
1 tickets
Maximum booking:
30 tickets
General price:
Adult (18+ years)
€

240 / ticket
|
Youth (13-17 years)
€

240 / ticket
|
Children (0-12 years)
€

200 / ticket
Options
guests <= 2

Price

Adult (18+ years)

€

240 / ticket |

Youth (13-17 years)

€

240 / ticket |

Children (0-12 years)

€

200 / ticket

guests = 3

Price

Adult (18+ years)

€

220 / ticket |

Youth (13-17 years)

€

220 / ticket |

Children (0-12 years)

€

200 / ticket

guests >= 4

Price

Adult (18+ years)

€

200 / ticket |

Youth (13-17 years)

€

200 / ticket |

Children (0-12 years)

€

200 / ticket
29
promotion
Minimum booking:
1 tickets
Maximum booking:
30 tickets
General price:
Adult (18+ years)
€

240 / ticket
|
Youth (13-17 years)
€

240 / ticket
|
Children (0-12 years)
€

200 / ticket
Options
guests <= 2

Price

Adult (18+ years)

€

240 / ticket |

Youth (13-17 years)

€

240 / ticket |

Children (0-12 years)

€

200 / ticket

guests = 3

Price

Adult (18+ years)

€

220 / ticket |

Youth (13-17 years)

€

220 / ticket |

Children (0-12 years)

€

200 / ticket

guests >= 4

Price

Adult (18+ years)

€

200 / ticket |

Youth (13-17 years)

€

200 / ticket |

Children (0-12 years)

€

200 / ticket
30
promotion
Minimum booking:
1 tickets
Maximum booking:
30 tickets
General price:
Adult (18+ years)
€

240 / ticket
|
Youth (13-17 years)
€

240 / ticket
|
Children (0-12 years)
€

200 / ticket
Options
guests <= 2

Price

Adult (18+ years)

€

240 / ticket |

Youth (13-17 years)

€

240 / ticket |

Children (0-12 years)

€

200 / ticket

guests = 3

Price

Adult (18+ years)

€

220 / ticket |

Youth (13-17 years)

€

220 / ticket |

Children (0-12 years)

€

200 / ticket

guests >= 4

Price

Adult (18+ years)

€

200 / ticket |

Youth (13-17 years)

€

200 / ticket |

Children (0-12 years)

€

200 / ticket