THE TRIP
Explore the Moroccan Atlas Mountains :
The ascent of Toubkal (4,167 m) with a gradual acclimatization in altitude and height difference.
Comfort and hospitality at the Riad Atlas Panorama.
The Moroccan Atlas Mountains, which include Mount Toubkal (4167m), North Africa's highest peak, are ideal for an adventure trip to Morocco. The itinerary includes a day of acclimatization in the Imlil valley, a climb to the winter-guarded Toubkal refuge, which will serve as our base camp for Ouanoukrim (4088 m), and an ascent to the summit.
further discounts are aavailable according to the GROUPE SIZE

Mules and muleteers to carry your luggage.

Porters for luggage from snowline to the mountain huts ( Winter months)

Berber Cook

All meals on the hike

Round-trip Transportation between the trek and your accommodation in Marrakesh .

Camping Materiel ( Tents & Mattress) for summer treks.

Expert- Berber, English, Spanish - speaking mountain guides
Travel insurance.

Soft/alcoholic drinks

Tips and personal expanses.
Day 1 : MARRAKECH - IMLIL - ACHAYN (1750 M) Positive altitude difference: 300 m. Negative drop: 300 m. 3 hour walk. Accommodation: Riad. Meals included: morning, noon, evening. Transfer: 1h30.
Transfer to Imlil via the Moulay Brahim gorges and the village of Asni. We will stay in a lodge in the village of ACHAYN for two nights. A high-quality Riad Atlas Panorama with a spectacular view, run by AZTAT Rachid, a long-time mountain guide and key figure in the Toubkal sector. Let's go for a first warm-up towards Tachedirt after lunch at the Riad. On the way, we discover the typical villages of Assif n'Imenane, with their Berber mountain people agricultural traditions. The irrigated terraces rise very high on the valley sides. The upper channel (targa) creates a nearly rectilinear divide between the brown of the mountains and the green of the crops.The villages are built above so that no arpent of fertile land is lost.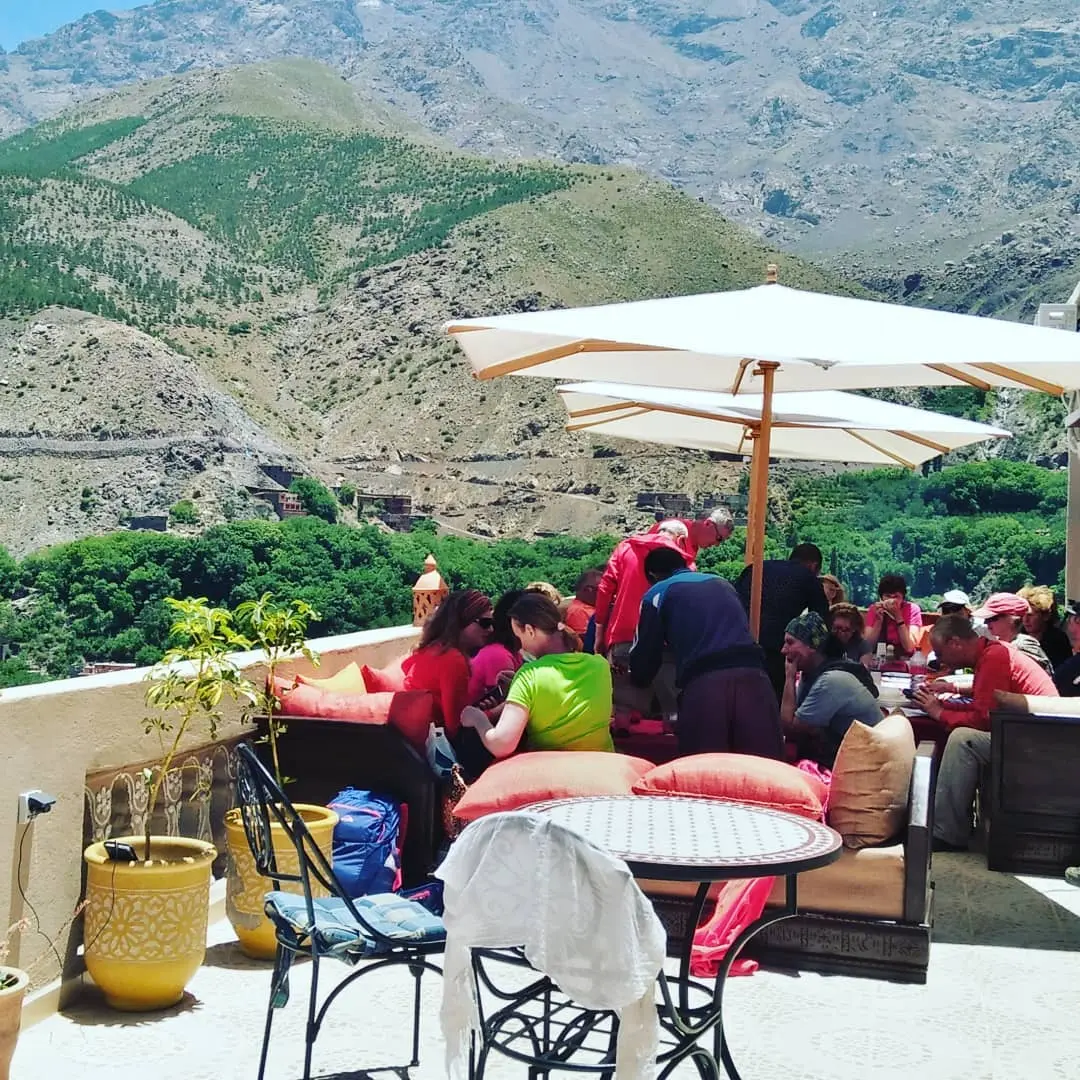 Day 2 : TIZI N'MZIK (2520 M) Positive elevation gain: 800 m. Negative drop: 800 m. 4 to 5 hour walk. Accommodation: lodge. Meals included: morning, noon, evening.
Acclimatization and fitness day in the beautiful Imlil Valley. After passing through several villages, a clear path leads to the tizi n'Mzik pass, at just over 2,500 meters. This type of trail gives us a taste of what we'll find in the coming days: stony but well-marked, with patches of snow. In general, the midday meal is consumed at the pass, which is transported by mule. Climb to the hilltops above the pass for a spectacular view of the two valleys. Returning to ACHAYN.
DAY 3 : ACHAYN - TOUBKAL REFUGE Positive altitude difference: 1200 m. 5h30 walk. Accommodation: shelter. Meals included: morning, noon, evening.
The ascent begins by following the canals that irrigate the terraced crops. The mountain becomes more arid after lunch in the small village (and marabout) of Sidi Chamarouch. Snow is usually present; in this case, porters take over from mules. Night at the Toubkal refuge (Neltner refuge at 3,210 m), which is guarded throughout the winter (dormitories, toilets and showers, common room with fireplace).
DAY 4 : OUANOUKRIM (4088 M) Positive altitude difference: 1100 m. Negative drop: 1100 m. 5 to 6 hour walk. Accommodation: shelter. Meals included: morning, noon, evening.
The Assif n'At Mizane valley, which is very gentle at first and offers a beautiful view of the Akioud needles at 4,030 meters, leads to the Tizi n'Ouagane via a steeper slope (3,750 m). A "path" meanders over the ridge before disappearing. Around 3850 meters, you have to use your hands to pass (small cracks, gendarmes to avoid, and blocks to overcome); fun and not difficult. The suite is gently sloping, on stabilized scree of dark and hard lava that is snow-covered in winter; it is a spectacular panoramic route. We first ascend to Timesguida n'Ouanoukrim, the "Ouanoukrim mosque," and then, once back in the saddle between the two peaks, it is tempting to climb Ras Ouanoukrim as well (again, it may be necessary to help yourself a little with your hands). The second night spent at the refuge.
DAY 5 : CLIMBING TOUBKAL (4167 M) Ascent: 960 m. Negative drop: 960 m. 5 to 6 hour walk. Accommodation: shelter. Meals included: morning, noon, evening.
The ascent of North Africa's highest peak is relatively straightforward. Above the refuge, a fairly steep slope in scree, followed by a steeper valley encumbered with large boulders. As you approach the highest point, the final ridge widens and flattens. A panoramic view of the Marrakech plain, the Siroua, and the Great South from the summit. Return to the refuge for a well-earned cup of tea.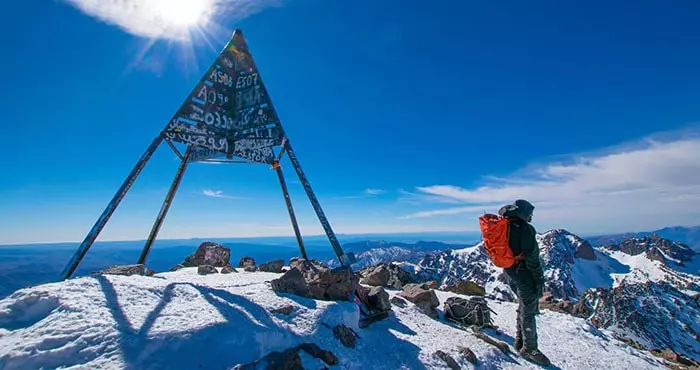 DAY 6 : TOUBKAL REFUGE - IMLIL - MARRAKECH Negative drop: 1200 m. 3 to 4 hours of walking. Accommodation: hotel. Meals included: morning, noon. Free meal: evening. Transfer: 1h30.
A pleasant descent leads us from a high mountain setting to irrigated valleys that lead to the beautiful cultivated flat area of Aremd via Sidi Chamarouch (marabout) (1,900 m). Lunch at the At Souka Lodge. Then we drive to Marrakech, arriving in the middle of the afternoon. Hotel installation. Farewell dinner (rather, goodbye) in a ryad with the guide.
After booking with MT Toubkal Trek, we will promptly reach out to you to confirm your reservation and address any questions you may have about the tour.
Payment is in cash upon your arrival in Morocco.
This is a private tour, and we'll customize it to your group's size. If you're a solo traveler looking to join a group, please contact us.
5
Promotion
General price:
Adult (18+ years)
€

360 / ticket
|
Youth (13-17 years)
€

360 / ticket
|
Children (0-12 years)
€

360 / ticket
Options
guests >= 5

Price

Adult (18+ years)

€

270 / ticket |

Youth (13-17 years)

€

270 / ticket |

Children (0-12 years)

€

270 / ticket

guests = 4

Price

Adult (18+ years)

€

300 / ticket |

Youth (13-17 years)

€

300 / ticket |

Children (0-12 years)

€

300 / ticket

guests = 3

Price

Adult (18+ years)

€

330 / ticket |

Youth (13-17 years)

€

300 / ticket |

Children (0-12 years)

€

330 / ticket

guests <= 2

Price

Adult (18+ years)

€

360 / ticket |

Youth (13-17 years)

€

360 / ticket |

Children (0-12 years)

€

360 / ticket
6
Promotion
General price:
Adult (18+ years)
€

360 / ticket
|
Youth (13-17 years)
€

360 / ticket
|
Children (0-12 years)
€

360 / ticket
Options
guests >= 5

Price

Adult (18+ years)

€

270 / ticket |

Youth (13-17 years)

€

270 / ticket |

Children (0-12 years)

€

270 / ticket

guests = 4

Price

Adult (18+ years)

€

300 / ticket |

Youth (13-17 years)

€

300 / ticket |

Children (0-12 years)

€

300 / ticket

guests = 3

Price

Adult (18+ years)

€

330 / ticket |

Youth (13-17 years)

€

300 / ticket |

Children (0-12 years)

€

330 / ticket

guests <= 2

Price

Adult (18+ years)

€

360 / ticket |

Youth (13-17 years)

€

360 / ticket |

Children (0-12 years)

€

360 / ticket
7
Promotion
General price:
Adult (18+ years)
€

360 / ticket
|
Youth (13-17 years)
€

360 / ticket
|
Children (0-12 years)
€

360 / ticket
Options
guests >= 5

Price

Adult (18+ years)

€

270 / ticket |

Youth (13-17 years)

€

270 / ticket |

Children (0-12 years)

€

270 / ticket

guests = 4

Price

Adult (18+ years)

€

300 / ticket |

Youth (13-17 years)

€

300 / ticket |

Children (0-12 years)

€

300 / ticket

guests = 3

Price

Adult (18+ years)

€

330 / ticket |

Youth (13-17 years)

€

300 / ticket |

Children (0-12 years)

€

330 / ticket

guests <= 2

Price

Adult (18+ years)

€

360 / ticket |

Youth (13-17 years)

€

360 / ticket |

Children (0-12 years)

€

360 / ticket
8
Promotion
General price:
Adult (18+ years)
€

360 / ticket
|
Youth (13-17 years)
€

360 / ticket
|
Children (0-12 years)
€

360 / ticket
Options
guests >= 5

Price

Adult (18+ years)

€

270 / ticket |

Youth (13-17 years)

€

270 / ticket |

Children (0-12 years)

€

270 / ticket

guests = 4

Price

Adult (18+ years)

€

300 / ticket |

Youth (13-17 years)

€

300 / ticket |

Children (0-12 years)

€

300 / ticket

guests = 3

Price

Adult (18+ years)

€

330 / ticket |

Youth (13-17 years)

€

300 / ticket |

Children (0-12 years)

€

330 / ticket

guests <= 2

Price

Adult (18+ years)

€

360 / ticket |

Youth (13-17 years)

€

360 / ticket |

Children (0-12 years)

€

360 / ticket
9
Promotion
General price:
Adult (18+ years)
€

360 / ticket
|
Youth (13-17 years)
€

360 / ticket
|
Children (0-12 years)
€

360 / ticket
Options
guests >= 5

Price

Adult (18+ years)

€

270 / ticket |

Youth (13-17 years)

€

270 / ticket |

Children (0-12 years)

€

270 / ticket

guests = 4

Price

Adult (18+ years)

€

300 / ticket |

Youth (13-17 years)

€

300 / ticket |

Children (0-12 years)

€

300 / ticket

guests = 3

Price

Adult (18+ years)

€

330 / ticket |

Youth (13-17 years)

€

300 / ticket |

Children (0-12 years)

€

330 / ticket

guests <= 2

Price

Adult (18+ years)

€

360 / ticket |

Youth (13-17 years)

€

360 / ticket |

Children (0-12 years)

€

360 / ticket
10
Promotion
General price:
Adult (18+ years)
€

360 / ticket
|
Youth (13-17 years)
€

360 / ticket
|
Children (0-12 years)
€

360 / ticket
Options
guests >= 5

Price

Adult (18+ years)

€

270 / ticket |

Youth (13-17 years)

€

270 / ticket |

Children (0-12 years)

€

270 / ticket

guests = 4

Price

Adult (18+ years)

€

300 / ticket |

Youth (13-17 years)

€

300 / ticket |

Children (0-12 years)

€

300 / ticket

guests = 3

Price

Adult (18+ years)

€

330 / ticket |

Youth (13-17 years)

€

300 / ticket |

Children (0-12 years)

€

330 / ticket

guests <= 2

Price

Adult (18+ years)

€

360 / ticket |

Youth (13-17 years)

€

360 / ticket |

Children (0-12 years)

€

360 / ticket
11
Promotion
General price:
Adult (18+ years)
€

360 / ticket
|
Youth (13-17 years)
€

360 / ticket
|
Children (0-12 years)
€

360 / ticket
Options
guests >= 5

Price

Adult (18+ years)

€

270 / ticket |

Youth (13-17 years)

€

270 / ticket |

Children (0-12 years)

€

270 / ticket

guests = 4

Price

Adult (18+ years)

€

300 / ticket |

Youth (13-17 years)

€

300 / ticket |

Children (0-12 years)

€

300 / ticket

guests = 3

Price

Adult (18+ years)

€

330 / ticket |

Youth (13-17 years)

€

300 / ticket |

Children (0-12 years)

€

330 / ticket

guests <= 2

Price

Adult (18+ years)

€

360 / ticket |

Youth (13-17 years)

€

360 / ticket |

Children (0-12 years)

€

360 / ticket
12
Promotion
General price:
Adult (18+ years)
€

360 / ticket
|
Youth (13-17 years)
€

360 / ticket
|
Children (0-12 years)
€

360 / ticket
Options
guests >= 5

Price

Adult (18+ years)

€

270 / ticket |

Youth (13-17 years)

€

270 / ticket |

Children (0-12 years)

€

270 / ticket

guests = 4

Price

Adult (18+ years)

€

300 / ticket |

Youth (13-17 years)

€

300 / ticket |

Children (0-12 years)

€

300 / ticket

guests = 3

Price

Adult (18+ years)

€

330 / ticket |

Youth (13-17 years)

€

300 / ticket |

Children (0-12 years)

€

330 / ticket

guests <= 2

Price

Adult (18+ years)

€

360 / ticket |

Youth (13-17 years)

€

360 / ticket |

Children (0-12 years)

€

360 / ticket
13
Promotion
General price:
Adult (18+ years)
€

360 / ticket
|
Youth (13-17 years)
€

360 / ticket
|
Children (0-12 years)
€

360 / ticket
Options
guests >= 5

Price

Adult (18+ years)

€

270 / ticket |

Youth (13-17 years)

€

270 / ticket |

Children (0-12 years)

€

270 / ticket

guests = 4

Price

Adult (18+ years)

€

300 / ticket |

Youth (13-17 years)

€

300 / ticket |

Children (0-12 years)

€

300 / ticket

guests = 3

Price

Adult (18+ years)

€

330 / ticket |

Youth (13-17 years)

€

300 / ticket |

Children (0-12 years)

€

330 / ticket

guests <= 2

Price

Adult (18+ years)

€

360 / ticket |

Youth (13-17 years)

€

360 / ticket |

Children (0-12 years)

€

360 / ticket
14
Promotion
General price:
Adult (18+ years)
€

360 / ticket
|
Youth (13-17 years)
€

360 / ticket
|
Children (0-12 years)
€

360 / ticket
Options
guests >= 5

Price

Adult (18+ years)

€

270 / ticket |

Youth (13-17 years)

€

270 / ticket |

Children (0-12 years)

€

270 / ticket

guests = 4

Price

Adult (18+ years)

€

300 / ticket |

Youth (13-17 years)

€

300 / ticket |

Children (0-12 years)

€

300 / ticket

guests = 3

Price

Adult (18+ years)

€

330 / ticket |

Youth (13-17 years)

€

300 / ticket |

Children (0-12 years)

€

330 / ticket

guests <= 2

Price

Adult (18+ years)

€

360 / ticket |

Youth (13-17 years)

€

360 / ticket |

Children (0-12 years)

€

360 / ticket
15
Promotion
General price:
Adult (18+ years)
€

360 / ticket
|
Youth (13-17 years)
€

360 / ticket
|
Children (0-12 years)
€

360 / ticket
Options
guests >= 5

Price

Adult (18+ years)

€

270 / ticket |

Youth (13-17 years)

€

270 / ticket |

Children (0-12 years)

€

270 / ticket

guests = 4

Price

Adult (18+ years)

€

300 / ticket |

Youth (13-17 years)

€

300 / ticket |

Children (0-12 years)

€

300 / ticket

guests = 3

Price

Adult (18+ years)

€

330 / ticket |

Youth (13-17 years)

€

300 / ticket |

Children (0-12 years)

€

330 / ticket

guests <= 2

Price

Adult (18+ years)

€

360 / ticket |

Youth (13-17 years)

€

360 / ticket |

Children (0-12 years)

€

360 / ticket
16
Promotion
General price:
Adult (18+ years)
€

360 / ticket
|
Youth (13-17 years)
€

360 / ticket
|
Children (0-12 years)
€

360 / ticket
Options
guests >= 5

Price

Adult (18+ years)

€

270 / ticket |

Youth (13-17 years)

€

270 / ticket |

Children (0-12 years)

€

270 / ticket

guests = 4

Price

Adult (18+ years)

€

300 / ticket |

Youth (13-17 years)

€

300 / ticket |

Children (0-12 years)

€

300 / ticket

guests = 3

Price

Adult (18+ years)

€

330 / ticket |

Youth (13-17 years)

€

300 / ticket |

Children (0-12 years)

€

330 / ticket

guests <= 2

Price

Adult (18+ years)

€

360 / ticket |

Youth (13-17 years)

€

360 / ticket |

Children (0-12 years)

€

360 / ticket
17
Promotion
General price:
Adult (18+ years)
€

360 / ticket
|
Youth (13-17 years)
€

360 / ticket
|
Children (0-12 years)
€

360 / ticket
Options
guests >= 5

Price

Adult (18+ years)

€

270 / ticket |

Youth (13-17 years)

€

270 / ticket |

Children (0-12 years)

€

270 / ticket

guests = 4

Price

Adult (18+ years)

€

300 / ticket |

Youth (13-17 years)

€

300 / ticket |

Children (0-12 years)

€

300 / ticket

guests = 3

Price

Adult (18+ years)

€

330 / ticket |

Youth (13-17 years)

€

300 / ticket |

Children (0-12 years)

€

330 / ticket

guests <= 2

Price

Adult (18+ years)

€

360 / ticket |

Youth (13-17 years)

€

360 / ticket |

Children (0-12 years)

€

360 / ticket
18
Promotion
General price:
Adult (18+ years)
€

360 / ticket
|
Youth (13-17 years)
€

360 / ticket
|
Children (0-12 years)
€

360 / ticket
Options
guests >= 5

Price

Adult (18+ years)

€

270 / ticket |

Youth (13-17 years)

€

270 / ticket |

Children (0-12 years)

€

270 / ticket

guests = 4

Price

Adult (18+ years)

€

300 / ticket |

Youth (13-17 years)

€

300 / ticket |

Children (0-12 years)

€

300 / ticket

guests = 3

Price

Adult (18+ years)

€

330 / ticket |

Youth (13-17 years)

€

300 / ticket |

Children (0-12 years)

€

330 / ticket

guests <= 2

Price

Adult (18+ years)

€

360 / ticket |

Youth (13-17 years)

€

360 / ticket |

Children (0-12 years)

€

360 / ticket
19
Promotion
General price:
Adult (18+ years)
€

360 / ticket
|
Youth (13-17 years)
€

360 / ticket
|
Children (0-12 years)
€

360 / ticket
Options
guests >= 5

Price

Adult (18+ years)

€

270 / ticket |

Youth (13-17 years)

€

270 / ticket |

Children (0-12 years)

€

270 / ticket

guests = 4

Price

Adult (18+ years)

€

300 / ticket |

Youth (13-17 years)

€

300 / ticket |

Children (0-12 years)

€

300 / ticket

guests = 3

Price

Adult (18+ years)

€

330 / ticket |

Youth (13-17 years)

€

300 / ticket |

Children (0-12 years)

€

330 / ticket

guests <= 2

Price

Adult (18+ years)

€

360 / ticket |

Youth (13-17 years)

€

360 / ticket |

Children (0-12 years)

€

360 / ticket
20
Promotion
General price:
Adult (18+ years)
€

360 / ticket
|
Youth (13-17 years)
€

360 / ticket
|
Children (0-12 years)
€

360 / ticket
Options
guests >= 5

Price

Adult (18+ years)

€

270 / ticket |

Youth (13-17 years)

€

270 / ticket |

Children (0-12 years)

€

270 / ticket

guests = 4

Price

Adult (18+ years)

€

300 / ticket |

Youth (13-17 years)

€

300 / ticket |

Children (0-12 years)

€

300 / ticket

guests = 3

Price

Adult (18+ years)

€

330 / ticket |

Youth (13-17 years)

€

300 / ticket |

Children (0-12 years)

€

330 / ticket

guests <= 2

Price

Adult (18+ years)

€

360 / ticket |

Youth (13-17 years)

€

360 / ticket |

Children (0-12 years)

€

360 / ticket
21
Promotion
General price:
Adult (18+ years)
€

360 / ticket
|
Youth (13-17 years)
€

360 / ticket
|
Children (0-12 years)
€

360 / ticket
Options
guests >= 5

Price

Adult (18+ years)

€

270 / ticket |

Youth (13-17 years)

€

270 / ticket |

Children (0-12 years)

€

270 / ticket

guests = 4

Price

Adult (18+ years)

€

300 / ticket |

Youth (13-17 years)

€

300 / ticket |

Children (0-12 years)

€

300 / ticket

guests = 3

Price

Adult (18+ years)

€

330 / ticket |

Youth (13-17 years)

€

300 / ticket |

Children (0-12 years)

€

330 / ticket

guests <= 2

Price

Adult (18+ years)

€

360 / ticket |

Youth (13-17 years)

€

360 / ticket |

Children (0-12 years)

€

360 / ticket
22
Promotion
General price:
Adult (18+ years)
€

360 / ticket
|
Youth (13-17 years)
€

360 / ticket
|
Children (0-12 years)
€

360 / ticket
Options
guests >= 5

Price

Adult (18+ years)

€

270 / ticket |

Youth (13-17 years)

€

270 / ticket |

Children (0-12 years)

€

270 / ticket

guests = 4

Price

Adult (18+ years)

€

300 / ticket |

Youth (13-17 years)

€

300 / ticket |

Children (0-12 years)

€

300 / ticket

guests = 3

Price

Adult (18+ years)

€

330 / ticket |

Youth (13-17 years)

€

300 / ticket |

Children (0-12 years)

€

330 / ticket

guests <= 2

Price

Adult (18+ years)

€

360 / ticket |

Youth (13-17 years)

€

360 / ticket |

Children (0-12 years)

€

360 / ticket
23
Promotion
General price:
Adult (18+ years)
€

360 / ticket
|
Youth (13-17 years)
€

360 / ticket
|
Children (0-12 years)
€

360 / ticket
Options
guests >= 5

Price

Adult (18+ years)

€

270 / ticket |

Youth (13-17 years)

€

270 / ticket |

Children (0-12 years)

€

270 / ticket

guests = 4

Price

Adult (18+ years)

€

300 / ticket |

Youth (13-17 years)

€

300 / ticket |

Children (0-12 years)

€

300 / ticket

guests = 3

Price

Adult (18+ years)

€

330 / ticket |

Youth (13-17 years)

€

300 / ticket |

Children (0-12 years)

€

330 / ticket

guests <= 2

Price

Adult (18+ years)

€

360 / ticket |

Youth (13-17 years)

€

360 / ticket |

Children (0-12 years)

€

360 / ticket
24
Promotion
General price:
Adult (18+ years)
€

360 / ticket
|
Youth (13-17 years)
€

360 / ticket
|
Children (0-12 years)
€

360 / ticket
Options
guests >= 5

Price

Adult (18+ years)

€

270 / ticket |

Youth (13-17 years)

€

270 / ticket |

Children (0-12 years)

€

270 / ticket

guests = 4

Price

Adult (18+ years)

€

300 / ticket |

Youth (13-17 years)

€

300 / ticket |

Children (0-12 years)

€

300 / ticket

guests = 3

Price

Adult (18+ years)

€

330 / ticket |

Youth (13-17 years)

€

300 / ticket |

Children (0-12 years)

€

330 / ticket

guests <= 2

Price

Adult (18+ years)

€

360 / ticket |

Youth (13-17 years)

€

360 / ticket |

Children (0-12 years)

€

360 / ticket
25
Promotion
General price:
Adult (18+ years)
€

360 / ticket
|
Youth (13-17 years)
€

360 / ticket
|
Children (0-12 years)
€

360 / ticket
Options
guests >= 5

Price

Adult (18+ years)

€

270 / ticket |

Youth (13-17 years)

€

270 / ticket |

Children (0-12 years)

€

270 / ticket

guests = 4

Price

Adult (18+ years)

€

300 / ticket |

Youth (13-17 years)

€

300 / ticket |

Children (0-12 years)

€

300 / ticket

guests = 3

Price

Adult (18+ years)

€

330 / ticket |

Youth (13-17 years)

€

300 / ticket |

Children (0-12 years)

€

330 / ticket

guests <= 2

Price

Adult (18+ years)

€

360 / ticket |

Youth (13-17 years)

€

360 / ticket |

Children (0-12 years)

€

360 / ticket
26
Promotion
General price:
Adult (18+ years)
€

360 / ticket
|
Youth (13-17 years)
€

360 / ticket
|
Children (0-12 years)
€

360 / ticket
Options
guests >= 5

Price

Adult (18+ years)

€

270 / ticket |

Youth (13-17 years)

€

270 / ticket |

Children (0-12 years)

€

270 / ticket

guests = 4

Price

Adult (18+ years)

€

300 / ticket |

Youth (13-17 years)

€

300 / ticket |

Children (0-12 years)

€

300 / ticket

guests = 3

Price

Adult (18+ years)

€

330 / ticket |

Youth (13-17 years)

€

300 / ticket |

Children (0-12 years)

€

330 / ticket

guests <= 2

Price

Adult (18+ years)

€

360 / ticket |

Youth (13-17 years)

€

360 / ticket |

Children (0-12 years)

€

360 / ticket
27
Promotion
General price:
Adult (18+ years)
€

360 / ticket
|
Youth (13-17 years)
€

360 / ticket
|
Children (0-12 years)
€

360 / ticket
Options
guests >= 5

Price

Adult (18+ years)

€

270 / ticket |

Youth (13-17 years)

€

270 / ticket |

Children (0-12 years)

€

270 / ticket

guests = 4

Price

Adult (18+ years)

€

300 / ticket |

Youth (13-17 years)

€

300 / ticket |

Children (0-12 years)

€

300 / ticket

guests = 3

Price

Adult (18+ years)

€

330 / ticket |

Youth (13-17 years)

€

300 / ticket |

Children (0-12 years)

€

330 / ticket

guests <= 2

Price

Adult (18+ years)

€

360 / ticket |

Youth (13-17 years)

€

360 / ticket |

Children (0-12 years)

€

360 / ticket
28
Promotion
General price:
Adult (18+ years)
€

360 / ticket
|
Youth (13-17 years)
€

360 / ticket
|
Children (0-12 years)
€

360 / ticket
Options
guests >= 5

Price

Adult (18+ years)

€

270 / ticket |

Youth (13-17 years)

€

270 / ticket |

Children (0-12 years)

€

270 / ticket

guests = 4

Price

Adult (18+ years)

€

300 / ticket |

Youth (13-17 years)

€

300 / ticket |

Children (0-12 years)

€

300 / ticket

guests = 3

Price

Adult (18+ years)

€

330 / ticket |

Youth (13-17 years)

€

300 / ticket |

Children (0-12 years)

€

330 / ticket

guests <= 2

Price

Adult (18+ years)

€

360 / ticket |

Youth (13-17 years)

€

360 / ticket |

Children (0-12 years)

€

360 / ticket
29
Promotion
General price:
Adult (18+ years)
€

360 / ticket
|
Youth (13-17 years)
€

360 / ticket
|
Children (0-12 years)
€

360 / ticket
Options
guests >= 5

Price

Adult (18+ years)

€

270 / ticket |

Youth (13-17 years)

€

270 / ticket |

Children (0-12 years)

€

270 / ticket

guests = 4

Price

Adult (18+ years)

€

300 / ticket |

Youth (13-17 years)

€

300 / ticket |

Children (0-12 years)

€

300 / ticket

guests = 3

Price

Adult (18+ years)

€

330 / ticket |

Youth (13-17 years)

€

300 / ticket |

Children (0-12 years)

€

330 / ticket

guests <= 2

Price

Adult (18+ years)

€

360 / ticket |

Youth (13-17 years)

€

360 / ticket |

Children (0-12 years)

€

360 / ticket
30
Promotion
General price:
Adult (18+ years)
€

360 / ticket
|
Youth (13-17 years)
€

360 / ticket
|
Children (0-12 years)
€

360 / ticket
Options
guests >= 5

Price

Adult (18+ years)

€

270 / ticket |

Youth (13-17 years)

€

270 / ticket |

Children (0-12 years)

€

270 / ticket

guests = 4

Price

Adult (18+ years)

€

300 / ticket |

Youth (13-17 years)

€

300 / ticket |

Children (0-12 years)

€

300 / ticket

guests = 3

Price

Adult (18+ years)

€

330 / ticket |

Youth (13-17 years)

€

300 / ticket |

Children (0-12 years)

€

330 / ticket

guests <= 2

Price

Adult (18+ years)

€

360 / ticket |

Youth (13-17 years)

€

360 / ticket |

Children (0-12 years)

€

360 / ticket
31
Promotion
General price:
Adult (18+ years)
€

360 / ticket
|
Youth (13-17 years)
€

360 / ticket
|
Children (0-12 years)
€

360 / ticket
Options
guests >= 5

Price

Adult (18+ years)

€

270 / ticket |

Youth (13-17 years)

€

270 / ticket |

Children (0-12 years)

€

270 / ticket

guests = 4

Price

Adult (18+ years)

€

300 / ticket |

Youth (13-17 years)

€

300 / ticket |

Children (0-12 years)

€

300 / ticket

guests = 3

Price

Adult (18+ years)

€

330 / ticket |

Youth (13-17 years)

€

300 / ticket |

Children (0-12 years)

€

330 / ticket

guests <= 2

Price

Adult (18+ years)

€

360 / ticket |

Youth (13-17 years)

€

360 / ticket |

Children (0-12 years)

€

360 / ticket
1
Promotion
General price:
Adult (18+ years)
€

360 / ticket
|
Youth (13-17 years)
€

360 / ticket
|
Children (0-12 years)
€

360 / ticket
Options
guests >= 5

Price

Adult (18+ years)

€

270 / ticket |

Youth (13-17 years)

€

270 / ticket |

Children (0-12 years)

€

270 / ticket

guests = 4

Price

Adult (18+ years)

€

300 / ticket |

Youth (13-17 years)

€

300 / ticket |

Children (0-12 years)

€

300 / ticket

guests = 3

Price

Adult (18+ years)

€

330 / ticket |

Youth (13-17 years)

€

300 / ticket |

Children (0-12 years)

€

330 / ticket

guests <= 2

Price

Adult (18+ years)

€

360 / ticket |

Youth (13-17 years)

€

360 / ticket |

Children (0-12 years)

€

360 / ticket
2
Promotion
General price:
Adult (18+ years)
€

360 / ticket
|
Youth (13-17 years)
€

360 / ticket
|
Children (0-12 years)
€

360 / ticket
Options
guests >= 5

Price

Adult (18+ years)

€

270 / ticket |

Youth (13-17 years)

€

270 / ticket |

Children (0-12 years)

€

270 / ticket

guests = 4

Price

Adult (18+ years)

€

300 / ticket |

Youth (13-17 years)

€

300 / ticket |

Children (0-12 years)

€

300 / ticket

guests = 3

Price

Adult (18+ years)

€

330 / ticket |

Youth (13-17 years)

€

300 / ticket |

Children (0-12 years)

€

330 / ticket

guests <= 2

Price

Adult (18+ years)

€

360 / ticket |

Youth (13-17 years)

€

360 / ticket |

Children (0-12 years)

€

360 / ticket
3
Promotion
General price:
Adult (18+ years)
€

360 / ticket
|
Youth (13-17 years)
€

360 / ticket
|
Children (0-12 years)
€

360 / ticket
Options
guests >= 5

Price

Adult (18+ years)

€

270 / ticket |

Youth (13-17 years)

€

270 / ticket |

Children (0-12 years)

€

270 / ticket

guests = 4

Price

Adult (18+ years)

€

300 / ticket |

Youth (13-17 years)

€

300 / ticket |

Children (0-12 years)

€

300 / ticket

guests = 3

Price

Adult (18+ years)

€

330 / ticket |

Youth (13-17 years)

€

300 / ticket |

Children (0-12 years)

€

330 / ticket

guests <= 2

Price

Adult (18+ years)

€

360 / ticket |

Youth (13-17 years)

€

360 / ticket |

Children (0-12 years)

€

360 / ticket
4
Promotion
General price:
Adult (18+ years)
€

360 / ticket
|
Youth (13-17 years)
€

360 / ticket
|
Children (0-12 years)
€

360 / ticket
Options
guests >= 5

Price

Adult (18+ years)

€

270 / ticket |

Youth (13-17 years)

€

270 / ticket |

Children (0-12 years)

€

270 / ticket

guests = 4

Price

Adult (18+ years)

€

300 / ticket |

Youth (13-17 years)

€

300 / ticket |

Children (0-12 years)

€

300 / ticket

guests = 3

Price

Adult (18+ years)

€

330 / ticket |

Youth (13-17 years)

€

300 / ticket |

Children (0-12 years)

€

330 / ticket

guests <= 2

Price

Adult (18+ years)

€

360 / ticket |

Youth (13-17 years)

€

360 / ticket |

Children (0-12 years)

€

360 / ticket
5
Promotion
General price:
Adult (18+ years)
€

360 / ticket
|
Youth (13-17 years)
€

360 / ticket
|
Children (0-12 years)
€

360 / ticket
Options
guests >= 5

Price

Adult (18+ years)

€

270 / ticket |

Youth (13-17 years)

€

270 / ticket |

Children (0-12 years)

€

270 / ticket

guests = 4

Price

Adult (18+ years)

€

300 / ticket |

Youth (13-17 years)

€

300 / ticket |

Children (0-12 years)

€

300 / ticket

guests = 3

Price

Adult (18+ years)

€

330 / ticket |

Youth (13-17 years)

€

300 / ticket |

Children (0-12 years)

€

330 / ticket

guests <= 2

Price

Adult (18+ years)

€

360 / ticket |

Youth (13-17 years)

€

360 / ticket |

Children (0-12 years)

€

360 / ticket
6
Promotion
General price:
Adult (18+ years)
€

360 / ticket
|
Youth (13-17 years)
€

360 / ticket
|
Children (0-12 years)
€

360 / ticket
Options
guests >= 5

Price

Adult (18+ years)

€

270 / ticket |

Youth (13-17 years)

€

270 / ticket |

Children (0-12 years)

€

270 / ticket

guests = 4

Price

Adult (18+ years)

€

300 / ticket |

Youth (13-17 years)

€

300 / ticket |

Children (0-12 years)

€

300 / ticket

guests = 3

Price

Adult (18+ years)

€

330 / ticket |

Youth (13-17 years)

€

300 / ticket |

Children (0-12 years)

€

330 / ticket

guests <= 2

Price

Adult (18+ years)

€

360 / ticket |

Youth (13-17 years)

€

360 / ticket |

Children (0-12 years)

€

360 / ticket
7
Promotion
General price:
Adult (18+ years)
€

360 / ticket
|
Youth (13-17 years)
€

360 / ticket
|
Children (0-12 years)
€

360 / ticket
Options
guests >= 5

Price

Adult (18+ years)

€

270 / ticket |

Youth (13-17 years)

€

270 / ticket |

Children (0-12 years)

€

270 / ticket

guests = 4

Price

Adult (18+ years)

€

300 / ticket |

Youth (13-17 years)

€

300 / ticket |

Children (0-12 years)

€

300 / ticket

guests = 3

Price

Adult (18+ years)

€

330 / ticket |

Youth (13-17 years)

€

300 / ticket |

Children (0-12 years)

€

330 / ticket

guests <= 2

Price

Adult (18+ years)

€

360 / ticket |

Youth (13-17 years)

€

360 / ticket |

Children (0-12 years)

€

360 / ticket
8
Promotion
General price:
Adult (18+ years)
€

360 / ticket
|
Youth (13-17 years)
€

360 / ticket
|
Children (0-12 years)
€

360 / ticket
Options
guests >= 5

Price

Adult (18+ years)

€

270 / ticket |

Youth (13-17 years)

€

270 / ticket |

Children (0-12 years)

€

270 / ticket

guests = 4

Price

Adult (18+ years)

€

300 / ticket |

Youth (13-17 years)

€

300 / ticket |

Children (0-12 years)

€

300 / ticket

guests = 3

Price

Adult (18+ years)

€

330 / ticket |

Youth (13-17 years)

€

300 / ticket |

Children (0-12 years)

€

330 / ticket

guests <= 2

Price

Adult (18+ years)

€

360 / ticket |

Youth (13-17 years)

€

360 / ticket |

Children (0-12 years)

€

360 / ticket
9
Promotion
General price:
Adult (18+ years)
€

360 / ticket
|
Youth (13-17 years)
€

360 / ticket
|
Children (0-12 years)
€

360 / ticket
Options
guests >= 5

Price

Adult (18+ years)

€

270 / ticket |

Youth (13-17 years)

€

270 / ticket |

Children (0-12 years)

€

270 / ticket

guests = 4

Price

Adult (18+ years)

€

300 / ticket |

Youth (13-17 years)

€

300 / ticket |

Children (0-12 years)

€

300 / ticket

guests = 3

Price

Adult (18+ years)

€

330 / ticket |

Youth (13-17 years)

€

300 / ticket |

Children (0-12 years)

€

330 / ticket

guests <= 2

Price

Adult (18+ years)

€

360 / ticket |

Youth (13-17 years)

€

360 / ticket |

Children (0-12 years)

€

360 / ticket
10
Promotion
General price:
Adult (18+ years)
€

360 / ticket
|
Youth (13-17 years)
€

360 / ticket
|
Children (0-12 years)
€

360 / ticket
Options
guests >= 5

Price

Adult (18+ years)

€

270 / ticket |

Youth (13-17 years)

€

270 / ticket |

Children (0-12 years)

€

270 / ticket

guests = 4

Price

Adult (18+ years)

€

300 / ticket |

Youth (13-17 years)

€

300 / ticket |

Children (0-12 years)

€

300 / ticket

guests = 3

Price

Adult (18+ years)

€

330 / ticket |

Youth (13-17 years)

€

300 / ticket |

Children (0-12 years)

€

330 / ticket

guests <= 2

Price

Adult (18+ years)

€

360 / ticket |

Youth (13-17 years)

€

360 / ticket |

Children (0-12 years)

€

360 / ticket
11
Promotion
General price:
Adult (18+ years)
€

360 / ticket
|
Youth (13-17 years)
€

360 / ticket
|
Children (0-12 years)
€

360 / ticket
Options
guests >= 5

Price

Adult (18+ years)

€

270 / ticket |

Youth (13-17 years)

€

270 / ticket |

Children (0-12 years)

€

270 / ticket

guests = 4

Price

Adult (18+ years)

€

300 / ticket |

Youth (13-17 years)

€

300 / ticket |

Children (0-12 years)

€

300 / ticket

guests = 3

Price

Adult (18+ years)

€

330 / ticket |

Youth (13-17 years)

€

300 / ticket |

Children (0-12 years)

€

330 / ticket

guests <= 2

Price

Adult (18+ years)

€

360 / ticket |

Youth (13-17 years)

€

360 / ticket |

Children (0-12 years)

€

360 / ticket
12
Promotion
General price:
Adult (18+ years)
€

360 / ticket
|
Youth (13-17 years)
€

360 / ticket
|
Children (0-12 years)
€

360 / ticket
Options
guests >= 5

Price

Adult (18+ years)

€

270 / ticket |

Youth (13-17 years)

€

270 / ticket |

Children (0-12 years)

€

270 / ticket

guests = 4

Price

Adult (18+ years)

€

300 / ticket |

Youth (13-17 years)

€

300 / ticket |

Children (0-12 years)

€

300 / ticket

guests = 3

Price

Adult (18+ years)

€

330 / ticket |

Youth (13-17 years)

€

300 / ticket |

Children (0-12 years)

€

330 / ticket

guests <= 2

Price

Adult (18+ years)

€

360 / ticket |

Youth (13-17 years)

€

360 / ticket |

Children (0-12 years)

€

360 / ticket
13
Promotion
General price:
Adult (18+ years)
€

360 / ticket
|
Youth (13-17 years)
€

360 / ticket
|
Children (0-12 years)
€

360 / ticket
Options
guests >= 5

Price

Adult (18+ years)

€

270 / ticket |

Youth (13-17 years)

€

270 / ticket |

Children (0-12 years)

€

270 / ticket

guests = 4

Price

Adult (18+ years)

€

300 / ticket |

Youth (13-17 years)

€

300 / ticket |

Children (0-12 years)

€

300 / ticket

guests = 3

Price

Adult (18+ years)

€

330 / ticket |

Youth (13-17 years)

€

300 / ticket |

Children (0-12 years)

€

330 / ticket

guests <= 2

Price

Adult (18+ years)

€

360 / ticket |

Youth (13-17 years)

€

360 / ticket |

Children (0-12 years)

€

360 / ticket
14
Promotion
General price:
Adult (18+ years)
€

360 / ticket
|
Youth (13-17 years)
€

360 / ticket
|
Children (0-12 years)
€

360 / ticket
Options
guests >= 5

Price

Adult (18+ years)

€

270 / ticket |

Youth (13-17 years)

€

270 / ticket |

Children (0-12 years)

€

270 / ticket

guests = 4

Price

Adult (18+ years)

€

300 / ticket |

Youth (13-17 years)

€

300 / ticket |

Children (0-12 years)

€

300 / ticket

guests = 3

Price

Adult (18+ years)

€

330 / ticket |

Youth (13-17 years)

€

300 / ticket |

Children (0-12 years)

€

330 / ticket

guests <= 2

Price

Adult (18+ years)

€

360 / ticket |

Youth (13-17 years)

€

360 / ticket |

Children (0-12 years)

€

360 / ticket
15
Promotion
General price:
Adult (18+ years)
€

360 / ticket
|
Youth (13-17 years)
€

360 / ticket
|
Children (0-12 years)
€

360 / ticket
Options
guests >= 5

Price

Adult (18+ years)

€

270 / ticket |

Youth (13-17 years)

€

270 / ticket |

Children (0-12 years)

€

270 / ticket

guests = 4

Price

Adult (18+ years)

€

300 / ticket |

Youth (13-17 years)

€

300 / ticket |

Children (0-12 years)

€

300 / ticket

guests = 3

Price

Adult (18+ years)

€

330 / ticket |

Youth (13-17 years)

€

300 / ticket |

Children (0-12 years)

€

330 / ticket

guests <= 2

Price

Adult (18+ years)

€

360 / ticket |

Youth (13-17 years)

€

360 / ticket |

Children (0-12 years)

€

360 / ticket
16
Promotion
General price:
Adult (18+ years)
€

360 / ticket
|
Youth (13-17 years)
€

360 / ticket
|
Children (0-12 years)
€

360 / ticket
Options
guests >= 5

Price

Adult (18+ years)

€

270 / ticket |

Youth (13-17 years)

€

270 / ticket |

Children (0-12 years)

€

270 / ticket

guests = 4

Price

Adult (18+ years)

€

300 / ticket |

Youth (13-17 years)

€

300 / ticket |

Children (0-12 years)

€

300 / ticket

guests = 3

Price

Adult (18+ years)

€

330 / ticket |

Youth (13-17 years)

€

300 / ticket |

Children (0-12 years)

€

330 / ticket

guests <= 2

Price

Adult (18+ years)

€

360 / ticket |

Youth (13-17 years)

€

360 / ticket |

Children (0-12 years)

€

360 / ticket
17
Promotion
General price:
Adult (18+ years)
€

360 / ticket
|
Youth (13-17 years)
€

360 / ticket
|
Children (0-12 years)
€

360 / ticket
Options
guests >= 5

Price

Adult (18+ years)

€

270 / ticket |

Youth (13-17 years)

€

270 / ticket |

Children (0-12 years)

€

270 / ticket

guests = 4

Price

Adult (18+ years)

€

300 / ticket |

Youth (13-17 years)

€

300 / ticket |

Children (0-12 years)

€

300 / ticket

guests = 3

Price

Adult (18+ years)

€

330 / ticket |

Youth (13-17 years)

€

300 / ticket |

Children (0-12 years)

€

330 / ticket

guests <= 2

Price

Adult (18+ years)

€

360 / ticket |

Youth (13-17 years)

€

360 / ticket |

Children (0-12 years)

€

360 / ticket
18
Promotion
General price:
Adult (18+ years)
€

360 / ticket
|
Youth (13-17 years)
€

360 / ticket
|
Children (0-12 years)
€

360 / ticket
Options
guests >= 5

Price

Adult (18+ years)

€

270 / ticket |

Youth (13-17 years)

€

270 / ticket |

Children (0-12 years)

€

270 / ticket

guests = 4

Price

Adult (18+ years)

€

300 / ticket |

Youth (13-17 years)

€

300 / ticket |

Children (0-12 years)

€

300 / ticket

guests = 3

Price

Adult (18+ years)

€

330 / ticket |

Youth (13-17 years)

€

300 / ticket |

Children (0-12 years)

€

330 / ticket

guests <= 2

Price

Adult (18+ years)

€

360 / ticket |

Youth (13-17 years)

€

360 / ticket |

Children (0-12 years)

€

360 / ticket
19
Promotion
General price:
Adult (18+ years)
€

360 / ticket
|
Youth (13-17 years)
€

360 / ticket
|
Children (0-12 years)
€

360 / ticket
Options
guests >= 5

Price

Adult (18+ years)

€

270 / ticket |

Youth (13-17 years)

€

270 / ticket |

Children (0-12 years)

€

270 / ticket

guests = 4

Price

Adult (18+ years)

€

300 / ticket |

Youth (13-17 years)

€

300 / ticket |

Children (0-12 years)

€

300 / ticket

guests = 3

Price

Adult (18+ years)

€

330 / ticket |

Youth (13-17 years)

€

300 / ticket |

Children (0-12 years)

€

330 / ticket

guests <= 2

Price

Adult (18+ years)

€

360 / ticket |

Youth (13-17 years)

€

360 / ticket |

Children (0-12 years)

€

360 / ticket
20
Promotion
General price:
Adult (18+ years)
€

360 / ticket
|
Youth (13-17 years)
€

360 / ticket
|
Children (0-12 years)
€

360 / ticket
Options
guests >= 5

Price

Adult (18+ years)

€

270 / ticket |

Youth (13-17 years)

€

270 / ticket |

Children (0-12 years)

€

270 / ticket

guests = 4

Price

Adult (18+ years)

€

300 / ticket |

Youth (13-17 years)

€

300 / ticket |

Children (0-12 years)

€

300 / ticket

guests = 3

Price

Adult (18+ years)

€

330 / ticket |

Youth (13-17 years)

€

300 / ticket |

Children (0-12 years)

€

330 / ticket

guests <= 2

Price

Adult (18+ years)

€

360 / ticket |

Youth (13-17 years)

€

360 / ticket |

Children (0-12 years)

€

360 / ticket
21
Promotion
General price:
Adult (18+ years)
€

360 / ticket
|
Youth (13-17 years)
€

360 / ticket
|
Children (0-12 years)
€

360 / ticket
Options
guests >= 5

Price

Adult (18+ years)

€

270 / ticket |

Youth (13-17 years)

€

270 / ticket |

Children (0-12 years)

€

270 / ticket

guests = 4

Price

Adult (18+ years)

€

300 / ticket |

Youth (13-17 years)

€

300 / ticket |

Children (0-12 years)

€

300 / ticket

guests = 3

Price

Adult (18+ years)

€

330 / ticket |

Youth (13-17 years)

€

300 / ticket |

Children (0-12 years)

€

330 / ticket

guests <= 2

Price

Adult (18+ years)

€

360 / ticket |

Youth (13-17 years)

€

360 / ticket |

Children (0-12 years)

€

360 / ticket
22
Promotion
General price:
Adult (18+ years)
€

360 / ticket
|
Youth (13-17 years)
€

360 / ticket
|
Children (0-12 years)
€

360 / ticket
Options
guests >= 5

Price

Adult (18+ years)

€

270 / ticket |

Youth (13-17 years)

€

270 / ticket |

Children (0-12 years)

€

270 / ticket

guests = 4

Price

Adult (18+ years)

€

300 / ticket |

Youth (13-17 years)

€

300 / ticket |

Children (0-12 years)

€

300 / ticket

guests = 3

Price

Adult (18+ years)

€

330 / ticket |

Youth (13-17 years)

€

300 / ticket |

Children (0-12 years)

€

330 / ticket

guests <= 2

Price

Adult (18+ years)

€

360 / ticket |

Youth (13-17 years)

€

360 / ticket |

Children (0-12 years)

€

360 / ticket
23
Promotion
General price:
Adult (18+ years)
€

360 / ticket
|
Youth (13-17 years)
€

360 / ticket
|
Children (0-12 years)
€

360 / ticket
Options
guests >= 5

Price

Adult (18+ years)

€

270 / ticket |

Youth (13-17 years)

€

270 / ticket |

Children (0-12 years)

€

270 / ticket

guests = 4

Price

Adult (18+ years)

€

300 / ticket |

Youth (13-17 years)

€

300 / ticket |

Children (0-12 years)

€

300 / ticket

guests = 3

Price

Adult (18+ years)

€

330 / ticket |

Youth (13-17 years)

€

300 / ticket |

Children (0-12 years)

€

330 / ticket

guests <= 2

Price

Adult (18+ years)

€

360 / ticket |

Youth (13-17 years)

€

360 / ticket |

Children (0-12 years)

€

360 / ticket
24
Promotion
General price:
Adult (18+ years)
€

360 / ticket
|
Youth (13-17 years)
€

360 / ticket
|
Children (0-12 years)
€

360 / ticket
Options
guests >= 5

Price

Adult (18+ years)

€

270 / ticket |

Youth (13-17 years)

€

270 / ticket |

Children (0-12 years)

€

270 / ticket

guests = 4

Price

Adult (18+ years)

€

300 / ticket |

Youth (13-17 years)

€

300 / ticket |

Children (0-12 years)

€

300 / ticket

guests = 3

Price

Adult (18+ years)

€

330 / ticket |

Youth (13-17 years)

€

300 / ticket |

Children (0-12 years)

€

330 / ticket

guests <= 2

Price

Adult (18+ years)

€

360 / ticket |

Youth (13-17 years)

€

360 / ticket |

Children (0-12 years)

€

360 / ticket
25
Promotion
General price:
Adult (18+ years)
€

360 / ticket
|
Youth (13-17 years)
€

360 / ticket
|
Children (0-12 years)
€

360 / ticket
Options
guests >= 5

Price

Adult (18+ years)

€

270 / ticket |

Youth (13-17 years)

€

270 / ticket |

Children (0-12 years)

€

270 / ticket

guests = 4

Price

Adult (18+ years)

€

300 / ticket |

Youth (13-17 years)

€

300 / ticket |

Children (0-12 years)

€

300 / ticket

guests = 3

Price

Adult (18+ years)

€

330 / ticket |

Youth (13-17 years)

€

300 / ticket |

Children (0-12 years)

€

330 / ticket

guests <= 2

Price

Adult (18+ years)

€

360 / ticket |

Youth (13-17 years)

€

360 / ticket |

Children (0-12 years)

€

360 / ticket
26
Promotion
General price:
Adult (18+ years)
€

360 / ticket
|
Youth (13-17 years)
€

360 / ticket
|
Children (0-12 years)
€

360 / ticket
Options
guests >= 5

Price

Adult (18+ years)

€

270 / ticket |

Youth (13-17 years)

€

270 / ticket |

Children (0-12 years)

€

270 / ticket

guests = 4

Price

Adult (18+ years)

€

300 / ticket |

Youth (13-17 years)

€

300 / ticket |

Children (0-12 years)

€

300 / ticket

guests = 3

Price

Adult (18+ years)

€

330 / ticket |

Youth (13-17 years)

€

300 / ticket |

Children (0-12 years)

€

330 / ticket

guests <= 2

Price

Adult (18+ years)

€

360 / ticket |

Youth (13-17 years)

€

360 / ticket |

Children (0-12 years)

€

360 / ticket
27
Promotion
General price:
Adult (18+ years)
€

360 / ticket
|
Youth (13-17 years)
€

360 / ticket
|
Children (0-12 years)
€

360 / ticket
Options
guests >= 5

Price

Adult (18+ years)

€

270 / ticket |

Youth (13-17 years)

€

270 / ticket |

Children (0-12 years)

€

270 / ticket

guests = 4

Price

Adult (18+ years)

€

300 / ticket |

Youth (13-17 years)

€

300 / ticket |

Children (0-12 years)

€

300 / ticket

guests = 3

Price

Adult (18+ years)

€

330 / ticket |

Youth (13-17 years)

€

300 / ticket |

Children (0-12 years)

€

330 / ticket

guests <= 2

Price

Adult (18+ years)

€

360 / ticket |

Youth (13-17 years)

€

360 / ticket |

Children (0-12 years)

€

360 / ticket
28
Promotion
General price:
Adult (18+ years)
€

360 / ticket
|
Youth (13-17 years)
€

360 / ticket
|
Children (0-12 years)
€

360 / ticket
Options
guests >= 5

Price

Adult (18+ years)

€

270 / ticket |

Youth (13-17 years)

€

270 / ticket |

Children (0-12 years)

€

270 / ticket

guests = 4

Price

Adult (18+ years)

€

300 / ticket |

Youth (13-17 years)

€

300 / ticket |

Children (0-12 years)

€

300 / ticket

guests = 3

Price

Adult (18+ years)

€

330 / ticket |

Youth (13-17 years)

€

300 / ticket |

Children (0-12 years)

€

330 / ticket

guests <= 2

Price

Adult (18+ years)

€

360 / ticket |

Youth (13-17 years)

€

360 / ticket |

Children (0-12 years)

€

360 / ticket
29
Promotion
General price:
Adult (18+ years)
€

360 / ticket
|
Youth (13-17 years)
€

360 / ticket
|
Children (0-12 years)
€

360 / ticket
Options
guests >= 5

Price

Adult (18+ years)

€

270 / ticket |

Youth (13-17 years)

€

270 / ticket |

Children (0-12 years)

€

270 / ticket

guests = 4

Price

Adult (18+ years)

€

300 / ticket |

Youth (13-17 years)

€

300 / ticket |

Children (0-12 years)

€

300 / ticket

guests = 3

Price

Adult (18+ years)

€

330 / ticket |

Youth (13-17 years)

€

300 / ticket |

Children (0-12 years)

€

330 / ticket

guests <= 2

Price

Adult (18+ years)

€

360 / ticket |

Youth (13-17 years)

€

360 / ticket |

Children (0-12 years)

€

360 / ticket
30
Promotion
General price:
Adult (18+ years)
€

360 / ticket
|
Youth (13-17 years)
€

360 / ticket
|
Children (0-12 years)
€

360 / ticket
Options
guests >= 5

Price

Adult (18+ years)

€

270 / ticket |

Youth (13-17 years)

€

270 / ticket |

Children (0-12 years)

€

270 / ticket

guests = 4

Price

Adult (18+ years)

€

300 / ticket |

Youth (13-17 years)

€

300 / ticket |

Children (0-12 years)

€

300 / ticket

guests = 3

Price

Adult (18+ years)

€

330 / ticket |

Youth (13-17 years)

€

300 / ticket |

Children (0-12 years)

€

330 / ticket

guests <= 2

Price

Adult (18+ years)

€

360 / ticket |

Youth (13-17 years)

€

360 / ticket |

Children (0-12 years)

€

360 / ticket
31
Promotion
General price:
Adult (18+ years)
€

360 / ticket
|
Youth (13-17 years)
€

360 / ticket
|
Children (0-12 years)
€

360 / ticket
Options
guests >= 5

Price

Adult (18+ years)

€

270 / ticket |

Youth (13-17 years)

€

270 / ticket |

Children (0-12 years)

€

270 / ticket

guests = 4

Price

Adult (18+ years)

€

300 / ticket |

Youth (13-17 years)

€

300 / ticket |

Children (0-12 years)

€

300 / ticket

guests = 3

Price

Adult (18+ years)

€

330 / ticket |

Youth (13-17 years)

€

300 / ticket |

Children (0-12 years)

€

330 / ticket

guests <= 2

Price

Adult (18+ years)

€

360 / ticket |

Youth (13-17 years)

€

360 / ticket |

Children (0-12 years)

€

360 / ticket
1
Promotion
General price:
Adult (18+ years)
€

360 / ticket
|
Youth (13-17 years)
€

360 / ticket
|
Children (0-12 years)
€

360 / ticket
Options
guests >= 5

Price

Adult (18+ years)

€

270 / ticket |

Youth (13-17 years)

€

270 / ticket |

Children (0-12 years)

€

270 / ticket

guests = 4

Price

Adult (18+ years)

€

300 / ticket |

Youth (13-17 years)

€

300 / ticket |

Children (0-12 years)

€

300 / ticket

guests = 3

Price

Adult (18+ years)

€

330 / ticket |

Youth (13-17 years)

€

300 / ticket |

Children (0-12 years)

€

330 / ticket

guests <= 2

Price

Adult (18+ years)

€

360 / ticket |

Youth (13-17 years)

€

360 / ticket |

Children (0-12 years)

€

360 / ticket
2
Promotion
General price:
Adult (18+ years)
€

360 / ticket
|
Youth (13-17 years)
€

360 / ticket
|
Children (0-12 years)
€

360 / ticket
Options
guests >= 5

Price

Adult (18+ years)

€

270 / ticket |

Youth (13-17 years)

€

270 / ticket |

Children (0-12 years)

€

270 / ticket

guests = 4

Price

Adult (18+ years)

€

300 / ticket |

Youth (13-17 years)

€

300 / ticket |

Children (0-12 years)

€

300 / ticket

guests = 3

Price

Adult (18+ years)

€

330 / ticket |

Youth (13-17 years)

€

300 / ticket |

Children (0-12 years)

€

330 / ticket

guests <= 2

Price

Adult (18+ years)

€

360 / ticket |

Youth (13-17 years)

€

360 / ticket |

Children (0-12 years)

€

360 / ticket
3
Promotion
General price:
Adult (18+ years)
€

360 / ticket
|
Youth (13-17 years)
€

360 / ticket
|
Children (0-12 years)
€

360 / ticket
Options
guests >= 5

Price

Adult (18+ years)

€

270 / ticket |

Youth (13-17 years)

€

270 / ticket |

Children (0-12 years)

€

270 / ticket

guests = 4

Price

Adult (18+ years)

€

300 / ticket |

Youth (13-17 years)

€

300 / ticket |

Children (0-12 years)

€

300 / ticket

guests = 3

Price

Adult (18+ years)

€

330 / ticket |

Youth (13-17 years)

€

300 / ticket |

Children (0-12 years)

€

330 / ticket

guests <= 2

Price

Adult (18+ years)

€

360 / ticket |

Youth (13-17 years)

€

360 / ticket |

Children (0-12 years)

€

360 / ticket
4
Promotion
General price:
Adult (18+ years)
€

360 / ticket
|
Youth (13-17 years)
€

360 / ticket
|
Children (0-12 years)
€

360 / ticket
Options
guests >= 5

Price

Adult (18+ years)

€

270 / ticket |

Youth (13-17 years)

€

270 / ticket |

Children (0-12 years)

€

270 / ticket

guests = 4

Price

Adult (18+ years)

€

300 / ticket |

Youth (13-17 years)

€

300 / ticket |

Children (0-12 years)

€

300 / ticket

guests = 3

Price

Adult (18+ years)

€

330 / ticket |

Youth (13-17 years)

€

300 / ticket |

Children (0-12 years)

€

330 / ticket

guests <= 2

Price

Adult (18+ years)

€

360 / ticket |

Youth (13-17 years)

€

360 / ticket |

Children (0-12 years)

€

360 / ticket
29
Promotion
General price:
Adult (18+ years)
€

360 / ticket
|
Youth (13-17 years)
€

360 / ticket
|
Children (0-12 years)
€

360 / ticket
Options
guests >= 5

Price

Adult (18+ years)

€

270 / ticket |

Youth (13-17 years)

€

270 / ticket |

Children (0-12 years)

€

270 / ticket

guests = 4

Price

Adult (18+ years)

€

300 / ticket |

Youth (13-17 years)

€

300 / ticket |

Children (0-12 years)

€

300 / ticket

guests = 3

Price

Adult (18+ years)

€

330 / ticket |

Youth (13-17 years)

€

300 / ticket |

Children (0-12 years)

€

330 / ticket

guests <= 2

Price

Adult (18+ years)

€

360 / ticket |

Youth (13-17 years)

€

360 / ticket |

Children (0-12 years)

€

360 / ticket
30
Promotion
General price:
Adult (18+ years)
€

360 / ticket
|
Youth (13-17 years)
€

360 / ticket
|
Children (0-12 years)
€

360 / ticket
Options
guests >= 5

Price

Adult (18+ years)

€

270 / ticket |

Youth (13-17 years)

€

270 / ticket |

Children (0-12 years)

€

270 / ticket

guests = 4

Price

Adult (18+ years)

€

300 / ticket |

Youth (13-17 years)

€

300 / ticket |

Children (0-12 years)

€

300 / ticket

guests = 3

Price

Adult (18+ years)

€

330 / ticket |

Youth (13-17 years)

€

300 / ticket |

Children (0-12 years)

€

330 / ticket

guests <= 2

Price

Adult (18+ years)

€

360 / ticket |

Youth (13-17 years)

€

360 / ticket |

Children (0-12 years)

€

360 / ticket
31
Promotion
General price:
Adult (18+ years)
€

360 / ticket
|
Youth (13-17 years)
€

360 / ticket
|
Children (0-12 years)
€

360 / ticket
Options
guests >= 5

Price

Adult (18+ years)

€

270 / ticket |

Youth (13-17 years)

€

270 / ticket |

Children (0-12 years)

€

270 / ticket

guests = 4

Price

Adult (18+ years)

€

300 / ticket |

Youth (13-17 years)

€

300 / ticket |

Children (0-12 years)

€

300 / ticket

guests = 3

Price

Adult (18+ years)

€

330 / ticket |

Youth (13-17 years)

€

300 / ticket |

Children (0-12 years)

€

330 / ticket

guests <= 2

Price

Adult (18+ years)

€

360 / ticket |

Youth (13-17 years)

€

360 / ticket |

Children (0-12 years)

€

360 / ticket
1
Promotion
General price:
Adult (18+ years)
€

360 / ticket
|
Youth (13-17 years)
€

360 / ticket
|
Children (0-12 years)
€

360 / ticket
Options
guests >= 5

Price

Adult (18+ years)

€

270 / ticket |

Youth (13-17 years)

€

270 / ticket |

Children (0-12 years)

€

270 / ticket

guests = 4

Price

Adult (18+ years)

€

300 / ticket |

Youth (13-17 years)

€

300 / ticket |

Children (0-12 years)

€

300 / ticket

guests = 3

Price

Adult (18+ years)

€

330 / ticket |

Youth (13-17 years)

€

300 / ticket |

Children (0-12 years)

€

330 / ticket

guests <= 2

Price

Adult (18+ years)

€

360 / ticket |

Youth (13-17 years)

€

360 / ticket |

Children (0-12 years)

€

360 / ticket
2
Promotion
General price:
Adult (18+ years)
€

360 / ticket
|
Youth (13-17 years)
€

360 / ticket
|
Children (0-12 years)
€

360 / ticket
Options
guests >= 5

Price

Adult (18+ years)

€

270 / ticket |

Youth (13-17 years)

€

270 / ticket |

Children (0-12 years)

€

270 / ticket

guests = 4

Price

Adult (18+ years)

€

300 / ticket |

Youth (13-17 years)

€

300 / ticket |

Children (0-12 years)

€

300 / ticket

guests = 3

Price

Adult (18+ years)

€

330 / ticket |

Youth (13-17 years)

€

300 / ticket |

Children (0-12 years)

€

330 / ticket

guests <= 2

Price

Adult (18+ years)

€

360 / ticket |

Youth (13-17 years)

€

360 / ticket |

Children (0-12 years)

€

360 / ticket
3
Promotion
General price:
Adult (18+ years)
€

360 / ticket
|
Youth (13-17 years)
€

360 / ticket
|
Children (0-12 years)
€

360 / ticket
Options
guests >= 5

Price

Adult (18+ years)

€

270 / ticket |

Youth (13-17 years)

€

270 / ticket |

Children (0-12 years)

€

270 / ticket

guests = 4

Price

Adult (18+ years)

€

300 / ticket |

Youth (13-17 years)

€

300 / ticket |

Children (0-12 years)

€

300 / ticket

guests = 3

Price

Adult (18+ years)

€

330 / ticket |

Youth (13-17 years)

€

300 / ticket |

Children (0-12 years)

€

330 / ticket

guests <= 2

Price

Adult (18+ years)

€

360 / ticket |

Youth (13-17 years)

€

360 / ticket |

Children (0-12 years)

€

360 / ticket
4
Promotion
General price:
Adult (18+ years)
€

360 / ticket
|
Youth (13-17 years)
€

360 / ticket
|
Children (0-12 years)
€

360 / ticket
Options
guests >= 5

Price

Adult (18+ years)

€

270 / ticket |

Youth (13-17 years)

€

270 / ticket |

Children (0-12 years)

€

270 / ticket

guests = 4

Price

Adult (18+ years)

€

300 / ticket |

Youth (13-17 years)

€

300 / ticket |

Children (0-12 years)

€

300 / ticket

guests = 3

Price

Adult (18+ years)

€

330 / ticket |

Youth (13-17 years)

€

300 / ticket |

Children (0-12 years)

€

330 / ticket

guests <= 2

Price

Adult (18+ years)

€

360 / ticket |

Youth (13-17 years)

€

360 / ticket |

Children (0-12 years)

€

360 / ticket
5
Promotion
General price:
Adult (18+ years)
€

360 / ticket
|
Youth (13-17 years)
€

360 / ticket
|
Children (0-12 years)
€

360 / ticket
Options
guests >= 5

Price

Adult (18+ years)

€

270 / ticket |

Youth (13-17 years)

€

270 / ticket |

Children (0-12 years)

€

270 / ticket

guests = 4

Price

Adult (18+ years)

€

300 / ticket |

Youth (13-17 years)

€

300 / ticket |

Children (0-12 years)

€

300 / ticket

guests = 3

Price

Adult (18+ years)

€

330 / ticket |

Youth (13-17 years)

€

300 / ticket |

Children (0-12 years)

€

330 / ticket

guests <= 2

Price

Adult (18+ years)

€

360 / ticket |

Youth (13-17 years)

€

360 / ticket |

Children (0-12 years)

€

360 / ticket
6
Promotion
General price:
Adult (18+ years)
€

360 / ticket
|
Youth (13-17 years)
€

360 / ticket
|
Children (0-12 years)
€

360 / ticket
Options
guests >= 5

Price

Adult (18+ years)

€

270 / ticket |

Youth (13-17 years)

€

270 / ticket |

Children (0-12 years)

€

270 / ticket

guests = 4

Price

Adult (18+ years)

€

300 / ticket |

Youth (13-17 years)

€

300 / ticket |

Children (0-12 years)

€

300 / ticket

guests = 3

Price

Adult (18+ years)

€

330 / ticket |

Youth (13-17 years)

€

300 / ticket |

Children (0-12 years)

€

330 / ticket

guests <= 2

Price

Adult (18+ years)

€

360 / ticket |

Youth (13-17 years)

€

360 / ticket |

Children (0-12 years)

€

360 / ticket
7
Promotion
General price:
Adult (18+ years)
€

360 / ticket
|
Youth (13-17 years)
€

360 / ticket
|
Children (0-12 years)
€

360 / ticket
Options
guests >= 5

Price

Adult (18+ years)

€

270 / ticket |

Youth (13-17 years)

€

270 / ticket |

Children (0-12 years)

€

270 / ticket

guests = 4

Price

Adult (18+ years)

€

300 / ticket |

Youth (13-17 years)

€

300 / ticket |

Children (0-12 years)

€

300 / ticket

guests = 3

Price

Adult (18+ years)

€

330 / ticket |

Youth (13-17 years)

€

300 / ticket |

Children (0-12 years)

€

330 / ticket

guests <= 2

Price

Adult (18+ years)

€

360 / ticket |

Youth (13-17 years)

€

360 / ticket |

Children (0-12 years)

€

360 / ticket
8
Promotion
General price:
Adult (18+ years)
€

360 / ticket
|
Youth (13-17 years)
€

360 / ticket
|
Children (0-12 years)
€

360 / ticket
Options
guests >= 5

Price

Adult (18+ years)

€

270 / ticket |

Youth (13-17 years)

€

270 / ticket |

Children (0-12 years)

€

270 / ticket

guests = 4

Price

Adult (18+ years)

€

300 / ticket |

Youth (13-17 years)

€

300 / ticket |

Children (0-12 years)

€

300 / ticket

guests = 3

Price

Adult (18+ years)

€

330 / ticket |

Youth (13-17 years)

€

300 / ticket |

Children (0-12 years)

€

330 / ticket

guests <= 2

Price

Adult (18+ years)

€

360 / ticket |

Youth (13-17 years)

€

360 / ticket |

Children (0-12 years)

€

360 / ticket
9
Promotion
General price:
Adult (18+ years)
€

360 / ticket
|
Youth (13-17 years)
€

360 / ticket
|
Children (0-12 years)
€

360 / ticket
Options
guests >= 5

Price

Adult (18+ years)

€

270 / ticket |

Youth (13-17 years)

€

270 / ticket |

Children (0-12 years)

€

270 / ticket

guests = 4

Price

Adult (18+ years)

€

300 / ticket |

Youth (13-17 years)

€

300 / ticket |

Children (0-12 years)

€

300 / ticket

guests = 3

Price

Adult (18+ years)

€

330 / ticket |

Youth (13-17 years)

€

300 / ticket |

Children (0-12 years)

€

330 / ticket

guests <= 2

Price

Adult (18+ years)

€

360 / ticket |

Youth (13-17 years)

€

360 / ticket |

Children (0-12 years)

€

360 / ticket
10
Promotion
General price:
Adult (18+ years)
€

360 / ticket
|
Youth (13-17 years)
€

360 / ticket
|
Children (0-12 years)
€

360 / ticket
Options
guests >= 5

Price

Adult (18+ years)

€

270 / ticket |

Youth (13-17 years)

€

270 / ticket |

Children (0-12 years)

€

270 / ticket

guests = 4

Price

Adult (18+ years)

€

300 / ticket |

Youth (13-17 years)

€

300 / ticket |

Children (0-12 years)

€

300 / ticket

guests = 3

Price

Adult (18+ years)

€

330 / ticket |

Youth (13-17 years)

€

300 / ticket |

Children (0-12 years)

€

330 / ticket

guests <= 2

Price

Adult (18+ years)

€

360 / ticket |

Youth (13-17 years)

€

360 / ticket |

Children (0-12 years)

€

360 / ticket
11
Promotion
General price:
Adult (18+ years)
€

360 / ticket
|
Youth (13-17 years)
€

360 / ticket
|
Children (0-12 years)
€

360 / ticket
Options
guests >= 5

Price

Adult (18+ years)

€

270 / ticket |

Youth (13-17 years)

€

270 / ticket |

Children (0-12 years)

€

270 / ticket

guests = 4

Price

Adult (18+ years)

€

300 / ticket |

Youth (13-17 years)

€

300 / ticket |

Children (0-12 years)

€

300 / ticket

guests = 3

Price

Adult (18+ years)

€

330 / ticket |

Youth (13-17 years)

€

300 / ticket |

Children (0-12 years)

€

330 / ticket

guests <= 2

Price

Adult (18+ years)

€

360 / ticket |

Youth (13-17 years)

€

360 / ticket |

Children (0-12 years)

€

360 / ticket
12
Promotion
General price:
Adult (18+ years)
€

360 / ticket
|
Youth (13-17 years)
€

360 / ticket
|
Children (0-12 years)
€

360 / ticket
Options
guests >= 5

Price

Adult (18+ years)

€

270 / ticket |

Youth (13-17 years)

€

270 / ticket |

Children (0-12 years)

€

270 / ticket

guests = 4

Price

Adult (18+ years)

€

300 / ticket |

Youth (13-17 years)

€

300 / ticket |

Children (0-12 years)

€

300 / ticket

guests = 3

Price

Adult (18+ years)

€

330 / ticket |

Youth (13-17 years)

€

300 / ticket |

Children (0-12 years)

€

330 / ticket

guests <= 2

Price

Adult (18+ years)

€

360 / ticket |

Youth (13-17 years)

€

360 / ticket |

Children (0-12 years)

€

360 / ticket
13
Promotion
General price:
Adult (18+ years)
€

360 / ticket
|
Youth (13-17 years)
€

360 / ticket
|
Children (0-12 years)
€

360 / ticket
Options
guests >= 5

Price

Adult (18+ years)

€

270 / ticket |

Youth (13-17 years)

€

270 / ticket |

Children (0-12 years)

€

270 / ticket

guests = 4

Price

Adult (18+ years)

€

300 / ticket |

Youth (13-17 years)

€

300 / ticket |

Children (0-12 years)

€

300 / ticket

guests = 3

Price

Adult (18+ years)

€

330 / ticket |

Youth (13-17 years)

€

300 / ticket |

Children (0-12 years)

€

330 / ticket

guests <= 2

Price

Adult (18+ years)

€

360 / ticket |

Youth (13-17 years)

€

360 / ticket |

Children (0-12 years)

€

360 / ticket
14
Promotion
General price:
Adult (18+ years)
€

360 / ticket
|
Youth (13-17 years)
€

360 / ticket
|
Children (0-12 years)
€

360 / ticket
Options
guests >= 5

Price

Adult (18+ years)

€

270 / ticket |

Youth (13-17 years)

€

270 / ticket |

Children (0-12 years)

€

270 / ticket

guests = 4

Price

Adult (18+ years)

€

300 / ticket |

Youth (13-17 years)

€

300 / ticket |

Children (0-12 years)

€

300 / ticket

guests = 3

Price

Adult (18+ years)

€

330 / ticket |

Youth (13-17 years)

€

300 / ticket |

Children (0-12 years)

€

330 / ticket

guests <= 2

Price

Adult (18+ years)

€

360 / ticket |

Youth (13-17 years)

€

360 / ticket |

Children (0-12 years)

€

360 / ticket
15
Promotion
General price:
Adult (18+ years)
€

360 / ticket
|
Youth (13-17 years)
€

360 / ticket
|
Children (0-12 years)
€

360 / ticket
Options
guests >= 5

Price

Adult (18+ years)

€

270 / ticket |

Youth (13-17 years)

€

270 / ticket |

Children (0-12 years)

€

270 / ticket

guests = 4

Price

Adult (18+ years)

€

300 / ticket |

Youth (13-17 years)

€

300 / ticket |

Children (0-12 years)

€

300 / ticket

guests = 3

Price

Adult (18+ years)

€

330 / ticket |

Youth (13-17 years)

€

300 / ticket |

Children (0-12 years)

€

330 / ticket

guests <= 2

Price

Adult (18+ years)

€

360 / ticket |

Youth (13-17 years)

€

360 / ticket |

Children (0-12 years)

€

360 / ticket
16
Promotion
General price:
Adult (18+ years)
€

360 / ticket
|
Youth (13-17 years)
€

360 / ticket
|
Children (0-12 years)
€

360 / ticket
Options
guests >= 5

Price

Adult (18+ years)

€

270 / ticket |

Youth (13-17 years)

€

270 / ticket |

Children (0-12 years)

€

270 / ticket

guests = 4

Price

Adult (18+ years)

€

300 / ticket |

Youth (13-17 years)

€

300 / ticket |

Children (0-12 years)

€

300 / ticket

guests = 3

Price

Adult (18+ years)

€

330 / ticket |

Youth (13-17 years)

€

300 / ticket |

Children (0-12 years)

€

330 / ticket

guests <= 2

Price

Adult (18+ years)

€

360 / ticket |

Youth (13-17 years)

€

360 / ticket |

Children (0-12 years)

€

360 / ticket
17
Promotion
General price:
Adult (18+ years)
€

360 / ticket
|
Youth (13-17 years)
€

360 / ticket
|
Children (0-12 years)
€

360 / ticket
Options
guests >= 5

Price

Adult (18+ years)

€

270 / ticket |

Youth (13-17 years)

€

270 / ticket |

Children (0-12 years)

€

270 / ticket

guests = 4

Price

Adult (18+ years)

€

300 / ticket |

Youth (13-17 years)

€

300 / ticket |

Children (0-12 years)

€

300 / ticket

guests = 3

Price

Adult (18+ years)

€

330 / ticket |

Youth (13-17 years)

€

300 / ticket |

Children (0-12 years)

€

330 / ticket

guests <= 2

Price

Adult (18+ years)

€

360 / ticket |

Youth (13-17 years)

€

360 / ticket |

Children (0-12 years)

€

360 / ticket
18
Promotion
General price:
Adult (18+ years)
€

360 / ticket
|
Youth (13-17 years)
€

360 / ticket
|
Children (0-12 years)
€

360 / ticket
Options
guests >= 5

Price

Adult (18+ years)

€

270 / ticket |

Youth (13-17 years)

€

270 / ticket |

Children (0-12 years)

€

270 / ticket

guests = 4

Price

Adult (18+ years)

€

300 / ticket |

Youth (13-17 years)

€

300 / ticket |

Children (0-12 years)

€

300 / ticket

guests = 3

Price

Adult (18+ years)

€

330 / ticket |

Youth (13-17 years)

€

300 / ticket |

Children (0-12 years)

€

330 / ticket

guests <= 2

Price

Adult (18+ years)

€

360 / ticket |

Youth (13-17 years)

€

360 / ticket |

Children (0-12 years)

€

360 / ticket
19
Promotion
General price:
Adult (18+ years)
€

360 / ticket
|
Youth (13-17 years)
€

360 / ticket
|
Children (0-12 years)
€

360 / ticket
Options
guests >= 5

Price

Adult (18+ years)

€

270 / ticket |

Youth (13-17 years)

€

270 / ticket |

Children (0-12 years)

€

270 / ticket

guests = 4

Price

Adult (18+ years)

€

300 / ticket |

Youth (13-17 years)

€

300 / ticket |

Children (0-12 years)

€

300 / ticket

guests = 3

Price

Adult (18+ years)

€

330 / ticket |

Youth (13-17 years)

€

300 / ticket |

Children (0-12 years)

€

330 / ticket

guests <= 2

Price

Adult (18+ years)

€

360 / ticket |

Youth (13-17 years)

€

360 / ticket |

Children (0-12 years)

€

360 / ticket
20
Promotion
General price:
Adult (18+ years)
€

360 / ticket
|
Youth (13-17 years)
€

360 / ticket
|
Children (0-12 years)
€

360 / ticket
Options
guests >= 5

Price

Adult (18+ years)

€

270 / ticket |

Youth (13-17 years)

€

270 / ticket |

Children (0-12 years)

€

270 / ticket

guests = 4

Price

Adult (18+ years)

€

300 / ticket |

Youth (13-17 years)

€

300 / ticket |

Children (0-12 years)

€

300 / ticket

guests = 3

Price

Adult (18+ years)

€

330 / ticket |

Youth (13-17 years)

€

300 / ticket |

Children (0-12 years)

€

330 / ticket

guests <= 2

Price

Adult (18+ years)

€

360 / ticket |

Youth (13-17 years)

€

360 / ticket |

Children (0-12 years)

€

360 / ticket
21
Promotion
General price:
Adult (18+ years)
€

360 / ticket
|
Youth (13-17 years)
€

360 / ticket
|
Children (0-12 years)
€

360 / ticket
Options
guests >= 5

Price

Adult (18+ years)

€

270 / ticket |

Youth (13-17 years)

€

270 / ticket |

Children (0-12 years)

€

270 / ticket

guests = 4

Price

Adult (18+ years)

€

300 / ticket |

Youth (13-17 years)

€

300 / ticket |

Children (0-12 years)

€

300 / ticket

guests = 3

Price

Adult (18+ years)

€

330 / ticket |

Youth (13-17 years)

€

300 / ticket |

Children (0-12 years)

€

330 / ticket

guests <= 2

Price

Adult (18+ years)

€

360 / ticket |

Youth (13-17 years)

€

360 / ticket |

Children (0-12 years)

€

360 / ticket
22
Promotion
General price:
Adult (18+ years)
€

360 / ticket
|
Youth (13-17 years)
€

360 / ticket
|
Children (0-12 years)
€

360 / ticket
Options
guests >= 5

Price

Adult (18+ years)

€

270 / ticket |

Youth (13-17 years)

€

270 / ticket |

Children (0-12 years)

€

270 / ticket

guests = 4

Price

Adult (18+ years)

€

300 / ticket |

Youth (13-17 years)

€

300 / ticket |

Children (0-12 years)

€

300 / ticket

guests = 3

Price

Adult (18+ years)

€

330 / ticket |

Youth (13-17 years)

€

300 / ticket |

Children (0-12 years)

€

330 / ticket

guests <= 2

Price

Adult (18+ years)

€

360 / ticket |

Youth (13-17 years)

€

360 / ticket |

Children (0-12 years)

€

360 / ticket
23
Promotion
General price:
Adult (18+ years)
€

360 / ticket
|
Youth (13-17 years)
€

360 / ticket
|
Children (0-12 years)
€

360 / ticket
Options
guests >= 5

Price

Adult (18+ years)

€

270 / ticket |

Youth (13-17 years)

€

270 / ticket |

Children (0-12 years)

€

270 / ticket

guests = 4

Price

Adult (18+ years)

€

300 / ticket |

Youth (13-17 years)

€

300 / ticket |

Children (0-12 years)

€

300 / ticket

guests = 3

Price

Adult (18+ years)

€

330 / ticket |

Youth (13-17 years)

€

300 / ticket |

Children (0-12 years)

€

330 / ticket

guests <= 2

Price

Adult (18+ years)

€

360 / ticket |

Youth (13-17 years)

€

360 / ticket |

Children (0-12 years)

€

360 / ticket
24
Promotion
General price:
Adult (18+ years)
€

360 / ticket
|
Youth (13-17 years)
€

360 / ticket
|
Children (0-12 years)
€

360 / ticket
Options
guests >= 5

Price

Adult (18+ years)

€

270 / ticket |

Youth (13-17 years)

€

270 / ticket |

Children (0-12 years)

€

270 / ticket

guests = 4

Price

Adult (18+ years)

€

300 / ticket |

Youth (13-17 years)

€

300 / ticket |

Children (0-12 years)

€

300 / ticket

guests = 3

Price

Adult (18+ years)

€

330 / ticket |

Youth (13-17 years)

€

300 / ticket |

Children (0-12 years)

€

330 / ticket

guests <= 2

Price

Adult (18+ years)

€

360 / ticket |

Youth (13-17 years)

€

360 / ticket |

Children (0-12 years)

€

360 / ticket
25
Promotion
General price:
Adult (18+ years)
€

360 / ticket
|
Youth (13-17 years)
€

360 / ticket
|
Children (0-12 years)
€

360 / ticket
Options
guests >= 5

Price

Adult (18+ years)

€

270 / ticket |

Youth (13-17 years)

€

270 / ticket |

Children (0-12 years)

€

270 / ticket

guests = 4

Price

Adult (18+ years)

€

300 / ticket |

Youth (13-17 years)

€

300 / ticket |

Children (0-12 years)

€

300 / ticket

guests = 3

Price

Adult (18+ years)

€

330 / ticket |

Youth (13-17 years)

€

300 / ticket |

Children (0-12 years)

€

330 / ticket

guests <= 2

Price

Adult (18+ years)

€

360 / ticket |

Youth (13-17 years)

€

360 / ticket |

Children (0-12 years)

€

360 / ticket
26
Promotion
General price:
Adult (18+ years)
€

360 / ticket
|
Youth (13-17 years)
€

360 / ticket
|
Children (0-12 years)
€

360 / ticket
Options
guests >= 5

Price

Adult (18+ years)

€

270 / ticket |

Youth (13-17 years)

€

270 / ticket |

Children (0-12 years)

€

270 / ticket

guests = 4

Price

Adult (18+ years)

€

300 / ticket |

Youth (13-17 years)

€

300 / ticket |

Children (0-12 years)

€

300 / ticket

guests = 3

Price

Adult (18+ years)

€

330 / ticket |

Youth (13-17 years)

€

300 / ticket |

Children (0-12 years)

€

330 / ticket

guests <= 2

Price

Adult (18+ years)

€

360 / ticket |

Youth (13-17 years)

€

360 / ticket |

Children (0-12 years)

€

360 / ticket
27
Promotion
General price:
Adult (18+ years)
€

360 / ticket
|
Youth (13-17 years)
€

360 / ticket
|
Children (0-12 years)
€

360 / ticket
Options
guests >= 5

Price

Adult (18+ years)

€

270 / ticket |

Youth (13-17 years)

€

270 / ticket |

Children (0-12 years)

€

270 / ticket

guests = 4

Price

Adult (18+ years)

€

300 / ticket |

Youth (13-17 years)

€

300 / ticket |

Children (0-12 years)

€

300 / ticket

guests = 3

Price

Adult (18+ years)

€

330 / ticket |

Youth (13-17 years)

€

300 / ticket |

Children (0-12 years)

€

330 / ticket

guests <= 2

Price

Adult (18+ years)

€

360 / ticket |

Youth (13-17 years)

€

360 / ticket |

Children (0-12 years)

€

360 / ticket
28
Promotion
General price:
Adult (18+ years)
€

360 / ticket
|
Youth (13-17 years)
€

360 / ticket
|
Children (0-12 years)
€

360 / ticket
Options
guests >= 5

Price

Adult (18+ years)

€

270 / ticket |

Youth (13-17 years)

€

270 / ticket |

Children (0-12 years)

€

270 / ticket

guests = 4

Price

Adult (18+ years)

€

300 / ticket |

Youth (13-17 years)

€

300 / ticket |

Children (0-12 years)

€

300 / ticket

guests = 3

Price

Adult (18+ years)

€

330 / ticket |

Youth (13-17 years)

€

300 / ticket |

Children (0-12 years)

€

330 / ticket

guests <= 2

Price

Adult (18+ years)

€

360 / ticket |

Youth (13-17 years)

€

360 / ticket |

Children (0-12 years)

€

360 / ticket
29
Promotion
General price:
Adult (18+ years)
€

360 / ticket
|
Youth (13-17 years)
€

360 / ticket
|
Children (0-12 years)
€

360 / ticket
Options
guests >= 5

Price

Adult (18+ years)

€

270 / ticket |

Youth (13-17 years)

€

270 / ticket |

Children (0-12 years)

€

270 / ticket

guests = 4

Price

Adult (18+ years)

€

300 / ticket |

Youth (13-17 years)

€

300 / ticket |

Children (0-12 years)

€

300 / ticket

guests = 3

Price

Adult (18+ years)

€

330 / ticket |

Youth (13-17 years)

€

300 / ticket |

Children (0-12 years)

€

330 / ticket

guests <= 2

Price

Adult (18+ years)

€

360 / ticket |

Youth (13-17 years)

€

360 / ticket |

Children (0-12 years)

€

360 / ticket
1
Promotion
General price:
Adult (18+ years)
€

360 / ticket
|
Youth (13-17 years)
€

360 / ticket
|
Children (0-12 years)
€

360 / ticket
Options
guests >= 5

Price

Adult (18+ years)

€

270 / ticket |

Youth (13-17 years)

€

270 / ticket |

Children (0-12 years)

€

270 / ticket

guests = 4

Price

Adult (18+ years)

€

300 / ticket |

Youth (13-17 years)

€

300 / ticket |

Children (0-12 years)

€

300 / ticket

guests = 3

Price

Adult (18+ years)

€

330 / ticket |

Youth (13-17 years)

€

300 / ticket |

Children (0-12 years)

€

330 / ticket

guests <= 2

Price

Adult (18+ years)

€

360 / ticket |

Youth (13-17 years)

€

360 / ticket |

Children (0-12 years)

€

360 / ticket
2
Promotion
General price:
Adult (18+ years)
€

360 / ticket
|
Youth (13-17 years)
€

360 / ticket
|
Children (0-12 years)
€

360 / ticket
Options
guests >= 5

Price

Adult (18+ years)

€

270 / ticket |

Youth (13-17 years)

€

270 / ticket |

Children (0-12 years)

€

270 / ticket

guests = 4

Price

Adult (18+ years)

€

300 / ticket |

Youth (13-17 years)

€

300 / ticket |

Children (0-12 years)

€

300 / ticket

guests = 3

Price

Adult (18+ years)

€

330 / ticket |

Youth (13-17 years)

€

300 / ticket |

Children (0-12 years)

€

330 / ticket

guests <= 2

Price

Adult (18+ years)

€

360 / ticket |

Youth (13-17 years)

€

360 / ticket |

Children (0-12 years)

€

360 / ticket
3
Promotion
General price:
Adult (18+ years)
€

360 / ticket
|
Youth (13-17 years)
€

360 / ticket
|
Children (0-12 years)
€

360 / ticket
Options
guests >= 5

Price

Adult (18+ years)

€

270 / ticket |

Youth (13-17 years)

€

270 / ticket |

Children (0-12 years)

€

270 / ticket

guests = 4

Price

Adult (18+ years)

€

300 / ticket |

Youth (13-17 years)

€

300 / ticket |

Children (0-12 years)

€

300 / ticket

guests = 3

Price

Adult (18+ years)

€

330 / ticket |

Youth (13-17 years)

€

300 / ticket |

Children (0-12 years)

€

330 / ticket

guests <= 2

Price

Adult (18+ years)

€

360 / ticket |

Youth (13-17 years)

€

360 / ticket |

Children (0-12 years)

€

360 / ticket
26
Promotion
General price:
Adult (18+ years)
€

360 / ticket
|
Youth (13-17 years)
€

360 / ticket
|
Children (0-12 years)
€

360 / ticket
Options
guests >= 5

Price

Adult (18+ years)

€

270 / ticket |

Youth (13-17 years)

€

270 / ticket |

Children (0-12 years)

€

270 / ticket

guests = 4

Price

Adult (18+ years)

€

300 / ticket |

Youth (13-17 years)

€

300 / ticket |

Children (0-12 years)

€

300 / ticket

guests = 3

Price

Adult (18+ years)

€

330 / ticket |

Youth (13-17 years)

€

300 / ticket |

Children (0-12 years)

€

330 / ticket

guests <= 2

Price

Adult (18+ years)

€

360 / ticket |

Youth (13-17 years)

€

360 / ticket |

Children (0-12 years)

€

360 / ticket
27
Promotion
General price:
Adult (18+ years)
€

360 / ticket
|
Youth (13-17 years)
€

360 / ticket
|
Children (0-12 years)
€

360 / ticket
Options
guests >= 5

Price

Adult (18+ years)

€

270 / ticket |

Youth (13-17 years)

€

270 / ticket |

Children (0-12 years)

€

270 / ticket

guests = 4

Price

Adult (18+ years)

€

300 / ticket |

Youth (13-17 years)

€

300 / ticket |

Children (0-12 years)

€

300 / ticket

guests = 3

Price

Adult (18+ years)

€

330 / ticket |

Youth (13-17 years)

€

300 / ticket |

Children (0-12 years)

€

330 / ticket

guests <= 2

Price

Adult (18+ years)

€

360 / ticket |

Youth (13-17 years)

€

360 / ticket |

Children (0-12 years)

€

360 / ticket
28
Promotion
General price:
Adult (18+ years)
€

360 / ticket
|
Youth (13-17 years)
€

360 / ticket
|
Children (0-12 years)
€

360 / ticket
Options
guests >= 5

Price

Adult (18+ years)

€

270 / ticket |

Youth (13-17 years)

€

270 / ticket |

Children (0-12 years)

€

270 / ticket

guests = 4

Price

Adult (18+ years)

€

300 / ticket |

Youth (13-17 years)

€

300 / ticket |

Children (0-12 years)

€

300 / ticket

guests = 3

Price

Adult (18+ years)

€

330 / ticket |

Youth (13-17 years)

€

300 / ticket |

Children (0-12 years)

€

330 / ticket

guests <= 2

Price

Adult (18+ years)

€

360 / ticket |

Youth (13-17 years)

€

360 / ticket |

Children (0-12 years)

€

360 / ticket
29
Promotion
General price:
Adult (18+ years)
€

360 / ticket
|
Youth (13-17 years)
€

360 / ticket
|
Children (0-12 years)
€

360 / ticket
Options
guests >= 5

Price

Adult (18+ years)

€

270 / ticket |

Youth (13-17 years)

€

270 / ticket |

Children (0-12 years)

€

270 / ticket

guests = 4

Price

Adult (18+ years)

€

300 / ticket |

Youth (13-17 years)

€

300 / ticket |

Children (0-12 years)

€

300 / ticket

guests = 3

Price

Adult (18+ years)

€

330 / ticket |

Youth (13-17 years)

€

300 / ticket |

Children (0-12 years)

€

330 / ticket

guests <= 2

Price

Adult (18+ years)

€

360 / ticket |

Youth (13-17 years)

€

360 / ticket |

Children (0-12 years)

€

360 / ticket
1
Promotion
General price:
Adult (18+ years)
€

360 / ticket
|
Youth (13-17 years)
€

360 / ticket
|
Children (0-12 years)
€

360 / ticket
Options
guests >= 5

Price

Adult (18+ years)

€

270 / ticket |

Youth (13-17 years)

€

270 / ticket |

Children (0-12 years)

€

270 / ticket

guests = 4

Price

Adult (18+ years)

€

300 / ticket |

Youth (13-17 years)

€

300 / ticket |

Children (0-12 years)

€

300 / ticket

guests = 3

Price

Adult (18+ years)

€

330 / ticket |

Youth (13-17 years)

€

300 / ticket |

Children (0-12 years)

€

330 / ticket

guests <= 2

Price

Adult (18+ years)

€

360 / ticket |

Youth (13-17 years)

€

360 / ticket |

Children (0-12 years)

€

360 / ticket
2
Promotion
General price:
Adult (18+ years)
€

360 / ticket
|
Youth (13-17 years)
€

360 / ticket
|
Children (0-12 years)
€

360 / ticket
Options
guests >= 5

Price

Adult (18+ years)

€

270 / ticket |

Youth (13-17 years)

€

270 / ticket |

Children (0-12 years)

€

270 / ticket

guests = 4

Price

Adult (18+ years)

€

300 / ticket |

Youth (13-17 years)

€

300 / ticket |

Children (0-12 years)

€

300 / ticket

guests = 3

Price

Adult (18+ years)

€

330 / ticket |

Youth (13-17 years)

€

300 / ticket |

Children (0-12 years)

€

330 / ticket

guests <= 2

Price

Adult (18+ years)

€

360 / ticket |

Youth (13-17 years)

€

360 / ticket |

Children (0-12 years)

€

360 / ticket
3
Promotion
General price:
Adult (18+ years)
€

360 / ticket
|
Youth (13-17 years)
€

360 / ticket
|
Children (0-12 years)
€

360 / ticket
Options
guests >= 5

Price

Adult (18+ years)

€

270 / ticket |

Youth (13-17 years)

€

270 / ticket |

Children (0-12 years)

€

270 / ticket

guests = 4

Price

Adult (18+ years)

€

300 / ticket |

Youth (13-17 years)

€

300 / ticket |

Children (0-12 years)

€

300 / ticket

guests = 3

Price

Adult (18+ years)

€

330 / ticket |

Youth (13-17 years)

€

300 / ticket |

Children (0-12 years)

€

330 / ticket

guests <= 2

Price

Adult (18+ years)

€

360 / ticket |

Youth (13-17 years)

€

360 / ticket |

Children (0-12 years)

€

360 / ticket
4
Promotion
General price:
Adult (18+ years)
€

360 / ticket
|
Youth (13-17 years)
€

360 / ticket
|
Children (0-12 years)
€

360 / ticket
Options
guests >= 5

Price

Adult (18+ years)

€

270 / ticket |

Youth (13-17 years)

€

270 / ticket |

Children (0-12 years)

€

270 / ticket

guests = 4

Price

Adult (18+ years)

€

300 / ticket |

Youth (13-17 years)

€

300 / ticket |

Children (0-12 years)

€

300 / ticket

guests = 3

Price

Adult (18+ years)

€

330 / ticket |

Youth (13-17 years)

€

300 / ticket |

Children (0-12 years)

€

330 / ticket

guests <= 2

Price

Adult (18+ years)

€

360 / ticket |

Youth (13-17 years)

€

360 / ticket |

Children (0-12 years)

€

360 / ticket
5
Promotion
General price:
Adult (18+ years)
€

360 / ticket
|
Youth (13-17 years)
€

360 / ticket
|
Children (0-12 years)
€

360 / ticket
Options
guests >= 5

Price

Adult (18+ years)

€

270 / ticket |

Youth (13-17 years)

€

270 / ticket |

Children (0-12 years)

€

270 / ticket

guests = 4

Price

Adult (18+ years)

€

300 / ticket |

Youth (13-17 years)

€

300 / ticket |

Children (0-12 years)

€

300 / ticket

guests = 3

Price

Adult (18+ years)

€

330 / ticket |

Youth (13-17 years)

€

300 / ticket |

Children (0-12 years)

€

330 / ticket

guests <= 2

Price

Adult (18+ years)

€

360 / ticket |

Youth (13-17 years)

€

360 / ticket |

Children (0-12 years)

€

360 / ticket
6
Promotion
General price:
Adult (18+ years)
€

360 / ticket
|
Youth (13-17 years)
€

360 / ticket
|
Children (0-12 years)
€

360 / ticket
Options
guests >= 5

Price

Adult (18+ years)

€

270 / ticket |

Youth (13-17 years)

€

270 / ticket |

Children (0-12 years)

€

270 / ticket

guests = 4

Price

Adult (18+ years)

€

300 / ticket |

Youth (13-17 years)

€

300 / ticket |

Children (0-12 years)

€

300 / ticket

guests = 3

Price

Adult (18+ years)

€

330 / ticket |

Youth (13-17 years)

€

300 / ticket |

Children (0-12 years)

€

330 / ticket

guests <= 2

Price

Adult (18+ years)

€

360 / ticket |

Youth (13-17 years)

€

360 / ticket |

Children (0-12 years)

€

360 / ticket
7
Promotion
General price:
Adult (18+ years)
€

360 / ticket
|
Youth (13-17 years)
€

360 / ticket
|
Children (0-12 years)
€

360 / ticket
Options
guests >= 5

Price

Adult (18+ years)

€

270 / ticket |

Youth (13-17 years)

€

270 / ticket |

Children (0-12 years)

€

270 / ticket

guests = 4

Price

Adult (18+ years)

€

300 / ticket |

Youth (13-17 years)

€

300 / ticket |

Children (0-12 years)

€

300 / ticket

guests = 3

Price

Adult (18+ years)

€

330 / ticket |

Youth (13-17 years)

€

300 / ticket |

Children (0-12 years)

€

330 / ticket

guests <= 2

Price

Adult (18+ years)

€

360 / ticket |

Youth (13-17 years)

€

360 / ticket |

Children (0-12 years)

€

360 / ticket
8
Promotion
General price:
Adult (18+ years)
€

360 / ticket
|
Youth (13-17 years)
€

360 / ticket
|
Children (0-12 years)
€

360 / ticket
Options
guests >= 5

Price

Adult (18+ years)

€

270 / ticket |

Youth (13-17 years)

€

270 / ticket |

Children (0-12 years)

€

270 / ticket

guests = 4

Price

Adult (18+ years)

€

300 / ticket |

Youth (13-17 years)

€

300 / ticket |

Children (0-12 years)

€

300 / ticket

guests = 3

Price

Adult (18+ years)

€

330 / ticket |

Youth (13-17 years)

€

300 / ticket |

Children (0-12 years)

€

330 / ticket

guests <= 2

Price

Adult (18+ years)

€

360 / ticket |

Youth (13-17 years)

€

360 / ticket |

Children (0-12 years)

€

360 / ticket
9
Promotion
General price:
Adult (18+ years)
€

360 / ticket
|
Youth (13-17 years)
€

360 / ticket
|
Children (0-12 years)
€

360 / ticket
Options
guests >= 5

Price

Adult (18+ years)

€

270 / ticket |

Youth (13-17 years)

€

270 / ticket |

Children (0-12 years)

€

270 / ticket

guests = 4

Price

Adult (18+ years)

€

300 / ticket |

Youth (13-17 years)

€

300 / ticket |

Children (0-12 years)

€

300 / ticket

guests = 3

Price

Adult (18+ years)

€

330 / ticket |

Youth (13-17 years)

€

300 / ticket |

Children (0-12 years)

€

330 / ticket

guests <= 2

Price

Adult (18+ years)

€

360 / ticket |

Youth (13-17 years)

€

360 / ticket |

Children (0-12 years)

€

360 / ticket
10
Promotion
General price:
Adult (18+ years)
€

360 / ticket
|
Youth (13-17 years)
€

360 / ticket
|
Children (0-12 years)
€

360 / ticket
Options
guests >= 5

Price

Adult (18+ years)

€

270 / ticket |

Youth (13-17 years)

€

270 / ticket |

Children (0-12 years)

€

270 / ticket

guests = 4

Price

Adult (18+ years)

€

300 / ticket |

Youth (13-17 years)

€

300 / ticket |

Children (0-12 years)

€

300 / ticket

guests = 3

Price

Adult (18+ years)

€

330 / ticket |

Youth (13-17 years)

€

300 / ticket |

Children (0-12 years)

€

330 / ticket

guests <= 2

Price

Adult (18+ years)

€

360 / ticket |

Youth (13-17 years)

€

360 / ticket |

Children (0-12 years)

€

360 / ticket
11
Promotion
General price:
Adult (18+ years)
€

360 / ticket
|
Youth (13-17 years)
€

360 / ticket
|
Children (0-12 years)
€

360 / ticket
Options
guests >= 5

Price

Adult (18+ years)

€

270 / ticket |

Youth (13-17 years)

€

270 / ticket |

Children (0-12 years)

€

270 / ticket

guests = 4

Price

Adult (18+ years)

€

300 / ticket |

Youth (13-17 years)

€

300 / ticket |

Children (0-12 years)

€

300 / ticket

guests = 3

Price

Adult (18+ years)

€

330 / ticket |

Youth (13-17 years)

€

300 / ticket |

Children (0-12 years)

€

330 / ticket

guests <= 2

Price

Adult (18+ years)

€

360 / ticket |

Youth (13-17 years)

€

360 / ticket |

Children (0-12 years)

€

360 / ticket
12
Promotion
General price:
Adult (18+ years)
€

360 / ticket
|
Youth (13-17 years)
€

360 / ticket
|
Children (0-12 years)
€

360 / ticket
Options
guests >= 5

Price

Adult (18+ years)

€

270 / ticket |

Youth (13-17 years)

€

270 / ticket |

Children (0-12 years)

€

270 / ticket

guests = 4

Price

Adult (18+ years)

€

300 / ticket |

Youth (13-17 years)

€

300 / ticket |

Children (0-12 years)

€

300 / ticket

guests = 3

Price

Adult (18+ years)

€

330 / ticket |

Youth (13-17 years)

€

300 / ticket |

Children (0-12 years)

€

330 / ticket

guests <= 2

Price

Adult (18+ years)

€

360 / ticket |

Youth (13-17 years)

€

360 / ticket |

Children (0-12 years)

€

360 / ticket
13
Promotion
General price:
Adult (18+ years)
€

360 / ticket
|
Youth (13-17 years)
€

360 / ticket
|
Children (0-12 years)
€

360 / ticket
Options
guests >= 5

Price

Adult (18+ years)

€

270 / ticket |

Youth (13-17 years)

€

270 / ticket |

Children (0-12 years)

€

270 / ticket

guests = 4

Price

Adult (18+ years)

€

300 / ticket |

Youth (13-17 years)

€

300 / ticket |

Children (0-12 years)

€

300 / ticket

guests = 3

Price

Adult (18+ years)

€

330 / ticket |

Youth (13-17 years)

€

300 / ticket |

Children (0-12 years)

€

330 / ticket

guests <= 2

Price

Adult (18+ years)

€

360 / ticket |

Youth (13-17 years)

€

360 / ticket |

Children (0-12 years)

€

360 / ticket
14
Promotion
General price:
Adult (18+ years)
€

360 / ticket
|
Youth (13-17 years)
€

360 / ticket
|
Children (0-12 years)
€

360 / ticket
Options
guests >= 5

Price

Adult (18+ years)

€

270 / ticket |

Youth (13-17 years)

€

270 / ticket |

Children (0-12 years)

€

270 / ticket

guests = 4

Price

Adult (18+ years)

€

300 / ticket |

Youth (13-17 years)

€

300 / ticket |

Children (0-12 years)

€

300 / ticket

guests = 3

Price

Adult (18+ years)

€

330 / ticket |

Youth (13-17 years)

€

300 / ticket |

Children (0-12 years)

€

330 / ticket

guests <= 2

Price

Adult (18+ years)

€

360 / ticket |

Youth (13-17 years)

€

360 / ticket |

Children (0-12 years)

€

360 / ticket
15
Promotion
General price:
Adult (18+ years)
€

360 / ticket
|
Youth (13-17 years)
€

360 / ticket
|
Children (0-12 years)
€

360 / ticket
Options
guests >= 5

Price

Adult (18+ years)

€

270 / ticket |

Youth (13-17 years)

€

270 / ticket |

Children (0-12 years)

€

270 / ticket

guests = 4

Price

Adult (18+ years)

€

300 / ticket |

Youth (13-17 years)

€

300 / ticket |

Children (0-12 years)

€

300 / ticket

guests = 3

Price

Adult (18+ years)

€

330 / ticket |

Youth (13-17 years)

€

300 / ticket |

Children (0-12 years)

€

330 / ticket

guests <= 2

Price

Adult (18+ years)

€

360 / ticket |

Youth (13-17 years)

€

360 / ticket |

Children (0-12 years)

€

360 / ticket
16
Promotion
General price:
Adult (18+ years)
€

360 / ticket
|
Youth (13-17 years)
€

360 / ticket
|
Children (0-12 years)
€

360 / ticket
Options
guests >= 5

Price

Adult (18+ years)

€

270 / ticket |

Youth (13-17 years)

€

270 / ticket |

Children (0-12 years)

€

270 / ticket

guests = 4

Price

Adult (18+ years)

€

300 / ticket |

Youth (13-17 years)

€

300 / ticket |

Children (0-12 years)

€

300 / ticket

guests = 3

Price

Adult (18+ years)

€

330 / ticket |

Youth (13-17 years)

€

300 / ticket |

Children (0-12 years)

€

330 / ticket

guests <= 2

Price

Adult (18+ years)

€

360 / ticket |

Youth (13-17 years)

€

360 / ticket |

Children (0-12 years)

€

360 / ticket
17
Promotion
General price:
Adult (18+ years)
€

360 / ticket
|
Youth (13-17 years)
€

360 / ticket
|
Children (0-12 years)
€

360 / ticket
Options
guests >= 5

Price

Adult (18+ years)

€

270 / ticket |

Youth (13-17 years)

€

270 / ticket |

Children (0-12 years)

€

270 / ticket

guests = 4

Price

Adult (18+ years)

€

300 / ticket |

Youth (13-17 years)

€

300 / ticket |

Children (0-12 years)

€

300 / ticket

guests = 3

Price

Adult (18+ years)

€

330 / ticket |

Youth (13-17 years)

€

300 / ticket |

Children (0-12 years)

€

330 / ticket

guests <= 2

Price

Adult (18+ years)

€

360 / ticket |

Youth (13-17 years)

€

360 / ticket |

Children (0-12 years)

€

360 / ticket
18
Promotion
General price:
Adult (18+ years)
€

360 / ticket
|
Youth (13-17 years)
€

360 / ticket
|
Children (0-12 years)
€

360 / ticket
Options
guests >= 5

Price

Adult (18+ years)

€

270 / ticket |

Youth (13-17 years)

€

270 / ticket |

Children (0-12 years)

€

270 / ticket

guests = 4

Price

Adult (18+ years)

€

300 / ticket |

Youth (13-17 years)

€

300 / ticket |

Children (0-12 years)

€

300 / ticket

guests = 3

Price

Adult (18+ years)

€

330 / ticket |

Youth (13-17 years)

€

300 / ticket |

Children (0-12 years)

€

330 / ticket

guests <= 2

Price

Adult (18+ years)

€

360 / ticket |

Youth (13-17 years)

€

360 / ticket |

Children (0-12 years)

€

360 / ticket
19
Promotion
General price:
Adult (18+ years)
€

360 / ticket
|
Youth (13-17 years)
€

360 / ticket
|
Children (0-12 years)
€

360 / ticket
Options
guests >= 5

Price

Adult (18+ years)

€

270 / ticket |

Youth (13-17 years)

€

270 / ticket |

Children (0-12 years)

€

270 / ticket

guests = 4

Price

Adult (18+ years)

€

300 / ticket |

Youth (13-17 years)

€

300 / ticket |

Children (0-12 years)

€

300 / ticket

guests = 3

Price

Adult (18+ years)

€

330 / ticket |

Youth (13-17 years)

€

300 / ticket |

Children (0-12 years)

€

330 / ticket

guests <= 2

Price

Adult (18+ years)

€

360 / ticket |

Youth (13-17 years)

€

360 / ticket |

Children (0-12 years)

€

360 / ticket
20
Promotion
General price:
Adult (18+ years)
€

360 / ticket
|
Youth (13-17 years)
€

360 / ticket
|
Children (0-12 years)
€

360 / ticket
Options
guests >= 5

Price

Adult (18+ years)

€

270 / ticket |

Youth (13-17 years)

€

270 / ticket |

Children (0-12 years)

€

270 / ticket

guests = 4

Price

Adult (18+ years)

€

300 / ticket |

Youth (13-17 years)

€

300 / ticket |

Children (0-12 years)

€

300 / ticket

guests = 3

Price

Adult (18+ years)

€

330 / ticket |

Youth (13-17 years)

€

300 / ticket |

Children (0-12 years)

€

330 / ticket

guests <= 2

Price

Adult (18+ years)

€

360 / ticket |

Youth (13-17 years)

€

360 / ticket |

Children (0-12 years)

€

360 / ticket
21
Promotion
General price:
Adult (18+ years)
€

360 / ticket
|
Youth (13-17 years)
€

360 / ticket
|
Children (0-12 years)
€

360 / ticket
Options
guests >= 5

Price

Adult (18+ years)

€

270 / ticket |

Youth (13-17 years)

€

270 / ticket |

Children (0-12 years)

€

270 / ticket

guests = 4

Price

Adult (18+ years)

€

300 / ticket |

Youth (13-17 years)

€

300 / ticket |

Children (0-12 years)

€

300 / ticket

guests = 3

Price

Adult (18+ years)

€

330 / ticket |

Youth (13-17 years)

€

300 / ticket |

Children (0-12 years)

€

330 / ticket

guests <= 2

Price

Adult (18+ years)

€

360 / ticket |

Youth (13-17 years)

€

360 / ticket |

Children (0-12 years)

€

360 / ticket
22
Promotion
General price:
Adult (18+ years)
€

360 / ticket
|
Youth (13-17 years)
€

360 / ticket
|
Children (0-12 years)
€

360 / ticket
Options
guests >= 5

Price

Adult (18+ years)

€

270 / ticket |

Youth (13-17 years)

€

270 / ticket |

Children (0-12 years)

€

270 / ticket

guests = 4

Price

Adult (18+ years)

€

300 / ticket |

Youth (13-17 years)

€

300 / ticket |

Children (0-12 years)

€

300 / ticket

guests = 3

Price

Adult (18+ years)

€

330 / ticket |

Youth (13-17 years)

€

300 / ticket |

Children (0-12 years)

€

330 / ticket

guests <= 2

Price

Adult (18+ years)

€

360 / ticket |

Youth (13-17 years)

€

360 / ticket |

Children (0-12 years)

€

360 / ticket
23
Promotion
General price:
Adult (18+ years)
€

360 / ticket
|
Youth (13-17 years)
€

360 / ticket
|
Children (0-12 years)
€

360 / ticket
Options
guests >= 5

Price

Adult (18+ years)

€

270 / ticket |

Youth (13-17 years)

€

270 / ticket |

Children (0-12 years)

€

270 / ticket

guests = 4

Price

Adult (18+ years)

€

300 / ticket |

Youth (13-17 years)

€

300 / ticket |

Children (0-12 years)

€

300 / ticket

guests = 3

Price

Adult (18+ years)

€

330 / ticket |

Youth (13-17 years)

€

300 / ticket |

Children (0-12 years)

€

330 / ticket

guests <= 2

Price

Adult (18+ years)

€

360 / ticket |

Youth (13-17 years)

€

360 / ticket |

Children (0-12 years)

€

360 / ticket
24
Promotion
General price:
Adult (18+ years)
€

360 / ticket
|
Youth (13-17 years)
€

360 / ticket
|
Children (0-12 years)
€

360 / ticket
Options
guests >= 5

Price

Adult (18+ years)

€

270 / ticket |

Youth (13-17 years)

€

270 / ticket |

Children (0-12 years)

€

270 / ticket

guests = 4

Price

Adult (18+ years)

€

300 / ticket |

Youth (13-17 years)

€

300 / ticket |

Children (0-12 years)

€

300 / ticket

guests = 3

Price

Adult (18+ years)

€

330 / ticket |

Youth (13-17 years)

€

300 / ticket |

Children (0-12 years)

€

330 / ticket

guests <= 2

Price

Adult (18+ years)

€

360 / ticket |

Youth (13-17 years)

€

360 / ticket |

Children (0-12 years)

€

360 / ticket
25
Promotion
General price:
Adult (18+ years)
€

360 / ticket
|
Youth (13-17 years)
€

360 / ticket
|
Children (0-12 years)
€

360 / ticket
Options
guests >= 5

Price

Adult (18+ years)

€

270 / ticket |

Youth (13-17 years)

€

270 / ticket |

Children (0-12 years)

€

270 / ticket

guests = 4

Price

Adult (18+ years)

€

300 / ticket |

Youth (13-17 years)

€

300 / ticket |

Children (0-12 years)

€

300 / ticket

guests = 3

Price

Adult (18+ years)

€

330 / ticket |

Youth (13-17 years)

€

300 / ticket |

Children (0-12 years)

€

330 / ticket

guests <= 2

Price

Adult (18+ years)

€

360 / ticket |

Youth (13-17 years)

€

360 / ticket |

Children (0-12 years)

€

360 / ticket
26
Promotion
General price:
Adult (18+ years)
€

360 / ticket
|
Youth (13-17 years)
€

360 / ticket
|
Children (0-12 years)
€

360 / ticket
Options
guests >= 5

Price

Adult (18+ years)

€

270 / ticket |

Youth (13-17 years)

€

270 / ticket |

Children (0-12 years)

€

270 / ticket

guests = 4

Price

Adult (18+ years)

€

300 / ticket |

Youth (13-17 years)

€

300 / ticket |

Children (0-12 years)

€

300 / ticket

guests = 3

Price

Adult (18+ years)

€

330 / ticket |

Youth (13-17 years)

€

300 / ticket |

Children (0-12 years)

€

330 / ticket

guests <= 2

Price

Adult (18+ years)

€

360 / ticket |

Youth (13-17 years)

€

360 / ticket |

Children (0-12 years)

€

360 / ticket
27
Promotion
General price:
Adult (18+ years)
€

360 / ticket
|
Youth (13-17 years)
€

360 / ticket
|
Children (0-12 years)
€

360 / ticket
Options
guests >= 5

Price

Adult (18+ years)

€

270 / ticket |

Youth (13-17 years)

€

270 / ticket |

Children (0-12 years)

€

270 / ticket

guests = 4

Price

Adult (18+ years)

€

300 / ticket |

Youth (13-17 years)

€

300 / ticket |

Children (0-12 years)

€

300 / ticket

guests = 3

Price

Adult (18+ years)

€

330 / ticket |

Youth (13-17 years)

€

300 / ticket |

Children (0-12 years)

€

330 / ticket

guests <= 2

Price

Adult (18+ years)

€

360 / ticket |

Youth (13-17 years)

€

360 / ticket |

Children (0-12 years)

€

360 / ticket
28
Promotion
General price:
Adult (18+ years)
€

360 / ticket
|
Youth (13-17 years)
€

360 / ticket
|
Children (0-12 years)
€

360 / ticket
Options
guests >= 5

Price

Adult (18+ years)

€

270 / ticket |

Youth (13-17 years)

€

270 / ticket |

Children (0-12 years)

€

270 / ticket

guests = 4

Price

Adult (18+ years)

€

300 / ticket |

Youth (13-17 years)

€

300 / ticket |

Children (0-12 years)

€

300 / ticket

guests = 3

Price

Adult (18+ years)

€

330 / ticket |

Youth (13-17 years)

€

300 / ticket |

Children (0-12 years)

€

330 / ticket

guests <= 2

Price

Adult (18+ years)

€

360 / ticket |

Youth (13-17 years)

€

360 / ticket |

Children (0-12 years)

€

360 / ticket
29
Promotion
General price:
Adult (18+ years)
€

360 / ticket
|
Youth (13-17 years)
€

360 / ticket
|
Children (0-12 years)
€

360 / ticket
Options
guests >= 5

Price

Adult (18+ years)

€

270 / ticket |

Youth (13-17 years)

€

270 / ticket |

Children (0-12 years)

€

270 / ticket

guests = 4

Price

Adult (18+ years)

€

300 / ticket |

Youth (13-17 years)

€

300 / ticket |

Children (0-12 years)

€

300 / ticket

guests = 3

Price

Adult (18+ years)

€

330 / ticket |

Youth (13-17 years)

€

300 / ticket |

Children (0-12 years)

€

330 / ticket

guests <= 2

Price

Adult (18+ years)

€

360 / ticket |

Youth (13-17 years)

€

360 / ticket |

Children (0-12 years)

€

360 / ticket
30
Promotion
General price:
Adult (18+ years)
€

360 / ticket
|
Youth (13-17 years)
€

360 / ticket
|
Children (0-12 years)
€

360 / ticket
Options
guests >= 5

Price

Adult (18+ years)

€

270 / ticket |

Youth (13-17 years)

€

270 / ticket |

Children (0-12 years)

€

270 / ticket

guests = 4

Price

Adult (18+ years)

€

300 / ticket |

Youth (13-17 years)

€

300 / ticket |

Children (0-12 years)

€

300 / ticket

guests = 3

Price

Adult (18+ years)

€

330 / ticket |

Youth (13-17 years)

€

300 / ticket |

Children (0-12 years)

€

330 / ticket

guests <= 2

Price

Adult (18+ years)

€

360 / ticket |

Youth (13-17 years)

€

360 / ticket |

Children (0-12 years)

€

360 / ticket
31
Promotion
General price:
Adult (18+ years)
€

360 / ticket
|
Youth (13-17 years)
€

360 / ticket
|
Children (0-12 years)
€

360 / ticket
Options
guests >= 5

Price

Adult (18+ years)

€

270 / ticket |

Youth (13-17 years)

€

270 / ticket |

Children (0-12 years)

€

270 / ticket

guests = 4

Price

Adult (18+ years)

€

300 / ticket |

Youth (13-17 years)

€

300 / ticket |

Children (0-12 years)

€

300 / ticket

guests = 3

Price

Adult (18+ years)

€

330 / ticket |

Youth (13-17 years)

€

300 / ticket |

Children (0-12 years)

€

330 / ticket

guests <= 2

Price

Adult (18+ years)

€

360 / ticket |

Youth (13-17 years)

€

360 / ticket |

Children (0-12 years)

€

360 / ticket
1
Promotion
General price:
Adult (18+ years)
€

360 / ticket
|
Youth (13-17 years)
€

360 / ticket
|
Children (0-12 years)
€

360 / ticket
Options
guests >= 5

Price

Adult (18+ years)

€

270 / ticket |

Youth (13-17 years)

€

270 / ticket |

Children (0-12 years)

€

270 / ticket

guests = 4

Price

Adult (18+ years)

€

300 / ticket |

Youth (13-17 years)

€

300 / ticket |

Children (0-12 years)

€

300 / ticket

guests = 3

Price

Adult (18+ years)

€

330 / ticket |

Youth (13-17 years)

€

300 / ticket |

Children (0-12 years)

€

330 / ticket

guests <= 2

Price

Adult (18+ years)

€

360 / ticket |

Youth (13-17 years)

€

360 / ticket |

Children (0-12 years)

€

360 / ticket
2
Promotion
General price:
Adult (18+ years)
€

360 / ticket
|
Youth (13-17 years)
€

360 / ticket
|
Children (0-12 years)
€

360 / ticket
Options
guests >= 5

Price

Adult (18+ years)

€

270 / ticket |

Youth (13-17 years)

€

270 / ticket |

Children (0-12 years)

€

270 / ticket

guests = 4

Price

Adult (18+ years)

€

300 / ticket |

Youth (13-17 years)

€

300 / ticket |

Children (0-12 years)

€

300 / ticket

guests = 3

Price

Adult (18+ years)

€

330 / ticket |

Youth (13-17 years)

€

300 / ticket |

Children (0-12 years)

€

330 / ticket

guests <= 2

Price

Adult (18+ years)

€

360 / ticket |

Youth (13-17 years)

€

360 / ticket |

Children (0-12 years)

€

360 / ticket
3
Promotion
General price:
Adult (18+ years)
€

360 / ticket
|
Youth (13-17 years)
€

360 / ticket
|
Children (0-12 years)
€

360 / ticket
Options
guests >= 5

Price

Adult (18+ years)

€

270 / ticket |

Youth (13-17 years)

€

270 / ticket |

Children (0-12 years)

€

270 / ticket

guests = 4

Price

Adult (18+ years)

€

300 / ticket |

Youth (13-17 years)

€

300 / ticket |

Children (0-12 years)

€

300 / ticket

guests = 3

Price

Adult (18+ years)

€

330 / ticket |

Youth (13-17 years)

€

300 / ticket |

Children (0-12 years)

€

330 / ticket

guests <= 2

Price

Adult (18+ years)

€

360 / ticket |

Youth (13-17 years)

€

360 / ticket |

Children (0-12 years)

€

360 / ticket
4
Promotion
General price:
Adult (18+ years)
€

360 / ticket
|
Youth (13-17 years)
€

360 / ticket
|
Children (0-12 years)
€

360 / ticket
Options
guests >= 5

Price

Adult (18+ years)

€

270 / ticket |

Youth (13-17 years)

€

270 / ticket |

Children (0-12 years)

€

270 / ticket

guests = 4

Price

Adult (18+ years)

€

300 / ticket |

Youth (13-17 years)

€

300 / ticket |

Children (0-12 years)

€

300 / ticket

guests = 3

Price

Adult (18+ years)

€

330 / ticket |

Youth (13-17 years)

€

300 / ticket |

Children (0-12 years)

€

330 / ticket

guests <= 2

Price

Adult (18+ years)

€

360 / ticket |

Youth (13-17 years)

€

360 / ticket |

Children (0-12 years)

€

360 / ticket
5
Promotion
General price:
Adult (18+ years)
€

360 / ticket
|
Youth (13-17 years)
€

360 / ticket
|
Children (0-12 years)
€

360 / ticket
Options
guests >= 5

Price

Adult (18+ years)

€

270 / ticket |

Youth (13-17 years)

€

270 / ticket |

Children (0-12 years)

€

270 / ticket

guests = 4

Price

Adult (18+ years)

€

300 / ticket |

Youth (13-17 years)

€

300 / ticket |

Children (0-12 years)

€

300 / ticket

guests = 3

Price

Adult (18+ years)

€

330 / ticket |

Youth (13-17 years)

€

300 / ticket |

Children (0-12 years)

€

330 / ticket

guests <= 2

Price

Adult (18+ years)

€

360 / ticket |

Youth (13-17 years)

€

360 / ticket |

Children (0-12 years)

€

360 / ticket
6
Promotion
General price:
Adult (18+ years)
€

360 / ticket
|
Youth (13-17 years)
€

360 / ticket
|
Children (0-12 years)
€

360 / ticket
Options
guests >= 5

Price

Adult (18+ years)

€

270 / ticket |

Youth (13-17 years)

€

270 / ticket |

Children (0-12 years)

€

270 / ticket

guests = 4

Price

Adult (18+ years)

€

300 / ticket |

Youth (13-17 years)

€

300 / ticket |

Children (0-12 years)

€

300 / ticket

guests = 3

Price

Adult (18+ years)

€

330 / ticket |

Youth (13-17 years)

€

300 / ticket |

Children (0-12 years)

€

330 / ticket

guests <= 2

Price

Adult (18+ years)

€

360 / ticket |

Youth (13-17 years)

€

360 / ticket |

Children (0-12 years)

€

360 / ticket
7
Promotion
General price:
Adult (18+ years)
€

360 / ticket
|
Youth (13-17 years)
€

360 / ticket
|
Children (0-12 years)
€

360 / ticket
Options
guests >= 5

Price

Adult (18+ years)

€

270 / ticket |

Youth (13-17 years)

€

270 / ticket |

Children (0-12 years)

€

270 / ticket

guests = 4

Price

Adult (18+ years)

€

300 / ticket |

Youth (13-17 years)

€

300 / ticket |

Children (0-12 years)

€

300 / ticket

guests = 3

Price

Adult (18+ years)

€

330 / ticket |

Youth (13-17 years)

€

300 / ticket |

Children (0-12 years)

€

330 / ticket

guests <= 2

Price

Adult (18+ years)

€

360 / ticket |

Youth (13-17 years)

€

360 / ticket |

Children (0-12 years)

€

360 / ticket
8
Promotion
General price:
Adult (18+ years)
€

360 / ticket
|
Youth (13-17 years)
€

360 / ticket
|
Children (0-12 years)
€

360 / ticket
Options
guests >= 5

Price

Adult (18+ years)

€

270 / ticket |

Youth (13-17 years)

€

270 / ticket |

Children (0-12 years)

€

270 / ticket

guests = 4

Price

Adult (18+ years)

€

300 / ticket |

Youth (13-17 years)

€

300 / ticket |

Children (0-12 years)

€

300 / ticket

guests = 3

Price

Adult (18+ years)

€

330 / ticket |

Youth (13-17 years)

€

300 / ticket |

Children (0-12 years)

€

330 / ticket

guests <= 2

Price

Adult (18+ years)

€

360 / ticket |

Youth (13-17 years)

€

360 / ticket |

Children (0-12 years)

€

360 / ticket
9
Promotion
General price:
Adult (18+ years)
€

360 / ticket
|
Youth (13-17 years)
€

360 / ticket
|
Children (0-12 years)
€

360 / ticket
Options
guests >= 5

Price

Adult (18+ years)

€

270 / ticket |

Youth (13-17 years)

€

270 / ticket |

Children (0-12 years)

€

270 / ticket

guests = 4

Price

Adult (18+ years)

€

300 / ticket |

Youth (13-17 years)

€

300 / ticket |

Children (0-12 years)

€

300 / ticket

guests = 3

Price

Adult (18+ years)

€

330 / ticket |

Youth (13-17 years)

€

300 / ticket |

Children (0-12 years)

€

330 / ticket

guests <= 2

Price

Adult (18+ years)

€

360 / ticket |

Youth (13-17 years)

€

360 / ticket |

Children (0-12 years)

€

360 / ticket
10
Promotion
General price:
Adult (18+ years)
€

360 / ticket
|
Youth (13-17 years)
€

360 / ticket
|
Children (0-12 years)
€

360 / ticket
Options
guests >= 5

Price

Adult (18+ years)

€

270 / ticket |

Youth (13-17 years)

€

270 / ticket |

Children (0-12 years)

€

270 / ticket

guests = 4

Price

Adult (18+ years)

€

300 / ticket |

Youth (13-17 years)

€

300 / ticket |

Children (0-12 years)

€

300 / ticket

guests = 3

Price

Adult (18+ years)

€

330 / ticket |

Youth (13-17 years)

€

300 / ticket |

Children (0-12 years)

€

330 / ticket

guests <= 2

Price

Adult (18+ years)

€

360 / ticket |

Youth (13-17 years)

€

360 / ticket |

Children (0-12 years)

€

360 / ticket
11
Promotion
General price:
Adult (18+ years)
€

360 / ticket
|
Youth (13-17 years)
€

360 / ticket
|
Children (0-12 years)
€

360 / ticket
Options
guests >= 5

Price

Adult (18+ years)

€

270 / ticket |

Youth (13-17 years)

€

270 / ticket |

Children (0-12 years)

€

270 / ticket

guests = 4

Price

Adult (18+ years)

€

300 / ticket |

Youth (13-17 years)

€

300 / ticket |

Children (0-12 years)

€

300 / ticket

guests = 3

Price

Adult (18+ years)

€

330 / ticket |

Youth (13-17 years)

€

300 / ticket |

Children (0-12 years)

€

330 / ticket

guests <= 2

Price

Adult (18+ years)

€

360 / ticket |

Youth (13-17 years)

€

360 / ticket |

Children (0-12 years)

€

360 / ticket
12
Promotion
General price:
Adult (18+ years)
€

360 / ticket
|
Youth (13-17 years)
€

360 / ticket
|
Children (0-12 years)
€

360 / ticket
Options
guests >= 5

Price

Adult (18+ years)

€

270 / ticket |

Youth (13-17 years)

€

270 / ticket |

Children (0-12 years)

€

270 / ticket

guests = 4

Price

Adult (18+ years)

€

300 / ticket |

Youth (13-17 years)

€

300 / ticket |

Children (0-12 years)

€

300 / ticket

guests = 3

Price

Adult (18+ years)

€

330 / ticket |

Youth (13-17 years)

€

300 / ticket |

Children (0-12 years)

€

330 / ticket

guests <= 2

Price

Adult (18+ years)

€

360 / ticket |

Youth (13-17 years)

€

360 / ticket |

Children (0-12 years)

€

360 / ticket
13
Promotion
General price:
Adult (18+ years)
€

360 / ticket
|
Youth (13-17 years)
€

360 / ticket
|
Children (0-12 years)
€

360 / ticket
Options
guests >= 5

Price

Adult (18+ years)

€

270 / ticket |

Youth (13-17 years)

€

270 / ticket |

Children (0-12 years)

€

270 / ticket

guests = 4

Price

Adult (18+ years)

€

300 / ticket |

Youth (13-17 years)

€

300 / ticket |

Children (0-12 years)

€

300 / ticket

guests = 3

Price

Adult (18+ years)

€

330 / ticket |

Youth (13-17 years)

€

300 / ticket |

Children (0-12 years)

€

330 / ticket

guests <= 2

Price

Adult (18+ years)

€

360 / ticket |

Youth (13-17 years)

€

360 / ticket |

Children (0-12 years)

€

360 / ticket
14
Promotion
General price:
Adult (18+ years)
€

360 / ticket
|
Youth (13-17 years)
€

360 / ticket
|
Children (0-12 years)
€

360 / ticket
Options
guests >= 5

Price

Adult (18+ years)

€

270 / ticket |

Youth (13-17 years)

€

270 / ticket |

Children (0-12 years)

€

270 / ticket

guests = 4

Price

Adult (18+ years)

€

300 / ticket |

Youth (13-17 years)

€

300 / ticket |

Children (0-12 years)

€

300 / ticket

guests = 3

Price

Adult (18+ years)

€

330 / ticket |

Youth (13-17 years)

€

300 / ticket |

Children (0-12 years)

€

330 / ticket

guests <= 2

Price

Adult (18+ years)

€

360 / ticket |

Youth (13-17 years)

€

360 / ticket |

Children (0-12 years)

€

360 / ticket
15
Promotion
General price:
Adult (18+ years)
€

360 / ticket
|
Youth (13-17 years)
€

360 / ticket
|
Children (0-12 years)
€

360 / ticket
Options
guests >= 5

Price

Adult (18+ years)

€

270 / ticket |

Youth (13-17 years)

€

270 / ticket |

Children (0-12 years)

€

270 / ticket

guests = 4

Price

Adult (18+ years)

€

300 / ticket |

Youth (13-17 years)

€

300 / ticket |

Children (0-12 years)

€

300 / ticket

guests = 3

Price

Adult (18+ years)

€

330 / ticket |

Youth (13-17 years)

€

300 / ticket |

Children (0-12 years)

€

330 / ticket

guests <= 2

Price

Adult (18+ years)

€

360 / ticket |

Youth (13-17 years)

€

360 / ticket |

Children (0-12 years)

€

360 / ticket
16
Promotion
General price:
Adult (18+ years)
€

360 / ticket
|
Youth (13-17 years)
€

360 / ticket
|
Children (0-12 years)
€

360 / ticket
Options
guests >= 5

Price

Adult (18+ years)

€

270 / ticket |

Youth (13-17 years)

€

270 / ticket |

Children (0-12 years)

€

270 / ticket

guests = 4

Price

Adult (18+ years)

€

300 / ticket |

Youth (13-17 years)

€

300 / ticket |

Children (0-12 years)

€

300 / ticket

guests = 3

Price

Adult (18+ years)

€

330 / ticket |

Youth (13-17 years)

€

300 / ticket |

Children (0-12 years)

€

330 / ticket

guests <= 2

Price

Adult (18+ years)

€

360 / ticket |

Youth (13-17 years)

€

360 / ticket |

Children (0-12 years)

€

360 / ticket
17
Promotion
General price:
Adult (18+ years)
€

360 / ticket
|
Youth (13-17 years)
€

360 / ticket
|
Children (0-12 years)
€

360 / ticket
Options
guests >= 5

Price

Adult (18+ years)

€

270 / ticket |

Youth (13-17 years)

€

270 / ticket |

Children (0-12 years)

€

270 / ticket

guests = 4

Price

Adult (18+ years)

€

300 / ticket |

Youth (13-17 years)

€

300 / ticket |

Children (0-12 years)

€

300 / ticket

guests = 3

Price

Adult (18+ years)

€

330 / ticket |

Youth (13-17 years)

€

300 / ticket |

Children (0-12 years)

€

330 / ticket

guests <= 2

Price

Adult (18+ years)

€

360 / ticket |

Youth (13-17 years)

€

360 / ticket |

Children (0-12 years)

€

360 / ticket
18
Promotion
General price:
Adult (18+ years)
€

360 / ticket
|
Youth (13-17 years)
€

360 / ticket
|
Children (0-12 years)
€

360 / ticket
Options
guests >= 5

Price

Adult (18+ years)

€

270 / ticket |

Youth (13-17 years)

€

270 / ticket |

Children (0-12 years)

€

270 / ticket

guests = 4

Price

Adult (18+ years)

€

300 / ticket |

Youth (13-17 years)

€

300 / ticket |

Children (0-12 years)

€

300 / ticket

guests = 3

Price

Adult (18+ years)

€

330 / ticket |

Youth (13-17 years)

€

300 / ticket |

Children (0-12 years)

€

330 / ticket

guests <= 2

Price

Adult (18+ years)

€

360 / ticket |

Youth (13-17 years)

€

360 / ticket |

Children (0-12 years)

€

360 / ticket
19
Promotion
General price:
Adult (18+ years)
€

360 / ticket
|
Youth (13-17 years)
€

360 / ticket
|
Children (0-12 years)
€

360 / ticket
Options
guests >= 5

Price

Adult (18+ years)

€

270 / ticket |

Youth (13-17 years)

€

270 / ticket |

Children (0-12 years)

€

270 / ticket

guests = 4

Price

Adult (18+ years)

€

300 / ticket |

Youth (13-17 years)

€

300 / ticket |

Children (0-12 years)

€

300 / ticket

guests = 3

Price

Adult (18+ years)

€

330 / ticket |

Youth (13-17 years)

€

300 / ticket |

Children (0-12 years)

€

330 / ticket

guests <= 2

Price

Adult (18+ years)

€

360 / ticket |

Youth (13-17 years)

€

360 / ticket |

Children (0-12 years)

€

360 / ticket
20
Promotion
General price:
Adult (18+ years)
€

360 / ticket
|
Youth (13-17 years)
€

360 / ticket
|
Children (0-12 years)
€

360 / ticket
Options
guests >= 5

Price

Adult (18+ years)

€

270 / ticket |

Youth (13-17 years)

€

270 / ticket |

Children (0-12 years)

€

270 / ticket

guests = 4

Price

Adult (18+ years)

€

300 / ticket |

Youth (13-17 years)

€

300 / ticket |

Children (0-12 years)

€

300 / ticket

guests = 3

Price

Adult (18+ years)

€

330 / ticket |

Youth (13-17 years)

€

300 / ticket |

Children (0-12 years)

€

330 / ticket

guests <= 2

Price

Adult (18+ years)

€

360 / ticket |

Youth (13-17 years)

€

360 / ticket |

Children (0-12 years)

€

360 / ticket
21
Promotion
General price:
Adult (18+ years)
€

360 / ticket
|
Youth (13-17 years)
€

360 / ticket
|
Children (0-12 years)
€

360 / ticket
Options
guests >= 5

Price

Adult (18+ years)

€

270 / ticket |

Youth (13-17 years)

€

270 / ticket |

Children (0-12 years)

€

270 / ticket

guests = 4

Price

Adult (18+ years)

€

300 / ticket |

Youth (13-17 years)

€

300 / ticket |

Children (0-12 years)

€

300 / ticket

guests = 3

Price

Adult (18+ years)

€

330 / ticket |

Youth (13-17 years)

€

300 / ticket |

Children (0-12 years)

€

330 / ticket

guests <= 2

Price

Adult (18+ years)

€

360 / ticket |

Youth (13-17 years)

€

360 / ticket |

Children (0-12 years)

€

360 / ticket
22
Promotion
General price:
Adult (18+ years)
€

360 / ticket
|
Youth (13-17 years)
€

360 / ticket
|
Children (0-12 years)
€

360 / ticket
Options
guests >= 5

Price

Adult (18+ years)

€

270 / ticket |

Youth (13-17 years)

€

270 / ticket |

Children (0-12 years)

€

270 / ticket

guests = 4

Price

Adult (18+ years)

€

300 / ticket |

Youth (13-17 years)

€

300 / ticket |

Children (0-12 years)

€

300 / ticket

guests = 3

Price

Adult (18+ years)

€

330 / ticket |

Youth (13-17 years)

€

300 / ticket |

Children (0-12 years)

€

330 / ticket

guests <= 2

Price

Adult (18+ years)

€

360 / ticket |

Youth (13-17 years)

€

360 / ticket |

Children (0-12 years)

€

360 / ticket
23
Promotion
General price:
Adult (18+ years)
€

360 / ticket
|
Youth (13-17 years)
€

360 / ticket
|
Children (0-12 years)
€

360 / ticket
Options
guests >= 5

Price

Adult (18+ years)

€

270 / ticket |

Youth (13-17 years)

€

270 / ticket |

Children (0-12 years)

€

270 / ticket

guests = 4

Price

Adult (18+ years)

€

300 / ticket |

Youth (13-17 years)

€

300 / ticket |

Children (0-12 years)

€

300 / ticket

guests = 3

Price

Adult (18+ years)

€

330 / ticket |

Youth (13-17 years)

€

300 / ticket |

Children (0-12 years)

€

330 / ticket

guests <= 2

Price

Adult (18+ years)

€

360 / ticket |

Youth (13-17 years)

€

360 / ticket |

Children (0-12 years)

€

360 / ticket
24
Promotion
General price:
Adult (18+ years)
€

360 / ticket
|
Youth (13-17 years)
€

360 / ticket
|
Children (0-12 years)
€

360 / ticket
Options
guests >= 5

Price

Adult (18+ years)

€

270 / ticket |

Youth (13-17 years)

€

270 / ticket |

Children (0-12 years)

€

270 / ticket

guests = 4

Price

Adult (18+ years)

€

300 / ticket |

Youth (13-17 years)

€

300 / ticket |

Children (0-12 years)

€

300 / ticket

guests = 3

Price

Adult (18+ years)

€

330 / ticket |

Youth (13-17 years)

€

300 / ticket |

Children (0-12 years)

€

330 / ticket

guests <= 2

Price

Adult (18+ years)

€

360 / ticket |

Youth (13-17 years)

€

360 / ticket |

Children (0-12 years)

€

360 / ticket
25
Promotion
General price:
Adult (18+ years)
€

360 / ticket
|
Youth (13-17 years)
€

360 / ticket
|
Children (0-12 years)
€

360 / ticket
Options
guests >= 5

Price

Adult (18+ years)

€

270 / ticket |

Youth (13-17 years)

€

270 / ticket |

Children (0-12 years)

€

270 / ticket

guests = 4

Price

Adult (18+ years)

€

300 / ticket |

Youth (13-17 years)

€

300 / ticket |

Children (0-12 years)

€

300 / ticket

guests = 3

Price

Adult (18+ years)

€

330 / ticket |

Youth (13-17 years)

€

300 / ticket |

Children (0-12 years)

€

330 / ticket

guests <= 2

Price

Adult (18+ years)

€

360 / ticket |

Youth (13-17 years)

€

360 / ticket |

Children (0-12 years)

€

360 / ticket
26
Promotion
General price:
Adult (18+ years)
€

360 / ticket
|
Youth (13-17 years)
€

360 / ticket
|
Children (0-12 years)
€

360 / ticket
Options
guests >= 5

Price

Adult (18+ years)

€

270 / ticket |

Youth (13-17 years)

€

270 / ticket |

Children (0-12 years)

€

270 / ticket

guests = 4

Price

Adult (18+ years)

€

300 / ticket |

Youth (13-17 years)

€

300 / ticket |

Children (0-12 years)

€

300 / ticket

guests = 3

Price

Adult (18+ years)

€

330 / ticket |

Youth (13-17 years)

€

300 / ticket |

Children (0-12 years)

€

330 / ticket

guests <= 2

Price

Adult (18+ years)

€

360 / ticket |

Youth (13-17 years)

€

360 / ticket |

Children (0-12 years)

€

360 / ticket
27
Promotion
General price:
Adult (18+ years)
€

360 / ticket
|
Youth (13-17 years)
€

360 / ticket
|
Children (0-12 years)
€

360 / ticket
Options
guests >= 5

Price

Adult (18+ years)

€

270 / ticket |

Youth (13-17 years)

€

270 / ticket |

Children (0-12 years)

€

270 / ticket

guests = 4

Price

Adult (18+ years)

€

300 / ticket |

Youth (13-17 years)

€

300 / ticket |

Children (0-12 years)

€

300 / ticket

guests = 3

Price

Adult (18+ years)

€

330 / ticket |

Youth (13-17 years)

€

300 / ticket |

Children (0-12 years)

€

330 / ticket

guests <= 2

Price

Adult (18+ years)

€

360 / ticket |

Youth (13-17 years)

€

360 / ticket |

Children (0-12 years)

€

360 / ticket
28
Promotion
General price:
Adult (18+ years)
€

360 / ticket
|
Youth (13-17 years)
€

360 / ticket
|
Children (0-12 years)
€

360 / ticket
Options
guests >= 5

Price

Adult (18+ years)

€

270 / ticket |

Youth (13-17 years)

€

270 / ticket |

Children (0-12 years)

€

270 / ticket

guests = 4

Price

Adult (18+ years)

€

300 / ticket |

Youth (13-17 years)

€

300 / ticket |

Children (0-12 years)

€

300 / ticket

guests = 3

Price

Adult (18+ years)

€

330 / ticket |

Youth (13-17 years)

€

300 / ticket |

Children (0-12 years)

€

330 / ticket

guests <= 2

Price

Adult (18+ years)

€

360 / ticket |

Youth (13-17 years)

€

360 / ticket |

Children (0-12 years)

€

360 / ticket
29
Promotion
General price:
Adult (18+ years)
€

360 / ticket
|
Youth (13-17 years)
€

360 / ticket
|
Children (0-12 years)
€

360 / ticket
Options
guests >= 5

Price

Adult (18+ years)

€

270 / ticket |

Youth (13-17 years)

€

270 / ticket |

Children (0-12 years)

€

270 / ticket

guests = 4

Price

Adult (18+ years)

€

300 / ticket |

Youth (13-17 years)

€

300 / ticket |

Children (0-12 years)

€

300 / ticket

guests = 3

Price

Adult (18+ years)

€

330 / ticket |

Youth (13-17 years)

€

300 / ticket |

Children (0-12 years)

€

330 / ticket

guests <= 2

Price

Adult (18+ years)

€

360 / ticket |

Youth (13-17 years)

€

360 / ticket |

Children (0-12 years)

€

360 / ticket
30
Promotion
General price:
Adult (18+ years)
€

360 / ticket
|
Youth (13-17 years)
€

360 / ticket
|
Children (0-12 years)
€

360 / ticket
Options
guests >= 5

Price

Adult (18+ years)

€

270 / ticket |

Youth (13-17 years)

€

270 / ticket |

Children (0-12 years)

€

270 / ticket

guests = 4

Price

Adult (18+ years)

€

300 / ticket |

Youth (13-17 years)

€

300 / ticket |

Children (0-12 years)

€

300 / ticket

guests = 3

Price

Adult (18+ years)

€

330 / ticket |

Youth (13-17 years)

€

300 / ticket |

Children (0-12 years)

€

330 / ticket

guests <= 2

Price

Adult (18+ years)

€

360 / ticket |

Youth (13-17 years)

€

360 / ticket |

Children (0-12 years)

€

360 / ticket
1
Promotion
General price:
Adult (18+ years)
€

360 / ticket
|
Youth (13-17 years)
€

360 / ticket
|
Children (0-12 years)
€

360 / ticket
Options
guests >= 5

Price

Adult (18+ years)

€

270 / ticket |

Youth (13-17 years)

€

270 / ticket |

Children (0-12 years)

€

270 / ticket

guests = 4

Price

Adult (18+ years)

€

300 / ticket |

Youth (13-17 years)

€

300 / ticket |

Children (0-12 years)

€

300 / ticket

guests = 3

Price

Adult (18+ years)

€

330 / ticket |

Youth (13-17 years)

€

300 / ticket |

Children (0-12 years)

€

330 / ticket

guests <= 2

Price

Adult (18+ years)

€

360 / ticket |

Youth (13-17 years)

€

360 / ticket |

Children (0-12 years)

€

360 / ticket
2
Promotion
General price:
Adult (18+ years)
€

360 / ticket
|
Youth (13-17 years)
€

360 / ticket
|
Children (0-12 years)
€

360 / ticket
Options
guests >= 5

Price

Adult (18+ years)

€

270 / ticket |

Youth (13-17 years)

€

270 / ticket |

Children (0-12 years)

€

270 / ticket

guests = 4

Price

Adult (18+ years)

€

300 / ticket |

Youth (13-17 years)

€

300 / ticket |

Children (0-12 years)

€

300 / ticket

guests = 3

Price

Adult (18+ years)

€

330 / ticket |

Youth (13-17 years)

€

300 / ticket |

Children (0-12 years)

€

330 / ticket

guests <= 2

Price

Adult (18+ years)

€

360 / ticket |

Youth (13-17 years)

€

360 / ticket |

Children (0-12 years)

€

360 / ticket
3
Promotion
General price:
Adult (18+ years)
€

360 / ticket
|
Youth (13-17 years)
€

360 / ticket
|
Children (0-12 years)
€

360 / ticket
Options
guests >= 5

Price

Adult (18+ years)

€

270 / ticket |

Youth (13-17 years)

€

270 / ticket |

Children (0-12 years)

€

270 / ticket

guests = 4

Price

Adult (18+ years)

€

300 / ticket |

Youth (13-17 years)

€

300 / ticket |

Children (0-12 years)

€

300 / ticket

guests = 3

Price

Adult (18+ years)

€

330 / ticket |

Youth (13-17 years)

€

300 / ticket |

Children (0-12 years)

€

330 / ticket

guests <= 2

Price

Adult (18+ years)

€

360 / ticket |

Youth (13-17 years)

€

360 / ticket |

Children (0-12 years)

€

360 / ticket
4
Promotion
General price:
Adult (18+ years)
€

360 / ticket
|
Youth (13-17 years)
€

360 / ticket
|
Children (0-12 years)
€

360 / ticket
Options
guests >= 5

Price

Adult (18+ years)

€

270 / ticket |

Youth (13-17 years)

€

270 / ticket |

Children (0-12 years)

€

270 / ticket

guests = 4

Price

Adult (18+ years)

€

300 / ticket |

Youth (13-17 years)

€

300 / ticket |

Children (0-12 years)

€

300 / ticket

guests = 3

Price

Adult (18+ years)

€

330 / ticket |

Youth (13-17 years)

€

300 / ticket |

Children (0-12 years)

€

330 / ticket

guests <= 2

Price

Adult (18+ years)

€

360 / ticket |

Youth (13-17 years)

€

360 / ticket |

Children (0-12 years)

€

360 / ticket
5
Promotion
General price:
Adult (18+ years)
€

360 / ticket
|
Youth (13-17 years)
€

360 / ticket
|
Children (0-12 years)
€

360 / ticket
Options
guests >= 5

Price

Adult (18+ years)

€

270 / ticket |

Youth (13-17 years)

€

270 / ticket |

Children (0-12 years)

€

270 / ticket

guests = 4

Price

Adult (18+ years)

€

300 / ticket |

Youth (13-17 years)

€

300 / ticket |

Children (0-12 years)

€

300 / ticket

guests = 3

Price

Adult (18+ years)

€

330 / ticket |

Youth (13-17 years)

€

300 / ticket |

Children (0-12 years)

€

330 / ticket

guests <= 2

Price

Adult (18+ years)

€

360 / ticket |

Youth (13-17 years)

€

360 / ticket |

Children (0-12 years)

€

360 / ticket
29
Promotion
General price:
Adult (18+ years)
€

360 / ticket
|
Youth (13-17 years)
€

360 / ticket
|
Children (0-12 years)
€

360 / ticket
Options
guests >= 5

Price

Adult (18+ years)

€

270 / ticket |

Youth (13-17 years)

€

270 / ticket |

Children (0-12 years)

€

270 / ticket

guests = 4

Price

Adult (18+ years)

€

300 / ticket |

Youth (13-17 years)

€

300 / ticket |

Children (0-12 years)

€

300 / ticket

guests = 3

Price

Adult (18+ years)

€

330 / ticket |

Youth (13-17 years)

€

300 / ticket |

Children (0-12 years)

€

330 / ticket

guests <= 2

Price

Adult (18+ years)

€

360 / ticket |

Youth (13-17 years)

€

360 / ticket |

Children (0-12 years)

€

360 / ticket
30
Promotion
General price:
Adult (18+ years)
€

360 / ticket
|
Youth (13-17 years)
€

360 / ticket
|
Children (0-12 years)
€

360 / ticket
Options
guests >= 5

Price

Adult (18+ years)

€

270 / ticket |

Youth (13-17 years)

€

270 / ticket |

Children (0-12 years)

€

270 / ticket

guests = 4

Price

Adult (18+ years)

€

300 / ticket |

Youth (13-17 years)

€

300 / ticket |

Children (0-12 years)

€

300 / ticket

guests = 3

Price

Adult (18+ years)

€

330 / ticket |

Youth (13-17 years)

€

300 / ticket |

Children (0-12 years)

€

330 / ticket

guests <= 2

Price

Adult (18+ years)

€

360 / ticket |

Youth (13-17 years)

€

360 / ticket |

Children (0-12 years)

€

360 / ticket
1
Promotion
General price:
Adult (18+ years)
€

360 / ticket
|
Youth (13-17 years)
€

360 / ticket
|
Children (0-12 years)
€

360 / ticket
Options
guests >= 5

Price

Adult (18+ years)

€

270 / ticket |

Youth (13-17 years)

€

270 / ticket |

Children (0-12 years)

€

270 / ticket

guests = 4

Price

Adult (18+ years)

€

300 / ticket |

Youth (13-17 years)

€

300 / ticket |

Children (0-12 years)

€

300 / ticket

guests = 3

Price

Adult (18+ years)

€

330 / ticket |

Youth (13-17 years)

€

300 / ticket |

Children (0-12 years)

€

330 / ticket

guests <= 2

Price

Adult (18+ years)

€

360 / ticket |

Youth (13-17 years)

€

360 / ticket |

Children (0-12 years)

€

360 / ticket
2
Promotion
General price:
Adult (18+ years)
€

360 / ticket
|
Youth (13-17 years)
€

360 / ticket
|
Children (0-12 years)
€

360 / ticket
Options
guests >= 5

Price

Adult (18+ years)

€

270 / ticket |

Youth (13-17 years)

€

270 / ticket |

Children (0-12 years)

€

270 / ticket

guests = 4

Price

Adult (18+ years)

€

300 / ticket |

Youth (13-17 years)

€

300 / ticket |

Children (0-12 years)

€

300 / ticket

guests = 3

Price

Adult (18+ years)

€

330 / ticket |

Youth (13-17 years)

€

300 / ticket |

Children (0-12 years)

€

330 / ticket

guests <= 2

Price

Adult (18+ years)

€

360 / ticket |

Youth (13-17 years)

€

360 / ticket |

Children (0-12 years)

€

360 / ticket
3
Promotion
General price:
Adult (18+ years)
€

360 / ticket
|
Youth (13-17 years)
€

360 / ticket
|
Children (0-12 years)
€

360 / ticket
Options
guests >= 5

Price

Adult (18+ years)

€

270 / ticket |

Youth (13-17 years)

€

270 / ticket |

Children (0-12 years)

€

270 / ticket

guests = 4

Price

Adult (18+ years)

€

300 / ticket |

Youth (13-17 years)

€

300 / ticket |

Children (0-12 years)

€

300 / ticket

guests = 3

Price

Adult (18+ years)

€

330 / ticket |

Youth (13-17 years)

€

300 / ticket |

Children (0-12 years)

€

330 / ticket

guests <= 2

Price

Adult (18+ years)

€

360 / ticket |

Youth (13-17 years)

€

360 / ticket |

Children (0-12 years)

€

360 / ticket
4
Promotion
General price:
Adult (18+ years)
€

360 / ticket
|
Youth (13-17 years)
€

360 / ticket
|
Children (0-12 years)
€

360 / ticket
Options
guests >= 5

Price

Adult (18+ years)

€

270 / ticket |

Youth (13-17 years)

€

270 / ticket |

Children (0-12 years)

€

270 / ticket

guests = 4

Price

Adult (18+ years)

€

300 / ticket |

Youth (13-17 years)

€

300 / ticket |

Children (0-12 years)

€

300 / ticket

guests = 3

Price

Adult (18+ years)

€

330 / ticket |

Youth (13-17 years)

€

300 / ticket |

Children (0-12 years)

€

330 / ticket

guests <= 2

Price

Adult (18+ years)

€

360 / ticket |

Youth (13-17 years)

€

360 / ticket |

Children (0-12 years)

€

360 / ticket
5
Promotion
General price:
Adult (18+ years)
€

360 / ticket
|
Youth (13-17 years)
€

360 / ticket
|
Children (0-12 years)
€

360 / ticket
Options
guests >= 5

Price

Adult (18+ years)

€

270 / ticket |

Youth (13-17 years)

€

270 / ticket |

Children (0-12 years)

€

270 / ticket

guests = 4

Price

Adult (18+ years)

€

300 / ticket |

Youth (13-17 years)

€

300 / ticket |

Children (0-12 years)

€

300 / ticket

guests = 3

Price

Adult (18+ years)

€

330 / ticket |

Youth (13-17 years)

€

300 / ticket |

Children (0-12 years)

€

330 / ticket

guests <= 2

Price

Adult (18+ years)

€

360 / ticket |

Youth (13-17 years)

€

360 / ticket |

Children (0-12 years)

€

360 / ticket
6
Promotion
General price:
Adult (18+ years)
€

360 / ticket
|
Youth (13-17 years)
€

360 / ticket
|
Children (0-12 years)
€

360 / ticket
Options
guests >= 5

Price

Adult (18+ years)

€

270 / ticket |

Youth (13-17 years)

€

270 / ticket |

Children (0-12 years)

€

270 / ticket

guests = 4

Price

Adult (18+ years)

€

300 / ticket |

Youth (13-17 years)

€

300 / ticket |

Children (0-12 years)

€

300 / ticket

guests = 3

Price

Adult (18+ years)

€

330 / ticket |

Youth (13-17 years)

€

300 / ticket |

Children (0-12 years)

€

330 / ticket

guests <= 2

Price

Adult (18+ years)

€

360 / ticket |

Youth (13-17 years)

€

360 / ticket |

Children (0-12 years)

€

360 / ticket
7
Promotion
General price:
Adult (18+ years)
€

360 / ticket
|
Youth (13-17 years)
€

360 / ticket
|
Children (0-12 years)
€

360 / ticket
Options
guests >= 5

Price

Adult (18+ years)

€

270 / ticket |

Youth (13-17 years)

€

270 / ticket |

Children (0-12 years)

€

270 / ticket

guests = 4

Price

Adult (18+ years)

€

300 / ticket |

Youth (13-17 years)

€

300 / ticket |

Children (0-12 years)

€

300 / ticket

guests = 3

Price

Adult (18+ years)

€

330 / ticket |

Youth (13-17 years)

€

300 / ticket |

Children (0-12 years)

€

330 / ticket

guests <= 2

Price

Adult (18+ years)

€

360 / ticket |

Youth (13-17 years)

€

360 / ticket |

Children (0-12 years)

€

360 / ticket
8
Promotion
General price:
Adult (18+ years)
€

360 / ticket
|
Youth (13-17 years)
€

360 / ticket
|
Children (0-12 years)
€

360 / ticket
Options
guests >= 5

Price

Adult (18+ years)

€

270 / ticket |

Youth (13-17 years)

€

270 / ticket |

Children (0-12 years)

€

270 / ticket

guests = 4

Price

Adult (18+ years)

€

300 / ticket |

Youth (13-17 years)

€

300 / ticket |

Children (0-12 years)

€

300 / ticket

guests = 3

Price

Adult (18+ years)

€

330 / ticket |

Youth (13-17 years)

€

300 / ticket |

Children (0-12 years)

€

330 / ticket

guests <= 2

Price

Adult (18+ years)

€

360 / ticket |

Youth (13-17 years)

€

360 / ticket |

Children (0-12 years)

€

360 / ticket
9
Promotion
General price:
Adult (18+ years)
€

360 / ticket
|
Youth (13-17 years)
€

360 / ticket
|
Children (0-12 years)
€

360 / ticket
Options
guests >= 5

Price

Adult (18+ years)

€

270 / ticket |

Youth (13-17 years)

€

270 / ticket |

Children (0-12 years)

€

270 / ticket

guests = 4

Price

Adult (18+ years)

€

300 / ticket |

Youth (13-17 years)

€

300 / ticket |

Children (0-12 years)

€

300 / ticket

guests = 3

Price

Adult (18+ years)

€

330 / ticket |

Youth (13-17 years)

€

300 / ticket |

Children (0-12 years)

€

330 / ticket

guests <= 2

Price

Adult (18+ years)

€

360 / ticket |

Youth (13-17 years)

€

360 / ticket |

Children (0-12 years)

€

360 / ticket
10
Promotion
General price:
Adult (18+ years)
€

360 / ticket
|
Youth (13-17 years)
€

360 / ticket
|
Children (0-12 years)
€

360 / ticket
Options
guests >= 5

Price

Adult (18+ years)

€

270 / ticket |

Youth (13-17 years)

€

270 / ticket |

Children (0-12 years)

€

270 / ticket

guests = 4

Price

Adult (18+ years)

€

300 / ticket |

Youth (13-17 years)

€

300 / ticket |

Children (0-12 years)

€

300 / ticket

guests = 3

Price

Adult (18+ years)

€

330 / ticket |

Youth (13-17 years)

€

300 / ticket |

Children (0-12 years)

€

330 / ticket

guests <= 2

Price

Adult (18+ years)

€

360 / ticket |

Youth (13-17 years)

€

360 / ticket |

Children (0-12 years)

€

360 / ticket
11
Promotion
General price:
Adult (18+ years)
€

360 / ticket
|
Youth (13-17 years)
€

360 / ticket
|
Children (0-12 years)
€

360 / ticket
Options
guests >= 5

Price

Adult (18+ years)

€

270 / ticket |

Youth (13-17 years)

€

270 / ticket |

Children (0-12 years)

€

270 / ticket

guests = 4

Price

Adult (18+ years)

€

300 / ticket |

Youth (13-17 years)

€

300 / ticket |

Children (0-12 years)

€

300 / ticket

guests = 3

Price

Adult (18+ years)

€

330 / ticket |

Youth (13-17 years)

€

300 / ticket |

Children (0-12 years)

€

330 / ticket

guests <= 2

Price

Adult (18+ years)

€

360 / ticket |

Youth (13-17 years)

€

360 / ticket |

Children (0-12 years)

€

360 / ticket
12
Promotion
General price:
Adult (18+ years)
€

360 / ticket
|
Youth (13-17 years)
€

360 / ticket
|
Children (0-12 years)
€

360 / ticket
Options
guests >= 5

Price

Adult (18+ years)

€

270 / ticket |

Youth (13-17 years)

€

270 / ticket |

Children (0-12 years)

€

270 / ticket

guests = 4

Price

Adult (18+ years)

€

300 / ticket |

Youth (13-17 years)

€

300 / ticket |

Children (0-12 years)

€

300 / ticket

guests = 3

Price

Adult (18+ years)

€

330 / ticket |

Youth (13-17 years)

€

300 / ticket |

Children (0-12 years)

€

330 / ticket

guests <= 2

Price

Adult (18+ years)

€

360 / ticket |

Youth (13-17 years)

€

360 / ticket |

Children (0-12 years)

€

360 / ticket
13
Promotion
General price:
Adult (18+ years)
€

360 / ticket
|
Youth (13-17 years)
€

360 / ticket
|
Children (0-12 years)
€

360 / ticket
Options
guests >= 5

Price

Adult (18+ years)

€

270 / ticket |

Youth (13-17 years)

€

270 / ticket |

Children (0-12 years)

€

270 / ticket

guests = 4

Price

Adult (18+ years)

€

300 / ticket |

Youth (13-17 years)

€

300 / ticket |

Children (0-12 years)

€

300 / ticket

guests = 3

Price

Adult (18+ years)

€

330 / ticket |

Youth (13-17 years)

€

300 / ticket |

Children (0-12 years)

€

330 / ticket

guests <= 2

Price

Adult (18+ years)

€

360 / ticket |

Youth (13-17 years)

€

360 / ticket |

Children (0-12 years)

€

360 / ticket
14
Promotion
General price:
Adult (18+ years)
€

360 / ticket
|
Youth (13-17 years)
€

360 / ticket
|
Children (0-12 years)
€

360 / ticket
Options
guests >= 5

Price

Adult (18+ years)

€

270 / ticket |

Youth (13-17 years)

€

270 / ticket |

Children (0-12 years)

€

270 / ticket

guests = 4

Price

Adult (18+ years)

€

300 / ticket |

Youth (13-17 years)

€

300 / ticket |

Children (0-12 years)

€

300 / ticket

guests = 3

Price

Adult (18+ years)

€

330 / ticket |

Youth (13-17 years)

€

300 / ticket |

Children (0-12 years)

€

330 / ticket

guests <= 2

Price

Adult (18+ years)

€

360 / ticket |

Youth (13-17 years)

€

360 / ticket |

Children (0-12 years)

€

360 / ticket
15
Promotion
General price:
Adult (18+ years)
€

360 / ticket
|
Youth (13-17 years)
€

360 / ticket
|
Children (0-12 years)
€

360 / ticket
Options
guests >= 5

Price

Adult (18+ years)

€

270 / ticket |

Youth (13-17 years)

€

270 / ticket |

Children (0-12 years)

€

270 / ticket

guests = 4

Price

Adult (18+ years)

€

300 / ticket |

Youth (13-17 years)

€

300 / ticket |

Children (0-12 years)

€

300 / ticket

guests = 3

Price

Adult (18+ years)

€

330 / ticket |

Youth (13-17 years)

€

300 / ticket |

Children (0-12 years)

€

330 / ticket

guests <= 2

Price

Adult (18+ years)

€

360 / ticket |

Youth (13-17 years)

€

360 / ticket |

Children (0-12 years)

€

360 / ticket
16
Promotion
General price:
Adult (18+ years)
€

360 / ticket
|
Youth (13-17 years)
€

360 / ticket
|
Children (0-12 years)
€

360 / ticket
Options
guests >= 5

Price

Adult (18+ years)

€

270 / ticket |

Youth (13-17 years)

€

270 / ticket |

Children (0-12 years)

€

270 / ticket

guests = 4

Price

Adult (18+ years)

€

300 / ticket |

Youth (13-17 years)

€

300 / ticket |

Children (0-12 years)

€

300 / ticket

guests = 3

Price

Adult (18+ years)

€

330 / ticket |

Youth (13-17 years)

€

300 / ticket |

Children (0-12 years)

€

330 / ticket

guests <= 2

Price

Adult (18+ years)

€

360 / ticket |

Youth (13-17 years)

€

360 / ticket |

Children (0-12 years)

€

360 / ticket
17
Promotion
General price:
Adult (18+ years)
€

360 / ticket
|
Youth (13-17 years)
€

360 / ticket
|
Children (0-12 years)
€

360 / ticket
Options
guests >= 5

Price

Adult (18+ years)

€

270 / ticket |

Youth (13-17 years)

€

270 / ticket |

Children (0-12 years)

€

270 / ticket

guests = 4

Price

Adult (18+ years)

€

300 / ticket |

Youth (13-17 years)

€

300 / ticket |

Children (0-12 years)

€

300 / ticket

guests = 3

Price

Adult (18+ years)

€

330 / ticket |

Youth (13-17 years)

€

300 / ticket |

Children (0-12 years)

€

330 / ticket

guests <= 2

Price

Adult (18+ years)

€

360 / ticket |

Youth (13-17 years)

€

360 / ticket |

Children (0-12 years)

€

360 / ticket
18
Promotion
General price:
Adult (18+ years)
€

360 / ticket
|
Youth (13-17 years)
€

360 / ticket
|
Children (0-12 years)
€

360 / ticket
Options
guests >= 5

Price

Adult (18+ years)

€

270 / ticket |

Youth (13-17 years)

€

270 / ticket |

Children (0-12 years)

€

270 / ticket

guests = 4

Price

Adult (18+ years)

€

300 / ticket |

Youth (13-17 years)

€

300 / ticket |

Children (0-12 years)

€

300 / ticket

guests = 3

Price

Adult (18+ years)

€

330 / ticket |

Youth (13-17 years)

€

300 / ticket |

Children (0-12 years)

€

330 / ticket

guests <= 2

Price

Adult (18+ years)

€

360 / ticket |

Youth (13-17 years)

€

360 / ticket |

Children (0-12 years)

€

360 / ticket
19
Promotion
General price:
Adult (18+ years)
€

360 / ticket
|
Youth (13-17 years)
€

360 / ticket
|
Children (0-12 years)
€

360 / ticket
Options
guests >= 5

Price

Adult (18+ years)

€

270 / ticket |

Youth (13-17 years)

€

270 / ticket |

Children (0-12 years)

€

270 / ticket

guests = 4

Price

Adult (18+ years)

€

300 / ticket |

Youth (13-17 years)

€

300 / ticket |

Children (0-12 years)

€

300 / ticket

guests = 3

Price

Adult (18+ years)

€

330 / ticket |

Youth (13-17 years)

€

300 / ticket |

Children (0-12 years)

€

330 / ticket

guests <= 2

Price

Adult (18+ years)

€

360 / ticket |

Youth (13-17 years)

€

360 / ticket |

Children (0-12 years)

€

360 / ticket
20
Promotion
General price:
Adult (18+ years)
€

360 / ticket
|
Youth (13-17 years)
€

360 / ticket
|
Children (0-12 years)
€

360 / ticket
Options
guests >= 5

Price

Adult (18+ years)

€

270 / ticket |

Youth (13-17 years)

€

270 / ticket |

Children (0-12 years)

€

270 / ticket

guests = 4

Price

Adult (18+ years)

€

300 / ticket |

Youth (13-17 years)

€

300 / ticket |

Children (0-12 years)

€

300 / ticket

guests = 3

Price

Adult (18+ years)

€

330 / ticket |

Youth (13-17 years)

€

300 / ticket |

Children (0-12 years)

€

330 / ticket

guests <= 2

Price

Adult (18+ years)

€

360 / ticket |

Youth (13-17 years)

€

360 / ticket |

Children (0-12 years)

€

360 / ticket
21
Promotion
General price:
Adult (18+ years)
€

360 / ticket
|
Youth (13-17 years)
€

360 / ticket
|
Children (0-12 years)
€

360 / ticket
Options
guests >= 5

Price

Adult (18+ years)

€

270 / ticket |

Youth (13-17 years)

€

270 / ticket |

Children (0-12 years)

€

270 / ticket

guests = 4

Price

Adult (18+ years)

€

300 / ticket |

Youth (13-17 years)

€

300 / ticket |

Children (0-12 years)

€

300 / ticket

guests = 3

Price

Adult (18+ years)

€

330 / ticket |

Youth (13-17 years)

€

300 / ticket |

Children (0-12 years)

€

330 / ticket

guests <= 2

Price

Adult (18+ years)

€

360 / ticket |

Youth (13-17 years)

€

360 / ticket |

Children (0-12 years)

€

360 / ticket
22
Promotion
General price:
Adult (18+ years)
€

360 / ticket
|
Youth (13-17 years)
€

360 / ticket
|
Children (0-12 years)
€

360 / ticket
Options
guests >= 5

Price

Adult (18+ years)

€

270 / ticket |

Youth (13-17 years)

€

270 / ticket |

Children (0-12 years)

€

270 / ticket

guests = 4

Price

Adult (18+ years)

€

300 / ticket |

Youth (13-17 years)

€

300 / ticket |

Children (0-12 years)

€

300 / ticket

guests = 3

Price

Adult (18+ years)

€

330 / ticket |

Youth (13-17 years)

€

300 / ticket |

Children (0-12 years)

€

330 / ticket

guests <= 2

Price

Adult (18+ years)

€

360 / ticket |

Youth (13-17 years)

€

360 / ticket |

Children (0-12 years)

€

360 / ticket
23
Promotion
General price:
Adult (18+ years)
€

360 / ticket
|
Youth (13-17 years)
€

360 / ticket
|
Children (0-12 years)
€

360 / ticket
Options
guests >= 5

Price

Adult (18+ years)

€

270 / ticket |

Youth (13-17 years)

€

270 / ticket |

Children (0-12 years)

€

270 / ticket

guests = 4

Price

Adult (18+ years)

€

300 / ticket |

Youth (13-17 years)

€

300 / ticket |

Children (0-12 years)

€

300 / ticket

guests = 3

Price

Adult (18+ years)

€

330 / ticket |

Youth (13-17 years)

€

300 / ticket |

Children (0-12 years)

€

330 / ticket

guests <= 2

Price

Adult (18+ years)

€

360 / ticket |

Youth (13-17 years)

€

360 / ticket |

Children (0-12 years)

€

360 / ticket
24
Promotion
General price:
Adult (18+ years)
€

360 / ticket
|
Youth (13-17 years)
€

360 / ticket
|
Children (0-12 years)
€

360 / ticket
Options
guests >= 5

Price

Adult (18+ years)

€

270 / ticket |

Youth (13-17 years)

€

270 / ticket |

Children (0-12 years)

€

270 / ticket

guests = 4

Price

Adult (18+ years)

€

300 / ticket |

Youth (13-17 years)

€

300 / ticket |

Children (0-12 years)

€

300 / ticket

guests = 3

Price

Adult (18+ years)

€

330 / ticket |

Youth (13-17 years)

€

300 / ticket |

Children (0-12 years)

€

330 / ticket

guests <= 2

Price

Adult (18+ years)

€

360 / ticket |

Youth (13-17 years)

€

360 / ticket |

Children (0-12 years)

€

360 / ticket
25
Promotion
General price:
Adult (18+ years)
€

360 / ticket
|
Youth (13-17 years)
€

360 / ticket
|
Children (0-12 years)
€

360 / ticket
Options
guests >= 5

Price

Adult (18+ years)

€

270 / ticket |

Youth (13-17 years)

€

270 / ticket |

Children (0-12 years)

€

270 / ticket

guests = 4

Price

Adult (18+ years)

€

300 / ticket |

Youth (13-17 years)

€

300 / ticket |

Children (0-12 years)

€

300 / ticket

guests = 3

Price

Adult (18+ years)

€

330 / ticket |

Youth (13-17 years)

€

300 / ticket |

Children (0-12 years)

€

330 / ticket

guests <= 2

Price

Adult (18+ years)

€

360 / ticket |

Youth (13-17 years)

€

360 / ticket |

Children (0-12 years)

€

360 / ticket
26
Promotion
General price:
Adult (18+ years)
€

360 / ticket
|
Youth (13-17 years)
€

360 / ticket
|
Children (0-12 years)
€

360 / ticket
Options
guests >= 5

Price

Adult (18+ years)

€

270 / ticket |

Youth (13-17 years)

€

270 / ticket |

Children (0-12 years)

€

270 / ticket

guests = 4

Price

Adult (18+ years)

€

300 / ticket |

Youth (13-17 years)

€

300 / ticket |

Children (0-12 years)

€

300 / ticket

guests = 3

Price

Adult (18+ years)

€

330 / ticket |

Youth (13-17 years)

€

300 / ticket |

Children (0-12 years)

€

330 / ticket

guests <= 2

Price

Adult (18+ years)

€

360 / ticket |

Youth (13-17 years)

€

360 / ticket |

Children (0-12 years)

€

360 / ticket
27
Promotion
General price:
Adult (18+ years)
€

360 / ticket
|
Youth (13-17 years)
€

360 / ticket
|
Children (0-12 years)
€

360 / ticket
Options
guests >= 5

Price

Adult (18+ years)

€

270 / ticket |

Youth (13-17 years)

€

270 / ticket |

Children (0-12 years)

€

270 / ticket

guests = 4

Price

Adult (18+ years)

€

300 / ticket |

Youth (13-17 years)

€

300 / ticket |

Children (0-12 years)

€

300 / ticket

guests = 3

Price

Adult (18+ years)

€

330 / ticket |

Youth (13-17 years)

€

300 / ticket |

Children (0-12 years)

€

330 / ticket

guests <= 2

Price

Adult (18+ years)

€

360 / ticket |

Youth (13-17 years)

€

360 / ticket |

Children (0-12 years)

€

360 / ticket
28
Promotion
General price:
Adult (18+ years)
€

360 / ticket
|
Youth (13-17 years)
€

360 / ticket
|
Children (0-12 years)
€

360 / ticket
Options
guests >= 5

Price

Adult (18+ years)

€

270 / ticket |

Youth (13-17 years)

€

270 / ticket |

Children (0-12 years)

€

270 / ticket

guests = 4

Price

Adult (18+ years)

€

300 / ticket |

Youth (13-17 years)

€

300 / ticket |

Children (0-12 years)

€

300 / ticket

guests = 3

Price

Adult (18+ years)

€

330 / ticket |

Youth (13-17 years)

€

300 / ticket |

Children (0-12 years)

€

330 / ticket

guests <= 2

Price

Adult (18+ years)

€

360 / ticket |

Youth (13-17 years)

€

360 / ticket |

Children (0-12 years)

€

360 / ticket
29
Promotion
General price:
Adult (18+ years)
€

360 / ticket
|
Youth (13-17 years)
€

360 / ticket
|
Children (0-12 years)
€

360 / ticket
Options
guests >= 5

Price

Adult (18+ years)

€

270 / ticket |

Youth (13-17 years)

€

270 / ticket |

Children (0-12 years)

€

270 / ticket

guests = 4

Price

Adult (18+ years)

€

300 / ticket |

Youth (13-17 years)

€

300 / ticket |

Children (0-12 years)

€

300 / ticket

guests = 3

Price

Adult (18+ years)

€

330 / ticket |

Youth (13-17 years)

€

300 / ticket |

Children (0-12 years)

€

330 / ticket

guests <= 2

Price

Adult (18+ years)

€

360 / ticket |

Youth (13-17 years)

€

360 / ticket |

Children (0-12 years)

€

360 / ticket
30
Promotion
General price:
Adult (18+ years)
€

360 / ticket
|
Youth (13-17 years)
€

360 / ticket
|
Children (0-12 years)
€

360 / ticket
Options
guests >= 5

Price

Adult (18+ years)

€

270 / ticket |

Youth (13-17 years)

€

270 / ticket |

Children (0-12 years)

€

270 / ticket

guests = 4

Price

Adult (18+ years)

€

300 / ticket |

Youth (13-17 years)

€

300 / ticket |

Children (0-12 years)

€

300 / ticket

guests = 3

Price

Adult (18+ years)

€

330 / ticket |

Youth (13-17 years)

€

300 / ticket |

Children (0-12 years)

€

330 / ticket

guests <= 2

Price

Adult (18+ years)

€

360 / ticket |

Youth (13-17 years)

€

360 / ticket |

Children (0-12 years)

€

360 / ticket
31
Promotion
General price:
Adult (18+ years)
€

360 / ticket
|
Youth (13-17 years)
€

360 / ticket
|
Children (0-12 years)
€

360 / ticket
Options
guests >= 5

Price

Adult (18+ years)

€

270 / ticket |

Youth (13-17 years)

€

270 / ticket |

Children (0-12 years)

€

270 / ticket

guests = 4

Price

Adult (18+ years)

€

300 / ticket |

Youth (13-17 years)

€

300 / ticket |

Children (0-12 years)

€

300 / ticket

guests = 3

Price

Adult (18+ years)

€

330 / ticket |

Youth (13-17 years)

€

300 / ticket |

Children (0-12 years)

€

330 / ticket

guests <= 2

Price

Adult (18+ years)

€

360 / ticket |

Youth (13-17 years)

€

360 / ticket |

Children (0-12 years)

€

360 / ticket
1
Promotion
General price:
Adult (18+ years)
€

360 / ticket
|
Youth (13-17 years)
€

360 / ticket
|
Children (0-12 years)
€

360 / ticket
Options
guests >= 5

Price

Adult (18+ years)

€

270 / ticket |

Youth (13-17 years)

€

270 / ticket |

Children (0-12 years)

€

270 / ticket

guests = 4

Price

Adult (18+ years)

€

300 / ticket |

Youth (13-17 years)

€

300 / ticket |

Children (0-12 years)

€

300 / ticket

guests = 3

Price

Adult (18+ years)

€

330 / ticket |

Youth (13-17 years)

€

300 / ticket |

Children (0-12 years)

€

330 / ticket

guests <= 2

Price

Adult (18+ years)

€

360 / ticket |

Youth (13-17 years)

€

360 / ticket |

Children (0-12 years)

€

360 / ticket
2
Promotion
General price:
Adult (18+ years)
€

360 / ticket
|
Youth (13-17 years)
€

360 / ticket
|
Children (0-12 years)
€

360 / ticket
Options
guests >= 5

Price

Adult (18+ years)

€

270 / ticket |

Youth (13-17 years)

€

270 / ticket |

Children (0-12 years)

€

270 / ticket

guests = 4

Price

Adult (18+ years)

€

300 / ticket |

Youth (13-17 years)

€

300 / ticket |

Children (0-12 years)

€

300 / ticket

guests = 3

Price

Adult (18+ years)

€

330 / ticket |

Youth (13-17 years)

€

300 / ticket |

Children (0-12 years)

€

330 / ticket

guests <= 2

Price

Adult (18+ years)

€

360 / ticket |

Youth (13-17 years)

€

360 / ticket |

Children (0-12 years)

€

360 / ticket
27
Promotion
General price:
Adult (18+ years)
€

360 / ticket
|
Youth (13-17 years)
€

360 / ticket
|
Children (0-12 years)
€

360 / ticket
Options
guests >= 5

Price

Adult (18+ years)

€

270 / ticket |

Youth (13-17 years)

€

270 / ticket |

Children (0-12 years)

€

270 / ticket

guests = 4

Price

Adult (18+ years)

€

300 / ticket |

Youth (13-17 years)

€

300 / ticket |

Children (0-12 years)

€

300 / ticket

guests = 3

Price

Adult (18+ years)

€

330 / ticket |

Youth (13-17 years)

€

300 / ticket |

Children (0-12 years)

€

330 / ticket

guests <= 2

Price

Adult (18+ years)

€

360 / ticket |

Youth (13-17 years)

€

360 / ticket |

Children (0-12 years)

€

360 / ticket
28
Promotion
General price:
Adult (18+ years)
€

360 / ticket
|
Youth (13-17 years)
€

360 / ticket
|
Children (0-12 years)
€

360 / ticket
Options
guests >= 5

Price

Adult (18+ years)

€

270 / ticket |

Youth (13-17 years)

€

270 / ticket |

Children (0-12 years)

€

270 / ticket

guests = 4

Price

Adult (18+ years)

€

300 / ticket |

Youth (13-17 years)

€

300 / ticket |

Children (0-12 years)

€

300 / ticket

guests = 3

Price

Adult (18+ years)

€

330 / ticket |

Youth (13-17 years)

€

300 / ticket |

Children (0-12 years)

€

330 / ticket

guests <= 2

Price

Adult (18+ years)

€

360 / ticket |

Youth (13-17 years)

€

360 / ticket |

Children (0-12 years)

€

360 / ticket
29
Promotion
General price:
Adult (18+ years)
€

360 / ticket
|
Youth (13-17 years)
€

360 / ticket
|
Children (0-12 years)
€

360 / ticket
Options
guests >= 5

Price

Adult (18+ years)

€

270 / ticket |

Youth (13-17 years)

€

270 / ticket |

Children (0-12 years)

€

270 / ticket

guests = 4

Price

Adult (18+ years)

€

300 / ticket |

Youth (13-17 years)

€

300 / ticket |

Children (0-12 years)

€

300 / ticket

guests = 3

Price

Adult (18+ years)

€

330 / ticket |

Youth (13-17 years)

€

300 / ticket |

Children (0-12 years)

€

330 / ticket

guests <= 2

Price

Adult (18+ years)

€

360 / ticket |

Youth (13-17 years)

€

360 / ticket |

Children (0-12 years)

€

360 / ticket
30
Promotion
General price:
Adult (18+ years)
€

360 / ticket
|
Youth (13-17 years)
€

360 / ticket
|
Children (0-12 years)
€

360 / ticket
Options
guests >= 5

Price

Adult (18+ years)

€

270 / ticket |

Youth (13-17 years)

€

270 / ticket |

Children (0-12 years)

€

270 / ticket

guests = 4

Price

Adult (18+ years)

€

300 / ticket |

Youth (13-17 years)

€

300 / ticket |

Children (0-12 years)

€

300 / ticket

guests = 3

Price

Adult (18+ years)

€

330 / ticket |

Youth (13-17 years)

€

300 / ticket |

Children (0-12 years)

€

330 / ticket

guests <= 2

Price

Adult (18+ years)

€

360 / ticket |

Youth (13-17 years)

€

360 / ticket |

Children (0-12 years)

€

360 / ticket
31
Promotion
General price:
Adult (18+ years)
€

360 / ticket
|
Youth (13-17 years)
€

360 / ticket
|
Children (0-12 years)
€

360 / ticket
Options
guests >= 5

Price

Adult (18+ years)

€

270 / ticket |

Youth (13-17 years)

€

270 / ticket |

Children (0-12 years)

€

270 / ticket

guests = 4

Price

Adult (18+ years)

€

300 / ticket |

Youth (13-17 years)

€

300 / ticket |

Children (0-12 years)

€

300 / ticket

guests = 3

Price

Adult (18+ years)

€

330 / ticket |

Youth (13-17 years)

€

300 / ticket |

Children (0-12 years)

€

330 / ticket

guests <= 2

Price

Adult (18+ years)

€

360 / ticket |

Youth (13-17 years)

€

360 / ticket |

Children (0-12 years)

€

360 / ticket
1
Promotion
General price:
Adult (18+ years)
€

360 / ticket
|
Youth (13-17 years)
€

360 / ticket
|
Children (0-12 years)
€

360 / ticket
Options
guests >= 5

Price

Adult (18+ years)

€

270 / ticket |

Youth (13-17 years)

€

270 / ticket |

Children (0-12 years)

€

270 / ticket

guests = 4

Price

Adult (18+ years)

€

300 / ticket |

Youth (13-17 years)

€

300 / ticket |

Children (0-12 years)

€

300 / ticket

guests = 3

Price

Adult (18+ years)

€

330 / ticket |

Youth (13-17 years)

€

300 / ticket |

Children (0-12 years)

€

330 / ticket

guests <= 2

Price

Adult (18+ years)

€

360 / ticket |

Youth (13-17 years)

€

360 / ticket |

Children (0-12 years)

€

360 / ticket
2
Promotion
General price:
Adult (18+ years)
€

360 / ticket
|
Youth (13-17 years)
€

360 / ticket
|
Children (0-12 years)
€

360 / ticket
Options
guests >= 5

Price

Adult (18+ years)

€

270 / ticket |

Youth (13-17 years)

€

270 / ticket |

Children (0-12 years)

€

270 / ticket

guests = 4

Price

Adult (18+ years)

€

300 / ticket |

Youth (13-17 years)

€

300 / ticket |

Children (0-12 years)

€

300 / ticket

guests = 3

Price

Adult (18+ years)

€

330 / ticket |

Youth (13-17 years)

€

300 / ticket |

Children (0-12 years)

€

330 / ticket

guests <= 2

Price

Adult (18+ years)

€

360 / ticket |

Youth (13-17 years)

€

360 / ticket |

Children (0-12 years)

€

360 / ticket
3
Promotion
General price:
Adult (18+ years)
€

360 / ticket
|
Youth (13-17 years)
€

360 / ticket
|
Children (0-12 years)
€

360 / ticket
Options
guests >= 5

Price

Adult (18+ years)

€

270 / ticket |

Youth (13-17 years)

€

270 / ticket |

Children (0-12 years)

€

270 / ticket

guests = 4

Price

Adult (18+ years)

€

300 / ticket |

Youth (13-17 years)

€

300 / ticket |

Children (0-12 years)

€

300 / ticket

guests = 3

Price

Adult (18+ years)

€

330 / ticket |

Youth (13-17 years)

€

300 / ticket |

Children (0-12 years)

€

330 / ticket

guests <= 2

Price

Adult (18+ years)

€

360 / ticket |

Youth (13-17 years)

€

360 / ticket |

Children (0-12 years)

€

360 / ticket
4
Promotion
General price:
Adult (18+ years)
€

360 / ticket
|
Youth (13-17 years)
€

360 / ticket
|
Children (0-12 years)
€

360 / ticket
Options
guests >= 5

Price

Adult (18+ years)

€

270 / ticket |

Youth (13-17 years)

€

270 / ticket |

Children (0-12 years)

€

270 / ticket

guests = 4

Price

Adult (18+ years)

€

300 / ticket |

Youth (13-17 years)

€

300 / ticket |

Children (0-12 years)

€

300 / ticket

guests = 3

Price

Adult (18+ years)

€

330 / ticket |

Youth (13-17 years)

€

300 / ticket |

Children (0-12 years)

€

330 / ticket

guests <= 2

Price

Adult (18+ years)

€

360 / ticket |

Youth (13-17 years)

€

360 / ticket |

Children (0-12 years)

€

360 / ticket
5
Promotion
General price:
Adult (18+ years)
€

360 / ticket
|
Youth (13-17 years)
€

360 / ticket
|
Children (0-12 years)
€

360 / ticket
Options
guests >= 5

Price

Adult (18+ years)

€

270 / ticket |

Youth (13-17 years)

€

270 / ticket |

Children (0-12 years)

€

270 / ticket

guests = 4

Price

Adult (18+ years)

€

300 / ticket |

Youth (13-17 years)

€

300 / ticket |

Children (0-12 years)

€

300 / ticket

guests = 3

Price

Adult (18+ years)

€

330 / ticket |

Youth (13-17 years)

€

300 / ticket |

Children (0-12 years)

€

330 / ticket

guests <= 2

Price

Adult (18+ years)

€

360 / ticket |

Youth (13-17 years)

€

360 / ticket |

Children (0-12 years)

€

360 / ticket
6
Promotion
General price:
Adult (18+ years)
€

360 / ticket
|
Youth (13-17 years)
€

360 / ticket
|
Children (0-12 years)
€

360 / ticket
Options
guests >= 5

Price

Adult (18+ years)

€

270 / ticket |

Youth (13-17 years)

€

270 / ticket |

Children (0-12 years)

€

270 / ticket

guests = 4

Price

Adult (18+ years)

€

300 / ticket |

Youth (13-17 years)

€

300 / ticket |

Children (0-12 years)

€

300 / ticket

guests = 3

Price

Adult (18+ years)

€

330 / ticket |

Youth (13-17 years)

€

300 / ticket |

Children (0-12 years)

€

330 / ticket

guests <= 2

Price

Adult (18+ years)

€

360 / ticket |

Youth (13-17 years)

€

360 / ticket |

Children (0-12 years)

€

360 / ticket
7
Promotion
General price:
Adult (18+ years)
€

360 / ticket
|
Youth (13-17 years)
€

360 / ticket
|
Children (0-12 years)
€

360 / ticket
Options
guests >= 5

Price

Adult (18+ years)

€

270 / ticket |

Youth (13-17 years)

€

270 / ticket |

Children (0-12 years)

€

270 / ticket

guests = 4

Price

Adult (18+ years)

€

300 / ticket |

Youth (13-17 years)

€

300 / ticket |

Children (0-12 years)

€

300 / ticket

guests = 3

Price

Adult (18+ years)

€

330 / ticket |

Youth (13-17 years)

€

300 / ticket |

Children (0-12 years)

€

330 / ticket

guests <= 2

Price

Adult (18+ years)

€

360 / ticket |

Youth (13-17 years)

€

360 / ticket |

Children (0-12 years)

€

360 / ticket
8
Promotion
General price:
Adult (18+ years)
€

360 / ticket
|
Youth (13-17 years)
€

360 / ticket
|
Children (0-12 years)
€

360 / ticket
Options
guests >= 5

Price

Adult (18+ years)

€

270 / ticket |

Youth (13-17 years)

€

270 / ticket |

Children (0-12 years)

€

270 / ticket

guests = 4

Price

Adult (18+ years)

€

300 / ticket |

Youth (13-17 years)

€

300 / ticket |

Children (0-12 years)

€

300 / ticket

guests = 3

Price

Adult (18+ years)

€

330 / ticket |

Youth (13-17 years)

€

300 / ticket |

Children (0-12 years)

€

330 / ticket

guests <= 2

Price

Adult (18+ years)

€

360 / ticket |

Youth (13-17 years)

€

360 / ticket |

Children (0-12 years)

€

360 / ticket
9
Promotion
General price:
Adult (18+ years)
€

360 / ticket
|
Youth (13-17 years)
€

360 / ticket
|
Children (0-12 years)
€

360 / ticket
Options
guests >= 5

Price

Adult (18+ years)

€

270 / ticket |

Youth (13-17 years)

€

270 / ticket |

Children (0-12 years)

€

270 / ticket

guests = 4

Price

Adult (18+ years)

€

300 / ticket |

Youth (13-17 years)

€

300 / ticket |

Children (0-12 years)

€