The Atlas Mountains are a chain of mountains that stretch across North Africa. They are home to
some of the world's highest peaks, including Mount Toubkal, the tallest mountain in the range.
The Atlas Mountains are a popular destination for hikers and mountaineers from all over the
world. If you're thinking about hiking the Atlas Mountains, this guide is for you.
This guide will cover everything you need to know about hiking the Atlas Mountains, including
what to pack, where to go, and what to expect. We will also provide some helpful tips and advice
so that you can make the most of your experience. So, whether you're a seasoned hiker or a
complete novice, read on to find out everything you need to know about hiking the Atlas
Mountains.
Hiking Atlas Mountains
Hiking the Atlas Mountains is a popular activity for tourists visiting Morocco. The mountains
offer stunning views of the surrounding countryside, and there are numerous trails to suit all
levels of ability. Hiking in the Atlas Mountains can be challenging, as the terrain is often rocky
and uneven.
However, the rewards are well worth the effort, and many hikers report feeling a sense of
achievement after completing a hike.
There are a number of different routes to choose from, so it is advisable to do some research
before setting out. With a little planning, hiking the Atlas Mountains can be a truly unforgettable
experience.
But if you don't know anything about Atlas Mountains' routes, it is highly recommended to hire a
local guide. A local guide will not only help you choose the best route for your ability and fitness
level, but they will also be able to provide invaluable insights into the local culture and history.
And following is some advice that will help you make your hiking Atlas Mountain tour
memorable.
Packing for Your Hike
The first thing you need to do when planning a hike is to ensure you have all the necessary
equipment. This includes items such as a good pair of hiking boots, plenty of water, and some
snacks. You should also pack a map and compass in case you get lost.
If you plan to camp overnight, you must pack a tent and some sleeping gear. And, if your hike
will take place during the winter months, you will need to ensure that you have appropriate
clothing to keep yourself warm.
Choosing Your Route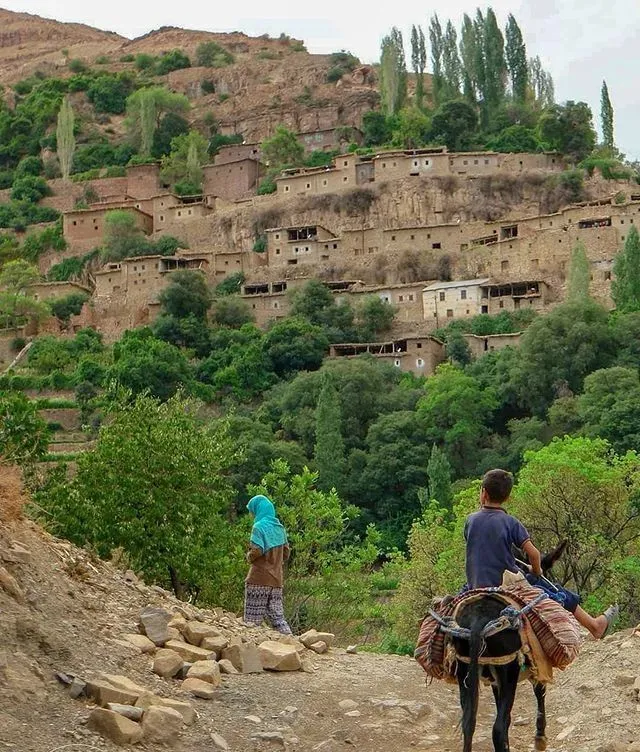 There are many different routes that you can take when hiking the Atlas Mountains. The best
way to choose a route is to decide how long you want to hike. If you only have a few days, then
it's best to stick to shorter routes.
However, longer routes will allow you to explore more of the mountains if you have more time
available.
Another thing to consider when choosing your route is your fitness level. Some routes can be
challenging, so choosing one suitable for your fitness level is important. If you're unsure which
route to take, speak to someone at your local hiking store or look online for route suggestions.
Quick links to choose a trip to High Atlas Berber villages
What To Expect
Hiking in the Atlas Mountains can be a truly magical experience. The scenery is breathtaking,
and there are often opportunities to see wildlife like eagles and mountain goats. However, it's
important to remember that the weather can be unpredictable, so it's always best to be prepared
for all eventualities.
Additional Safety Tips for Hiking the Atlas Mountains
Hiking the Atlas Mountains can be a rewarding experience, but it's important to be prepared.
Here are a few safety tips to keep in mind:
First, be sure to wear appropriate clothing and footwear. The terrain can be rocky and uneven, so
sturdy shoes are necessary. In addition, the weather can change quickly in the mountains, so it's
important to dress in layers.
Second, it's always a good idea to hike with a partner. That way, if one person gets into trouble,
there's someone there to help. It's also a good idea to let someone know where you're going
before you set out in case of an emergency.
Third, be aware of your surroundings at all times. Take note of potential hazards, such as steep
drop-offs or loose rock. And be sure to stay on the trail – venturing into the wilderness can be
dangerous.
These safety tips can help ensure a fun and safe hike through the Atlas Mountains.
Conclusion
We hope this guide has helped you plan your hike of the Atlas Mountains. Remember to pack all
the necessary equipment, choose a suitable route for your fitness level, and be prepared for all
weather conditions. With proper planning and preparation, we're sure you'll have an amazing
experience hiking in this stunning part of the world.