The High Atlas Mountains near Marrakech offer some of the best trekking in the world and are only a three-hour flight from the UK. This is a stunning five-day trek in Morocco's High Atlas Mountains. We travel through a variety of landscapes, from lush valleys to rocky outcroppings. The route takes us through colorful Berber villages, over beautiful mountain passes, and finally to the top of Mount Toubkal, North Africa's highest peak, at 4,167 meters.
A Berber team will accompany the trek, including a mountain guide, cook, muleteers, and mules for luggage.
On the last two days, the nights will be spent in gites (berber homes) and mountain huts.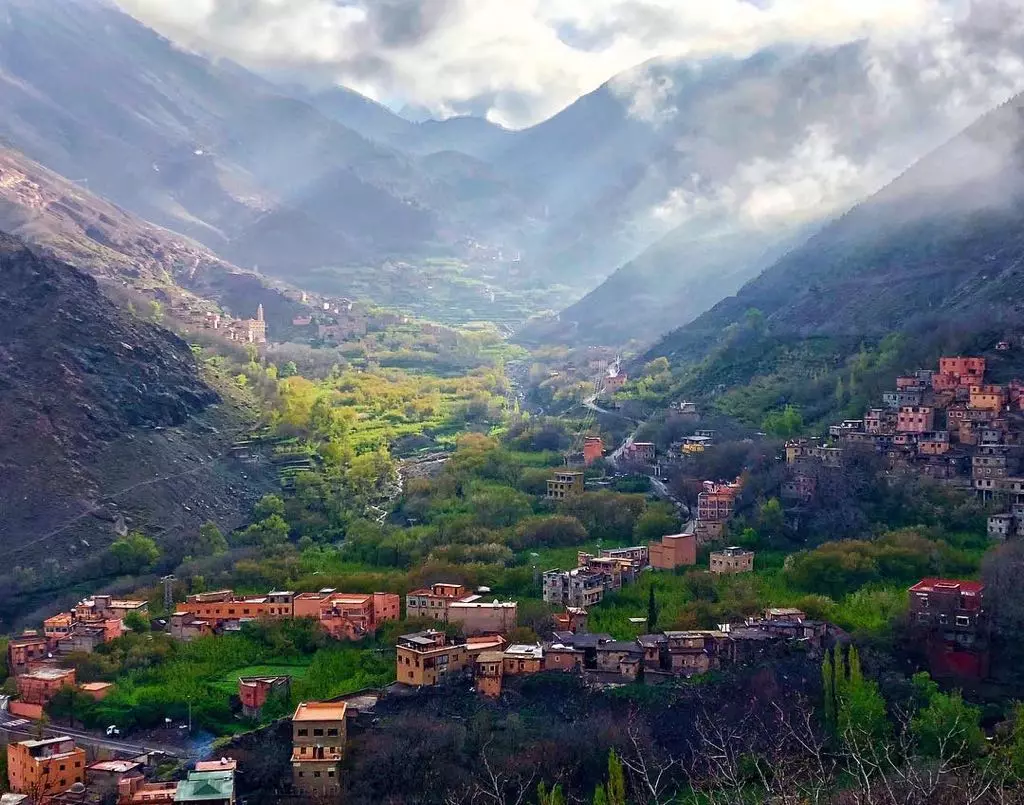 further discounts are aavailable according to the GROUPE SIZE

Mules and muleteers to carry your luggage.

All meals on the hike

Berber Cook

All meals on the hike

Round-trip Transportation between the trek and your accommodation in Marrakech

Camping Materiels ( Tents & Mattress) for summer treks

Expert- Berber, English, French, Spanish -speaking mountain guides
Travel insurance.

Soft/alcoholic drinks

Tips and personal expanses.
Day 1 : Marrakech –imi oughlad –tizi n'tachte –Tiziane
Early departure from Marrakech for a pleasant drive south through the moulay brahim gorge and upper valleys to arrive at the higher foothills of the western high atlas mountains and our trailhead of imi oughlad (1450m) with the jbel toubkal, at 4167m the highest peak in north africa, aglzim 3650m, and aksoual 38847m looming ahead of us. We disembark from our vehicle and meet up with the berber muleteer crew. We set off in a north-westerly direction for a two-hour acclimatization hike up switchback mule tracks, passing through cornfields, woods, pine and juniper to the tizn'tachete (2000m), where we will pause to look back down on the imlil and ait oussaden valleys before continuing for another half hour to imi n'ifri and our field picnic. Then a two-and-a-half-hour slow hike down a dirt track to Assif n' ait oussaden and the red clay terraced village of Tiziane (1750 m) for our accommodation in our bivouac / gite.
Day 2 : Tizziane – tizi n'taghrhourte – D'knt
After breakfast, we will begin our hike up the Assif n'ait oussaden valley, passing through the wallnut groves, up to Tizin'taghrhourte (1995m), and through a rare almost flat stretch to Assaka spring, where we will stop for our field picnic in the midst of awesome silence after about 2 and a half hours of relatively easy walking. Our afternoon hike takes us down along the forest edges until we reach the berber village of D'knt (1870m) or agouns n Assoul, where we will eat and spend the night in a bivouac / gite.
Day 3 : D'knt – Tizi n'tagdalte – Azib n Tamsoult
We began our three-hour hike up through walnut groves, corn and barley fields, and sheep and goatherders - and women and children bent over with 20kg loads of faggots and dried herbs. We cross the tizin'tagdalte and descend among the juniper trees until we reach a small spring set among the trees, where we will stop for our picnic. We set off down winding upper slopes tracks for about 3 hours to reach a small river at the beginning of the valley of Assif n'ait oussaden. From here, we enter the village of Tizi oussem (1850m), then ascend to Tamsoult for our camp / hut.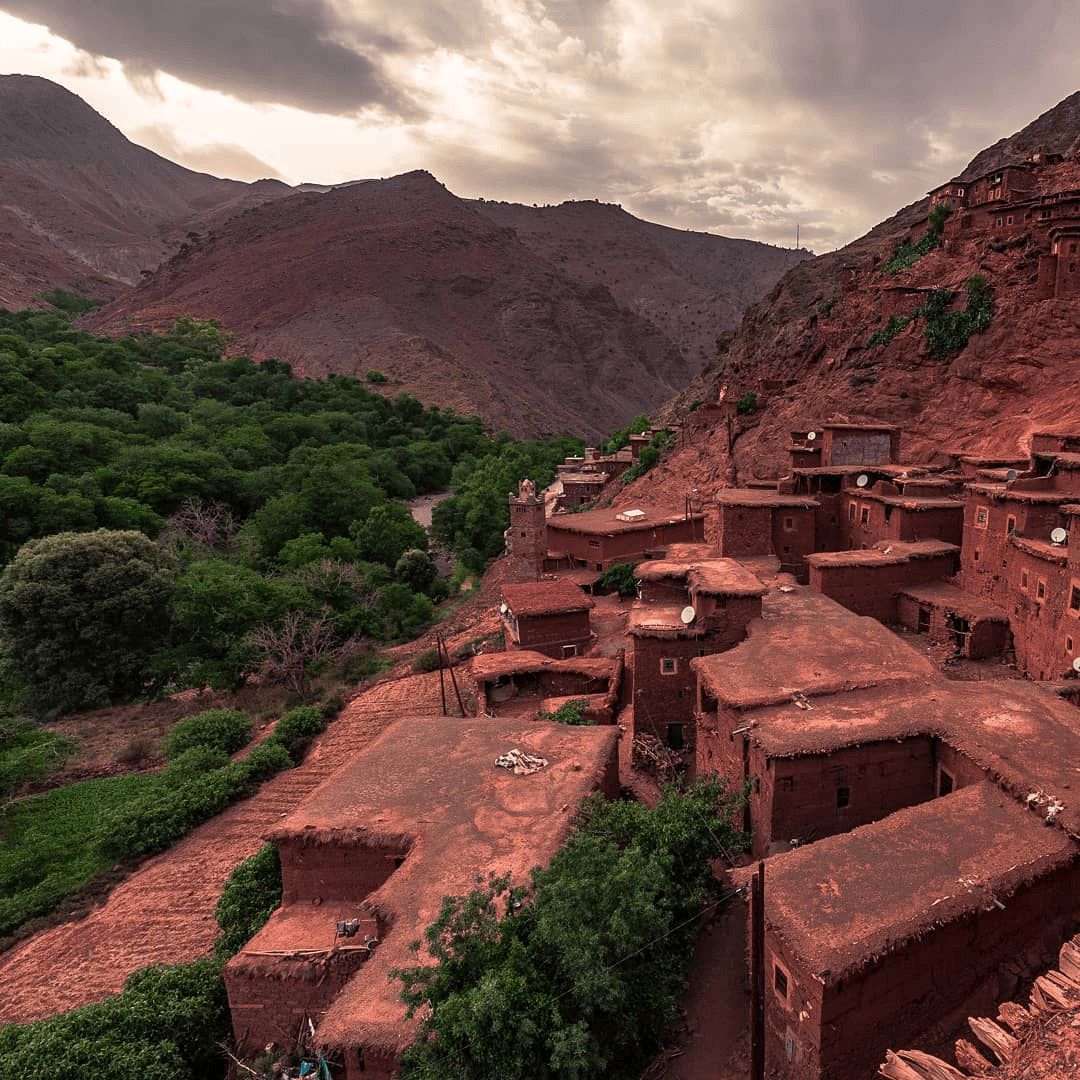 Day 4 : ÂAZIB TAMSOULT -TIZI AGUELZIM - TOUBKAL REFUGE
After breakfast, we set out on a moderately difficult hike up winding mule tracks to the Tizi Aguelzim (3550m), then a further 3 hours south-east to the Toubkal Refuge, which marks the spring snowline at 3207m, and where we will bivouac.
Day 5 : TOUBKAL REFUGE - SUMMIT JBEL TOUBKAL- SIDI CHAMHAROUCH - Imlil - Marrakech
A very early breakfast to set out around 6 a.m. to reach the highest peak in the Maghreb after a three-hour steep climb (4167m). The view from here is simply breathtaking. We'll take the Ikkhibi Sud or South Cirque whenever you're ready for a straightforward 2 to 3 hour descent back to the Refuge for a picnic. After lunch, we'll head north along the steeply descending, zigzagging trails of the Valley of the Assif n'Isouhouanem n'Ouagounss towards the Shrine of Sidi Chamharouch. There is a pilgrimage'marabout' shrine here, probably a remnant of a pre-Islamic culture, but it is forbidden to non-Muslims. Another 2 hours downhill will get you to the village of Imlil, where most of the treks begin before taking the taxi back to Marrakech.
After booking with MT Toubkal Trek, we will promptly reach out to you to confirm your reservation and address any questions you may have about the tour.
Payment is in cash upon your arrival in Morocco.
This is a private tour, and we'll customize it to your group's size. If you're a solo traveler looking to join a group, please contact us.
1
promotion
Minimum booking:
1 tickets
Maximum booking:
30 tickets
General price:
Adult (18+ years)
€

250 / ticket
|
Youth (13-17 years)
€

250 / ticket
|
Children (0-12 years)
€

250 / ticket
Options
guests < 2

Price

Adult (18+ years)

€

550 / ticket |

Youth (13-17 years)

€

550 / ticket |

Children (0-12 years)

€

550 / ticket

guests = 2

Price

Adult (18+ years)

€

300 / ticket |

Youth (13-17 years)

€

300 / ticket |

Children (0-12 years)

€

300 / ticket

guests = 3

Price

Adult (18+ years)

€

300 / ticket |

Youth (13-17 years)

€

300 / ticket |

Children (0-12 years)

€

300 / ticket

guests = 4

Price

Adult (18+ years)

€

270 / ticket |

Youth (13-17 years)

€

270 / ticket |

Children (0-12 years)

€

270 / ticket

guests >= 5

Price

Adult (18+ years)

€

250 / ticket |

Youth (13-17 years)

€

250 / ticket |

Children (0-12 years)

€

250 / ticket
2
promotion
Minimum booking:
1 tickets
Maximum booking:
30 tickets
General price:
Adult (18+ years)
€

250 / ticket
|
Youth (13-17 years)
€

250 / ticket
|
Children (0-12 years)
€

250 / ticket
Options
guests < 2

Price

Adult (18+ years)

€

550 / ticket |

Youth (13-17 years)

€

550 / ticket |

Children (0-12 years)

€

550 / ticket

guests = 2

Price

Adult (18+ years)

€

300 / ticket |

Youth (13-17 years)

€

300 / ticket |

Children (0-12 years)

€

300 / ticket

guests = 3

Price

Adult (18+ years)

€

300 / ticket |

Youth (13-17 years)

€

300 / ticket |

Children (0-12 years)

€

300 / ticket

guests = 4

Price

Adult (18+ years)

€

270 / ticket |

Youth (13-17 years)

€

270 / ticket |

Children (0-12 years)

€

270 / ticket

guests >= 5

Price

Adult (18+ years)

€

250 / ticket |

Youth (13-17 years)

€

250 / ticket |

Children (0-12 years)

€

250 / ticket