On this private four-day tour, you will discover Morocco's diverse splendors and visit its major sights and cities. Set off from Marrakech in an air-conditioned vehicle. You'll visit the High Atlas Mountains, the Rif Mountains, and the Merzouga Desert; visit Fes, Ouarzazate, and Chefchaouen; go on camel rides, visit Berber villages, and stay in a desert camp; and learn about a number of UNESCO World Heritage Sites, including the Ksar of Ait-Ben-Haddou.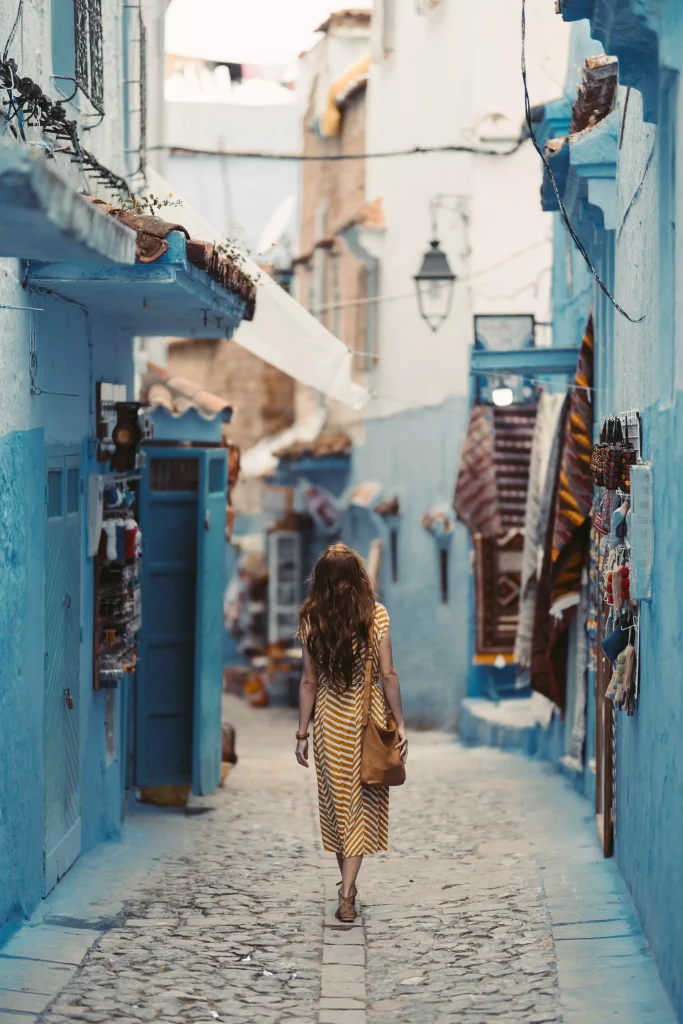 Enjoy a personal, first-hand travel experience on a private tour.
Riad, hotel, and desert camp stays, plus dinners and breakfasts, included.
Transit is provided by a comfortable, air-conditioned vehicle.
See many of Morocco's major highlights, all in one tour.
further discounts are aavailable according to the GROUPE SIZE

Expert, Berber, English-speaking guide & driver

Pick up from your Marrakech riad /hotel. Transport in A/C comfortable vehicle English speaking driver / guide. Accommodation in hotels / riads including dinners and breakfasts Camel ride in Sahara desert Sleeping in desert camp. Drop off at your hotel in Chefchaouen.

breakfast

dinner
Travel insurance.

Soft/alcoholic drinks

Tips and personal expanses.
DAY 1 : MARRAKECH – KASBAH AIT BEN HADDOU -OUARZAZATE – ROSES VALLEY
We will pick you up in Marrakech at 8:00 a.m. and drive you to Ouarzazate via the Tizi n' Tichka pass (2260 m) in the High Atlas Mountains. The landscapes and beauty of Berber villages will captivate you. We will visit the Kasbah of Ait Benhaddou, Morocco's largest Kasbah and a UNESCO World Heritage Site (this famous kasbah was used as a backdrop for more than 20 film). We will have lunch at the Kasbah before we continue to Dades valley via Ouarzazate,called as the Hollywood of Africa. We'll travel along the Road of a Thousand Kasbahs before arriving in Kalaat Mgouna.
Accommodation:
Not Included
Day 2 : ROSES VALLEY – TODRA GORGES – MERZOUGA AND CAMEL TREK
After breakfast in the riad, we'll drive through the valley to see the "Monkey Toes" rock formation. As we leave the Dades valley and head towards Tinghir and the Todra valley, we'll see panoramic views of the valley's old mud Berber villages. When you arrive at the Gorge, you'll walk beneath the 300-meter-high red cliff, where many rock climbers come to enjoy their favorite sport. Continuing on to Erfoud and Rissani for lunch, after which we'll depart for Merzouga, where your camel will be waiting for you. Enjoy a camel ride into the mysterious Erg-Chebbi sand sea, guided by an experienced camel guide, of course. After an hour and a half, you will arrive at Morocco's highest sand dunes to witness one of the best sunsets of your life. You will then proceed to our nomadic berber tents for dinner, a camp fire, a drum party, and an overnight stay in the desert.
Accommodation:
Not Included
Day 3 :MERZOUGA DESERT – FES
Your camel guide will wake you up to see the sunrise, then you will peacefully camel-trek back to Merzouga, appreciating the unique beauty of the spectacular Erg Chebbi dunes as the light changes throughout the day. After returning to Merzouga and taking a hot shower in the guesthouse, we drive to Midelt, stopping in Zaida for a barbecue and a glass of mint tea before continuing to Azrou, a Berber village in the Middle Atlas Mountains, to see the Barbarian apes in the cedar forest. Then we continue to Ifrane, also known as the French village or Morocco's Switzerland, where we will stop for a photo or a drink before arriving at your Fes accommodation.
Accommodation:
Not Included
DAY 4 : DAY TOUR FES TO CHEFCHAOUEN
You will have the entire morning to explore Fes. After seeing the main highlights of the oldest city, you will have lunch in a restaurant in the Medina and then drive north, arriving in Chefchaouen after a few hours.
Accommodation:
Not Included
After booking with MT Toubkal Trek, we will promptly reach out to you to confirm your reservation and address any questions you may have about the tour.
Payment is in cash upon your arrival in Morocco.
This is a private tour, and we'll customize it to your group's size. If you're a solo traveler looking to join a group, please contact us.
1
options
General price:
Adult (18+ years)
€

480 / ticket
|
Youth (13-17 years)
€

480 / ticket
|
Children (0-12 years)
€

480 / ticket
Options
guests <= 2

Price

Adult (18+ years)

€

850 / ticket |

Youth (13-17 years)

€

850 / ticket |

Children (0-12 years)

€

850 / ticket

guests = 3

Price

Adult (18+ years)

€

750 / ticket |

Youth (13-17 years)

€

750 / ticket |

Children (0-12 years)

€

750 / ticket

guests = 4

Price

Adult (18+ years)

€

650 / ticket |

Youth (13-17 years)

€

650 / ticket |

Children (0-12 years)

€

650 / ticket

guests >= 5

Price

Adult (18+ years)

€

480 / ticket |

Youth (13-17 years)

€

480 / ticket |

Children (0-12 years)

€

480 / ticket
2
options
General price:
Adult (18+ years)
€

480 / ticket
|
Youth (13-17 years)
€

480 / ticket
|
Children (0-12 years)
€

480 / ticket
Options
guests <= 2

Price

Adult (18+ years)

€

850 / ticket |

Youth (13-17 years)

€

850 / ticket |

Children (0-12 years)

€

850 / ticket

guests = 3

Price

Adult (18+ years)

€

750 / ticket |

Youth (13-17 years)

€

750 / ticket |

Children (0-12 years)

€

750 / ticket

guests = 4

Price

Adult (18+ years)

€

650 / ticket |

Youth (13-17 years)

€

650 / ticket |

Children (0-12 years)

€

650 / ticket

guests >= 5

Price

Adult (18+ years)

€

480 / ticket |

Youth (13-17 years)

€

480 / ticket |

Children (0-12 years)

€

480 / ticket
3
options
General price:
Adult (18+ years)
€

480 / ticket
|
Youth (13-17 years)
€

480 / ticket
|
Children (0-12 years)
€

480 / ticket
Options
guests <= 2

Price

Adult (18+ years)

€

850 / ticket |

Youth (13-17 years)

€

850 / ticket |

Children (0-12 years)

€

850 / ticket

guests = 3

Price

Adult (18+ years)

€

750 / ticket |

Youth (13-17 years)

€

750 / ticket |

Children (0-12 years)

€

750 / ticket

guests = 4

Price

Adult (18+ years)

€

650 / ticket |

Youth (13-17 years)

€

650 / ticket |

Children (0-12 years)

€

650 / ticket

guests >= 5

Price

Adult (18+ years)

€

480 / ticket |

Youth (13-17 years)

€

480 / ticket |

Children (0-12 years)

€

480 / ticket
4
options
General price:
Adult (18+ years)
€

480 / ticket
|
Youth (13-17 years)
€

480 / ticket
|
Children (0-12 years)
€

480 / ticket
Options
guests <= 2

Price

Adult (18+ years)

€

850 / ticket |

Youth (13-17 years)

€

850 / ticket |

Children (0-12 years)

€

850 / ticket

guests = 3

Price

Adult (18+ years)

€

750 / ticket |

Youth (13-17 years)

€

750 / ticket |

Children (0-12 years)

€

750 / ticket

guests = 4

Price

Adult (18+ years)

€

650 / ticket |

Youth (13-17 years)

€

650 / ticket |

Children (0-12 years)

€

650 / ticket

guests >= 5

Price

Adult (18+ years)

€

480 / ticket |

Youth (13-17 years)

€

480 / ticket |

Children (0-12 years)

€

480 / ticket
5
options
General price:
Adult (18+ years)
€

480 / ticket
|
Youth (13-17 years)
€

480 / ticket
|
Children (0-12 years)
€

480 / ticket
Options
guests <= 2

Price

Adult (18+ years)

€

850 / ticket |

Youth (13-17 years)

€

850 / ticket |

Children (0-12 years)

€

850 / ticket

guests = 3

Price

Adult (18+ years)

€

750 / ticket |

Youth (13-17 years)

€

750 / ticket |

Children (0-12 years)

€

750 / ticket

guests = 4

Price

Adult (18+ years)

€

650 / ticket |

Youth (13-17 years)

€

650 / ticket |

Children (0-12 years)

€

650 / ticket

guests >= 5

Price

Adult (18+ years)

€

480 / ticket |

Youth (13-17 years)

€

480 / ticket |

Children (0-12 years)

€

480 / ticket
6
options
General price:
Adult (18+ years)
€

480 / ticket
|
Youth (13-17 years)
€

480 / ticket
|
Children (0-12 years)
€

480 / ticket
Options
guests <= 2

Price

Adult (18+ years)

€

850 / ticket |

Youth (13-17 years)

€

850 / ticket |

Children (0-12 years)

€

850 / ticket

guests = 3

Price

Adult (18+ years)

€

750 / ticket |

Youth (13-17 years)

€

750 / ticket |

Children (0-12 years)

€

750 / ticket

guests = 4

Price

Adult (18+ years)

€

650 / ticket |

Youth (13-17 years)

€

650 / ticket |

Children (0-12 years)

€

650 / ticket

guests >= 5

Price

Adult (18+ years)

€

480 / ticket |

Youth (13-17 years)

€

480 / ticket |

Children (0-12 years)

€

480 / ticket
7
options
General price:
Adult (18+ years)
€

480 / ticket
|
Youth (13-17 years)
€

480 / ticket
|
Children (0-12 years)
€

480 / ticket
Options
guests <= 2

Price

Adult (18+ years)

€

850 / ticket |

Youth (13-17 years)

€

850 / ticket |

Children (0-12 years)

€

850 / ticket

guests = 3

Price

Adult (18+ years)

€

750 / ticket |

Youth (13-17 years)

€

750 / ticket |

Children (0-12 years)

€

750 / ticket

guests = 4

Price

Adult (18+ years)

€

650 / ticket |

Youth (13-17 years)

€

650 / ticket |

Children (0-12 years)

€

650 / ticket

guests >= 5

Price

Adult (18+ years)

€

480 / ticket |

Youth (13-17 years)

€

480 / ticket |

Children (0-12 years)

€

480 / ticket
8
options
General price:
Adult (18+ years)
€

480 / ticket
|
Youth (13-17 years)
€

480 / ticket
|
Children (0-12 years)
€

480 / ticket
Options
guests <= 2

Price

Adult (18+ years)

€

850 / ticket |

Youth (13-17 years)

€

850 / ticket |

Children (0-12 years)

€

850 / ticket

guests = 3

Price

Adult (18+ years)

€

750 / ticket |

Youth (13-17 years)

€

750 / ticket |

Children (0-12 years)

€

750 / ticket

guests = 4

Price

Adult (18+ years)

€

650 / ticket |

Youth (13-17 years)

€

650 / ticket |

Children (0-12 years)

€

650 / ticket

guests >= 5

Price

Adult (18+ years)

€

480 / ticket |

Youth (13-17 years)

€

480 / ticket |

Children (0-12 years)

€

480 / ticket
9
options
General price:
Adult (18+ years)
€

480 / ticket
|
Youth (13-17 years)
€

480 / ticket
|
Children (0-12 years)
€

480 / ticket
Options
guests <= 2

Price

Adult (18+ years)

€

850 / ticket |

Youth (13-17 years)

€

850 / ticket |

Children (0-12 years)

€

850 / ticket

guests = 3

Price

Adult (18+ years)

€

750 / ticket |

Youth (13-17 years)

€

750 / ticket |

Children (0-12 years)

€

750 / ticket

guests = 4

Price

Adult (18+ years)

€

650 / ticket |

Youth (13-17 years)

€

650 / ticket |

Children (0-12 years)

€

650 / ticket

guests >= 5

Price

Adult (18+ years)

€

480 / ticket |

Youth (13-17 years)

€

480 / ticket |

Children (0-12 years)

€

480 / ticket
10
options
General price:
Adult (18+ years)
€

480 / ticket
|
Youth (13-17 years)
€

480 / ticket
|
Children (0-12 years)
€

480 / ticket
Options
guests <= 2

Price

Adult (18+ years)

€

850 / ticket |

Youth (13-17 years)

€

850 / ticket |

Children (0-12 years)

€

850 / ticket

guests = 3

Price

Adult (18+ years)

€

750 / ticket |

Youth (13-17 years)

€

750 / ticket |

Children (0-12 years)

€

750 / ticket

guests = 4

Price

Adult (18+ years)

€

650 / ticket |

Youth (13-17 years)

€

650 / ticket |

Children (0-12 years)

€

650 / ticket

guests >= 5

Price

Adult (18+ years)

€

480 / ticket |

Youth (13-17 years)

€

480 / ticket |

Children (0-12 years)

€

480 / ticket
11
options
General price:
Adult (18+ years)
€

480 / ticket
|
Youth (13-17 years)
€

480 / ticket
|
Children (0-12 years)
€

480 / ticket
Options
guests <= 2

Price

Adult (18+ years)

€

850 / ticket |

Youth (13-17 years)

€

850 / ticket |

Children (0-12 years)

€

850 / ticket

guests = 3

Price

Adult (18+ years)

€

750 / ticket |

Youth (13-17 years)

€

750 / ticket |

Children (0-12 years)

€

750 / ticket

guests = 4

Price

Adult (18+ years)

€

650 / ticket |

Youth (13-17 years)

€

650 / ticket |

Children (0-12 years)

€

650 / ticket

guests >= 5

Price

Adult (18+ years)

€

480 / ticket |

Youth (13-17 years)

€

480 / ticket |

Children (0-12 years)

€

480 / ticket
12
options
General price:
Adult (18+ years)
€

480 / ticket
|
Youth (13-17 years)
€

480 / ticket
|
Children (0-12 years)
€

480 / ticket
Options
guests <= 2

Price

Adult (18+ years)

€

850 / ticket |

Youth (13-17 years)

€

850 / ticket |

Children (0-12 years)

€

850 / ticket

guests = 3

Price

Adult (18+ years)

€

750 / ticket |

Youth (13-17 years)

€

750 / ticket |

Children (0-12 years)

€

750 / ticket

guests = 4

Price

Adult (18+ years)

€

650 / ticket |

Youth (13-17 years)

€

650 / ticket |

Children (0-12 years)

€

650 / ticket

guests >= 5

Price

Adult (18+ years)

€

480 / ticket |

Youth (13-17 years)

€

480 / ticket |

Children (0-12 years)

€

480 / ticket
13
options
General price:
Adult (18+ years)
€

480 / ticket
|
Youth (13-17 years)
€

480 / ticket
|
Children (0-12 years)
€

480 / ticket
Options
guests <= 2

Price

Adult (18+ years)

€

850 / ticket |

Youth (13-17 years)

€

850 / ticket |

Children (0-12 years)

€

850 / ticket

guests = 3

Price

Adult (18+ years)

€

750 / ticket |

Youth (13-17 years)

€

750 / ticket |

Children (0-12 years)

€

750 / ticket

guests = 4

Price

Adult (18+ years)

€

650 / ticket |

Youth (13-17 years)

€

650 / ticket |

Children (0-12 years)

€

650 / ticket

guests >= 5

Price

Adult (18+ years)

€

480 / ticket |

Youth (13-17 years)

€

480 / ticket |

Children (0-12 years)

€

480 / ticket
14
options
General price:
Adult (18+ years)
€

480 / ticket
|
Youth (13-17 years)
€

480 / ticket
|
Children (0-12 years)
€

480 / ticket
Options
guests <= 2

Price

Adult (18+ years)

€

850 / ticket |

Youth (13-17 years)

€

850 / ticket |

Children (0-12 years)

€

850 / ticket

guests = 3

Price

Adult (18+ years)

€

750 / ticket |

Youth (13-17 years)

€

750 / ticket |

Children (0-12 years)

€

750 / ticket

guests = 4

Price

Adult (18+ years)

€

650 / ticket |

Youth (13-17 years)

€

650 / ticket |

Children (0-12 years)

€

650 / ticket

guests >= 5

Price

Adult (18+ years)

€

480 / ticket |

Youth (13-17 years)

€

480 / ticket |

Children (0-12 years)

€

480 / ticket
15
options
General price:
Adult (18+ years)
€

480 / ticket
|
Youth (13-17 years)
€

480 / ticket
|
Children (0-12 years)
€

480 / ticket
Options
guests <= 2

Price

Adult (18+ years)

€

850 / ticket |

Youth (13-17 years)

€

850 / ticket |

Children (0-12 years)

€

850 / ticket

guests = 3

Price

Adult (18+ years)

€

750 / ticket |

Youth (13-17 years)

€

750 / ticket |

Children (0-12 years)

€

750 / ticket

guests = 4

Price

Adult (18+ years)

€

650 / ticket |

Youth (13-17 years)

€

650 / ticket |

Children (0-12 years)

€

650 / ticket

guests >= 5

Price

Adult (18+ years)

€

480 / ticket |

Youth (13-17 years)

€

480 / ticket |

Children (0-12 years)

€

480 / ticket
16
options
General price:
Adult (18+ years)
€

480 / ticket
|
Youth (13-17 years)
€

480 / ticket
|
Children (0-12 years)
€

480 / ticket
Options
guests <= 2

Price

Adult (18+ years)

€

850 / ticket |

Youth (13-17 years)

€

850 / ticket |

Children (0-12 years)

€

850 / ticket

guests = 3

Price

Adult (18+ years)

€

750 / ticket |

Youth (13-17 years)

€

750 / ticket |

Children (0-12 years)

€

750 / ticket

guests = 4

Price

Adult (18+ years)

€

650 / ticket |

Youth (13-17 years)

€

650 / ticket |

Children (0-12 years)

€

650 / ticket

guests >= 5

Price

Adult (18+ years)

€

480 / ticket |

Youth (13-17 years)

€

480 / ticket |

Children (0-12 years)

€

480 / ticket
17
options
General price:
Adult (18+ years)
€

480 / ticket
|
Youth (13-17 years)
€

480 / ticket
|
Children (0-12 years)
€

480 / ticket
Options
guests <= 2

Price

Adult (18+ years)

€

850 / ticket |

Youth (13-17 years)

€

850 / ticket |

Children (0-12 years)

€

850 / ticket

guests = 3

Price

Adult (18+ years)

€

750 / ticket |

Youth (13-17 years)

€

750 / ticket |

Children (0-12 years)

€

750 / ticket

guests = 4

Price

Adult (18+ years)

€

650 / ticket |

Youth (13-17 years)

€

650 / ticket |

Children (0-12 years)

€

650 / ticket

guests >= 5

Price

Adult (18+ years)

€

480 / ticket |

Youth (13-17 years)

€

480 / ticket |

Children (0-12 years)

€

480 / ticket
18
options
General price:
Adult (18+ years)
€

480 / ticket
|
Youth (13-17 years)
€

480 / ticket
|
Children (0-12 years)
€

480 / ticket
Options
guests <= 2

Price

Adult (18+ years)

€

850 / ticket |

Youth (13-17 years)

€

850 / ticket |

Children (0-12 years)

€

850 / ticket

guests = 3

Price

Adult (18+ years)

€

750 / ticket |

Youth (13-17 years)

€

750 / ticket |

Children (0-12 years)

€

750 / ticket

guests = 4

Price

Adult (18+ years)

€

650 / ticket |

Youth (13-17 years)

€

650 / ticket |

Children (0-12 years)

€

650 / ticket

guests >= 5

Price

Adult (18+ years)

€

480 / ticket |

Youth (13-17 years)

€

480 / ticket |

Children (0-12 years)

€

480 / ticket
19
options
General price:
Adult (18+ years)
€

480 / ticket
|
Youth (13-17 years)
€

480 / ticket
|
Children (0-12 years)
€

480 / ticket
Options
guests <= 2

Price

Adult (18+ years)

€

850 / ticket |

Youth (13-17 years)

€

850 / ticket |

Children (0-12 years)

€

850 / ticket

guests = 3

Price

Adult (18+ years)

€

750 / ticket |

Youth (13-17 years)

€

750 / ticket |

Children (0-12 years)

€

750 / ticket

guests = 4

Price

Adult (18+ years)

€

650 / ticket |

Youth (13-17 years)

€

650 / ticket |

Children (0-12 years)

€

650 / ticket

guests >= 5

Price

Adult (18+ years)

€

480 / ticket |

Youth (13-17 years)

€

480 / ticket |

Children (0-12 years)

€

480 / ticket
20
options
General price:
Adult (18+ years)
€

480 / ticket
|
Youth (13-17 years)
€

480 / ticket
|
Children (0-12 years)
€

480 / ticket
Options
guests <= 2

Price

Adult (18+ years)

€

850 / ticket |

Youth (13-17 years)

€

850 / ticket |

Children (0-12 years)

€

850 / ticket

guests = 3

Price

Adult (18+ years)

€

750 / ticket |

Youth (13-17 years)

€

750 / ticket |

Children (0-12 years)

€

750 / ticket

guests = 4

Price

Adult (18+ years)

€

650 / ticket |

Youth (13-17 years)

€

650 / ticket |

Children (0-12 years)

€

650 / ticket

guests >= 5

Price

Adult (18+ years)

€

480 / ticket |

Youth (13-17 years)

€

480 / ticket |

Children (0-12 years)

€

480 / ticket
21
options
General price:
Adult (18+ years)
€

480 / ticket
|
Youth (13-17 years)
€

480 / ticket
|
Children (0-12 years)
€

480 / ticket
Options
guests <= 2

Price

Adult (18+ years)

€

850 / ticket |

Youth (13-17 years)

€

850 / ticket |

Children (0-12 years)

€

850 / ticket

guests = 3

Price

Adult (18+ years)

€

750 / ticket |

Youth (13-17 years)

€

750 / ticket |

Children (0-12 years)

€

750 / ticket

guests = 4

Price

Adult (18+ years)

€

650 / ticket |

Youth (13-17 years)

€

650 / ticket |

Children (0-12 years)

€

650 / ticket

guests >= 5

Price

Adult (18+ years)

€

480 / ticket |

Youth (13-17 years)

€

480 / ticket |

Children (0-12 years)

€

480 / ticket
22
options
General price:
Adult (18+ years)
€

480 / ticket
|
Youth (13-17 years)
€

480 / ticket
|
Children (0-12 years)
€

480 / ticket
Options
guests <= 2

Price

Adult (18+ years)

€

850 / ticket |

Youth (13-17 years)

€

850 / ticket |

Children (0-12 years)

€

850 / ticket

guests = 3

Price

Adult (18+ years)

€

750 / ticket |

Youth (13-17 years)

€

750 / ticket |

Children (0-12 years)

€

750 / ticket

guests = 4

Price

Adult (18+ years)

€

650 / ticket |

Youth (13-17 years)

€

650 / ticket |

Children (0-12 years)

€

650 / ticket

guests >= 5

Price

Adult (18+ years)

€

480 / ticket |

Youth (13-17 years)

€

480 / ticket |

Children (0-12 years)

€

480 / ticket
23
options
General price:
Adult (18+ years)
€

480 / ticket
|
Youth (13-17 years)
€

480 / ticket
|
Children (0-12 years)
€

480 / ticket
Options
guests <= 2

Price

Adult (18+ years)

€

850 / ticket |

Youth (13-17 years)

€

850 / ticket |

Children (0-12 years)

€

850 / ticket

guests = 3

Price

Adult (18+ years)

€

750 / ticket |

Youth (13-17 years)

€

750 / ticket |

Children (0-12 years)

€

750 / ticket

guests = 4

Price

Adult (18+ years)

€

650 / ticket |

Youth (13-17 years)

€

650 / ticket |

Children (0-12 years)

€

650 / ticket

guests >= 5

Price

Adult (18+ years)

€

480 / ticket |

Youth (13-17 years)

€

480 / ticket |

Children (0-12 years)

€

480 / ticket
24
options
General price:
Adult (18+ years)
€

480 / ticket
|
Youth (13-17 years)
€

480 / ticket
|
Children (0-12 years)
€

480 / ticket
Options
guests <= 2

Price

Adult (18+ years)

€

850 / ticket |

Youth (13-17 years)

€

850 / ticket |

Children (0-12 years)

€

850 / ticket

guests = 3

Price

Adult (18+ years)

€

750 / ticket |

Youth (13-17 years)

€

750 / ticket |

Children (0-12 years)

€

750 / ticket

guests = 4

Price

Adult (18+ years)

€

650 / ticket |

Youth (13-17 years)

€

650 / ticket |

Children (0-12 years)

€

650 / ticket

guests >= 5

Price

Adult (18+ years)

€

480 / ticket |

Youth (13-17 years)

€

480 / ticket |

Children (0-12 years)

€

480 / ticket
25
options
General price:
Adult (18+ years)
€

480 / ticket
|
Youth (13-17 years)
€

480 / ticket
|
Children (0-12 years)
€

480 / ticket
Options
guests <= 2

Price

Adult (18+ years)

€

850 / ticket |

Youth (13-17 years)

€

850 / ticket |

Children (0-12 years)

€

850 / ticket

guests = 3

Price

Adult (18+ years)

€

750 / ticket |

Youth (13-17 years)

€

750 / ticket |

Children (0-12 years)

€

750 / ticket

guests = 4

Price

Adult (18+ years)

€

650 / ticket |

Youth (13-17 years)

€

650 / ticket |

Children (0-12 years)

€

650 / ticket

guests >= 5

Price

Adult (18+ years)

€

480 / ticket |

Youth (13-17 years)

€

480 / ticket |

Children (0-12 years)

€

480 / ticket
26
options
General price:
Adult (18+ years)
€

480 / ticket
|
Youth (13-17 years)
€

480 / ticket
|
Children (0-12 years)
€

480 / ticket
Options
guests <= 2

Price

Adult (18+ years)

€

850 / ticket |

Youth (13-17 years)

€

850 / ticket |

Children (0-12 years)

€

850 / ticket

guests = 3

Price

Adult (18+ years)

€

750 / ticket |

Youth (13-17 years)

€

750 / ticket |

Children (0-12 years)

€

750 / ticket

guests = 4

Price

Adult (18+ years)

€

650 / ticket |

Youth (13-17 years)

€

650 / ticket |

Children (0-12 years)

€

650 / ticket

guests >= 5

Price

Adult (18+ years)

€

480 / ticket |

Youth (13-17 years)

€

480 / ticket |

Children (0-12 years)

€

480 / ticket
27
options
General price:
Adult (18+ years)
€

480 / ticket
|
Youth (13-17 years)
€

480 / ticket
|
Children (0-12 years)
€

480 / ticket
Options
guests <= 2

Price

Adult (18+ years)

€

850 / ticket |

Youth (13-17 years)

€

850 / ticket |

Children (0-12 years)

€

850 / ticket

guests = 3

Price

Adult (18+ years)

€

750 / ticket |

Youth (13-17 years)

€

750 / ticket |

Children (0-12 years)

€

750 / ticket

guests = 4

Price

Adult (18+ years)

€

650 / ticket |

Youth (13-17 years)

€

650 / ticket |

Children (0-12 years)

€

650 / ticket

guests >= 5

Price

Adult (18+ years)

€

480 / ticket |

Youth (13-17 years)

€

480 / ticket |

Children (0-12 years)

€

480 / ticket
28
options
General price:
Adult (18+ years)
€

480 / ticket
|
Youth (13-17 years)
€

480 / ticket
|
Children (0-12 years)
€

480 / ticket
Options
guests <= 2

Price

Adult (18+ years)

€

850 / ticket |

Youth (13-17 years)

€

850 / ticket |

Children (0-12 years)

€

850 / ticket

guests = 3

Price

Adult (18+ years)

€

750 / ticket |

Youth (13-17 years)

€

750 / ticket |

Children (0-12 years)

€

750 / ticket

guests = 4

Price

Adult (18+ years)

€

650 / ticket |

Youth (13-17 years)

€

650 / ticket |

Children (0-12 years)

€

650 / ticket

guests >= 5

Price

Adult (18+ years)

€

480 / ticket |

Youth (13-17 years)

€

480 / ticket |

Children (0-12 years)

€

480 / ticket
29
options
General price:
Adult (18+ years)
€

480 / ticket
|
Youth (13-17 years)
€

480 / ticket
|
Children (0-12 years)
€

480 / ticket
Options
guests <= 2

Price

Adult (18+ years)

€

850 / ticket |

Youth (13-17 years)

€

850 / ticket |

Children (0-12 years)

€

850 / ticket

guests = 3

Price

Adult (18+ years)

€

750 / ticket |

Youth (13-17 years)

€

750 / ticket |

Children (0-12 years)

€

750 / ticket

guests = 4

Price

Adult (18+ years)

€

650 / ticket |

Youth (13-17 years)

€

650 / ticket |

Children (0-12 years)

€

650 / ticket

guests >= 5

Price

Adult (18+ years)

€

480 / ticket |

Youth (13-17 years)

€

480 / ticket |

Children (0-12 years)

€

480 / ticket
30
options
General price:
Adult (18+ years)
€

480 / ticket
|
Youth (13-17 years)
€

480 / ticket
|
Children (0-12 years)
€

480 / ticket
Options
guests <= 2

Price

Adult (18+ years)

€

850 / ticket |

Youth (13-17 years)

€

850 / ticket |

Children (0-12 years)

€

850 / ticket

guests = 3

Price

Adult (18+ years)

€

750 / ticket |

Youth (13-17 years)

€

750 / ticket |

Children (0-12 years)

€

750 / ticket

guests = 4

Price

Adult (18+ years)

€

650 / ticket |

Youth (13-17 years)

€

650 / ticket |

Children (0-12 years)

€

650 / ticket

guests >= 5

Price

Adult (18+ years)

€

480 / ticket |

Youth (13-17 years)

€

480 / ticket |

Children (0-12 years)

€

480 / ticket
31
options
General price:
Adult (18+ years)
€

480 / ticket
|
Youth (13-17 years)
€

480 / ticket
|
Children (0-12 years)
€

480 / ticket
Options
guests <= 2

Price

Adult (18+ years)

€

850 / ticket |

Youth (13-17 years)

€

850 / ticket |

Children (0-12 years)

€

850 / ticket

guests = 3

Price

Adult (18+ years)

€

750 / ticket |

Youth (13-17 years)

€

750 / ticket |

Children (0-12 years)

€

750 / ticket

guests = 4

Price

Adult (18+ years)

€

650 / ticket |

Youth (13-17 years)

€

650 / ticket |

Children (0-12 years)

€

650 / ticket

guests >= 5

Price

Adult (18+ years)

€

480 / ticket |

Youth (13-17 years)

€

480 / ticket |

Children (0-12 years)

€

480 / ticket
1
options
General price:
Adult (18+ years)
€

480 / ticket
|
Youth (13-17 years)
€

480 / ticket
|
Children (0-12 years)
€

480 / ticket
Options
guests <= 2

Price

Adult (18+ years)

€

850 / ticket |

Youth (13-17 years)

€

850 / ticket |

Children (0-12 years)

€

850 / ticket

guests = 3

Price

Adult (18+ years)

€

750 / ticket |

Youth (13-17 years)

€

750 / ticket |

Children (0-12 years)

€

750 / ticket

guests = 4

Price

Adult (18+ years)

€

650 / ticket |

Youth (13-17 years)

€

650 / ticket |

Children (0-12 years)

€

650 / ticket

guests >= 5

Price

Adult (18+ years)

€

480 / ticket |

Youth (13-17 years)

€

480 / ticket |

Children (0-12 years)

€

480 / ticket
2
options
General price:
Adult (18+ years)
€

480 / ticket
|
Youth (13-17 years)
€

480 / ticket
|
Children (0-12 years)
€

480 / ticket
Options
guests <= 2

Price

Adult (18+ years)

€

850 / ticket |

Youth (13-17 years)

€

850 / ticket |

Children (0-12 years)

€

850 / ticket

guests = 3

Price

Adult (18+ years)

€

750 / ticket |

Youth (13-17 years)

€

750 / ticket |

Children (0-12 years)

€

750 / ticket

guests = 4

Price

Adult (18+ years)

€

650 / ticket |

Youth (13-17 years)

€

650 / ticket |

Children (0-12 years)

€

650 / ticket

guests >= 5

Price

Adult (18+ years)

€

480 / ticket |

Youth (13-17 years)

€

480 / ticket |

Children (0-12 years)

€

480 / ticket
3
options
General price:
Adult (18+ years)
€

480 / ticket
|
Youth (13-17 years)
€

480 / ticket
|
Children (0-12 years)
€

480 / ticket
Options
guests <= 2

Price

Adult (18+ years)

€

850 / ticket |

Youth (13-17 years)

€

850 / ticket |

Children (0-12 years)

€

850 / ticket

guests = 3

Price

Adult (18+ years)

€

750 / ticket |

Youth (13-17 years)

€

750 / ticket |

Children (0-12 years)

€

750 / ticket

guests = 4

Price

Adult (18+ years)

€

650 / ticket |

Youth (13-17 years)

€

650 / ticket |

Children (0-12 years)

€

650 / ticket

guests >= 5

Price

Adult (18+ years)

€

480 / ticket |

Youth (13-17 years)

€

480 / ticket |

Children (0-12 years)

€

480 / ticket
4
options
General price:
Adult (18+ years)
€

480 / ticket
|
Youth (13-17 years)
€

480 / ticket
|
Children (0-12 years)
€

480 / ticket
Options
guests <= 2

Price

Adult (18+ years)

€

850 / ticket |

Youth (13-17 years)

€

850 / ticket |

Children (0-12 years)

€

850 / ticket

guests = 3

Price

Adult (18+ years)

€

750 / ticket |

Youth (13-17 years)

€

750 / ticket |

Children (0-12 years)

€

750 / ticket

guests = 4

Price

Adult (18+ years)

€

650 / ticket |

Youth (13-17 years)

€

650 / ticket |

Children (0-12 years)

€

650 / ticket

guests >= 5

Price

Adult (18+ years)

€

480 / ticket |

Youth (13-17 years)

€

480 / ticket |

Children (0-12 years)

€

480 / ticket
5
options
General price:
Adult (18+ years)
€

480 / ticket
|
Youth (13-17 years)
€

480 / ticket
|
Children (0-12 years)
€

480 / ticket
Options
guests <= 2

Price

Adult (18+ years)

€

850 / ticket |

Youth (13-17 years)

€

850 / ticket |

Children (0-12 years)

€

850 / ticket

guests = 3

Price

Adult (18+ years)

€

750 / ticket |

Youth (13-17 years)

€

750 / ticket |

Children (0-12 years)

€

750 / ticket

guests = 4

Price

Adult (18+ years)

€

650 / ticket |

Youth (13-17 years)

€

650 / ticket |

Children (0-12 years)

€

650 / ticket

guests >= 5

Price

Adult (18+ years)

€

480 / ticket |

Youth (13-17 years)

€

480 / ticket |

Children (0-12 years)

€

480 / ticket
6
options
General price:
Adult (18+ years)
€

480 / ticket
|
Youth (13-17 years)
€

480 / ticket
|
Children (0-12 years)
€

480 / ticket
Options
guests <= 2

Price

Adult (18+ years)

€

850 / ticket |

Youth (13-17 years)

€

850 / ticket |

Children (0-12 years)

€

850 / ticket

guests = 3

Price

Adult (18+ years)

€

750 / ticket |

Youth (13-17 years)

€

750 / ticket |

Children (0-12 years)

€

750 / ticket

guests = 4

Price

Adult (18+ years)

€

650 / ticket |

Youth (13-17 years)

€

650 / ticket |

Children (0-12 years)

€

650 / ticket

guests >= 5

Price

Adult (18+ years)

€

480 / ticket |

Youth (13-17 years)

€

480 / ticket |

Children (0-12 years)

€

480 / ticket
7
options
General price:
Adult (18+ years)
€

480 / ticket
|
Youth (13-17 years)
€

480 / ticket
|
Children (0-12 years)
€

480 / ticket
Options
guests <= 2

Price

Adult (18+ years)

€

850 / ticket |

Youth (13-17 years)

€

850 / ticket |

Children (0-12 years)

€

850 / ticket

guests = 3

Price

Adult (18+ years)

€

750 / ticket |

Youth (13-17 years)

€

750 / ticket |

Children (0-12 years)

€

750 / ticket

guests = 4

Price

Adult (18+ years)

€

650 / ticket |

Youth (13-17 years)

€

650 / ticket |

Children (0-12 years)

€

650 / ticket

guests >= 5

Price

Adult (18+ years)

€

480 / ticket |

Youth (13-17 years)

€

480 / ticket |

Children (0-12 years)

€

480 / ticket
8
options
General price:
Adult (18+ years)
€

480 / ticket
|
Youth (13-17 years)
€

480 / ticket
|
Children (0-12 years)
€

480 / ticket
Options
guests <= 2

Price

Adult (18+ years)

€

850 / ticket |

Youth (13-17 years)

€

850 / ticket |

Children (0-12 years)

€

850 / ticket

guests = 3

Price

Adult (18+ years)

€

750 / ticket |

Youth (13-17 years)

€

750 / ticket |

Children (0-12 years)

€

750 / ticket

guests = 4

Price

Adult (18+ years)

€

650 / ticket |

Youth (13-17 years)

€

650 / ticket |

Children (0-12 years)

€

650 / ticket

guests >= 5

Price

Adult (18+ years)

€

480 / ticket |

Youth (13-17 years)

€

480 / ticket |

Children (0-12 years)

€

480 / ticket
9
options
General price:
Adult (18+ years)
€

480 / ticket
|
Youth (13-17 years)
€

480 / ticket
|
Children (0-12 years)
€

480 / ticket
Options
guests <= 2

Price

Adult (18+ years)

€

850 / ticket |

Youth (13-17 years)

€

850 / ticket |

Children (0-12 years)

€

850 / ticket

guests = 3

Price

Adult (18+ years)

€

750 / ticket |

Youth (13-17 years)

€

750 / ticket |

Children (0-12 years)

€

750 / ticket

guests = 4

Price

Adult (18+ years)

€

650 / ticket |

Youth (13-17 years)

€

650 / ticket |

Children (0-12 years)

€

650 / ticket

guests >= 5

Price

Adult (18+ years)

€

480 / ticket |

Youth (13-17 years)

€

480 / ticket |

Children (0-12 years)

€

480 / ticket
10
options
General price:
Adult (18+ years)
€

480 / ticket
|
Youth (13-17 years)
€

480 / ticket
|
Children (0-12 years)
€

480 / ticket
Options
guests <= 2

Price

Adult (18+ years)

€

850 / ticket |

Youth (13-17 years)

€

850 / ticket |

Children (0-12 years)

€

850 / ticket

guests = 3

Price

Adult (18+ years)

€

750 / ticket |

Youth (13-17 years)

€

750 / ticket |

Children (0-12 years)

€

750 / ticket

guests = 4

Price

Adult (18+ years)

€

650 / ticket |

Youth (13-17 years)

€

650 / ticket |

Children (0-12 years)

€

650 / ticket

guests >= 5

Price

Adult (18+ years)

€

480 / ticket |

Youth (13-17 years)

€

480 / ticket |

Children (0-12 years)

€

480 / ticket
11
options
General price:
Adult (18+ years)
€

480 / ticket
|
Youth (13-17 years)
€

480 / ticket
|
Children (0-12 years)
€

480 / ticket
Options
guests <= 2

Price

Adult (18+ years)

€

850 / ticket |

Youth (13-17 years)

€

850 / ticket |

Children (0-12 years)

€

850 / ticket

guests = 3

Price

Adult (18+ years)

€

750 / ticket |

Youth (13-17 years)

€

750 / ticket |

Children (0-12 years)

€

750 / ticket

guests = 4

Price

Adult (18+ years)

€

650 / ticket |

Youth (13-17 years)

€

650 / ticket |

Children (0-12 years)

€

650 / ticket

guests >= 5

Price

Adult (18+ years)

€

480 / ticket |

Youth (13-17 years)

€

480 / ticket |

Children (0-12 years)

€

480 / ticket
12
options
General price:
Adult (18+ years)
€

480 / ticket
|
Youth (13-17 years)
€

480 / ticket
|
Children (0-12 years)
€

480 / ticket
Options
guests <= 2

Price

Adult (18+ years)

€

850 / ticket |

Youth (13-17 years)

€

850 / ticket |

Children (0-12 years)

€

850 / ticket

guests = 3

Price

Adult (18+ years)

€

750 / ticket |

Youth (13-17 years)

€

750 / ticket |

Children (0-12 years)

€

750 / ticket

guests = 4

Price

Adult (18+ years)

€

650 / ticket |

Youth (13-17 years)

€

650 / ticket |

Children (0-12 years)

€

650 / ticket

guests >= 5

Price

Adult (18+ years)

€

480 / ticket |

Youth (13-17 years)

€

480 / ticket |

Children (0-12 years)

€

480 / ticket
13
options
General price:
Adult (18+ years)
€

480 / ticket
|
Youth (13-17 years)
€

480 / ticket
|
Children (0-12 years)
€

480 / ticket
Options
guests <= 2

Price

Adult (18+ years)

€

850 / ticket |

Youth (13-17 years)

€

850 / ticket |

Children (0-12 years)

€

850 / ticket

guests = 3

Price

Adult (18+ years)

€

750 / ticket |

Youth (13-17 years)

€

750 / ticket |

Children (0-12 years)

€

750 / ticket

guests = 4

Price

Adult (18+ years)

€

650 / ticket |

Youth (13-17 years)

€

650 / ticket |

Children (0-12 years)

€

650 / ticket

guests >= 5

Price

Adult (18+ years)

€

480 / ticket |

Youth (13-17 years)

€

480 / ticket |

Children (0-12 years)

€

480 / ticket
14
options
General price:
Adult (18+ years)
€

480 / ticket
|
Youth (13-17 years)
€

480 / ticket
|
Children (0-12 years)
€

480 / ticket
Options
guests <= 2

Price

Adult (18+ years)

€

850 / ticket |

Youth (13-17 years)

€

850 / ticket |

Children (0-12 years)

€

850 / ticket

guests = 3

Price

Adult (18+ years)

€

750 / ticket |

Youth (13-17 years)

€

750 / ticket |

Children (0-12 years)

€

750 / ticket

guests = 4

Price

Adult (18+ years)

€

650 / ticket |

Youth (13-17 years)

€

650 / ticket |

Children (0-12 years)

€

650 / ticket

guests >= 5

Price

Adult (18+ years)

€

480 / ticket |

Youth (13-17 years)

€

480 / ticket |

Children (0-12 years)

€

480 / ticket
15
options
General price:
Adult (18+ years)
€

480 / ticket
|
Youth (13-17 years)
€

480 / ticket
|
Children (0-12 years)
€

480 / ticket
Options
guests <= 2

Price

Adult (18+ years)

€

850 / ticket |

Youth (13-17 years)

€

850 / ticket |

Children (0-12 years)

€

850 / ticket

guests = 3

Price

Adult (18+ years)

€

750 / ticket |

Youth (13-17 years)

€

750 / ticket |

Children (0-12 years)

€

750 / ticket

guests = 4

Price

Adult (18+ years)

€

650 / ticket |

Youth (13-17 years)

€

650 / ticket |

Children (0-12 years)

€

650 / ticket

guests >= 5

Price

Adult (18+ years)

€

480 / ticket |

Youth (13-17 years)

€

480 / ticket |

Children (0-12 years)

€

480 / ticket
16
options
General price:
Adult (18+ years)
€

480 / ticket
|
Youth (13-17 years)
€

480 / ticket
|
Children (0-12 years)
€

480 / ticket
Options
guests <= 2

Price

Adult (18+ years)

€

850 / ticket |

Youth (13-17 years)

€

850 / ticket |

Children (0-12 years)

€

850 / ticket

guests = 3

Price

Adult (18+ years)

€

750 / ticket |

Youth (13-17 years)

€

750 / ticket |

Children (0-12 years)

€

750 / ticket

guests = 4

Price

Adult (18+ years)

€

650 / ticket |

Youth (13-17 years)

€

650 / ticket |

Children (0-12 years)

€

650 / ticket

guests >= 5

Price

Adult (18+ years)

€

480 / ticket |

Youth (13-17 years)

€

480 / ticket |

Children (0-12 years)

€

480 / ticket
17
options
General price:
Adult (18+ years)
€

480 / ticket
|
Youth (13-17 years)
€

480 / ticket
|
Children (0-12 years)
€

480 / ticket
Options
guests <= 2

Price

Adult (18+ years)

€

850 / ticket |

Youth (13-17 years)

€

850 / ticket |

Children (0-12 years)

€

850 / ticket

guests = 3

Price

Adult (18+ years)

€

750 / ticket |

Youth (13-17 years)

€

750 / ticket |

Children (0-12 years)

€

750 / ticket

guests = 4

Price

Adult (18+ years)

€

650 / ticket |

Youth (13-17 years)

€

650 / ticket |

Children (0-12 years)

€

650 / ticket

guests >= 5

Price

Adult (18+ years)

€

480 / ticket |

Youth (13-17 years)

€

480 / ticket |

Children (0-12 years)

€

480 / ticket
18
options
General price:
Adult (18+ years)
€

480 / ticket
|
Youth (13-17 years)
€

480 / ticket
|
Children (0-12 years)
€

480 / ticket
Options
guests <= 2

Price

Adult (18+ years)

€

850 / ticket |

Youth (13-17 years)

€

850 / ticket |

Children (0-12 years)

€

850 / ticket

guests = 3

Price

Adult (18+ years)

€

750 / ticket |

Youth (13-17 years)

€

750 / ticket |

Children (0-12 years)

€

750 / ticket

guests = 4

Price

Adult (18+ years)

€

650 / ticket |

Youth (13-17 years)

€

650 / ticket |

Children (0-12 years)

€

650 / ticket

guests >= 5

Price

Adult (18+ years)

€

480 / ticket |

Youth (13-17 years)

€

480 / ticket |

Children (0-12 years)

€

480 / ticket
19
options
General price:
Adult (18+ years)
€

480 / ticket
|
Youth (13-17 years)
€

480 / ticket
|
Children (0-12 years)
€

480 / ticket
Options
guests <= 2

Price

Adult (18+ years)

€

850 / ticket |

Youth (13-17 years)

€

850 / ticket |

Children (0-12 years)

€

850 / ticket

guests = 3

Price

Adult (18+ years)

€

750 / ticket |

Youth (13-17 years)

€

750 / ticket |

Children (0-12 years)

€

750 / ticket

guests = 4

Price

Adult (18+ years)

€

650 / ticket |

Youth (13-17 years)

€

650 / ticket |

Children (0-12 years)

€

650 / ticket

guests >= 5

Price

Adult (18+ years)

€

480 / ticket |

Youth (13-17 years)

€

480 / ticket |

Children (0-12 years)

€

480 / ticket
20
options
General price:
Adult (18+ years)
€

480 / ticket
|
Youth (13-17 years)
€

480 / ticket
|
Children (0-12 years)
€

480 / ticket
Options
guests <= 2

Price

Adult (18+ years)

€

850 / ticket |

Youth (13-17 years)

€

850 / ticket |

Children (0-12 years)

€

850 / ticket

guests = 3

Price

Adult (18+ years)

€

750 / ticket |

Youth (13-17 years)

€

750 / ticket |

Children (0-12 years)

€

750 / ticket

guests = 4

Price

Adult (18+ years)

€

650 / ticket |

Youth (13-17 years)

€

650 / ticket |

Children (0-12 years)

€

650 / ticket

guests >= 5

Price

Adult (18+ years)

€

480 / ticket |

Youth (13-17 years)

€

480 / ticket |

Children (0-12 years)

€

480 / ticket
21
options
General price:
Adult (18+ years)
€

480 / ticket
|
Youth (13-17 years)
€

480 / ticket
|
Children (0-12 years)
€

480 / ticket
Options
guests <= 2

Price

Adult (18+ years)

€

850 / ticket |

Youth (13-17 years)

€

850 / ticket |

Children (0-12 years)

€

850 / ticket

guests = 3

Price

Adult (18+ years)

€

750 / ticket |

Youth (13-17 years)

€

750 / ticket |

Children (0-12 years)

€

750 / ticket

guests = 4

Price

Adult (18+ years)

€

650 / ticket |

Youth (13-17 years)

€

650 / ticket |

Children (0-12 years)

€

650 / ticket

guests >= 5

Price

Adult (18+ years)

€

480 / ticket |

Youth (13-17 years)

€

480 / ticket |

Children (0-12 years)

€

480 / ticket
22
options
General price:
Adult (18+ years)
€

480 / ticket
|
Youth (13-17 years)
€

480 / ticket
|
Children (0-12 years)
€

480 / ticket
Options
guests <= 2

Price

Adult (18+ years)

€

850 / ticket |

Youth (13-17 years)

€

850 / ticket |

Children (0-12 years)

€

850 / ticket

guests = 3

Price

Adult (18+ years)

€

750 / ticket |

Youth (13-17 years)

€

750 / ticket |

Children (0-12 years)

€

750 / ticket

guests = 4

Price

Adult (18+ years)

€

650 / ticket |

Youth (13-17 years)

€

650 / ticket |

Children (0-12 years)

€

650 / ticket

guests >= 5

Price

Adult (18+ years)

€

480 / ticket |

Youth (13-17 years)

€

480 / ticket |

Children (0-12 years)

€

480 / ticket
23
options
General price:
Adult (18+ years)
€

480 / ticket
|
Youth (13-17 years)
€

480 / ticket
|
Children (0-12 years)
€

480 / ticket
Options
guests <= 2

Price

Adult (18+ years)

€

850 / ticket |

Youth (13-17 years)

€

850 / ticket |

Children (0-12 years)

€

850 / ticket

guests = 3

Price

Adult (18+ years)

€

750 / ticket |

Youth (13-17 years)

€

750 / ticket |

Children (0-12 years)

€

750 / ticket

guests = 4

Price

Adult (18+ years)

€

650 / ticket |

Youth (13-17 years)

€

650 / ticket |

Children (0-12 years)

€

650 / ticket

guests >= 5

Price

Adult (18+ years)

€

480 / ticket |

Youth (13-17 years)

€

480 / ticket |

Children (0-12 years)

€

480 / ticket
24
options
General price:
Adult (18+ years)
€

480 / ticket
|
Youth (13-17 years)
€

480 / ticket
|
Children (0-12 years)
€

480 / ticket
Options
guests <= 2

Price

Adult (18+ years)

€

850 / ticket |

Youth (13-17 years)

€

850 / ticket |

Children (0-12 years)

€

850 / ticket

guests = 3

Price

Adult (18+ years)

€

750 / ticket |

Youth (13-17 years)

€

750 / ticket |

Children (0-12 years)

€

750 / ticket

guests = 4

Price

Adult (18+ years)

€

650 / ticket |

Youth (13-17 years)

€

650 / ticket |

Children (0-12 years)

€

650 / ticket

guests >= 5

Price

Adult (18+ years)

€

480 / ticket |

Youth (13-17 years)

€

480 / ticket |

Children (0-12 years)

€

480 / ticket
25
options
General price:
Adult (18+ years)
€

480 / ticket
|
Youth (13-17 years)
€

480 / ticket
|
Children (0-12 years)
€

480 / ticket
Options
guests <= 2

Price

Adult (18+ years)

€

850 / ticket |

Youth (13-17 years)

€

850 / ticket |

Children (0-12 years)

€

850 / ticket

guests = 3

Price

Adult (18+ years)

€

750 / ticket |

Youth (13-17 years)

€

750 / ticket |

Children (0-12 years)

€

750 / ticket

guests = 4

Price

Adult (18+ years)

€

650 / ticket |

Youth (13-17 years)

€

650 / ticket |

Children (0-12 years)

€

650 / ticket

guests >= 5

Price

Adult (18+ years)

€

480 / ticket |

Youth (13-17 years)

€

480 / ticket |

Children (0-12 years)

€

480 / ticket
26
options
General price:
Adult (18+ years)
€

480 / ticket
|
Youth (13-17 years)
€

480 / ticket
|
Children (0-12 years)
€

480 / ticket
Options
guests <= 2

Price

Adult (18+ years)

€

850 / ticket |

Youth (13-17 years)

€

850 / ticket |

Children (0-12 years)

€

850 / ticket

guests = 3

Price

Adult (18+ years)

€

750 / ticket |

Youth (13-17 years)

€

750 / ticket |

Children (0-12 years)

€

750 / ticket

guests = 4

Price

Adult (18+ years)

€

650 / ticket |

Youth (13-17 years)

€

650 / ticket |

Children (0-12 years)

€

650 / ticket

guests >= 5

Price

Adult (18+ years)

€

480 / ticket |

Youth (13-17 years)

€

480 / ticket |

Children (0-12 years)

€

480 / ticket
27
options
General price:
Adult (18+ years)
€

480 / ticket
|
Youth (13-17 years)
€

480 / ticket
|
Children (0-12 years)
€

480 / ticket
Options
guests <= 2

Price

Adult (18+ years)

€

850 / ticket |

Youth (13-17 years)

€

850 / ticket |

Children (0-12 years)

€

850 / ticket

guests = 3

Price

Adult (18+ years)

€

750 / ticket |

Youth (13-17 years)

€

750 / ticket |

Children (0-12 years)

€

750 / ticket

guests = 4

Price

Adult (18+ years)

€

650 / ticket |

Youth (13-17 years)

€

650 / ticket |

Children (0-12 years)

€

650 / ticket

guests >= 5

Price

Adult (18+ years)

€

480 / ticket |

Youth (13-17 years)

€

480 / ticket |

Children (0-12 years)

€

480 / ticket
28
options
General price:
Adult (18+ years)
€

480 / ticket
|
Youth (13-17 years)
€

480 / ticket
|
Children (0-12 years)
€

480 / ticket
Options
guests <= 2

Price

Adult (18+ years)

€

850 / ticket |

Youth (13-17 years)

€

850 / ticket |

Children (0-12 years)

€

850 / ticket

guests = 3

Price

Adult (18+ years)

€

750 / ticket |

Youth (13-17 years)

€

750 / ticket |

Children (0-12 years)

€

750 / ticket

guests = 4

Price

Adult (18+ years)

€

650 / ticket |

Youth (13-17 years)

€

650 / ticket |

Children (0-12 years)

€

650 / ticket

guests >= 5

Price

Adult (18+ years)

€

480 / ticket |

Youth (13-17 years)

€

480 / ticket |

Children (0-12 years)

€

480 / ticket
29
options
General price:
Adult (18+ years)
€

480 / ticket
|
Youth (13-17 years)
€

480 / ticket
|
Children (0-12 years)
€

480 / ticket
Options
guests <= 2

Price

Adult (18+ years)

€

850 / ticket |

Youth (13-17 years)

€

850 / ticket |

Children (0-12 years)

€

850 / ticket

guests = 3

Price

Adult (18+ years)

€

750 / ticket |

Youth (13-17 years)

€

750 / ticket |

Children (0-12 years)

€

750 / ticket

guests = 4

Price

Adult (18+ years)

€

650 / ticket |

Youth (13-17 years)

€

650 / ticket |

Children (0-12 years)

€

650 / ticket

guests >= 5

Price

Adult (18+ years)

€

480 / ticket |

Youth (13-17 years)

€

480 / ticket |

Children (0-12 years)

€

480 / ticket
30
options
General price:
Adult (18+ years)
€

480 / ticket
|
Youth (13-17 years)
€

480 / ticket
|
Children (0-12 years)
€

480 / ticket
Options
guests <= 2

Price

Adult (18+ years)

€

850 / ticket |

Youth (13-17 years)

€

850 / ticket |

Children (0-12 years)

€

850 / ticket

guests = 3

Price

Adult (18+ years)

€

750 / ticket |

Youth (13-17 years)

€

750 / ticket |

Children (0-12 years)

€

750 / ticket

guests = 4

Price

Adult (18+ years)

€

650 / ticket |

Youth (13-17 years)

€

650 / ticket |

Children (0-12 years)

€

650 / ticket

guests >= 5

Price

Adult (18+ years)

€

480 / ticket |

Youth (13-17 years)

€

480 / ticket |

Children (0-12 years)

€

480 / ticket
31
options
General price:
Adult (18+ years)
€

480 / ticket
|
Youth (13-17 years)
€

480 / ticket
|
Children (0-12 years)
€

480 / ticket
Options
guests <= 2

Price

Adult (18+ years)

€

850 / ticket |

Youth (13-17 years)

€

850 / ticket |

Children (0-12 years)

€

850 / ticket

guests = 3

Price

Adult (18+ years)

€

750 / ticket |

Youth (13-17 years)

€

750 / ticket |

Children (0-12 years)

€

750 / ticket

guests = 4

Price

Adult (18+ years)

€

650 / ticket |

Youth (13-17 years)

€

650 / ticket |

Children (0-12 years)

€

650 / ticket

guests >= 5

Price

Adult (18+ years)

€

480 / ticket |

Youth (13-17 years)

€

480 / ticket |

Children (0-12 years)

€

480 / ticket
1
options
General price:
Adult (18+ years)
€

480 / ticket
|
Youth (13-17 years)
€

480 / ticket
|
Children (0-12 years)
€

480 / ticket
Options
guests <= 2

Price

Adult (18+ years)

€

850 / ticket |

Youth (13-17 years)

€

850 / ticket |

Children (0-12 years)

€

850 / ticket

guests = 3

Price

Adult (18+ years)

€

750 / ticket |

Youth (13-17 years)

€

750 / ticket |

Children (0-12 years)

€

750 / ticket

guests = 4

Price

Adult (18+ years)

€

650 / ticket |

Youth (13-17 years)

€

650 / ticket |

Children (0-12 years)

€

650 / ticket

guests >= 5

Price

Adult (18+ years)

€

480 / ticket |

Youth (13-17 years)

€

480 / ticket |

Children (0-12 years)

€

480 / ticket
2
options
General price:
Adult (18+ years)
€

480 / ticket
|
Youth (13-17 years)
€

480 / ticket
|
Children (0-12 years)
€

480 / ticket
Options
guests <= 2

Price

Adult (18+ years)

€

850 / ticket |

Youth (13-17 years)

€

850 / ticket |

Children (0-12 years)

€

850 / ticket

guests = 3

Price

Adult (18+ years)

€

750 / ticket |

Youth (13-17 years)

€

750 / ticket |

Children (0-12 years)

€

750 / ticket

guests = 4

Price

Adult (18+ years)

€

650 / ticket |

Youth (13-17 years)

€

650 / ticket |

Children (0-12 years)

€

650 / ticket

guests >= 5

Price

Adult (18+ years)

€

480 / ticket |

Youth (13-17 years)

€

480 / ticket |

Children (0-12 years)

€

480 / ticket
3
options
General price:
Adult (18+ years)
€

480 / ticket
|
Youth (13-17 years)
€

480 / ticket
|
Children (0-12 years)
€

480 / ticket
Options
guests <= 2

Price

Adult (18+ years)

€

850 / ticket |

Youth (13-17 years)

€

850 / ticket |

Children (0-12 years)

€

850 / ticket

guests = 3

Price

Adult (18+ years)

€

750 / ticket |

Youth (13-17 years)

€

750 / ticket |

Children (0-12 years)

€

750 / ticket

guests = 4

Price

Adult (18+ years)

€

650 / ticket |

Youth (13-17 years)

€

650 / ticket |

Children (0-12 years)

€

650 / ticket

guests >= 5

Price

Adult (18+ years)

€

480 / ticket |

Youth (13-17 years)

€

480 / ticket |

Children (0-12 years)

€

480 / ticket
4
options
General price:
Adult (18+ years)
€

480 / ticket
|
Youth (13-17 years)
€

480 / ticket
|
Children (0-12 years)
€

480 / ticket
Options
guests <= 2

Price

Adult (18+ years)

€

850 / ticket |

Youth (13-17 years)

€

850 / ticket |

Children (0-12 years)

€

850 / ticket

guests = 3

Price

Adult (18+ years)

€

750 / ticket |

Youth (13-17 years)

€

750 / ticket |

Children (0-12 years)

€

750 / ticket

guests = 4

Price

Adult (18+ years)

€

650 / ticket |

Youth (13-17 years)

€

650 / ticket |

Children (0-12 years)

€

650 / ticket

guests >= 5

Price

Adult (18+ years)

€

480 / ticket |

Youth (13-17 years)

€

480 / ticket |

Children (0-12 years)

€

480 / ticket
29
options
General price:
Adult (18+ years)
€

480 / ticket
|
Youth (13-17 years)
€

480 / ticket
|
Children (0-12 years)
€

480 / ticket
Options
guests <= 2

Price

Adult (18+ years)

€

850 / ticket |

Youth (13-17 years)

€

850 / ticket |

Children (0-12 years)

€

850 / ticket

guests = 3

Price

Adult (18+ years)

€

750 / ticket |

Youth (13-17 years)

€

750 / ticket |

Children (0-12 years)

€

750 / ticket

guests = 4

Price

Adult (18+ years)

€

650 / ticket |

Youth (13-17 years)

€

650 / ticket |

Children (0-12 years)

€

650 / ticket

guests >= 5

Price

Adult (18+ years)

€

480 / ticket |

Youth (13-17 years)

€

480 / ticket |

Children (0-12 years)

€

480 / ticket
30
options
General price:
Adult (18+ years)
€

480 / ticket
|
Youth (13-17 years)
€

480 / ticket
|
Children (0-12 years)
€

480 / ticket
Options
guests <= 2

Price

Adult (18+ years)

€

850 / ticket |

Youth (13-17 years)

€

850 / ticket |

Children (0-12 years)

€

850 / ticket

guests = 3

Price

Adult (18+ years)

€

750 / ticket |

Youth (13-17 years)

€

750 / ticket |

Children (0-12 years)

€

750 / ticket

guests = 4

Price

Adult (18+ years)

€

650 / ticket |

Youth (13-17 years)

€

650 / ticket |

Children (0-12 years)

€

650 / ticket

guests >= 5

Price

Adult (18+ years)

€

480 / ticket |

Youth (13-17 years)

€

480 / ticket |

Children (0-12 years)

€

480 / ticket
31
options
General price:
Adult (18+ years)
€

480 / ticket
|
Youth (13-17 years)
€

480 / ticket
|
Children (0-12 years)
€

480 / ticket
Options
guests <= 2

Price

Adult (18+ years)

€

850 / ticket |

Youth (13-17 years)

€

850 / ticket |

Children (0-12 years)

€

850 / ticket

guests = 3

Price

Adult (18+ years)

€

750 / ticket |

Youth (13-17 years)

€

750 / ticket |

Children (0-12 years)

€

750 / ticket

guests = 4

Price

Adult (18+ years)

€

650 / ticket |

Youth (13-17 years)

€

650 / ticket |

Children (0-12 years)

€

650 / ticket

guests >= 5

Price

Adult (18+ years)

€

480 / ticket |

Youth (13-17 years)

€

480 / ticket |

Children (0-12 years)

€

480 / ticket
1
options
General price:
Adult (18+ years)
€

480 / ticket
|
Youth (13-17 years)
€

480 / ticket
|
Children (0-12 years)
€

480 / ticket
Options
guests <= 2

Price

Adult (18+ years)

€

850 / ticket |

Youth (13-17 years)

€

850 / ticket |

Children (0-12 years)

€

850 / ticket

guests = 3

Price

Adult (18+ years)

€

750 / ticket |

Youth (13-17 years)

€

750 / ticket |

Children (0-12 years)

€

750 / ticket

guests = 4

Price

Adult (18+ years)

€

650 / ticket |

Youth (13-17 years)

€

650 / ticket |

Children (0-12 years)

€

650 / ticket

guests >= 5

Price

Adult (18+ years)

€

480 / ticket |

Youth (13-17 years)

€

480 / ticket |

Children (0-12 years)

€

480 / ticket
2
options
General price:
Adult (18+ years)
€

480 / ticket
|
Youth (13-17 years)
€

480 / ticket
|
Children (0-12 years)
€

480 / ticket
Options
guests <= 2

Price

Adult (18+ years)

€

850 / ticket |

Youth (13-17 years)

€

850 / ticket |

Children (0-12 years)

€

850 / ticket

guests = 3

Price

Adult (18+ years)

€

750 / ticket |

Youth (13-17 years)

€

750 / ticket |

Children (0-12 years)

€

750 / ticket

guests = 4

Price

Adult (18+ years)

€

650 / ticket |

Youth (13-17 years)

€

650 / ticket |

Children (0-12 years)

€

650 / ticket

guests >= 5

Price

Adult (18+ years)

€

480 / ticket |

Youth (13-17 years)

€

480 / ticket |

Children (0-12 years)

€

480 / ticket
3
options
General price:
Adult (18+ years)
€

480 / ticket
|
Youth (13-17 years)
€

480 / ticket
|
Children (0-12 years)
€

480 / ticket
Options
guests <= 2

Price

Adult (18+ years)

€

850 / ticket |

Youth (13-17 years)

€

850 / ticket |

Children (0-12 years)

€

850 / ticket

guests = 3

Price

Adult (18+ years)

€

750 / ticket |

Youth (13-17 years)

€

750 / ticket |

Children (0-12 years)

€

750 / ticket

guests = 4

Price

Adult (18+ years)

€

650 / ticket |

Youth (13-17 years)

€

650 / ticket |

Children (0-12 years)

€

650 / ticket

guests >= 5

Price

Adult (18+ years)

€

480 / ticket |

Youth (13-17 years)

€

480 / ticket |

Children (0-12 years)

€

480 / ticket
4
options
General price:
Adult (18+ years)
€

480 / ticket
|
Youth (13-17 years)
€

480 / ticket
|
Children (0-12 years)
€

480 / ticket
Options
guests <= 2

Price

Adult (18+ years)

€

850 / ticket |

Youth (13-17 years)

€

850 / ticket |

Children (0-12 years)

€

850 / ticket

guests = 3

Price

Adult (18+ years)

€

750 / ticket |

Youth (13-17 years)

€

750 / ticket |

Children (0-12 years)

€

750 / ticket

guests = 4

Price

Adult (18+ years)

€

650 / ticket |

Youth (13-17 years)

€

650 / ticket |

Children (0-12 years)

€

650 / ticket

guests >= 5

Price

Adult (18+ years)

€

480 / ticket |

Youth (13-17 years)

€

480 / ticket |

Children (0-12 years)

€

480 / ticket
5
options
General price:
Adult (18+ years)
€

480 / ticket
|
Youth (13-17 years)
€

480 / ticket
|
Children (0-12 years)
€

480 / ticket
Options
guests <= 2

Price

Adult (18+ years)

€

850 / ticket |

Youth (13-17 years)

€

850 / ticket |

Children (0-12 years)

€

850 / ticket

guests = 3

Price

Adult (18+ years)

€

750 / ticket |

Youth (13-17 years)

€

750 / ticket |

Children (0-12 years)

€

750 / ticket

guests = 4

Price

Adult (18+ years)

€

650 / ticket |

Youth (13-17 years)

€

650 / ticket |

Children (0-12 years)

€

650 / ticket

guests >= 5

Price

Adult (18+ years)

€

480 / ticket |

Youth (13-17 years)

€

480 / ticket |

Children (0-12 years)

€

480 / ticket
6
options
General price:
Adult (18+ years)
€

480 / ticket
|
Youth (13-17 years)
€

480 / ticket
|
Children (0-12 years)
€

480 / ticket
Options
guests <= 2

Price

Adult (18+ years)

€

850 / ticket |

Youth (13-17 years)

€

850 / ticket |

Children (0-12 years)

€

850 / ticket

guests = 3

Price

Adult (18+ years)

€

750 / ticket |

Youth (13-17 years)

€

750 / ticket |

Children (0-12 years)

€

750 / ticket

guests = 4

Price

Adult (18+ years)

€

650 / ticket |

Youth (13-17 years)

€

650 / ticket |

Children (0-12 years)

€

650 / ticket

guests >= 5

Price

Adult (18+ years)

€

480 / ticket |

Youth (13-17 years)

€

480 / ticket |

Children (0-12 years)

€

480 / ticket
7
options
General price:
Adult (18+ years)
€

480 / ticket
|
Youth (13-17 years)
€

480 / ticket
|
Children (0-12 years)
€

480 / ticket
Options
guests <= 2

Price

Adult (18+ years)

€

850 / ticket |

Youth (13-17 years)

€

850 / ticket |

Children (0-12 years)

€

850 / ticket

guests = 3

Price

Adult (18+ years)

€

750 / ticket |

Youth (13-17 years)

€

750 / ticket |

Children (0-12 years)

€

750 / ticket

guests = 4

Price

Adult (18+ years)

€

650 / ticket |

Youth (13-17 years)

€

650 / ticket |

Children (0-12 years)

€

650 / ticket

guests >= 5

Price

Adult (18+ years)

€

480 / ticket |

Youth (13-17 years)

€

480 / ticket |

Children (0-12 years)

€

480 / ticket
8
options
General price:
Adult (18+ years)
€

480 / ticket
|
Youth (13-17 years)
€

480 / ticket
|
Children (0-12 years)
€

480 / ticket
Options
guests <= 2

Price

Adult (18+ years)

€

850 / ticket |

Youth (13-17 years)

€

850 / ticket |

Children (0-12 years)

€

850 / ticket

guests = 3

Price

Adult (18+ years)

€

750 / ticket |

Youth (13-17 years)

€

750 / ticket |

Children (0-12 years)

€

750 / ticket

guests = 4

Price

Adult (18+ years)

€

650 / ticket |

Youth (13-17 years)

€

650 / ticket |

Children (0-12 years)

€

650 / ticket

guests >= 5

Price

Adult (18+ years)

€

480 / ticket |

Youth (13-17 years)

€

480 / ticket |

Children (0-12 years)

€

480 / ticket
9
options
General price:
Adult (18+ years)
€

480 / ticket
|
Youth (13-17 years)
€

480 / ticket
|
Children (0-12 years)
€

480 / ticket
Options
guests <= 2

Price

Adult (18+ years)

€

850 / ticket |

Youth (13-17 years)

€

850 / ticket |

Children (0-12 years)

€

850 / ticket

guests = 3

Price

Adult (18+ years)

€

750 / ticket |

Youth (13-17 years)

€

750 / ticket |

Children (0-12 years)

€

750 / ticket

guests = 4

Price

Adult (18+ years)

€

650 / ticket |

Youth (13-17 years)

€

650 / ticket |

Children (0-12 years)

€

650 / ticket

guests >= 5

Price

Adult (18+ years)

€

480 / ticket |

Youth (13-17 years)

€

480 / ticket |

Children (0-12 years)

€

480 / ticket
10
options
General price:
Adult (18+ years)
€

480 / ticket
|
Youth (13-17 years)
€

480 / ticket
|
Children (0-12 years)
€

480 / ticket
Options
guests <= 2

Price

Adult (18+ years)

€

850 / ticket |

Youth (13-17 years)

€

850 / ticket |

Children (0-12 years)

€

850 / ticket

guests = 3

Price

Adult (18+ years)

€

750 / ticket |

Youth (13-17 years)

€

750 / ticket |

Children (0-12 years)

€

750 / ticket

guests = 4

Price

Adult (18+ years)

€

650 / ticket |

Youth (13-17 years)

€

650 / ticket |

Children (0-12 years)

€

650 / ticket

guests >= 5

Price

Adult (18+ years)

€

480 / ticket |

Youth (13-17 years)

€

480 / ticket |

Children (0-12 years)

€

480 / ticket
11
options
General price:
Adult (18+ years)
€

480 / ticket
|
Youth (13-17 years)
€

480 / ticket
|
Children (0-12 years)
€

480 / ticket
Options
guests <= 2

Price

Adult (18+ years)

€

850 / ticket |

Youth (13-17 years)

€

850 / ticket |

Children (0-12 years)

€

850 / ticket

guests = 3

Price

Adult (18+ years)

€

750 / ticket |

Youth (13-17 years)

€

750 / ticket |

Children (0-12 years)

€

750 / ticket

guests = 4

Price

Adult (18+ years)

€

650 / ticket |

Youth (13-17 years)

€

650 / ticket |

Children (0-12 years)

€

650 / ticket

guests >= 5

Price

Adult (18+ years)

€

480 / ticket |

Youth (13-17 years)

€

480 / ticket |

Children (0-12 years)

€

480 / ticket
12
options
General price:
Adult (18+ years)
€

480 / ticket
|
Youth (13-17 years)
€

480 / ticket
|
Children (0-12 years)
€

480 / ticket
Options
guests <= 2

Price

Adult (18+ years)

€

850 / ticket |

Youth (13-17 years)

€

850 / ticket |

Children (0-12 years)

€

850 / ticket

guests = 3

Price

Adult (18+ years)

€

750 / ticket |

Youth (13-17 years)

€

750 / ticket |

Children (0-12 years)

€

750 / ticket

guests = 4

Price

Adult (18+ years)

€

650 / ticket |

Youth (13-17 years)

€

650 / ticket |

Children (0-12 years)

€

650 / ticket

guests >= 5

Price

Adult (18+ years)

€

480 / ticket |

Youth (13-17 years)

€

480 / ticket |

Children (0-12 years)

€

480 / ticket
13
options
General price:
Adult (18+ years)
€

480 / ticket
|
Youth (13-17 years)
€

480 / ticket
|
Children (0-12 years)
€

480 / ticket
Options
guests <= 2

Price

Adult (18+ years)

€

850 / ticket |

Youth (13-17 years)

€

850 / ticket |

Children (0-12 years)

€

850 / ticket

guests = 3

Price

Adult (18+ years)

€

750 / ticket |

Youth (13-17 years)

€

750 / ticket |

Children (0-12 years)

€

750 / ticket

guests = 4

Price

Adult (18+ years)

€

650 / ticket |

Youth (13-17 years)

€

650 / ticket |

Children (0-12 years)

€

650 / ticket

guests >= 5

Price

Adult (18+ years)

€

480 / ticket |

Youth (13-17 years)

€

480 / ticket |

Children (0-12 years)

€

480 / ticket
14
options
General price:
Adult (18+ years)
€

480 / ticket
|
Youth (13-17 years)
€

480 / ticket
|
Children (0-12 years)
€

480 / ticket
Options
guests <= 2

Price

Adult (18+ years)

€

850 / ticket |

Youth (13-17 years)

€

850 / ticket |

Children (0-12 years)

€

850 / ticket

guests = 3

Price

Adult (18+ years)

€

750 / ticket |

Youth (13-17 years)

€

750 / ticket |

Children (0-12 years)

€

750 / ticket

guests = 4

Price

Adult (18+ years)

€

650 / ticket |

Youth (13-17 years)

€

650 / ticket |

Children (0-12 years)

€

650 / ticket

guests >= 5

Price

Adult (18+ years)

€

480 / ticket |

Youth (13-17 years)

€

480 / ticket |

Children (0-12 years)

€

480 / ticket
15
options
General price:
Adult (18+ years)
€

480 / ticket
|
Youth (13-17 years)
€

480 / ticket
|
Children (0-12 years)
€

480 / ticket
Options
guests <= 2

Price

Adult (18+ years)

€

850 / ticket |

Youth (13-17 years)

€

850 / ticket |

Children (0-12 years)

€

850 / ticket

guests = 3

Price

Adult (18+ years)

€

750 / ticket |

Youth (13-17 years)

€

750 / ticket |

Children (0-12 years)

€

750 / ticket

guests = 4

Price

Adult (18+ years)

€

650 / ticket |

Youth (13-17 years)

€

650 / ticket |

Children (0-12 years)

€

650 / ticket

guests >= 5

Price

Adult (18+ years)

€

480 / ticket |

Youth (13-17 years)

€

480 / ticket |

Children (0-12 years)

€

480 / ticket
16
options
General price:
Adult (18+ years)
€

480 / ticket
|
Youth (13-17 years)
€

480 / ticket
|
Children (0-12 years)
€

480 / ticket
Options
guests <= 2

Price

Adult (18+ years)

€

850 / ticket |

Youth (13-17 years)

€

850 / ticket |

Children (0-12 years)

€

850 / ticket

guests = 3

Price

Adult (18+ years)

€

750 / ticket |

Youth (13-17 years)

€

750 / ticket |

Children (0-12 years)

€

750 / ticket

guests = 4

Price

Adult (18+ years)

€

650 / ticket |

Youth (13-17 years)

€

650 / ticket |

Children (0-12 years)

€

650 / ticket

guests >= 5

Price

Adult (18+ years)

€

480 / ticket |

Youth (13-17 years)

€

480 / ticket |

Children (0-12 years)

€

480 / ticket
17
options
General price:
Adult (18+ years)
€

480 / ticket
|
Youth (13-17 years)
€

480 / ticket
|
Children (0-12 years)
€

480 / ticket
Options
guests <= 2

Price

Adult (18+ years)

€

850 / ticket |

Youth (13-17 years)

€

850 / ticket |

Children (0-12 years)

€

850 / ticket

guests = 3

Price

Adult (18+ years)

€

750 / ticket |

Youth (13-17 years)

€

750 / ticket |

Children (0-12 years)

€

750 / ticket

guests = 4

Price

Adult (18+ years)

€

650 / ticket |

Youth (13-17 years)

€

650 / ticket |

Children (0-12 years)

€

650 / ticket

guests >= 5

Price

Adult (18+ years)

€

480 / ticket |

Youth (13-17 years)

€

480 / ticket |

Children (0-12 years)

€

480 / ticket
18
options
General price:
Adult (18+ years)
€

480 / ticket
|
Youth (13-17 years)
€

480 / ticket
|
Children (0-12 years)
€

480 / ticket
Options
guests <= 2

Price

Adult (18+ years)

€

850 / ticket |

Youth (13-17 years)

€

850 / ticket |

Children (0-12 years)

€

850 / ticket

guests = 3

Price

Adult (18+ years)

€

750 / ticket |

Youth (13-17 years)

€

750 / ticket |

Children (0-12 years)

€

750 / ticket

guests = 4

Price

Adult (18+ years)

€

650 / ticket |

Youth (13-17 years)

€

650 / ticket |

Children (0-12 years)

€

650 / ticket

guests >= 5

Price

Adult (18+ years)

€

480 / ticket |

Youth (13-17 years)

€

480 / ticket |

Children (0-12 years)

€

480 / ticket
19
options
General price:
Adult (18+ years)
€

480 / ticket
|
Youth (13-17 years)
€

480 / ticket
|
Children (0-12 years)
€

480 / ticket
Options
guests <= 2

Price

Adult (18+ years)

€

850 / ticket |

Youth (13-17 years)

€

850 / ticket |

Children (0-12 years)

€

850 / ticket

guests = 3

Price

Adult (18+ years)

€

750 / ticket |

Youth (13-17 years)

€

750 / ticket |

Children (0-12 years)

€

750 / ticket

guests = 4

Price

Adult (18+ years)

€

650 / ticket |

Youth (13-17 years)

€

650 / ticket |

Children (0-12 years)

€

650 / ticket

guests >= 5

Price

Adult (18+ years)

€

480 / ticket |

Youth (13-17 years)

€

480 / ticket |

Children (0-12 years)

€

480 / ticket
20
options
General price:
Adult (18+ years)
€

480 / ticket
|
Youth (13-17 years)
€

480 / ticket
|
Children (0-12 years)
€

480 / ticket
Options
guests <= 2

Price

Adult (18+ years)

€

850 / ticket |

Youth (13-17 years)

€

850 / ticket |

Children (0-12 years)

€

850 / ticket

guests = 3

Price

Adult (18+ years)

€

750 / ticket |

Youth (13-17 years)

€

750 / ticket |

Children (0-12 years)

€

750 / ticket

guests = 4

Price

Adult (18+ years)

€

650 / ticket |

Youth (13-17 years)

€

650 / ticket |

Children (0-12 years)

€

650 / ticket

guests >= 5

Price

Adult (18+ years)

€

480 / ticket |

Youth (13-17 years)

€

480 / ticket |

Children (0-12 years)

€

480 / ticket
21
options
General price:
Adult (18+ years)
€

480 / ticket
|
Youth (13-17 years)
€

480 / ticket
|
Children (0-12 years)
€

480 / ticket
Options
guests <= 2

Price

Adult (18+ years)

€

850 / ticket |

Youth (13-17 years)

€

850 / ticket |

Children (0-12 years)

€

850 / ticket

guests = 3

Price

Adult (18+ years)

€

750 / ticket |

Youth (13-17 years)

€

750 / ticket |

Children (0-12 years)

€

750 / ticket

guests = 4

Price

Adult (18+ years)

€

650 / ticket |

Youth (13-17 years)

€

650 / ticket |

Children (0-12 years)

€

650 / ticket

guests >= 5

Price

Adult (18+ years)

€

480 / ticket |

Youth (13-17 years)

€

480 / ticket |

Children (0-12 years)

€

480 / ticket
22
options
General price:
Adult (18+ years)
€

480 / ticket
|
Youth (13-17 years)
€

480 / ticket
|
Children (0-12 years)
€

480 / ticket
Options
guests <= 2

Price

Adult (18+ years)

€

850 / ticket |

Youth (13-17 years)

€

850 / ticket |

Children (0-12 years)

€

850 / ticket

guests = 3

Price

Adult (18+ years)

€

750 / ticket |

Youth (13-17 years)

€

750 / ticket |

Children (0-12 years)

€

750 / ticket

guests = 4

Price

Adult (18+ years)

€

650 / ticket |

Youth (13-17 years)

€

650 / ticket |

Children (0-12 years)

€

650 / ticket

guests >= 5

Price

Adult (18+ years)

€

480 / ticket |

Youth (13-17 years)

€

480 / ticket |

Children (0-12 years)

€

480 / ticket
23
options
General price:
Adult (18+ years)
€

480 / ticket
|
Youth (13-17 years)
€

480 / ticket
|
Children (0-12 years)
€

480 / ticket
Options
guests <= 2

Price

Adult (18+ years)

€

850 / ticket |

Youth (13-17 years)

€

850 / ticket |

Children (0-12 years)

€

850 / ticket

guests = 3

Price

Adult (18+ years)

€

750 / ticket |

Youth (13-17 years)

€

750 / ticket |

Children (0-12 years)

€

750 / ticket

guests = 4

Price

Adult (18+ years)

€

650 / ticket |

Youth (13-17 years)

€

650 / ticket |

Children (0-12 years)

€

650 / ticket

guests >= 5

Price

Adult (18+ years)

€

480 / ticket |

Youth (13-17 years)

€

480 / ticket |

Children (0-12 years)

€

480 / ticket
24
options
General price:
Adult (18+ years)
€

480 / ticket
|
Youth (13-17 years)
€

480 / ticket
|
Children (0-12 years)
€

480 / ticket
Options
guests <= 2

Price

Adult (18+ years)

€

850 / ticket |

Youth (13-17 years)

€

850 / ticket |

Children (0-12 years)

€

850 / ticket

guests = 3

Price

Adult (18+ years)

€

750 / ticket |

Youth (13-17 years)

€

750 / ticket |

Children (0-12 years)

€

750 / ticket

guests = 4

Price

Adult (18+ years)

€

650 / ticket |

Youth (13-17 years)

€

650 / ticket |

Children (0-12 years)

€

650 / ticket

guests >= 5

Price

Adult (18+ years)

€

480 / ticket |

Youth (13-17 years)

€

480 / ticket |

Children (0-12 years)

€

480 / ticket
25
options
General price:
Adult (18+ years)
€

480 / ticket
|
Youth (13-17 years)
€

480 / ticket
|
Children (0-12 years)
€

480 / ticket
Options
guests <= 2

Price

Adult (18+ years)

€

850 / ticket |

Youth (13-17 years)

€

850 / ticket |

Children (0-12 years)

€

850 / ticket

guests = 3

Price

Adult (18+ years)

€

750 / ticket |

Youth (13-17 years)

€

750 / ticket |

Children (0-12 years)

€

750 / ticket

guests = 4

Price

Adult (18+ years)

€

650 / ticket |

Youth (13-17 years)

€

650 / ticket |

Children (0-12 years)

€

650 / ticket

guests >= 5

Price

Adult (18+ years)

€

480 / ticket |

Youth (13-17 years)

€

480 / ticket |

Children (0-12 years)

€

480 / ticket
26
options
General price:
Adult (18+ years)
€

480 / ticket
|
Youth (13-17 years)
€

480 / ticket
|
Children (0-12 years)
€

480 / ticket
Options
guests <= 2

Price

Adult (18+ years)

€

850 / ticket |

Youth (13-17 years)

€

850 / ticket |

Children (0-12 years)

€

850 / ticket

guests = 3

Price

Adult (18+ years)

€

750 / ticket |

Youth (13-17 years)

€

750 / ticket |

Children (0-12 years)

€

750 / ticket

guests = 4

Price

Adult (18+ years)

€

650 / ticket |

Youth (13-17 years)

€

650 / ticket |

Children (0-12 years)

€

650 / ticket

guests >= 5

Price

Adult (18+ years)

€

480 / ticket |

Youth (13-17 years)

€

480 / ticket |

Children (0-12 years)

€

480 / ticket
27
options
General price:
Adult (18+ years)
€

480 / ticket
|
Youth (13-17 years)
€

480 / ticket
|
Children (0-12 years)
€

480 / ticket
Options
guests <= 2

Price

Adult (18+ years)

€

850 / ticket |

Youth (13-17 years)

€

850 / ticket |

Children (0-12 years)

€

850 / ticket

guests = 3

Price

Adult (18+ years)

€

750 / ticket |

Youth (13-17 years)

€

750 / ticket |

Children (0-12 years)

€

750 / ticket

guests = 4

Price

Adult (18+ years)

€

650 / ticket |

Youth (13-17 years)

€

650 / ticket |

Children (0-12 years)

€

650 / ticket

guests >= 5

Price

Adult (18+ years)

€

480 / ticket |

Youth (13-17 years)

€

480 / ticket |

Children (0-12 years)

€

480 / ticket
28
options
General price:
Adult (18+ years)
€

480 / ticket
|
Youth (13-17 years)
€

480 / ticket
|
Children (0-12 years)
€

480 / ticket
Options
guests <= 2

Price

Adult (18+ years)

€

850 / ticket |

Youth (13-17 years)

€

850 / ticket |

Children (0-12 years)

€

850 / ticket

guests = 3

Price

Adult (18+ years)

€

750 / ticket |

Youth (13-17 years)

€

750 / ticket |

Children (0-12 years)

€

750 / ticket

guests = 4

Price

Adult (18+ years)

€

650 / ticket |

Youth (13-17 years)

€

650 / ticket |

Children (0-12 years)

€

650 / ticket

guests >= 5

Price

Adult (18+ years)

€

480 / ticket |

Youth (13-17 years)

€

480 / ticket |

Children (0-12 years)

€

480 / ticket
29
options
General price:
Adult (18+ years)
€

480 / ticket
|
Youth (13-17 years)
€

480 / ticket
|
Children (0-12 years)
€

480 / ticket
Options
guests <= 2

Price

Adult (18+ years)

€

850 / ticket |

Youth (13-17 years)

€

850 / ticket |

Children (0-12 years)

€

850 / ticket

guests = 3

Price

Adult (18+ years)

€

750 / ticket |

Youth (13-17 years)

€

750 / ticket |

Children (0-12 years)

€

750 / ticket

guests = 4

Price

Adult (18+ years)

€

650 / ticket |

Youth (13-17 years)

€

650 / ticket |

Children (0-12 years)

€

650 / ticket

guests >= 5

Price

Adult (18+ years)

€

480 / ticket |

Youth (13-17 years)

€

480 / ticket |

Children (0-12 years)

€

480 / ticket
1
options
General price:
Adult (18+ years)
€

480 / ticket
|
Youth (13-17 years)
€

480 / ticket
|
Children (0-12 years)
€

480 / ticket
Options
guests <= 2

Price

Adult (18+ years)

€

850 / ticket |

Youth (13-17 years)

€

850 / ticket |

Children (0-12 years)

€

850 / ticket

guests = 3

Price

Adult (18+ years)

€

750 / ticket |

Youth (13-17 years)

€

750 / ticket |

Children (0-12 years)

€

750 / ticket

guests = 4

Price

Adult (18+ years)

€

650 / ticket |

Youth (13-17 years)

€

650 / ticket |

Children (0-12 years)

€

650 / ticket

guests >= 5

Price

Adult (18+ years)

€

480 / ticket |

Youth (13-17 years)

€

480 / ticket |

Children (0-12 years)

€

480 / ticket
2
options
General price:
Adult (18+ years)
€

480 / ticket
|
Youth (13-17 years)
€

480 / ticket
|
Children (0-12 years)
€

480 / ticket
Options
guests <= 2

Price

Adult (18+ years)

€

850 / ticket |

Youth (13-17 years)

€

850 / ticket |

Children (0-12 years)

€

850 / ticket

guests = 3

Price

Adult (18+ years)

€

750 / ticket |

Youth (13-17 years)

€

750 / ticket |

Children (0-12 years)

€

750 / ticket

guests = 4

Price

Adult (18+ years)

€

650 / ticket |

Youth (13-17 years)

€

650 / ticket |

Children (0-12 years)

€

650 / ticket

guests >= 5

Price

Adult (18+ years)

€

480 / ticket |

Youth (13-17 years)

€

480 / ticket |

Children (0-12 years)

€

480 / ticket
3
options
General price:
Adult (18+ years)
€

480 / ticket
|
Youth (13-17 years)
€

480 / ticket
|
Children (0-12 years)
€

480 / ticket
Options
guests <= 2

Price

Adult (18+ years)

€

850 / ticket |

Youth (13-17 years)

€

850 / ticket |

Children (0-12 years)

€

850 / ticket

guests = 3

Price

Adult (18+ years)

€

750 / ticket |

Youth (13-17 years)

€

750 / ticket |

Children (0-12 years)

€

750 / ticket

guests = 4

Price

Adult (18+ years)

€

650 / ticket |

Youth (13-17 years)

€

650 / ticket |

Children (0-12 years)

€

650 / ticket

guests >= 5

Price

Adult (18+ years)

€

480 / ticket |

Youth (13-17 years)

€

480 / ticket |

Children (0-12 years)

€

480 / ticket
26
options
General price:
Adult (18+ years)
€

480 / ticket
|
Youth (13-17 years)
€

480 / ticket
|
Children (0-12 years)
€

480 / ticket
Options
guests <= 2

Price

Adult (18+ years)

€

850 / ticket |

Youth (13-17 years)

€

850 / ticket |

Children (0-12 years)

€

850 / ticket

guests = 3

Price

Adult (18+ years)

€

750 / ticket |

Youth (13-17 years)

€

750 / ticket |

Children (0-12 years)

€

750 / ticket

guests = 4

Price

Adult (18+ years)

€

650 / ticket |

Youth (13-17 years)

€

650 / ticket |

Children (0-12 years)

€

650 / ticket

guests >= 5

Price

Adult (18+ years)

€

480 / ticket |

Youth (13-17 years)

€

480 / ticket |

Children (0-12 years)

€

480 / ticket
27
options
General price:
Adult (18+ years)
€

480 / ticket
|
Youth (13-17 years)
€

480 / ticket
|
Children (0-12 years)
€

480 / ticket
Options
guests <= 2

Price

Adult (18+ years)

€

850 / ticket |

Youth (13-17 years)

€

850 / ticket |

Children (0-12 years)

€

850 / ticket

guests = 3

Price

Adult (18+ years)

€

750 / ticket |

Youth (13-17 years)

€

750 / ticket |

Children (0-12 years)

€

750 / ticket

guests = 4

Price

Adult (18+ years)

€

650 / ticket |

Youth (13-17 years)

€

650 / ticket |

Children (0-12 years)

€

650 / ticket

guests >= 5

Price

Adult (18+ years)

€

480 / ticket |

Youth (13-17 years)

€

480 / ticket |

Children (0-12 years)

€

480 / ticket
28
options
General price:
Adult (18+ years)
€

480 / ticket
|
Youth (13-17 years)
€

480 / ticket
|
Children (0-12 years)
€

480 / ticket
Options
guests <= 2

Price

Adult (18+ years)

€

850 / ticket |

Youth (13-17 years)

€

850 / ticket |

Children (0-12 years)

€

850 / ticket

guests = 3

Price

Adult (18+ years)

€

750 / ticket |

Youth (13-17 years)

€

750 / ticket |

Children (0-12 years)

€

750 / ticket

guests = 4

Price

Adult (18+ years)

€

650 / ticket |

Youth (13-17 years)

€

650 / ticket |

Children (0-12 years)

€

650 / ticket

guests >= 5

Price

Adult (18+ years)

€

480 / ticket |

Youth (13-17 years)

€

480 / ticket |

Children (0-12 years)

€

480 / ticket
29
options
General price:
Adult (18+ years)
€

480 / ticket
|
Youth (13-17 years)
€

480 / ticket
|
Children (0-12 years)
€

480 / ticket
Options
guests <= 2

Price

Adult (18+ years)

€

850 / ticket |

Youth (13-17 years)

€

850 / ticket |

Children (0-12 years)

€

850 / ticket

guests = 3

Price

Adult (18+ years)

€

750 / ticket |

Youth (13-17 years)

€

750 / ticket |

Children (0-12 years)

€

750 / ticket

guests = 4

Price

Adult (18+ years)

€

650 / ticket |

Youth (13-17 years)

€

650 / ticket |

Children (0-12 years)

€

650 / ticket

guests >= 5

Price

Adult (18+ years)

€

480 / ticket |

Youth (13-17 years)

€

480 / ticket |

Children (0-12 years)

€

480 / ticket
1
options
General price:
Adult (18+ years)
€

480 / ticket
|
Youth (13-17 years)
€

480 / ticket
|
Children (0-12 years)
€

480 / ticket
Options
guests <= 2

Price

Adult (18+ years)

€

850 / ticket |

Youth (13-17 years)

€

850 / ticket |

Children (0-12 years)

€

850 / ticket

guests = 3

Price

Adult (18+ years)

€

750 / ticket |

Youth (13-17 years)

€

750 / ticket |

Children (0-12 years)

€

750 / ticket

guests = 4

Price

Adult (18+ years)

€

650 / ticket |

Youth (13-17 years)

€

650 / ticket |

Children (0-12 years)

€

650 / ticket

guests >= 5

Price

Adult (18+ years)

€

480 / ticket |

Youth (13-17 years)

€

480 / ticket |

Children (0-12 years)

€

480 / ticket
2
options
General price:
Adult (18+ years)
€

480 / ticket
|
Youth (13-17 years)
€

480 / ticket
|
Children (0-12 years)
€

480 / ticket
Options
guests <= 2

Price

Adult (18+ years)

€

850 / ticket |

Youth (13-17 years)

€

850 / ticket |

Children (0-12 years)

€

850 / ticket

guests = 3

Price

Adult (18+ years)

€

750 / ticket |

Youth (13-17 years)

€

750 / ticket |

Children (0-12 years)

€

750 / ticket

guests = 4

Price

Adult (18+ years)

€

650 / ticket |

Youth (13-17 years)

€

650 / ticket |

Children (0-12 years)

€

650 / ticket

guests >= 5

Price

Adult (18+ years)

€

480 / ticket |

Youth (13-17 years)

€

480 / ticket |

Children (0-12 years)

€

480 / ticket
3
options
General price:
Adult (18+ years)
€

480 / ticket
|
Youth (13-17 years)
€

480 / ticket
|
Children (0-12 years)
€

480 / ticket
Options
guests <= 2

Price

Adult (18+ years)

€

850 / ticket |

Youth (13-17 years)

€

850 / ticket |

Children (0-12 years)

€

850 / ticket

guests = 3

Price

Adult (18+ years)

€

750 / ticket |

Youth (13-17 years)

€

750 / ticket |

Children (0-12 years)

€

750 / ticket

guests = 4

Price

Adult (18+ years)

€

650 / ticket |

Youth (13-17 years)

€

650 / ticket |

Children (0-12 years)

€

650 / ticket

guests >= 5

Price

Adult (18+ years)

€

480 / ticket |

Youth (13-17 years)

€

480 / ticket |

Children (0-12 years)

€

480 / ticket
4
options
General price:
Adult (18+ years)
€

480 / ticket
|
Youth (13-17 years)
€

480 / ticket
|
Children (0-12 years)
€

480 / ticket
Options
guests <= 2

Price

Adult (18+ years)

€

850 / ticket |

Youth (13-17 years)

€

850 / ticket |

Children (0-12 years)

€

850 / ticket

guests = 3

Price

Adult (18+ years)

€

750 / ticket |

Youth (13-17 years)

€

750 / ticket |

Children (0-12 years)

€

750 / ticket

guests = 4

Price

Adult (18+ years)

€

650 / ticket |

Youth (13-17 years)

€

650 / ticket |

Children (0-12 years)

€

650 / ticket

guests >= 5

Price

Adult (18+ years)

€

480 / ticket |

Youth (13-17 years)

€

480 / ticket |

Children (0-12 years)

€

480 / ticket
5
options
General price:
Adult (18+ years)
€

480 / ticket
|
Youth (13-17 years)
€

480 / ticket
|
Children (0-12 years)
€

480 / ticket
Options
guests <= 2

Price

Adult (18+ years)

€

850 / ticket |

Youth (13-17 years)

€

850 / ticket |

Children (0-12 years)

€

850 / ticket

guests = 3

Price

Adult (18+ years)

€

750 / ticket |

Youth (13-17 years)

€

750 / ticket |

Children (0-12 years)

€

750 / ticket

guests = 4

Price

Adult (18+ years)

€

650 / ticket |

Youth (13-17 years)

€

650 / ticket |

Children (0-12 years)

€

650 / ticket

guests >= 5

Price

Adult (18+ years)

€

480 / ticket |

Youth (13-17 years)

€

480 / ticket |

Children (0-12 years)

€

480 / ticket
6
options
General price:
Adult (18+ years)
€

480 / ticket
|
Youth (13-17 years)
€

480 / ticket
|
Children (0-12 years)
€

480 / ticket
Options
guests <= 2

Price

Adult (18+ years)

€

850 / ticket |

Youth (13-17 years)

€

850 / ticket |

Children (0-12 years)

€

850 / ticket

guests = 3

Price

Adult (18+ years)

€

750 / ticket |

Youth (13-17 years)

€

750 / ticket |

Children (0-12 years)

€

750 / ticket

guests = 4

Price

Adult (18+ years)

€

650 / ticket |

Youth (13-17 years)

€

650 / ticket |

Children (0-12 years)

€

650 / ticket

guests >= 5

Price

Adult (18+ years)

€

480 / ticket |

Youth (13-17 years)

€

480 / ticket |

Children (0-12 years)

€

480 / ticket
7
options
General price:
Adult (18+ years)
€

480 / ticket
|
Youth (13-17 years)
€

480 / ticket
|
Children (0-12 years)
€

480 / ticket
Options
guests <= 2

Price

Adult (18+ years)

€

850 / ticket |

Youth (13-17 years)

€

850 / ticket |

Children (0-12 years)

€

850 / ticket

guests = 3

Price

Adult (18+ years)

€

750 / ticket |

Youth (13-17 years)

€

750 / ticket |

Children (0-12 years)

€

750 / ticket

guests = 4

Price

Adult (18+ years)

€

650 / ticket |

Youth (13-17 years)

€

650 / ticket |

Children (0-12 years)

€

650 / ticket

guests >= 5

Price

Adult (18+ years)

€

480 / ticket |

Youth (13-17 years)

€

480 / ticket |

Children (0-12 years)

€

480 / ticket
8
options
General price:
Adult (18+ years)
€

480 / ticket
|
Youth (13-17 years)
€

480 / ticket
|
Children (0-12 years)
€

480 / ticket
Options
guests <= 2

Price

Adult (18+ years)

€

850 / ticket |

Youth (13-17 years)

€

850 / ticket |

Children (0-12 years)

€

850 / ticket

guests = 3

Price

Adult (18+ years)

€

750 / ticket |

Youth (13-17 years)

€

750 / ticket |

Children (0-12 years)

€

750 / ticket

guests = 4

Price

Adult (18+ years)

€

650 / ticket |

Youth (13-17 years)

€

650 / ticket |

Children (0-12 years)

€

650 / ticket

guests >= 5

Price

Adult (18+ years)

€

480 / ticket |

Youth (13-17 years)

€

480 / ticket |

Children (0-12 years)

€

480 / ticket
9
options
General price:
Adult (18+ years)
€

480 / ticket
|
Youth (13-17 years)
€

480 / ticket
|
Children (0-12 years)
€

480 / ticket
Options
guests <= 2

Price

Adult (18+ years)

€

850 / ticket |

Youth (13-17 years)

€

850 / ticket |

Children (0-12 years)

€

850 / ticket

guests = 3

Price

Adult (18+ years)

€

750 / ticket |

Youth (13-17 years)

€

750 / ticket |

Children (0-12 years)

€

750 / ticket

guests = 4

Price

Adult (18+ years)

€

650 / ticket |

Youth (13-17 years)

€

650 / ticket |

Children (0-12 years)

€

650 / ticket

guests >= 5

Price

Adult (18+ years)

€

480 / ticket |

Youth (13-17 years)

€

480 / ticket |

Children (0-12 years)

€

480 / ticket
10
options
General price:
Adult (18+ years)
€

480 / ticket
|
Youth (13-17 years)
€

480 / ticket
|
Children (0-12 years)
€

480 / ticket
Options
guests <= 2

Price

Adult (18+ years)

€

850 / ticket |

Youth (13-17 years)

€

850 / ticket |

Children (0-12 years)

€

850 / ticket

guests = 3

Price

Adult (18+ years)

€

750 / ticket |

Youth (13-17 years)

€

750 / ticket |

Children (0-12 years)

€

750 / ticket

guests = 4

Price

Adult (18+ years)

€

650 / ticket |

Youth (13-17 years)

€

650 / ticket |

Children (0-12 years)

€

650 / ticket

guests >= 5

Price

Adult (18+ years)

€

480 / ticket |

Youth (13-17 years)

€

480 / ticket |

Children (0-12 years)

€

480 / ticket
11
options
General price:
Adult (18+ years)
€

480 / ticket
|
Youth (13-17 years)
€

480 / ticket
|
Children (0-12 years)
€

480 / ticket
Options
guests <= 2

Price

Adult (18+ years)

€

850 / ticket |

Youth (13-17 years)

€

850 / ticket |

Children (0-12 years)

€

850 / ticket

guests = 3

Price

Adult (18+ years)

€

750 / ticket |

Youth (13-17 years)

€

750 / ticket |

Children (0-12 years)

€

750 / ticket

guests = 4

Price

Adult (18+ years)

€

650 / ticket |

Youth (13-17 years)

€

650 / ticket |

Children (0-12 years)

€

650 / ticket

guests >= 5

Price

Adult (18+ years)

€

480 / ticket |

Youth (13-17 years)

€

480 / ticket |

Children (0-12 years)

€

480 / ticket
12
options
General price:
Adult (18+ years)
€

480 / ticket
|
Youth (13-17 years)
€

480 / ticket
|
Children (0-12 years)
€

480 / ticket
Options
guests <= 2

Price

Adult (18+ years)

€

850 / ticket |

Youth (13-17 years)

€

850 / ticket |

Children (0-12 years)

€

850 / ticket

guests = 3

Price

Adult (18+ years)

€

750 / ticket |

Youth (13-17 years)

€

750 / ticket |

Children (0-12 years)

€

750 / ticket

guests = 4

Price

Adult (18+ years)

€

650 / ticket |

Youth (13-17 years)

€

650 / ticket |

Children (0-12 years)

€

650 / ticket

guests >= 5

Price

Adult (18+ years)

€

480 / ticket |

Youth (13-17 years)

€

480 / ticket |

Children (0-12 years)

€

480 / ticket
13
options
General price:
Adult (18+ years)
€

480 / ticket
|
Youth (13-17 years)
€

480 / ticket
|
Children (0-12 years)
€

480 / ticket
Options
guests <= 2

Price

Adult (18+ years)

€

850 / ticket |

Youth (13-17 years)

€

850 / ticket |

Children (0-12 years)

€

850 / ticket

guests = 3

Price

Adult (18+ years)

€

750 / ticket |

Youth (13-17 years)

€

750 / ticket |

Children (0-12 years)

€

750 / ticket

guests = 4

Price

Adult (18+ years)

€

650 / ticket |

Youth (13-17 years)

€

650 / ticket |

Children (0-12 years)

€

650 / ticket

guests >= 5

Price

Adult (18+ years)

€

480 / ticket |

Youth (13-17 years)

€

480 / ticket |

Children (0-12 years)

€

480 / ticket
14
options
General price:
Adult (18+ years)
€

480 / ticket
|
Youth (13-17 years)
€

480 / ticket
|
Children (0-12 years)
€

480 / ticket
Options
guests <= 2

Price

Adult (18+ years)

€

850 / ticket |

Youth (13-17 years)

€

850 / ticket |

Children (0-12 years)

€

850 / ticket

guests = 3

Price

Adult (18+ years)

€

750 / ticket |

Youth (13-17 years)

€

750 / ticket |

Children (0-12 years)

€

750 / ticket

guests = 4

Price

Adult (18+ years)

€

650 / ticket |

Youth (13-17 years)

€

650 / ticket |

Children (0-12 years)

€

650 / ticket

guests >= 5

Price

Adult (18+ years)

€

480 / ticket |

Youth (13-17 years)

€

480 / ticket |

Children (0-12 years)

€

480 / ticket
15
options
General price:
Adult (18+ years)
€

480 / ticket
|
Youth (13-17 years)
€

480 / ticket
|
Children (0-12 years)
€

480 / ticket
Options
guests <= 2

Price

Adult (18+ years)

€

850 / ticket |

Youth (13-17 years)

€

850 / ticket |

Children (0-12 years)

€

850 / ticket

guests = 3

Price

Adult (18+ years)

€

750 / ticket |

Youth (13-17 years)

€

750 / ticket |

Children (0-12 years)

€

750 / ticket

guests = 4

Price

Adult (18+ years)

€

650 / ticket |

Youth (13-17 years)

€

650 / ticket |

Children (0-12 years)

€

650 / ticket

guests >= 5

Price

Adult (18+ years)

€

480 / ticket |

Youth (13-17 years)

€

480 / ticket |

Children (0-12 years)

€

480 / ticket
16
options
General price:
Adult (18+ years)
€

480 / ticket
|
Youth (13-17 years)
€

480 / ticket
|
Children (0-12 years)
€

480 / ticket
Options
guests <= 2

Price

Adult (18+ years)

€

850 / ticket |

Youth (13-17 years)

€

850 / ticket |

Children (0-12 years)

€

850 / ticket

guests = 3

Price

Adult (18+ years)

€

750 / ticket |

Youth (13-17 years)

€

750 / ticket |

Children (0-12 years)

€

750 / ticket

guests = 4

Price

Adult (18+ years)

€

650 / ticket |

Youth (13-17 years)

€

650 / ticket |

Children (0-12 years)

€

650 / ticket

guests >= 5

Price

Adult (18+ years)

€

480 / ticket |

Youth (13-17 years)

€

480 / ticket |

Children (0-12 years)

€

480 / ticket
17
options
General price:
Adult (18+ years)
€

480 / ticket
|
Youth (13-17 years)
€

480 / ticket
|
Children (0-12 years)
€

480 / ticket
Options
guests <= 2

Price

Adult (18+ years)

€

850 / ticket |

Youth (13-17 years)

€

850 / ticket |

Children (0-12 years)

€

850 / ticket

guests = 3

Price

Adult (18+ years)

€

750 / ticket |

Youth (13-17 years)

€

750 / ticket |

Children (0-12 years)

€

750 / ticket

guests = 4

Price

Adult (18+ years)

€

650 / ticket |

Youth (13-17 years)

€

650 / ticket |

Children (0-12 years)

€

650 / ticket

guests >= 5

Price

Adult (18+ years)

€

480 / ticket |

Youth (13-17 years)

€

480 / ticket |

Children (0-12 years)

€

480 / ticket
18
options
General price:
Adult (18+ years)
€

480 / ticket
|
Youth (13-17 years)
€

480 / ticket
|
Children (0-12 years)
€

480 / ticket
Options
guests <= 2

Price

Adult (18+ years)

€

850 / ticket |

Youth (13-17 years)

€

850 / ticket |

Children (0-12 years)

€

850 / ticket

guests = 3

Price

Adult (18+ years)

€

750 / ticket |

Youth (13-17 years)

€

750 / ticket |

Children (0-12 years)

€

750 / ticket

guests = 4

Price

Adult (18+ years)

€

650 / ticket |

Youth (13-17 years)

€

650 / ticket |

Children (0-12 years)

€

650 / ticket

guests >= 5

Price

Adult (18+ years)

€

480 / ticket |

Youth (13-17 years)

€

480 / ticket |

Children (0-12 years)

€

480 / ticket
19
options
General price:
Adult (18+ years)
€

480 / ticket
|
Youth (13-17 years)
€

480 / ticket
|
Children (0-12 years)
€

480 / ticket
Options
guests <= 2

Price

Adult (18+ years)

€

850 / ticket |

Youth (13-17 years)

€

850 / ticket |

Children (0-12 years)

€

850 / ticket

guests = 3

Price

Adult (18+ years)

€

750 / ticket |

Youth (13-17 years)

€

750 / ticket |

Children (0-12 years)

€

750 / ticket

guests = 4

Price

Adult (18+ years)

€

650 / ticket |

Youth (13-17 years)

€

650 / ticket |

Children (0-12 years)

€

650 / ticket

guests >= 5

Price

Adult (18+ years)

€

480 / ticket |

Youth (13-17 years)

€

480 / ticket |

Children (0-12 years)

€

480 / ticket
20
options
General price:
Adult (18+ years)
€

480 / ticket
|
Youth (13-17 years)
€

480 / ticket
|
Children (0-12 years)
€

480 / ticket
Options
guests <= 2

Price

Adult (18+ years)

€

850 / ticket |

Youth (13-17 years)

€

850 / ticket |

Children (0-12 years)

€

850 / ticket

guests = 3

Price

Adult (18+ years)

€

750 / ticket |

Youth (13-17 years)

€

750 / ticket |

Children (0-12 years)

€

750 / ticket

guests = 4

Price

Adult (18+ years)

€

650 / ticket |

Youth (13-17 years)

€

650 / ticket |

Children (0-12 years)

€

650 / ticket

guests >= 5

Price

Adult (18+ years)

€

480 / ticket |

Youth (13-17 years)

€

480 / ticket |

Children (0-12 years)

€

480 / ticket
21
options
General price:
Adult (18+ years)
€

480 / ticket
|
Youth (13-17 years)
€

480 / ticket
|
Children (0-12 years)
€

480 / ticket
Options
guests <= 2

Price

Adult (18+ years)

€

850 / ticket |

Youth (13-17 years)

€

850 / ticket |

Children (0-12 years)

€

850 / ticket

guests = 3

Price

Adult (18+ years)

€

750 / ticket |

Youth (13-17 years)

€

750 / ticket |

Children (0-12 years)

€

750 / ticket

guests = 4

Price

Adult (18+ years)

€

650 / ticket |

Youth (13-17 years)

€

650 / ticket |

Children (0-12 years)

€

650 / ticket

guests >= 5

Price

Adult (18+ years)

€

480 / ticket |

Youth (13-17 years)

€

480 / ticket |

Children (0-12 years)

€

480 / ticket
22
options
General price:
Adult (18+ years)
€

480 / ticket
|
Youth (13-17 years)
€

480 / ticket
|
Children (0-12 years)
€

480 / ticket
Options
guests <= 2

Price

Adult (18+ years)

€

850 / ticket |

Youth (13-17 years)

€

850 / ticket |

Children (0-12 years)

€

850 / ticket

guests = 3

Price

Adult (18+ years)

€

750 / ticket |

Youth (13-17 years)

€

750 / ticket |

Children (0-12 years)

€

750 / ticket

guests = 4

Price

Adult (18+ years)

€

650 / ticket |

Youth (13-17 years)

€

650 / ticket |

Children (0-12 years)

€

650 / ticket

guests >= 5

Price

Adult (18+ years)

€

480 / ticket |

Youth (13-17 years)

€

480 / ticket |

Children (0-12 years)

€

480 / ticket
23
options
General price:
Adult (18+ years)
€

480 / ticket
|
Youth (13-17 years)
€

480 / ticket
|
Children (0-12 years)
€

480 / ticket
Options
guests <= 2

Price

Adult (18+ years)

€

850 / ticket |

Youth (13-17 years)

€

850 / ticket |

Children (0-12 years)

€

850 / ticket

guests = 3

Price

Adult (18+ years)

€

750 / ticket |

Youth (13-17 years)

€

750 / ticket |

Children (0-12 years)

€

750 / ticket

guests = 4

Price

Adult (18+ years)

€

650 / ticket |

Youth (13-17 years)

€

650 / ticket |

Children (0-12 years)

€

650 / ticket

guests >= 5

Price

Adult (18+ years)

€

480 / ticket |

Youth (13-17 years)

€

480 / ticket |

Children (0-12 years)

€

480 / ticket
24
options
General price:
Adult (18+ years)
€

480 / ticket
|
Youth (13-17 years)
€

480 / ticket
|
Children (0-12 years)
€

480 / ticket
Options
guests <= 2

Price

Adult (18+ years)

€

850 / ticket |

Youth (13-17 years)

€

850 / ticket |

Children (0-12 years)

€

850 / ticket

guests = 3

Price

Adult (18+ years)

€

750 / ticket |

Youth (13-17 years)

€

750 / ticket |

Children (0-12 years)

€

750 / ticket

guests = 4

Price

Adult (18+ years)

€

650 / ticket |

Youth (13-17 years)

€

650 / ticket |

Children (0-12 years)

€

650 / ticket

guests >= 5

Price

Adult (18+ years)

€

480 / ticket |

Youth (13-17 years)

€

480 / ticket |

Children (0-12 years)

€

480 / ticket
25
options
General price:
Adult (18+ years)
€

480 / ticket
|
Youth (13-17 years)
€

480 / ticket
|
Children (0-12 years)
€

480 / ticket
Options
guests <= 2

Price

Adult (18+ years)

€

850 / ticket |

Youth (13-17 years)

€

850 / ticket |

Children (0-12 years)

€

850 / ticket

guests = 3

Price

Adult (18+ years)

€

750 / ticket |

Youth (13-17 years)

€

750 / ticket |

Children (0-12 years)

€

750 / ticket

guests = 4

Price

Adult (18+ years)

€

650 / ticket |

Youth (13-17 years)

€

650 / ticket |

Children (0-12 years)

€

650 / ticket

guests >= 5

Price

Adult (18+ years)

€

480 / ticket |

Youth (13-17 years)

€

480 / ticket |

Children (0-12 years)

€

480 / ticket
26
options
General price:
Adult (18+ years)
€

480 / ticket
|
Youth (13-17 years)
€

480 / ticket
|
Children (0-12 years)
€

480 / ticket
Options
guests <= 2

Price

Adult (18+ years)

€

850 / ticket |

Youth (13-17 years)

€

850 / ticket |

Children (0-12 years)

€

850 / ticket

guests = 3

Price

Adult (18+ years)

€

750 / ticket |

Youth (13-17 years)

€

750 / ticket |

Children (0-12 years)

€

750 / ticket

guests = 4

Price

Adult (18+ years)

€

650 / ticket |

Youth (13-17 years)

€

650 / ticket |

Children (0-12 years)

€

650 / ticket

guests >= 5

Price

Adult (18+ years)

€

480 / ticket |

Youth (13-17 years)

€

480 / ticket |

Children (0-12 years)

€

480 / ticket
27
options
General price:
Adult (18+ years)
€

480 / ticket
|
Youth (13-17 years)
€

480 / ticket
|
Children (0-12 years)
€

480 / ticket
Options
guests <= 2

Price

Adult (18+ years)

€

850 / ticket |

Youth (13-17 years)

€

850 / ticket |

Children (0-12 years)

€

850 / ticket

guests = 3

Price

Adult (18+ years)

€

750 / ticket |

Youth (13-17 years)

€

750 / ticket |

Children (0-12 years)

€

750 / ticket

guests = 4

Price

Adult (18+ years)

€

650 / ticket |

Youth (13-17 years)

€

650 / ticket |

Children (0-12 years)

€

650 / ticket

guests >= 5

Price

Adult (18+ years)

€

480 / ticket |

Youth (13-17 years)

€

480 / ticket |

Children (0-12 years)

€

480 / ticket
28
options
General price:
Adult (18+ years)
€

480 / ticket
|
Youth (13-17 years)
€

480 / ticket
|
Children (0-12 years)
€

480 / ticket
Options
guests <= 2

Price

Adult (18+ years)

€

850 / ticket |

Youth (13-17 years)

€

850 / ticket |

Children (0-12 years)

€

850 / ticket

guests = 3

Price

Adult (18+ years)

€

750 / ticket |

Youth (13-17 years)

€

750 / ticket |

Children (0-12 years)

€

750 / ticket

guests = 4

Price

Adult (18+ years)

€

650 / ticket |

Youth (13-17 years)

€

650 / ticket |

Children (0-12 years)

€

650 / ticket

guests >= 5

Price

Adult (18+ years)

€

480 / ticket |

Youth (13-17 years)

€

480 / ticket |

Children (0-12 years)

€

480 / ticket
29
options
General price:
Adult (18+ years)
€

480 / ticket
|
Youth (13-17 years)
€

480 / ticket
|
Children (0-12 years)
€

480 / ticket
Options
guests <= 2

Price

Adult (18+ years)

€

850 / ticket |

Youth (13-17 years)

€

850 / ticket |

Children (0-12 years)

€

850 / ticket

guests = 3

Price

Adult (18+ years)

€

750 / ticket |

Youth (13-17 years)

€

750 / ticket |

Children (0-12 years)

€

750 / ticket

guests = 4

Price

Adult (18+ years)

€

650 / ticket |

Youth (13-17 years)

€

650 / ticket |

Children (0-12 years)

€

650 / ticket

guests >= 5

Price

Adult (18+ years)

€

480 / ticket |

Youth (13-17 years)

€

480 / ticket |

Children (0-12 years)

€

480 / ticket
30
options
General price:
Adult (18+ years)
€

480 / ticket
|
Youth (13-17 years)
€

480 / ticket
|
Children (0-12 years)
€

480 / ticket
Options
guests <= 2

Price

Adult (18+ years)

€

850 / ticket |

Youth (13-17 years)

€

850 / ticket |

Children (0-12 years)

€

850 / ticket

guests = 3

Price

Adult (18+ years)

€

750 / ticket |

Youth (13-17 years)

€

750 / ticket |

Children (0-12 years)

€

750 / ticket

guests = 4

Price

Adult (18+ years)

€

650 / ticket |

Youth (13-17 years)

€

650 / ticket |

Children (0-12 years)

€

650 / ticket

guests >= 5

Price

Adult (18+ years)

€

480 / ticket |

Youth (13-17 years)

€

480 / ticket |

Children (0-12 years)

€

480 / ticket
31
options
General price:
Adult (18+ years)
€

480 / ticket
|
Youth (13-17 years)
€

480 / ticket
|
Children (0-12 years)
€

480 / ticket
Options
guests <= 2

Price

Adult (18+ years)

€

850 / ticket |

Youth (13-17 years)

€

850 / ticket |

Children (0-12 years)

€

850 / ticket

guests = 3

Price

Adult (18+ years)

€

750 / ticket |

Youth (13-17 years)

€

750 / ticket |

Children (0-12 years)

€

750 / ticket

guests = 4

Price

Adult (18+ years)

€

650 / ticket |

Youth (13-17 years)

€

650 / ticket |

Children (0-12 years)

€

650 / ticket

guests >= 5

Price

Adult (18+ years)

€

480 / ticket |

Youth (13-17 years)

€

480 / ticket |

Children (0-12 years)

€

480 / ticket
1
options
General price:
Adult (18+ years)
€

480 / ticket
|
Youth (13-17 years)
€

480 / ticket
|
Children (0-12 years)
€

480 / ticket
Options
guests <= 2

Price

Adult (18+ years)

€

850 / ticket |

Youth (13-17 years)

€

850 / ticket |

Children (0-12 years)

€

850 / ticket

guests = 3

Price

Adult (18+ years)

€

750 / ticket |

Youth (13-17 years)

€

750 / ticket |

Children (0-12 years)

€

750 / ticket

guests = 4

Price

Adult (18+ years)

€

650 / ticket |

Youth (13-17 years)

€

650 / ticket |

Children (0-12 years)

€

650 / ticket

guests >= 5

Price

Adult (18+ years)

€

480 / ticket |

Youth (13-17 years)

€

480 / ticket |

Children (0-12 years)

€

480 / ticket
2
options
General price:
Adult (18+ years)
€

480 / ticket
|
Youth (13-17 years)
€

480 / ticket
|
Children (0-12 years)
€

480 / ticket
Options
guests <= 2

Price

Adult (18+ years)

€

850 / ticket |

Youth (13-17 years)

€

850 / ticket |

Children (0-12 years)

€

850 / ticket

guests = 3

Price

Adult (18+ years)

€

750 / ticket |

Youth (13-17 years)

€

750 / ticket |

Children (0-12 years)

€

750 / ticket

guests = 4

Price

Adult (18+ years)

€

650 / ticket |

Youth (13-17 years)

€

650 / ticket |

Children (0-12 years)

€

650 / ticket

guests >= 5

Price

Adult (18+ years)

€

480 / ticket |

Youth (13-17 years)

€

480 / ticket |

Children (0-12 years)

€

480 / ticket
3
options
General price:
Adult (18+ years)
€

480 / ticket
|
Youth (13-17 years)
€

480 / ticket
|
Children (0-12 years)
€

480 / ticket
Options
guests <= 2

Price

Adult (18+ years)

€

850 / ticket |

Youth (13-17 years)

€

850 / ticket |

Children (0-12 years)

€

850 / ticket

guests = 3

Price

Adult (18+ years)

€

750 / ticket |

Youth (13-17 years)

€

750 / ticket |

Children (0-12 years)

€

750 / ticket

guests = 4

Price

Adult (18+ years)

€

650 / ticket |

Youth (13-17 years)

€

650 / ticket |

Children (0-12 years)

€

650 / ticket

guests >= 5

Price

Adult (18+ years)

€

480 / ticket |

Youth (13-17 years)

€

480 / ticket |

Children (0-12 years)

€

480 / ticket
4
options
General price:
Adult (18+ years)
€

480 / ticket
|
Youth (13-17 years)
€

480 / ticket
|
Children (0-12 years)
€

480 / ticket
Options
guests <= 2

Price

Adult (18+ years)

€

850 / ticket |

Youth (13-17 years)

€

850 / ticket |

Children (0-12 years)

€

850 / ticket

guests = 3

Price

Adult (18+ years)

€

750 / ticket |

Youth (13-17 years)

€

750 / ticket |

Children (0-12 years)

€

750 / ticket

guests = 4

Price

Adult (18+ years)

€

650 / ticket |

Youth (13-17 years)

€

650 / ticket |

Children (0-12 years)

€

650 / ticket

guests >= 5

Price

Adult (18+ years)

€

480 / ticket |

Youth (13-17 years)

€

480 / ticket |

Children (0-12 years)

€

480 / ticket
5
options
General price:
Adult (18+ years)
€

480 / ticket
|
Youth (13-17 years)
€

480 / ticket
|
Children (0-12 years)
€

480 / ticket
Options
guests <= 2

Price

Adult (18+ years)

€

850 / ticket |

Youth (13-17 years)

€

850 / ticket |

Children (0-12 years)

€

850 / ticket

guests = 3

Price

Adult (18+ years)

€

750 / ticket |

Youth (13-17 years)

€

750 / ticket |

Children (0-12 years)

€

750 / ticket

guests = 4

Price

Adult (18+ years)

€

650 / ticket |

Youth (13-17 years)

€

650 / ticket |

Children (0-12 years)

€

650 / ticket

guests >= 5

Price

Adult (18+ years)

€

480 / ticket |

Youth (13-17 years)

€

480 / ticket |

Children (0-12 years)

€

480 / ticket
6
options
General price:
Adult (18+ years)
€

480 / ticket
|
Youth (13-17 years)
€

480 / ticket
|
Children (0-12 years)
€

480 / ticket
Options
guests <= 2

Price

Adult (18+ years)

€

850 / ticket |

Youth (13-17 years)

€

850 / ticket |

Children (0-12 years)

€

850 / ticket

guests = 3

Price

Adult (18+ years)

€

750 / ticket |

Youth (13-17 years)

€

750 / ticket |

Children (0-12 years)

€

750 / ticket

guests = 4

Price

Adult (18+ years)

€

650 / ticket |

Youth (13-17 years)

€

650 / ticket |

Children (0-12 years)

€

650 / ticket

guests >= 5

Price

Adult (18+ years)

€

480 / ticket |

Youth (13-17 years)

€

480 / ticket |

Children (0-12 years)

€

480 / ticket
7
options
General price:
Adult (18+ years)
€

480 / ticket
|
Youth (13-17 years)
€

480 / ticket
|
Children (0-12 years)
€

480 / ticket
Options
guests <= 2

Price

Adult (18+ years)

€

850 / ticket |

Youth (13-17 years)

€

850 / ticket |

Children (0-12 years)

€

850 / ticket

guests = 3

Price

Adult (18+ years)

€

750 / ticket |

Youth (13-17 years)

€

750 / ticket |

Children (0-12 years)

€

750 / ticket

guests = 4

Price

Adult (18+ years)

€

650 / ticket |

Youth (13-17 years)

€

650 / ticket |

Children (0-12 years)

€

650 / ticket

guests >= 5

Price

Adult (18+ years)

€

480 / ticket |

Youth (13-17 years)

€

480 / ticket |

Children (0-12 years)

€

480 / ticket
8
options
General price:
Adult (18+ years)
€

480 / ticket
|
Youth (13-17 years)
€

480 / ticket
|
Children (0-12 years)
€

480 / ticket
Options
guests <= 2

Price

Adult (18+ years)

€

850 / ticket |

Youth (13-17 years)

€

850 / ticket |

Children (0-12 years)

€

850 / ticket

guests = 3

Price

Adult (18+ years)

€

750 / ticket |

Youth (13-17 years)

€

750 / ticket |

Children (0-12 years)

€

750 / ticket

guests = 4

Price

Adult (18+ years)

€

650 / ticket |

Youth (13-17 years)

€

650 / ticket |

Children (0-12 years)

€

650 / ticket

guests >= 5

Price

Adult (18+ years)

€

480 / ticket |

Youth (13-17 years)

€

480 / ticket |

Children (0-12 years)

€

480 / ticket
9
options
General price:
Adult (18+ years)
€

480 / ticket
|
Youth (13-17 years)
€

480 / ticket
|
Children (0-12 years)
€

480 / ticket
Options
guests <= 2

Price

Adult (18+ years)

€

850 / ticket |

Youth (13-17 years)

€

850 / ticket |

Children (0-12 years)

€

850 / ticket

guests = 3

Price

Adult (18+ years)

€

750 / ticket |

Youth (13-17 years)

€

750 / ticket |

Children (0-12 years)

€

750 / ticket

guests = 4

Price

Adult (18+ years)

€

650 / ticket |

Youth (13-17 years)

€

650 / ticket |

Children (0-12 years)

€

650 / ticket

guests >= 5

Price

Adult (18+ years)

€

480 / ticket |

Youth (13-17 years)

€

480 / ticket |

Children (0-12 years)

€

480 / ticket
10
options
General price:
Adult (18+ years)
€

480 / ticket
|
Youth (13-17 years)
€

480 / ticket
|
Children (0-12 years)
€

480 / ticket
Options
guests <= 2

Price

Adult (18+ years)

€

850 / ticket |

Youth (13-17 years)

€

850 / ticket |

Children (0-12 years)

€

850 / ticket

guests = 3

Price

Adult (18+ years)

€

750 / ticket |

Youth (13-17 years)

€

750 / ticket |

Children (0-12 years)

€

750 / ticket

guests = 4

Price

Adult (18+ years)

€

650 / ticket |

Youth (13-17 years)

€

650 / ticket |

Children (0-12 years)

€

650 / ticket

guests >= 5

Price

Adult (18+ years)

€

480 / ticket |

Youth (13-17 years)

€

480 / ticket |

Children (0-12 years)

€

480 / ticket
11
options
General price:
Adult (18+ years)
€

480 / ticket
|
Youth (13-17 years)
€

480 / ticket
|
Children (0-12 years)
€

480 / ticket
Options
guests <= 2

Price

Adult (18+ years)

€

850 / ticket |

Youth (13-17 years)

€

850 / ticket |

Children (0-12 years)

€

850 / ticket

guests = 3

Price

Adult (18+ years)

€

750 / ticket |

Youth (13-17 years)

€

750 / ticket |

Children (0-12 years)

€

750 / ticket

guests = 4

Price

Adult (18+ years)

€

650 / ticket |

Youth (13-17 years)

€

650 / ticket |

Children (0-12 years)

€

650 / ticket

guests >= 5

Price

Adult (18+ years)

€

480 / ticket |

Youth (13-17 years)

€

480 / ticket |

Children (0-12 years)

€

480 / ticket
12
options
General price:
Adult (18+ years)
€

480 / ticket
|
Youth (13-17 years)
€

480 / ticket
|
Children (0-12 years)
€

480 / ticket
Options
guests <= 2

Price

Adult (18+ years)

€

850 / ticket |

Youth (13-17 years)

€

850 / ticket |

Children (0-12 years)

€

850 / ticket

guests = 3

Price

Adult (18+ years)

€

750 / ticket |

Youth (13-17 years)

€

750 / ticket |

Children (0-12 years)

€

750 / ticket

guests = 4

Price

Adult (18+ years)

€

650 / ticket |

Youth (13-17 years)

€

650 / ticket |

Children (0-12 years)

€

650 / ticket

guests >= 5

Price

Adult (18+ years)

€

480 / ticket |

Youth (13-17 years)

€

480 / ticket |

Children (0-12 years)

€

480 / ticket
13
options
General price:
Adult (18+ years)
€

480 / ticket
|
Youth (13-17 years)
€

480 / ticket
|
Children (0-12 years)
€

480 / ticket
Options
guests <= 2

Price

Adult (18+ years)

€

850 / ticket |

Youth (13-17 years)

€

850 / ticket |

Children (0-12 years)

€

850 / ticket

guests = 3

Price

Adult (18+ years)

€

750 / ticket |

Youth (13-17 years)

€

750 / ticket |

Children (0-12 years)

€

750 / ticket

guests = 4

Price

Adult (18+ years)

€

650 / ticket |

Youth (13-17 years)

€

650 / ticket |

Children (0-12 years)

€

650 / ticket

guests >= 5

Price

Adult (18+ years)

€

480 / ticket |

Youth (13-17 years)

€

480 / ticket |

Children (0-12 years)

€

480 / ticket
14
options
General price:
Adult (18+ years)
€

480 / ticket
|
Youth (13-17 years)
€

480 / ticket
|
Children (0-12 years)
€

480 / ticket
Options
guests <= 2

Price

Adult (18+ years)

€

850 / ticket |

Youth (13-17 years)

€

850 / ticket |

Children (0-12 years)

€

850 / ticket

guests = 3

Price

Adult (18+ years)

€

750 / ticket |

Youth (13-17 years)

€

750 / ticket |

Children (0-12 years)

€

750 / ticket

guests = 4

Price

Adult (18+ years)

€

650 / ticket |

Youth (13-17 years)

€

650 / ticket |

Children (0-12 years)

€

650 / ticket

guests >= 5

Price

Adult (18+ years)

€

480 / ticket |

Youth (13-17 years)

€

480 / ticket |

Children (0-12 years)

€

480 / ticket
15
options
General price:
Adult (18+ years)
€

480 / ticket
|
Youth (13-17 years)
€

480 / ticket
|
Children (0-12 years)
€

480 / ticket
Options
guests <= 2

Price

Adult (18+ years)

€

850 / ticket |

Youth (13-17 years)

€

850 / ticket |

Children (0-12 years)

€

850 / ticket

guests = 3

Price

Adult (18+ years)

€

750 / ticket |

Youth (13-17 years)

€

750 / ticket |

Children (0-12 years)

€

750 / ticket

guests = 4

Price

Adult (18+ years)

€

650 / ticket |

Youth (13-17 years)

€

650 / ticket |

Children (0-12 years)

€

650 / ticket

guests >= 5

Price

Adult (18+ years)

€

480 / ticket |

Youth (13-17 years)

€

480 / ticket |

Children (0-12 years)

€

480 / ticket
16
options
General price:
Adult (18+ years)
€

480 / ticket
|
Youth (13-17 years)
€

480 / ticket
|
Children (0-12 years)
€

480 / ticket
Options
guests <= 2

Price

Adult (18+ years)

€

850 / ticket |

Youth (13-17 years)

€

850 / ticket |

Children (0-12 years)

€

850 / ticket

guests = 3

Price

Adult (18+ years)

€

750 / ticket |

Youth (13-17 years)

€

750 / ticket |

Children (0-12 years)

€

750 / ticket

guests = 4

Price

Adult (18+ years)

€

650 / ticket |

Youth (13-17 years)

€

650 / ticket |

Children (0-12 years)

€

650 / ticket

guests >= 5

Price

Adult (18+ years)

€

480 / ticket |

Youth (13-17 years)

€

480 / ticket |

Children (0-12 years)

€

480 / ticket
17
options
General price:
Adult (18+ years)
€

480 / ticket
|
Youth (13-17 years)
€

480 / ticket
|
Children (0-12 years)
€

480 / ticket
Options
guests <= 2

Price

Adult (18+ years)

€

850 / ticket |

Youth (13-17 years)

€

850 / ticket |

Children (0-12 years)

€

850 / ticket

guests = 3

Price

Adult (18+ years)

€

750 / ticket |

Youth (13-17 years)

€

750 / ticket |

Children (0-12 years)

€

750 / ticket

guests = 4

Price

Adult (18+ years)

€

650 / ticket |

Youth (13-17 years)

€

650 / ticket |

Children (0-12 years)

€

650 / ticket

guests >= 5

Price

Adult (18+ years)

€

480 / ticket |

Youth (13-17 years)

€

480 / ticket |

Children (0-12 years)

€

480 / ticket
18
options
General price:
Adult (18+ years)
€

480 / ticket
|
Youth (13-17 years)
€

480 / ticket
|
Children (0-12 years)
€

480 / ticket
Options
guests <= 2

Price

Adult (18+ years)

€

850 / ticket |

Youth (13-17 years)

€

850 / ticket |

Children (0-12 years)

€

850 / ticket

guests = 3

Price

Adult (18+ years)

€

750 / ticket |

Youth (13-17 years)

€

750 / ticket |

Children (0-12 years)

€

750 / ticket

guests = 4

Price

Adult (18+ years)

€

650 / ticket |

Youth (13-17 years)

€

650 / ticket |

Children (0-12 years)

€

650 / ticket

guests >= 5

Price

Adult (18+ years)

€

480 / ticket |

Youth (13-17 years)

€

480 / ticket |

Children (0-12 years)

€

480 / ticket
19
options
General price:
Adult (18+ years)
€

480 / ticket
|
Youth (13-17 years)
€

480 / ticket
|
Children (0-12 years)
€

480 / ticket
Options
guests <= 2

Price

Adult (18+ years)

€

850 / ticket |

Youth (13-17 years)

€

850 / ticket |

Children (0-12 years)

€

850 / ticket

guests = 3

Price

Adult (18+ years)

€

750 / ticket |

Youth (13-17 years)

€

750 / ticket |

Children (0-12 years)

€

750 / ticket

guests = 4

Price

Adult (18+ years)

€

650 / ticket |

Youth (13-17 years)

€

650 / ticket |

Children (0-12 years)

€

650 / ticket

guests >= 5

Price

Adult (18+ years)

€

480 / ticket |

Youth (13-17 years)

€

480 / ticket |

Children (0-12 years)

€

480 / ticket
20
options
General price:
Adult (18+ years)
€

480 / ticket
|
Youth (13-17 years)
€

480 / ticket
|
Children (0-12 years)
€

480 / ticket
Options
guests <= 2

Price

Adult (18+ years)

€

850 / ticket |

Youth (13-17 years)

€

850 / ticket |

Children (0-12 years)

€

850 / ticket

guests = 3

Price

Adult (18+ years)

€

750 / ticket |

Youth (13-17 years)

€

750 / ticket |

Children (0-12 years)

€

750 / ticket

guests = 4

Price

Adult (18+ years)

€

650 / ticket |

Youth (13-17 years)

€

650 / ticket |

Children (0-12 years)

€

650 / ticket

guests >= 5

Price

Adult (18+ years)

€

480 / ticket |

Youth (13-17 years)

€

480 / ticket |

Children (0-12 years)

€

480 / ticket
21
options
General price:
Adult (18+ years)
€

480 / ticket
|
Youth (13-17 years)
€

480 / ticket
|
Children (0-12 years)
€

480 / ticket
Options
guests <= 2

Price

Adult (18+ years)

€

850 / ticket |

Youth (13-17 years)

€

850 / ticket |

Children (0-12 years)

€

850 / ticket

guests = 3

Price

Adult (18+ years)

€

750 / ticket |

Youth (13-17 years)

€

750 / ticket |

Children (0-12 years)

€

750 / ticket

guests = 4

Price

Adult (18+ years)

€

650 / ticket |

Youth (13-17 years)

€

650 / ticket |

Children (0-12 years)

€

650 / ticket

guests >= 5

Price

Adult (18+ years)

€

480 / ticket |

Youth (13-17 years)

€

480 / ticket |

Children (0-12 years)

€

480 / ticket
22
options
General price:
Adult (18+ years)
€

480 / ticket
|
Youth (13-17 years)
€

480 / ticket
|
Children (0-12 years)
€

480 / ticket
Options
guests <= 2

Price

Adult (18+ years)

€

850 / ticket |

Youth (13-17 years)

€

850 / ticket |

Children (0-12 years)

€

850 / ticket

guests = 3

Price

Adult (18+ years)

€

750 / ticket |

Youth (13-17 years)

€

750 / ticket |

Children (0-12 years)

€

750 / ticket

guests = 4

Price

Adult (18+ years)

€

650 / ticket |

Youth (13-17 years)

€

650 / ticket |

Children (0-12 years)

€

650 / ticket

guests >= 5

Price

Adult (18+ years)

€

480 / ticket |

Youth (13-17 years)

€

480 / ticket |

Children (0-12 years)

€

480 / ticket
23
options
General price:
Adult (18+ years)
€

480 / ticket
|
Youth (13-17 years)
€

480 / ticket
|
Children (0-12 years)
€

480 / ticket
Options
guests <= 2

Price

Adult (18+ years)

€

850 / ticket |

Youth (13-17 years)

€

850 / ticket |

Children (0-12 years)

€

850 / ticket

guests = 3

Price

Adult (18+ years)

€

750 / ticket |

Youth (13-17 years)

€

750 / ticket |

Children (0-12 years)

€

750 / ticket

guests = 4

Price

Adult (18+ years)

€

650 / ticket |

Youth (13-17 years)

€

650 / ticket |

Children (0-12 years)

€

650 / ticket

guests >= 5

Price

Adult (18+ years)

€

480 / ticket |

Youth (13-17 years)

€

480 / ticket |

Children (0-12 years)

€

480 / ticket
24
options
General price:
Adult (18+ years)
€

480 / ticket
|
Youth (13-17 years)
€

480 / ticket
|
Children (0-12 years)
€

480 / ticket
Options
guests <= 2

Price

Adult (18+ years)

€

850 / ticket |

Youth (13-17 years)

€

850 / ticket |

Children (0-12 years)

€

850 / ticket

guests = 3

Price

Adult (18+ years)

€

750 / ticket |

Youth (13-17 years)

€

750 / ticket |

Children (0-12 years)

€

750 / ticket

guests = 4

Price

Adult (18+ years)

€

650 / ticket |

Youth (13-17 years)

€

650 / ticket |

Children (0-12 years)

€

650 / ticket

guests >= 5

Price

Adult (18+ years)

€

480 / ticket |

Youth (13-17 years)

€

480 / ticket |

Children (0-12 years)

€

480 / ticket
25
options
General price:
Adult (18+ years)
€

480 / ticket
|
Youth (13-17 years)
€

480 / ticket
|
Children (0-12 years)
€

480 / ticket
Options
guests <= 2

Price

Adult (18+ years)

€

850 / ticket |

Youth (13-17 years)

€

850 / ticket |

Children (0-12 years)

€

850 / ticket

guests = 3

Price

Adult (18+ years)

€

750 / ticket |

Youth (13-17 years)

€

750 / ticket |

Children (0-12 years)

€

750 / ticket

guests = 4

Price

Adult (18+ years)

€

650 / ticket |

Youth (13-17 years)

€

650 / ticket |

Children (0-12 years)

€

650 / ticket

guests >= 5

Price

Adult (18+ years)

€

480 / ticket |

Youth (13-17 years)

€

480 / ticket |

Children (0-12 years)

€

480 / ticket
26
options
General price:
Adult (18+ years)
€

480 / ticket
|
Youth (13-17 years)
€

480 / ticket
|
Children (0-12 years)
€

480 / ticket
Options
guests <= 2

Price

Adult (18+ years)

€

850 / ticket |

Youth (13-17 years)

€

850 / ticket |

Children (0-12 years)

€

850 / ticket

guests = 3

Price

Adult (18+ years)

€

750 / ticket |

Youth (13-17 years)

€

750 / ticket |

Children (0-12 years)

€

750 / ticket

guests = 4

Price

Adult (18+ years)

€

650 / ticket |

Youth (13-17 years)

€

650 / ticket |

Children (0-12 years)

€

650 / ticket

guests >= 5

Price

Adult (18+ years)

€

480 / ticket |

Youth (13-17 years)

€

480 / ticket |

Children (0-12 years)

€

480 / ticket
27
options
General price:
Adult (18+ years)
€

480 / ticket
|
Youth (13-17 years)
€

480 / ticket
|
Children (0-12 years)
€

480 / ticket
Options
guests <= 2

Price

Adult (18+ years)

€

850 / ticket |

Youth (13-17 years)

€

850 / ticket |

Children (0-12 years)

€

850 / ticket

guests = 3

Price

Adult (18+ years)

€

750 / ticket |

Youth (13-17 years)

€

750 / ticket |

Children (0-12 years)

€

750 / ticket

guests = 4

Price

Adult (18+ years)

€

650 / ticket |

Youth (13-17 years)

€

650 / ticket |

Children (0-12 years)

€

650 / ticket

guests >= 5

Price

Adult (18+ years)

€

480 / ticket |

Youth (13-17 years)

€

480 / ticket |

Children (0-12 years)

€

480 / ticket
28
options
General price:
Adult (18+ years)
€

480 / ticket
|
Youth (13-17 years)
€

480 / ticket
|
Children (0-12 years)
€

480 / ticket
Options
guests <= 2

Price

Adult (18+ years)

€

850 / ticket |

Youth (13-17 years)

€

850 / ticket |

Children (0-12 years)

€

850 / ticket

guests = 3

Price

Adult (18+ years)

€

750 / ticket |

Youth (13-17 years)

€

750 / ticket |

Children (0-12 years)

€

750 / ticket

guests = 4

Price

Adult (18+ years)

€

650 / ticket |

Youth (13-17 years)

€

650 / ticket |

Children (0-12 years)

€

650 / ticket

guests >= 5

Price

Adult (18+ years)

€

480 / ticket |

Youth (13-17 years)

€

480 / ticket |

Children (0-12 years)

€

480 / ticket
29
options
General price:
Adult (18+ years)
€

480 / ticket
|
Youth (13-17 years)
€

480 / ticket
|
Children (0-12 years)
€

480 / ticket
Options
guests <= 2

Price

Adult (18+ years)

€

850 / ticket |

Youth (13-17 years)

€

850 / ticket |

Children (0-12 years)

€

850 / ticket

guests = 3

Price

Adult (18+ years)

€

750 / ticket |

Youth (13-17 years)

€

750 / ticket |

Children (0-12 years)

€

750 / ticket

guests = 4

Price

Adult (18+ years)

€

650 / ticket |

Youth (13-17 years)

€

650 / ticket |

Children (0-12 years)

€

650 / ticket

guests >= 5

Price

Adult (18+ years)

€

480 / ticket |

Youth (13-17 years)

€

480 / ticket |

Children (0-12 years)

€

480 / ticket
30
options
General price:
Adult (18+ years)
€

480 / ticket
|
Youth (13-17 years)
€

480 / ticket
|
Children (0-12 years)
€

480 / ticket
Options
guests <= 2

Price

Adult (18+ years)

€

850 / ticket |

Youth (13-17 years)

€

850 / ticket |

Children (0-12 years)

€

850 / ticket

guests = 3

Price

Adult (18+ years)

€

750 / ticket |

Youth (13-17 years)

€

750 / ticket |

Children (0-12 years)

€

750 / ticket

guests = 4

Price

Adult (18+ years)

€

650 / ticket |

Youth (13-17 years)

€

650 / ticket |

Children (0-12 years)

€

650 / ticket

guests >= 5

Price

Adult (18+ years)

€

480 / ticket |

Youth (13-17 years)

€

480 / ticket |

Children (0-12 years)

€

480 / ticket
1
options
General price:
Adult (18+ years)
€

480 / ticket
|
Youth (13-17 years)
€

480 / ticket
|
Children (0-12 years)
€

480 / ticket
Options
guests <= 2

Price

Adult (18+ years)

€

850 / ticket |

Youth (13-17 years)

€

850 / ticket |

Children (0-12 years)

€

850 / ticket

guests = 3

Price

Adult (18+ years)

€

750 / ticket |

Youth (13-17 years)

€

750 / ticket |

Children (0-12 years)

€

750 / ticket

guests = 4

Price

Adult (18+ years)

€

650 / ticket |

Youth (13-17 years)

€

650 / ticket |

Children (0-12 years)

€

650 / ticket

guests >= 5

Price

Adult (18+ years)

€

480 / ticket |

Youth (13-17 years)

€

480 / ticket |

Children (0-12 years)

€

480 / ticket
2
options
General price:
Adult (18+ years)
€

480 / ticket
|
Youth (13-17 years)
€

480 / ticket
|
Children (0-12 years)
€

480 / ticket
Options
guests <= 2

Price

Adult (18+ years)

€

850 / ticket |

Youth (13-17 years)

€

850 / ticket |

Children (0-12 years)

€

850 / ticket

guests = 3

Price

Adult (18+ years)

€

750 / ticket |

Youth (13-17 years)

€

750 / ticket |

Children (0-12 years)

€

750 / ticket

guests = 4

Price

Adult (18+ years)

€

650 / ticket |

Youth (13-17 years)

€

650 / ticket |

Children (0-12 years)

€

650 / ticket

guests >= 5

Price

Adult (18+ years)

€

480 / ticket |

Youth (13-17 years)

€

480 / ticket |

Children (0-12 years)

€

480 / ticket
3
options
General price:
Adult (18+ years)
€

480 / ticket
|
Youth (13-17 years)
€

480 / ticket
|
Children (0-12 years)
€

480 / ticket
Options
guests <= 2

Price

Adult (18+ years)

€

850 / ticket |

Youth (13-17 years)

€

850 / ticket |

Children (0-12 years)

€

850 / ticket

guests = 3

Price

Adult (18+ years)

€

750 / ticket |

Youth (13-17 years)

€

750 / ticket |

Children (0-12 years)

€

750 / ticket

guests = 4

Price

Adult (18+ years)

€

650 / ticket |

Youth (13-17 years)

€

650 / ticket |

Children (0-12 years)

€

650 / ticket

guests >= 5

Price

Adult (18+ years)

€

480 / ticket |

Youth (13-17 years)

€

480 / ticket |

Children (0-12 years)

€

480 / ticket
4
options
General price:
Adult (18+ years)
€

480 / ticket
|
Youth (13-17 years)
€

480 / ticket
|
Children (0-12 years)
€

480 / ticket
Options
guests <= 2

Price

Adult (18+ years)

€

850 / ticket |

Youth (13-17 years)

€

850 / ticket |

Children (0-12 years)

€

850 / ticket

guests = 3

Price

Adult (18+ years)

€

750 / ticket |

Youth (13-17 years)

€

750 / ticket |

Children (0-12 years)

€

750 / ticket

guests = 4

Price

Adult (18+ years)

€

650 / ticket |

Youth (13-17 years)

€

650 / ticket |

Children (0-12 years)

€

650 / ticket

guests >= 5

Price

Adult (18+ years)

€

480 / ticket |

Youth (13-17 years)

€

480 / ticket |

Children (0-12 years)

€

480 / ticket
29
options
General price:
Adult (18+ years)
€

480 / ticket
|
Youth (13-17 years)
€

480 / ticket
|
Children (0-12 years)
€

480 / ticket
Options
guests <= 2

Price

Adult (18+ years)

€

850 / ticket |

Youth (13-17 years)

€

850 / ticket |

Children (0-12 years)

€

850 / ticket

guests = 3

Price

Adult (18+ years)

€

750 / ticket |

Youth (13-17 years)

€

750 / ticket |

Children (0-12 years)

€

750 / ticket

guests = 4

Price

Adult (18+ years)

€

650 / ticket |

Youth (13-17 years)

€

650 / ticket |

Children (0-12 years)

€

650 / ticket

guests >= 5

Price

Adult (18+ years)

€

480 / ticket |

Youth (13-17 years)

€

480 / ticket |

Children (0-12 years)

€

480 / ticket
30
options
General price:
Adult (18+ years)
€

480 / ticket
|
Youth (13-17 years)
€

480 / ticket
|
Children (0-12 years)
€

480 / ticket
Options
guests <= 2

Price

Adult (18+ years)

€

850 / ticket |

Youth (13-17 years)

€

850 / ticket |

Children (0-12 years)

€

850 / ticket

guests = 3

Price

Adult (18+ years)

€

750 / ticket |

Youth (13-17 years)

€

750 / ticket |

Children (0-12 years)

€

750 / ticket

guests = 4

Price

Adult (18+ years)

€

650 / ticket |

Youth (13-17 years)

€

650 / ticket |

Children (0-12 years)

€

650 / ticket

guests >= 5

Price

Adult (18+ years)

€

480 / ticket |

Youth (13-17 years)

€

480 / ticket |

Children (0-12 years)

€

480 / ticket
1
options
General price:
Adult (18+ years)
€

480 / ticket
|
Youth (13-17 years)
€

480 / ticket
|
Children (0-12 years)
€

480 / ticket
Options
guests <= 2

Price

Adult (18+ years)

€

850 / ticket |

Youth (13-17 years)

€

850 / ticket |

Children (0-12 years)

€

850 / ticket

guests = 3

Price

Adult (18+ years)

€

750 / ticket |

Youth (13-17 years)

€

750 / ticket |

Children (0-12 years)

€

750 / ticket

guests = 4

Price

Adult (18+ years)

€

650 / ticket |

Youth (13-17 years)

€

650 / ticket |

Children (0-12 years)

€

650 / ticket

guests >= 5

Price

Adult (18+ years)

€

480 / ticket |

Youth (13-17 years)

€

480 / ticket |

Children (0-12 years)

€

480 / ticket
2
options
General price:
Adult (18+ years)
€

480 / ticket
|
Youth (13-17 years)
€

480 / ticket
|
Children (0-12 years)
€

480 / ticket
Options
guests <= 2

Price

Adult (18+ years)

€

850 / ticket |

Youth (13-17 years)

€

850 / ticket |

Children (0-12 years)

€

850 / ticket

guests = 3

Price

Adult (18+ years)

€

750 / ticket |

Youth (13-17 years)

€

750 / ticket |

Children (0-12 years)

€

750 / ticket

guests = 4

Price

Adult (18+ years)

€

650 / ticket |

Youth (13-17 years)

€

650 / ticket |

Children (0-12 years)

€

650 / ticket

guests >= 5

Price

Adult (18+ years)

€

480 / ticket |

Youth (13-17 years)

€

480 / ticket |

Children (0-12 years)

€

480 / ticket
3
options
General price:
Adult (18+ years)
€

480 / ticket
|
Youth (13-17 years)
€

480 / ticket
|
Children (0-12 years)
€

480 / ticket
Options
guests <= 2

Price

Adult (18+ years)

€

850 / ticket |

Youth (13-17 years)

€

850 / ticket |

Children (0-12 years)

€

850 / ticket

guests = 3

Price

Adult (18+ years)

€

750 / ticket |

Youth (13-17 years)

€

750 / ticket |

Children (0-12 years)

€

750 / ticket

guests = 4

Price

Adult (18+ years)

€

650 / ticket |

Youth (13-17 years)

€

650 / ticket |

Children (0-12 years)

€

650 / ticket

guests >= 5

Price

Adult (18+ years)

€

480 / ticket |

Youth (13-17 years)

€

480 / ticket |

Children (0-12 years)

€

480 / ticket
4
options
General price:
Adult (18+ years)
€

480 / ticket
|
Youth (13-17 years)
€

480 / ticket
|
Children (0-12 years)
€

480 / ticket
Options
guests <= 2

Price

Adult (18+ years)

€

850 / ticket |

Youth (13-17 years)

€

850 / ticket |

Children (0-12 years)

€

850 / ticket

guests = 3

Price

Adult (18+ years)

€

750 / ticket |

Youth (13-17 years)

€

750 / ticket |

Children (0-12 years)

€

750 / ticket

guests = 4

Price

Adult (18+ years)

€

650 / ticket |

Youth (13-17 years)

€

650 / ticket |

Children (0-12 years)

€

650 / ticket

guests >= 5

Price

Adult (18+ years)

€

480 / ticket |

Youth (13-17 years)

€

480 / ticket |

Children (0-12 years)

€

480 / ticket