Day Trip to the High Atlas Mountains: Imlil and Toubkal Valley,Berber Villages
High Atlas Mountains - Morocco
If you want to get out of the city and explore the authentic and rural side of Morocco, the Atlas Mountains and Imlil day trip is one of the most spectacular day trips from Marrakech. We will depart from Marrakech at 09:00 a.m. in a 4WD vehicle or minivan for a 1h30 drive south up the Moulay Brahim Gorges, and the berber village of Asni, which is famous for its weekly market every Saturday, before arriving in Imlil, which is located in a vibrant green valley that remains fresh and lush even during the hottest days of summer. Imlil is a small village in the foothills of Morocco's highest mountain, Toubkal.
Imlil is the center for hiring mountain guides and mules due to its unique location and proximity to several berber villages, and it is also a popular starting point for treks and hikes to Toubkal Mountain.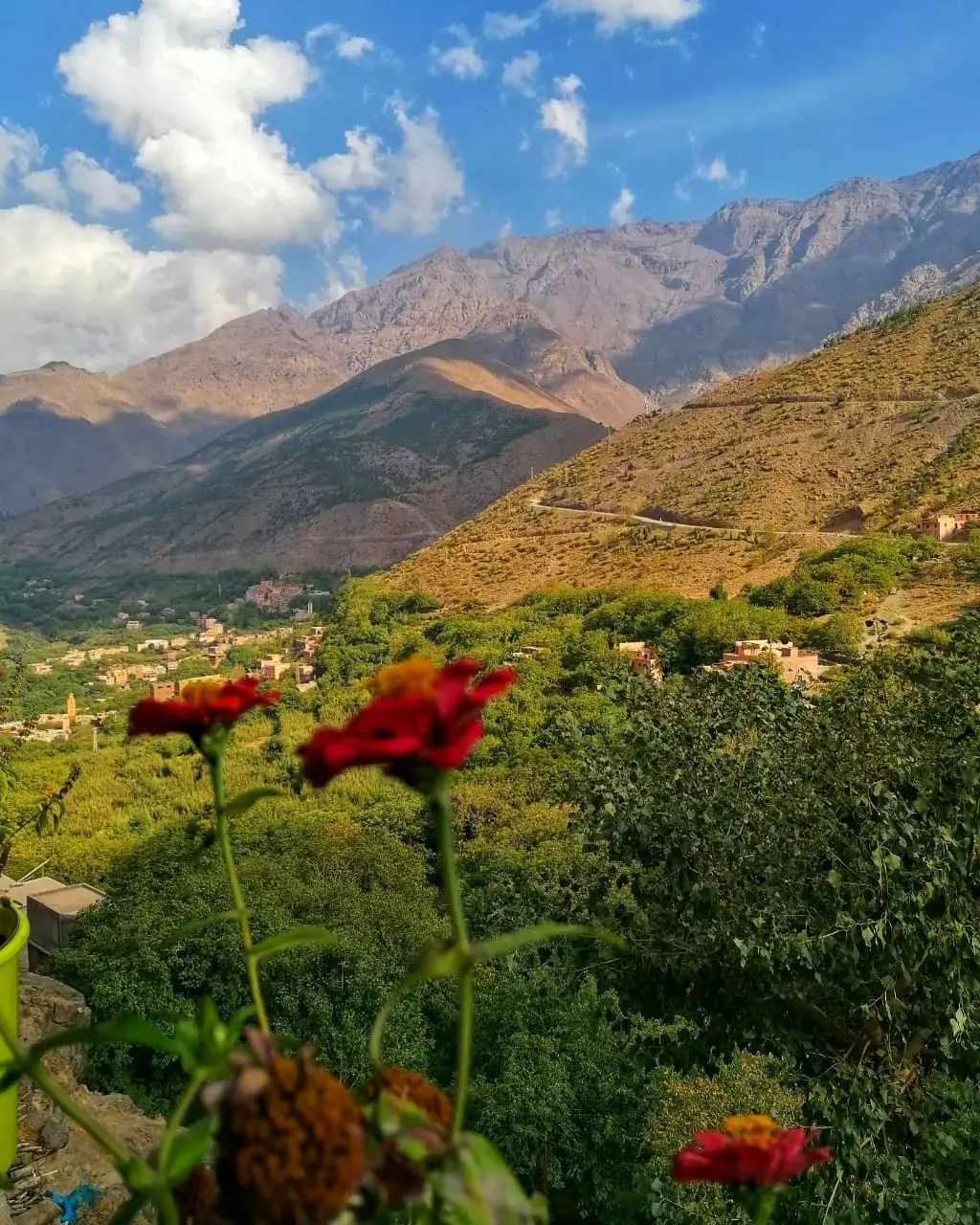 Imlil day trip Itinerary
09.00 Depart Marrakech by minibus - Land Rover
09.30 Visit souk of Tahanoute (Tuesday), Asni (Saturday).
10.30 Depart Asni - Tahanaoute for Imlil
11.15 Arrive Imlil, visit village and walk-mule ride to Armed - Achayn
13.00 Lunch at the Riad atlas panorama
14.30 Relax at Riad Atlas Panorma or, if you've chosen the trek option, take a mule ride/short trek to a nearby Berber village for mint tea in a Berber house.
16.00 Depart Imlil.
17.30 Return to your hotel, Marrakech
further discounts are aavailable according to the GROUPE SIZE

Pick-up/drop-off at nearest parking to your Marrakech accommodation

travel in comfort in private vehicle with professional driver (air-conditioned in summer months)

English-speaking guide

3 course Berber lunch (with a dramatic view)
Travel insurance.

Tips and items of a personal nature.
Day 1 : Imlil - Ait Souka - Armed " Toubkal valley "
Upon reaching Imlil, we will park our car and begin a 1-hour walk to the Berber village of Aroumd (Aremd) (1843m). Along the way, we will pass the hamlets of Ait Souka, Targa, and Imoula and ascend and descend rocky slopes while being watched by the jagged Western High Atlas peaks of the Toubkal Massif, including Jbels Aguelzim (3547m), Aksouâl
We will make a stop in Aroumd to explore this unusual community in the Assif A't Mizane Valley. It is constructed on a massive moraine spur, seemingly home upon house, and it overlooks historic terraced fields of barley, corn, and vegetables that are always flanked by almond and walnut trees. After that, we continue for another 30 minutes to reach our lunch destination, which is a berber family's rooftop terrace in the village of Achayn. You can then go for a quick stroll before we head back to Marrakech.
After booking with MT Toubkal Trek, we will promptly reach out to you to confirm your reservation and address any questions you may have about the tour.
Payment is in cash upon your arrival in Morocco.
This is a private tour, and we'll customize it to your group's size. If you're a solo traveler looking to join a group, please contact us.
5
promotion
Minimum booking:
2 tickets
General price:
Adult (18+ years)
€

50 / ticket
|
Youth (13-17 years)
€

50 / ticket
|
Children (0-12 years)
€

50 / ticket
Options
guests >= 4

Price

Adult (18+ years)

€

50 / ticket |

Youth (13-17 years)

€

50 / ticket |

Children (0-12 years)

€

50 / ticket

guests = 3

Price

Adult (18+ years)

€

60 / ticket |

Youth (13-17 years)

€

60 / ticket |

Children (0-12 years)

€

60 / ticket

guests <= 2

Price

Adult (18+ years)

€

75 / ticket |

Youth (13-17 years)

€

75 / ticket |

Children (0-12 years)

€

75 / ticket
6
promotion
Minimum booking:
2 tickets
General price:
Adult (18+ years)
€

50 / ticket
|
Youth (13-17 years)
€

50 / ticket
|
Children (0-12 years)
€

50 / ticket
Options
guests >= 4

Price

Adult (18+ years)

€

50 / ticket |

Youth (13-17 years)

€

50 / ticket |

Children (0-12 years)

€

50 / ticket

guests = 3

Price

Adult (18+ years)

€

60 / ticket |

Youth (13-17 years)

€

60 / ticket |

Children (0-12 years)

€

60 / ticket

guests <= 2

Price

Adult (18+ years)

€

75 / ticket |

Youth (13-17 years)

€

75 / ticket |

Children (0-12 years)

€

75 / ticket
7
promotion
Minimum booking:
2 tickets
General price:
Adult (18+ years)
€

50 / ticket
|
Youth (13-17 years)
€

50 / ticket
|
Children (0-12 years)
€

50 / ticket
Options
guests >= 4

Price

Adult (18+ years)

€

50 / ticket |

Youth (13-17 years)

€

50 / ticket |

Children (0-12 years)

€

50 / ticket

guests = 3

Price

Adult (18+ years)

€

60 / ticket |

Youth (13-17 years)

€

60 / ticket |

Children (0-12 years)

€

60 / ticket

guests <= 2

Price

Adult (18+ years)

€

75 / ticket |

Youth (13-17 years)

€

75 / ticket |

Children (0-12 years)

€

75 / ticket
8
promotion
Minimum booking:
2 tickets
General price:
Adult (18+ years)
€

50 / ticket
|
Youth (13-17 years)
€

50 / ticket
|
Children (0-12 years)
€

50 / ticket
Options
guests >= 4

Price

Adult (18+ years)

€

50 / ticket |

Youth (13-17 years)

€

50 / ticket |

Children (0-12 years)

€

50 / ticket

guests = 3

Price

Adult (18+ years)

€

60 / ticket |

Youth (13-17 years)

€

60 / ticket |

Children (0-12 years)

€

60 / ticket

guests <= 2

Price

Adult (18+ years)

€

75 / ticket |

Youth (13-17 years)

€

75 / ticket |

Children (0-12 years)

€

75 / ticket
9
promotion
Minimum booking:
2 tickets
General price:
Adult (18+ years)
€

50 / ticket
|
Youth (13-17 years)
€

50 / ticket
|
Children (0-12 years)
€

50 / ticket
Options
guests >= 4

Price

Adult (18+ years)

€

50 / ticket |

Youth (13-17 years)

€

50 / ticket |

Children (0-12 years)

€

50 / ticket

guests = 3

Price

Adult (18+ years)

€

60 / ticket |

Youth (13-17 years)

€

60 / ticket |

Children (0-12 years)

€

60 / ticket

guests <= 2

Price

Adult (18+ years)

€

75 / ticket |

Youth (13-17 years)

€

75 / ticket |

Children (0-12 years)

€

75 / ticket
10
promotion
Minimum booking:
2 tickets
General price:
Adult (18+ years)
€

50 / ticket
|
Youth (13-17 years)
€

50 / ticket
|
Children (0-12 years)
€

50 / ticket
Options
guests >= 4

Price

Adult (18+ years)

€

50 / ticket |

Youth (13-17 years)

€

50 / ticket |

Children (0-12 years)

€

50 / ticket

guests = 3

Price

Adult (18+ years)

€

60 / ticket |

Youth (13-17 years)

€

60 / ticket |

Children (0-12 years)

€

60 / ticket

guests <= 2

Price

Adult (18+ years)

€

75 / ticket |

Youth (13-17 years)

€

75 / ticket |

Children (0-12 years)

€

75 / ticket
11
promotion
Minimum booking:
2 tickets
General price:
Adult (18+ years)
€

50 / ticket
|
Youth (13-17 years)
€

50 / ticket
|
Children (0-12 years)
€

50 / ticket
Options
guests >= 4

Price

Adult (18+ years)

€

50 / ticket |

Youth (13-17 years)

€

50 / ticket |

Children (0-12 years)

€

50 / ticket

guests = 3

Price

Adult (18+ years)

€

60 / ticket |

Youth (13-17 years)

€

60 / ticket |

Children (0-12 years)

€

60 / ticket

guests <= 2

Price

Adult (18+ years)

€

75 / ticket |

Youth (13-17 years)

€

75 / ticket |

Children (0-12 years)

€

75 / ticket
12
promotion
Minimum booking:
2 tickets
General price:
Adult (18+ years)
€

50 / ticket
|
Youth (13-17 years)
€

50 / ticket
|
Children (0-12 years)
€

50 / ticket
Options
guests >= 4

Price

Adult (18+ years)

€

50 / ticket |

Youth (13-17 years)

€

50 / ticket |

Children (0-12 years)

€

50 / ticket

guests = 3

Price

Adult (18+ years)

€

60 / ticket |

Youth (13-17 years)

€

60 / ticket |

Children (0-12 years)

€

60 / ticket

guests <= 2

Price

Adult (18+ years)

€

75 / ticket |

Youth (13-17 years)

€

75 / ticket |

Children (0-12 years)

€

75 / ticket
13
promotion
Minimum booking:
2 tickets
General price:
Adult (18+ years)
€

50 / ticket
|
Youth (13-17 years)
€

50 / ticket
|
Children (0-12 years)
€

50 / ticket
Options
guests >= 4

Price

Adult (18+ years)

€

50 / ticket |

Youth (13-17 years)

€

50 / ticket |

Children (0-12 years)

€

50 / ticket

guests = 3

Price

Adult (18+ years)

€

60 / ticket |

Youth (13-17 years)

€

60 / ticket |

Children (0-12 years)

€

60 / ticket

guests <= 2

Price

Adult (18+ years)

€

75 / ticket |

Youth (13-17 years)

€

75 / ticket |

Children (0-12 years)

€

75 / ticket
14
promotion
Minimum booking:
2 tickets
General price:
Adult (18+ years)
€

50 / ticket
|
Youth (13-17 years)
€

50 / ticket
|
Children (0-12 years)
€

50 / ticket
Options
guests >= 4

Price

Adult (18+ years)

€

50 / ticket |

Youth (13-17 years)

€

50 / ticket |

Children (0-12 years)

€

50 / ticket

guests = 3

Price

Adult (18+ years)

€

60 / ticket |

Youth (13-17 years)

€

60 / ticket |

Children (0-12 years)

€

60 / ticket

guests <= 2

Price

Adult (18+ years)

€

75 / ticket |

Youth (13-17 years)

€

75 / ticket |

Children (0-12 years)

€

75 / ticket
15
promotion
Minimum booking:
2 tickets
General price:
Adult (18+ years)
€

50 / ticket
|
Youth (13-17 years)
€

50 / ticket
|
Children (0-12 years)
€

50 / ticket
Options
guests >= 4

Price

Adult (18+ years)

€

50 / ticket |

Youth (13-17 years)

€

50 / ticket |

Children (0-12 years)

€

50 / ticket

guests = 3

Price

Adult (18+ years)

€

60 / ticket |

Youth (13-17 years)

€

60 / ticket |

Children (0-12 years)

€

60 / ticket

guests <= 2

Price

Adult (18+ years)

€

75 / ticket |

Youth (13-17 years)

€

75 / ticket |

Children (0-12 years)

€

75 / ticket
16
promotion
Minimum booking:
2 tickets
General price:
Adult (18+ years)
€

50 / ticket
|
Youth (13-17 years)
€

50 / ticket
|
Children (0-12 years)
€

50 / ticket
Options
guests >= 4

Price

Adult (18+ years)

€

50 / ticket |

Youth (13-17 years)

€

50 / ticket |

Children (0-12 years)

€

50 / ticket

guests = 3

Price

Adult (18+ years)

€

60 / ticket |

Youth (13-17 years)

€

60 / ticket |

Children (0-12 years)

€

60 / ticket

guests <= 2

Price

Adult (18+ years)

€

75 / ticket |

Youth (13-17 years)

€

75 / ticket |

Children (0-12 years)

€

75 / ticket
17
promotion
Minimum booking:
2 tickets
General price:
Adult (18+ years)
€

50 / ticket
|
Youth (13-17 years)
€

50 / ticket
|
Children (0-12 years)
€

50 / ticket
Options
guests >= 4

Price

Adult (18+ years)

€

50 / ticket |

Youth (13-17 years)

€

50 / ticket |

Children (0-12 years)

€

50 / ticket

guests = 3

Price

Adult (18+ years)

€

60 / ticket |

Youth (13-17 years)

€

60 / ticket |

Children (0-12 years)

€

60 / ticket

guests <= 2

Price

Adult (18+ years)

€

75 / ticket |

Youth (13-17 years)

€

75 / ticket |

Children (0-12 years)

€

75 / ticket
18
promotion
Minimum booking:
2 tickets
General price:
Adult (18+ years)
€

50 / ticket
|
Youth (13-17 years)
€

50 / ticket
|
Children (0-12 years)
€

50 / ticket
Options
guests >= 4

Price

Adult (18+ years)

€

50 / ticket |

Youth (13-17 years)

€

50 / ticket |

Children (0-12 years)

€

50 / ticket

guests = 3

Price

Adult (18+ years)

€

60 / ticket |

Youth (13-17 years)

€

60 / ticket |

Children (0-12 years)

€

60 / ticket

guests <= 2

Price

Adult (18+ years)

€

75 / ticket |

Youth (13-17 years)

€

75 / ticket |

Children (0-12 years)

€

75 / ticket
19
promotion
Minimum booking:
2 tickets
General price:
Adult (18+ years)
€

50 / ticket
|
Youth (13-17 years)
€

50 / ticket
|
Children (0-12 years)
€

50 / ticket
Options
guests >= 4

Price

Adult (18+ years)

€

50 / ticket |

Youth (13-17 years)

€

50 / ticket |

Children (0-12 years)

€

50 / ticket

guests = 3

Price

Adult (18+ years)

€

60 / ticket |

Youth (13-17 years)

€

60 / ticket |

Children (0-12 years)

€

60 / ticket

guests <= 2

Price

Adult (18+ years)

€

75 / ticket |

Youth (13-17 years)

€

75 / ticket |

Children (0-12 years)

€

75 / ticket
20
promotion
Minimum booking:
2 tickets
General price:
Adult (18+ years)
€

50 / ticket
|
Youth (13-17 years)
€

50 / ticket
|
Children (0-12 years)
€

50 / ticket
Options
guests >= 4

Price

Adult (18+ years)

€

50 / ticket |

Youth (13-17 years)

€

50 / ticket |

Children (0-12 years)

€

50 / ticket

guests = 3

Price

Adult (18+ years)

€

60 / ticket |

Youth (13-17 years)

€

60 / ticket |

Children (0-12 years)

€

60 / ticket

guests <= 2

Price

Adult (18+ years)

€

75 / ticket |

Youth (13-17 years)

€

75 / ticket |

Children (0-12 years)

€

75 / ticket
21
promotion
Minimum booking:
2 tickets
General price:
Adult (18+ years)
€

50 / ticket
|
Youth (13-17 years)
€

50 / ticket
|
Children (0-12 years)
€

50 / ticket
Options
guests >= 4

Price

Adult (18+ years)

€

50 / ticket |

Youth (13-17 years)

€

50 / ticket |

Children (0-12 years)

€

50 / ticket

guests = 3

Price

Adult (18+ years)

€

60 / ticket |

Youth (13-17 years)

€

60 / ticket |

Children (0-12 years)

€

60 / ticket

guests <= 2

Price

Adult (18+ years)

€

75 / ticket |

Youth (13-17 years)

€

75 / ticket |

Children (0-12 years)

€

75 / ticket
22
promotion
Minimum booking:
2 tickets
General price:
Adult (18+ years)
€

50 / ticket
|
Youth (13-17 years)
€

50 / ticket
|
Children (0-12 years)
€

50 / ticket
Options
guests >= 4

Price

Adult (18+ years)

€

50 / ticket |

Youth (13-17 years)

€

50 / ticket |

Children (0-12 years)

€

50 / ticket

guests = 3

Price

Adult (18+ years)

€

60 / ticket |

Youth (13-17 years)

€

60 / ticket |

Children (0-12 years)

€

60 / ticket

guests <= 2

Price

Adult (18+ years)

€

75 / ticket |

Youth (13-17 years)

€

75 / ticket |

Children (0-12 years)

€

75 / ticket
23
promotion
Minimum booking:
2 tickets
General price:
Adult (18+ years)
€

50 / ticket
|
Youth (13-17 years)
€

50 / ticket
|
Children (0-12 years)
€

50 / ticket
Options
guests >= 4

Price

Adult (18+ years)

€

50 / ticket |

Youth (13-17 years)

€

50 / ticket |

Children (0-12 years)

€

50 / ticket

guests = 3

Price

Adult (18+ years)

€

60 / ticket |

Youth (13-17 years)

€

60 / ticket |

Children (0-12 years)

€

60 / ticket

guests <= 2

Price

Adult (18+ years)

€

75 / ticket |

Youth (13-17 years)

€

75 / ticket |

Children (0-12 years)

€

75 / ticket
24
promotion
Minimum booking:
2 tickets
General price:
Adult (18+ years)
€

50 / ticket
|
Youth (13-17 years)
€

50 / ticket
|
Children (0-12 years)
€

50 / ticket
Options
guests >= 4

Price

Adult (18+ years)

€

50 / ticket |

Youth (13-17 years)

€

50 / ticket |

Children (0-12 years)

€

50 / ticket

guests = 3

Price

Adult (18+ years)

€

60 / ticket |

Youth (13-17 years)

€

60 / ticket |

Children (0-12 years)

€

60 / ticket

guests <= 2

Price

Adult (18+ years)

€

75 / ticket |

Youth (13-17 years)

€

75 / ticket |

Children (0-12 years)

€

75 / ticket
25
promotion
Minimum booking:
2 tickets
General price:
Adult (18+ years)
€

50 / ticket
|
Youth (13-17 years)
€

50 / ticket
|
Children (0-12 years)
€

50 / ticket
Options
guests >= 4

Price

Adult (18+ years)

€

50 / ticket |

Youth (13-17 years)

€

50 / ticket |

Children (0-12 years)

€

50 / ticket

guests = 3

Price

Adult (18+ years)

€

60 / ticket |

Youth (13-17 years)

€

60 / ticket |

Children (0-12 years)

€

60 / ticket

guests <= 2

Price

Adult (18+ years)

€

75 / ticket |

Youth (13-17 years)

€

75 / ticket |

Children (0-12 years)

€

75 / ticket
26
promotion
Minimum booking:
2 tickets
General price:
Adult (18+ years)
€

50 / ticket
|
Youth (13-17 years)
€

50 / ticket
|
Children (0-12 years)
€

50 / ticket
Options
guests >= 4

Price

Adult (18+ years)

€

50 / ticket |

Youth (13-17 years)

€

50 / ticket |

Children (0-12 years)

€

50 / ticket

guests = 3

Price

Adult (18+ years)

€

60 / ticket |

Youth (13-17 years)

€

60 / ticket |

Children (0-12 years)

€

60 / ticket

guests <= 2

Price

Adult (18+ years)

€

75 / ticket |

Youth (13-17 years)

€

75 / ticket |

Children (0-12 years)

€

75 / ticket
27
promotion
Minimum booking:
2 tickets
General price:
Adult (18+ years)
€

50 / ticket
|
Youth (13-17 years)
€

50 / ticket
|
Children (0-12 years)
€

50 / ticket
Options
guests >= 4

Price

Adult (18+ years)

€

50 / ticket |

Youth (13-17 years)

€

50 / ticket |

Children (0-12 years)

€

50 / ticket

guests = 3

Price

Adult (18+ years)

€

60 / ticket |

Youth (13-17 years)

€

60 / ticket |

Children (0-12 years)

€

60 / ticket

guests <= 2

Price

Adult (18+ years)

€

75 / ticket |

Youth (13-17 years)

€

75 / ticket |

Children (0-12 years)

€

75 / ticket
28
promotion
Minimum booking:
2 tickets
General price:
Adult (18+ years)
€

50 / ticket
|
Youth (13-17 years)
€

50 / ticket
|
Children (0-12 years)
€

50 / ticket
Options
guests >= 4

Price

Adult (18+ years)

€

50 / ticket |

Youth (13-17 years)

€

50 / ticket |

Children (0-12 years)

€

50 / ticket

guests = 3

Price

Adult (18+ years)

€

60 / ticket |

Youth (13-17 years)

€

60 / ticket |

Children (0-12 years)

€

60 / ticket

guests <= 2

Price

Adult (18+ years)

€

75 / ticket |

Youth (13-17 years)

€

75 / ticket |

Children (0-12 years)

€

75 / ticket
29
promotion
Minimum booking:
2 tickets
General price:
Adult (18+ years)
€

50 / ticket
|
Youth (13-17 years)
€

50 / ticket
|
Children (0-12 years)
€

50 / ticket
Options
guests >= 4

Price

Adult (18+ years)

€

50 / ticket |

Youth (13-17 years)

€

50 / ticket |

Children (0-12 years)

€

50 / ticket

guests = 3

Price

Adult (18+ years)

€

60 / ticket |

Youth (13-17 years)

€

60 / ticket |

Children (0-12 years)

€

60 / ticket

guests <= 2

Price

Adult (18+ years)

€

75 / ticket |

Youth (13-17 years)

€

75 / ticket |

Children (0-12 years)

€

75 / ticket
30
promotion
Minimum booking:
2 tickets
General price:
Adult (18+ years)
€

50 / ticket
|
Youth (13-17 years)
€

50 / ticket
|
Children (0-12 years)
€

50 / ticket
Options
guests >= 4

Price

Adult (18+ years)

€

50 / ticket |

Youth (13-17 years)

€

50 / ticket |

Children (0-12 years)

€

50 / ticket

guests = 3

Price

Adult (18+ years)

€

60 / ticket |

Youth (13-17 years)

€

60 / ticket |

Children (0-12 years)

€

60 / ticket

guests <= 2

Price

Adult (18+ years)

€

75 / ticket |

Youth (13-17 years)

€

75 / ticket |

Children (0-12 years)

€

75 / ticket
31
promotion
Minimum booking:
2 tickets
General price:
Adult (18+ years)
€

50 / ticket
|
Youth (13-17 years)
€

50 / ticket
|
Children (0-12 years)
€

50 / ticket
Options
guests >= 4

Price

Adult (18+ years)

€

50 / ticket |

Youth (13-17 years)

€

50 / ticket |

Children (0-12 years)

€

50 / ticket

guests = 3

Price

Adult (18+ years)

€

60 / ticket |

Youth (13-17 years)

€

60 / ticket |

Children (0-12 years)

€

60 / ticket

guests <= 2

Price

Adult (18+ years)

€

75 / ticket |

Youth (13-17 years)

€

75 / ticket |

Children (0-12 years)

€

75 / ticket
1
promotion
Minimum booking:
2 tickets
General price:
Adult (18+ years)
€

50 / ticket
|
Youth (13-17 years)
€

50 / ticket
|
Children (0-12 years)
€

50 / ticket
Options
guests >= 4

Price

Adult (18+ years)

€

50 / ticket |

Youth (13-17 years)

€

50 / ticket |

Children (0-12 years)

€

50 / ticket

guests = 3

Price

Adult (18+ years)

€

60 / ticket |

Youth (13-17 years)

€

60 / ticket |

Children (0-12 years)

€

60 / ticket

guests <= 2

Price

Adult (18+ years)

€

75 / ticket |

Youth (13-17 years)

€

75 / ticket |

Children (0-12 years)

€

75 / ticket
2
promotion
Minimum booking:
2 tickets
General price:
Adult (18+ years)
€

50 / ticket
|
Youth (13-17 years)
€

50 / ticket
|
Children (0-12 years)
€

50 / ticket
Options
guests >= 4

Price

Adult (18+ years)

€

50 / ticket |

Youth (13-17 years)

€

50 / ticket |

Children (0-12 years)

€

50 / ticket

guests = 3

Price

Adult (18+ years)

€

60 / ticket |

Youth (13-17 years)

€

60 / ticket |

Children (0-12 years)

€

60 / ticket

guests <= 2

Price

Adult (18+ years)

€

75 / ticket |

Youth (13-17 years)

€

75 / ticket |

Children (0-12 years)

€

75 / ticket
3
promotion
Minimum booking:
2 tickets
General price:
Adult (18+ years)
€

50 / ticket
|
Youth (13-17 years)
€

50 / ticket
|
Children (0-12 years)
€

50 / ticket
Options
guests >= 4

Price

Adult (18+ years)

€

50 / ticket |

Youth (13-17 years)

€

50 / ticket |

Children (0-12 years)

€

50 / ticket

guests = 3

Price

Adult (18+ years)

€

60 / ticket |

Youth (13-17 years)

€

60 / ticket |

Children (0-12 years)

€

60 / ticket

guests <= 2

Price

Adult (18+ years)

€

75 / ticket |

Youth (13-17 years)

€

75 / ticket |

Children (0-12 years)

€

75 / ticket
4
promotion
Minimum booking:
2 tickets
General price:
Adult (18+ years)
€

50 / ticket
|
Youth (13-17 years)
€

50 / ticket
|
Children (0-12 years)
€

50 / ticket
Options
guests >= 4

Price

Adult (18+ years)

€

50 / ticket |

Youth (13-17 years)

€

50 / ticket |

Children (0-12 years)

€

50 / ticket

guests = 3

Price

Adult (18+ years)

€

60 / ticket |

Youth (13-17 years)

€

60 / ticket |

Children (0-12 years)

€

60 / ticket

guests <= 2

Price

Adult (18+ years)

€

75 / ticket |

Youth (13-17 years)

€

75 / ticket |

Children (0-12 years)

€

75 / ticket
5
promotion
Minimum booking:
2 tickets
General price:
Adult (18+ years)
€

50 / ticket
|
Youth (13-17 years)
€

50 / ticket
|
Children (0-12 years)
€

50 / ticket
Options
guests >= 4

Price

Adult (18+ years)

€

50 / ticket |

Youth (13-17 years)

€

50 / ticket |

Children (0-12 years)

€

50 / ticket

guests = 3

Price

Adult (18+ years)

€

60 / ticket |

Youth (13-17 years)

€

60 / ticket |

Children (0-12 years)

€

60 / ticket

guests <= 2

Price

Adult (18+ years)

€

75 / ticket |

Youth (13-17 years)

€

75 / ticket |

Children (0-12 years)

€

75 / ticket
6
promotion
Minimum booking:
2 tickets
General price:
Adult (18+ years)
€

50 / ticket
|
Youth (13-17 years)
€

50 / ticket
|
Children (0-12 years)
€

50 / ticket
Options
guests >= 4

Price

Adult (18+ years)

€

50 / ticket |

Youth (13-17 years)

€

50 / ticket |

Children (0-12 years)

€

50 / ticket

guests = 3

Price

Adult (18+ years)

€

60 / ticket |

Youth (13-17 years)

€

60 / ticket |

Children (0-12 years)

€

60 / ticket

guests <= 2

Price

Adult (18+ years)

€

75 / ticket |

Youth (13-17 years)

€

75 / ticket |

Children (0-12 years)

€

75 / ticket
7
promotion
Minimum booking:
2 tickets
General price:
Adult (18+ years)
€

50 / ticket
|
Youth (13-17 years)
€

50 / ticket
|
Children (0-12 years)
€

50 / ticket
Options
guests >= 4

Price

Adult (18+ years)

€

50 / ticket |

Youth (13-17 years)

€

50 / ticket |

Children (0-12 years)

€

50 / ticket

guests = 3

Price

Adult (18+ years)

€

60 / ticket |

Youth (13-17 years)

€

60 / ticket |

Children (0-12 years)

€

60 / ticket

guests <= 2

Price

Adult (18+ years)

€

75 / ticket |

Youth (13-17 years)

€

75 / ticket |

Children (0-12 years)

€

75 / ticket
8
promotion
Minimum booking:
2 tickets
General price:
Adult (18+ years)
€

50 / ticket
|
Youth (13-17 years)
€

50 / ticket
|
Children (0-12 years)
€

50 / ticket
Options
guests >= 4

Price

Adult (18+ years)

€

50 / ticket |

Youth (13-17 years)

€

50 / ticket |

Children (0-12 years)

€

50 / ticket

guests = 3

Price

Adult (18+ years)

€

60 / ticket |

Youth (13-17 years)

€

60 / ticket |

Children (0-12 years)

€

60 / ticket

guests <= 2

Price

Adult (18+ years)

€

75 / ticket |

Youth (13-17 years)

€

75 / ticket |

Children (0-12 years)

€

75 / ticket
9
promotion
Minimum booking:
2 tickets
General price:
Adult (18+ years)
€

50 / ticket
|
Youth (13-17 years)
€

50 / ticket
|
Children (0-12 years)
€

50 / ticket
Options
guests >= 4

Price

Adult (18+ years)

€

50 / ticket |

Youth (13-17 years)

€

50 / ticket |

Children (0-12 years)

€

50 / ticket

guests = 3

Price

Adult (18+ years)

€

60 / ticket |

Youth (13-17 years)

€

60 / ticket |

Children (0-12 years)

€

60 / ticket

guests <= 2

Price

Adult (18+ years)

€

75 / ticket |

Youth (13-17 years)

€

75 / ticket |

Children (0-12 years)

€

75 / ticket
10
promotion
Minimum booking:
2 tickets
General price:
Adult (18+ years)
€

50 / ticket
|
Youth (13-17 years)
€

50 / ticket
|
Children (0-12 years)
€

50 / ticket
Options
guests >= 4

Price

Adult (18+ years)

€

50 / ticket |

Youth (13-17 years)

€

50 / ticket |

Children (0-12 years)

€

50 / ticket

guests = 3

Price

Adult (18+ years)

€

60 / ticket |

Youth (13-17 years)

€

60 / ticket |

Children (0-12 years)

€

60 / ticket

guests <= 2

Price

Adult (18+ years)

€

75 / ticket |

Youth (13-17 years)

€

75 / ticket |

Children (0-12 years)

€

75 / ticket
11
promotion
Minimum booking:
2 tickets
General price:
Adult (18+ years)
€

50 / ticket
|
Youth (13-17 years)
€

50 / ticket
|
Children (0-12 years)
€

50 / ticket
Options
guests >= 4

Price

Adult (18+ years)

€

50 / ticket |

Youth (13-17 years)

€

50 / ticket |

Children (0-12 years)

€

50 / ticket

guests = 3

Price

Adult (18+ years)

€

60 / ticket |

Youth (13-17 years)

€

60 / ticket |

Children (0-12 years)

€

60 / ticket

guests <= 2

Price

Adult (18+ years)

€

75 / ticket |

Youth (13-17 years)

€

75 / ticket |

Children (0-12 years)

€

75 / ticket
12
promotion
Minimum booking:
2 tickets
General price:
Adult (18+ years)
€

50 / ticket
|
Youth (13-17 years)
€

50 / ticket
|
Children (0-12 years)
€

50 / ticket
Options
guests >= 4

Price

Adult (18+ years)

€

50 / ticket |

Youth (13-17 years)

€

50 / ticket |

Children (0-12 years)

€

50 / ticket

guests = 3

Price

Adult (18+ years)

€

60 / ticket |

Youth (13-17 years)

€

60 / ticket |

Children (0-12 years)

€

60 / ticket

guests <= 2

Price

Adult (18+ years)

€

75 / ticket |

Youth (13-17 years)

€

75 / ticket |

Children (0-12 years)

€

75 / ticket
13
promotion
Minimum booking:
2 tickets
General price:
Adult (18+ years)
€

50 / ticket
|
Youth (13-17 years)
€

50 / ticket
|
Children (0-12 years)
€

50 / ticket
Options
guests >= 4

Price

Adult (18+ years)

€

50 / ticket |

Youth (13-17 years)

€

50 / ticket |

Children (0-12 years)

€

50 / ticket

guests = 3

Price

Adult (18+ years)

€

60 / ticket |

Youth (13-17 years)

€

60 / ticket |

Children (0-12 years)

€

60 / ticket

guests <= 2

Price

Adult (18+ years)

€

75 / ticket |

Youth (13-17 years)

€

75 / ticket |

Children (0-12 years)

€

75 / ticket
14
promotion
Minimum booking:
2 tickets
General price:
Adult (18+ years)
€

50 / ticket
|
Youth (13-17 years)
€

50 / ticket
|
Children (0-12 years)
€

50 / ticket
Options
guests >= 4

Price

Adult (18+ years)

€

50 / ticket |

Youth (13-17 years)

€

50 / ticket |

Children (0-12 years)

€

50 / ticket

guests = 3

Price

Adult (18+ years)

€

60 / ticket |

Youth (13-17 years)

€

60 / ticket |

Children (0-12 years)

€

60 / ticket

guests <= 2

Price

Adult (18+ years)

€

75 / ticket |

Youth (13-17 years)

€

75 / ticket |

Children (0-12 years)

€

75 / ticket
15
promotion
Minimum booking:
2 tickets
General price:
Adult (18+ years)
€

50 / ticket
|
Youth (13-17 years)
€

50 / ticket
|
Children (0-12 years)
€

50 / ticket
Options
guests >= 4

Price

Adult (18+ years)

€

50 / ticket |

Youth (13-17 years)

€

50 / ticket |

Children (0-12 years)

€

50 / ticket

guests = 3

Price

Adult (18+ years)

€

60 / ticket |

Youth (13-17 years)

€

60 / ticket |

Children (0-12 years)

€

60 / ticket

guests <= 2

Price

Adult (18+ years)

€

75 / ticket |

Youth (13-17 years)

€

75 / ticket |

Children (0-12 years)

€

75 / ticket
16
promotion
Minimum booking:
2 tickets
General price:
Adult (18+ years)
€

50 / ticket
|
Youth (13-17 years)
€

50 / ticket
|
Children (0-12 years)
€

50 / ticket
Options
guests >= 4

Price

Adult (18+ years)

€

50 / ticket |

Youth (13-17 years)

€

50 / ticket |

Children (0-12 years)

€

50 / ticket

guests = 3

Price

Adult (18+ years)

€

60 / ticket |

Youth (13-17 years)

€

60 / ticket |

Children (0-12 years)

€

60 / ticket

guests <= 2

Price

Adult (18+ years)

€

75 / ticket |

Youth (13-17 years)

€

75 / ticket |

Children (0-12 years)

€

75 / ticket
17
promotion
Minimum booking:
2 tickets
General price:
Adult (18+ years)
€

50 / ticket
|
Youth (13-17 years)
€

50 / ticket
|
Children (0-12 years)
€

50 / ticket
Options
guests >= 4

Price

Adult (18+ years)

€

50 / ticket |

Youth (13-17 years)

€

50 / ticket |

Children (0-12 years)

€

50 / ticket

guests = 3

Price

Adult (18+ years)

€

60 / ticket |

Youth (13-17 years)

€

60 / ticket |

Children (0-12 years)

€

60 / ticket

guests <= 2

Price

Adult (18+ years)

€

75 / ticket |

Youth (13-17 years)

€

75 / ticket |

Children (0-12 years)

€

75 / ticket
18
promotion
Minimum booking:
2 tickets
General price:
Adult (18+ years)
€

50 / ticket
|
Youth (13-17 years)
€

50 / ticket
|
Children (0-12 years)
€

50 / ticket
Options
guests >= 4

Price

Adult (18+ years)

€

50 / ticket |

Youth (13-17 years)

€

50 / ticket |

Children (0-12 years)

€

50 / ticket

guests = 3

Price

Adult (18+ years)

€

60 / ticket |

Youth (13-17 years)

€

60 / ticket |

Children (0-12 years)

€

60 / ticket

guests <= 2

Price

Adult (18+ years)

€

75 / ticket |

Youth (13-17 years)

€

75 / ticket |

Children (0-12 years)

€

75 / ticket
19
promotion
Minimum booking:
2 tickets
General price:
Adult (18+ years)
€

50 / ticket
|
Youth (13-17 years)
€

50 / ticket
|
Children (0-12 years)
€

50 / ticket
Options
guests >= 4

Price

Adult (18+ years)

€

50 / ticket |

Youth (13-17 years)

€

50 / ticket |

Children (0-12 years)

€

50 / ticket

guests = 3

Price

Adult (18+ years)

€

60 / ticket |

Youth (13-17 years)

€

60 / ticket |

Children (0-12 years)

€

60 / ticket

guests <= 2

Price

Adult (18+ years)

€

75 / ticket |

Youth (13-17 years)

€

75 / ticket |

Children (0-12 years)

€

75 / ticket
20
promotion
Minimum booking:
2 tickets
General price:
Adult (18+ years)
€

50 / ticket
|
Youth (13-17 years)
€

50 / ticket
|
Children (0-12 years)
€

50 / ticket
Options
guests >= 4

Price

Adult (18+ years)

€

50 / ticket |

Youth (13-17 years)

€

50 / ticket |

Children (0-12 years)

€

50 / ticket

guests = 3

Price

Adult (18+ years)

€

60 / ticket |

Youth (13-17 years)

€

60 / ticket |

Children (0-12 years)

€

60 / ticket

guests <= 2

Price

Adult (18+ years)

€

75 / ticket |

Youth (13-17 years)

€

75 / ticket |

Children (0-12 years)

€

75 / ticket
21
promotion
Minimum booking:
2 tickets
General price:
Adult (18+ years)
€

50 / ticket
|
Youth (13-17 years)
€

50 / ticket
|
Children (0-12 years)
€

50 / ticket
Options
guests >= 4

Price

Adult (18+ years)

€

50 / ticket |

Youth (13-17 years)

€

50 / ticket |

Children (0-12 years)

€

50 / ticket

guests = 3

Price

Adult (18+ years)

€

60 / ticket |

Youth (13-17 years)

€

60 / ticket |

Children (0-12 years)

€

60 / ticket

guests <= 2

Price

Adult (18+ years)

€

75 / ticket |

Youth (13-17 years)

€

75 / ticket |

Children (0-12 years)

€

75 / ticket
22
promotion
Minimum booking:
2 tickets
General price:
Adult (18+ years)
€

50 / ticket
|
Youth (13-17 years)
€

50 / ticket
|
Children (0-12 years)
€

50 / ticket
Options
guests >= 4

Price

Adult (18+ years)

€

50 / ticket |

Youth (13-17 years)

€

50 / ticket |

Children (0-12 years)

€

50 / ticket

guests = 3

Price

Adult (18+ years)

€

60 / ticket |

Youth (13-17 years)

€

60 / ticket |

Children (0-12 years)

€

60 / ticket

guests <= 2

Price

Adult (18+ years)

€

75 / ticket |

Youth (13-17 years)

€

75 / ticket |

Children (0-12 years)

€

75 / ticket
23
promotion
Minimum booking:
2 tickets
General price:
Adult (18+ years)
€

50 / ticket
|
Youth (13-17 years)
€

50 / ticket
|
Children (0-12 years)
€

50 / ticket
Options
guests >= 4

Price

Adult (18+ years)

€

50 / ticket |

Youth (13-17 years)

€

50 / ticket |

Children (0-12 years)

€

50 / ticket

guests = 3

Price

Adult (18+ years)

€

60 / ticket |

Youth (13-17 years)

€

60 / ticket |

Children (0-12 years)

€

60 / ticket

guests <= 2

Price

Adult (18+ years)

€

75 / ticket |

Youth (13-17 years)

€

75 / ticket |

Children (0-12 years)

€

75 / ticket
24
promotion
Minimum booking:
2 tickets
General price:
Adult (18+ years)
€

50 / ticket
|
Youth (13-17 years)
€

50 / ticket
|
Children (0-12 years)
€

50 / ticket
Options
guests >= 4

Price

Adult (18+ years)

€

50 / ticket |

Youth (13-17 years)

€

50 / ticket |

Children (0-12 years)

€

50 / ticket

guests = 3

Price

Adult (18+ years)

€

60 / ticket |

Youth (13-17 years)

€

60 / ticket |

Children (0-12 years)

€

60 / ticket

guests <= 2

Price

Adult (18+ years)

€

75 / ticket |

Youth (13-17 years)

€

75 / ticket |

Children (0-12 years)

€

75 / ticket
25
promotion
Minimum booking:
2 tickets
General price:
Adult (18+ years)
€

50 / ticket
|
Youth (13-17 years)
€

50 / ticket
|
Children (0-12 years)
€

50 / ticket
Options
guests >= 4

Price

Adult (18+ years)

€

50 / ticket |

Youth (13-17 years)

€

50 / ticket |

Children (0-12 years)

€

50 / ticket

guests = 3

Price

Adult (18+ years)

€

60 / ticket |

Youth (13-17 years)

€

60 / ticket |

Children (0-12 years)

€

60 / ticket

guests <= 2

Price

Adult (18+ years)

€

75 / ticket |

Youth (13-17 years)

€

75 / ticket |

Children (0-12 years)

€

75 / ticket
26
promotion
Minimum booking:
2 tickets
General price:
Adult (18+ years)
€

50 / ticket
|
Youth (13-17 years)
€

50 / ticket
|
Children (0-12 years)
€

50 / ticket
Options
guests >= 4

Price

Adult (18+ years)

€

50 / ticket |

Youth (13-17 years)

€

50 / ticket |

Children (0-12 years)

€

50 / ticket

guests = 3

Price

Adult (18+ years)

€

60 / ticket |

Youth (13-17 years)

€

60 / ticket |

Children (0-12 years)

€

60 / ticket

guests <= 2

Price

Adult (18+ years)

€

75 / ticket |

Youth (13-17 years)

€

75 / ticket |

Children (0-12 years)

€

75 / ticket
27
promotion
Minimum booking:
2 tickets
General price:
Adult (18+ years)
€

50 / ticket
|
Youth (13-17 years)
€

50 / ticket
|
Children (0-12 years)
€

50 / ticket
Options
guests >= 4

Price

Adult (18+ years)

€

50 / ticket |

Youth (13-17 years)

€

50 / ticket |

Children (0-12 years)

€

50 / ticket

guests = 3

Price

Adult (18+ years)

€

60 / ticket |

Youth (13-17 years)

€

60 / ticket |

Children (0-12 years)

€

60 / ticket

guests <= 2

Price

Adult (18+ years)

€

75 / ticket |

Youth (13-17 years)

€

75 / ticket |

Children (0-12 years)

€

75 / ticket
28
promotion
Minimum booking:
2 tickets
General price:
Adult (18+ years)
€

50 / ticket
|
Youth (13-17 years)
€

50 / ticket
|
Children (0-12 years)
€

50 / ticket
Options
guests >= 4

Price

Adult (18+ years)

€

50 / ticket |

Youth (13-17 years)

€

50 / ticket |

Children (0-12 years)

€

50 / ticket

guests = 3

Price

Adult (18+ years)

€

60 / ticket |

Youth (13-17 years)

€

60 / ticket |

Children (0-12 years)

€

60 / ticket

guests <= 2

Price

Adult (18+ years)

€

75 / ticket |

Youth (13-17 years)

€

75 / ticket |

Children (0-12 years)

€

75 / ticket
29
promotion
Minimum booking:
2 tickets
General price:
Adult (18+ years)
€

50 / ticket
|
Youth (13-17 years)
€

50 / ticket
|
Children (0-12 years)
€

50 / ticket
Options
guests >= 4

Price

Adult (18+ years)

€

50 / ticket |

Youth (13-17 years)

€

50 / ticket |

Children (0-12 years)

€

50 / ticket

guests = 3

Price

Adult (18+ years)

€

60 / ticket |

Youth (13-17 years)

€

60 / ticket |

Children (0-12 years)

€

60 / ticket

guests <= 2

Price

Adult (18+ years)

€

75 / ticket |

Youth (13-17 years)

€

75 / ticket |

Children (0-12 years)

€

75 / ticket
30
promotion
Minimum booking:
2 tickets
General price:
Adult (18+ years)
€

50 / ticket
|
Youth (13-17 years)
€

50 / ticket
|
Children (0-12 years)
€

50 / ticket
Options
guests >= 4

Price

Adult (18+ years)

€

50 / ticket |

Youth (13-17 years)

€

50 / ticket |

Children (0-12 years)

€

50 / ticket

guests = 3

Price

Adult (18+ years)

€

60 / ticket |

Youth (13-17 years)

€

60 / ticket |

Children (0-12 years)

€

60 / ticket

guests <= 2

Price

Adult (18+ years)

€

75 / ticket |

Youth (13-17 years)

€

75 / ticket |

Children (0-12 years)

€

75 / ticket
31
promotion
Minimum booking:
2 tickets
General price:
Adult (18+ years)
€

50 / ticket
|
Youth (13-17 years)
€

50 / ticket
|
Children (0-12 years)
€

50 / ticket
Options
guests >= 4

Price

Adult (18+ years)

€

50 / ticket |

Youth (13-17 years)

€

50 / ticket |

Children (0-12 years)

€

50 / ticket

guests = 3

Price

Adult (18+ years)

€

60 / ticket |

Youth (13-17 years)

€

60 / ticket |

Children (0-12 years)

€

60 / ticket

guests <= 2

Price

Adult (18+ years)

€

75 / ticket |

Youth (13-17 years)

€

75 / ticket |

Children (0-12 years)

€

75 / ticket
1
promotion
Minimum booking:
2 tickets
General price:
Adult (18+ years)
€

50 / ticket
|
Youth (13-17 years)
€

50 / ticket
|
Children (0-12 years)
€

50 / ticket
Options
guests >= 4

Price

Adult (18+ years)

€

50 / ticket |

Youth (13-17 years)

€

50 / ticket |

Children (0-12 years)

€

50 / ticket

guests = 3

Price

Adult (18+ years)

€

60 / ticket |

Youth (13-17 years)

€

60 / ticket |

Children (0-12 years)

€

60 / ticket

guests <= 2

Price

Adult (18+ years)

€

75 / ticket |

Youth (13-17 years)

€

75 / ticket |

Children (0-12 years)

€

75 / ticket
2
promotion
Minimum booking:
2 tickets
General price:
Adult (18+ years)
€

50 / ticket
|
Youth (13-17 years)
€

50 / ticket
|
Children (0-12 years)
€

50 / ticket
Options
guests >= 4

Price

Adult (18+ years)

€

50 / ticket |

Youth (13-17 years)

€

50 / ticket |

Children (0-12 years)

€

50 / ticket

guests = 3

Price

Adult (18+ years)

€

60 / ticket |

Youth (13-17 years)

€

60 / ticket |

Children (0-12 years)

€

60 / ticket

guests <= 2

Price

Adult (18+ years)

€

75 / ticket |

Youth (13-17 years)

€

75 / ticket |

Children (0-12 years)

€

75 / ticket
3
promotion
Minimum booking:
2 tickets
General price:
Adult (18+ years)
€

50 / ticket
|
Youth (13-17 years)
€

50 / ticket
|
Children (0-12 years)
€

50 / ticket
Options
guests >= 4

Price

Adult (18+ years)

€

50 / ticket |

Youth (13-17 years)

€

50 / ticket |

Children (0-12 years)

€

50 / ticket

guests = 3

Price

Adult (18+ years)

€

60 / ticket |

Youth (13-17 years)

€

60 / ticket |

Children (0-12 years)

€

60 / ticket

guests <= 2

Price

Adult (18+ years)

€

75 / ticket |

Youth (13-17 years)

€

75 / ticket |

Children (0-12 years)

€

75 / ticket
4
promotion
Minimum booking:
2 tickets
General price:
Adult (18+ years)
€

50 / ticket
|
Youth (13-17 years)
€

50 / ticket
|
Children (0-12 years)
€

50 / ticket
Options
guests >= 4

Price

Adult (18+ years)

€

50 / ticket |

Youth (13-17 years)

€

50 / ticket |

Children (0-12 years)

€

50 / ticket

guests = 3

Price

Adult (18+ years)

€

60 / ticket |

Youth (13-17 years)

€

60 / ticket |

Children (0-12 years)

€

60 / ticket

guests <= 2

Price

Adult (18+ years)

€

75 / ticket |

Youth (13-17 years)

€

75 / ticket |

Children (0-12 years)

€

75 / ticket
29
promotion
Minimum booking:
2 tickets
General price:
Adult (18+ years)
€

50 / ticket
|
Youth (13-17 years)
€

50 / ticket
|
Children (0-12 years)
€

50 / ticket
Options
guests >= 4

Price

Adult (18+ years)

€

50 / ticket |

Youth (13-17 years)

€

50 / ticket |

Children (0-12 years)

€

50 / ticket

guests = 3

Price

Adult (18+ years)

€

60 / ticket |

Youth (13-17 years)

€

60 / ticket |

Children (0-12 years)

€

60 / ticket

guests <= 2

Price

Adult (18+ years)

€

75 / ticket |

Youth (13-17 years)

€

75 / ticket |

Children (0-12 years)

€

75 / ticket
30
promotion
Minimum booking:
2 tickets
General price:
Adult (18+ years)
€

50 / ticket
|
Youth (13-17 years)
€

50 / ticket
|
Children (0-12 years)
€

50 / ticket
Options
guests >= 4

Price

Adult (18+ years)

€

50 / ticket |

Youth (13-17 years)

€

50 / ticket |

Children (0-12 years)

€

50 / ticket

guests = 3

Price

Adult (18+ years)

€

60 / ticket |

Youth (13-17 years)

€

60 / ticket |

Children (0-12 years)

€

60 / ticket

guests <= 2

Price

Adult (18+ years)

€

75 / ticket |

Youth (13-17 years)

€

75 / ticket |

Children (0-12 years)

€

75 / ticket
31
promotion
Minimum booking:
2 tickets
General price:
Adult (18+ years)
€

50 / ticket
|
Youth (13-17 years)
€

50 / ticket
|
Children (0-12 years)
€

50 / ticket
Options
guests >= 4

Price

Adult (18+ years)

€

50 / ticket |

Youth (13-17 years)

€

50 / ticket |

Children (0-12 years)

€

50 / ticket

guests = 3

Price

Adult (18+ years)

€

60 / ticket |

Youth (13-17 years)

€

60 / ticket |

Children (0-12 years)

€

60 / ticket

guests <= 2

Price

Adult (18+ years)

€

75 / ticket |

Youth (13-17 years)

€

75 / ticket |

Children (0-12 years)

€

75 / ticket
1
promotion
Minimum booking:
2 tickets
General price:
Adult (18+ years)
€

50 / ticket
|
Youth (13-17 years)
€

50 / ticket
|
Children (0-12 years)
€

50 / ticket
Options
guests >= 4

Price

Adult (18+ years)

€

50 / ticket |

Youth (13-17 years)

€

50 / ticket |

Children (0-12 years)

€

50 / ticket

guests = 3

Price

Adult (18+ years)

€

60 / ticket |

Youth (13-17 years)

€

60 / ticket |

Children (0-12 years)

€

60 / ticket

guests <= 2

Price

Adult (18+ years)

€

75 / ticket |

Youth (13-17 years)

€

75 / ticket |

Children (0-12 years)

€

75 / ticket
2
promotion
Minimum booking:
2 tickets
General price:
Adult (18+ years)
€

50 / ticket
|
Youth (13-17 years)
€

50 / ticket
|
Children (0-12 years)
€

50 / ticket
Options
guests >= 4

Price

Adult (18+ years)

€

50 / ticket |

Youth (13-17 years)

€

50 / ticket |

Children (0-12 years)

€

50 / ticket

guests = 3

Price

Adult (18+ years)

€

60 / ticket |

Youth (13-17 years)

€

60 / ticket |

Children (0-12 years)

€

60 / ticket

guests <= 2

Price

Adult (18+ years)

€

75 / ticket |

Youth (13-17 years)

€

75 / ticket |

Children (0-12 years)

€

75 / ticket
3
promotion
Minimum booking:
2 tickets
General price:
Adult (18+ years)
€

50 / ticket
|
Youth (13-17 years)
€

50 / ticket
|
Children (0-12 years)
€

50 / ticket
Options
guests >= 4

Price

Adult (18+ years)

€

50 / ticket |

Youth (13-17 years)

€

50 / ticket |

Children (0-12 years)

€

50 / ticket

guests = 3

Price

Adult (18+ years)

€

60 / ticket |

Youth (13-17 years)

€

60 / ticket |

Children (0-12 years)

€

60 / ticket

guests <= 2

Price

Adult (18+ years)

€

75 / ticket |

Youth (13-17 years)

€

75 / ticket |

Children (0-12 years)

€

75 / ticket
4
promotion
Minimum booking:
2 tickets
General price:
Adult (18+ years)
€

50 / ticket
|
Youth (13-17 years)
€

50 / ticket
|
Children (0-12 years)
€

50 / ticket
Options
guests >= 4

Price

Adult (18+ years)

€

50 / ticket |

Youth (13-17 years)

€

50 / ticket |

Children (0-12 years)

€

50 / ticket

guests = 3

Price

Adult (18+ years)

€

60 / ticket |

Youth (13-17 years)

€

60 / ticket |

Children (0-12 years)

€

60 / ticket

guests <= 2

Price

Adult (18+ years)

€

75 / ticket |

Youth (13-17 years)

€

75 / ticket |

Children (0-12 years)

€

75 / ticket
5
promotion
Minimum booking:
2 tickets
General price:
Adult (18+ years)
€

50 / ticket
|
Youth (13-17 years)
€

50 / ticket
|
Children (0-12 years)
€

50 / ticket
Options
guests >= 4

Price

Adult (18+ years)

€

50 / ticket |

Youth (13-17 years)

€

50 / ticket |

Children (0-12 years)

€

50 / ticket

guests = 3

Price

Adult (18+ years)

€

60 / ticket |

Youth (13-17 years)

€

60 / ticket |

Children (0-12 years)

€

60 / ticket

guests <= 2

Price

Adult (18+ years)

€

75 / ticket |

Youth (13-17 years)

€

75 / ticket |

Children (0-12 years)

€

75 / ticket
6
promotion
Minimum booking:
2 tickets
General price:
Adult (18+ years)
€

50 / ticket
|
Youth (13-17 years)
€

50 / ticket
|
Children (0-12 years)
€

50 / ticket
Options
guests >= 4

Price

Adult (18+ years)

€

50 / ticket |

Youth (13-17 years)

€

50 / ticket |

Children (0-12 years)

€

50 / ticket

guests = 3

Price

Adult (18+ years)

€

60 / ticket |

Youth (13-17 years)

€

60 / ticket |

Children (0-12 years)

€

60 / ticket

guests <= 2

Price

Adult (18+ years)

€

75 / ticket |

Youth (13-17 years)

€

75 / ticket |

Children (0-12 years)

€

75 / ticket
7
promotion
Minimum booking:
2 tickets
General price:
Adult (18+ years)
€

50 / ticket
|
Youth (13-17 years)
€

50 / ticket
|
Children (0-12 years)
€

50 / ticket
Options
guests >= 4

Price

Adult (18+ years)

€

50 / ticket |

Youth (13-17 years)

€

50 / ticket |

Children (0-12 years)

€

50 / ticket

guests = 3

Price

Adult (18+ years)

€

60 / ticket |

Youth (13-17 years)

€

60 / ticket |

Children (0-12 years)

€

60 / ticket

guests <= 2

Price

Adult (18+ years)

€

75 / ticket |

Youth (13-17 years)

€

75 / ticket |

Children (0-12 years)

€

75 / ticket
8
promotion
Minimum booking:
2 tickets
General price:
Adult (18+ years)
€

50 / ticket
|
Youth (13-17 years)
€

50 / ticket
|
Children (0-12 years)
€

50 / ticket
Options
guests >= 4

Price

Adult (18+ years)

€

50 / ticket |

Youth (13-17 years)

€

50 / ticket |

Children (0-12 years)

€

50 / ticket

guests = 3

Price

Adult (18+ years)

€

60 / ticket |

Youth (13-17 years)

€

60 / ticket |

Children (0-12 years)

€

60 / ticket

guests <= 2

Price

Adult (18+ years)

€

75 / ticket |

Youth (13-17 years)

€

75 / ticket |

Children (0-12 years)

€

75 / ticket
9
promotion
Minimum booking:
2 tickets
General price:
Adult (18+ years)
€

50 / ticket
|
Youth (13-17 years)
€

50 / ticket
|
Children (0-12 years)
€

50 / ticket
Options
guests >= 4

Price

Adult (18+ years)

€

50 / ticket |

Youth (13-17 years)

€

50 / ticket |

Children (0-12 years)

€

50 / ticket

guests = 3

Price

Adult (18+ years)

€

60 / ticket |

Youth (13-17 years)

€

60 / ticket |

Children (0-12 years)

€

60 / ticket

guests <= 2

Price

Adult (18+ years)

€

75 / ticket |

Youth (13-17 years)

€

75 / ticket |

Children (0-12 years)

€

75 / ticket
10
promotion
Minimum booking:
2 tickets
General price:
Adult (18+ years)
€

50 / ticket
|
Youth (13-17 years)
€

50 / ticket
|
Children (0-12 years)
€

50 / ticket
Options
guests >= 4

Price

Adult (18+ years)

€

50 / ticket |

Youth (13-17 years)

€

50 / ticket |

Children (0-12 years)

€

50 / ticket

guests = 3

Price

Adult (18+ years)

€

60 / ticket |

Youth (13-17 years)

€

60 / ticket |

Children (0-12 years)

€

60 / ticket

guests <= 2

Price

Adult (18+ years)

€

75 / ticket |

Youth (13-17 years)

€

75 / ticket |

Children (0-12 years)

€

75 / ticket
11
promotion
Minimum booking:
2 tickets
General price:
Adult (18+ years)
€

50 / ticket
|
Youth (13-17 years)
€

50 / ticket
|
Children (0-12 years)
€

50 / ticket
Options
guests >= 4

Price

Adult (18+ years)

€

50 / ticket |

Youth (13-17 years)

€

50 / ticket |

Children (0-12 years)

€

50 / ticket

guests = 3

Price

Adult (18+ years)

€

60 / ticket |

Youth (13-17 years)

€

60 / ticket |

Children (0-12 years)

€

60 / ticket

guests <= 2

Price

Adult (18+ years)

€

75 / ticket |

Youth (13-17 years)

€

75 / ticket |

Children (0-12 years)

€

75 / ticket
12
promotion
Minimum booking:
2 tickets
General price:
Adult (18+ years)
€

50 / ticket
|
Youth (13-17 years)
€

50 / ticket
|
Children (0-12 years)
€

50 / ticket
Options
guests >= 4

Price

Adult (18+ years)

€

50 / ticket |

Youth (13-17 years)

€

50 / ticket |

Children (0-12 years)

€

50 / ticket

guests = 3

Price

Adult (18+ years)

€

60 / ticket |

Youth (13-17 years)

€

60 / ticket |

Children (0-12 years)

€

60 / ticket

guests <= 2

Price

Adult (18+ years)

€

75 / ticket |

Youth (13-17 years)

€

75 / ticket |

Children (0-12 years)

€

75 / ticket
13
promotion
Minimum booking:
2 tickets
General price:
Adult (18+ years)
€

50 / ticket
|
Youth (13-17 years)
€

50 / ticket
|
Children (0-12 years)
€

50 / ticket
Options
guests >= 4

Price

Adult (18+ years)

€

50 / ticket |

Youth (13-17 years)

€

50 / ticket |

Children (0-12 years)

€

50 / ticket

guests = 3

Price

Adult (18+ years)

€

60 / ticket |

Youth (13-17 years)

€

60 / ticket |

Children (0-12 years)

€

60 / ticket

guests <= 2

Price

Adult (18+ years)

€

75 / ticket |

Youth (13-17 years)

€

75 / ticket |

Children (0-12 years)

€

75 / ticket
14
promotion
Minimum booking:
2 tickets
General price:
Adult (18+ years)
€

50 / ticket
|
Youth (13-17 years)
€

50 / ticket
|
Children (0-12 years)
€

50 / ticket
Options
guests >= 4

Price

Adult (18+ years)

€

50 / ticket |

Youth (13-17 years)

€

50 / ticket |

Children (0-12 years)

€

50 / ticket

guests = 3

Price

Adult (18+ years)

€

60 / ticket |

Youth (13-17 years)

€

60 / ticket |

Children (0-12 years)

€

60 / ticket

guests <= 2

Price

Adult (18+ years)

€

75 / ticket |

Youth (13-17 years)

€

75 / ticket |

Children (0-12 years)

€

75 / ticket
15
promotion
Minimum booking:
2 tickets
General price:
Adult (18+ years)
€

50 / ticket
|
Youth (13-17 years)
€

50 / ticket
|
Children (0-12 years)
€

50 / ticket
Options
guests >= 4

Price

Adult (18+ years)

€

50 / ticket |

Youth (13-17 years)

€

50 / ticket |

Children (0-12 years)

€

50 / ticket

guests = 3

Price

Adult (18+ years)

€

60 / ticket |

Youth (13-17 years)

€

60 / ticket |

Children (0-12 years)

€

60 / ticket

guests <= 2

Price

Adult (18+ years)

€

75 / ticket |

Youth (13-17 years)

€

75 / ticket |

Children (0-12 years)

€

75 / ticket
16
promotion
Minimum booking:
2 tickets
General price:
Adult (18+ years)
€

50 / ticket
|
Youth (13-17 years)
€

50 / ticket
|
Children (0-12 years)
€

50 / ticket
Options
guests >= 4

Price

Adult (18+ years)

€

50 / ticket |

Youth (13-17 years)

€

50 / ticket |

Children (0-12 years)

€

50 / ticket

guests = 3

Price

Adult (18+ years)

€

60 / ticket |

Youth (13-17 years)

€

60 / ticket |

Children (0-12 years)

€

60 / ticket

guests <= 2

Price

Adult (18+ years)

€

75 / ticket |

Youth (13-17 years)

€

75 / ticket |

Children (0-12 years)

€

75 / ticket
17
promotion
Minimum booking:
2 tickets
General price:
Adult (18+ years)
€

50 / ticket
|
Youth (13-17 years)
€

50 / ticket
|
Children (0-12 years)
€

50 / ticket
Options
guests >= 4

Price

Adult (18+ years)

€

50 / ticket |

Youth (13-17 years)

€

50 / ticket |

Children (0-12 years)

€

50 / ticket

guests = 3

Price

Adult (18+ years)

€

60 / ticket |

Youth (13-17 years)

€

60 / ticket |

Children (0-12 years)

€

60 / ticket

guests <= 2

Price

Adult (18+ years)

€

75 / ticket |

Youth (13-17 years)

€

75 / ticket |

Children (0-12 years)

€

75 / ticket
18
promotion
Minimum booking:
2 tickets
General price:
Adult (18+ years)
€

50 / ticket
|
Youth (13-17 years)
€

50 / ticket
|
Children (0-12 years)
€

50 / ticket
Options
guests >= 4

Price

Adult (18+ years)

€

50 / ticket |

Youth (13-17 years)

€

50 / ticket |

Children (0-12 years)

€

50 / ticket

guests = 3

Price

Adult (18+ years)

€

60 / ticket |

Youth (13-17 years)

€

60 / ticket |

Children (0-12 years)

€

60 / ticket

guests <= 2

Price

Adult (18+ years)

€

75 / ticket |

Youth (13-17 years)

€

75 / ticket |

Children (0-12 years)

€

75 / ticket
19
promotion
Minimum booking:
2 tickets
General price:
Adult (18+ years)
€

50 / ticket
|
Youth (13-17 years)
€

50 / ticket
|
Children (0-12 years)
€

50 / ticket
Options
guests >= 4

Price

Adult (18+ years)

€

50 / ticket |

Youth (13-17 years)

€

50 / ticket |

Children (0-12 years)

€

50 / ticket

guests = 3

Price

Adult (18+ years)

€

60 / ticket |

Youth (13-17 years)

€

60 / ticket |

Children (0-12 years)

€

60 / ticket

guests <= 2

Price

Adult (18+ years)

€

75 / ticket |

Youth (13-17 years)

€

75 / ticket |

Children (0-12 years)

€

75 / ticket
20
promotion
Minimum booking:
2 tickets
General price:
Adult (18+ years)
€

50 / ticket
|
Youth (13-17 years)
€

50 / ticket
|
Children (0-12 years)
€

50 / ticket
Options
guests >= 4

Price

Adult (18+ years)

€

50 / ticket |

Youth (13-17 years)

€

50 / ticket |

Children (0-12 years)

€

50 / ticket

guests = 3

Price

Adult (18+ years)

€

60 / ticket |

Youth (13-17 years)

€

60 / ticket |

Children (0-12 years)

€

60 / ticket

guests <= 2

Price

Adult (18+ years)

€

75 / ticket |

Youth (13-17 years)

€

75 / ticket |

Children (0-12 years)

€

75 / ticket
21
promotion
Minimum booking:
2 tickets
General price:
Adult (18+ years)
€

50 / ticket
|
Youth (13-17 years)
€

50 / ticket
|
Children (0-12 years)
€

50 / ticket
Options
guests >= 4

Price

Adult (18+ years)

€

50 / ticket |

Youth (13-17 years)

€

50 / ticket |

Children (0-12 years)

€

50 / ticket

guests = 3

Price

Adult (18+ years)

€

60 / ticket |

Youth (13-17 years)

€

60 / ticket |

Children (0-12 years)

€

60 / ticket

guests <= 2

Price

Adult (18+ years)

€

75 / ticket |

Youth (13-17 years)

€

75 / ticket |

Children (0-12 years)

€

75 / ticket
22
promotion
Minimum booking:
2 tickets
General price:
Adult (18+ years)
€

50 / ticket
|
Youth (13-17 years)
€

50 / ticket
|
Children (0-12 years)
€

50 / ticket
Options
guests >= 4

Price

Adult (18+ years)

€

50 / ticket |

Youth (13-17 years)

€

50 / ticket |

Children (0-12 years)

€

50 / ticket

guests = 3

Price

Adult (18+ years)

€

60 / ticket |

Youth (13-17 years)

€

60 / ticket |

Children (0-12 years)

€

60 / ticket

guests <= 2

Price

Adult (18+ years)

€

75 / ticket |

Youth (13-17 years)

€

75 / ticket |

Children (0-12 years)

€

75 / ticket
23
promotion
Minimum booking:
2 tickets
General price:
Adult (18+ years)
€

50 / ticket
|
Youth (13-17 years)
€

50 / ticket
|
Children (0-12 years)
€

50 / ticket
Options
guests >= 4

Price

Adult (18+ years)

€

50 / ticket |

Youth (13-17 years)

€

50 / ticket |

Children (0-12 years)

€

50 / ticket

guests = 3

Price

Adult (18+ years)

€

60 / ticket |

Youth (13-17 years)

€

60 / ticket |

Children (0-12 years)

€

60 / ticket

guests <= 2

Price

Adult (18+ years)

€

75 / ticket |

Youth (13-17 years)

€

75 / ticket |

Children (0-12 years)

€

75 / ticket
24
promotion
Minimum booking:
2 tickets
General price:
Adult (18+ years)
€

50 / ticket
|
Youth (13-17 years)
€

50 / ticket
|
Children (0-12 years)
€

50 / ticket
Options
guests >= 4

Price

Adult (18+ years)

€

50 / ticket |

Youth (13-17 years)

€

50 / ticket |

Children (0-12 years)

€

50 / ticket

guests = 3

Price

Adult (18+ years)

€

60 / ticket |

Youth (13-17 years)

€

60 / ticket |

Children (0-12 years)

€

60 / ticket

guests <= 2

Price

Adult (18+ years)

€

75 / ticket |

Youth (13-17 years)

€

75 / ticket |

Children (0-12 years)

€

75 / ticket
25
promotion
Minimum booking:
2 tickets
General price:
Adult (18+ years)
€

50 / ticket
|
Youth (13-17 years)
€

50 / ticket
|
Children (0-12 years)
€

50 / ticket
Options
guests >= 4

Price

Adult (18+ years)

€

50 / ticket |

Youth (13-17 years)

€

50 / ticket |

Children (0-12 years)

€

50 / ticket

guests = 3

Price

Adult (18+ years)

€

60 / ticket |

Youth (13-17 years)

€

60 / ticket |

Children (0-12 years)

€

60 / ticket

guests <= 2

Price

Adult (18+ years)

€

75 / ticket |

Youth (13-17 years)

€

75 / ticket |

Children (0-12 years)

€

75 / ticket
26
promotion
Minimum booking:
2 tickets
General price:
Adult (18+ years)
€

50 / ticket
|
Youth (13-17 years)
€

50 / ticket
|
Children (0-12 years)
€

50 / ticket
Options
guests >= 4

Price

Adult (18+ years)

€

50 / ticket |

Youth (13-17 years)

€

50 / ticket |

Children (0-12 years)

€

50 / ticket

guests = 3

Price

Adult (18+ years)

€

60 / ticket |

Youth (13-17 years)

€

60 / ticket |

Children (0-12 years)

€

60 / ticket

guests <= 2

Price

Adult (18+ years)

€

75 / ticket |

Youth (13-17 years)

€

75 / ticket |

Children (0-12 years)

€

75 / ticket
27
promotion
Minimum booking:
2 tickets
General price:
Adult (18+ years)
€

50 / ticket
|
Youth (13-17 years)
€

50 / ticket
|
Children (0-12 years)
€

50 / ticket
Options
guests >= 4

Price

Adult (18+ years)

€

50 / ticket |

Youth (13-17 years)

€

50 / ticket |

Children (0-12 years)

€

50 / ticket

guests = 3

Price

Adult (18+ years)

€

60 / ticket |

Youth (13-17 years)

€

60 / ticket |

Children (0-12 years)

€

60 / ticket

guests <= 2

Price

Adult (18+ years)

€

75 / ticket |

Youth (13-17 years)

€

75 / ticket |

Children (0-12 years)

€

75 / ticket
28
promotion
Minimum booking:
2 tickets
General price:
Adult (18+ years)
€

50 / ticket
|
Youth (13-17 years)
€

50 / ticket
|
Children (0-12 years)
€

50 / ticket
Options
guests >= 4

Price

Adult (18+ years)

€

50 / ticket |

Youth (13-17 years)

€

50 / ticket |

Children (0-12 years)

€

50 / ticket

guests = 3

Price

Adult (18+ years)

€

60 / ticket |

Youth (13-17 years)

€

60 / ticket |

Children (0-12 years)

€

60 / ticket

guests <= 2

Price

Adult (18+ years)

€

75 / ticket |

Youth (13-17 years)

€

75 / ticket |

Children (0-12 years)

€

75 / ticket
29
promotion
Minimum booking:
2 tickets
General price:
Adult (18+ years)
€

50 / ticket
|
Youth (13-17 years)
€

50 / ticket
|
Children (0-12 years)
€

50 / ticket
Options
guests >= 4

Price

Adult (18+ years)

€

50 / ticket |

Youth (13-17 years)

€

50 / ticket |

Children (0-12 years)

€

50 / ticket

guests = 3

Price

Adult (18+ years)

€

60 / ticket |

Youth (13-17 years)

€

60 / ticket |

Children (0-12 years)

€

60 / ticket

guests <= 2

Price

Adult (18+ years)

€

75 / ticket |

Youth (13-17 years)

€

75 / ticket |

Children (0-12 years)

€

75 / ticket
1
promotion
Minimum booking:
2 tickets
General price:
Adult (18+ years)
€

50 / ticket
|
Youth (13-17 years)
€

50 / ticket
|
Children (0-12 years)
€

50 / ticket
Options
guests >= 4

Price

Adult (18+ years)

€

50 / ticket |

Youth (13-17 years)

€

50 / ticket |

Children (0-12 years)

€

50 / ticket

guests = 3

Price

Adult (18+ years)

€

60 / ticket |

Youth (13-17 years)

€

60 / ticket |

Children (0-12 years)

€

60 / ticket

guests <= 2

Price

Adult (18+ years)

€

75 / ticket |

Youth (13-17 years)

€

75 / ticket |

Children (0-12 years)

€

75 / ticket
2
promotion
Minimum booking:
2 tickets
General price:
Adult (18+ years)
€

50 / ticket
|
Youth (13-17 years)
€

50 / ticket
|
Children (0-12 years)
€

50 / ticket
Options
guests >= 4

Price

Adult (18+ years)

€

50 / ticket |

Youth (13-17 years)

€

50 / ticket |

Children (0-12 years)

€

50 / ticket

guests = 3

Price

Adult (18+ years)

€

60 / ticket |

Youth (13-17 years)

€

60 / ticket |

Children (0-12 years)

€

60 / ticket

guests <= 2

Price

Adult (18+ years)

€

75 / ticket |

Youth (13-17 years)

€

75 / ticket |

Children (0-12 years)

€

75 / ticket
3
promotion
Minimum booking:
2 tickets
General price:
Adult (18+ years)
€

50 / ticket
|
Youth (13-17 years)
€

50 / ticket
|
Children (0-12 years)
€

50 / ticket
Options
guests >= 4

Price

Adult (18+ years)

€

50 / ticket |

Youth (13-17 years)

€

50 / ticket |

Children (0-12 years)

€

50 / ticket

guests = 3

Price

Adult (18+ years)

€

60 / ticket |

Youth (13-17 years)

€

60 / ticket |

Children (0-12 years)

€

60 / ticket

guests <= 2

Price

Adult (18+ years)

€

75 / ticket |

Youth (13-17 years)

€

75 / ticket |

Children (0-12 years)

€

75 / ticket
26
promotion
Minimum booking:
2 tickets
General price:
Adult (18+ years)
€

50 / ticket
|
Youth (13-17 years)
€

50 / ticket
|
Children (0-12 years)
€

50 / ticket
Options
guests >= 4

Price

Adult (18+ years)

€

50 / ticket |

Youth (13-17 years)

€

50 / ticket |

Children (0-12 years)

€

50 / ticket

guests = 3

Price

Adult (18+ years)

€

60 / ticket |

Youth (13-17 years)

€

60 / ticket |

Children (0-12 years)

€

60 / ticket

guests <= 2

Price

Adult (18+ years)

€

75 / ticket |

Youth (13-17 years)

€

75 / ticket |

Children (0-12 years)

€

75 / ticket
27
promotion
Minimum booking:
2 tickets
General price:
Adult (18+ years)
€

50 / ticket
|
Youth (13-17 years)
€

50 / ticket
|
Children (0-12 years)
€

50 / ticket
Options
guests >= 4

Price

Adult (18+ years)

€

50 / ticket |

Youth (13-17 years)

€

50 / ticket |

Children (0-12 years)

€

50 / ticket

guests = 3

Price

Adult (18+ years)

€

60 / ticket |

Youth (13-17 years)

€

60 / ticket |

Children (0-12 years)

€

60 / ticket

guests <= 2

Price

Adult (18+ years)

€

75 / ticket |

Youth (13-17 years)

€

75 / ticket |

Children (0-12 years)

€

75 / ticket
28
promotion
Minimum booking:
2 tickets
General price:
Adult (18+ years)
€

50 / ticket
|
Youth (13-17 years)
€

50 / ticket
|
Children (0-12 years)
€

50 / ticket
Options
guests >= 4

Price

Adult (18+ years)

€

50 / ticket |

Youth (13-17 years)

€

50 / ticket |

Children (0-12 years)

€

50 / ticket

guests = 3

Price

Adult (18+ years)

€

60 / ticket |

Youth (13-17 years)

€

60 / ticket |

Children (0-12 years)

€

60 / ticket

guests <= 2

Price

Adult (18+ years)

€

75 / ticket |

Youth (13-17 years)

€

75 / ticket |

Children (0-12 years)

€

75 / ticket
29
promotion
Minimum booking:
2 tickets
General price:
Adult (18+ years)
€

50 / ticket
|
Youth (13-17 years)
€

50 / ticket
|
Children (0-12 years)
€

50 / ticket
Options
guests >= 4

Price

Adult (18+ years)

€

50 / ticket |

Youth (13-17 years)

€

50 / ticket |

Children (0-12 years)

€

50 / ticket

guests = 3

Price

Adult (18+ years)

€

60 / ticket |

Youth (13-17 years)

€

60 / ticket |

Children (0-12 years)

€

60 / ticket

guests <= 2

Price

Adult (18+ years)

€

75 / ticket |

Youth (13-17 years)

€

75 / ticket |

Children (0-12 years)

€

75 / ticket
1
promotion
Minimum booking:
2 tickets
General price:
Adult (18+ years)
€

50 / ticket
|
Youth (13-17 years)
€

50 / ticket
|
Children (0-12 years)
€

50 / ticket
Options
guests >= 4

Price

Adult (18+ years)

€

50 / ticket |

Youth (13-17 years)

€

50 / ticket |

Children (0-12 years)

€

50 / ticket

guests = 3

Price

Adult (18+ years)

€

60 / ticket |

Youth (13-17 years)

€

60 / ticket |

Children (0-12 years)

€

60 / ticket

guests <= 2

Price

Adult (18+ years)

€

75 / ticket |

Youth (13-17 years)

€

75 / ticket |

Children (0-12 years)

€

75 / ticket
2
promotion
Minimum booking:
2 tickets
General price:
Adult (18+ years)
€

50 / ticket
|
Youth (13-17 years)
€

50 / ticket
|
Children (0-12 years)
€

50 / ticket
Options
guests >= 4

Price

Adult (18+ years)

€

50 / ticket |

Youth (13-17 years)

€

50 / ticket |

Children (0-12 years)

€

50 / ticket

guests = 3

Price

Adult (18+ years)

€

60 / ticket |

Youth (13-17 years)

€

60 / ticket |

Children (0-12 years)

€

60 / ticket

guests <= 2

Price

Adult (18+ years)

€

75 / ticket |

Youth (13-17 years)

€

75 / ticket |

Children (0-12 years)

€

75 / ticket
3
promotion
Minimum booking:
2 tickets
General price:
Adult (18+ years)
€

50 / ticket
|
Youth (13-17 years)
€

50 / ticket
|
Children (0-12 years)
€

50 / ticket
Options
guests >= 4

Price

Adult (18+ years)

€

50 / ticket |

Youth (13-17 years)

€

50 / ticket |

Children (0-12 years)

€

50 / ticket

guests = 3

Price

Adult (18+ years)

€

60 / ticket |

Youth (13-17 years)

€

60 / ticket |

Children (0-12 years)

€

60 / ticket

guests <= 2

Price

Adult (18+ years)

€

75 / ticket |

Youth (13-17 years)

€

75 / ticket |

Children (0-12 years)

€

75 / ticket
4
promotion
Minimum booking:
2 tickets
General price:
Adult (18+ years)
€

50 / ticket
|
Youth (13-17 years)
€

50 / ticket
|
Children (0-12 years)
€

50 / ticket
Options
guests >= 4

Price

Adult (18+ years)

€

50 / ticket |

Youth (13-17 years)

€

50 / ticket |

Children (0-12 years)

€

50 / ticket

guests = 3

Price

Adult (18+ years)

€

60 / ticket |

Youth (13-17 years)

€

60 / ticket |

Children (0-12 years)

€

60 / ticket

guests <= 2

Price

Adult (18+ years)

€

75 / ticket |

Youth (13-17 years)

€

75 / ticket |

Children (0-12 years)

€

75 / ticket
5
promotion
Minimum booking:
2 tickets
General price:
Adult (18+ years)
€

50 / ticket
|
Youth (13-17 years)
€

50 / ticket
|
Children (0-12 years)
€

50 / ticket
Options
guests >= 4

Price

Adult (18+ years)

€

50 / ticket |

Youth (13-17 years)

€

50 / ticket |

Children (0-12 years)

€

50 / ticket

guests = 3

Price

Adult (18+ years)

€

60 / ticket |

Youth (13-17 years)

€

60 / ticket |

Children (0-12 years)

€

60 / ticket

guests <= 2

Price

Adult (18+ years)

€

75 / ticket |

Youth (13-17 years)

€

75 / ticket |

Children (0-12 years)

€

75 / ticket
6
promotion
Minimum booking:
2 tickets
General price:
Adult (18+ years)
€

50 / ticket
|
Youth (13-17 years)
€

50 / ticket
|
Children (0-12 years)
€

50 / ticket
Options
guests >= 4

Price

Adult (18+ years)

€

50 / ticket |

Youth (13-17 years)

€

50 / ticket |

Children (0-12 years)

€

50 / ticket

guests = 3

Price

Adult (18+ years)

€

60 / ticket |

Youth (13-17 years)

€

60 / ticket |

Children (0-12 years)

€

60 / ticket

guests <= 2

Price

Adult (18+ years)

€

75 / ticket |

Youth (13-17 years)

€

75 / ticket |

Children (0-12 years)

€

75 / ticket
7
promotion
Minimum booking:
2 tickets
General price:
Adult (18+ years)
€

50 / ticket
|
Youth (13-17 years)
€

50 / ticket
|
Children (0-12 years)
€

50 / ticket
Options
guests >= 4

Price

Adult (18+ years)

€

50 / ticket |

Youth (13-17 years)

€

50 / ticket |

Children (0-12 years)

€

50 / ticket

guests = 3

Price

Adult (18+ years)

€

60 / ticket |

Youth (13-17 years)

€

60 / ticket |

Children (0-12 years)

€

60 / ticket

guests <= 2

Price

Adult (18+ years)

€

75 / ticket |

Youth (13-17 years)

€

75 / ticket |

Children (0-12 years)

€

75 / ticket
8
promotion
Minimum booking:
2 tickets
General price:
Adult (18+ years)
€

50 / ticket
|
Youth (13-17 years)
€

50 / ticket
|
Children (0-12 years)
€

50 / ticket
Options
guests >= 4

Price

Adult (18+ years)

€

50 / ticket |

Youth (13-17 years)

€

50 / ticket |

Children (0-12 years)

€

50 / ticket

guests = 3

Price

Adult (18+ years)

€

60 / ticket |

Youth (13-17 years)

€

60 / ticket |

Children (0-12 years)

€

60 / ticket

guests <= 2

Price

Adult (18+ years)

€

75 / ticket |

Youth (13-17 years)

€

75 / ticket |

Children (0-12 years)

€

75 / ticket
9
promotion
Minimum booking:
2 tickets
General price:
Adult (18+ years)
€

50 / ticket
|
Youth (13-17 years)
€

50 / ticket
|
Children (0-12 years)
€

50 / ticket
Options
guests >= 4

Price

Adult (18+ years)

€

50 / ticket |

Youth (13-17 years)

€

50 / ticket |

Children (0-12 years)

€

50 / ticket

guests = 3

Price

Adult (18+ years)

€

60 / ticket |

Youth (13-17 years)

€

60 / ticket |

Children (0-12 years)

€

60 / ticket

guests <= 2

Price

Adult (18+ years)

€

75 / ticket |

Youth (13-17 years)

€

75 / ticket |

Children (0-12 years)

€

75 / ticket
10
promotion
Minimum booking:
2 tickets
General price:
Adult (18+ years)
€

50 / ticket
|
Youth (13-17 years)
€

50 / ticket
|
Children (0-12 years)
€

50 / ticket
Options
guests >= 4

Price

Adult (18+ years)

€

50 / ticket |

Youth (13-17 years)

€

50 / ticket |

Children (0-12 years)

€

50 / ticket

guests = 3

Price

Adult (18+ years)

€

60 / ticket |

Youth (13-17 years)

€

60 / ticket |

Children (0-12 years)

€

60 / ticket

guests <= 2

Price

Adult (18+ years)

€

75 / ticket |

Youth (13-17 years)

€

75 / ticket |

Children (0-12 years)

€

75 / ticket
11
promotion
Minimum booking:
2 tickets
General price:
Adult (18+ years)
€

50 / ticket
|
Youth (13-17 years)
€

50 / ticket
|
Children (0-12 years)
€

50 / ticket
Options
guests >= 4

Price

Adult (18+ years)

€

50 / ticket |

Youth (13-17 years)

€

50 / ticket |

Children (0-12 years)

€

50 / ticket

guests = 3

Price

Adult (18+ years)

€

60 / ticket |

Youth (13-17 years)

€

60 / ticket |

Children (0-12 years)

€

60 / ticket

guests <= 2

Price

Adult (18+ years)

€

75 / ticket |

Youth (13-17 years)

€

75 / ticket |

Children (0-12 years)

€

75 / ticket
12
promotion
Minimum booking:
2 tickets
General price:
Adult (18+ years)
€

50 / ticket
|
Youth (13-17 years)
€

50 / ticket
|
Children (0-12 years)
€

50 / ticket
Options
guests >= 4

Price

Adult (18+ years)

€

50 / ticket |

Youth (13-17 years)

€

50 / ticket |

Children (0-12 years)

€

50 / ticket

guests = 3

Price

Adult (18+ years)

€

60 / ticket |

Youth (13-17 years)

€

60 / ticket |

Children (0-12 years)

€

60 / ticket

guests <= 2

Price

Adult (18+ years)

€

75 / ticket |

Youth (13-17 years)

€

75 / ticket |

Children (0-12 years)

€

75 / ticket
13
promotion
Minimum booking:
2 tickets
General price:
Adult (18+ years)
€

50 / ticket
|
Youth (13-17 years)
€

50 / ticket
|
Children (0-12 years)
€

50 / ticket
Options
guests >= 4

Price

Adult (18+ years)

€

50 / ticket |

Youth (13-17 years)

€

50 / ticket |

Children (0-12 years)

€

50 / ticket

guests = 3

Price

Adult (18+ years)

€

60 / ticket |

Youth (13-17 years)

€

60 / ticket |

Children (0-12 years)

€

60 / ticket

guests <= 2

Price

Adult (18+ years)

€

75 / ticket |

Youth (13-17 years)

€

75 / ticket |

Children (0-12 years)

€

75 / ticket
14
promotion
Minimum booking:
2 tickets
General price:
Adult (18+ years)
€

50 / ticket
|
Youth (13-17 years)
€

50 / ticket
|
Children (0-12 years)
€

50 / ticket
Options
guests >= 4

Price

Adult (18+ years)

€

50 / ticket |

Youth (13-17 years)

€

50 / ticket |

Children (0-12 years)

€

50 / ticket

guests = 3

Price

Adult (18+ years)

€

60 / ticket |

Youth (13-17 years)

€

60 / ticket |

Children (0-12 years)

€

60 / ticket

guests <= 2

Price

Adult (18+ years)

€

75 / ticket |

Youth (13-17 years)

€

75 / ticket |

Children (0-12 years)

€

75 / ticket
15
promotion
Minimum booking:
2 tickets
General price:
Adult (18+ years)
€

50 / ticket
|
Youth (13-17 years)
€

50 / ticket
|
Children (0-12 years)
€

50 / ticket
Options
guests >= 4

Price

Adult (18+ years)

€

50 / ticket |

Youth (13-17 years)

€

50 / ticket |

Children (0-12 years)

€

50 / ticket

guests = 3

Price

Adult (18+ years)

€

60 / ticket |

Youth (13-17 years)

€

60 / ticket |

Children (0-12 years)

€

60 / ticket

guests <= 2

Price

Adult (18+ years)

€

75 / ticket |

Youth (13-17 years)

€

75 / ticket |

Children (0-12 years)

€

75 / ticket
16
promotion
Minimum booking:
2 tickets
General price:
Adult (18+ years)
€

50 / ticket
|
Youth (13-17 years)
€

50 / ticket
|
Children (0-12 years)
€

50 / ticket
Options
guests >= 4

Price

Adult (18+ years)

€

50 / ticket |

Youth (13-17 years)

€

50 / ticket |

Children (0-12 years)

€

50 / ticket

guests = 3

Price

Adult (18+ years)

€

60 / ticket |

Youth (13-17 years)

€

60 / ticket |

Children (0-12 years)

€

60 / ticket

guests <= 2

Price

Adult (18+ years)

€

75 / ticket |

Youth (13-17 years)

€

75 / ticket |

Children (0-12 years)

€

75 / ticket
17
promotion
Minimum booking:
2 tickets
General price:
Adult (18+ years)
€

50 / ticket
|
Youth (13-17 years)
€

50 / ticket
|
Children (0-12 years)
€

50 / ticket
Options
guests >= 4

Price

Adult (18+ years)

€

50 / ticket |

Youth (13-17 years)

€

50 / ticket |

Children (0-12 years)

€

50 / ticket

guests = 3

Price

Adult (18+ years)

€

60 / ticket |

Youth (13-17 years)

€

60 / ticket |

Children (0-12 years)

€

60 / ticket

guests <= 2

Price

Adult (18+ years)

€

75 / ticket |

Youth (13-17 years)

€

75 / ticket |

Children (0-12 years)

€

75 / ticket
18
promotion
Minimum booking:
2 tickets
General price:
Adult (18+ years)
€

50 / ticket
|
Youth (13-17 years)
€

50 / ticket
|
Children (0-12 years)
€

50 / ticket
Options
guests >= 4

Price

Adult (18+ years)

€

50 / ticket |

Youth (13-17 years)

€

50 / ticket |

Children (0-12 years)

€

50 / ticket

guests = 3

Price

Adult (18+ years)

€

60 / ticket |

Youth (13-17 years)

€

60 / ticket |

Children (0-12 years)

€

60 / ticket

guests <= 2

Price

Adult (18+ years)

€

75 / ticket |

Youth (13-17 years)

€

75 / ticket |

Children (0-12 years)

€

75 / ticket
19
promotion
Minimum booking:
2 tickets
General price:
Adult (18+ years)
€

50 / ticket
|
Youth (13-17 years)
€

50 / ticket
|
Children (0-12 years)
€

50 / ticket
Options
guests >= 4

Price

Adult (18+ years)

€

50 / ticket |

Youth (13-17 years)

€

50 / ticket |

Children (0-12 years)

€

50 / ticket

guests = 3

Price

Adult (18+ years)

€

60 / ticket |

Youth (13-17 years)

€

60 / ticket |

Children (0-12 years)

€

60 / ticket

guests <= 2

Price

Adult (18+ years)

€

75 / ticket |

Youth (13-17 years)

€

75 / ticket |

Children (0-12 years)

€

75 / ticket
20
promotion
Minimum booking:
2 tickets
General price:
Adult (18+ years)
€

50 / ticket
|
Youth (13-17 years)
€

50 / ticket
|
Children (0-12 years)
€

50 / ticket
Options
guests >= 4

Price

Adult (18+ years)

€

50 / ticket |

Youth (13-17 years)

€

50 / ticket |

Children (0-12 years)

€

50 / ticket

guests = 3

Price

Adult (18+ years)

€

60 / ticket |

Youth (13-17 years)

€

60 / ticket |

Children (0-12 years)

€

60 / ticket

guests <= 2

Price

Adult (18+ years)

€

75 / ticket |

Youth (13-17 years)

€

75 / ticket |

Children (0-12 years)

€

75 / ticket
21
promotion
Minimum booking:
2 tickets
General price:
Adult (18+ years)
€

50 / ticket
|
Youth (13-17 years)
€

50 / ticket
|
Children (0-12 years)
€

50 / ticket
Options
guests >= 4

Price

Adult (18+ years)

€

50 / ticket |

Youth (13-17 years)

€

50 / ticket |

Children (0-12 years)

€

50 / ticket

guests = 3

Price

Adult (18+ years)

€

60 / ticket |

Youth (13-17 years)

€

60 / ticket |

Children (0-12 years)

€

60 / ticket

guests <= 2

Price

Adult (18+ years)

€

75 / ticket |

Youth (13-17 years)

€

75 / ticket |

Children (0-12 years)

€

75 / ticket
22
promotion
Minimum booking:
2 tickets
General price:
Adult (18+ years)
€

50 / ticket
|
Youth (13-17 years)
€

50 / ticket
|
Children (0-12 years)
€

50 / ticket
Options
guests >= 4

Price

Adult (18+ years)

€

50 / ticket |

Youth (13-17 years)

€

50 / ticket |

Children (0-12 years)

€

50 / ticket

guests = 3

Price

Adult (18+ years)

€

60 / ticket |

Youth (13-17 years)

€

60 / ticket |

Children (0-12 years)

€

60 / ticket

guests <= 2

Price

Adult (18+ years)

€

75 / ticket |

Youth (13-17 years)

€

75 / ticket |

Children (0-12 years)

€

75 / ticket
23
promotion
Minimum booking:
2 tickets
General price:
Adult (18+ years)
€

50 / ticket
|
Youth (13-17 years)
€

50 / ticket
|
Children (0-12 years)
€

50 / ticket
Options
guests >= 4

Price

Adult (18+ years)

€

50 / ticket |

Youth (13-17 years)

€

50 / ticket |

Children (0-12 years)

€

50 / ticket

guests = 3

Price

Adult (18+ years)

€

60 / ticket |

Youth (13-17 years)

€

60 / ticket |

Children (0-12 years)

€

60 / ticket

guests <= 2

Price

Adult (18+ years)

€

75 / ticket |

Youth (13-17 years)

€

75 / ticket |

Children (0-12 years)

€

75 / ticket
24
promotion
Minimum booking:
2 tickets
General price:
Adult (18+ years)
€

50 / ticket
|
Youth (13-17 years)
€

50 / ticket
|
Children (0-12 years)
€

50 / ticket
Options
guests >= 4

Price

Adult (18+ years)

€

50 / ticket |

Youth (13-17 years)

€

50 / ticket |

Children (0-12 years)

€

50 / ticket

guests = 3

Price

Adult (18+ years)

€

60 / ticket |

Youth (13-17 years)

€

60 / ticket |

Children (0-12 years)

€

60 / ticket

guests <= 2

Price

Adult (18+ years)

€

75 / ticket |

Youth (13-17 years)

€

75 / ticket |

Children (0-12 years)

€

75 / ticket
25
promotion
Minimum booking:
2 tickets
General price:
Adult (18+ years)
€

50 / ticket
|
Youth (13-17 years)
€

50 / ticket
|
Children (0-12 years)
€

50 / ticket
Options
guests >= 4

Price

Adult (18+ years)

€

50 / ticket |

Youth (13-17 years)

€

50 / ticket |

Children (0-12 years)

€

50 / ticket

guests = 3

Price

Adult (18+ years)

€

60 / ticket |

Youth (13-17 years)

€

60 / ticket |

Children (0-12 years)

€

60 / ticket

guests <= 2

Price

Adult (18+ years)

€

75 / ticket |

Youth (13-17 years)

€

75 / ticket |

Children (0-12 years)

€

75 / ticket
26
promotion
Minimum booking:
2 tickets
General price:
Adult (18+ years)
€

50 / ticket
|
Youth (13-17 years)
€

50 / ticket
|
Children (0-12 years)
€

50 / ticket
Options
guests >= 4

Price

Adult (18+ years)

€

50 / ticket |

Youth (13-17 years)

€

50 / ticket |

Children (0-12 years)

€

50 / ticket

guests = 3

Price

Adult (18+ years)

€

60 / ticket |

Youth (13-17 years)

€

60 / ticket |

Children (0-12 years)

€

60 / ticket

guests <= 2

Price

Adult (18+ years)

€

75 / ticket |

Youth (13-17 years)

€

75 / ticket |

Children (0-12 years)

€

75 / ticket
27
promotion
Minimum booking:
2 tickets
General price:
Adult (18+ years)
€

50 / ticket
|
Youth (13-17 years)
€

50 / ticket
|
Children (0-12 years)
€

50 / ticket
Options
guests >= 4

Price

Adult (18+ years)

€

50 / ticket |

Youth (13-17 years)

€

50 / ticket |

Children (0-12 years)

€

50 / ticket

guests = 3

Price

Adult (18+ years)

€

60 / ticket |

Youth (13-17 years)

€

60 / ticket |

Children (0-12 years)

€

60 / ticket

guests <= 2

Price

Adult (18+ years)

€

75 / ticket |

Youth (13-17 years)

€

75 / ticket |

Children (0-12 years)

€

75 / ticket
28
promotion
Minimum booking:
2 tickets
General price:
Adult (18+ years)
€

50 / ticket
|
Youth (13-17 years)
€

50 / ticket
|
Children (0-12 years)
€

50 / ticket
Options
guests >= 4

Price

Adult (18+ years)

€

50 / ticket |

Youth (13-17 years)

€

50 / ticket |

Children (0-12 years)

€

50 / ticket

guests = 3

Price

Adult (18+ years)

€

60 / ticket |

Youth (13-17 years)

€

60 / ticket |

Children (0-12 years)

€

60 / ticket

guests <= 2

Price

Adult (18+ years)

€

75 / ticket |

Youth (13-17 years)

€

75 / ticket |

Children (0-12 years)

€

75 / ticket
29
promotion
Minimum booking:
2 tickets
General price:
Adult (18+ years)
€

50 / ticket
|
Youth (13-17 years)
€

50 / ticket
|
Children (0-12 years)
€

50 / ticket
Options
guests >= 4

Price

Adult (18+ years)

€

50 / ticket |

Youth (13-17 years)

€

50 / ticket |

Children (0-12 years)

€

50 / ticket

guests = 3

Price

Adult (18+ years)

€

60 / ticket |

Youth (13-17 years)

€

60 / ticket |

Children (0-12 years)

€

60 / ticket

guests <= 2

Price

Adult (18+ years)

€

75 / ticket |

Youth (13-17 years)

€

75 / ticket |

Children (0-12 years)

€

75 / ticket
30
promotion
Minimum booking:
2 tickets
General price:
Adult (18+ years)
€

50 / ticket
|
Youth (13-17 years)
€

50 / ticket
|
Children (0-12 years)
€

50 / ticket
Options
guests >= 4

Price

Adult (18+ years)

€

50 / ticket |

Youth (13-17 years)

€

50 / ticket |

Children (0-12 years)

€

50 / ticket

guests = 3

Price

Adult (18+ years)

€

60 / ticket |

Youth (13-17 years)

€

60 / ticket |

Children (0-12 years)

€

60 / ticket

guests <= 2

Price

Adult (18+ years)

€

75 / ticket |

Youth (13-17 years)

€

75 / ticket |

Children (0-12 years)

€

75 / ticket
31
promotion
Minimum booking:
2 tickets
General price:
Adult (18+ years)
€

50 / ticket
|
Youth (13-17 years)
€

50 / ticket
|
Children (0-12 years)
€

50 / ticket
Options
guests >= 4

Price

Adult (18+ years)

€

50 / ticket |

Youth (13-17 years)

€

50 / ticket |

Children (0-12 years)

€

50 / ticket

guests = 3

Price

Adult (18+ years)

€

60 / ticket |

Youth (13-17 years)

€

60 / ticket |

Children (0-12 years)

€

60 / ticket

guests <= 2

Price

Adult (18+ years)

€

75 / ticket |

Youth (13-17 years)

€

75 / ticket |

Children (0-12 years)

€

75 / ticket
1
promotion
Minimum booking:
2 tickets
General price:
Adult (18+ years)
€

50 / ticket
|
Youth (13-17 years)
€

50 / ticket
|
Children (0-12 years)
€

50 / ticket
Options
guests >= 4

Price

Adult (18+ years)

€

50 / ticket |

Youth (13-17 years)

€

50 / ticket |

Children (0-12 years)

€

50 / ticket

guests = 3

Price

Adult (18+ years)

€

60 / ticket |

Youth (13-17 years)

€

60 / ticket |

Children (0-12 years)

€

60 / ticket

guests <= 2

Price

Adult (18+ years)

€

75 / ticket |

Youth (13-17 years)

€

75 / ticket |

Children (0-12 years)

€

75 / ticket
2
promotion
Minimum booking:
2 tickets
General price:
Adult (18+ years)
€

50 / ticket
|
Youth (13-17 years)
€

50 / ticket
|
Children (0-12 years)
€

50 / ticket
Options
guests >= 4

Price

Adult (18+ years)

€

50 / ticket |

Youth (13-17 years)

€

50 / ticket |

Children (0-12 years)

€

50 / ticket

guests = 3

Price

Adult (18+ years)

€

60 / ticket |

Youth (13-17 years)

€

60 / ticket |

Children (0-12 years)

€

60 / ticket

guests <= 2

Price

Adult (18+ years)

€

75 / ticket |

Youth (13-17 years)

€

75 / ticket |

Children (0-12 years)

€

75 / ticket
3
promotion
Minimum booking:
2 tickets
General price:
Adult (18+ years)
€

50 / ticket
|
Youth (13-17 years)
€

50 / ticket
|
Children (0-12 years)
€

50 / ticket
Options
guests >= 4

Price

Adult (18+ years)

€

50 / ticket |

Youth (13-17 years)

€

50 / ticket |

Children (0-12 years)

€

50 / ticket

guests = 3

Price

Adult (18+ years)

€

60 / ticket |

Youth (13-17 years)

€

60 / ticket |

Children (0-12 years)

€

60 / ticket

guests <= 2

Price

Adult (18+ years)

€

75 / ticket |

Youth (13-17 years)

€

75 / ticket |

Children (0-12 years)

€

75 / ticket
4
promotion
Minimum booking:
2 tickets
General price:
Adult (18+ years)
€

50 / ticket
|
Youth (13-17 years)
€

50 / ticket
|
Children (0-12 years)
€

50 / ticket
Options
guests >= 4

Price

Adult (18+ years)

€

50 / ticket |

Youth (13-17 years)

€

50 / ticket |

Children (0-12 years)

€

50 / ticket

guests = 3

Price

Adult (18+ years)

€

60 / ticket |

Youth (13-17 years)

€

60 / ticket |

Children (0-12 years)

€

60 / ticket

guests <= 2

Price

Adult (18+ years)

€

75 / ticket |

Youth (13-17 years)

€

75 / ticket |

Children (0-12 years)

€

75 / ticket
5
promotion
Minimum booking:
2 tickets
General price:
Adult (18+ years)
€

50 / ticket
|
Youth (13-17 years)
€

50 / ticket
|
Children (0-12 years)
€

50 / ticket
Options
guests >= 4

Price

Adult (18+ years)

€

50 / ticket |

Youth (13-17 years)

€

50 / ticket |

Children (0-12 years)

€

50 / ticket

guests = 3

Price

Adult (18+ years)

€

60 / ticket |

Youth (13-17 years)

€

60 / ticket |

Children (0-12 years)

€

60 / ticket

guests <= 2

Price

Adult (18+ years)

€

75 / ticket |

Youth (13-17 years)

€

75 / ticket |

Children (0-12 years)

€

75 / ticket
6
promotion
Minimum booking:
2 tickets
General price:
Adult (18+ years)
€

50 / ticket
|
Youth (13-17 years)
€

50 / ticket
|
Children (0-12 years)
€

50 / ticket
Options
guests >= 4

Price

Adult (18+ years)

€

50 / ticket |

Youth (13-17 years)

€

50 / ticket |

Children (0-12 years)

€

50 / ticket

guests = 3

Price

Adult (18+ years)

€

60 / ticket |

Youth (13-17 years)

€

60 / ticket |

Children (0-12 years)

€

60 / ticket

guests <= 2

Price

Adult (18+ years)

€

75 / ticket |

Youth (13-17 years)

€

75 / ticket |

Children (0-12 years)

€

75 / ticket
7
promotion
Minimum booking:
2 tickets
General price:
Adult (18+ years)
€

50 / ticket
|
Youth (13-17 years)
€

50 / ticket
|
Children (0-12 years)
€

50 / ticket
Options
guests >= 4

Price

Adult (18+ years)

€

50 / ticket |

Youth (13-17 years)

€

50 / ticket |

Children (0-12 years)

€

50 / ticket

guests = 3

Price

Adult (18+ years)

€

60 / ticket |

Youth (13-17 years)

€

60 / ticket |

Children (0-12 years)

€

60 / ticket

guests <= 2

Price

Adult (18+ years)

€

75 / ticket |

Youth (13-17 years)

€

75 / ticket |

Children (0-12 years)

€

75 / ticket
8
promotion
Minimum booking:
2 tickets
General price:
Adult (18+ years)
€

50 / ticket
|
Youth (13-17 years)
€

50 / ticket
|
Children (0-12 years)
€

50 / ticket
Options
guests >= 4

Price

Adult (18+ years)

€

50 / ticket |

Youth (13-17 years)

€

50 / ticket |

Children (0-12 years)

€

50 / ticket

guests = 3

Price

Adult (18+ years)

€

60 / ticket |

Youth (13-17 years)

€

60 / ticket |

Children (0-12 years)

€

60 / ticket

guests <= 2

Price

Adult (18+ years)

€

75 / ticket |

Youth (13-17 years)

€

75 / ticket |

Children (0-12 years)

€

75 / ticket
9
promotion
Minimum booking:
2 tickets
General price:
Adult (18+ years)
€

50 / ticket
|
Youth (13-17 years)
€

50 / ticket
|
Children (0-12 years)
€

50 / ticket
Options
guests >= 4

Price

Adult (18+ years)

€

50 / ticket |

Youth (13-17 years)

€

50 / ticket |

Children (0-12 years)

€

50 / ticket

guests = 3

Price

Adult (18+ years)

€

60 / ticket |

Youth (13-17 years)

€

60 / ticket |

Children (0-12 years)

€

60 / ticket

guests <= 2

Price

Adult (18+ years)

€

75 / ticket |

Youth (13-17 years)

€

75 / ticket |

Children (0-12 years)

€

75 / ticket
10
promotion
Minimum booking:
2 tickets
General price:
Adult (18+ years)
€

50 / ticket
|
Youth (13-17 years)
€

50 / ticket
|
Children (0-12 years)
€

50 / ticket
Options
guests >= 4

Price

Adult (18+ years)

€

50 / ticket |

Youth (13-17 years)

€

50 / ticket |

Children (0-12 years)

€

50 / ticket

guests = 3

Price

Adult (18+ years)

€

60 / ticket |

Youth (13-17 years)

€

60 / ticket |

Children (0-12 years)

€

60 / ticket

guests <= 2

Price

Adult (18+ years)

€

75 / ticket |

Youth (13-17 years)

€

75 / ticket |

Children (0-12 years)

€

75 / ticket
11
promotion
Minimum booking:
2 tickets
General price:
Adult (18+ years)
€

50 / ticket
|
Youth (13-17 years)
€

50 / ticket
|
Children (0-12 years)
€

50 / ticket
Options
guests >= 4

Price

Adult (18+ years)

€

50 / ticket |

Youth (13-17 years)

€

50 / ticket |

Children (0-12 years)

€

50 / ticket

guests = 3

Price

Adult (18+ years)

€

60 / ticket |

Youth (13-17 years)

€

60 / ticket |

Children (0-12 years)

€

60 / ticket

guests <= 2

Price

Adult (18+ years)

€

75 / ticket |

Youth (13-17 years)

€

75 / ticket |

Children (0-12 years)

€

75 / ticket
12
promotion
Minimum booking:
2 tickets
General price:
Adult (18+ years)
€

50 / ticket
|
Youth (13-17 years)
€

50 / ticket
|
Children (0-12 years)
€

50 / ticket
Options
guests >= 4

Price

Adult (18+ years)

€

50 / ticket |

Youth (13-17 years)

€

50 / ticket |

Children (0-12 years)

€

50 / ticket

guests = 3

Price

Adult (18+ years)

€

60 / ticket |

Youth (13-17 years)

€

60 / ticket |

Children (0-12 years)

€

60 / ticket

guests <= 2

Price

Adult (18+ years)

€

75 / ticket |

Youth (13-17 years)

€

75 / ticket |

Children (0-12 years)

€

75 / ticket
13
promotion
Minimum booking:
2 tickets
General price:
Adult (18+ years)
€

50 / ticket
|
Youth (13-17 years)
€

50 / ticket
|
Children (0-12 years)
€

50 / ticket
Options
guests >= 4

Price

Adult (18+ years)

€

50 / ticket |

Youth (13-17 years)

€

50 / ticket |

Children (0-12 years)

€

50 / ticket

guests = 3

Price

Adult (18+ years)

€

60 / ticket |

Youth (13-17 years)

€

60 / ticket |

Children (0-12 years)

€

60 / ticket

guests <= 2

Price

Adult (18+ years)

€

75 / ticket |

Youth (13-17 years)

€

75 / ticket |

Children (0-12 years)

€

75 / ticket
14
promotion
Minimum booking:
2 tickets
General price:
Adult (18+ years)
€

50 / ticket
|
Youth (13-17 years)
€

50 / ticket
|
Children (0-12 years)
€

50 / ticket
Options
guests >= 4

Price

Adult (18+ years)

€

50 / ticket |

Youth (13-17 years)

€

50 / ticket |

Children (0-12 years)

€

50 / ticket

guests = 3

Price

Adult (18+ years)

€

60 / ticket |

Youth (13-17 years)

€

60 / ticket |

Children (0-12 years)

€

60 / ticket

guests <= 2

Price

Adult (18+ years)

€

75 / ticket |

Youth (13-17 years)

€

75 / ticket |

Children (0-12 years)

€

75 / ticket
15
promotion
Minimum booking:
2 tickets
General price:
Adult (18+ years)
€

50 / ticket
|
Youth (13-17 years)
€

50 / ticket
|
Children (0-12 years)
€

50 / ticket
Options
guests >= 4

Price

Adult (18+ years)

€

50 / ticket |

Youth (13-17 years)

€

50 / ticket |

Children (0-12 years)

€

50 / ticket

guests = 3

Price

Adult (18+ years)

€

60 / ticket |

Youth (13-17 years)

€

60 / ticket |

Children (0-12 years)

€

60 / ticket

guests <= 2

Price

Adult (18+ years)

€

75 / ticket |

Youth (13-17 years)

€

75 / ticket |

Children (0-12 years)

€

75 / ticket
16
promotion
Minimum booking:
2 tickets
General price:
Adult (18+ years)
€

50 / ticket
|
Youth (13-17 years)
€

50 / ticket
|
Children (0-12 years)
€

50 / ticket
Options
guests >= 4

Price

Adult (18+ years)

€

50 / ticket |

Youth (13-17 years)

€

50 / ticket |

Children (0-12 years)

€

50 / ticket

guests = 3

Price

Adult (18+ years)

€

60 / ticket |

Youth (13-17 years)

€

60 / ticket |

Children (0-12 years)

€

60 / ticket

guests <= 2

Price

Adult (18+ years)

€

75 / ticket |

Youth (13-17 years)

€

75 / ticket |

Children (0-12 years)

€

75 / ticket
17
promotion
Minimum booking:
2 tickets
General price:
Adult (18+ years)
€

50 / ticket
|
Youth (13-17 years)
€

50 / ticket
|
Children (0-12 years)
€

50 / ticket
Options
guests >= 4

Price

Adult (18+ years)

€

50 / ticket |

Youth (13-17 years)

€

50 / ticket |

Children (0-12 years)

€

50 / ticket

guests = 3

Price

Adult (18+ years)

€

60 / ticket |

Youth (13-17 years)

€

60 / ticket |

Children (0-12 years)

€

60 / ticket

guests <= 2

Price

Adult (18+ years)

€

75 / ticket |

Youth (13-17 years)

€

75 / ticket |

Children (0-12 years)

€

75 / ticket
18
promotion
Minimum booking:
2 tickets
General price:
Adult (18+ years)
€

50 / ticket
|
Youth (13-17 years)
€

50 / ticket
|
Children (0-12 years)
€

50 / ticket
Options
guests >= 4

Price

Adult (18+ years)

€

50 / ticket |

Youth (13-17 years)

€

50 / ticket |

Children (0-12 years)

€

50 / ticket

guests = 3

Price

Adult (18+ years)

€

60 / ticket |

Youth (13-17 years)

€

60 / ticket |

Children (0-12 years)

€

60 / ticket

guests <= 2

Price

Adult (18+ years)

€

75 / ticket |

Youth (13-17 years)

€

75 / ticket |

Children (0-12 years)

€

75 / ticket
19
promotion
Minimum booking:
2 tickets
General price:
Adult (18+ years)
€

50 / ticket
|
Youth (13-17 years)
€

50 / ticket
|
Children (0-12 years)
€

50 / ticket
Options
guests >= 4

Price

Adult (18+ years)

€

50 / ticket |

Youth (13-17 years)

€

50 / ticket |

Children (0-12 years)

€

50 / ticket

guests = 3

Price

Adult (18+ years)

€

60 / ticket |

Youth (13-17 years)

€

60 / ticket |

Children (0-12 years)

€

60 / ticket

guests <= 2

Price

Adult (18+ years)

€

75 / ticket |

Youth (13-17 years)

€

75 / ticket |

Children (0-12 years)

€

75 / ticket
20
promotion
Minimum booking:
2 tickets
General price:
Adult (18+ years)
€

50 / ticket
|
Youth (13-17 years)
€

50 / ticket
|
Children (0-12 years)
€

50 / ticket
Options
guests >= 4

Price

Adult (18+ years)

€

50 / ticket |

Youth (13-17 years)

€

50 / ticket |

Children (0-12 years)

€

50 / ticket

guests = 3

Price

Adult (18+ years)

€

60 / ticket |

Youth (13-17 years)

€

60 / ticket |

Children (0-12 years)

€

60 / ticket

guests <= 2

Price

Adult (18+ years)

€

75 / ticket |

Youth (13-17 years)

€

75 / ticket |

Children (0-12 years)

€

75 / ticket
21
promotion
Minimum booking:
2 tickets
General price:
Adult (18+ years)
€

50 / ticket
|
Youth (13-17 years)
€

50 / ticket
|
Children (0-12 years)
€

50 / ticket
Options
guests >= 4

Price

Adult (18+ years)

€

50 / ticket |

Youth (13-17 years)

€

50 / ticket |

Children (0-12 years)

€

50 / ticket

guests = 3

Price

Adult (18+ years)

€

60 / ticket |

Youth (13-17 years)

€

60 / ticket |

Children (0-12 years)

€

60 / ticket

guests <= 2

Price

Adult (18+ years)

€

75 / ticket |

Youth (13-17 years)

€

75 / ticket |

Children (0-12 years)

€

75 / ticket
22
promotion
Minimum booking:
2 tickets
General price:
Adult (18+ years)
€

50 / ticket
|
Youth (13-17 years)
€

50 / ticket
|
Children (0-12 years)
€

50 / ticket
Options
guests >= 4

Price

Adult (18+ years)

€

50 / ticket |

Youth (13-17 years)

€

50 / ticket |

Children (0-12 years)

€

50 / ticket

guests = 3

Price

Adult (18+ years)

€

60 / ticket |

Youth (13-17 years)

€

60 / ticket |

Children (0-12 years)

€

60 / ticket

guests <= 2

Price

Adult (18+ years)

€

75 / ticket |

Youth (13-17 years)

€

75 / ticket |

Children (0-12 years)

€

75 / ticket
23
promotion
Minimum booking:
2 tickets
General price:
Adult (18+ years)
€

50 / ticket
|
Youth (13-17 years)
€

50 / ticket
|
Children (0-12 years)
€

50 / ticket
Options
guests >= 4

Price

Adult (18+ years)

€

50 / ticket |

Youth (13-17 years)

€

50 / ticket |

Children (0-12 years)

€

50 / ticket

guests = 3

Price

Adult (18+ years)

€

60 / ticket |

Youth (13-17 years)

€

60 / ticket |

Children (0-12 years)

€

60 / ticket

guests <= 2

Price

Adult (18+ years)

€

75 / ticket |

Youth (13-17 years)

€

75 / ticket |

Children (0-12 years)

€

75 / ticket
24
promotion
Minimum booking:
2 tickets
General price:
Adult (18+ years)
€

50 / ticket
|
Youth (13-17 years)
€

50 / ticket
|
Children (0-12 years)
€

50 / ticket
Options
guests >= 4

Price

Adult (18+ years)

€

50 / ticket |

Youth (13-17 years)

€

50 / ticket |

Children (0-12 years)

€

50 / ticket

guests = 3

Price

Adult (18+ years)

€

60 / ticket |

Youth (13-17 years)

€

60 / ticket |

Children (0-12 years)

€

60 / ticket

guests <= 2

Price

Adult (18+ years)

€

75 / ticket |

Youth (13-17 years)

€

75 / ticket |

Children (0-12 years)

€

75 / ticket
25
promotion
Minimum booking:
2 tickets
General price:
Adult (18+ years)
€

50 / ticket
|
Youth (13-17 years)
€

50 / ticket
|
Children (0-12 years)
€

50 / ticket
Options
guests >= 4

Price

Adult (18+ years)

€

50 / ticket |

Youth (13-17 years)

€

50 / ticket |

Children (0-12 years)

€

50 / ticket

guests = 3

Price

Adult (18+ years)

€

60 / ticket |

Youth (13-17 years)

€

60 / ticket |

Children (0-12 years)

€

60 / ticket

guests <= 2

Price

Adult (18+ years)

€

75 / ticket |

Youth (13-17 years)

€

75 / ticket |

Children (0-12 years)

€

75 / ticket
26
promotion
Minimum booking:
2 tickets
General price:
Adult (18+ years)
€

50 / ticket
|
Youth (13-17 years)
€

50 / ticket
|
Children (0-12 years)
€

50 / ticket
Options
guests >= 4

Price

Adult (18+ years)

€

50 / ticket |

Youth (13-17 years)

€

50 / ticket |

Children (0-12 years)

€

50 / ticket

guests = 3

Price

Adult (18+ years)

€

60 / ticket |

Youth (13-17 years)

€

60 / ticket |

Children (0-12 years)

€

60 / ticket

guests <= 2

Price

Adult (18+ years)

€

75 / ticket |

Youth (13-17 years)

€

75 / ticket |

Children (0-12 years)

€

75 / ticket
27
promotion
Minimum booking:
2 tickets
General price:
Adult (18+ years)
€

50 / ticket
|
Youth (13-17 years)
€

50 / ticket
|
Children (0-12 years)
€

50 / ticket
Options
guests >= 4

Price

Adult (18+ years)

€

50 / ticket |

Youth (13-17 years)

€

50 / ticket |

Children (0-12 years)

€

50 / ticket

guests = 3

Price

Adult (18+ years)

€

60 / ticket |

Youth (13-17 years)

€

60 / ticket |

Children (0-12 years)

€

60 / ticket

guests <= 2

Price

Adult (18+ years)

€

75 / ticket |

Youth (13-17 years)

€

75 / ticket |

Children (0-12 years)

€

75 / ticket
28
promotion
Minimum booking:
2 tickets
General price:
Adult (18+ years)
€

50 / ticket
|
Youth (13-17 years)
€

50 / ticket
|
Children (0-12 years)
€

50 / ticket
Options
guests >= 4

Price

Adult (18+ years)

€

50 / ticket |

Youth (13-17 years)

€

50 / ticket |

Children (0-12 years)

€

50 / ticket

guests = 3

Price

Adult (18+ years)

€

60 / ticket |

Youth (13-17 years)

€

60 / ticket |

Children (0-12 years)

€

60 / ticket

guests <= 2

Price

Adult (18+ years)

€

75 / ticket |

Youth (13-17 years)

€

75 / ticket |

Children (0-12 years)

€

75 / ticket
29
promotion
Minimum booking:
2 tickets
General price:
Adult (18+ years)
€

50 / ticket
|
Youth (13-17 years)
€

50 / ticket
|
Children (0-12 years)
€

50 / ticket
Options
guests >= 4

Price

Adult (18+ years)

€

50 / ticket |

Youth (13-17 years)

€

50 / ticket |

Children (0-12 years)

€

50 / ticket

guests = 3

Price

Adult (18+ years)

€

60 / ticket |

Youth (13-17 years)

€

60 / ticket |

Children (0-12 years)

€

60 / ticket

guests <= 2

Price

Adult (18+ years)

€

75 / ticket |

Youth (13-17 years)

€

75 / ticket |

Children (0-12 years)

€

75 / ticket
30
promotion
Minimum booking:
2 tickets
General price:
Adult (18+ years)
€

50 / ticket
|
Youth (13-17 years)
€

50 / ticket
|
Children (0-12 years)
€

50 / ticket
Options
guests >= 4

Price

Adult (18+ years)

€

50 / ticket |

Youth (13-17 years)

€

50 / ticket |

Children (0-12 years)

€

50 / ticket

guests = 3

Price

Adult (18+ years)

€

60 / ticket |

Youth (13-17 years)

€

60 / ticket |

Children (0-12 years)

€

60 / ticket

guests <= 2

Price

Adult (18+ years)

€

75 / ticket |

Youth (13-17 years)

€

75 / ticket |

Children (0-12 years)

€

75 / ticket
1
promotion
Minimum booking:
2 tickets
General price:
Adult (18+ years)
€

50 / ticket
|
Youth (13-17 years)
€

50 / ticket
|
Children (0-12 years)
€

50 / ticket
Options
guests >= 4

Price

Adult (18+ years)

€

50 / ticket |

Youth (13-17 years)

€

50 / ticket |

Children (0-12 years)

€

50 / ticket

guests = 3

Price

Adult (18+ years)

€

60 / ticket |

Youth (13-17 years)

€

60 / ticket |

Children (0-12 years)

€

60 / ticket

guests <= 2

Price

Adult (18+ years)

€

75 / ticket |

Youth (13-17 years)

€

75 / ticket |

Children (0-12 years)

€

75 / ticket
2
promotion
Minimum booking:
2 tickets
General price:
Adult (18+ years)
€

50 / ticket
|
Youth (13-17 years)
€

50 / ticket
|
Children (0-12 years)
€

50 / ticket
Options
guests >= 4

Price

Adult (18+ years)

€

50 / ticket |

Youth (13-17 years)

€

50 / ticket |

Children (0-12 years)

€

50 / ticket

guests = 3

Price

Adult (18+ years)

€

60 / ticket |

Youth (13-17 years)

€

60 / ticket |

Children (0-12 years)

€

60 / ticket

guests <= 2

Price

Adult (18+ years)

€

75 / ticket |

Youth (13-17 years)

€

75 / ticket |

Children (0-12 years)

€

75 / ticket
3
promotion
Minimum booking:
2 tickets
General price:
Adult (18+ years)
€

50 / ticket
|
Youth (13-17 years)
€

50 / ticket
|
Children (0-12 years)
€

50 / ticket
Options
guests >= 4

Price

Adult (18+ years)

€

50 / ticket |

Youth (13-17 years)

€

50 / ticket |

Children (0-12 years)

€

50 / ticket

guests = 3

Price

Adult (18+ years)

€

60 / ticket |

Youth (13-17 years)

€

60 / ticket |

Children (0-12 years)

€

60 / ticket

guests <= 2

Price

Adult (18+ years)

€

75 / ticket |

Youth (13-17 years)

€

75 / ticket |

Children (0-12 years)

€

75 / ticket
4
promotion
Minimum booking:
2 tickets
General price:
Adult (18+ years)
€

50 / ticket
|
Youth (13-17 years)
€

50 / ticket
|
Children (0-12 years)
€

50 / ticket
Options
guests >= 4

Price

Adult (18+ years)

€

50 / ticket |

Youth (13-17 years)

€

50 / ticket |

Children (0-12 years)

€

50 / ticket

guests = 3

Price

Adult (18+ years)

€

60 / ticket |

Youth (13-17 years)

€

60 / ticket |

Children (0-12 years)

€

60 / ticket

guests <= 2

Price

Adult (18+ years)

€

75 / ticket |

Youth (13-17 years)

€

75 / ticket |

Children (0-12 years)

€

75 / ticket
5
promotion
Minimum booking:
2 tickets
General price:
Adult (18+ years)
€

50 / ticket
|
Youth (13-17 years)
€

50 / ticket
|
Children (0-12 years)
€

50 / ticket
Options
guests >= 4

Price

Adult (18+ years)

€

50 / ticket |

Youth (13-17 years)

€

50 / ticket |

Children (0-12 years)

€

50 / ticket

guests = 3

Price

Adult (18+ years)

€

60 / ticket |

Youth (13-17 years)

€

60 / ticket |

Children (0-12 years)

€

60 / ticket

guests <= 2

Price

Adult (18+ years)

€

75 / ticket |

Youth (13-17 years)

€

75 / ticket |

Children (0-12 years)

€

75 / ticket
29
promotion
Minimum booking:
2 tickets
General price:
Adult (18+ years)
€

50 / ticket
|
Youth (13-17 years)
€

50 / ticket
|
Children (0-12 years)
€

50 / ticket
Options
guests >= 4

Price

Adult (18+ years)

€

50 / ticket |

Youth (13-17 years)

€

50 / ticket |

Children (0-12 years)

€

50 / ticket

guests = 3

Price

Adult (18+ years)

€

60 / ticket |

Youth (13-17 years)

€

60 / ticket |

Children (0-12 years)

€

60 / ticket

guests <= 2

Price

Adult (18+ years)

€

75 / ticket |

Youth (13-17 years)

€

75 / ticket |

Children (0-12 years)

€

75 / ticket
30
promotion
Minimum booking:
2 tickets
General price:
Adult (18+ years)
€

50 / ticket
|
Youth (13-17 years)
€

50 / ticket
|
Children (0-12 years)
€

50 / ticket
Options
guests >= 4

Price

Adult (18+ years)

€

50 / ticket |

Youth (13-17 years)

€

50 / ticket |

Children (0-12 years)

€

50 / ticket

guests = 3

Price

Adult (18+ years)

€

60 / ticket |

Youth (13-17 years)

€

60 / ticket |

Children (0-12 years)

€

60 / ticket

guests <= 2

Price

Adult (18+ years)

€

75 / ticket |

Youth (13-17 years)

€

75 / ticket |

Children (0-12 years)

€

75 / ticket
1
promotion
Minimum booking:
2 tickets
General price:
Adult (18+ years)
€

50 / ticket
|
Youth (13-17 years)
€

50 / ticket
|
Children (0-12 years)
€

50 / ticket
Options
guests >= 4

Price

Adult (18+ years)

€

50 / ticket |

Youth (13-17 years)

€

50 / ticket |

Children (0-12 years)

€

50 / ticket

guests = 3

Price

Adult (18+ years)

€

60 / ticket |

Youth (13-17 years)

€

60 / ticket |

Children (0-12 years)

€

60 / ticket

guests <= 2

Price

Adult (18+ years)

€

75 / ticket |

Youth (13-17 years)

€

75 / ticket |

Children (0-12 years)

€

75 / ticket
2
promotion
Minimum booking:
2 tickets
General price:
Adult (18+ years)
€

50 / ticket
|
Youth (13-17 years)
€

50 / ticket
|
Children (0-12 years)
€

50 / ticket
Options
guests >= 4

Price

Adult (18+ years)

€

50 / ticket |

Youth (13-17 years)

€

50 / ticket |

Children (0-12 years)

€

50 / ticket

guests = 3

Price

Adult (18+ years)

€

60 / ticket |

Youth (13-17 years)

€

60 / ticket |

Children (0-12 years)

€

60 / ticket

guests <= 2

Price

Adult (18+ years)

€

75 / ticket |

Youth (13-17 years)

€

75 / ticket |

Children (0-12 years)

€

75 / ticket
3
promotion
Minimum booking:
2 tickets
General price:
Adult (18+ years)
€

50 / ticket
|
Youth (13-17 years)
€

50 / ticket
|
Children (0-12 years)
€

50 / ticket
Options
guests >= 4

Price

Adult (18+ years)

€

50 / ticket |

Youth (13-17 years)

€

50 / ticket |

Children (0-12 years)

€

50 / ticket

guests = 3

Price

Adult (18+ years)

€

60 / ticket |

Youth (13-17 years)

€

60 / ticket |

Children (0-12 years)

€

60 / ticket

guests <= 2

Price

Adult (18+ years)

€

75 / ticket |

Youth (13-17 years)

€

75 / ticket |

Children (0-12 years)

€

75 / ticket
4
promotion
Minimum booking:
2 tickets
General price:
Adult (18+ years)
€

50 / ticket
|
Youth (13-17 years)
€

50 / ticket
|
Children (0-12 years)
€

50 / ticket
Options
guests >= 4

Price

Adult (18+ years)

€

50 / ticket |

Youth (13-17 years)

€

50 / ticket |

Children (0-12 years)

€

50 / ticket

guests = 3

Price

Adult (18+ years)

€

60 / ticket |

Youth (13-17 years)

€

60 / ticket |

Children (0-12 years)

€

60 / ticket

guests <= 2

Price

Adult (18+ years)

€

75 / ticket |

Youth (13-17 years)

€

75 / ticket |

Children (0-12 years)

€

75 / ticket
5
promotion
Minimum booking:
2 tickets
General price:
Adult (18+ years)
€

50 / ticket
|
Youth (13-17 years)
€

50 / ticket
|
Children (0-12 years)
€

50 / ticket
Options
guests >= 4

Price

Adult (18+ years)

€

50 / ticket |

Youth (13-17 years)

€

50 / ticket |

Children (0-12 years)

€

50 / ticket

guests = 3

Price

Adult (18+ years)

€

60 / ticket |

Youth (13-17 years)

€

60 / ticket |

Children (0-12 years)

€

60 / ticket

guests <= 2

Price

Adult (18+ years)

€

75 / ticket |

Youth (13-17 years)

€

75 / ticket |

Children (0-12 years)

€

75 / ticket
6
promotion
Minimum booking:
2 tickets
General price:
Adult (18+ years)
€

50 / ticket
|
Youth (13-17 years)
€

50 / ticket
|
Children (0-12 years)
€

50 / ticket
Options
guests >= 4

Price

Adult (18+ years)

€

50 / ticket |

Youth (13-17 years)

€

50 / ticket |

Children (0-12 years)

€

50 / ticket

guests = 3

Price

Adult (18+ years)

€

60 / ticket |

Youth (13-17 years)

€

60 / ticket |

Children (0-12 years)

€

60 / ticket

guests <= 2

Price

Adult (18+ years)

€

75 / ticket |

Youth (13-17 years)

€

75 / ticket |

Children (0-12 years)

€

75 / ticket
7
promotion
Minimum booking:
2 tickets
General price:
Adult (18+ years)
€

50 / ticket
|
Youth (13-17 years)
€

50 / ticket
|
Children (0-12 years)
€

50 / ticket
Options
guests >= 4

Price

Adult (18+ years)

€

50 / ticket |

Youth (13-17 years)

€

50 / ticket |

Children (0-12 years)

€

50 / ticket

guests = 3

Price

Adult (18+ years)

€

60 / ticket |

Youth (13-17 years)

€

60 / ticket |

Children (0-12 years)

€

60 / ticket

guests <= 2

Price

Adult (18+ years)

€

75 / ticket |

Youth (13-17 years)

€

75 / ticket |

Children (0-12 years)

€

75 / ticket
8
promotion
Minimum booking:
2 tickets
General price:
Adult (18+ years)
€

50 / ticket
|
Youth (13-17 years)
€

50 / ticket
|
Children (0-12 years)
€

50 / ticket
Options
guests >= 4

Price

Adult (18+ years)

€

50 / ticket |

Youth (13-17 years)

€

50 / ticket |

Children (0-12 years)

€

50 / ticket

guests = 3

Price

Adult (18+ years)

€

60 / ticket |

Youth (13-17 years)

€

60 / ticket |

Children (0-12 years)

€

60 / ticket

guests <= 2

Price

Adult (18+ years)

€

75 / ticket |

Youth (13-17 years)

€

75 / ticket |

Children (0-12 years)

€

75 / ticket
9
promotion
Minimum booking:
2 tickets
General price:
Adult (18+ years)
€

50 / ticket
|
Youth (13-17 years)
€

50 / ticket
|
Children (0-12 years)
€

50 / ticket
Options
guests >= 4

Price

Adult (18+ years)

€

50 / ticket |

Youth (13-17 years)

€

50 / ticket |

Children (0-12 years)

€

50 / ticket

guests = 3

Price

Adult (18+ years)

€

60 / ticket |

Youth (13-17 years)

€

60 / ticket |

Children (0-12 years)

€

60 / ticket

guests <= 2

Price

Adult (18+ years)

€

75 / ticket |

Youth (13-17 years)

€

75 / ticket |

Children (0-12 years)

€

75 / ticket
10
promotion
Minimum booking:
2 tickets
General price:
Adult (18+ years)
€

50 / ticket
|
Youth (13-17 years)
€

50 / ticket
|
Children (0-12 years)
€

50 / ticket
Options
guests >= 4

Price

Adult (18+ years)

€

50 / ticket |

Youth (13-17 years)

€

50 / ticket |

Children (0-12 years)

€

50 / ticket

guests = 3

Price

Adult (18+ years)

€

60 / ticket |

Youth (13-17 years)

€

60 / ticket |

Children (0-12 years)

€

60 / ticket

guests <= 2

Price

Adult (18+ years)

€

75 / ticket |

Youth (13-17 years)

€

75 / ticket |

Children (0-12 years)

€

75 / ticket
11
promotion
Minimum booking:
2 tickets
General price:
Adult (18+ years)
€

50 / ticket
|
Youth (13-17 years)
€

50 / ticket
|
Children (0-12 years)
€

50 / ticket
Options
guests >= 4

Price

Adult (18+ years)

€

50 / ticket |

Youth (13-17 years)

€

50 / ticket |

Children (0-12 years)

€

50 / ticket

guests = 3

Price

Adult (18+ years)

€

60 / ticket |

Youth (13-17 years)

€

60 / ticket |

Children (0-12 years)

€

60 / ticket

guests <= 2

Price

Adult (18+ years)

€

75 / ticket |

Youth (13-17 years)

€

75 / ticket |

Children (0-12 years)

€

75 / ticket
12
promotion
Minimum booking:
2 tickets
General price:
Adult (18+ years)
€

50 / ticket
|
Youth (13-17 years)
€

50 / ticket
|
Children (0-12 years)
€

50 / ticket
Options
guests >= 4

Price

Adult (18+ years)

€

50 / ticket |

Youth (13-17 years)

€

50 / ticket |

Children (0-12 years)

€

50 / ticket

guests = 3

Price

Adult (18+ years)

€

60 / ticket |

Youth (13-17 years)

€

60 / ticket |

Children (0-12 years)

€

60 / ticket

guests <= 2

Price

Adult (18+ years)

€

75 / ticket |

Youth (13-17 years)

€

75 / ticket |

Children (0-12 years)

€

75 / ticket
13
promotion
Minimum booking:
2 tickets
General price:
Adult (18+ years)
€

50 / ticket
|
Youth (13-17 years)
€

50 / ticket
|
Children (0-12 years)
€

50 / ticket
Options
guests >= 4

Price

Adult (18+ years)

€

50 / ticket |

Youth (13-17 years)

€

50 / ticket |

Children (0-12 years)

€

50 / ticket

guests = 3

Price

Adult (18+ years)

€

60 / ticket |

Youth (13-17 years)

€

60 / ticket |

Children (0-12 years)

€

60 / ticket

guests <= 2

Price

Adult (18+ years)

€

75 / ticket |

Youth (13-17 years)

€

75 / ticket |

Children (0-12 years)

€

75 / ticket
14
promotion
Minimum booking:
2 tickets
General price:
Adult (18+ years)
€

50 / ticket
|
Youth (13-17 years)
€

50 / ticket
|
Children (0-12 years)
€

50 / ticket
Options
guests >= 4

Price

Adult (18+ years)

€

50 / ticket |

Youth (13-17 years)

€

50 / ticket |

Children (0-12 years)

€

50 / ticket

guests = 3

Price

Adult (18+ years)

€

60 / ticket |

Youth (13-17 years)

€

60 / ticket |

Children (0-12 years)

€

60 / ticket

guests <= 2

Price

Adult (18+ years)

€

75 / ticket |

Youth (13-17 years)

€

75 / ticket |

Children (0-12 years)

€

75 / ticket
15
promotion
Minimum booking:
2 tickets
General price:
Adult (18+ years)
€

50 / ticket
|
Youth (13-17 years)
€

50 / ticket
|
Children (0-12 years)
€

50 / ticket
Options
guests >= 4

Price

Adult (18+ years)

€

50 / ticket |

Youth (13-17 years)

€

50 / ticket |

Children (0-12 years)

€

50 / ticket

guests = 3

Price

Adult (18+ years)

€

60 / ticket |

Youth (13-17 years)

€

60 / ticket |

Children (0-12 years)

€

60 / ticket

guests <= 2

Price

Adult (18+ years)

€

75 / ticket |

Youth (13-17 years)

€

75 / ticket |

Children (0-12 years)

€

75 / ticket
16
promotion
Minimum booking:
2 tickets
General price:
Adult (18+ years)
€

50 / ticket
|
Youth (13-17 years)
€

50 / ticket
|
Children (0-12 years)
€

50 / ticket
Options
guests >= 4

Price

Adult (18+ years)

€

50 / ticket |

Youth (13-17 years)

€

50 / ticket |

Children (0-12 years)

€

50 / ticket

guests = 3

Price

Adult (18+ years)

€

60 / ticket |

Youth (13-17 years)

€

60 / ticket |

Children (0-12 years)

€

60 / ticket

guests <= 2

Price

Adult (18+ years)

€

75 / ticket |

Youth (13-17 years)

€

75 / ticket |

Children (0-12 years)

€

75 / ticket
17
promotion
Minimum booking:
2 tickets
General price:
Adult (18+ years)
€

50 / ticket
|
Youth (13-17 years)
€

50 / ticket
|
Children (0-12 years)
€

50 / ticket
Options
guests >= 4

Price

Adult (18+ years)

€

50 / ticket |

Youth (13-17 years)

€

50 / ticket |

Children (0-12 years)

€

50 / ticket

guests = 3

Price

Adult (18+ years)

€

60 / ticket |

Youth (13-17 years)

€

60 / ticket |

Children (0-12 years)

€

60 / ticket

guests <= 2

Price

Adult (18+ years)

€

75 / ticket |

Youth (13-17 years)

€

75 / ticket |

Children (0-12 years)

€

75 / ticket
18
promotion
Minimum booking:
2 tickets
General price:
Adult (18+ years)
€

50 / ticket
|
Youth (13-17 years)
€

50 / ticket
|
Children (0-12 years)
€

50 / ticket
Options
guests >= 4

Price

Adult (18+ years)

€

50 / ticket |

Youth (13-17 years)

€

50 / ticket |

Children (0-12 years)

€

50 / ticket

guests = 3

Price

Adult (18+ years)

€

60 / ticket |

Youth (13-17 years)

€

60 / ticket |

Children (0-12 years)

€

60 / ticket

guests <= 2

Price

Adult (18+ years)

€

75 / ticket |

Youth (13-17 years)

€

75 / ticket |

Children (0-12 years)

€

75 / ticket
19
promotion
Minimum booking:
2 tickets
General price:
Adult (18+ years)
€

50 / ticket
|
Youth (13-17 years)
€

50 / ticket
|
Children (0-12 years)
€

50 / ticket
Options
guests >= 4

Price

Adult (18+ years)

€

50 / ticket |

Youth (13-17 years)

€

50 / ticket |

Children (0-12 years)

€

50 / ticket

guests = 3

Price

Adult (18+ years)

€

60 / ticket |

Youth (13-17 years)

€

60 / ticket |

Children (0-12 years)

€

60 / ticket

guests <= 2

Price

Adult (18+ years)

€

75 / ticket |

Youth (13-17 years)

€

75 / ticket |

Children (0-12 years)

€

75 / ticket
20
promotion
Minimum booking:
2 tickets
General price:
Adult (18+ years)
€

50 / ticket
|
Youth (13-17 years)
€

50 / ticket
|
Children (0-12 years)
€

50 / ticket
Options
guests >= 4

Price

Adult (18+ years)

€

50 / ticket |

Youth (13-17 years)

€

50 / ticket |

Children (0-12 years)

€

50 / ticket

guests = 3

Price

Adult (18+ years)

€

60 / ticket |

Youth (13-17 years)

€

60 / ticket |

Children (0-12 years)

€

60 / ticket

guests <= 2

Price

Adult (18+ years)

€

75 / ticket |

Youth (13-17 years)

€

75 / ticket |

Children (0-12 years)

€

75 / ticket
21
promotion
Minimum booking:
2 tickets
General price:
Adult (18+ years)
€

50 / ticket
|
Youth (13-17 years)
€

50 / ticket
|
Children (0-12 years)
€

50 / ticket
Options
guests >= 4

Price

Adult (18+ years)

€

50 / ticket |

Youth (13-17 years)

€

50 / ticket |

Children (0-12 years)

€

50 / ticket

guests = 3

Price

Adult (18+ years)

€

60 / ticket |

Youth (13-17 years)

€

60 / ticket |

Children (0-12 years)

€

60 / ticket

guests <= 2

Price

Adult (18+ years)

€

75 / ticket |

Youth (13-17 years)

€

75 / ticket |

Children (0-12 years)

€

75 / ticket
22
promotion
Minimum booking:
2 tickets
General price:
Adult (18+ years)
€

50 / ticket
|
Youth (13-17 years)
€

50 / ticket
|
Children (0-12 years)
€

50 / ticket
Options
guests >= 4

Price

Adult (18+ years)

€

50 / ticket |

Youth (13-17 years)

€

50 / ticket |

Children (0-12 years)

€

50 / ticket

guests = 3

Price

Adult (18+ years)

€

60 / ticket |

Youth (13-17 years)

€

60 / ticket |

Children (0-12 years)

€

60 / ticket

guests <= 2

Price

Adult (18+ years)

€

75 / ticket |

Youth (13-17 years)

€

75 / ticket |

Children (0-12 years)

€

75 / ticket
23
promotion
Minimum booking:
2 tickets
General price:
Adult (18+ years)
€

50 / ticket
|
Youth (13-17 years)
€

50 / ticket
|
Children (0-12 years)
€

50 / ticket
Options
guests >= 4

Price

Adult (18+ years)

€

50 / ticket |

Youth (13-17 years)

€

50 / ticket |

Children (0-12 years)

€

50 / ticket

guests = 3

Price

Adult (18+ years)

€

60 / ticket |

Youth (13-17 years)

€

60 / ticket |

Children (0-12 years)

€

60 / ticket

guests <= 2

Price

Adult (18+ years)

€

75 / ticket |

Youth (13-17 years)

€

75 / ticket |

Children (0-12 years)

€

75 / ticket
24
promotion
Minimum booking:
2 tickets
General price:
Adult (18+ years)
€

50 / ticket
|
Youth (13-17 years)
€

50 / ticket
|
Children (0-12 years)
€

50 / ticket
Options
guests >= 4

Price

Adult (18+ years)

€

50 / ticket |

Youth (13-17 years)

€

50 / ticket |

Children (0-12 years)

€

50 / ticket

guests = 3

Price

Adult (18+ years)

€

60 / ticket |

Youth (13-17 years)

€

60 / ticket |

Children (0-12 years)

€

60 / ticket

guests <= 2

Price

Adult (18+ years)

€

75 / ticket |

Youth (13-17 years)

€

75 / ticket |

Children (0-12 years)

€

75 / ticket
25
promotion
Minimum booking:
2 tickets
General price:
Adult (18+ years)
€

50 / ticket
|
Youth (13-17 years)
€

50 / ticket
|
Children (0-12 years)
€

50 / ticket
Options
guests >= 4

Price

Adult (18+ years)

€

50 / ticket |

Youth (13-17 years)

€

50 / ticket |

Children (0-12 years)

€

50 / ticket

guests = 3

Price

Adult (18+ years)

€

60 / ticket |

Youth (13-17 years)

€

60 / ticket |

Children (0-12 years)

€

60 / ticket

guests <= 2

Price

Adult (18+ years)

€

75 / ticket |

Youth (13-17 years)

€

75 / ticket |

Children (0-12 years)

€

75 / ticket
26
promotion
Minimum booking:
2 tickets
General price:
Adult (18+ years)
€

50 / ticket
|
Youth (13-17 years)
€

50 / ticket
|
Children (0-12 years)
€

50 / ticket
Options
guests >= 4

Price

Adult (18+ years)

€

50 / ticket |

Youth (13-17 years)

€

50 / ticket |

Children (0-12 years)

€

50 / ticket

guests = 3

Price

Adult (18+ years)

€

60 / ticket |

Youth (13-17 years)

€

60 / ticket |

Children (0-12 years)

€

60 / ticket

guests <= 2

Price

Adult (18+ years)

€

75 / ticket |

Youth (13-17 years)

€

75 / ticket |

Children (0-12 years)

€

75 / ticket
27
promotion
Minimum booking:
2 tickets
General price:
Adult (18+ years)
€

50 / ticket
|
Youth (13-17 years)
€

50 / ticket
|
Children (0-12 years)
€

50 / ticket
Options
guests >= 4

Price

Adult (18+ years)

€

50 / ticket |

Youth (13-17 years)

€

50 / ticket |

Children (0-12 years)

€

50 / ticket

guests = 3

Price

Adult (18+ years)

€

60 / ticket |

Youth (13-17 years)

€

60 / ticket |

Children (0-12 years)

€

60 / ticket

guests <= 2

Price

Adult (18+ years)

€

75 / ticket |

Youth (13-17 years)

€

75 / ticket |

Children (0-12 years)

€

75 / ticket
28
promotion
Minimum booking:
2 tickets
General price:
Adult (18+ years)
€

50 / ticket
|
Youth (13-17 years)
€

50 / ticket
|
Children (0-12 years)
€

50 / ticket
Options
guests >= 4

Price

Adult (18+ years)

€

50 / ticket |

Youth (13-17 years)

€

50 / ticket |

Children (0-12 years)

€

50 / ticket

guests = 3

Price

Adult (18+ years)

€

60 / ticket |

Youth (13-17 years)

€

60 / ticket |

Children (0-12 years)

€

60 / ticket

guests <= 2

Price

Adult (18+ years)

€

75 / ticket |

Youth (13-17 years)

€

75 / ticket |

Children (0-12 years)

€

75 / ticket
29
promotion
Minimum booking:
2 tickets
General price:
Adult (18+ years)
€

50 / ticket
|
Youth (13-17 years)
€

50 / ticket
|
Children (0-12 years)
€

50 / ticket
Options
guests >= 4

Price

Adult (18+ years)

€

50 / ticket |

Youth (13-17 years)

€

50 / ticket |

Children (0-12 years)

€

50 / ticket

guests = 3

Price

Adult (18+ years)

€

60 / ticket |

Youth (13-17 years)

€

60 / ticket |

Children (0-12 years)

€

60 / ticket

guests <= 2

Price

Adult (18+ years)

€

75 / ticket |

Youth (13-17 years)

€

75 / ticket |

Children (0-12 years)

€

75 / ticket
30
promotion
Minimum booking:
2 tickets
General price:
Adult (18+ years)
€

50 / ticket
|
Youth (13-17 years)
€

50 / ticket
|
Children (0-12 years)
€

50 / ticket
Options
guests >= 4

Price

Adult (18+ years)

€

50 / ticket |

Youth (13-17 years)

€

50 / ticket |

Children (0-12 years)

€

50 / ticket

guests = 3

Price

Adult (18+ years)

€

60 / ticket |

Youth (13-17 years)

€

60 / ticket |

Children (0-12 years)

€

60 / ticket

guests <= 2

Price

Adult (18+ years)

€

75 / ticket |

Youth (13-17 years)

€

75 / ticket |

Children (0-12 years)

€

75 / ticket
31
promotion
Minimum booking:
2 tickets
General price:
Adult (18+ years)
€

50 / ticket
|
Youth (13-17 years)
€

50 / ticket
|
Children (0-12 years)
€

50 / ticket
Options
guests >= 4

Price

Adult (18+ years)

€

50 / ticket |

Youth (13-17 years)

€

50 / ticket |

Children (0-12 years)

€

50 / ticket

guests = 3

Price

Adult (18+ years)

€

60 / ticket |

Youth (13-17 years)

€

60 / ticket |

Children (0-12 years)

€

60 / ticket

guests <= 2

Price

Adult (18+ years)

€

75 / ticket |

Youth (13-17 years)

€

75 / ticket |

Children (0-12 years)

€

75 / ticket
1
promotion
Minimum booking:
2 tickets
General price:
Adult (18+ years)
€

50 / ticket
|
Youth (13-17 years)
€

50 / ticket
|
Children (0-12 years)
€

50 / ticket
Options
guests >= 4

Price

Adult (18+ years)

€

50 / ticket |

Youth (13-17 years)

€

50 / ticket |

Children (0-12 years)

€

50 / ticket

guests = 3

Price

Adult (18+ years)

€

60 / ticket |

Youth (13-17 years)

€

60 / ticket |

Children (0-12 years)

€

60 / ticket

guests <= 2

Price

Adult (18+ years)

€

75 / ticket |

Youth (13-17 years)

€

75 / ticket |

Children (0-12 years)

€

75 / ticket
2
promotion
Minimum booking:
2 tickets
General price:
Adult (18+ years)
€

50 / ticket
|
Youth (13-17 years)
€

50 / ticket
|
Children (0-12 years)
€

50 / ticket
Options
guests >= 4

Price

Adult (18+ years)

€

50 / ticket |

Youth (13-17 years)

€

50 / ticket |

Children (0-12 years)

€

50 / ticket

guests = 3

Price

Adult (18+ years)

€

60 / ticket |

Youth (13-17 years)

€

60 / ticket |

Children (0-12 years)

€

60 / ticket

guests <= 2

Price

Adult (18+ years)

€

75 / ticket |

Youth (13-17 years)

€

75 / ticket |

Children (0-12 years)

€

75 / ticket
27
promotion
Minimum booking:
2 tickets
General price:
Adult (18+ years)
€

50 / ticket
|
Youth (13-17 years)
€

50 / ticket
|
Children (0-12 years)
€

50 / ticket
Options
guests >= 4

Price

Adult (18+ years)

€

50 / ticket |

Youth (13-17 years)

€

50 / ticket |

Children (0-12 years)

€

50 / ticket

guests = 3

Price

Adult (18+ years)

€

60 / ticket |

Youth (13-17 years)

€

60 / ticket |

Children (0-12 years)

€

60 / ticket

guests <= 2

Price

Adult (18+ years)

€

75 / ticket |

Youth (13-17 years)

€

75 / ticket |

Children (0-12 years)

€

75 / ticket
28
promotion
Minimum booking:
2 tickets
General price:
Adult (18+ years)
€

50 / ticket
|
Youth (13-17 years)
€

50 / ticket
|
Children (0-12 years)
€

50 / ticket
Options
guests >= 4

Price

Adult (18+ years)

€

50 / ticket |

Youth (13-17 years)

€

50 / ticket |

Children (0-12 years)

€

50 / ticket

guests = 3

Price

Adult (18+ years)

€

60 / ticket |

Youth (13-17 years)

€

60 / ticket |

Children (0-12 years)

€

60 / ticket

guests <= 2

Price

Adult (18+ years)

€

75 / ticket |

Youth (13-17 years)

€

75 / ticket |

Children (0-12 years)

€

75 / ticket
29
promotion
Minimum booking:
2 tickets
General price:
Adult (18+ years)
€

50 / ticket
|
Youth (13-17 years)
€

50 / ticket
|
Children (0-12 years)
€

50 / ticket
Options
guests >= 4

Price

Adult (18+ years)

€

50 / ticket |

Youth (13-17 years)

€

50 / ticket |

Children (0-12 years)

€

50 / ticket

guests = 3

Price

Adult (18+ years)

€

60 / ticket |

Youth (13-17 years)

€

60 / ticket |

Children (0-12 years)

€

60 / ticket

guests <= 2

Price

Adult (18+ years)

€

75 / ticket |

Youth (13-17 years)

€

75 / ticket |

Children (0-12 years)

€

75 / ticket
30
promotion
Minimum booking:
2 tickets
General price:
Adult (18+ years)
€

50 / ticket
|
Youth (13-17 years)
€

50 / ticket
|
Children (0-12 years)
€

50 / ticket
Options
guests >= 4

Price

Adult (18+ years)

€

50 / ticket |

Youth (13-17 years)

€

50 / ticket |

Children (0-12 years)

€

50 / ticket

guests = 3

Price

Adult (18+ years)

€

60 / ticket |

Youth (13-17 years)

€

60 / ticket |

Children (0-12 years)

€

60 / ticket

guests <= 2

Price

Adult (18+ years)

€

75 / ticket |

Youth (13-17 years)

€

75 / ticket |

Children (0-12 years)

€

75 / ticket
31
promotion
Minimum booking:
2 tickets
General price:
Adult (18+ years)
€

50 / ticket
|
Youth (13-17 years)
€

50 / ticket
|
Children (0-12 years)
€

50 / ticket
Options
guests >= 4

Price

Adult (18+ years)

€

50 / ticket |

Youth (13-17 years)

€

50 / ticket |

Children (0-12 years)

€

50 / ticket

guests = 3

Price

Adult (18+ years)

€

60 / ticket |

Youth (13-17 years)

€

60 / ticket |

Children (0-12 years)

€

60 / ticket

guests <= 2

Price

Adult (18+ years)

€

75 / ticket |

Youth (13-17 years)

€

75 / ticket |

Children (0-12 years)

€

75 / ticket
1
promotion
Minimum booking:
2 tickets
General price:
Adult (18+ years)
€

50 / ticket
|
Youth (13-17 years)
€

50 / ticket
|
Children (0-12 years)
€

50 / ticket
Options
guests >= 4

Price

Adult (18+ years)

€

50 / ticket |

Youth (13-17 years)

€

50 / ticket |

Children (0-12 years)

€

50 / ticket

guests = 3

Price

Adult (18+ years)

€

60 / ticket |

Youth (13-17 years)

€

60 / ticket |

Children (0-12 years)

€

60 / ticket

guests <= 2

Price

Adult (18+ years)

€

75 / ticket |

Youth (13-17 years)

€

75 / ticket |

Children (0-12 years)

€

75 / ticket
2
promotion
Minimum booking:
2 tickets
General price:
Adult (18+ years)
€

50 / ticket
|
Youth (13-17 years)
€

50 / ticket
|
Children (0-12 years)
€

50 / ticket
Options
guests >= 4

Price

Adult (18+ years)

€

50 / ticket |

Youth (13-17 years)

€

50 / ticket |

Children (0-12 years)

€

50 / ticket

guests = 3

Price

Adult (18+ years)

€

60 / ticket |

Youth (13-17 years)

€

60 / ticket |

Children (0-12 years)

€

60 / ticket

guests <= 2

Price

Adult (18+ years)

€

75 / ticket |

Youth (13-17 years)

€

75 / ticket |

Children (0-12 years)

€

75 / ticket
3
promotion
Minimum booking:
2 tickets
General price:
Adult (18+ years)
€

50 / ticket
|
Youth (13-17 years)
€

50 / ticket
|
Children (0-12 years)
€

50 / ticket
Options
guests >= 4

Price

Adult (18+ years)

€

50 / ticket |

Youth (13-17 years)

€

50 / ticket |

Children (0-12 years)

€

50 / ticket

guests = 3

Price

Adult (18+ years)

€

60 / ticket |

Youth (13-17 years)

€

60 / ticket |

Children (0-12 years)

€

60 / ticket

guests <= 2

Price

Adult (18+ years)

€

75 / ticket |

Youth (13-17 years)

€

75 / ticket |

Children (0-12 years)

€

75 / ticket
4
promotion
Minimum booking:
2 tickets
General price:
Adult (18+ years)
€

50 / ticket
|
Youth (13-17 years)
€

50 / ticket
|
Children (0-12 years)
€

50 / ticket
Options
guests >= 4

Price

Adult (18+ years)

€

50 / ticket |

Youth (13-17 years)

€

50 / ticket |

Children (0-12 years)

€

50 / ticket

guests = 3

Price

Adult (18+ years)

€

60 / ticket |

Youth (13-17 years)

€

60 / ticket |

Children (0-12 years)

€

60 / ticket

guests <= 2

Price

Adult (18+ years)

€

75 / ticket |

Youth (13-17 years)

€

75 / ticket |

Children (0-12 years)

€

75 / ticket
5
promotion
Minimum booking:
2 tickets
General price:
Adult (18+ years)
€

50 / ticket
|
Youth (13-17 years)
€

50 / ticket
|
Children (0-12 years)
€

50 / ticket
Options
guests >= 4

Price

Adult (18+ years)

€

50 / ticket |

Youth (13-17 years)

€

50 / ticket |

Children (0-12 years)

€

50 / ticket

guests = 3

Price

Adult (18+ years)

€

60 / ticket |

Youth (13-17 years)

€

60 / ticket |

Children (0-12 years)

€

60 / ticket

guests <= 2

Price

Adult (18+ years)

€

75 / ticket |

Youth (13-17 years)

€

75 / ticket |

Children (0-12 years)

€

75 / ticket
6
promotion
Minimum booking:
2 tickets
General price:
Adult (18+ years)
€

50 / ticket
|
Youth (13-17 years)
€

50 / ticket
|
Children (0-12 years)
€

50 / ticket
Options
guests >= 4

Price

Adult (18+ years)

€

50 / ticket |

Youth (13-17 years)

€

50 / ticket |

Children (0-12 years)

€

50 / ticket

guests = 3

Price

Adult (18+ years)

€

60 / ticket |

Youth (13-17 years)

€

60 / ticket |

Children (0-12 years)

€

60 / ticket

guests <= 2

Price

Adult (18+ years)

€

75 / ticket |

Youth (13-17 years)

€

75 / ticket |

Children (0-12 years)

€

75 / ticket
7
promotion
Minimum booking:
2 tickets
General price:
Adult (18+ years)
€

50 / ticket
|
Youth (13-17 years)
€

50 / ticket
|
Children (0-12 years)
€

50 / ticket
Options
guests >= 4

Price

Adult (18+ years)

€

50 / ticket |

Youth (13-17 years)

€

50 / ticket |

Children (0-12 years)

€

50 / ticket

guests = 3

Price

Adult (18+ years)

€

60 / ticket |

Youth (13-17 years)

€

60 / ticket |

Children (0-12 years)

€

60 / ticket

guests <= 2

Price

Adult (18+ years)

€

75 / ticket |

Youth (13-17 years)

€

75 / ticket |

Children (0-12 years)

€

75 / ticket
8
promotion
Minimum booking:
2 tickets
General price:
Adult (18+ years)
€

50 / ticket
|
Youth (13-17 years)
€

50 / ticket
|
Children (0-12 years)
€

50 / ticket
Options
guests >= 4

Price

Adult (18+ years)

€

50 / ticket |

Youth (13-17 years)

€

50 / ticket |

Children (0-12 years)

€

50 / ticket

guests = 3

Price

Adult (18+ years)

€

60 / ticket |

Youth (13-17 years)

€

60 / ticket |

Children (0-12 years)

€

60 / ticket

guests <= 2

Price

Adult (18+ years)

€

75 / ticket |

Youth (13-17 years)

€

75 / ticket |

Children (0-12 years)

€

75 / ticket
9
promotion
Minimum booking:
2 tickets
General price:
Adult (18+ years)
€

50 / ticket
|
Youth (13-17 years)
€

50 / ticket
|
Children (0-12 years)
€

50 / ticket
Options
guests >= 4

Price

Adult (18+ years)

€

50 / ticket |

Youth (13-17 years)

€

50 / ticket |

Children (0-12 years)

€

50 / ticket

guests = 3

Price

Adult (18+ years)

€

60 / ticket |

Youth (13-17 years)

€

60 / ticket |

Children (0-12 years)

€

60 / ticket

guests <= 2

Price

Adult (18+ years)

€

75 / ticket |

Youth (13-17 years)

€

75 / ticket |

Children (0-12 years)

€

75 / ticket
10
promotion
Minimum booking:
2 tickets
General price:
Adult (18+ years)
€

50 / ticket
|
Youth (13-17 years)
€

50 / ticket
|
Children (0-12 years)
€

50 / ticket
Options
guests >= 4

Price

Adult (18+ years)

€

50 / ticket |

Youth (13-17 years)

€

50 / ticket |

Children (0-12 years)

€

50 / ticket

guests = 3

Price

Adult (18+ years)

€

60 / ticket |

Youth (13-17 years)

€

60 / ticket |

Children (0-12 years)

€

60 / ticket

guests <= 2

Price

Adult (18+ years)

€

75 / ticket |

Youth (13-17 years)

€

75 / ticket |

Children (0-12 years)

€

75 / ticket
11
promotion
Minimum booking:
2 tickets
General price:
Adult (18+ years)
€

50 / ticket
|
Youth (13-17 years)
€

50 / ticket
|
Children (0-12 years)
€

50 / ticket
Options
guests >= 4

Price

Adult (18+ years)

€

50 / ticket |

Youth (13-17 years)

€

50 / ticket |

Children (0-12 years)

€

50 / ticket

guests = 3

Price

Adult (18+ years)

€

60 / ticket |

Youth (13-17 years)

€

60 / ticket |

Children (0-12 years)

€

60 / ticket

guests <= 2

Price

Adult (18+ years)

€

75 / ticket |

Youth (13-17 years)

€

75 / ticket |

Children (0-12 years)

€

75 / ticket
12
promotion
Minimum booking:
2 tickets
General price:
Adult (18+ years)
€

50 / ticket
|
Youth (13-17 years)
€

50 / ticket
|
Children (0-12 years)
€

50 / ticket
Options
guests >= 4

Price

Adult (18+ years)

€

50 / ticket |

Youth (13-17 years)

€

50 / ticket |

Children (0-12 years)

€

50 / ticket

guests = 3

Price

Adult (18+ years)

€

60 / ticket |

Youth (13-17 years)

€

60 / ticket |

Children (0-12 years)

€

60 / ticket

guests <= 2

Price

Adult (18+ years)

€

75 / ticket |

Youth (13-17 years)

€

75 / ticket |

Children (0-12 years)

€

75 / ticket
13
promotion
Minimum booking:
2 tickets
General price:
Adult (18+ years)
€

50 / ticket
|
Youth (13-17 years)
€

50 / ticket
|
Children (0-12 years)
€

50 / ticket
Options
guests >= 4

Price

Adult (18+ years)

€

50 / ticket |

Youth (13-17 years)

€

50 / ticket |

Children (0-12 years)

€

50 / ticket

guests = 3

Price

Adult (18+ years)

€

60 / ticket |

Youth (13-17 years)

€

60 / ticket |

Children (0-12 years)

€

60 / ticket

guests <= 2

Price

Adult (18+ years)

€

75 / ticket |

Youth (13-17 years)

€

75 / ticket |

Children (0-12 years)

€

75 / ticket
14
promotion
Minimum booking:
2 tickets
General price:
Adult (18+ years)
€

50 / ticket
|
Youth (13-17 years)
€

50 / ticket
|
Children (0-12 years)
€

50 / ticket
Options
guests >= 4

Price

Adult (18+ years)

€

50 / ticket |

Youth (13-17 years)

€

50 / ticket |

Children (0-12 years)

€

50 / ticket

guests = 3

Price

Adult (18+ years)

€

60 / ticket |

Youth (13-17 years)

€

60 / ticket |

Children (0-12 years)

€

60 / ticket

guests <= 2

Price

Adult (18+ years)

€

75 / ticket |

Youth (13-17 years)

€

75 / ticket |

Children (0-12 years)

€

75 / ticket
15
promotion
Minimum booking:
2 tickets
General price:
Adult (18+ years)
€

50 / ticket
|
Youth (13-17 years)
€

50 / ticket
|
Children (0-12 years)
€

50 / ticket
Options
guests >= 4

Price

Adult (18+ years)

€

50 / ticket |

Youth (13-17 years)

€

50 / ticket |

Children (0-12 years)

€

50 / ticket

guests = 3

Price

Adult (18+ years)

€

60 / ticket |

Youth (13-17 years)

€

60 / ticket |

Children (0-12 years)

€

60 / ticket

guests <= 2

Price

Adult (18+ years)

€

75 / ticket |

Youth (13-17 years)

€

75 / ticket |

Children (0-12 years)

€

75 / ticket
16
promotion
Minimum booking:
2 tickets
General price:
Adult (18+ years)
€

50 / ticket
|
Youth (13-17 years)
€

50 / ticket
|
Children (0-12 years)
€

50 / ticket
Options
guests >= 4

Price

Adult (18+ years)

€

50 / ticket |

Youth (13-17 years)

€

50 / ticket |

Children (0-12 years)

€

50 / ticket

guests = 3

Price

Adult (18+ years)

€

60 / ticket |

Youth (13-17 years)

€

60 / ticket |

Children (0-12 years)

€

60 / ticket

guests <= 2

Price

Adult (18+ years)

€

75 / ticket |

Youth (13-17 years)

€

75 / ticket |

Children (0-12 years)

€

75 / ticket
17
promotion
Minimum booking:
2 tickets
General price:
Adult (18+ years)
€

50 / ticket
|
Youth (13-17 years)
€

50 / ticket
|
Children (0-12 years)
€

50 / ticket
Options
guests >= 4

Price

Adult (18+ years)

€

50 / ticket |

Youth (13-17 years)

€

50 / ticket |

Children (0-12 years)

€

50 / ticket

guests = 3

Price

Adult (18+ years)

€

60 / ticket |

Youth (13-17 years)

€

60 / ticket |

Children (0-12 years)

€

60 / ticket

guests <= 2

Price

Adult (18+ years)

€

75 / ticket |

Youth (13-17 years)

€

75 / ticket |

Children (0-12 years)

€

75 / ticket
18
promotion
Minimum booking:
2 tickets
General price:
Adult (18+ years)
€

50 / ticket
|
Youth (13-17 years)
€

50 / ticket
|
Children (0-12 years)
€

50 / ticket
Options
guests >= 4

Price

Adult (18+ years)

€

50 / ticket |

Youth (13-17 years)

€

50 / ticket |

Children (0-12 years)

€

50 / ticket

guests = 3

Price

Adult (18+ years)

€

60 / ticket |

Youth (13-17 years)

€

60 / ticket |

Children (0-12 years)

€

60 / ticket

guests <= 2

Price

Adult (18+ years)

€

75 / ticket |

Youth (13-17 years)

€

75 / ticket |

Children (0-12 years)

€

75 / ticket
19
promotion
Minimum booking:
2 tickets
General price:
Adult (18+ years)
€

50 / ticket
|
Youth (13-17 years)
€

50 / ticket
|
Children (0-12 years)
€

50 / ticket
Options
guests >= 4

Price

Adult (18+ years)

€

50 / ticket |

Youth (13-17 years)

€

50 / ticket |

Children (0-12 years)

€

50 / ticket

guests = 3

Price

Adult (18+ years)

€

60 / ticket |

Youth (13-17 years)

€

60 / ticket |

Children (0-12 years)

€

60 / ticket

guests <= 2

Price

Adult (18+ years)

€

75 / ticket |

Youth (13-17 years)

€

75 / ticket |

Children (0-12 years)

€

75 / ticket
20
promotion
Minimum booking:
2 tickets
General price:
Adult (18+ years)
€

50 / ticket
|
Youth (13-17 years)
€

50 / ticket
|
Children (0-12 years)
€

50 / ticket
Options
guests >= 4

Price

Adult (18+ years)

€

50 / ticket |

Youth (13-17 years)

€

50 / ticket |

Children (0-12 years)

€

50 / ticket

guests = 3

Price

Adult (18+ years)

€

60 / ticket |

Youth (13-17 years)

€

60 / ticket |

Children (0-12 years)

€

60 / ticket

guests <= 2

Price

Adult (18+ years)

€

75 / ticket |

Youth (13-17 years)

€

75 / ticket |

Children (0-12 years)

€

75 / ticket
21
promotion
Minimum booking:
2 tickets
General price:
Adult (18+ years)
€

50 / ticket
|
Youth (13-17 years)
€

50 / ticket
|
Children (0-12 years)
€

50 / ticket
Options
guests >= 4

Price

Adult (18+ years)

€

50 / ticket |

Youth (13-17 years)

€

50 / ticket |

Children (0-12 years)

€

50 / ticket

guests = 3

Price

Adult (18+ years)

€

60 / ticket |

Youth (13-17 years)

€

60 / ticket |

Children (0-12 years)

€

60 / ticket

guests <= 2

Price

Adult (18+ years)

€

75 / ticket |

Youth (13-17 years)

€

75 / ticket |

Children (0-12 years)

€

75 / ticket
22
promotion
Minimum booking:
2 tickets
General price:
Adult (18+ years)
€

50 / ticket
|
Youth (13-17 years)
€

50 / ticket
|
Children (0-12 years)
€

50 / ticket
Options
guests >= 4

Price

Adult (18+ years)

€

50 / ticket |

Youth (13-17 years)

€

50 / ticket |

Children (0-12 years)

€

50 / ticket

guests = 3

Price

Adult (18+ years)

€

60 / ticket |

Youth (13-17 years)

€

60 / ticket |

Children (0-12 years)

€

60 / ticket

guests <= 2

Price

Adult (18+ years)

€

75 / ticket |

Youth (13-17 years)

€

75 / ticket |

Children (0-12 years)

€

75 / ticket
23
promotion
Minimum booking:
2 tickets
General price:
Adult (18+ years)
€

50 / ticket
|
Youth (13-17 years)
€

50 / ticket
|
Children (0-12 years)
€

50 / ticket
Options
guests >= 4

Price

Adult (18+ years)

€

50 / ticket |

Youth (13-17 years)

€

50 / ticket |

Children (0-12 years)

€

50 / ticket

guests = 3

Price

Adult (18+ years)

€

60 / ticket |

Youth (13-17 years)

€

60 / ticket |

Children (0-12 years)

€

60 / ticket

guests <= 2

Price

Adult (18+ years)

€

75 / ticket |

Youth (13-17 years)

€

75 / ticket |

Children (0-12 years)

€

75 / ticket
24
promotion
Minimum booking:
2 tickets
General price:
Adult (18+ years)
€

50 / ticket
|
Youth (13-17 years)
€

50 / ticket
|
Children (0-12 years)
€

50 / ticket
Options
guests >= 4

Price

Adult (18+ years)

€

50 / ticket |

Youth (13-17 years)

€

50 / ticket |

Children (0-12 years)

€

50 / ticket

guests = 3

Price

Adult (18+ years)

€

60 / ticket |

Youth (13-17 years)

€

60 / ticket |

Children (0-12 years)

€

60 / ticket

guests <= 2

Price

Adult (18+ years)

€

75 / ticket |

Youth (13-17 years)

€

75 / ticket |

Children (0-12 years)

€

75 / ticket
25
promotion
Minimum booking:
2 tickets
General price:
Adult (18+ years)
€

50 / ticket
|
Youth (13-17 years)
€

50 / ticket
|
Children (0-12 years)
€

50 / ticket
Options
guests >= 4

Price

Adult (18+ years)

€

50 / ticket |

Youth (13-17 years)

€

50 / ticket |

Children (0-12 years)

€

50 / ticket

guests = 3

Price

Adult (18+ years)

€

60 / ticket |

Youth (13-17 years)

€

60 / ticket |

Children (0-12 years)

€

60 / ticket

guests <= 2

Price

Adult (18+ years)

€

75 / ticket |

Youth (13-17 years)

€

75 / ticket |

Children (0-12 years)

€

75 / ticket
26
promotion
Minimum booking:
2 tickets
General price:
Adult (18+ years)
€

50 / ticket
|
Youth (13-17 years)
€

50 / ticket
|
Children (0-12 years)
€

50 / ticket
Options
guests >= 4

Price

Adult (18+ years)

€

50 / ticket |

Youth (13-17 years)

€

50 / ticket |

Children (0-12 years)

€

50 / ticket

guests = 3

Price

Adult (18+ years)

€

60 / ticket |

Youth (13-17 years)

€

60 / ticket |

Children (0-12 years)

€

60 / ticket

guests <= 2

Price

Adult (18+ years)

€

75 / ticket |

Youth (13-17 years)

€

75 / ticket |

Children (0-12 years)

€

75 / ticket
27
promotion
Minimum booking:
2 tickets
General price:
Adult (18+ years)
€

50 / ticket
|
Youth (13-17 years)
€

50 / ticket
|
Children (0-12 years)
€

50 / ticket
Options
guests >= 4

Price

Adult (18+ years)

€

50 / ticket |

Youth (13-17 years)

€

50 / ticket |

Children (0-12 years)

€

50 / ticket

guests = 3

Price

Adult (18+ years)

€

60 / ticket |

Youth (13-17 years)

€

60 / ticket |

Children (0-12 years)

€

60 / ticket

guests <= 2

Price

Adult (18+ years)

€

75 / ticket |

Youth (13-17 years)

€

75 / ticket |

Children (0-12 years)

€

75 / ticket
28
promotion
Minimum booking:
2 tickets
General price:
Adult (18+ years)
€

50 / ticket
|
Youth (13-17 years)
€

50 / ticket
|
Children (0-12 years)
€

50 / ticket
Options
guests >= 4

Price

Adult (18+ years)

€

50 / ticket |

Youth (13-17 years)

€

50 / ticket |

Children (0-12 years)

€

50 / ticket

guests = 3

Price

Adult (18+ years)

€

60 / ticket |

Youth (13-17 years)

€

60 / ticket |

Children (0-12 years)

€

60 / ticket

guests <= 2

Price

Adult (18+ years)

€

75 / ticket |

Youth (13-17 years)

€

75 / ticket |

Children (0-12 years)

€

75 / ticket
29
promotion
Minimum booking:
2 tickets
General price:
Adult (18+ years)
€

50 / ticket
|
Youth (13-17 years)
€

50 / ticket
|
Children (0-12 years)
€

50 / ticket
Options
guests >= 4

Price

Adult (18+ years)

€

50 / ticket |

Youth (13-17 years)

€

50 / ticket |

Children (0-12 years)

€

50 / ticket

guests = 3

Price

Adult (18+ years)

€

60 / ticket |

Youth (13-17 years)

€

60 / ticket |

Children (0-12 years)

€

60 / ticket

guests <= 2

Price

Adult (18+ years)

€

75 / ticket |

Youth (13-17 years)

€

75 / ticket |

Children (0-12 years)

€

75 / ticket
30
promotion
Minimum booking:
2 tickets
General price:
Adult (18+ years)
€

50 / ticket
|
Youth (13-17 years)
€

50 / ticket
|
Children (0-12 years)
€

50 / ticket
Options
guests >= 4

Price

Adult (18+ years)

€

50 / ticket |

Youth (13-17 years)

€

50 / ticket |

Children (0-12 years)

€

50 / ticket

guests = 3

Price

Adult (18+ years)

€

60 / ticket |

Youth (13-17 years)

€

60 / ticket |

Children (0-12 years)

€

60 / ticket

guests <= 2

Price

Adult (18+ years)

€

75 / ticket |

Youth (13-17 years)

€

75 / ticket |

Children (0-12 years)

€

75 / ticket
1
promotion
Minimum booking:
2 tickets
General price:
Adult (18+ years)
€

50 / ticket
|
Youth (13-17 years)
€

50 / ticket
|
Children (0-12 years)
€

50 / ticket
Options
guests >= 4

Price

Adult (18+ years)

€

50 / ticket |

Youth (13-17 years)

€

50 / ticket |

Children (0-12 years)

€

50 / ticket

guests = 3

Price

Adult (18+ years)

€

60 / ticket |

Youth (13-17 years)

€

60 / ticket |

Children (0-12 years)

€

60 / ticket

guests <= 2

Price

Adult (18+ years)

€

75 / ticket |

Youth (13-17 years)

€

75 / ticket |

Children (0-12 years)

€

75 / ticket
2
promotion
Minimum booking:
2 tickets
General price:
Adult (18+ years)
€

50 / ticket
|
Youth (13-17 years)
€

50 / ticket
|
Children (0-12 years)
€

50 / ticket
Options
guests >= 4

Price

Adult (18+ years)

€

50 / ticket |

Youth (13-17 years)

€

50 / ticket |

Children (0-12 years)

€

50 / ticket

guests = 3

Price

Adult (18+ years)

€

60 / ticket |

Youth (13-17 years)

€

60 / ticket |

Children (0-12 years)

€

60 / ticket

guests <= 2

Price

Adult (18+ years)

€

75 / ticket |

Youth (13-17 years)

€

75 / ticket |

Children (0-12 years)

€

75 / ticket
3
promotion
Minimum booking:
2 tickets
General price:
Adult (18+ years)
€

50 / ticket
|
Youth (13-17 years)
€

50 / ticket
|
Children (0-12 years)
€

50 / ticket
Options
guests >= 4

Price

Adult (18+ years)

€

50 / ticket |

Youth (13-17 years)

€

50 / ticket |

Children (0-12 years)

€

50 / ticket

guests = 3

Price

Adult (18+ years)

€

60 / ticket |

Youth (13-17 years)

€

60 / ticket |

Children (0-12 years)

€

60 / ticket

guests <= 2

Price

Adult (18+ years)

€

75 / ticket |

Youth (13-17 years)

€

75 / ticket |

Children (0-12 years)

€

75 / ticket
4
promotion
Minimum booking:
2 tickets
General price:
Adult (18+ years)
€

50 / ticket
|
Youth (13-17 years)
€

50 / ticket
|
Children (0-12 years)
€

50 / ticket
Options
guests >= 4

Price

Adult (18+ years)

€

50 / ticket |

Youth (13-17 years)

€

50 / ticket |

Children (0-12 years)

€

50 / ticket

guests = 3

Price

Adult (18+ years)

€

60 / ticket |

Youth (13-17 years)

€

60 / ticket |

Children (0-12 years)

€

60 / ticket

guests <= 2

Price

Adult (18+ years)

€

75 / ticket |

Youth (13-17 years)

€

75 / ticket |

Children (0-12 years)

€

75 / ticket
5
promotion
Minimum booking:
2 tickets
General price:
Adult (18+ years)
€

50 / ticket
|
Youth (13-17 years)
€

50 / ticket
|
Children (0-12 years)
€

50 / ticket
Options
guests >= 4

Price

Adult (18+ years)

€

50 / ticket |

Youth (13-17 years)

€

50 / ticket |

Children (0-12 years)

€

50 / ticket

guests = 3

Price

Adult (18+ years)

€

60 / ticket |

Youth (13-17 years)

€

60 / ticket |

Children (0-12 years)

€

60 / ticket

guests <= 2

Price

Adult (18+ years)

€

75 / ticket |

Youth (13-17 years)

€

75 / ticket |

Children (0-12 years)

€

75 / ticket
6
promotion
Minimum booking:
2 tickets
General price:
Adult (18+ years)
€

50 / ticket
|
Youth (13-17 years)
€

50 / ticket
|
Children (0-12 years)
€

50 / ticket
Options
guests >= 4

Price

Adult (18+ years)

€

50 / ticket |

Youth (13-17 years)

€

50 / ticket |

Children (0-12 years)

€

50 / ticket

guests = 3

Price

Adult (18+ years)

€

60 / ticket |

Youth (13-17 years)

€

60 / ticket |

Children (0-12 years)

€

60 / ticket

guests <= 2

Price

Adult (18+ years)

€

75 / ticket |

Youth (13-17 years)

€

75 / ticket |

Children (0-12 years)

€

75 / ticket
7
promotion
Minimum booking:
2 tickets
General price:
Adult (18+ years)
€

50 / ticket
|
Youth (13-17 years)
€

50 / ticket
|
Children (0-12 years)
€

50 / ticket
Options
guests >= 4

Price

Adult (18+ years)

€

50 / ticket |

Youth (13-17 years)

€

50 / ticket |

Children (0-12 years)

€

50 / ticket

guests = 3

Price

Adult (18+ years)

€

60 / ticket |

Youth (13-17 years)

€

60 / ticket |

Children (0-12 years)

€

60 / ticket

guests <= 2

Price

Adult (18+ years)

€

75 / ticket |

Youth (13-17 years)

€

75 / ticket |

Children (0-12 years)

€

75 / ticket
8
promotion
Minimum booking:
2 tickets
General price:
Adult (18+ years)
€

50 / ticket
|
Youth (13-17 years)
€

50 / ticket
|
Children (0-12 years)
€

50 / ticket
Options
guests >= 4

Price

Adult (18+ years)

€

50 / ticket |

Youth (13-17 years)

€

50 / ticket |

Children (0-12 years)

€

50 / ticket

guests = 3

Price

Adult (18+ years)

€

60 / ticket |

Youth (13-17 years)

€

60 / ticket |

Children (0-12 years)

€

60 / ticket

guests <= 2

Price

Adult (18+ years)

€

75 / ticket |

Youth (13-17 years)

€

75 / ticket |

Children (0-12 years)

€

75 / ticket
9
promotion
Minimum booking:
2 tickets
General price:
Adult (18+ years)
€

50 / ticket
|
Youth (13-17 years)
€

50 / ticket
|
Children (0-12 years)
€

50 / ticket
Options
guests >= 4

Price

Adult (18+ years)

€

50 / ticket |

Youth (13-17 years)

€

50 / ticket |

Children (0-12 years)

€

50 / ticket

guests = 3

Price

Adult (18+ years)

€

60 / ticket |

Youth (13-17 years)

€

60 / ticket |

Children (0-12 years)

€

60 / ticket

guests <= 2

Price

Adult (18+ years)

€

75 / ticket |

Youth (13-17 years)

€

75 / ticket |

Children (0-12 years)

€

75 / ticket
10
promotion
Minimum booking:
2 tickets
General price:
Adult (18+ years)
€

50 / ticket
|
Youth (13-17 years)
€

50 / ticket
|
Children (0-12 years)
€

50 / ticket
Options
guests >= 4

Price

Adult (18+ years)

€

50 / ticket |

Youth (13-17 years)

€

50 / ticket |

Children (0-12 years)

€

50 / ticket

guests = 3

Price

Adult (18+ years)

€

60 / ticket |

Youth (13-17 years)

€

60 / ticket |

Children (0-12 years)

€

60 / ticket

guests <= 2

Price

Adult (18+ years)

€

75 / ticket |

Youth (13-17 years)

€

75 / ticket |

Children (0-12 years)

€

75 / ticket
11
promotion
Minimum booking:
2 tickets
General price:
Adult (18+ years)
€

50 / ticket
|
Youth (13-17 years)
€

50 / ticket
|
Children (0-12 years)
€

50 / ticket
Options
guests >= 4

Price

Adult (18+ years)

€

50 / ticket |

Youth (13-17 years)

€

50 / ticket |

Children (0-12 years)

€

50 / ticket

guests = 3

Price

Adult (18+ years)

€

60 / ticket |

Youth (13-17 years)

€

60 / ticket |

Children (0-12 years)

€

60 / ticket

guests <= 2

Price

Adult (18+ years)

€

75 / ticket |

Youth (13-17 years)

€

75 / ticket |

Children (0-12 years)

€

75 / ticket
12
promotion
Minimum booking:
2 tickets
General price:
Adult (18+ years)
€

50 / ticket
|
Youth (13-17 years)
€

50 / ticket
|
Children (0-12 years)
€

50 / ticket
Options
guests >= 4

Price

Adult (18+ years)

€

50 / ticket |

Youth (13-17 years)

€

50 / ticket |

Children (0-12 years)

€

50 / ticket

guests = 3

Price

Adult (18+ years)

€

60 / ticket |

Youth (13-17 years)

€

60 / ticket |

Children (0-12 years)

€

60 / ticket

guests <= 2

Price

Adult (18+ years)

€

75 / ticket |

Youth (13-17 years)

€

75 / ticket |

Children (0-12 years)

€

75 / ticket
13
promotion
Minimum booking:
2 tickets
General price:
Adult (18+ years)
€

50 / ticket
|
Youth (13-17 years)
€

50 / ticket
|
Children (0-12 years)
€

50 / ticket
Options
guests >= 4

Price

Adult (18+ years)

€

50 / ticket |

Youth (13-17 years)

€

50 / ticket |

Children (0-12 years)

€

50 / ticket

guests = 3

Price

Adult (18+ years)

€

60 / ticket |

Youth (13-17 years)

€

60 / ticket |

Children (0-12 years)

€

60 / ticket

guests <= 2

Price

Adult (18+ years)

€

75 / ticket |

Youth (13-17 years)

€

75 / ticket |

Children (0-12 years)

€

75 / ticket
14
promotion
Minimum booking:
2 tickets
General price:
Adult (18+ years)
€

50 / ticket
|
Youth (13-17 years)
€

50 / ticket
|
Children (0-12 years)
€

50 / ticket
Options
guests >= 4

Price

Adult (18+ years)

€

50 / ticket |

Youth (13-17 years)

€

50 / ticket |

Children (0-12 years)

€

50 / ticket

guests = 3

Price

Adult (18+ years)

€

60 / ticket |

Youth (13-17 years)

€

60 / ticket |

Children (0-12 years)

€

60 / ticket

guests <= 2

Price

Adult (18+ years)

€

75 / ticket |

Youth (13-17 years)

€

75 / ticket |

Children (0-12 years)

€

75 / ticket
15
promotion
Minimum booking:
2 tickets
General price:
Adult (18+ years)
€

50 / ticket
|
Youth (13-17 years)
€

50 / ticket
|
Children (0-12 years)
€

50 / ticket
Options
guests >= 4

Price

Adult (18+ years)

€

50 / ticket |

Youth (13-17 years)

€

50 / ticket |

Children (0-12 years)

€

50 / ticket

guests = 3

Price

Adult (18+ years)

€

60 / ticket |

Youth (13-17 years)

€

60 / ticket |

Children (0-12 years)

€

60 / ticket

guests <= 2

Price

Adult (18+ years)

€

75 / ticket |

Youth (13-17 years)

€

75 / ticket |

Children (0-12 years)

€

75 / ticket
16
promotion
Minimum booking:
2 tickets
General price:
Adult (18+ years)
€

50 / ticket
|
Youth (13-17 years)
€

50 / ticket
|
Children (0-12 years)
€

50 / ticket
Options
guests >= 4

Price

Adult (18+ years)

€

50 / ticket |

Youth (13-17 years)

€

50 / ticket |

Children (0-12 years)

€

50 / ticket

guests = 3

Price

Adult (18+ years)

€

60 / ticket |

Youth (13-17 years)

€

60 / ticket |

Children (0-12 years)

€

60 / ticket

guests <= 2

Price

Adult (18+ years)

€

75 / ticket |

Youth (13-17 years)

€

75 / ticket |

Children (0-12 years)

€

75 / ticket
17
promotion
Minimum booking:
2 tickets
General price:
Adult (18+ years)
€

50 / ticket
|
Youth (13-17 years)
€

50 / ticket
|
Children (0-12 years)
€

50 / ticket
Options
guests >= 4

Price

Adult (18+ years)

€

50 / ticket |

Youth (13-17 years)

€

50 / ticket |

Children (0-12 years)

€

50 / ticket

guests = 3

Price

Adult (18+ years)

€

60 / ticket |

Youth (13-17 years)

€

60 / ticket |

Children (0-12 years)

€

60 / ticket

guests <= 2

Price

Adult (18+ years)

€

75 / ticket |

Youth (13-17 years)

€

75 / ticket |

Children (0-12 years)

€

75 / ticket
18
promotion
Minimum booking:
2 tickets
General price:
Adult (18+ years)
€

50 / ticket
|
Youth (13-17 years)
€

50 / ticket
|
Children (0-12 years)
€

50 / ticket
Options
guests >= 4

Price

Adult (18+ years)

€

50 / ticket |

Youth (13-17 years)

€

50 / ticket |

Children (0-12 years)

€

50 / ticket

guests = 3

Price

Adult (18+ years)

€

60 / ticket |

Youth (13-17 years)

€

60 / ticket |

Children (0-12 years)

€

60 / ticket

guests <= 2

Price

Adult (18+ years)

€

75 / ticket |

Youth (13-17 years)

€

75 / ticket |

Children (0-12 years)

€

75 / ticket
19
promotion
Minimum booking:
2 tickets
General price:
Adult (18+ years)
€

50 / ticket
|
Youth (13-17 years)
€

50 / ticket
|
Children (0-12 years)
€

50 / ticket
Options
guests >= 4

Price

Adult (18+ years)

€

50 / ticket |

Youth (13-17 years)

€

50 / ticket |

Children (0-12 years)

€

50 / ticket

guests = 3

Price

Adult (18+ years)

€

60 / ticket |

Youth (13-17 years)

€

60 / ticket |

Children (0-12 years)

€

60 / ticket

guests <= 2

Price

Adult (18+ years)

€

75 / ticket |

Youth (13-17 years)

€

75 / ticket |

Children (0-12 years)

€

75 / ticket
20
promotion
Minimum booking:
2 tickets
General price:
Adult (18+ years)
€

50 / ticket
|
Youth (13-17 years)
€

50 / ticket
|
Children (0-12 years)
€

50 / ticket
Options
guests >= 4

Price

Adult (18+ years)

€

50 / ticket |

Youth (13-17 years)

€

50 / ticket |

Children (0-12 years)

€

50 / ticket

guests = 3