6 days of travel in the Atlas Mountains, enjoying life in the countryside and getting to know the people who live in these wonderful villages. You will be immersed in everyday Berber life from the first day of trekking, watching the locals work in their terraced fields and tend to their animals.
This itinerary requires early starts and strenuous trekking days, moving from camp to camp each day, but you will be rewarded with many excellent photo opportunities, particularly at the 4167m summit of Jebel Toubkal. At the end of the day, you can unwind with a cup of mint tea in a village cafe or paddle alongside refreshing rivers and the turquoise shores of Lac D'ifni 2295m.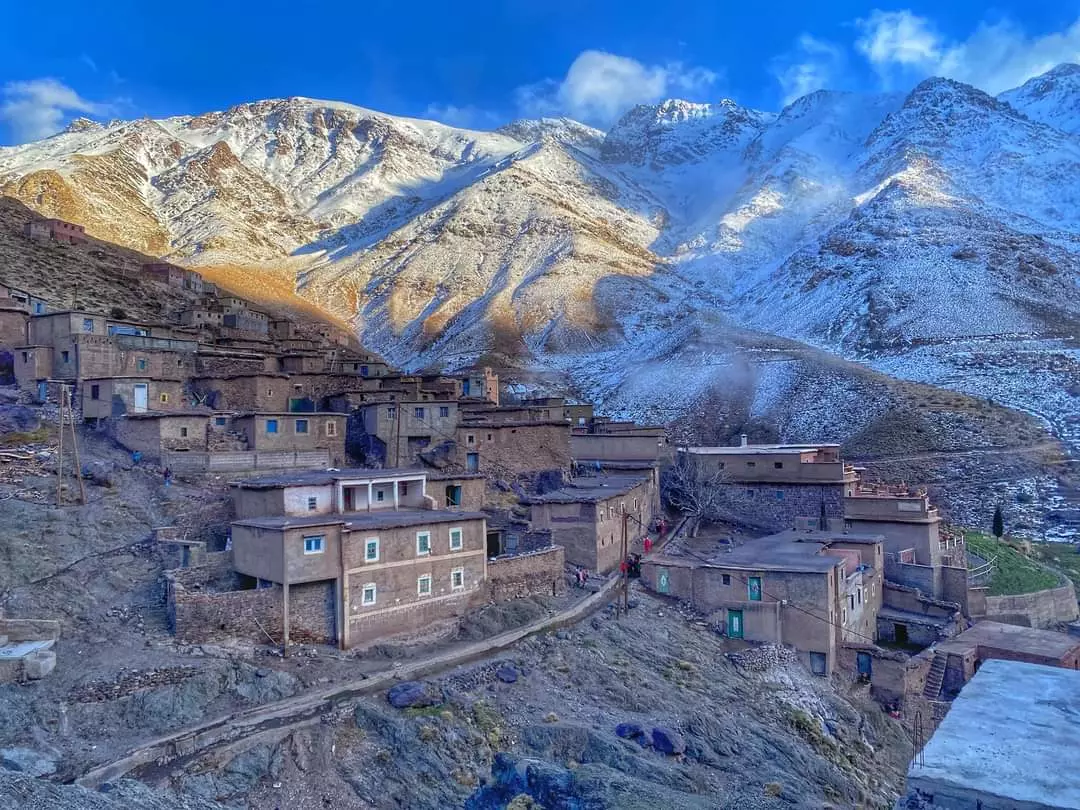 Tour Map
further discounts are aavailable according to the GROUPE SIZE

Mules and muleteers to carry your luggage.

Porters for luggage from snowline to the mountain huts ( Winter months)

Berber Cook

All meals on the hike

Expert- Berber, English, Spanish - speaking mountain guides

Accommondation for trekking duration

Camping Materiel ( Tents & Mattress)
Travel insurance.

Soft/alcoholic drinks

Tips and personal expanses.
Day 1 : Marrakech – Imlil – Tacheddirt :
After breakfast, we depart Marrakech for Imlil via Asni. Imlil is a busy market town and the main trailhead for walkers. People are constantly coming down from the mountains, and there is an equal supply of activity from those about to embark on their adventure. We meet our mule team and begin walking along the valley towards Tacheddirt, about 8 kilometers beyond Imlil. As we near the pass at Tizi n'Tamatert, the trail begins to ascend (2,279m). We then descend to the lovely village of Ouaneskra before continuing for another half-hour or so to Tacheddirt (2,300m), where we usually camp near the river. Meals included one breakfast, one lunch, and one dinner.
Day 2 : Tacheddirt – Azib Likemt :
After crossing the valley, we begin the long, slow ascent to the Tizi Likemt pass (3,555m). The going is difficult because there is a lot of loose scree on the ground. At the top, we get our first good look at the Toubkal massif before descending to the village of Azib Likemt, where we'll spend the night. 6–7 hours
Day 3 : Azib Likemt – Tizi n'Ourai – Amsouzert :
This long but relatively easy day takes us through several different landscapes. We get a better view of the Toubkal massif from Tizi n'Ououraine (3,120m), including the summit, the east face, and the Ifni Dome (3,876m). The trail continues on to Amsouzert, one of the region's most striking villages, where we spend the night - dormitory-style - in a simple village Gite. 7 hours
Day 4 : Amsouzert – Ifni Lake :
We explore several small villages west of Amsouzert on our way to Ifni Lake, the only lake in the massif. It is an unusually deep sight surrounded by rocky mountains and massive heaps of rubble. We plan to arrive around lunchtime and spend the afternoon relaxing on the beach. This is where we'll be camping tonight. Total time: 4 to 5 hours
Day 5 : Ifni Lake – Toukal refuge :
We should be fit and acclimatized by now, and ready to tackle the most difficult day of the trek. We make our way up a seemingly endless scree slope on a steep path. Finally, we arrive at Tizi n'Ouanoums (3,664m), a narrow ledge between two rock shafts. It's a long zigzag descent from here to Nelter Hut, a mountain refuge where we'll spend the night (or alternatively camp outside). six to seven hours
Day 6 : Mt. Toubkal Summit – Imlil :
We set out before dawn, taking a well-trodden path to the summit. If conditions are favorable, we should arrive at the summit in no more than 2-3 hours, where we will enjoy panoramic views of the entire Atlas range and the Marrakech plains beyond. Returning to the trailhead, we descend quickly to the villages of Sidi Chamharouch and Aremd before following the Mizane River along a well-forested trail to Imlil. If you stay in Marrakech, you will be driven there at the end of the day. 9–10 hours
After booking with MT Toubkal Trek, we will promptly reach out to you to confirm your reservation and address any questions you may have about the tour.
Payment is in cash upon your arrival in Morocco.
This is a private tour, and we'll customize it to your group's size. If you're a solo traveler looking to join a group, please contact us.
5
promotion
Minimum booking:
1 tickets
Maximum booking:
30 tickets
General price:
Adult (18+ years)
€

350 / ticket
|
Youth (13-17 years)
€

350 / ticket
|
Children (0-12 years)
€

350 / ticket
Options
guests <= 2

Price

Adult (18+ years)

€

680 / ticket |

Youth (13-17 years)

€

680 / ticket |

Children (0-12 years)

€

680 / ticket

guests = 3

Price

Adult (18+ years)

€

450 / ticket |

Youth (13-17 years)

€

450 / ticket |

Children (0-12 years)

€

450 / ticket

guests >= 4

Price

Adult (18+ years)

€

350 / ticket |

Youth (13-17 years)

€

350 / ticket |

Children (0-12 years)

€

350 / ticket
6
promotion
Minimum booking:
1 tickets
Maximum booking:
30 tickets
General price:
Adult (18+ years)
€

350 / ticket
|
Youth (13-17 years)
€

350 / ticket
|
Children (0-12 years)
€

350 / ticket
Options
guests <= 2

Price

Adult (18+ years)

€

680 / ticket |

Youth (13-17 years)

€

680 / ticket |

Children (0-12 years)

€

680 / ticket

guests = 3

Price

Adult (18+ years)

€

450 / ticket |

Youth (13-17 years)

€

450 / ticket |

Children (0-12 years)

€

450 / ticket

guests >= 4

Price

Adult (18+ years)

€

350 / ticket |

Youth (13-17 years)

€

350 / ticket |

Children (0-12 years)

€

350 / ticket
7
promotion
Minimum booking:
1 tickets
Maximum booking:
30 tickets
General price:
Adult (18+ years)
€

350 / ticket
|
Youth (13-17 years)
€

350 / ticket
|
Children (0-12 years)
€

350 / ticket
Options
guests <= 2

Price

Adult (18+ years)

€

680 / ticket |

Youth (13-17 years)

€

680 / ticket |

Children (0-12 years)

€

680 / ticket

guests = 3

Price

Adult (18+ years)

€

450 / ticket |

Youth (13-17 years)

€

450 / ticket |

Children (0-12 years)

€

450 / ticket

guests >= 4

Price

Adult (18+ years)

€

350 / ticket |

Youth (13-17 years)

€

350 / ticket |

Children (0-12 years)

€

350 / ticket
8
promotion
Minimum booking:
1 tickets
Maximum booking:
30 tickets
General price:
Adult (18+ years)
€

350 / ticket
|
Youth (13-17 years)
€

350 / ticket
|
Children (0-12 years)
€

350 / ticket
Options
guests <= 2

Price

Adult (18+ years)

€

680 / ticket |

Youth (13-17 years)

€

680 / ticket |

Children (0-12 years)

€

680 / ticket

guests = 3

Price

Adult (18+ years)

€

450 / ticket |

Youth (13-17 years)

€

450 / ticket |

Children (0-12 years)

€

450 / ticket

guests >= 4

Price

Adult (18+ years)

€

350 / ticket |

Youth (13-17 years)

€

350 / ticket |

Children (0-12 years)

€

350 / ticket
9
promotion
Minimum booking:
1 tickets
Maximum booking:
30 tickets
General price:
Adult (18+ years)
€

350 / ticket
|
Youth (13-17 years)
€

350 / ticket
|
Children (0-12 years)
€

350 / ticket
Options
guests <= 2

Price

Adult (18+ years)

€

680 / ticket |

Youth (13-17 years)

€

680 / ticket |

Children (0-12 years)

€

680 / ticket

guests = 3

Price

Adult (18+ years)

€

450 / ticket |

Youth (13-17 years)

€

450 / ticket |

Children (0-12 years)

€

450 / ticket

guests >= 4

Price

Adult (18+ years)

€

350 / ticket |

Youth (13-17 years)

€

350 / ticket |

Children (0-12 years)

€

350 / ticket
10
promotion
Minimum booking:
1 tickets
Maximum booking:
30 tickets
General price:
Adult (18+ years)
€

350 / ticket
|
Youth (13-17 years)
€

350 / ticket
|
Children (0-12 years)
€

350 / ticket
Options
guests <= 2

Price

Adult (18+ years)

€

680 / ticket |

Youth (13-17 years)

€

680 / ticket |

Children (0-12 years)

€

680 / ticket

guests = 3

Price

Adult (18+ years)

€

450 / ticket |

Youth (13-17 years)

€

450 / ticket |

Children (0-12 years)

€

450 / ticket

guests >= 4

Price

Adult (18+ years)

€

350 / ticket |

Youth (13-17 years)

€

350 / ticket |

Children (0-12 years)

€

350 / ticket
11
promotion
Minimum booking:
1 tickets
Maximum booking:
30 tickets
General price:
Adult (18+ years)
€

350 / ticket
|
Youth (13-17 years)
€

350 / ticket
|
Children (0-12 years)
€

350 / ticket
Options
guests <= 2

Price

Adult (18+ years)

€

680 / ticket |

Youth (13-17 years)

€

680 / ticket |

Children (0-12 years)

€

680 / ticket

guests = 3

Price

Adult (18+ years)

€

450 / ticket |

Youth (13-17 years)

€

450 / ticket |

Children (0-12 years)

€

450 / ticket

guests >= 4

Price

Adult (18+ years)

€

350 / ticket |

Youth (13-17 years)

€

350 / ticket |

Children (0-12 years)

€

350 / ticket
12
promotion
Minimum booking:
1 tickets
Maximum booking:
30 tickets
General price:
Adult (18+ years)
€

350 / ticket
|
Youth (13-17 years)
€

350 / ticket
|
Children (0-12 years)
€

350 / ticket
Options
guests <= 2

Price

Adult (18+ years)

€

680 / ticket |

Youth (13-17 years)

€

680 / ticket |

Children (0-12 years)

€

680 / ticket

guests = 3

Price

Adult (18+ years)

€

450 / ticket |

Youth (13-17 years)

€

450 / ticket |

Children (0-12 years)

€

450 / ticket

guests >= 4

Price

Adult (18+ years)

€

350 / ticket |

Youth (13-17 years)

€

350 / ticket |

Children (0-12 years)

€

350 / ticket
13
promotion
Minimum booking:
1 tickets
Maximum booking:
30 tickets
General price:
Adult (18+ years)
€

350 / ticket
|
Youth (13-17 years)
€

350 / ticket
|
Children (0-12 years)
€

350 / ticket
Options
guests <= 2

Price

Adult (18+ years)

€

680 / ticket |

Youth (13-17 years)

€

680 / ticket |

Children (0-12 years)

€

680 / ticket

guests = 3

Price

Adult (18+ years)

€

450 / ticket |

Youth (13-17 years)

€

450 / ticket |

Children (0-12 years)

€

450 / ticket

guests >= 4

Price

Adult (18+ years)

€

350 / ticket |

Youth (13-17 years)

€

350 / ticket |

Children (0-12 years)

€

350 / ticket
14
promotion
Minimum booking:
1 tickets
Maximum booking:
30 tickets
General price:
Adult (18+ years)
€

350 / ticket
|
Youth (13-17 years)
€

350 / ticket
|
Children (0-12 years)
€

350 / ticket
Options
guests <= 2

Price

Adult (18+ years)

€

680 / ticket |

Youth (13-17 years)

€

680 / ticket |

Children (0-12 years)

€

680 / ticket

guests = 3

Price

Adult (18+ years)

€

450 / ticket |

Youth (13-17 years)

€

450 / ticket |

Children (0-12 years)

€

450 / ticket

guests >= 4

Price

Adult (18+ years)

€

350 / ticket |

Youth (13-17 years)

€

350 / ticket |

Children (0-12 years)

€

350 / ticket
15
promotion
Minimum booking:
1 tickets
Maximum booking:
30 tickets
General price:
Adult (18+ years)
€

350 / ticket
|
Youth (13-17 years)
€

350 / ticket
|
Children (0-12 years)
€

350 / ticket
Options
guests <= 2

Price

Adult (18+ years)

€

680 / ticket |

Youth (13-17 years)

€

680 / ticket |

Children (0-12 years)

€

680 / ticket

guests = 3

Price

Adult (18+ years)

€

450 / ticket |

Youth (13-17 years)

€

450 / ticket |

Children (0-12 years)

€

450 / ticket

guests >= 4

Price

Adult (18+ years)

€

350 / ticket |

Youth (13-17 years)

€

350 / ticket |

Children (0-12 years)

€

350 / ticket
16
promotion
Minimum booking:
1 tickets
Maximum booking:
30 tickets
General price:
Adult (18+ years)
€

350 / ticket
|
Youth (13-17 years)
€

350 / ticket
|
Children (0-12 years)
€

350 / ticket
Options
guests <= 2

Price

Adult (18+ years)

€

680 / ticket |

Youth (13-17 years)

€

680 / ticket |

Children (0-12 years)

€

680 / ticket

guests = 3

Price

Adult (18+ years)

€

450 / ticket |

Youth (13-17 years)

€

450 / ticket |

Children (0-12 years)

€

450 / ticket

guests >= 4

Price

Adult (18+ years)

€

350 / ticket |

Youth (13-17 years)

€

350 / ticket |

Children (0-12 years)

€

350 / ticket
17
promotion
Minimum booking:
1 tickets
Maximum booking:
30 tickets
General price:
Adult (18+ years)
€

350 / ticket
|
Youth (13-17 years)
€

350 / ticket
|
Children (0-12 years)
€

350 / ticket
Options
guests <= 2

Price

Adult (18+ years)

€

680 / ticket |

Youth (13-17 years)

€

680 / ticket |

Children (0-12 years)

€

680 / ticket

guests = 3

Price

Adult (18+ years)

€

450 / ticket |

Youth (13-17 years)

€

450 / ticket |

Children (0-12 years)

€

450 / ticket

guests >= 4

Price

Adult (18+ years)

€

350 / ticket |

Youth (13-17 years)

€

350 / ticket |

Children (0-12 years)

€

350 / ticket
18
promotion
Minimum booking:
1 tickets
Maximum booking:
30 tickets
General price:
Adult (18+ years)
€

350 / ticket
|
Youth (13-17 years)
€

350 / ticket
|
Children (0-12 years)
€

350 / ticket
Options
guests <= 2

Price

Adult (18+ years)

€

680 / ticket |

Youth (13-17 years)

€

680 / ticket |

Children (0-12 years)

€

680 / ticket

guests = 3

Price

Adult (18+ years)

€

450 / ticket |

Youth (13-17 years)

€

450 / ticket |

Children (0-12 years)

€

450 / ticket

guests >= 4

Price

Adult (18+ years)

€

350 / ticket |

Youth (13-17 years)

€

350 / ticket |

Children (0-12 years)

€

350 / ticket
19
promotion
Minimum booking:
1 tickets
Maximum booking:
30 tickets
General price:
Adult (18+ years)
€

350 / ticket
|
Youth (13-17 years)
€

350 / ticket
|
Children (0-12 years)
€

350 / ticket
Options
guests <= 2

Price

Adult (18+ years)

€

680 / ticket |

Youth (13-17 years)

€

680 / ticket |

Children (0-12 years)

€

680 / ticket

guests = 3

Price

Adult (18+ years)

€

450 / ticket |

Youth (13-17 years)

€

450 / ticket |

Children (0-12 years)

€

450 / ticket

guests >= 4

Price

Adult (18+ years)

€

350 / ticket |

Youth (13-17 years)

€

350 / ticket |

Children (0-12 years)

€

350 / ticket
20
promotion
Minimum booking:
1 tickets
Maximum booking:
30 tickets
General price:
Adult (18+ years)
€

350 / ticket
|
Youth (13-17 years)
€

350 / ticket
|
Children (0-12 years)
€

350 / ticket
Options
guests <= 2

Price

Adult (18+ years)

€

680 / ticket |

Youth (13-17 years)

€

680 / ticket |

Children (0-12 years)

€

680 / ticket

guests = 3

Price

Adult (18+ years)

€

450 / ticket |

Youth (13-17 years)

€

450 / ticket |

Children (0-12 years)

€

450 / ticket

guests >= 4

Price

Adult (18+ years)

€

350 / ticket |

Youth (13-17 years)

€

350 / ticket |

Children (0-12 years)

€

350 / ticket
21
promotion
Minimum booking:
1 tickets
Maximum booking:
30 tickets
General price:
Adult (18+ years)
€

350 / ticket
|
Youth (13-17 years)
€

350 / ticket
|
Children (0-12 years)
€

350 / ticket
Options
guests <= 2

Price

Adult (18+ years)

€

680 / ticket |

Youth (13-17 years)

€

680 / ticket |

Children (0-12 years)

€

680 / ticket

guests = 3

Price

Adult (18+ years)

€

450 / ticket |

Youth (13-17 years)

€

450 / ticket |

Children (0-12 years)

€

450 / ticket

guests >= 4

Price

Adult (18+ years)

€

350 / ticket |

Youth (13-17 years)

€

350 / ticket |

Children (0-12 years)

€

350 / ticket
22
promotion
Minimum booking:
1 tickets
Maximum booking:
30 tickets
General price:
Adult (18+ years)
€

350 / ticket
|
Youth (13-17 years)
€

350 / ticket
|
Children (0-12 years)
€

350 / ticket
Options
guests <= 2

Price

Adult (18+ years)

€

680 / ticket |

Youth (13-17 years)

€

680 / ticket |

Children (0-12 years)

€

680 / ticket

guests = 3

Price

Adult (18+ years)

€

450 / ticket |

Youth (13-17 years)

€

450 / ticket |

Children (0-12 years)

€

450 / ticket

guests >= 4

Price

Adult (18+ years)

€

350 / ticket |

Youth (13-17 years)

€

350 / ticket |

Children (0-12 years)

€

350 / ticket
23
promotion
Minimum booking:
1 tickets
Maximum booking:
30 tickets
General price:
Adult (18+ years)
€

350 / ticket
|
Youth (13-17 years)
€

350 / ticket
|
Children (0-12 years)
€

350 / ticket
Options
guests <= 2

Price

Adult (18+ years)

€

680 / ticket |

Youth (13-17 years)

€

680 / ticket |

Children (0-12 years)

€

680 / ticket

guests = 3

Price

Adult (18+ years)

€

450 / ticket |

Youth (13-17 years)

€

450 / ticket |

Children (0-12 years)

€

450 / ticket

guests >= 4

Price

Adult (18+ years)

€

350 / ticket |

Youth (13-17 years)

€

350 / ticket |

Children (0-12 years)

€

350 / ticket
24
promotion
Minimum booking:
1 tickets
Maximum booking:
30 tickets
General price:
Adult (18+ years)
€

350 / ticket
|
Youth (13-17 years)
€

350 / ticket
|
Children (0-12 years)
€

350 / ticket
Options
guests <= 2

Price

Adult (18+ years)

€

680 / ticket |

Youth (13-17 years)

€

680 / ticket |

Children (0-12 years)

€

680 / ticket

guests = 3

Price

Adult (18+ years)

€

450 / ticket |

Youth (13-17 years)

€

450 / ticket |

Children (0-12 years)

€

450 / ticket

guests >= 4

Price

Adult (18+ years)

€

350 / ticket |

Youth (13-17 years)

€

350 / ticket |

Children (0-12 years)

€

350 / ticket
25
promotion
Minimum booking:
1 tickets
Maximum booking:
30 tickets
General price:
Adult (18+ years)
€

350 / ticket
|
Youth (13-17 years)
€

350 / ticket
|
Children (0-12 years)
€

350 / ticket
Options
guests <= 2

Price

Adult (18+ years)

€

680 / ticket |

Youth (13-17 years)

€

680 / ticket |

Children (0-12 years)

€

680 / ticket

guests = 3

Price

Adult (18+ years)

€

450 / ticket |

Youth (13-17 years)

€

450 / ticket |

Children (0-12 years)

€

450 / ticket

guests >= 4

Price

Adult (18+ years)

€

350 / ticket |

Youth (13-17 years)

€

350 / ticket |

Children (0-12 years)

€

350 / ticket
26
promotion
Minimum booking:
1 tickets
Maximum booking:
30 tickets
General price:
Adult (18+ years)
€

350 / ticket
|
Youth (13-17 years)
€

350 / ticket
|
Children (0-12 years)
€

350 / ticket
Options
guests <= 2

Price

Adult (18+ years)

€

680 / ticket |

Youth (13-17 years)

€

680 / ticket |

Children (0-12 years)

€

680 / ticket

guests = 3

Price

Adult (18+ years)

€

450 / ticket |

Youth (13-17 years)

€

450 / ticket |

Children (0-12 years)

€

450 / ticket

guests >= 4

Price

Adult (18+ years)

€

350 / ticket |

Youth (13-17 years)

€

350 / ticket |

Children (0-12 years)

€

350 / ticket
27
promotion
Minimum booking:
1 tickets
Maximum booking:
30 tickets
General price:
Adult (18+ years)
€

350 / ticket
|
Youth (13-17 years)
€

350 / ticket
|
Children (0-12 years)
€

350 / ticket
Options
guests <= 2

Price

Adult (18+ years)

€

680 / ticket |

Youth (13-17 years)

€

680 / ticket |

Children (0-12 years)

€

680 / ticket

guests = 3

Price

Adult (18+ years)

€

450 / ticket |

Youth (13-17 years)

€

450 / ticket |

Children (0-12 years)

€

450 / ticket

guests >= 4

Price

Adult (18+ years)

€

350 / ticket |

Youth (13-17 years)

€

350 / ticket |

Children (0-12 years)

€

350 / ticket
28
promotion
Minimum booking:
1 tickets
Maximum booking:
30 tickets
General price:
Adult (18+ years)
€

350 / ticket
|
Youth (13-17 years)
€

350 / ticket
|
Children (0-12 years)
€

350 / ticket
Options
guests <= 2

Price

Adult (18+ years)

€

680 / ticket |

Youth (13-17 years)

€

680 / ticket |

Children (0-12 years)

€

680 / ticket

guests = 3

Price

Adult (18+ years)

€

450 / ticket |

Youth (13-17 years)

€

450 / ticket |

Children (0-12 years)

€

450 / ticket

guests >= 4

Price

Adult (18+ years)

€

350 / ticket |

Youth (13-17 years)

€

350 / ticket |

Children (0-12 years)

€

350 / ticket
29
promotion
Minimum booking:
1 tickets
Maximum booking:
30 tickets
General price:
Adult (18+ years)
€

350 / ticket
|
Youth (13-17 years)
€

350 / ticket
|
Children (0-12 years)
€

350 / ticket
Options
guests <= 2

Price

Adult (18+ years)

€

680 / ticket |

Youth (13-17 years)

€

680 / ticket |

Children (0-12 years)

€

680 / ticket

guests = 3

Price

Adult (18+ years)

€

450 / ticket |

Youth (13-17 years)

€

450 / ticket |

Children (0-12 years)

€

450 / ticket

guests >= 4

Price

Adult (18+ years)

€

350 / ticket |

Youth (13-17 years)

€

350 / ticket |

Children (0-12 years)

€

350 / ticket
30
promotion
Minimum booking:
1 tickets
Maximum booking:
30 tickets
General price:
Adult (18+ years)
€

350 / ticket
|
Youth (13-17 years)
€

350 / ticket
|
Children (0-12 years)
€

350 / ticket
Options
guests <= 2

Price

Adult (18+ years)

€

680 / ticket |

Youth (13-17 years)

€

680 / ticket |

Children (0-12 years)

€

680 / ticket

guests = 3

Price

Adult (18+ years)

€

450 / ticket |

Youth (13-17 years)

€

450 / ticket |

Children (0-12 years)

€

450 / ticket

guests >= 4

Price

Adult (18+ years)

€

350 / ticket |

Youth (13-17 years)

€

350 / ticket |

Children (0-12 years)

€

350 / ticket
31
promotion
Minimum booking:
1 tickets
Maximum booking:
30 tickets
General price:
Adult (18+ years)
€

350 / ticket
|
Youth (13-17 years)
€

350 / ticket
|
Children (0-12 years)
€

350 / ticket
Options
guests <= 2

Price

Adult (18+ years)

€

680 / ticket |

Youth (13-17 years)

€

680 / ticket |

Children (0-12 years)

€

680 / ticket

guests = 3

Price

Adult (18+ years)

€

450 / ticket |

Youth (13-17 years)

€

450 / ticket |

Children (0-12 years)

€

450 / ticket

guests >= 4

Price

Adult (18+ years)

€

350 / ticket |

Youth (13-17 years)

€

350 / ticket |

Children (0-12 years)

€

350 / ticket
1
promotion
Minimum booking:
1 tickets
Maximum booking:
30 tickets
General price:
Adult (18+ years)
€

350 / ticket
|
Youth (13-17 years)
€

350 / ticket
|
Children (0-12 years)
€

350 / ticket
Options
guests <= 2

Price

Adult (18+ years)

€

680 / ticket |

Youth (13-17 years)

€

680 / ticket |

Children (0-12 years)

€

680 / ticket

guests = 3

Price

Adult (18+ years)

€

450 / ticket |

Youth (13-17 years)

€

450 / ticket |

Children (0-12 years)

€

450 / ticket

guests >= 4

Price

Adult (18+ years)

€

350 / ticket |

Youth (13-17 years)

€

350 / ticket |

Children (0-12 years)

€

350 / ticket
2
promotion
Minimum booking:
1 tickets
Maximum booking:
30 tickets
General price:
Adult (18+ years)
€

350 / ticket
|
Youth (13-17 years)
€

350 / ticket
|
Children (0-12 years)
€

350 / ticket
Options
guests <= 2

Price

Adult (18+ years)

€

680 / ticket |

Youth (13-17 years)

€

680 / ticket |

Children (0-12 years)

€

680 / ticket

guests = 3

Price

Adult (18+ years)

€

450 / ticket |

Youth (13-17 years)

€

450 / ticket |

Children (0-12 years)

€

450 / ticket

guests >= 4

Price

Adult (18+ years)

€

350 / ticket |

Youth (13-17 years)

€

350 / ticket |

Children (0-12 years)

€

350 / ticket
3
promotion
Minimum booking:
1 tickets
Maximum booking:
30 tickets
General price:
Adult (18+ years)
€

350 / ticket
|
Youth (13-17 years)
€

350 / ticket
|
Children (0-12 years)
€

350 / ticket
Options
guests <= 2

Price

Adult (18+ years)

€

680 / ticket |

Youth (13-17 years)

€

680 / ticket |

Children (0-12 years)

€

680 / ticket

guests = 3

Price

Adult (18+ years)

€

450 / ticket |

Youth (13-17 years)

€

450 / ticket |

Children (0-12 years)

€

450 / ticket

guests >= 4

Price

Adult (18+ years)

€

350 / ticket |

Youth (13-17 years)

€

350 / ticket |

Children (0-12 years)

€

350 / ticket
4
promotion
Minimum booking:
1 tickets
Maximum booking:
30 tickets
General price:
Adult (18+ years)
€

350 / ticket
|
Youth (13-17 years)
€

350 / ticket
|
Children (0-12 years)
€

350 / ticket
Options
guests <= 2

Price

Adult (18+ years)

€

680 / ticket |

Youth (13-17 years)

€

680 / ticket |

Children (0-12 years)

€

680 / ticket

guests = 3

Price

Adult (18+ years)

€

450 / ticket |

Youth (13-17 years)

€

450 / ticket |

Children (0-12 years)

€

450 / ticket

guests >= 4

Price

Adult (18+ years)

€

350 / ticket |

Youth (13-17 years)

€

350 / ticket |

Children (0-12 years)

€

350 / ticket
5
promotion
Minimum booking:
1 tickets
Maximum booking:
30 tickets
General price:
Adult (18+ years)
€

350 / ticket
|
Youth (13-17 years)
€

350 / ticket
|
Children (0-12 years)
€

350 / ticket
Options
guests <= 2

Price

Adult (18+ years)

€

680 / ticket |

Youth (13-17 years)

€

680 / ticket |

Children (0-12 years)

€

680 / ticket

guests = 3

Price

Adult (18+ years)

€

450 / ticket |

Youth (13-17 years)

€

450 / ticket |

Children (0-12 years)

€

450 / ticket

guests >= 4

Price

Adult (18+ years)

€

350 / ticket |

Youth (13-17 years)

€

350 / ticket |

Children (0-12 years)

€

350 / ticket
6
promotion
Minimum booking:
1 tickets
Maximum booking:
30 tickets
General price:
Adult (18+ years)
€

350 / ticket
|
Youth (13-17 years)
€

350 / ticket
|
Children (0-12 years)
€

350 / ticket
Options
guests <= 2

Price

Adult (18+ years)

€

680 / ticket |

Youth (13-17 years)

€

680 / ticket |

Children (0-12 years)

€

680 / ticket

guests = 3

Price

Adult (18+ years)

€

450 / ticket |

Youth (13-17 years)

€

450 / ticket |

Children (0-12 years)

€

450 / ticket

guests >= 4

Price

Adult (18+ years)

€

350 / ticket |

Youth (13-17 years)

€

350 / ticket |

Children (0-12 years)

€

350 / ticket
7
promotion
Minimum booking:
1 tickets
Maximum booking:
30 tickets
General price:
Adult (18+ years)
€

350 / ticket
|
Youth (13-17 years)
€

350 / ticket
|
Children (0-12 years)
€

350 / ticket
Options
guests <= 2

Price

Adult (18+ years)

€

680 / ticket |

Youth (13-17 years)

€

680 / ticket |

Children (0-12 years)

€

680 / ticket

guests = 3

Price

Adult (18+ years)

€

450 / ticket |

Youth (13-17 years)

€

450 / ticket |

Children (0-12 years)

€

450 / ticket

guests >= 4

Price

Adult (18+ years)

€

350 / ticket |

Youth (13-17 years)

€

350 / ticket |

Children (0-12 years)

€

350 / ticket
8
promotion
Minimum booking:
1 tickets
Maximum booking:
30 tickets
General price:
Adult (18+ years)
€

350 / ticket
|
Youth (13-17 years)
€

350 / ticket
|
Children (0-12 years)
€

350 / ticket
Options
guests <= 2

Price

Adult (18+ years)

€

680 / ticket |

Youth (13-17 years)

€

680 / ticket |

Children (0-12 years)

€

680 / ticket

guests = 3

Price

Adult (18+ years)

€

450 / ticket |

Youth (13-17 years)

€

450 / ticket |

Children (0-12 years)

€

450 / ticket

guests >= 4

Price

Adult (18+ years)

€

350 / ticket |

Youth (13-17 years)

€

350 / ticket |

Children (0-12 years)

€

350 / ticket
9
promotion
Minimum booking:
1 tickets
Maximum booking:
30 tickets
General price:
Adult (18+ years)
€

350 / ticket
|
Youth (13-17 years)
€

350 / ticket
|
Children (0-12 years)
€

350 / ticket
Options
guests <= 2

Price

Adult (18+ years)

€

680 / ticket |

Youth (13-17 years)

€

680 / ticket |

Children (0-12 years)

€

680 / ticket

guests = 3

Price

Adult (18+ years)

€

450 / ticket |

Youth (13-17 years)

€

450 / ticket |

Children (0-12 years)

€

450 / ticket

guests >= 4

Price

Adult (18+ years)

€

350 / ticket |

Youth (13-17 years)

€

350 / ticket |

Children (0-12 years)

€

350 / ticket
10
promotion
Minimum booking:
1 tickets
Maximum booking:
30 tickets
General price:
Adult (18+ years)
€

350 / ticket
|
Youth (13-17 years)
€

350 / ticket
|
Children (0-12 years)
€

350 / ticket
Options
guests <= 2

Price

Adult (18+ years)

€

680 / ticket |

Youth (13-17 years)

€

680 / ticket |

Children (0-12 years)

€

680 / ticket

guests = 3

Price

Adult (18+ years)

€

450 / ticket |

Youth (13-17 years)

€

450 / ticket |

Children (0-12 years)

€

450 / ticket

guests >= 4

Price

Adult (18+ years)

€

350 / ticket |

Youth (13-17 years)

€

350 / ticket |

Children (0-12 years)

€

350 / ticket
11
promotion
Minimum booking:
1 tickets
Maximum booking:
30 tickets
General price:
Adult (18+ years)
€

350 / ticket
|
Youth (13-17 years)
€

350 / ticket
|
Children (0-12 years)
€

350 / ticket
Options
guests <= 2

Price

Adult (18+ years)

€

680 / ticket |

Youth (13-17 years)

€

680 / ticket |

Children (0-12 years)

€

680 / ticket

guests = 3

Price

Adult (18+ years)

€

450 / ticket |

Youth (13-17 years)

€

450 / ticket |

Children (0-12 years)

€

450 / ticket

guests >= 4

Price

Adult (18+ years)

€

350 / ticket |

Youth (13-17 years)

€

350 / ticket |

Children (0-12 years)

€

350 / ticket
12
promotion
Minimum booking:
1 tickets
Maximum booking:
30 tickets
General price:
Adult (18+ years)
€

350 / ticket
|
Youth (13-17 years)
€

350 / ticket
|
Children (0-12 years)
€

350 / ticket
Options
guests <= 2

Price

Adult (18+ years)

€

680 / ticket |

Youth (13-17 years)

€

680 / ticket |

Children (0-12 years)

€

680 / ticket

guests = 3

Price

Adult (18+ years)

€

450 / ticket |

Youth (13-17 years)

€

450 / ticket |

Children (0-12 years)

€

450 / ticket

guests >= 4

Price

Adult (18+ years)

€

350 / ticket |

Youth (13-17 years)

€

350 / ticket |

Children (0-12 years)

€

350 / ticket
13
promotion
Minimum booking:
1 tickets
Maximum booking:
30 tickets
General price:
Adult (18+ years)
€

350 / ticket
|
Youth (13-17 years)
€

350 / ticket
|
Children (0-12 years)
€

350 / ticket
Options
guests <= 2

Price

Adult (18+ years)

€

680 / ticket |

Youth (13-17 years)

€

680 / ticket |

Children (0-12 years)

€

680 / ticket

guests = 3

Price

Adult (18+ years)

€

450 / ticket |

Youth (13-17 years)

€

450 / ticket |

Children (0-12 years)

€

450 / ticket

guests >= 4

Price

Adult (18+ years)

€

350 / ticket |

Youth (13-17 years)

€

350 / ticket |

Children (0-12 years)

€

350 / ticket
14
promotion
Minimum booking:
1 tickets
Maximum booking:
30 tickets
General price:
Adult (18+ years)
€

350 / ticket
|
Youth (13-17 years)
€

350 / ticket
|
Children (0-12 years)
€

350 / ticket
Options
guests <= 2

Price

Adult (18+ years)

€

680 / ticket |

Youth (13-17 years)

€

680 / ticket |

Children (0-12 years)

€

680 / ticket

guests = 3

Price

Adult (18+ years)

€

450 / ticket |

Youth (13-17 years)

€

450 / ticket |

Children (0-12 years)

€

450 / ticket

guests >= 4

Price

Adult (18+ years)

€

350 / ticket |

Youth (13-17 years)

€

350 / ticket |

Children (0-12 years)

€

350 / ticket
15
promotion
Minimum booking:
1 tickets
Maximum booking:
30 tickets
General price:
Adult (18+ years)
€

350 / ticket
|
Youth (13-17 years)
€

350 / ticket
|
Children (0-12 years)
€

350 / ticket
Options
guests <= 2

Price

Adult (18+ years)

€

680 / ticket |

Youth (13-17 years)

€

680 / ticket |

Children (0-12 years)

€

680 / ticket

guests = 3

Price

Adult (18+ years)

€

450 / ticket |

Youth (13-17 years)

€

450 / ticket |

Children (0-12 years)

€

450 / ticket

guests >= 4

Price

Adult (18+ years)

€

350 / ticket |

Youth (13-17 years)

€

350 / ticket |

Children (0-12 years)

€

350 / ticket
16
promotion
Minimum booking:
1 tickets
Maximum booking:
30 tickets
General price:
Adult (18+ years)
€

350 / ticket
|
Youth (13-17 years)
€

350 / ticket
|
Children (0-12 years)
€

350 / ticket
Options
guests <= 2

Price

Adult (18+ years)

€

680 / ticket |

Youth (13-17 years)

€

680 / ticket |

Children (0-12 years)

€

680 / ticket

guests = 3

Price

Adult (18+ years)

€

450 / ticket |

Youth (13-17 years)

€

450 / ticket |

Children (0-12 years)

€

450 / ticket

guests >= 4

Price

Adult (18+ years)

€

350 / ticket |

Youth (13-17 years)

€

350 / ticket |

Children (0-12 years)

€

350 / ticket
17
promotion
Minimum booking:
1 tickets
Maximum booking:
30 tickets
General price:
Adult (18+ years)
€

350 / ticket
|
Youth (13-17 years)
€

350 / ticket
|
Children (0-12 years)
€

350 / ticket
Options
guests <= 2

Price

Adult (18+ years)

€

680 / ticket |

Youth (13-17 years)

€

680 / ticket |

Children (0-12 years)

€

680 / ticket

guests = 3

Price

Adult (18+ years)

€

450 / ticket |

Youth (13-17 years)

€

450 / ticket |

Children (0-12 years)

€

450 / ticket

guests >= 4

Price

Adult (18+ years)

€

350 / ticket |

Youth (13-17 years)

€

350 / ticket |

Children (0-12 years)

€

350 / ticket
18
promotion
Minimum booking:
1 tickets
Maximum booking:
30 tickets
General price:
Adult (18+ years)
€

350 / ticket
|
Youth (13-17 years)
€

350 / ticket
|
Children (0-12 years)
€

350 / ticket
Options
guests <= 2

Price

Adult (18+ years)

€

680 / ticket |

Youth (13-17 years)

€

680 / ticket |

Children (0-12 years)

€

680 / ticket

guests = 3

Price

Adult (18+ years)

€

450 / ticket |

Youth (13-17 years)

€

450 / ticket |

Children (0-12 years)

€

450 / ticket

guests >= 4

Price

Adult (18+ years)

€

350 / ticket |

Youth (13-17 years)

€

350 / ticket |

Children (0-12 years)

€

350 / ticket
19
promotion
Minimum booking:
1 tickets
Maximum booking:
30 tickets
General price:
Adult (18+ years)
€

350 / ticket
|
Youth (13-17 years)
€

350 / ticket
|
Children (0-12 years)
€

350 / ticket
Options
guests <= 2

Price

Adult (18+ years)

€

680 / ticket |

Youth (13-17 years)

€

680 / ticket |

Children (0-12 years)

€

680 / ticket

guests = 3

Price

Adult (18+ years)

€

450 / ticket |

Youth (13-17 years)

€

450 / ticket |

Children (0-12 years)

€

450 / ticket

guests >= 4

Price

Adult (18+ years)

€

350 / ticket |

Youth (13-17 years)

€

350 / ticket |

Children (0-12 years)

€

350 / ticket
20
promotion
Minimum booking:
1 tickets
Maximum booking:
30 tickets
General price:
Adult (18+ years)
€

350 / ticket
|
Youth (13-17 years)
€

350 / ticket
|
Children (0-12 years)
€

350 / ticket
Options
guests <= 2

Price

Adult (18+ years)

€

680 / ticket |

Youth (13-17 years)

€

680 / ticket |

Children (0-12 years)

€

680 / ticket

guests = 3

Price

Adult (18+ years)

€

450 / ticket |

Youth (13-17 years)

€

450 / ticket |

Children (0-12 years)

€

450 / ticket

guests >= 4

Price

Adult (18+ years)

€

350 / ticket |

Youth (13-17 years)

€

350 / ticket |

Children (0-12 years)

€

350 / ticket
21
promotion
Minimum booking:
1 tickets
Maximum booking:
30 tickets
General price:
Adult (18+ years)
€

350 / ticket
|
Youth (13-17 years)
€

350 / ticket
|
Children (0-12 years)
€

350 / ticket
Options
guests <= 2

Price

Adult (18+ years)

€

680 / ticket |

Youth (13-17 years)

€

680 / ticket |

Children (0-12 years)

€

680 / ticket

guests = 3

Price

Adult (18+ years)

€

450 / ticket |

Youth (13-17 years)

€

450 / ticket |

Children (0-12 years)

€

450 / ticket

guests >= 4

Price

Adult (18+ years)

€

350 / ticket |

Youth (13-17 years)

€

350 / ticket |

Children (0-12 years)

€

350 / ticket
22
promotion
Minimum booking:
1 tickets
Maximum booking:
30 tickets
General price:
Adult (18+ years)
€

350 / ticket
|
Youth (13-17 years)
€

350 / ticket
|
Children (0-12 years)
€

350 / ticket
Options
guests <= 2

Price

Adult (18+ years)

€

680 / ticket |

Youth (13-17 years)

€

680 / ticket |

Children (0-12 years)

€

680 / ticket

guests = 3

Price

Adult (18+ years)

€

450 / ticket |

Youth (13-17 years)

€

450 / ticket |

Children (0-12 years)

€

450 / ticket

guests >= 4

Price

Adult (18+ years)

€

350 / ticket |

Youth (13-17 years)

€

350 / ticket |

Children (0-12 years)

€

350 / ticket
23
promotion
Minimum booking:
1 tickets
Maximum booking:
30 tickets
General price:
Adult (18+ years)
€

350 / ticket
|
Youth (13-17 years)
€

350 / ticket
|
Children (0-12 years)
€

350 / ticket
Options
guests <= 2

Price

Adult (18+ years)

€

680 / ticket |

Youth (13-17 years)

€

680 / ticket |

Children (0-12 years)

€

680 / ticket

guests = 3

Price

Adult (18+ years)

€

450 / ticket |

Youth (13-17 years)

€

450 / ticket |

Children (0-12 years)

€

450 / ticket

guests >= 4

Price

Adult (18+ years)

€

350 / ticket |

Youth (13-17 years)

€

350 / ticket |

Children (0-12 years)

€

350 / ticket
24
promotion
Minimum booking:
1 tickets
Maximum booking:
30 tickets
General price:
Adult (18+ years)
€

350 / ticket
|
Youth (13-17 years)
€

350 / ticket
|
Children (0-12 years)
€

350 / ticket
Options
guests <= 2

Price

Adult (18+ years)

€

680 / ticket |

Youth (13-17 years)

€

680 / ticket |

Children (0-12 years)

€

680 / ticket

guests = 3

Price

Adult (18+ years)

€

450 / ticket |

Youth (13-17 years)

€

450 / ticket |

Children (0-12 years)

€

450 / ticket

guests >= 4

Price

Adult (18+ years)

€

350 / ticket |

Youth (13-17 years)

€

350 / ticket |

Children (0-12 years)

€

350 / ticket
25
promotion
Minimum booking:
1 tickets
Maximum booking:
30 tickets
General price:
Adult (18+ years)
€

350 / ticket
|
Youth (13-17 years)
€

350 / ticket
|
Children (0-12 years)
€

350 / ticket
Options
guests <= 2

Price

Adult (18+ years)

€

680 / ticket |

Youth (13-17 years)

€

680 / ticket |

Children (0-12 years)

€

680 / ticket

guests = 3

Price

Adult (18+ years)

€

450 / ticket |

Youth (13-17 years)

€

450 / ticket |

Children (0-12 years)

€

450 / ticket

guests >= 4

Price

Adult (18+ years)

€

350 / ticket |

Youth (13-17 years)

€

350 / ticket |

Children (0-12 years)

€

350 / ticket
26
promotion
Minimum booking:
1 tickets
Maximum booking:
30 tickets
General price:
Adult (18+ years)
€

350 / ticket
|
Youth (13-17 years)
€

350 / ticket
|
Children (0-12 years)
€

350 / ticket
Options
guests <= 2

Price

Adult (18+ years)

€

680 / ticket |

Youth (13-17 years)

€

680 / ticket |

Children (0-12 years)

€

680 / ticket

guests = 3

Price

Adult (18+ years)

€

450 / ticket |

Youth (13-17 years)

€

450 / ticket |

Children (0-12 years)

€

450 / ticket

guests >= 4

Price

Adult (18+ years)

€

350 / ticket |

Youth (13-17 years)

€

350 / ticket |

Children (0-12 years)

€

350 / ticket
27
promotion
Minimum booking:
1 tickets
Maximum booking:
30 tickets
General price:
Adult (18+ years)
€

350 / ticket
|
Youth (13-17 years)
€

350 / ticket
|
Children (0-12 years)
€

350 / ticket
Options
guests <= 2

Price

Adult (18+ years)

€

680 / ticket |

Youth (13-17 years)

€

680 / ticket |

Children (0-12 years)

€

680 / ticket

guests = 3

Price

Adult (18+ years)

€

450 / ticket |

Youth (13-17 years)

€

450 / ticket |

Children (0-12 years)

€

450 / ticket

guests >= 4

Price

Adult (18+ years)

€

350 / ticket |

Youth (13-17 years)

€

350 / ticket |

Children (0-12 years)

€

350 / ticket
28
promotion
Minimum booking:
1 tickets
Maximum booking:
30 tickets
General price:
Adult (18+ years)
€

350 / ticket
|
Youth (13-17 years)
€

350 / ticket
|
Children (0-12 years)
€

350 / ticket
Options
guests <= 2

Price

Adult (18+ years)

€

680 / ticket |

Youth (13-17 years)

€

680 / ticket |

Children (0-12 years)

€

680 / ticket

guests = 3

Price

Adult (18+ years)

€

450 / ticket |

Youth (13-17 years)

€

450 / ticket |

Children (0-12 years)

€

450 / ticket

guests >= 4

Price

Adult (18+ years)

€

350 / ticket |

Youth (13-17 years)

€

350 / ticket |

Children (0-12 years)

€

350 / ticket
29
promotion
Minimum booking:
1 tickets
Maximum booking:
30 tickets
General price:
Adult (18+ years)
€

350 / ticket
|
Youth (13-17 years)
€

350 / ticket
|
Children (0-12 years)
€

350 / ticket
Options
guests <= 2

Price

Adult (18+ years)

€

680 / ticket |

Youth (13-17 years)

€

680 / ticket |

Children (0-12 years)

€

680 / ticket

guests = 3

Price

Adult (18+ years)

€

450 / ticket |

Youth (13-17 years)

€

450 / ticket |

Children (0-12 years)

€

450 / ticket

guests >= 4

Price

Adult (18+ years)

€

350 / ticket |

Youth (13-17 years)

€

350 / ticket |

Children (0-12 years)

€

350 / ticket
30
promotion
Minimum booking:
1 tickets
Maximum booking:
30 tickets
General price:
Adult (18+ years)
€

350 / ticket
|
Youth (13-17 years)
€

350 / ticket
|
Children (0-12 years)
€

350 / ticket
Options
guests <= 2

Price

Adult (18+ years)

€

680 / ticket |

Youth (13-17 years)

€

680 / ticket |

Children (0-12 years)

€

680 / ticket

guests = 3

Price

Adult (18+ years)

€

450 / ticket |

Youth (13-17 years)

€

450 / ticket |

Children (0-12 years)

€

450 / ticket

guests >= 4

Price

Adult (18+ years)

€

350 / ticket |

Youth (13-17 years)

€

350 / ticket |

Children (0-12 years)

€

350 / ticket
31
promotion
Minimum booking:
1 tickets
Maximum booking:
30 tickets
General price:
Adult (18+ years)
€

350 / ticket
|
Youth (13-17 years)
€

350 / ticket
|
Children (0-12 years)
€

350 / ticket
Options
guests <= 2

Price

Adult (18+ years)

€

680 / ticket |

Youth (13-17 years)

€

680 / ticket |

Children (0-12 years)

€

680 / ticket

guests = 3

Price

Adult (18+ years)

€

450 / ticket |

Youth (13-17 years)

€

450 / ticket |

Children (0-12 years)

€

450 / ticket

guests >= 4

Price

Adult (18+ years)

€

350 / ticket |

Youth (13-17 years)

€

350 / ticket |

Children (0-12 years)

€

350 / ticket
1
promotion
Minimum booking:
1 tickets
Maximum booking:
30 tickets
General price:
Adult (18+ years)
€

350 / ticket
|
Youth (13-17 years)
€

350 / ticket
|
Children (0-12 years)
€

350 / ticket
Options
guests <= 2

Price

Adult (18+ years)

€

680 / ticket |

Youth (13-17 years)

€

680 / ticket |

Children (0-12 years)

€

680 / ticket

guests = 3

Price

Adult (18+ years)

€

450 / ticket |

Youth (13-17 years)

€

450 / ticket |

Children (0-12 years)

€

450 / ticket

guests >= 4

Price

Adult (18+ years)

€

350 / ticket |

Youth (13-17 years)

€

350 / ticket |

Children (0-12 years)

€

350 / ticket
2
promotion
Minimum booking:
1 tickets
Maximum booking:
30 tickets
General price:
Adult (18+ years)
€

350 / ticket
|
Youth (13-17 years)
€

350 / ticket
|
Children (0-12 years)
€

350 / ticket
Options
guests <= 2

Price

Adult (18+ years)

€

680 / ticket |

Youth (13-17 years)

€

680 / ticket |

Children (0-12 years)

€

680 / ticket

guests = 3

Price

Adult (18+ years)

€

450 / ticket |

Youth (13-17 years)

€

450 / ticket |

Children (0-12 years)

€

450 / ticket

guests >= 4

Price

Adult (18+ years)

€

350 / ticket |

Youth (13-17 years)

€

350 / ticket |

Children (0-12 years)

€

350 / ticket
3
promotion
Minimum booking:
1 tickets
Maximum booking:
30 tickets
General price:
Adult (18+ years)
€

350 / ticket
|
Youth (13-17 years)
€

350 / ticket
|
Children (0-12 years)
€

350 / ticket
Options
guests <= 2

Price

Adult (18+ years)

€

680 / ticket |

Youth (13-17 years)

€

680 / ticket |

Children (0-12 years)

€

680 / ticket

guests = 3

Price

Adult (18+ years)

€

450 / ticket |

Youth (13-17 years)

€

450 / ticket |

Children (0-12 years)

€

450 / ticket

guests >= 4

Price

Adult (18+ years)

€

350 / ticket |

Youth (13-17 years)

€

350 / ticket |

Children (0-12 years)

€

350 / ticket
4
promotion
Minimum booking:
1 tickets
Maximum booking:
30 tickets
General price:
Adult (18+ years)
€

350 / ticket
|
Youth (13-17 years)
€

350 / ticket
|
Children (0-12 years)
€

350 / ticket
Options
guests <= 2

Price

Adult (18+ years)

€

680 / ticket |

Youth (13-17 years)

€

680 / ticket |

Children (0-12 years)

€

680 / ticket

guests = 3

Price

Adult (18+ years)

€

450 / ticket |

Youth (13-17 years)

€

450 / ticket |

Children (0-12 years)

€

450 / ticket

guests >= 4

Price

Adult (18+ years)

€

350 / ticket |

Youth (13-17 years)

€

350 / ticket |

Children (0-12 years)

€

350 / ticket
29
promotion
Minimum booking:
1 tickets
Maximum booking:
30 tickets
General price:
Adult (18+ years)
€

350 / ticket
|
Youth (13-17 years)
€

350 / ticket
|
Children (0-12 years)
€

350 / ticket
Options
guests <= 2

Price

Adult (18+ years)

€

680 / ticket |

Youth (13-17 years)

€

680 / ticket |

Children (0-12 years)

€

680 / ticket

guests = 3

Price

Adult (18+ years)

€

450 / ticket |

Youth (13-17 years)

€

450 / ticket |

Children (0-12 years)

€

450 / ticket

guests >= 4

Price

Adult (18+ years)

€

350 / ticket |

Youth (13-17 years)

€

350 / ticket |

Children (0-12 years)

€

350 / ticket
30
promotion
Minimum booking:
1 tickets
Maximum booking:
30 tickets
General price:
Adult (18+ years)
€

350 / ticket
|
Youth (13-17 years)
€

350 / ticket
|
Children (0-12 years)
€

350 / ticket
Options
guests <= 2

Price

Adult (18+ years)

€

680 / ticket |

Youth (13-17 years)

€

680 / ticket |

Children (0-12 years)

€

680 / ticket

guests = 3

Price

Adult (18+ years)

€

450 / ticket |

Youth (13-17 years)

€

450 / ticket |

Children (0-12 years)

€

450 / ticket

guests >= 4

Price

Adult (18+ years)

€

350 / ticket |

Youth (13-17 years)

€

350 / ticket |

Children (0-12 years)

€

350 / ticket
31
promotion
Minimum booking:
1 tickets
Maximum booking:
30 tickets
General price:
Adult (18+ years)
€

350 / ticket
|
Youth (13-17 years)
€

350 / ticket
|
Children (0-12 years)
€

350 / ticket
Options
guests <= 2

Price

Adult (18+ years)

€

680 / ticket |

Youth (13-17 years)

€

680 / ticket |

Children (0-12 years)

€

680 / ticket

guests = 3

Price

Adult (18+ years)

€

450 / ticket |

Youth (13-17 years)

€

450 / ticket |

Children (0-12 years)

€

450 / ticket

guests >= 4

Price

Adult (18+ years)

€

350 / ticket |

Youth (13-17 years)

€

350 / ticket |

Children (0-12 years)

€

350 / ticket
1
promotion
Minimum booking:
1 tickets
Maximum booking:
30 tickets
General price:
Adult (18+ years)
€

350 / ticket
|
Youth (13-17 years)
€

350 / ticket
|
Children (0-12 years)
€

350 / ticket
Options
guests <= 2

Price

Adult (18+ years)

€

680 / ticket |

Youth (13-17 years)

€

680 / ticket |

Children (0-12 years)

€

680 / ticket

guests = 3

Price

Adult (18+ years)

€

450 / ticket |

Youth (13-17 years)

€

450 / ticket |

Children (0-12 years)

€

450 / ticket

guests >= 4

Price

Adult (18+ years)

€

350 / ticket |

Youth (13-17 years)

€

350 / ticket |

Children (0-12 years)

€

350 / ticket
2
promotion
Minimum booking:
1 tickets
Maximum booking:
30 tickets
General price:
Adult (18+ years)
€

350 / ticket
|
Youth (13-17 years)
€

350 / ticket
|
Children (0-12 years)
€

350 / ticket
Options
guests <= 2

Price

Adult (18+ years)

€

680 / ticket |

Youth (13-17 years)

€

680 / ticket |

Children (0-12 years)

€

680 / ticket

guests = 3

Price

Adult (18+ years)

€

450 / ticket |

Youth (13-17 years)

€

450 / ticket |

Children (0-12 years)

€

450 / ticket

guests >= 4

Price

Adult (18+ years)

€

350 / ticket |

Youth (13-17 years)

€

350 / ticket |

Children (0-12 years)

€

350 / ticket
3
promotion
Minimum booking:
1 tickets
Maximum booking:
30 tickets
General price:
Adult (18+ years)
€

350 / ticket
|
Youth (13-17 years)
€

350 / ticket
|
Children (0-12 years)
€

350 / ticket
Options
guests <= 2

Price

Adult (18+ years)

€

680 / ticket |

Youth (13-17 years)

€

680 / ticket |

Children (0-12 years)

€

680 / ticket

guests = 3

Price

Adult (18+ years)

€

450 / ticket |

Youth (13-17 years)

€

450 / ticket |

Children (0-12 years)

€

450 / ticket

guests >= 4

Price

Adult (18+ years)

€

350 / ticket |

Youth (13-17 years)

€

350 / ticket |

Children (0-12 years)

€

350 / ticket
4
promotion
Minimum booking:
1 tickets
Maximum booking:
30 tickets
General price:
Adult (18+ years)
€

350 / ticket
|
Youth (13-17 years)
€

350 / ticket
|
Children (0-12 years)
€

350 / ticket
Options
guests <= 2

Price

Adult (18+ years)

€

680 / ticket |

Youth (13-17 years)

€

680 / ticket |

Children (0-12 years)

€

680 / ticket

guests = 3

Price

Adult (18+ years)

€

450 / ticket |

Youth (13-17 years)

€

450 / ticket |

Children (0-12 years)

€

450 / ticket

guests >= 4

Price

Adult (18+ years)

€

350 / ticket |

Youth (13-17 years)

€

350 / ticket |

Children (0-12 years)

€

350 / ticket
5
promotion
Minimum booking:
1 tickets
Maximum booking:
30 tickets
General price:
Adult (18+ years)
€

350 / ticket
|
Youth (13-17 years)
€

350 / ticket
|
Children (0-12 years)
€

350 / ticket
Options
guests <= 2

Price

Adult (18+ years)

€

680 / ticket |

Youth (13-17 years)

€

680 / ticket |

Children (0-12 years)

€

680 / ticket

guests = 3

Price

Adult (18+ years)

€

450 / ticket |

Youth (13-17 years)

€

450 / ticket |

Children (0-12 years)

€

450 / ticket

guests >= 4

Price

Adult (18+ years)

€

350 / ticket |

Youth (13-17 years)

€

350 / ticket |

Children (0-12 years)

€

350 / ticket
6
promotion
Minimum booking:
1 tickets
Maximum booking:
30 tickets
General price:
Adult (18+ years)
€

350 / ticket
|
Youth (13-17 years)
€

350 / ticket
|
Children (0-12 years)
€

350 / ticket
Options
guests <= 2

Price

Adult (18+ years)

€

680 / ticket |

Youth (13-17 years)

€

680 / ticket |

Children (0-12 years)

€

680 / ticket

guests = 3

Price

Adult (18+ years)

€

450 / ticket |

Youth (13-17 years)

€

450 / ticket |

Children (0-12 years)

€

450 / ticket

guests >= 4

Price

Adult (18+ years)

€

350 / ticket |

Youth (13-17 years)

€

350 / ticket |

Children (0-12 years)

€

350 / ticket
7
promotion
Minimum booking:
1 tickets
Maximum booking:
30 tickets
General price:
Adult (18+ years)
€

350 / ticket
|
Youth (13-17 years)
€

350 / ticket
|
Children (0-12 years)
€

350 / ticket
Options
guests <= 2

Price

Adult (18+ years)

€

680 / ticket |

Youth (13-17 years)

€

680 / ticket |

Children (0-12 years)

€

680 / ticket

guests = 3

Price

Adult (18+ years)

€

450 / ticket |

Youth (13-17 years)

€

450 / ticket |

Children (0-12 years)

€

450 / ticket

guests >= 4

Price

Adult (18+ years)

€

350 / ticket |

Youth (13-17 years)

€

350 / ticket |

Children (0-12 years)

€

350 / ticket
8
promotion
Minimum booking:
1 tickets
Maximum booking:
30 tickets
General price:
Adult (18+ years)
€

350 / ticket
|
Youth (13-17 years)
€

350 / ticket
|
Children (0-12 years)
€

350 / ticket
Options
guests <= 2

Price

Adult (18+ years)

€

680 / ticket |

Youth (13-17 years)

€

680 / ticket |

Children (0-12 years)

€

680 / ticket

guests = 3

Price

Adult (18+ years)

€

450 / ticket |

Youth (13-17 years)

€

450 / ticket |

Children (0-12 years)

€

450 / ticket

guests >= 4

Price

Adult (18+ years)

€

350 / ticket |

Youth (13-17 years)

€

350 / ticket |

Children (0-12 years)

€

350 / ticket
9
promotion
Minimum booking:
1 tickets
Maximum booking:
30 tickets
General price:
Adult (18+ years)
€

350 / ticket
|
Youth (13-17 years)
€

350 / ticket
|
Children (0-12 years)
€

350 / ticket
Options
guests <= 2

Price

Adult (18+ years)

€

680 / ticket |

Youth (13-17 years)

€

680 / ticket |

Children (0-12 years)

€

680 / ticket

guests = 3

Price

Adult (18+ years)

€

450 / ticket |

Youth (13-17 years)

€

450 / ticket |

Children (0-12 years)

€

450 / ticket

guests >= 4

Price

Adult (18+ years)

€

350 / ticket |

Youth (13-17 years)

€

350 / ticket |

Children (0-12 years)

€

350 / ticket
10
promotion
Minimum booking:
1 tickets
Maximum booking:
30 tickets
General price:
Adult (18+ years)
€

350 / ticket
|
Youth (13-17 years)
€

350 / ticket
|
Children (0-12 years)
€

350 / ticket
Options
guests <= 2

Price

Adult (18+ years)

€

680 / ticket |

Youth (13-17 years)

€

680 / ticket |

Children (0-12 years)

€

680 / ticket

guests = 3

Price

Adult (18+ years)

€

450 / ticket |

Youth (13-17 years)

€

450 / ticket |

Children (0-12 years)

€

450 / ticket

guests >= 4

Price

Adult (18+ years)

€

350 / ticket |

Youth (13-17 years)

€

350 / ticket |

Children (0-12 years)

€

350 / ticket
11
promotion
Minimum booking:
1 tickets
Maximum booking:
30 tickets
General price:
Adult (18+ years)
€

350 / ticket
|
Youth (13-17 years)
€

350 / ticket
|
Children (0-12 years)
€

350 / ticket
Options
guests <= 2

Price

Adult (18+ years)

€

680 / ticket |

Youth (13-17 years)

€

680 / ticket |

Children (0-12 years)

€

680 / ticket

guests = 3

Price

Adult (18+ years)

€

450 / ticket |

Youth (13-17 years)

€

450 / ticket |

Children (0-12 years)

€

450 / ticket

guests >= 4

Price

Adult (18+ years)

€

350 / ticket |

Youth (13-17 years)

€

350 / ticket |

Children (0-12 years)

€

350 / ticket
12
promotion
Minimum booking:
1 tickets
Maximum booking:
30 tickets
General price:
Adult (18+ years)
€

350 / ticket
|
Youth (13-17 years)
€

350 / ticket
|
Children (0-12 years)
€

350 / ticket
Options
guests <= 2

Price

Adult (18+ years)

€

680 / ticket |

Youth (13-17 years)

€

680 / ticket |

Children (0-12 years)

€

680 / ticket

guests = 3

Price

Adult (18+ years)

€

450 / ticket |

Youth (13-17 years)

€

450 / ticket |

Children (0-12 years)

€

450 / ticket

guests >= 4

Price

Adult (18+ years)

€

350 / ticket |

Youth (13-17 years)

€

350 / ticket |

Children (0-12 years)

€

350 / ticket
13
promotion
Minimum booking:
1 tickets
Maximum booking:
30 tickets
General price:
Adult (18+ years)
€

350 / ticket
|
Youth (13-17 years)
€

350 / ticket
|
Children (0-12 years)
€

350 / ticket
Options
guests <= 2

Price

Adult (18+ years)

€

680 / ticket |

Youth (13-17 years)

€

680 / ticket |

Children (0-12 years)

€

680 / ticket

guests = 3

Price

Adult (18+ years)

€

450 / ticket |

Youth (13-17 years)

€

450 / ticket |

Children (0-12 years)

€

450 / ticket

guests >= 4

Price

Adult (18+ years)

€

350 / ticket |

Youth (13-17 years)

€

350 / ticket |

Children (0-12 years)

€

350 / ticket
14
promotion
Minimum booking:
1 tickets
Maximum booking:
30 tickets
General price:
Adult (18+ years)
€

350 / ticket
|
Youth (13-17 years)
€

350 / ticket
|
Children (0-12 years)
€

350 / ticket
Options
guests <= 2

Price

Adult (18+ years)

€

680 / ticket |

Youth (13-17 years)

€

680 / ticket |

Children (0-12 years)

€

680 / ticket

guests = 3

Price

Adult (18+ years)

€

450 / ticket |

Youth (13-17 years)

€

450 / ticket |

Children (0-12 years)

€

450 / ticket

guests >= 4

Price

Adult (18+ years)

€

350 / ticket |

Youth (13-17 years)

€

350 / ticket |

Children (0-12 years)

€

350 / ticket
15
promotion
Minimum booking:
1 tickets
Maximum booking:
30 tickets
General price:
Adult (18+ years)
€

350 / ticket
|
Youth (13-17 years)
€

350 / ticket
|
Children (0-12 years)
€

350 / ticket
Options
guests <= 2

Price

Adult (18+ years)

€

680 / ticket |

Youth (13-17 years)

€

680 / ticket |

Children (0-12 years)

€

680 / ticket

guests = 3

Price

Adult (18+ years)

€

450 / ticket |

Youth (13-17 years)

€

450 / ticket |

Children (0-12 years)

€

450 / ticket

guests >= 4

Price

Adult (18+ years)

€

350 / ticket |

Youth (13-17 years)

€

350 / ticket |

Children (0-12 years)

€

350 / ticket
16
promotion
Minimum booking:
1 tickets
Maximum booking:
30 tickets
General price:
Adult (18+ years)
€

350 / ticket
|
Youth (13-17 years)
€

350 / ticket
|
Children (0-12 years)
€

350 / ticket
Options
guests <= 2

Price

Adult (18+ years)

€

680 / ticket |

Youth (13-17 years)

€

680 / ticket |

Children (0-12 years)

€

680 / ticket

guests = 3

Price

Adult (18+ years)

€

450 / ticket |

Youth (13-17 years)

€

450 / ticket |

Children (0-12 years)

€

450 / ticket

guests >= 4

Price

Adult (18+ years)

€

350 / ticket |

Youth (13-17 years)

€

350 / ticket |

Children (0-12 years)

€

350 / ticket
17
promotion
Minimum booking:
1 tickets
Maximum booking:
30 tickets
General price:
Adult (18+ years)
€

350 / ticket
|
Youth (13-17 years)
€

350 / ticket
|
Children (0-12 years)
€

350 / ticket
Options
guests <= 2

Price

Adult (18+ years)

€

680 / ticket |

Youth (13-17 years)

€

680 / ticket |

Children (0-12 years)

€

680 / ticket

guests = 3

Price

Adult (18+ years)

€

450 / ticket |

Youth (13-17 years)

€

450 / ticket |

Children (0-12 years)

€

450 / ticket

guests >= 4

Price

Adult (18+ years)

€

350 / ticket |

Youth (13-17 years)

€

350 / ticket |

Children (0-12 years)

€

350 / ticket
18
promotion
Minimum booking:
1 tickets
Maximum booking:
30 tickets
General price:
Adult (18+ years)
€

350 / ticket
|
Youth (13-17 years)
€

350 / ticket
|
Children (0-12 years)
€

350 / ticket
Options
guests <= 2

Price

Adult (18+ years)

€

680 / ticket |

Youth (13-17 years)

€

680 / ticket |

Children (0-12 years)

€

680 / ticket

guests = 3

Price

Adult (18+ years)

€

450 / ticket |

Youth (13-17 years)

€

450 / ticket |

Children (0-12 years)

€

450 / ticket

guests >= 4

Price

Adult (18+ years)

€

350 / ticket |

Youth (13-17 years)

€

350 / ticket |

Children (0-12 years)

€

350 / ticket
19
promotion
Minimum booking:
1 tickets
Maximum booking:
30 tickets
General price:
Adult (18+ years)
€

350 / ticket
|
Youth (13-17 years)
€

350 / ticket
|
Children (0-12 years)
€

350 / ticket
Options
guests <= 2

Price

Adult (18+ years)

€

680 / ticket |

Youth (13-17 years)

€

680 / ticket |

Children (0-12 years)

€

680 / ticket

guests = 3

Price

Adult (18+ years)

€

450 / ticket |

Youth (13-17 years)

€

450 / ticket |

Children (0-12 years)

€

450 / ticket

guests >= 4

Price

Adult (18+ years)

€

350 / ticket |

Youth (13-17 years)

€

350 / ticket |

Children (0-12 years)

€

350 / ticket
20
promotion
Minimum booking:
1 tickets
Maximum booking:
30 tickets
General price:
Adult (18+ years)
€

350 / ticket
|
Youth (13-17 years)
€

350 / ticket
|
Children (0-12 years)
€

350 / ticket
Options
guests <= 2

Price

Adult (18+ years)

€

680 / ticket |

Youth (13-17 years)

€

680 / ticket |

Children (0-12 years)

€

680 / ticket

guests = 3

Price

Adult (18+ years)

€

450 / ticket |

Youth (13-17 years)

€

450 / ticket |

Children (0-12 years)

€

450 / ticket

guests >= 4

Price

Adult (18+ years)

€

350 / ticket |

Youth (13-17 years)

€

350 / ticket |

Children (0-12 years)

€

350 / ticket
21
promotion
Minimum booking:
1 tickets
Maximum booking:
30 tickets
General price:
Adult (18+ years)
€

350 / ticket
|
Youth (13-17 years)
€

350 / ticket
|
Children (0-12 years)
€

350 / ticket
Options
guests <= 2

Price

Adult (18+ years)

€

680 / ticket |

Youth (13-17 years)

€

680 / ticket |

Children (0-12 years)

€

680 / ticket

guests = 3

Price

Adult (18+ years)

€

450 / ticket |

Youth (13-17 years)

€

450 / ticket |

Children (0-12 years)

€

450 / ticket

guests >= 4

Price

Adult (18+ years)

€

350 / ticket |

Youth (13-17 years)

€

350 / ticket |

Children (0-12 years)

€

350 / ticket
22
promotion
Minimum booking:
1 tickets
Maximum booking:
30 tickets
General price:
Adult (18+ years)
€

350 / ticket
|
Youth (13-17 years)
€

350 / ticket
|
Children (0-12 years)
€

350 / ticket
Options
guests <= 2

Price

Adult (18+ years)

€

680 / ticket |

Youth (13-17 years)

€

680 / ticket |

Children (0-12 years)

€

680 / ticket

guests = 3

Price

Adult (18+ years)

€

450 / ticket |

Youth (13-17 years)

€

450 / ticket |

Children (0-12 years)

€

450 / ticket

guests >= 4

Price

Adult (18+ years)

€

350 / ticket |

Youth (13-17 years)

€

350 / ticket |

Children (0-12 years)

€

350 / ticket
23
promotion
Minimum booking:
1 tickets
Maximum booking:
30 tickets
General price:
Adult (18+ years)
€

350 / ticket
|
Youth (13-17 years)
€

350 / ticket
|
Children (0-12 years)
€

350 / ticket
Options
guests <= 2

Price

Adult (18+ years)

€

680 / ticket |

Youth (13-17 years)

€

680 / ticket |

Children (0-12 years)

€

680 / ticket

guests = 3

Price

Adult (18+ years)

€

450 / ticket |

Youth (13-17 years)

€

450 / ticket |

Children (0-12 years)

€

450 / ticket

guests >= 4

Price

Adult (18+ years)

€

350 / ticket |

Youth (13-17 years)

€

350 / ticket |

Children (0-12 years)

€

350 / ticket
24
promotion
Minimum booking:
1 tickets
Maximum booking:
30 tickets
General price:
Adult (18+ years)
€

350 / ticket
|
Youth (13-17 years)
€

350 / ticket
|
Children (0-12 years)
€

350 / ticket
Options
guests <= 2

Price

Adult (18+ years)

€

680 / ticket |

Youth (13-17 years)

€

680 / ticket |

Children (0-12 years)

€

680 / ticket

guests = 3

Price

Adult (18+ years)

€

450 / ticket |

Youth (13-17 years)

€

450 / ticket |

Children (0-12 years)

€

450 / ticket

guests >= 4

Price

Adult (18+ years)

€

350 / ticket |

Youth (13-17 years)

€

350 / ticket |

Children (0-12 years)

€

350 / ticket
25
promotion
Minimum booking:
1 tickets
Maximum booking:
30 tickets
General price:
Adult (18+ years)
€

350 / ticket
|
Youth (13-17 years)
€

350 / ticket
|
Children (0-12 years)
€

350 / ticket
Options
guests <= 2

Price

Adult (18+ years)

€

680 / ticket |

Youth (13-17 years)

€

680 / ticket |

Children (0-12 years)

€

680 / ticket

guests = 3

Price

Adult (18+ years)

€

450 / ticket |

Youth (13-17 years)

€

450 / ticket |

Children (0-12 years)

€

450 / ticket

guests >= 4

Price

Adult (18+ years)

€

350 / ticket |

Youth (13-17 years)

€

350 / ticket |

Children (0-12 years)

€

350 / ticket
26
promotion
Minimum booking:
1 tickets
Maximum booking:
30 tickets
General price:
Adult (18+ years)
€

350 / ticket
|
Youth (13-17 years)
€

350 / ticket
|
Children (0-12 years)
€

350 / ticket
Options
guests <= 2

Price

Adult (18+ years)

€

680 / ticket |

Youth (13-17 years)

€

680 / ticket |

Children (0-12 years)

€

680 / ticket

guests = 3

Price

Adult (18+ years)

€

450 / ticket |

Youth (13-17 years)

€

450 / ticket |

Children (0-12 years)

€

450 / ticket

guests >= 4

Price

Adult (18+ years)

€

350 / ticket |

Youth (13-17 years)

€

350 / ticket |

Children (0-12 years)

€

350 / ticket
27
promotion
Minimum booking:
1 tickets
Maximum booking:
30 tickets
General price:
Adult (18+ years)
€

350 / ticket
|
Youth (13-17 years)
€

350 / ticket
|
Children (0-12 years)
€

350 / ticket
Options
guests <= 2

Price

Adult (18+ years)

€

680 / ticket |

Youth (13-17 years)

€

680 / ticket |

Children (0-12 years)

€

680 / ticket

guests = 3

Price

Adult (18+ years)

€

450 / ticket |

Youth (13-17 years)

€

450 / ticket |

Children (0-12 years)

€

450 / ticket

guests >= 4

Price

Adult (18+ years)

€

350 / ticket |

Youth (13-17 years)

€

350 / ticket |

Children (0-12 years)

€

350 / ticket
28
promotion
Minimum booking:
1 tickets
Maximum booking:
30 tickets
General price:
Adult (18+ years)
€

350 / ticket
|
Youth (13-17 years)
€

350 / ticket
|
Children (0-12 years)
€

350 / ticket
Options
guests <= 2

Price

Adult (18+ years)

€

680 / ticket |

Youth (13-17 years)

€

680 / ticket |

Children (0-12 years)

€

680 / ticket

guests = 3

Price

Adult (18+ years)

€

450 / ticket |

Youth (13-17 years)

€

450 / ticket |

Children (0-12 years)

€

450 / ticket

guests >= 4

Price

Adult (18+ years)

€

350 / ticket |

Youth (13-17 years)

€

350 / ticket |

Children (0-12 years)

€

350 / ticket
29
promotion
Minimum booking:
1 tickets
Maximum booking:
30 tickets
General price:
Adult (18+ years)
€

350 / ticket
|
Youth (13-17 years)
€

350 / ticket
|
Children (0-12 years)
€

350 / ticket
Options
guests <= 2

Price

Adult (18+ years)

€

680 / ticket |

Youth (13-17 years)

€

680 / ticket |

Children (0-12 years)

€

680 / ticket

guests = 3

Price

Adult (18+ years)

€

450 / ticket |

Youth (13-17 years)

€

450 / ticket |

Children (0-12 years)

€

450 / ticket

guests >= 4

Price

Adult (18+ years)

€

350 / ticket |

Youth (13-17 years)

€

350 / ticket |

Children (0-12 years)

€

350 / ticket
1
promotion
Minimum booking:
1 tickets
Maximum booking:
30 tickets
General price:
Adult (18+ years)
€

350 / ticket
|
Youth (13-17 years)
€

350 / ticket
|
Children (0-12 years)
€

350 / ticket
Options
guests <= 2

Price

Adult (18+ years)

€

680 / ticket |

Youth (13-17 years)

€

680 / ticket |

Children (0-12 years)

€

680 / ticket

guests = 3

Price

Adult (18+ years)

€

450 / ticket |

Youth (13-17 years)

€

450 / ticket |

Children (0-12 years)

€

450 / ticket

guests >= 4

Price

Adult (18+ years)

€

350 / ticket |

Youth (13-17 years)

€

350 / ticket |

Children (0-12 years)

€

350 / ticket
2
promotion
Minimum booking:
1 tickets
Maximum booking:
30 tickets
General price:
Adult (18+ years)
€

350 / ticket
|
Youth (13-17 years)
€

350 / ticket
|
Children (0-12 years)
€

350 / ticket
Options
guests <= 2

Price

Adult (18+ years)

€

680 / ticket |

Youth (13-17 years)

€

680 / ticket |

Children (0-12 years)

€

680 / ticket

guests = 3

Price

Adult (18+ years)

€

450 / ticket |

Youth (13-17 years)

€

450 / ticket |

Children (0-12 years)

€

450 / ticket

guests >= 4

Price

Adult (18+ years)

€

350 / ticket |

Youth (13-17 years)

€

350 / ticket |

Children (0-12 years)

€

350 / ticket
3
promotion
Minimum booking:
1 tickets
Maximum booking:
30 tickets
General price:
Adult (18+ years)
€

350 / ticket
|
Youth (13-17 years)
€

350 / ticket
|
Children (0-12 years)
€

350 / ticket
Options
guests <= 2

Price

Adult (18+ years)

€

680 / ticket |

Youth (13-17 years)

€

680 / ticket |

Children (0-12 years)

€

680 / ticket

guests = 3

Price

Adult (18+ years)

€

450 / ticket |

Youth (13-17 years)

€

450 / ticket |

Children (0-12 years)

€

450 / ticket

guests >= 4

Price

Adult (18+ years)

€

350 / ticket |

Youth (13-17 years)

€

350 / ticket |

Children (0-12 years)

€

350 / ticket
26
promotion
Minimum booking:
1 tickets
Maximum booking:
30 tickets
General price:
Adult (18+ years)
€

350 / ticket
|
Youth (13-17 years)
€

350 / ticket
|
Children (0-12 years)
€

350 / ticket
Options
guests <= 2

Price

Adult (18+ years)

€

680 / ticket |

Youth (13-17 years)

€

680 / ticket |

Children (0-12 years)

€

680 / ticket

guests = 3

Price

Adult (18+ years)

€

450 / ticket |

Youth (13-17 years)

€

450 / ticket |

Children (0-12 years)

€

450 / ticket

guests >= 4

Price

Adult (18+ years)

€

350 / ticket |

Youth (13-17 years)

€

350 / ticket |

Children (0-12 years)

€

350 / ticket
27
promotion
Minimum booking:
1 tickets
Maximum booking:
30 tickets
General price:
Adult (18+ years)
€

350 / ticket
|
Youth (13-17 years)
€

350 / ticket
|
Children (0-12 years)
€

350 / ticket
Options
guests <= 2

Price

Adult (18+ years)

€

680 / ticket |

Youth (13-17 years)

€

680 / ticket |

Children (0-12 years)

€

680 / ticket

guests = 3

Price

Adult (18+ years)

€

450 / ticket |

Youth (13-17 years)

€

450 / ticket |

Children (0-12 years)

€

450 / ticket

guests >= 4

Price

Adult (18+ years)

€

350 / ticket |

Youth (13-17 years)

€

350 / ticket |

Children (0-12 years)

€

350 / ticket
28
promotion
Minimum booking:
1 tickets
Maximum booking:
30 tickets
General price:
Adult (18+ years)
€

350 / ticket
|
Youth (13-17 years)
€

350 / ticket
|
Children (0-12 years)
€

350 / ticket
Options
guests <= 2

Price

Adult (18+ years)

€

680 / ticket |

Youth (13-17 years)

€

680 / ticket |

Children (0-12 years)

€

680 / ticket

guests = 3

Price

Adult (18+ years)

€

450 / ticket |

Youth (13-17 years)

€

450 / ticket |

Children (0-12 years)

€

450 / ticket

guests >= 4

Price

Adult (18+ years)

€

350 / ticket |

Youth (13-17 years)

€

350 / ticket |

Children (0-12 years)

€

350 / ticket
29
promotion
Minimum booking:
1 tickets
Maximum booking:
30 tickets
General price:
Adult (18+ years)
€

350 / ticket
|
Youth (13-17 years)
€

350 / ticket
|
Children (0-12 years)
€

350 / ticket
Options
guests <= 2

Price

Adult (18+ years)

€

680 / ticket |

Youth (13-17 years)

€

680 / ticket |

Children (0-12 years)

€

680 / ticket

guests = 3

Price

Adult (18+ years)

€

450 / ticket |

Youth (13-17 years)

€

450 / ticket |

Children (0-12 years)

€

450 / ticket

guests >= 4

Price

Adult (18+ years)

€

350 / ticket |

Youth (13-17 years)

€

350 / ticket |

Children (0-12 years)

€

350 / ticket
1
promotion
Minimum booking:
1 tickets
Maximum booking:
30 tickets
General price:
Adult (18+ years)
€

350 / ticket
|
Youth (13-17 years)
€

350 / ticket
|
Children (0-12 years)
€

350 / ticket
Options
guests <= 2

Price

Adult (18+ years)

€

680 / ticket |

Youth (13-17 years)

€

680 / ticket |

Children (0-12 years)

€

680 / ticket

guests = 3

Price

Adult (18+ years)

€

450 / ticket |

Youth (13-17 years)

€

450 / ticket |

Children (0-12 years)

€

450 / ticket

guests >= 4

Price

Adult (18+ years)

€

350 / ticket |

Youth (13-17 years)

€

350 / ticket |

Children (0-12 years)

€

350 / ticket
2
promotion
Minimum booking:
1 tickets
Maximum booking:
30 tickets
General price:
Adult (18+ years)
€

350 / ticket
|
Youth (13-17 years)
€

350 / ticket
|
Children (0-12 years)
€

350 / ticket
Options
guests <= 2

Price

Adult (18+ years)

€

680 / ticket |

Youth (13-17 years)

€

680 / ticket |

Children (0-12 years)

€

680 / ticket

guests = 3

Price

Adult (18+ years)

€

450 / ticket |

Youth (13-17 years)

€

450 / ticket |

Children (0-12 years)

€

450 / ticket

guests >= 4

Price

Adult (18+ years)

€

350 / ticket |

Youth (13-17 years)

€

350 / ticket |

Children (0-12 years)

€

350 / ticket
3
promotion
Minimum booking:
1 tickets
Maximum booking:
30 tickets
General price:
Adult (18+ years)
€

350 / ticket
|
Youth (13-17 years)
€

350 / ticket
|
Children (0-12 years)
€

350 / ticket
Options
guests <= 2

Price

Adult (18+ years)

€

680 / ticket |

Youth (13-17 years)

€

680 / ticket |

Children (0-12 years)

€

680 / ticket

guests = 3

Price

Adult (18+ years)

€

450 / ticket |

Youth (13-17 years)

€

450 / ticket |

Children (0-12 years)

€

450 / ticket

guests >= 4

Price

Adult (18+ years)

€

350 / ticket |

Youth (13-17 years)

€

350 / ticket |

Children (0-12 years)

€

350 / ticket
4
promotion
Minimum booking:
1 tickets
Maximum booking:
30 tickets
General price:
Adult (18+ years)
€

350 / ticket
|
Youth (13-17 years)
€

350 / ticket
|
Children (0-12 years)
€

350 / ticket
Options
guests <= 2

Price

Adult (18+ years)

€

680 / ticket |

Youth (13-17 years)

€

680 / ticket |

Children (0-12 years)

€

680 / ticket

guests = 3

Price

Adult (18+ years)

€

450 / ticket |

Youth (13-17 years)

€

450 / ticket |

Children (0-12 years)

€

450 / ticket

guests >= 4

Price

Adult (18+ years)

€

350 / ticket |

Youth (13-17 years)

€

350 / ticket |

Children (0-12 years)

€

350 / ticket
5
promotion
Minimum booking:
1 tickets
Maximum booking:
30 tickets
General price:
Adult (18+ years)
€

350 / ticket
|
Youth (13-17 years)
€

350 / ticket
|
Children (0-12 years)
€

350 / ticket
Options
guests <= 2

Price

Adult (18+ years)

€

680 / ticket |

Youth (13-17 years)

€

680 / ticket |

Children (0-12 years)

€

680 / ticket

guests = 3

Price

Adult (18+ years)

€

450 / ticket |

Youth (13-17 years)

€

450 / ticket |

Children (0-12 years)

€

450 / ticket

guests >= 4

Price

Adult (18+ years)

€

350 / ticket |

Youth (13-17 years)

€

350 / ticket |

Children (0-12 years)

€

350 / ticket
6
promotion
Minimum booking:
1 tickets
Maximum booking:
30 tickets
General price:
Adult (18+ years)
€

350 / ticket
|
Youth (13-17 years)
€

350 / ticket
|
Children (0-12 years)
€

350 / ticket
Options
guests <= 2

Price

Adult (18+ years)

€

680 / ticket |

Youth (13-17 years)

€

680 / ticket |

Children (0-12 years)

€

680 / ticket

guests = 3

Price

Adult (18+ years)

€

450 / ticket |

Youth (13-17 years)

€

450 / ticket |

Children (0-12 years)

€

450 / ticket

guests >= 4

Price

Adult (18+ years)

€

350 / ticket |

Youth (13-17 years)

€

350 / ticket |

Children (0-12 years)

€

350 / ticket
7
promotion
Minimum booking:
1 tickets
Maximum booking:
30 tickets
General price:
Adult (18+ years)
€

350 / ticket
|
Youth (13-17 years)
€

350 / ticket
|
Children (0-12 years)
€

350 / ticket
Options
guests <= 2

Price

Adult (18+ years)

€

680 / ticket |

Youth (13-17 years)

€

680 / ticket |

Children (0-12 years)

€

680 / ticket

guests = 3

Price

Adult (18+ years)

€

450 / ticket |

Youth (13-17 years)

€

450 / ticket |

Children (0-12 years)

€

450 / ticket

guests >= 4

Price

Adult (18+ years)

€

350 / ticket |

Youth (13-17 years)

€

350 / ticket |

Children (0-12 years)

€

350 / ticket
8
promotion
Minimum booking:
1 tickets
Maximum booking:
30 tickets
General price:
Adult (18+ years)
€

350 / ticket
|
Youth (13-17 years)
€

350 / ticket
|
Children (0-12 years)
€

350 / ticket
Options
guests <= 2

Price

Adult (18+ years)

€

680 / ticket |

Youth (13-17 years)

€

680 / ticket |

Children (0-12 years)

€

680 / ticket

guests = 3

Price

Adult (18+ years)

€

450 / ticket |

Youth (13-17 years)

€

450 / ticket |

Children (0-12 years)

€

450 / ticket

guests >= 4

Price

Adult (18+ years)

€

350 / ticket |

Youth (13-17 years)

€

350 / ticket |

Children (0-12 years)

€

350 / ticket
9
promotion
Minimum booking:
1 tickets
Maximum booking:
30 tickets
General price:
Adult (18+ years)
€

350 / ticket
|
Youth (13-17 years)
€

350 / ticket
|
Children (0-12 years)
€

350 / ticket
Options
guests <= 2

Price

Adult (18+ years)

€

680 / ticket |

Youth (13-17 years)

€

680 / ticket |

Children (0-12 years)

€

680 / ticket

guests = 3

Price

Adult (18+ years)

€

450 / ticket |

Youth (13-17 years)

€

450 / ticket |

Children (0-12 years)

€

450 / ticket

guests >= 4

Price

Adult (18+ years)

€

350 / ticket |

Youth (13-17 years)

€

350 / ticket |

Children (0-12 years)

€

350 / ticket
10
promotion
Minimum booking:
1 tickets
Maximum booking:
30 tickets
General price:
Adult (18+ years)
€

350 / ticket
|
Youth (13-17 years)
€

350 / ticket
|
Children (0-12 years)
€

350 / ticket
Options
guests <= 2

Price

Adult (18+ years)

€

680 / ticket |

Youth (13-17 years)

€

680 / ticket |

Children (0-12 years)

€

680 / ticket

guests = 3

Price

Adult (18+ years)

€

450 / ticket |

Youth (13-17 years)

€

450 / ticket |

Children (0-12 years)

€

450 / ticket

guests >= 4

Price

Adult (18+ years)

€

350 / ticket |

Youth (13-17 years)

€

350 / ticket |

Children (0-12 years)

€

350 / ticket
11
promotion
Minimum booking:
1 tickets
Maximum booking:
30 tickets
General price:
Adult (18+ years)
€

350 / ticket
|
Youth (13-17 years)
€

350 / ticket
|
Children (0-12 years)
€

350 / ticket
Options
guests <= 2

Price

Adult (18+ years)

€

680 / ticket |

Youth (13-17 years)

€

680 / ticket |

Children (0-12 years)

€

680 / ticket

guests = 3

Price

Adult (18+ years)

€

450 / ticket |

Youth (13-17 years)

€

450 / ticket |

Children (0-12 years)

€

450 / ticket

guests >= 4

Price

Adult (18+ years)

€

350 / ticket |

Youth (13-17 years)

€

350 / ticket |

Children (0-12 years)

€

350 / ticket
12
promotion
Minimum booking:
1 tickets
Maximum booking:
30 tickets
General price:
Adult (18+ years)
€

350 / ticket
|
Youth (13-17 years)
€

350 / ticket
|
Children (0-12 years)
€

350 / ticket
Options
guests <= 2

Price

Adult (18+ years)

€

680 / ticket |

Youth (13-17 years)

€

680 / ticket |

Children (0-12 years)

€

680 / ticket

guests = 3

Price

Adult (18+ years)

€

450 / ticket |

Youth (13-17 years)

€

450 / ticket |

Children (0-12 years)

€

450 / ticket

guests >= 4

Price

Adult (18+ years)

€

350 / ticket |

Youth (13-17 years)

€

350 / ticket |

Children (0-12 years)

€

350 / ticket
13
promotion
Minimum booking:
1 tickets
Maximum booking:
30 tickets
General price:
Adult (18+ years)
€

350 / ticket
|
Youth (13-17 years)
€

350 / ticket
|
Children (0-12 years)
€

350 / ticket
Options
guests <= 2

Price

Adult (18+ years)

€

680 / ticket |

Youth (13-17 years)

€

680 / ticket |

Children (0-12 years)

€

680 / ticket

guests = 3

Price

Adult (18+ years)

€

450 / ticket |

Youth (13-17 years)

€

450 / ticket |

Children (0-12 years)

€

450 / ticket

guests >= 4

Price

Adult (18+ years)

€

350 / ticket |

Youth (13-17 years)

€

350 / ticket |

Children (0-12 years)

€

350 / ticket
14
promotion
Minimum booking:
1 tickets
Maximum booking:
30 tickets
General price:
Adult (18+ years)
€

350 / ticket
|
Youth (13-17 years)
€

350 / ticket
|
Children (0-12 years)
€

350 / ticket
Options
guests <= 2

Price

Adult (18+ years)

€

680 / ticket |

Youth (13-17 years)

€

680 / ticket |

Children (0-12 years)

€

680 / ticket

guests = 3

Price

Adult (18+ years)

€

450 / ticket |

Youth (13-17 years)

€

450 / ticket |

Children (0-12 years)

€

450 / ticket

guests >= 4

Price

Adult (18+ years)

€

350 / ticket |

Youth (13-17 years)

€

350 / ticket |

Children (0-12 years)

€

350 / ticket
15
promotion
Minimum booking:
1 tickets
Maximum booking:
30 tickets
General price:
Adult (18+ years)
€

350 / ticket
|
Youth (13-17 years)
€

350 / ticket
|
Children (0-12 years)
€

350 / ticket
Options
guests <= 2

Price

Adult (18+ years)

€

680 / ticket |

Youth (13-17 years)

€

680 / ticket |

Children (0-12 years)

€

680 / ticket

guests = 3

Price

Adult (18+ years)

€

450 / ticket |

Youth (13-17 years)

€

450 / ticket |

Children (0-12 years)

€

450 / ticket

guests >= 4

Price

Adult (18+ years)

€

350 / ticket |

Youth (13-17 years)

€

350 / ticket |

Children (0-12 years)

€

350 / ticket
16
promotion
Minimum booking:
1 tickets
Maximum booking:
30 tickets
General price:
Adult (18+ years)
€

350 / ticket
|
Youth (13-17 years)
€

350 / ticket
|
Children (0-12 years)
€

350 / ticket
Options
guests <= 2

Price

Adult (18+ years)

€

680 / ticket |

Youth (13-17 years)

€

680 / ticket |

Children (0-12 years)

€

680 / ticket

guests = 3

Price

Adult (18+ years)

€

450 / ticket |

Youth (13-17 years)

€

450 / ticket |

Children (0-12 years)

€

450 / ticket

guests >= 4

Price

Adult (18+ years)

€

350 / ticket |

Youth (13-17 years)

€

350 / ticket |

Children (0-12 years)

€

350 / ticket
17
promotion
Minimum booking:
1 tickets
Maximum booking:
30 tickets
General price:
Adult (18+ years)
€

350 / ticket
|
Youth (13-17 years)
€

350 / ticket
|
Children (0-12 years)
€

350 / ticket
Options
guests <= 2

Price

Adult (18+ years)

€

680 / ticket |

Youth (13-17 years)

€

680 / ticket |

Children (0-12 years)

€

680 / ticket

guests = 3

Price

Adult (18+ years)

€

450 / ticket |

Youth (13-17 years)

€

450 / ticket |

Children (0-12 years)

€

450 / ticket

guests >= 4

Price

Adult (18+ years)

€

350 / ticket |

Youth (13-17 years)

€

350 / ticket |

Children (0-12 years)

€

350 / ticket
18
promotion
Minimum booking:
1 tickets
Maximum booking:
30 tickets
General price:
Adult (18+ years)
€

350 / ticket
|
Youth (13-17 years)
€

350 / ticket
|
Children (0-12 years)
€

350 / ticket
Options
guests <= 2

Price

Adult (18+ years)

€

680 / ticket |

Youth (13-17 years)

€

680 / ticket |

Children (0-12 years)

€

680 / ticket

guests = 3

Price

Adult (18+ years)

€

450 / ticket |

Youth (13-17 years)

€

450 / ticket |

Children (0-12 years)

€

450 / ticket

guests >= 4

Price

Adult (18+ years)

€

350 / ticket |

Youth (13-17 years)

€

350 / ticket |

Children (0-12 years)

€

350 / ticket
19
promotion
Minimum booking:
1 tickets
Maximum booking:
30 tickets
General price:
Adult (18+ years)
€

350 / ticket
|
Youth (13-17 years)
€

350 / ticket
|
Children (0-12 years)
€

350 / ticket
Options
guests <= 2

Price

Adult (18+ years)

€

680 / ticket |

Youth (13-17 years)

€

680 / ticket |

Children (0-12 years)

€

680 / ticket

guests = 3

Price

Adult (18+ years)

€

450 / ticket |

Youth (13-17 years)

€

450 / ticket |

Children (0-12 years)

€

450 / ticket

guests >= 4

Price

Adult (18+ years)

€

350 / ticket |

Youth (13-17 years)

€

350 / ticket |

Children (0-12 years)

€

350 / ticket
20
promotion
Minimum booking:
1 tickets
Maximum booking:
30 tickets
General price:
Adult (18+ years)
€

350 / ticket
|
Youth (13-17 years)
€

350 / ticket
|
Children (0-12 years)
€

350 / ticket
Options
guests <= 2

Price

Adult (18+ years)

€

680 / ticket |

Youth (13-17 years)

€

680 / ticket |

Children (0-12 years)

€

680 / ticket

guests = 3

Price

Adult (18+ years)

€

450 / ticket |

Youth (13-17 years)

€

450 / ticket |

Children (0-12 years)

€

450 / ticket

guests >= 4

Price

Adult (18+ years)

€

350 / ticket |

Youth (13-17 years)

€

350 / ticket |

Children (0-12 years)

€

350 / ticket
21
promotion
Minimum booking:
1 tickets
Maximum booking:
30 tickets
General price:
Adult (18+ years)
€

350 / ticket
|
Youth (13-17 years)
€

350 / ticket
|
Children (0-12 years)
€

350 / ticket
Options
guests <= 2

Price

Adult (18+ years)

€

680 / ticket |

Youth (13-17 years)

€

680 / ticket |

Children (0-12 years)

€

680 / ticket

guests = 3

Price

Adult (18+ years)

€

450 / ticket |

Youth (13-17 years)

€

450 / ticket |

Children (0-12 years)

€

450 / ticket

guests >= 4

Price

Adult (18+ years)

€

350 / ticket |

Youth (13-17 years)

€

350 / ticket |

Children (0-12 years)

€

350 / ticket
22
promotion
Minimum booking:
1 tickets
Maximum booking:
30 tickets
General price:
Adult (18+ years)
€

350 / ticket
|
Youth (13-17 years)
€

350 / ticket
|
Children (0-12 years)
€

350 / ticket
Options
guests <= 2

Price

Adult (18+ years)

€

680 / ticket |

Youth (13-17 years)

€

680 / ticket |

Children (0-12 years)

€

680 / ticket

guests = 3

Price

Adult (18+ years)

€

450 / ticket |

Youth (13-17 years)

€

450 / ticket |

Children (0-12 years)

€

450 / ticket

guests >= 4

Price

Adult (18+ years)

€

350 / ticket |

Youth (13-17 years)

€

350 / ticket |

Children (0-12 years)

€

350 / ticket
23
promotion
Minimum booking:
1 tickets
Maximum booking:
30 tickets
General price:
Adult (18+ years)
€

350 / ticket
|
Youth (13-17 years)
€

350 / ticket
|
Children (0-12 years)
€

350 / ticket
Options
guests <= 2

Price

Adult (18+ years)

€

680 / ticket |

Youth (13-17 years)

€

680 / ticket |

Children (0-12 years)

€

680 / ticket

guests = 3

Price

Adult (18+ years)

€

450 / ticket |

Youth (13-17 years)

€

450 / ticket |

Children (0-12 years)

€

450 / ticket

guests >= 4

Price

Adult (18+ years)

€

350 / ticket |

Youth (13-17 years)

€

350 / ticket |

Children (0-12 years)

€

350 / ticket
24
promotion
Minimum booking:
1 tickets
Maximum booking:
30 tickets
General price:
Adult (18+ years)
€

350 / ticket
|
Youth (13-17 years)
€

350 / ticket
|
Children (0-12 years)
€

350 / ticket
Options
guests <= 2

Price

Adult (18+ years)

€

680 / ticket |

Youth (13-17 years)

€

680 / ticket |

Children (0-12 years)

€

680 / ticket

guests = 3

Price

Adult (18+ years)

€

450 / ticket |

Youth (13-17 years)

€

450 / ticket |

Children (0-12 years)

€

450 / ticket

guests >= 4

Price

Adult (18+ years)

€

350 / ticket |

Youth (13-17 years)

€

350 / ticket |

Children (0-12 years)

€

350 / ticket
25
promotion
Minimum booking:
1 tickets
Maximum booking:
30 tickets
General price:
Adult (18+ years)
€

350 / ticket
|
Youth (13-17 years)
€

350 / ticket
|
Children (0-12 years)
€

350 / ticket
Options
guests <= 2

Price

Adult (18+ years)

€

680 / ticket |

Youth (13-17 years)

€

680 / ticket |

Children (0-12 years)

€

680 / ticket

guests = 3

Price

Adult (18+ years)

€

450 / ticket |

Youth (13-17 years)

€

450 / ticket |

Children (0-12 years)

€

450 / ticket

guests >= 4

Price

Adult (18+ years)

€

350 / ticket |

Youth (13-17 years)

€

350 / ticket |

Children (0-12 years)

€

350 / ticket
26
promotion
Minimum booking:
1 tickets
Maximum booking:
30 tickets
General price:
Adult (18+ years)
€

350 / ticket
|
Youth (13-17 years)
€

350 / ticket
|
Children (0-12 years)
€

350 / ticket
Options
guests <= 2

Price

Adult (18+ years)

€

680 / ticket |

Youth (13-17 years)

€

680 / ticket |

Children (0-12 years)

€

680 / ticket

guests = 3

Price

Adult (18+ years)

€

450 / ticket |

Youth (13-17 years)

€

450 / ticket |

Children (0-12 years)

€

450 / ticket

guests >= 4

Price

Adult (18+ years)

€

350 / ticket |

Youth (13-17 years)

€

350 / ticket |

Children (0-12 years)

€

350 / ticket
27
promotion
Minimum booking:
1 tickets
Maximum booking:
30 tickets
General price:
Adult (18+ years)
€

350 / ticket
|
Youth (13-17 years)
€

350 / ticket
|
Children (0-12 years)
€

350 / ticket
Options
guests <= 2

Price

Adult (18+ years)

€

680 / ticket |

Youth (13-17 years)

€

680 / ticket |

Children (0-12 years)

€

680 / ticket

guests = 3

Price

Adult (18+ years)

€

450 / ticket |

Youth (13-17 years)

€

450 / ticket |

Children (0-12 years)

€

450 / ticket

guests >= 4

Price

Adult (18+ years)

€

350 / ticket |

Youth (13-17 years)

€

350 / ticket |

Children (0-12 years)

€

350 / ticket
28
promotion
Minimum booking:
1 tickets
Maximum booking:
30 tickets
General price:
Adult (18+ years)
€

350 / ticket
|
Youth (13-17 years)
€

350 / ticket
|
Children (0-12 years)
€

350 / ticket
Options
guests <= 2

Price

Adult (18+ years)

€

680 / ticket |

Youth (13-17 years)

€

680 / ticket |

Children (0-12 years)

€

680 / ticket

guests = 3

Price

Adult (18+ years)

€

450 / ticket |

Youth (13-17 years)

€

450 / ticket |

Children (0-12 years)

€

450 / ticket

guests >= 4

Price

Adult (18+ years)

€

350 / ticket |

Youth (13-17 years)

€

350 / ticket |

Children (0-12 years)

€

350 / ticket
29
promotion
Minimum booking:
1 tickets
Maximum booking:
30 tickets
General price:
Adult (18+ years)
€

350 / ticket
|
Youth (13-17 years)
€

350 / ticket
|
Children (0-12 years)
€

350 / ticket
Options
guests <= 2

Price

Adult (18+ years)

€

680 / ticket |

Youth (13-17 years)

€

680 / ticket |

Children (0-12 years)

€

680 / ticket

guests = 3

Price

Adult (18+ years)

€

450 / ticket |

Youth (13-17 years)

€

450 / ticket |

Children (0-12 years)

€

450 / ticket

guests >= 4

Price

Adult (18+ years)

€

350 / ticket |

Youth (13-17 years)

€

350 / ticket |

Children (0-12 years)

€

350 / ticket
30
promotion
Minimum booking:
1 tickets
Maximum booking:
30 tickets
General price:
Adult (18+ years)
€

350 / ticket
|
Youth (13-17 years)
€

350 / ticket
|
Children (0-12 years)
€

350 / ticket
Options
guests <= 2

Price

Adult (18+ years)

€

680 / ticket |

Youth (13-17 years)

€

680 / ticket |

Children (0-12 years)

€

680 / ticket

guests = 3

Price

Adult (18+ years)

€

450 / ticket |

Youth (13-17 years)

€

450 / ticket |

Children (0-12 years)

€

450 / ticket

guests >= 4

Price

Adult (18+ years)

€

350 / ticket |

Youth (13-17 years)

€

350 / ticket |

Children (0-12 years)

€

350 / ticket
31
promotion
Minimum booking:
1 tickets
Maximum booking:
30 tickets
General price:
Adult (18+ years)
€

350 / ticket
|
Youth (13-17 years)
€

350 / ticket
|
Children (0-12 years)
€

350 / ticket
Options
guests <= 2

Price

Adult (18+ years)

€

680 / ticket |

Youth (13-17 years)

€

680 / ticket |

Children (0-12 years)

€

680 / ticket

guests = 3

Price

Adult (18+ years)

€

450 / ticket |

Youth (13-17 years)

€

450 / ticket |

Children (0-12 years)

€

450 / ticket

guests >= 4

Price

Adult (18+ years)

€

350 / ticket |

Youth (13-17 years)

€

350 / ticket |

Children (0-12 years)

€

350 / ticket
1
promotion
Minimum booking:
1 tickets
Maximum booking:
30 tickets
General price:
Adult (18+ years)
€

350 / ticket
|
Youth (13-17 years)
€

350 / ticket
|
Children (0-12 years)
€

350 / ticket
Options
guests <= 2

Price

Adult (18+ years)

€

680 / ticket |

Youth (13-17 years)

€

680 / ticket |

Children (0-12 years)

€

680 / ticket

guests = 3

Price

Adult (18+ years)

€

450 / ticket |

Youth (13-17 years)

€

450 / ticket |

Children (0-12 years)

€

450 / ticket

guests >= 4

Price

Adult (18+ years)

€

350 / ticket |

Youth (13-17 years)

€

350 / ticket |

Children (0-12 years)

€

350 / ticket
2
promotion
Minimum booking:
1 tickets
Maximum booking:
30 tickets
General price:
Adult (18+ years)
€

350 / ticket
|
Youth (13-17 years)
€

350 / ticket
|
Children (0-12 years)
€

350 / ticket
Options
guests <= 2

Price

Adult (18+ years)

€

680 / ticket |

Youth (13-17 years)

€

680 / ticket |

Children (0-12 years)

€

680 / ticket

guests = 3

Price

Adult (18+ years)

€

450 / ticket |

Youth (13-17 years)

€

450 / ticket |

Children (0-12 years)

€

450 / ticket

guests >= 4

Price

Adult (18+ years)

€

350 / ticket |

Youth (13-17 years)

€

350 / ticket |

Children (0-12 years)

€

350 / ticket
3
promotion
Minimum booking:
1 tickets
Maximum booking:
30 tickets
General price:
Adult (18+ years)
€

350 / ticket
|
Youth (13-17 years)
€

350 / ticket
|
Children (0-12 years)
€

350 / ticket
Options
guests <= 2

Price

Adult (18+ years)

€

680 / ticket |

Youth (13-17 years)

€

680 / ticket |

Children (0-12 years)

€

680 / ticket

guests = 3

Price

Adult (18+ years)

€

450 / ticket |

Youth (13-17 years)

€

450 / ticket |

Children (0-12 years)

€

450 / ticket

guests >= 4

Price

Adult (18+ years)

€

350 / ticket |

Youth (13-17 years)

€

350 / ticket |

Children (0-12 years)

€

350 / ticket
4
promotion
Minimum booking:
1 tickets
Maximum booking:
30 tickets
General price:
Adult (18+ years)
€

350 / ticket
|
Youth (13-17 years)
€

350 / ticket
|
Children (0-12 years)
€

350 / ticket
Options
guests <= 2

Price

Adult (18+ years)

€

680 / ticket |

Youth (13-17 years)

€

680 / ticket |

Children (0-12 years)

€

680 / ticket

guests = 3

Price

Adult (18+ years)

€

450 / ticket |

Youth (13-17 years)

€

450 / ticket |

Children (0-12 years)

€

450 / ticket

guests >= 4

Price

Adult (18+ years)

€

350 / ticket |

Youth (13-17 years)

€

350 / ticket |

Children (0-12 years)

€

350 / ticket
5
promotion
Minimum booking:
1 tickets
Maximum booking:
30 tickets
General price:
Adult (18+ years)
€

350 / ticket
|
Youth (13-17 years)
€

350 / ticket
|
Children (0-12 years)
€

350 / ticket
Options
guests <= 2

Price

Adult (18+ years)

€

680 / ticket |

Youth (13-17 years)

€

680 / ticket |

Children (0-12 years)

€

680 / ticket

guests = 3

Price

Adult (18+ years)

€

450 / ticket |

Youth (13-17 years)

€

450 / ticket |

Children (0-12 years)

€

450 / ticket

guests >= 4

Price

Adult (18+ years)

€

350 / ticket |

Youth (13-17 years)

€

350 / ticket |

Children (0-12 years)

€

350 / ticket